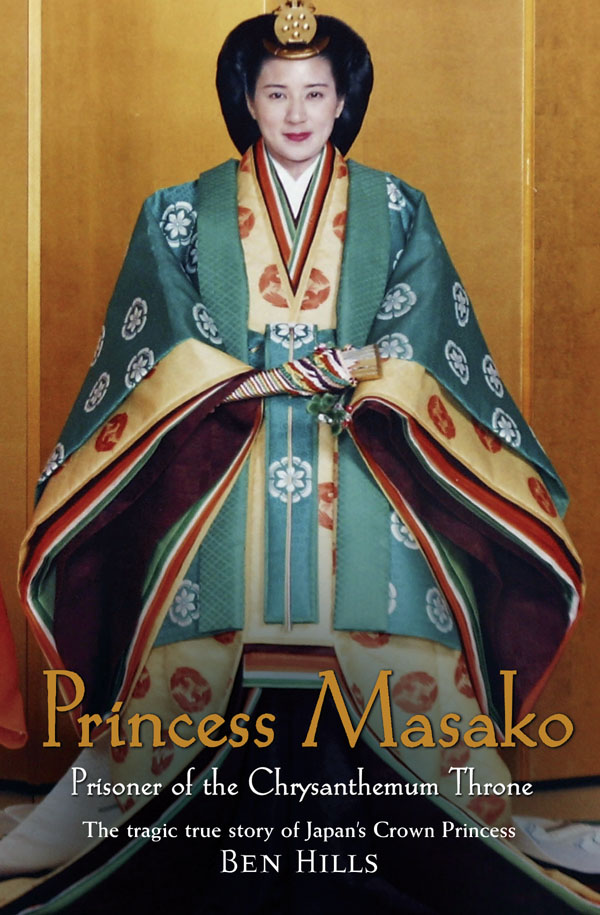 PRINCESS MASAKO, THE PRISONER OF THE CHRYSANTHEMUM THRONE

ISBN: 1741660149
9781741660142
Format: Trade Paperback
Imprint: Random House Australia
RRP: $34.95
Release: 01/11/06
Subject: Autobiography/Biography
PRINCESS MASAKO, THE PRISONER OF THE CHRYSANTHEMUM THRONE
by Ben Hills
The tragic never been told before story of Japan's crown princess.
Description of book
"There are two families in Japan which you can never leave - The Yakuza (crime gangs) and the royal family..."
Diana, Princess of Wales, had it easy compared with another lonely princess, Crown Princess Masako of Japan. A thoroughly modern woman in collision with an ancient and unreformed system, Masako is a brilliant woman who sacrificed her career to marry a love-struck royal, Crown Prince Naruhito. Ben Hills' 'Princess Masako' steals a fascinating look behind the Chrysanthemum Curtain' into the arcane world of the Japanese royal family.
This dramatic portrayal of a modern-day oriental fairytale turned on its head details how Masako Owada struggles with the daily pressures of life in Japan's imperial court. Despite an Oxford and Harvard education, she has been subjected to the superstitious rites of the Royal Household Agency in the hope that she will produce a male heir and prevent the world's oldest dynasty from dying out; must address her husband as 'Mr East Wing'; and bow at 60 degrees to her parents-in-law. With every move monitored closely by an overbearing bureaucracy behind the walls of a palace modelled on Versailles, where her few officially sanctioned pastimes include writing sonnets, Masako's figure radiates despair as she tries to forge a modern life within the tightly controlled realm of the palace.
Japan's royal dynasty, the world's oldest with a 2600-year history faces an uncertain future if Masako and her Crown Prince Naruhito cannot produce a male child - but, after thirteen years of marriage, both are in their forties and have only a daughter, little Aiko, reportedly born with the help of IVF.
Inevitably, the strain has had an enormous impact on Masako. She is plagued with illnesses of all kinds, although the royal palace will not admit it. There have also been whispers that the marriage is not 100 per cent happy, though no royal has ever divorced in Japan's history. Others say the prince may renounce the throne for love - leaving the crown to his brother, Prince Akishino. The Emperor struggles with cancer, and the imperial system is in crisis.
Ben Hills' fascinating portrait of Masako and the Chrysanthemum Throne draws on more than a year of research in Tokyo and rural Japan, Oxford, Harvard, Sydney and Melbourne and more than 60 interviews with Australian, Japanese, American and English sources - Masako's and Naruhito's friends, teachers and former colleagues - many of whom have never spoken publicly before, shedding light on the Royal family's darkest secrets, secrets that can never be publicly discussed in Japan due to the reverence in which the Emperor and his family are held. Why did Kunaicho, the powerful bureaucrats of the Imperial Household Agency, oppose the marriage? Who are the faceless figures who persuaded Masako to give up her career and marry the prince? What is the real reason Masako had to abandon her studies at Oxford? Why does the throne refuse to discuss whether IVF was used to help the couple conceive their child? Why does it refuse to acknowledge Masako's illness, so evident to outsiders? What does the future hold for the star-crossed couple - and now with the birth of baby Prince Hisahito (son of Naruhito's brother Prince Akishino and his wife, Princess Kiko)
is the Royal Family still in crisis?
Ben Hills
Ben Hills is one of Australia's best-known investigative reporters and most experienced foreign correspondents, having reported wars, elections, scandals, celebrities and social issues for the Fairfax newspapers from more than 50 countries over three decades.
read more
More by Ben Hills
PRINCESS MASAKO, THE PRISONER OF THE CHRYSANTHEMUM THRONE
Trade Paperback
Princess Masako
Prisoner of the Chrysanthemum Throne
The Tragic True Story of Japan's Crown Princess
By Ben Hills