New magazine says 'yes' to bringing gay industry out of the closet (Mainichi Daily News 2006/11/22)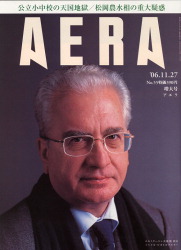 In Japan, homosexuality is either the, well, butt of jokes, or shoved under the mat as though it doesn't exist. But a group of same-sex editors have been trying to change all that with a new magazine that's radical by Japanese standards, according to
AERA (11/27)
.
The editors of
"yes" -- a magazine for lesbians, gays, bisexuals and transgenders, or collectively LGBTs --
are trying to bring homosexuality out of the closet and into the mainstream.
"We're using LGBTs' voices as a base to move a sleeping market out into the open," yes's manager Nobuko Mochizuki, a lesbian, tells AERA.
The magazine features plenty of information about LGBTs' lifestyles overseas and shuns anything even remotely pornographic. Among the topics it has recently picked up are pieces about a gay cable channel in the U.S. and same-sex marriages in Britain.
Zero Tomi, the magazine's gay managing editor, says he realized the potential in Japan's gay market over a decade ago. It was after a trip to San Francisco, where a convention for gay travelers was being held at a posh hotel with some of the biggest names in the travel business fighting hard to attract the gay and lesbian dollar. The interest the corporate world showed in homosexuals gave Tomi the yen to develop such an atmosphere in his homeland.
"I vowed that one day we'd see similar scenes in Japan," he tells AERA.
The LGBT market in the U.S. is enormous, with AERA saying that estimates put it as large as 600 billion dollars. What's more, the LGBT market is made up largely of well-educated people who have plenty of disposable income and who are known for their brand loyalty.
But Japan's LGBT market has, until recently, been almost non-existent.
"Nobody even thought of spicing it up," Tomi says.
Tomi sparked the development of "yes" with the support of
Tower Records
. In the autumn of 2004, he visited the company wearing a miniskirt made out of the company's yellow plastic bags. He reminded Tower's president, Hiroyuki Yoshitani, how the record company had long been regarded as gay friendly after it set aside a corner of its flagship Shinjuku store for gay-related products back in the mid-'90s, and asked for help in creating a magazine for the homosexual community in Japan. Yoshitani agreed, but the magazine has struggled, with 80 percent of its targeted advertisers in the automobile, apparel and cosmetics industries deciding not to advertise with them.
But the homosexuals are undeterred, saying that "yes" has a valuable role to play.
"'yes' is a way for the sexually discriminated to show regular society what the sexually discriminated really are all about and let them know that it's an interesting lifestyle," Yuji Kitamaru, a U.S. resident gay journalist who has worked on the magazine since its inception, tells AERA. "We want to transform heterosexual society. And we hope this magazine will be one way of doing that." (By Ryann Connell)
November 22, 2006