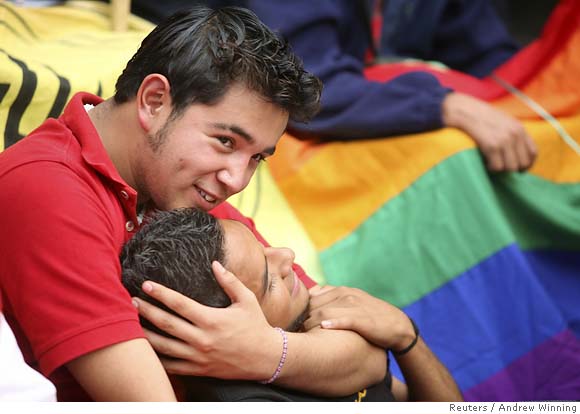 Ignacio and Carlos waited on the steps outside Mexico City's legislature on Nov. 9 during debate on a bill on same-sex civil unions. Reuters photo by Andrew Winning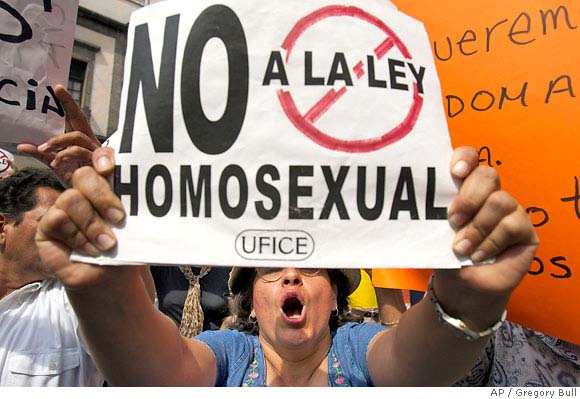 A protester's sign reads "No to the homosexual law" at a rally outside the Mexico City legislature during the Nov. 9 debate. Associated Press photo by Gregory Bull
Activists hail Mexico City's new same-sex civil union law
- Monica Campbell, San Francisco Chronicle Foreign Service
Thursday, November 23, 2006

(11-23) 04:00 PST Mexico City --
As soon as the news broke, several friends called to congratulate Luis Elizondo and Javier Landaburu.
"Now, at last, we'll enjoy the benefits offered to other married couples that were always beyond our reach," said the 38-year-old Elizondo.
Elizondo is referring to Mexico's first legislation that allows same-sex couples to enter into an official civil union. And he plans to do just that with his longtime partner, Javier Landaburu, a 50-year-old podiatrist.
While the law -- passed Nov. 9 by Mexico City's assembly and signed four days later by Mayor Alejandro Encinas -- does not legalize same-sex marriage or allow gays and lesbians to adopt -- it does give same-sex couples the right to inherit pensions and property, join health and life insurance policies and make medical decisions for each other. Barring a legal challenge, the law is scheduled to take effect in March.
Marcelo Ernesto Ferreyra, director of the Latin American and Caribbean program for the International Gay and Lesbian Human Rights Commission in Buenos Aires, says such laws are "big steps forward not just for Mexico, but for Latin America. It shows that our society is changing and that activists are reaping the rewards after years of work."
Indeed, despite continuing opposition from conservative groups and right-wing politicians, homosexual unions are gaining mainstream acceptance worldwide. There are now four countries and one U.S. state that recognize same-sex marriage -- Denmark, Spain, Belgium, Canada and Massachusetts. Nine other nations recognize same-sex civil unions along with Vermont and Connecticut. And just Tuesday, Israel's Supreme Court recognized the validity of same-sex marriages conducted abroad, in ruling that five gay couples who wed in Canada be registered as married.
In Latin America, same-sex civil unions are recognized in the southern Brazilian state of Rio Grande do Sul, the Argentine province of Rio Negro and Buenos Aires, the first city in Latin America to approve same-sex unions in 2002. Uruguay's Senate passed a bill this year to legalize same-sex and heterosexual civil unions, granting those couples the same rights as married ones. A bill giving same-sex couples living together in Colombia for more than two years the same social security and estate inheritance guarantees as heterosexuals in common-law marriages, passed the Senate 49-40 last month after failing four times since 1999. And Mexican Gov. Humberto Moreira of the northern state of Coahuila says he will sign a same-sex civil union bill moving through his state's Congress.
Moreover, transsexuals in Rio de Janeiro have won the right to legally change their name and sex, while sodomy is no longer a crime in Latin America, except in Nicaragua.
"In the last 10 years, we've seen significant legislation that addresses gay rights," said Ferreyra. "I don't see this trend reversing."
Flexing their majority in Mexico City's assembly, members of the leftist Democratic Revolution Party, or PRD, strongly supported the civil union law; it passed by a 43-17 vote. PRD legislator David Ordonez said the legislation tackled not only homophobia and discrimination but broadened the definition of family. He called it a compromise with conservative groups by not legalizing same-sex marriage.
Yet in heavily Roman Catholic Mexico, the Mexico City decision has enraged religious and conservative groups.
"It's a setback for Mexico," said Jorge Serrano, head of Mexico's National Pro-Life Committee, or Provida. "You simply cannot compare a homosexual relationship to a heterosexual one. It defies the definition of family, which begins with a father and a mother ... there are so many more important social needs to attend to."
Provida and other opposition groups are lobbying the conservative National Action Party, or PAN, whose members voted against the civil-union measure, to study whether the law is in violation of Article 4 of Mexico's constitution, which mentions only men and women in relation to marriage.
"Don't get us wrong," said Armando Martinez, president of the Mexican Catholic Lawyers Association. "We support laws against homophobia and discrimination, but we see marriage as an ideological not a political issue. This is not about minorities' rights."
The Mexico City law is not the first gay-friendly move by state officials. In 2005, the federal government launched a series of radio ads against homophobia, with spots airing in 19 cities. Even though Catholic leaders rejected the use of tax dollars to fund the media blitz, which they said promoted homosexual behavior, public-health activists heralded the campaign for encouraging people to get tested for HIV/AIDS.
Yet despite such recent gains, hate crimes and discrimination against homosexuals persist.
The Citizens Commission Against Homophobic Hate Crimes, a Mexico City nonprofit group, says 290 people in Mexico have been killed because of their sexual orientation between 1995 and 2003. In one such case, Octavio Acuna, a psychologist and gay activist, was stabbed to death in the central city of Queretaro. Local and international human rights activists, including Amnesty International, consider that unsolved murder a hate crime.
And last year, the federal government's first nationwide survey on discrimination found that even though most respondents rejected bias against one's sexual orientation, 42 percent said they would not protest a law that banned homosexuals from their town. Also, more than 70 percent of homosexuals surveyed in the same study said they suffered some form of discrimination.
Roberto Mendoza, who worked as a top director at Coca-Cola Femsa, the U.S. company's largest bottle plant in Latin America, said he was demoted and eventually fired after coming out. Mendoza, 40, now an executive at the British American Tobacco company in the northern city of Monterrey, not only filed a lawsuit but vows to take his case to the Inter-American Court of Human Rights.
"I've spent a fortune and gone through a series of lawyers," said Mendoza. "But I know that by doing this I'm in some way advancing the rights of the gay community in Mexico."
Meanwhile, Elizondo, a cultural director at a Mexico City campus of the Monterrey Institute of Technology, relishes the idea of sharing social benefits with his partner of 15 years. He considers the new civil-union law a turning point.
"It's a very small first step toward building a more pluralistic and democratic society," said Elizondo.
Page A - 25
URL: http://sfgate.com/cgi-bin/article.cgi?file=/c/a/2006/11/23/MNG81MHQAJ1.DTL