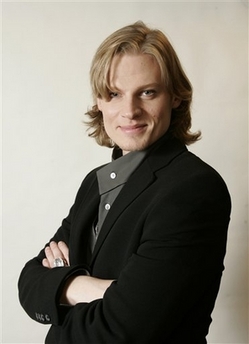 This undated photo supplied by ABC shows Jeffrey Carlson who plays a transgender character on ABC's soap opera 'All My Children.' The storyline with Carlson's character, a flamboyant rock star known as Zarf, begins on the Thursday, Nov. 30, 2006 episode of the daytime drama. (AP Photo/ABC,Lou Rocco)
'AMC' introducing transgender character
By DAVID BAUDER, AP Television Writer
Sun Nov 26, 10:31 PM ET
NEW YORK - In a story unusual even for a soap opera and believed to be a television first, ABC's "All My Children" this week will introduce a transgender character who is beginning to make the transition from a man into a woman.
The character, a flamboyant rock star known as Zarf, kisses the lesbian character Bianca and much drama ensues. The storyline begins with Thursday's episode of the daytime drama.
There have been a handful of post-surgical transgender characters in television shows, including a college professor in the 2001 prime-time CBS series "The Education of Max Bickford" and a model in the short-lived ABC soap opera "The City" in 1996, according to the Gay and Lesbian Alliance Against Defamation. Showtime's "The L Word" currently features a character changing from a woman into a man.
"All My Children" was looking for something new, and knows its audience is always interested in anything to do with sexuality, said Julie Hanan Carruthers, the show's executive producer.
"After 36 years, you start rehashing," she said. "It's inevitable. We didn't want to fall back on the baby-switch story again."
The show wasn't interested in doing something just to be sensational, she said. GLAAD and some transgenders were brought in as consultants in shaping the character, teaching the producers when it is appropriate to call a character "she" even before surgery, she said.
Damon Romine, a spokesman for GLAAD, said he hasn't seen the show yet but feels people involved were genuinely interested in telling the story with dignity. Emotions are so close to the surface in soap operas, and this story can serve a purpose by showing what transgenders go through, he said.
"I think it's groundbreaking and breakthrough television for daytime to put a spotlight on transgender people and tell their story," he said.
"All My Children" could use some attention. Mirroring the decline of daytime dramas in general, its average audience has slipped from 8.2 million in 1991-92 to 3.1 million last year, according to Nielsen Media Research. Particularly last summer, "All My Children" has tried several new characters, said Carolyn Hinsey, editor of Soap Opera Weekly.
"They're trying really hard and they're throwing a whole lot of desperate stuff against the wall to see what sticks," she said.
Actor Jeffrey Carlson portrays Zarf, an American who nonetheless speaks in an exaggerated British accent. He was on the show for one day last summer and was surprised to get a call pitching him the new story.
Carlson said it can be intimidating feeling that he is representing the entire transgender community.
"I worry about missing something, but I guess that would be the same with any character," he said. "I want the `All My Children' audience to go along. It's not for shock value. It's just another person who's story is being told in Pine Valley."
After Zarf establishes a bond with Bianca that leads to the kiss, an angry Bianca tells him she's a lesbian. It triggers something within Zarf about why it made such sense to be falling in love with a lesbian.
It's not clear, Carruthers said, whether "All My Children" will stick with the Zarf character through any surgery; one suspects the reaction of the soap's audience to the story will have a lot to do with it.
"She talks about peace so much," Carlson said of his character. "I hope that she finds some peace."