UK Today12/8 男性同性愛者カップル、英国初の正式「離婚」を決意!
昨年12月に、同性愛者同士のカップルの「結婚」を認め、異性同士の既婚者と同じ法的権限を与えるシビル・パートナーシップ制度が施行された。しかし、この施行と共に正式に結婚した中の1組であるカップルが、このほど「離婚」の決意を明らかにし、同性愛カップルの正式な「離婚」のケースとしては英国で初めてとされていることが伝えられた。
ヘルスケア・アシスタントとして働くマーク・ゴッドフリーさん(32)と、フリーランス・ライターのダリル・バロックさん(42)は、昨年12月21日、バースの公会堂でおそろいのスーツに赤いネクタイをしめ、「結婚」の誓いを交わしたという。
ところが、2人の3年間にわたる関係は次第に冷め、ゴッドフリーさんはついに、一緒に住んでいたブリストルのフラットから出て行ってしまったとされる。
バロックさんは、シビル・パートナーシップ法の恩恵にあずかる最初のカップルのひとつとなれたことに初めは誇りを感じ、なによりお互いに深く愛し合っていたとするが、どこにでもみられるように、この関係もうつろいでしまったとコメント。お互いにそれぞれの道を歩むべき時に、共同購入の不動産や子供が関わらないで済んだのは幸いとしているという。
同性愛者同士の「婚姻」関係を終わらせることについては、公式には「離婚」ではなく「Dissolution(解消)」という表現を用いるが、これに伴う手続きは通常の離婚の際とほぼ同じものとされ、「婚姻」を解消するには、1年以上「結婚」生活を共にしていることが条件。希望カップルは専用書類に必要事項と共に、申請理由を明記して提出することになるとされ、2人は「結婚」からちょうど1年たつ、今年の12月21日を待って申請する予定という。
This is London
The first gay divorce
08.12.06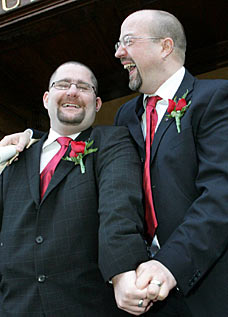 Daryl Bullock (right) and Mark Godfrey, outside the Guildhall in Bath where they got married last December
One of the first same-sex couples to tie the knot have separated and will make British legal history when they divorce.
Darryl Bullock, 42, and Mark Godfrey, 32, were one of the first to wed when new 'gay marriage' laws came in last year.
But Darryl has revealed the relationship had faded and the pair intend to annul their marriage as soon as is legally possible after December 21.
Darryl said: "We were really proud to be one of the first couples to have the service and we had a great six months but then things went wrong.
"I suppose we were part of history and I have got lots of press cuttings from that day but we didn't do it to make the news or just to be first.
"We were completely committed but things change in any relationship. We are lucky that there is no property or kids involved but we have both moved on now in our own way."
The couple were among the first in the UK to make legal history when they took part in a civil partnership ceremony on December 21 last year.
They exchanged vows at The Guildhall in Bath, Somerset, at 8am, beating Elton John and David Furnish's ceremony in the Guildhall in Windsor by three hours.
But while Elton and David sipped pink champagne with over 700 guests at their reception, Darryl and Mark were tucking into an English breakfast with 20 friends at their local pub.
The pair chose Marks and Spencer over Versace for their wedding gear and spent their honeymoon in the less-than-exotic resort of Torquay in Devon.
And while Elton is reported to have splashed out £1million on his big day, Mark and Darryl spent a more humble £700.
However, freelance writer Darryl and Mark's three-year relationship faded as they grew apart and Darryl has now taken legal advice about ending the partnership.
Healthcare assistant Mark has since moved out of the plush flat the couple shared in Bristol.
However, under the laws brought in last year, the ex-lovers cannot formally apply for a 'divorce' until one full year after the 'wedding'.
Their civil partnership is likely to be dissolved through the county court in a process that will begin on December 21.
Darryl refused to give the grounds for the dissolution of their relationship because he said it would form part of the proceedings.
He said: "It's in the lawyers' hands. I've spoken to my solicitor who will take whatever action he thinks is fit on or after December 21.
"It could end up being one of the first dissolutions but it's not my intention to jump the gun to be the first."
He added: "My experience hasn't put me off. If I meet the right person at some point in the future I'll give it a go again.
"I can't think there'll be a vast rush of gay and lesbian couples rushing to dissolve their partnerships on December 21. Most couples I know are blissfully happy.
"It's just like heterosexual couples. Some people have their problems and some don't get over them."
In marriage, divorce proceedings first grant a conditional cancellation, or decree nisi, before later formally ending the marriage with a decree absolu.
In civil partnerships, couples dissolve their partnership rather than divorce, and the first stage is to be described as a conditional order, followed by a final order.
Unlike marriage, however, adultery is not grounds for dissolution - because the law only recognises adultery as sex between a man and a woman.
Divorce lawyer Mark Harper, of London law firm Withers, said that, otherwise, the dissolution of a partnership was almost exactly the same as any other divorce.
He said: "The court would look at the assets that existed at the start of the relationship.
"The presumption would be that assets built up during the course of a relationship would be equally divided even if one partner earned much more than the other."
In May, a lesbian couple who wanted to annul their civil partnership after accusations of cheating were told by their lawyer they would have to wait until a year had passed.
Insurance broker Liz King, 40, and Eurostar worker Daphne Ligthard, 36, registered their civil partnership in Ashford, Kent, on Feb 11 before sharing a honeymoon in Amsterdam.
Mark Godfrey was not available for comment.