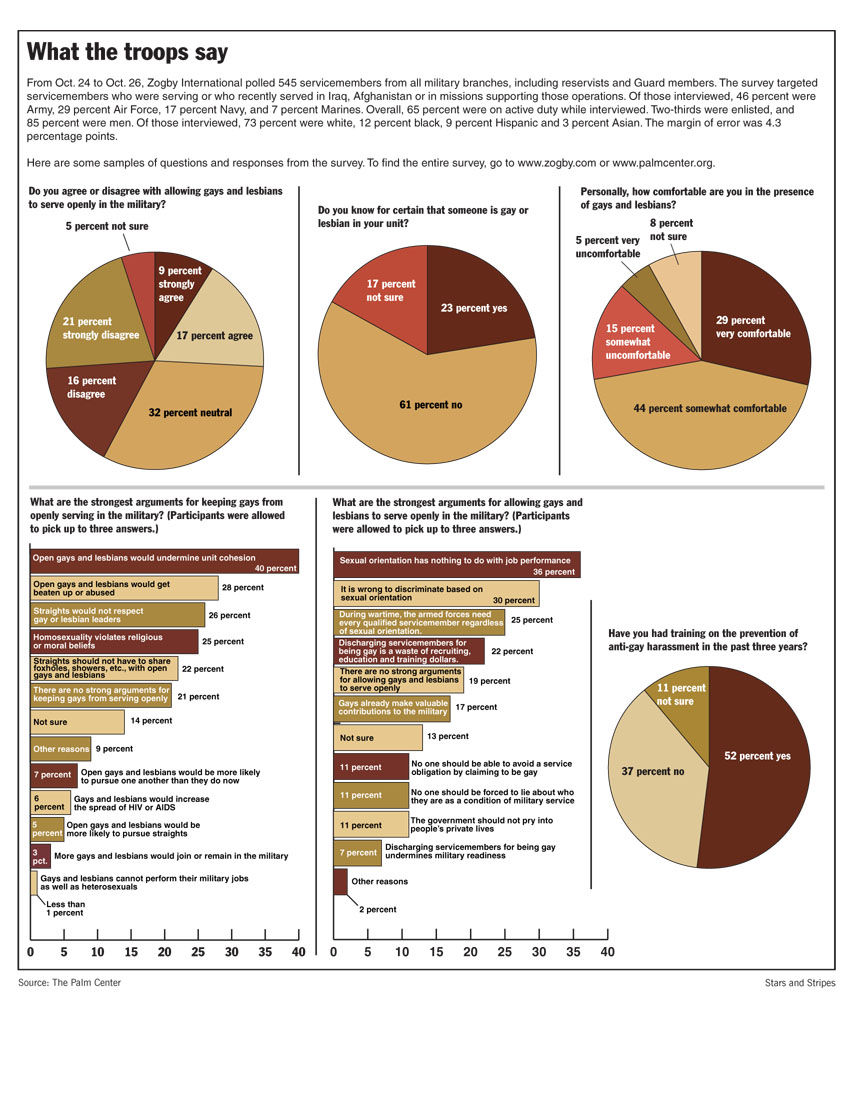 Survey: 1 in 4 troops knows gay colleague
By Teri Weaver, Stars and Stripes
Pacific edition, Saturday, January 6, 2007

TOKYO —
Nearly one in four servicemembers knows definitively that a member of his or her unit is gay or lesbian, according to a survey released last month.
Twenty-three percent of the 545 servicemembers surveyed online over three days in October said they knew "for certain" they were serving with someone who is gay, according to a Zogby International poll. The poll was commissioned by and designed in conjunction with the Michael D. Palm Center, a research institute at the University of California, Santa Barbara, that was formerly the Center for the Study of Sexual Minorities in the Military.
The institute's main goal includes studying the U.S. military's "don't ask, don't tell" policy. According to its Web site, the institute "promotes the interdisciplinary analysis of lesbian, gay, bisexual, transgender and other marginalized sexual identities in the armed forces."
When survey respondents were asked how they knew the person's sexual orientation, 59 percent said they had been told by that individual, according to the poll.
However, when the respondents were asked whether gays and lesbians should be allowed to serve openly in the military, 37 percent disagreed with the idea, 26 percent agreed with the idea, and 32 percent said they felt neutral about changing the current "don't ask, don't tell" policy.
The survey, released last month, was one piece of evidence former Joint Chiefs Chairman Gen. John Shalikashvili used this week in calling for a new discussion about the 1993 policy that prohibits gays from openly serving in the military.
Shalikashvili, a retired Army general, headed the Joint Chiefs when the "don't ask, don't tell" policy was created. Back then he supported it. This week, he called on leaders to revisit the policy in part because Zogby's poll, released Dec. 19, found that three-quarters of those surveyed "said they were comfortable interacting with gay people," he wrote in an opinion piece in the Jan. 2 edition of The New York Times.
The online poll targeted active-duty, veterans, reservists and Guard members from every military branch who are deployed to or recently returned from wartime missions in Iraq and Afghanistan, according to Dr. Aaron Belkin, a political science professor at Santa Barbara and head of the Palm Center.
Belkin said he believed the finding that one in four servicemembers knows of a gay colleague shows the current policy isn't working.
"No one is supposed to know a gay peer," Belkin said during a phone interview Thursday. "To see that was a surprise."
The questions ranged from the servicemembers' personal feelings about the presence of gay people in any setting, to the effect an openly gay servicemember might have on unit morale, to the frequency of private showers while in combat conditions.
The survey also allowed participants to comment on their views on the morality of both homosexuality and the military's ban of openly gay members.
On one hand, 25 percent of those surveyed said homosexuality violates their religious or moral beliefs. On the other, 30 percent said it is wrong of the Pentagon to discriminate against servicemembers based on sexual orientation.
Overall, the results found that those who believed they knew someone gay in their unit were more likely to be tolerant of the idea of openly gay servicemembers, as were less-experienced military members and women. Longer-serving servicemembers and officers, as well as all men surveyed, were less likely to be comfortable serving side-by-side with gay or lesbian people.
Of the total 545 surveyed, 78 percent said they would join the military regardless of the existence of openly gay servicemembers in the ranks. But one in 10 said they would "definitely or probably not" have joined the military if gays served openly.
The current policy states that gays and lesbians may serve in the military only if they keep their sexual orientation private. Commanders may not ask, and gay servicemembers may not tell.
Over the years, thousands have been dismissed under this policy. Two dozen countries, including U.S. allies such as Great Britain and Israel, allow for openly gay members.
The survey respondents also gave high marks to their overall training, and the training of their leaders. Eighty-two percent felt very well or well trained for their wartime mission. Four in five respondents said they felt their noncommissioned officers were good leaders.
Some in Europe support gays but oppose them in ranks
By Matt Millham, Stars and Stripes
Mideast edition, Saturday, January 6, 2007
Most servicemembers say they are comfortable in the presence of gays and lesbians, according to a Zogby poll released in December.
This doesn't mean, however, that most troops want to see gays serving openly alongside them in combat.
Troops across Europe gave their takes on gays serving openly in the military just days after retired Chairman of the Joint Chiefs of Staff Gen. John Shalikashvili came out Tuesday in support of such a change in policy.
Troops interviewed by Stars and Stripes were mostly supportive of the idea, and some hoped the policy would change. Others cited such things as possible harassment and religious beliefs as reasons for being opposed.
"Some people are ignorant and think that gays are different people, but they're not," said Senior Airman Fredy Pasco, an information manager journeyman at the Joint Analysis Center at RAF Molesworth, England.
For that reason, Pasco said, allowing gays to serve openly isn't a good idea and "may cause problems."
Among those who do not want to see the current policy overturned is Air Force Maj. Richard Brown, a political/military analyst for the Joint Analysis Center on RAF Molesworth, England. Asked if he thought gay and lesbian servicemembers should be able to serve openly, Brown said, "I don't think so because the Bible teaches that homosexuality is wrong."
Army Capt. Stephanie Meyer at Landstuhl Regional Medical Center in Germany was less inclined to let her personal feelings on homosexuality dictate her stance on gays serving openly.
"I'm not going to put my moral beliefs on anybody else," Meyer said. "If we're going to talk about EO (equal opportunity) and all this kind of culture in the military, we need to keep our personal perspectives out of it. As long as it doesn't interfere with the mission, it shouldn't be a problem."
Others echoed Meyer's points or took them even further.
"For me, it doesn't really make a difference. I have no trouble right now. If the policy changed, I wouldn't have any trouble," said Air Force Staff Sgt. Trever Scott at Aviano Air Base, Italy.
Master Sgt. Shannon Adams of Aviano said he doesn't think the policy has any effect on him.
"I've seen the policy change since I've been in and … really, I didn't notice a difference," he said. "I don't want to say that people don't have an opinion on it, but I don't think it affects most people."
"I guess being in the U.S. Army, where we defend freedom, to place restrictions on people who are physically capable of doing the job is discrimination," said Spc. David Powell, a member of the 32nd Signal Battalion in Darmstadt, Germany.
Both Powell and his wife have openly gay friends, he said, and for him, serving alongside openly gay troops is "not an issue."
Other opinions were more pragmatic, if not supportive, of serving with gays.
"Can the soldier do the job? What they do behind closed doors should never affect me. That's how I look at it," said Army Master Sgt. James R. Mosher, at Landstuhl Regional Medical Center.
"We are to be a reflection of our society," Mosher said. "If our society's saying we are not discriminating against gays and lesbians, then we shouldn't discriminate against gays and lesbians because we are a reflection of society."
Stars and Stripes reporters Steve Mraz, Sean Kimmons and Kent Harris contributed to this report.
米軍、同性愛者の入隊公認を 元制服組首脳、定員増へ提言