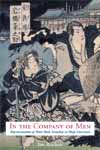 The Japan Times
Sunday, Jan. 14, 2007
THE ASIAN BOOKSHELF
Once in keeping with some of the best company
By DONALD RICHIE
IN THE COMPANY OF MEN: Representations of Male-Male Sexuality in Meiji Literature, by Jim Reichert. Stanford University Press, 2006, 282 pp., illustrations XI, $ 60.00 (cloth).
The search for modernity in the Meiji Era (1868-1912) involved not only the discovery of some new subject matter but also the suppression of some of the old. As the author tells us in this interesting volume: "Certain topics were deemed out of step . . . nanshoku topped the list of undesirable topics."
The term refers to male-male sexuality, in the practice of which Japan had had a long and distinguished history. Kobo Daishi is supposed to have both imported and practiced it. Oda Nobunaga, Tokugawa Ieyasu and Miyamoto Musashi had male partners. At least seven of the 15 Tokugawa shoguns had, in the words of one authority, "well-documented, sometimes very conspicuous, homosexual involvements."
When it was discovered what the West thought of the practice, however, nanshoku became the love that no one any more talked about. In Europe and America it was thought a symptom of biological and cultural decline. As Reichert adds, "according to this theory, homosexuality was of the many possible morbid conditions that could be acquired from an unhealthy environment or an unwholesome upbringing." When viewed in this manner "male-male sexual desire morphed into a social pathology that posed a threat to the well being of society."
This is something that the Meiji authorities did not want. They wanted to reassure that in this modern era assumptions and practices associated with sexuality had been thoroughly transformed. Further, since samurai were now a social embarrassment -- swords taken away, top-knots cut off -- and since nanshoku lore had been mainly about this class, official displeasure could thus accomplish several tasks.
Same-sex sexuality was consequently dragged from the realm of culture into the realm of medicine. It became not a practice but an identity. And the name was changed. Old-fashioned nanshoku ("male colors") became the clinical dosei kosetsu (same-sex relations). This was a neologism, the Japanese equivalent of "homosexuality," another neologism that had recently been constructed in the West.
What to call something of which we are expected to be nominally disapproving remains even now a problem. Reichert calls it male-male sexuality and one can guess that he wanted to avoid the medical solemnity of "homosexual," the fatuities of "gay," and the ambiguities of "queer," a word, which though recently promoted as an academic expression, still smells strongly of disapproval. Nonetheless his male-male nomenclature can suggest the sententious.
Not that Reichert himself does. On the contrary, his is a value-free argument, scholarly in the best sense. His main interest is in how Meiji constructed its modernity. The banning of homosexuality (even legally, for a short time) and the establishment of a regime of compulsive heterosexuality, is a richly pregnant example of this.
The means are Meiji texts that incorporate or avoid the subject. These include authors well known -- Natsume Soseki, Mori Ogai, Koda Rohan -- and some known mainly to the literary specialist: Yamada Bimyo, Tsubouchi Shoyo, and others. Reichert gives a very close reading of these texts since they are crucial to showing how the transformation of modernism was accomplished.
In some examples, nanshoku still reared a defiant head, but in others it was rigidly repressed. That it never again regained its status as a popularly expressed pastime indicates the thoroughness of Meiji modernism. Reading Reichert's analysis enables the reader to understand what happened and why.