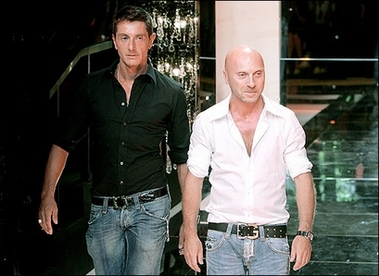 Italian designers Domenico Dolce (R) and Stefano Gabbana acknowledge the applause on the catwalk in 2005. Gabbana has accused the Roman Catholic Church of causing an "enormous delay" in the recognition of civil unions in Italy.(AFP/File/Filippo Monteforte)
AFP
Top Italian fashion designer takes aim at Vatican over gay rights
Mon Jan 29, 9:43 AM ET
Fashion designer Stefano Gabbana has accused the Roman Catholic Church of causing an "enormous delay" in the recognition of civil unions in Italy.
The business (and former love) partner of Domenico Dolce accused the Church of "hobbling politicians who were afraid of losing Catholics' votes."
The Vatican hierarchy "fights every day against those who in its opinion cast doubt on the traditional concept of the family," Gabbana told the daily La Stampa in an interview published Monday.
The Italian government is expected to unveil a draft bill granting legal recognition to de facto couples regardless of sexual orientation.
"The de facto family should also be protected," said Gabbana, 44, questioning, "as a Catholic, the Church's fight against love."
Gabbana and Dolce were together for 19 years before splitting up in early 2005.
Prime Minister Romano Prodi's Union coalition promised in its election manifesto last year to grant legal recognition to common law partnerships, a plan approved reluctantly by centrist Catholics within the alliance.
Justice Minister Clemente Mastella has already said he will vote against the bill.
In order to satisfy all components of the wide-ranging coalition, which also includes hardline radicals, communists and greens, the new legislation will result in far less robust civil unions than those that exist elsewhere in Europe.
The plan to grant inheritance rights, joint medical insurance and visiting rights in prisons and hospitals, among other entitlements, to unmarried couples is vehemently opposed by Italian conservatives as well as the Church.
Earlier this month Pope Benedict XVI said: "Plans to give legal recognition to other forms of union (than marriage) ... appear dangerous and counterproductive, because they will inevitably weaken and destabilize the legitimate family based on marriage."
In December the Vatican mouthpiece L'Osservatore Romano also attacked the planned legislation, saying: "Eradicating the family is the priority of Italian politics."
If the Italian government insists it is defending "individual rights" and that "nothing intends to endanger the traditional family, it will be lying," the paper said in an editorial.
The Italian Catholic Church at the weekend also reaffirmed its opposition to the bill. The secretary general of the Conference of Bishops, Giuseppe Betori, warned of a "distintegration of values" facing future generations.