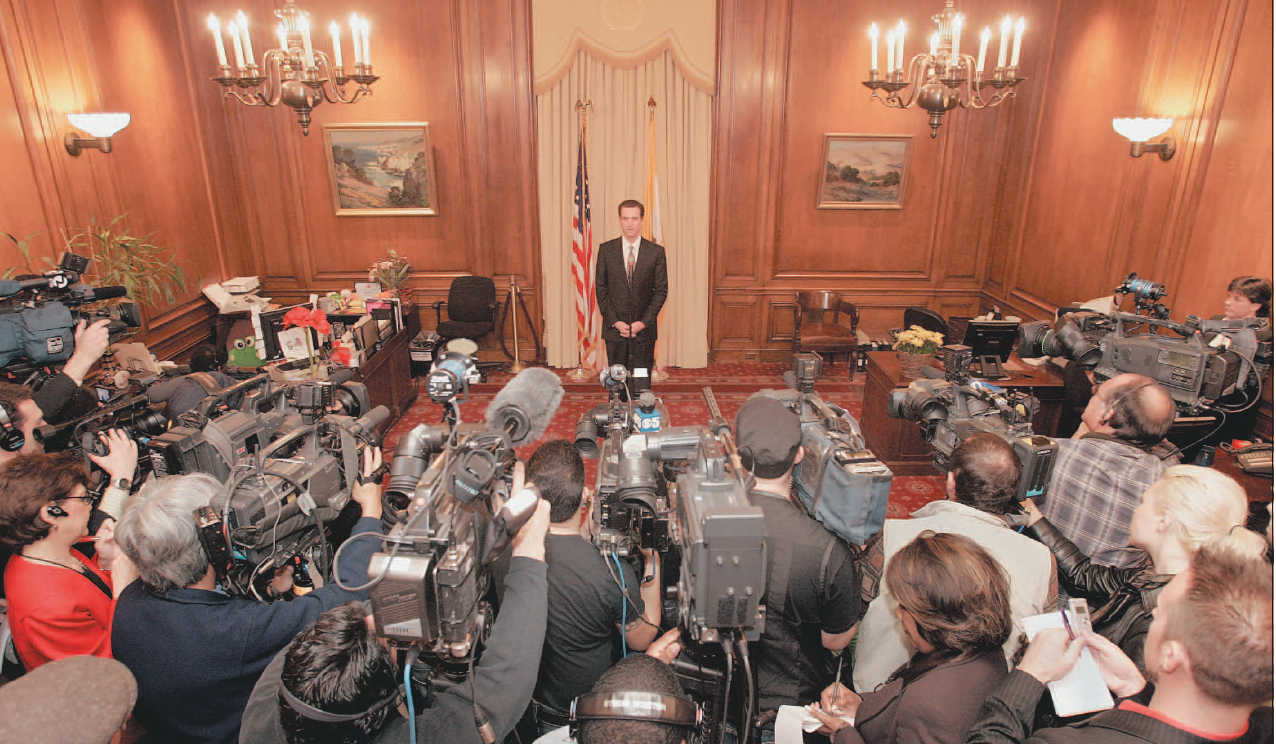 San Francisco Chronicle Feb. 2, 2007 A-1
San Francisco abuzz over mayor's affair
By Lee Romney, Los Angeles Times Staff Writer
1:06 PM PST, February 1, 2007

SAN FRANCISCO --
Mayor Gavin Newsom today confirmed reports that he had an affair with his reelection campaign manager's wife — a subordinate at the time — and apologized for his actions.
In a packed news conference, Newsom emerged to offer a brief, yet somber apology, taking no questions. "I want to make it clear that everything you've heard and read is true, and I'm deeply sorry about that," Newsom said. "I've hurt someone I care deeply about — Alex Tourk and his friends and family. And that is something I have to live with."
Saying he is recommitted to the business of governing, Newsom went on to apologize to City Hall and the residents of San Francisco. "My personal lapse of judgment aside, I am committed to restoring their trust and confidence…We will now be working aggressively to advance our agenda in the city."
He issued his apology after Tourk, his reelection campaign manager and former deputy chief of staff, abruptly submitted his resignation late Wednesday, citing "personal" reasons.
Tourk had been one of the mayor's closest advisors, designing one of the Newsom administration's signature accomplishments: massive bimonthly gatherings — known as Project Homeless Connect and emulated nationwide — where the homeless are directed to services.
The revelations of the reason for Tourk's departure, reported by the San Francisco Chronicle, clearly startled voters and tarnished a mayor who has enjoyed a 70% approval rating and was widely thought to be eyeing an eventual competition with Los Angeles Mayor Antonio Villaraigosa for a shot at the governor's seat.
Supervisor Tom Ammiano said Newsom's apology "rang true. But the real proof of the pudding is going to be behavior and performance in the future."
"You're allowed to stumble," Ammiano said. "But I don't think he has too many more stumbles in his future. There was a lapse of judgment. We need to expect more from our electeds."
Some residents in this city famous for its sexual liberalism rolled their eyes at the news.
"Sooooooo what ????" wrote one poster late Wednesday on the Chronicle's website.
But many others looked beyond the facts of the reportedly short-lived dalliance and saw more: "'Sooo what?'" responded another poster. "If it were a matter of Newsom having an affair with a single woman, that would be one thing, but to go behind a trusted aide's back and have an affair with that person's spouse, certainly makes Newsom seem unprincipled. It's not a matter of sexual prudishness; it's a matter of trustworthiness. Newsom failed this one badly. I supported him until now, but he's lost a lot of my respect."
The revelation came on the same day that the mayor's aggressive and seasoned spokesman, Peter Ragone, was fighting his own battles: A local investigative television team had reported that Ragone was posting hostile comments about Newsom's critics on a local blog under different names.
When confronted with the fact that the missives had been traced to his home computer, Ragone initially insisted that the poster, "John Nelson," was his best friend and often stayed at his home. He admitted later in the day that he, in fact, had posted the comments. But they, in part, reflected the views of his friend, Nelson.
Ragone also posted under the name "Bjorn", a person who doesn't exist. "Stupid, yes," Ragone said. "There are going to be guidelines established. I'm going to help put them together. The political blogosphere is a place where many people express their opinions in different ways. As a rule, I shouldn't be on the blogosphere and it was a mistake."
Aaron Peskin, supervisor of the San Francisco Board of Supervisors, who have clashed increasingly with Newsom in recent months over perceived arrogance, was crafting a "code of conduct" resolution for the city's press staffers when the more startling news of Newsom's indiscretion broke.
Still, the head of Newsom's 2007 reelection campaign team anticipated that it would all blow over soon.
In January 2005, Newsom and his then wife, Kimberly Guilfoyle, who was then a Court TV legal analyst before moving to Fox News, announced that they had filed for divorce after three years of marriage. The couple cited the strain posed by their high-profile, bicoastal careers as the reason for the split.
lee.romney@latimes.com
Times staff writer Jesus Sanchez contributed to this report.
The New York Times
San Francisco Mayor Admits He Had Affair With Aide's Wife
By JESSE McKINLEY
Published: February 2, 2007

SAN FRANCISCO, Feb. 1 —
In a fast-unfolding scandal with all the sex and betrayal of a tawdry novel, Mayor Gavin Newsom admitted Thursday that he had an affair with his campaign manager's wife.
Mr. Newsom said he had a short-term sexual relationship with Ruby Rippey-Tourk, the wife of Alex Tourk, who until Wednesday was running his re-election campaign.
The affair, first reported Thursday by The San Francisco Chronicle, apparently took place in late 2005 while Ms. Rippey-Tourk, 34, worked as Mr. Newsom's appointments secretary, and while Mr. Newsom, 39, was in the throes of a divorce.
"Everything you've heard and read is true," Mr. Newsom, a Democrat, told reporters who crammed into his office for a news conference. "And I am deeply sorry about that."
Mr. Tourk, Mr. Newsom's former deputy chief of staff and a close friend, resigned Wednesday afternoon, apparently after his wife, as part of rehabilitation for a substance-abuse problem, confessed to having had a relationship with Mr. Newsom. In a statement on Wednesday announcing Mr. Tourk's resignation that did not hint at the underlying cause, Mr. Newsom praised his aide and wished him success in "all of his future endeavors."
But the mayor's sentiment was more contrite on Thursday. "I've hurt someone I care deeply about, Alex Tourk," the mayor said. "And that is something I have to live with."
Mr. Newsom, a popular figure who is seeking a second term in November, did not take questions. Sam Singer, a spokesman for the Tourks, said the couple was dealing with the fallout from Ms. Rippey-Tourk's admission and wanted to safeguard their privacy.
The affair was not Mr. Newsom's only public relations problem. On Wednesday, Mr. Newsom's chief spokesman, Peter Ragone, admitted that he had been posting attacks on some of the mayor's critics on a local political Web site under a friend's name. On Thursday, Mr. Ragone added that he had also posted under his own name, and that the opinions were those of himself and his friend.
Corey Cook, a political science professor at the University of San Francisco, said both Mr. Newsom's affair and Mr. Ragone's actions online might make some voters question the mayor's judgment. "Part of the appeal of this administration is that they were young and active," he said. "But there was a concern about their maturity level."
But even some of Mr. Newsom's political rivals said the affair was not likely to be a fatal blow to his re-election plans.
"His ratings are so high he could fall and still have a comfortable cushion," said Tom Ammiano, a member of the Board of Supervisors who ran against Mr. Newsom in 2003.
San Francisco Chronicle
City and County of San Francisco