Sunday, Feb. 11, 2007
Women find voice over sexist gaffe
By HIROKO NAKATA
Staff writer
The Japan Times
In harmony-loving Japan, women rarely take to the streets to protest the sexist remarks that routinely spill from the mouths of ruling politicians, and even the most outrageous comments go largely unpunished at the ballot box.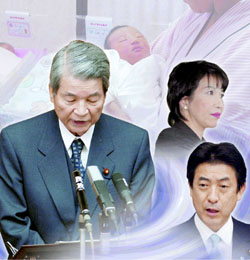 Health minister Hakuo Yanagisawa (left), Chief Cabinet Secretary Yasuhisa Shiozaki (lower right) and Sanae Takaichi, minister in charge of population and gender-equality issues, are shown in a collage. KYODO COLLAGE
However, there are signs that the outrage over health minister Hakuo Yanagisawa's recent remark that women are "child-bearing machines" might make the crucial Upper House election in July an exception to the rule -- no matter how many times he apologizes in public.
During Prime Minister Shinzo Abe's four months at the helm, his Cabinet has suffered a steady decline in approval amid a series of money scandals involving his ministers and a collapse of faith in his leadership. A large enough female protest vote over Yanagisawa, political analysts say, could loosen the ruling coalition's tenuous grip on the Upper House, potentially forcing Abe to step down.
Among those angry voters is Minako Shibata, a system engineer in Tokyo. No firebrand, the soft-spoken 31-year-old said she's never imagined joining a protest rally, no matter the issue. Still, the "child-bearing machine" thing has her all fired up.
"This one got me really angry," she said.
Shibata believes Yanagisawa should resign because the remark was particularly offensive to women in their 30s who want children but can't conceive.
"I refuse to vote for any politician like him."
Then there is financial commentator, social activist and mother of three Kazuyo Katsuma, who is taking her frustration with Yanagisawa to a higher level.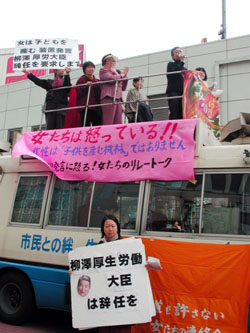 Protesters call for health minister Hakuo Yanagisawa's resignation during a rally in Tokyo's Yurakucho district Wednesday. AKEMI NAKAMURA PHOTO
Katsuma, selected in 2005 by The Wall Street Journal as one of the world's "50 Women to Watch" for her creation of a Web-based network of working moms, is busy collecting comments of outrage from among her more than 4,500 members. She plans to compile them in a pamphlet and send it to media organs and lawmakers.
"Our views must be reflected at election time," Katsuma said.
Though women voters have arguably enjoyed some degree of influence on the ruling Liberal Democratic Party during its half-century of almost continuous rule, they have usually let leaders off the hook for breaking some of the rules closest to their hearts.
To be sure, in 1989, women voters got fed up after Prime Minister Sosuke Uno's lover made their relationship public. Also annoyed with political corruption and a new consumption tax, those voters played a key role in bumping the LDP from its majority in the Upper House and Uno's subsequent resignation.
In more recent years, a series of eyebrow-raising verbal blunders by LDP leaders barely dented the party's overall popularity.
In one of several examples, Lower House LDP lawmaker Seiichi Ota stunned listeners at a panel discussion in June 2003 by describing a gang rape of young women by male college students as a sign of "virility."
Around the same time, former Prime Minister Yoshiro Mori commented during a debate, "It's peculiar that any woman who's never given birth to even a single child, but enjoys her freedom and has fun, should demand taxpayer support when she gets old."
Despite grumbling by women, Mori faced no significant pressure to vacate his seat. Ota did lose the following election, but recovered his seat two years later.
These can be explained in part by solid support from traditionalist women, mostly in suburbs and rural areas, whose social conservatism compels them to support the LDP come what may.
Polls in recent years suggest that approximately one in four women voters support the LDP. The older the women, the more loyal, according to experts.
Recently, though, it appears the LDP offends women at greater peril.
One reason is that women's role in society has become a hot-button issue amid the raging debate on how to tackle the declining birthrate, which some conservatives blame on women prioritizing careers over family and liberals attribute to a lack of government support for mothers.
The Yanagisawa brouhaha has already put the ruling party on the defensive. On Feb. 4, two LDP-New Komeito backed candidates didn't fare so well in local elections considered referendums on the issue.
Analysts agree it played a role in the defeat of Takahiro Shibata, the coalition-backed former bureaucrat running for mayor of Kitakyushu, as well as a last-minute plunge in support for Masaaki Kanda, the coalition-backed candidate seeking re-election as governor of Aichi Prefecture. Kanda scraped by with a razor-thin margin.
"Yanagisawa's comment sparked deep distrust among women, causing them to question whether, as the man tasked with addressing the falling birthrate, he sincerely means to solve the problem," said Kazuhisa Kawakami, a political science professor at Meiji Gakuin University in Tokyo. "Such distrust is going to build up like magma."
That's bad news for the LDP as it heads toward July, Kawakami said, citing a rise in swing voters who could defect to the opposition Democratic Party of Japan if it succeeds in offering a roster of woman-friendly policies.
If the LDP and coalition partner New Komeito together lose 15 or more seats in the Upper House, their majority will vanish, and analysts say that would probably force Abe to resign.
Kawakami said the coalition might lose between 10 and 20 seats, with the Yanagisawa scandal a significant factor as female voters express anger through their ballot.
"It looks like Abe's Cabinet holds a big bomb that could explode any time," he said, adding the prime minister could defuse the bomb by dismissing his embattled health minister.
Still, the very same anger that could drive women against the LDP could also help spare it from humiliation -- that is, women could choose to boycott the election. None of the all-male leadership of the DPJ -- President Ichiro Ozawa, Deputy President Naoto Kan, nor Secretary General Yukio Hatoyama -- particularly inspire female voters, said Kawakami, and that fact could prevent the opposition from benefiting from the LDP's tarnished image.
Katsuma, the working mother and online activist, counts herself among those uninspired by the opposition.
Most commonly discussed on her Web community, called Field of Mugi (Wheat), is the difficulty of balancing work with child-rearing, an issue Katsuma says the whole spectrum of political leadership in Japan has left woefully unaddressed. She called that a main reason couples are reluctant to be fruitful and multiply.
"I don't care what party it is," she said. "I just want any politicians -- young ones, ones from the opposition, female, whatever -- who can present clear, easy to understand proposals helping women.
"When Japanese women want to express their opinions, there's nobody there to vote for," she said. "No party is there for us."
The Japan Times
(C) All rights reserved