Controversial sexologist backs down sex talk
By Jessie Tao (chinadaily.com.cn)
Updated: 2007-02-14 16:59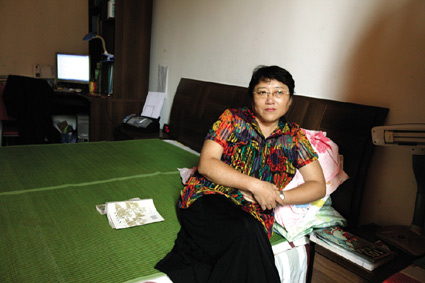 Li Yinhe at home on August 23, 2006. [sohu.com]
Li Yinhe, a noted sexologist and professor at the Chinese Academy of Social Sciences (CASS), who is expected to propose for a fourth time that gay marriage be legalized in China at this year's Chinese People's Political Consultative Conference (CPPCC) of which she is a member, just wrote in her personal blog about her decision to refrain from interviews and talk about sex because of pressure from above.
"... My leaders [at CASS], under pressure from "non-average people," would like me to shut up. ...So starting now, I have decided, for a while (maybe for the rest of my life): 1. to accept as few press interviews as possible; 2. to talk about sex as little as possible," Li wrote in an update entitled "My latest decision".
"...I don't want to uphold any more of my social responsibility because it's interfering with my life, and it's causing pressure on my higher-ups...Gay marriage is not something our country can accept at this stage. History will change when it must. And perhaps I will only be able to be a bystander when the change comes, rather than a participant," Li wrote.
Li, China's first female sociologist on marriage and sex issues, has always been in the media spotlight for her open and bold views on sex and marriage. Li was once listed as one of China's 50 Most Influential People by Asiaweek magazine.
In November 2006, Li, addressing the case in which a man who created China's largest pornographic website was given a life sentence, lashed at China's anti-porn law, saying the law against producing, selling and propagating obscene products should be overthrown.
In January 2007, Li criticized in her blog the firing of a female police office for engaging in wife-swapping activities, claiming that employers, government work units or companies alike, should not interfere in the private lives of employees.
"There is nothing wrong with wife-swapping, which follows the three sexual principles of free will, privacy and being adult. Her participation in wife-swapping is like going to an amusement park with another couple. It's obviously wrong for the employer to force her to resign," Li wrote in the blog.
However, Li's bold speech has also drawn doubt and criticism in a society where the majority of people still harbor relatively traditional and moral attitudes about sex.
Some say Li's bold views are morally corrupt and unacceptable in a civilized society. Some believe Li's defending people's rights to such sexual behaviors as one-night stands, gay marriage and wife-swapping, just to name just a few, may lead to he spread of HIV/AIDS and other sexually transmitted diseases.
Others say Li is siding with the bad guys, including corrupt officials, by blasting China anti-porn law.
Li is well aware of the criticism, and the reasons behind it.
"Many people think I am fighting for the bad people - that may explain why my opinions invited so much objection. In fact, I am not. " Li wrote in an update after announcing her latest decision,
"The people I have been defending are not all bad people. Be they gays, lesbians, or wife-swappers, they are common people on the first stand, only that they have special habits of one kind or another."
"I think even bad people should be entitled to basic rights, like eating and having sex, and that is not easy for my fellow countrymen to accept,." Li wrote.