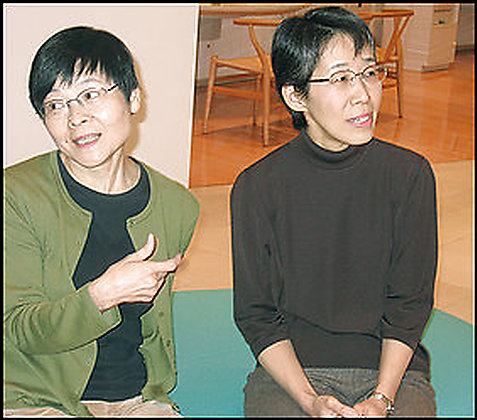 Michiko Koseki, left, and Atsuko Kimura are among six women who have filed a lawsuit against a Tokyo-based trading company alleging sex discrimination.
Photo Credit: By Anthony Faiola -- The Washington Post
Japanese Working Women Still Serve the Tea
Despite Hopes for Change as Their Ranks Have Grown, Discrimination Persists

By Anthony Faiola
Washington Post Foreign Service
Friday, March 2, 2007; A09

TOKYO --
During her many years working for a major Japanese trading company, Michiko Koseki said, she and her female co-workers have suffered a series of indignities both small and large. But the 59-year-old clerical worker was nevertheless shocked a few years ago when her company suddenly decided to move all the men in her department to nicer offices while keeping the women in the old work space.
The affront, she said, did not end there. Koseki, whose job involves handling invoices and customs forms, was then ordered to trek down the hall to serve tea to male employees and visiting customers. The logic: There were no female employees in the new work area, a problem in a country where women in the office are still expected to pour beverages during business meetings.
"I bitterly complained, but my boss said, 'We can't hire a new woman just to pour the tea,' " said Koseki, who has joined five other women in a broad sex discrimination suit against the company, Tokyo-based Kanematsu Corp. "And of course, there was no way a man was going to do it."
She continued: "Women in this country were supposed to be taking a big step forward. But for many of us, it feels like a step back."
In Japan, home to the world's second-largest economy, women have entered the workforce in record numbers over the past 15 years. The phenomenon was once heralded by many as the start of a new era of sex equality in a country where women have long lagged a step behind men professionally.
But leading academics and workers rights groups say the vast majority of Japan's 27 million female workers have instead encountered a far different reality: a system of corporate discrimination based on sex.
As many Japanese companies have sidestepped weak labor laws, they have relegated women to "administration tracks" with substandard pay and fewer prospects for promotion, while channeling men into "career tracks" with greater opportunity for upward mobility and higher compensation.
The number of working women in Japan picked up after the burst of the economic bubble here in 1991, when companies began hiring more of them as a cheaper source of labor. Many of those new hires were brought on as part-time or contract workers without benefits or job security. Although many assumed that those positions would evolve into better-paying full-time jobs, statistics show that hasn't happened. Today, Japan has a record 8 million part-time workers -- more than 90 percent of them women.
"As women have come into the workforce, there has been only fractional progress in overall equality in the workplace," said Mutsuko Asakura, a professor of labor law at Tokyo's Waseda University. "In some companies, you've actually seen women fall further behind."
Critics say Japan has also failed to keep up with Western legal standards in the workplace, including on the issue of sex discrimination. A U.N. study released last year said Japan ranked behind all other industrialized nations in terms of empowerment of women, with 10.7 percent of senior corporate and political positions held by women, compared with 42 percent in the United States.
In Japan, women on average earn 44 percent of what men earn -- the widest income gap between sexes in the developed world. Even as the percentage of women in the workforce rose from 37 to 41 percent between 1980 and 2005, the number of women in top management positions climbed only slightly, from 1 percent to 2.8 percent
Many analysts here see closing the gender gap as one of the most critical issues confronting the country. With a strong anti-immigration policy and a low birthrate, which caused a decline in Japan's population last year for the first time since World War II, analysts say Japan needs to fully incorporate women into the workforce.
"Unless we begin seeing a major shift, with women integrated more equitably into corporate Japan, it is going to be very difficult for this country to find the labor needed to sustain the economy in the future," Asakura said.
Such concerns come as women here rethink their place in society, with statistics showing more of them choosing to forgo traditional lives of marriage and child-rearing. And although younger Japanese men appear to be embracing those changes -- and show a willingness to view women as equals -- the older Japanese men who hold the vast majority of corporate and political power seem far less willing.
Health Minister Hakuo Yanagisawa, 71, in January publicly described women as "baby-making machines" and suggested Japan had a birthrate problem because women were failing in their duty to produce children. In November, Hakubun Shimomura, 52, one of Prime Minister Shinzo Abe's top aides, said the country could easily address a national shortage of public day care if women would simply "stay at home and raise their children.''
"For many years in Japan, managers saw women in the office largely as prospective marriage prospects for their junior male employees," said Katsutoshi Kezuka, a labor law professor at Tokyo's Chuo University. "Obviously, there are still men out there who are having problems shedding that image."
Female workers are increasingly breaking taboos by taking their grievances to court. They have not, however, found a sympathetic ear in the legal system.
Japan lags severely behind North America and Europe in anti-discrimination laws and enforcement. The country passed its first comprehensive workplace sex discrimination law in 1985 -- a measure initially considered a "guideline" for companies rather than a requirement. Subsequent refinements have added teeth to the law, but legal experts say courts still tend to favor private-sector discretion in hiring and advancement practices.
Koseki and five other women launched their discrimination suit against Kanematsu Corp. in 1995, alleging the company systematically created a caste system and kept female employees on the lower rungs. Company officials declined to be interviewed, citing the pending lawsuit.
One plaintiff and longtime employee, Atsuko Kimura, 49, said she was once told by a male personnel director that the only women who should work for the company were those who "wanted to do office work or were suitable to become wives for male employees."
Court records and testimony from the plaintiffs indicate that of the 333 employees Kanematsu had on career tracks, only nine were women. Its administration track included 121 women and one man, who was disabled.
Kimura, Koseki and other plaintiffs claim that assigning women to the administration track helped the company routinely pay larger bonuses to men who had no more training than their female counterparts. A court has also been presented with evidence related to Kanematsu's decision to relocate the men in its sales department to the new, sunnier office area in 2001.
A Tokyo district court judge ruled in favor of the company in 2003, arguing that Japan's equal opportunity law does not "prohibit a corporation from applying different hiring, job assignment and promotion rules" to men and women. The case is now on appeal, with a ruling expected this summer.
"There is a 27-year-old man who does almost exactly what I do, and he is already making more than me," said Koseki, a single woman who is set to retire next year. "I've been with the company for 42 years. And the court says that's fair? Well, I strongly disagree."
Special correspondent Akiko Yamamoto contributed to this report.