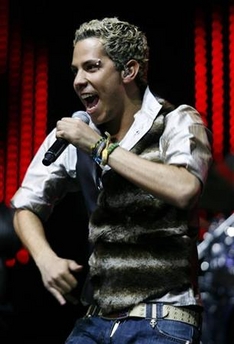 Singer Christian Chavez of the group RBD is shown performing at the 102.7 KIIS FM's Jingle Ball '06 in Anaheim, in this December 7, 2006 file photo. Chavez's announcement that he is gay, making him the first high-profile member of Mexico's show-business elite to 'come out' in public, has caused a stir in the deeply conservative Catholic country. (Max Morse/Reuters)
Gay pop star's "coming out" causes stir in Mexico
By Greg Brosnan
Sat Mar 3, 8:41 PM ET
Reuters
A 22-year-old pop star's announcement that he is gay, making him the first high-profile member of Mexico's show-business elite to "come out" in public, has caused a stir in the deeply conservative Catholic country.
Christian Chavez, one of six members of the glitzy pop band RBD, told fans he was homosexual after photographs were published on a gossip Web site purporting to show him tying the knot with his partner in a ceremony in Canada.
"Certain photographs were released that show a part of me, a part that I was not prepared to speak of in fear of rejection, of criticism," he said in a statement on the group's Web site (
www.grupo-rbd.com
).
"I don't want to keep on lying and lie to myself because of fear," he said.
The news was splashed across the front pages of most Mexican newspapers on Saturday along with photographs of Chavez with the pink spiked hair that makes him stand out among the members of the band that grew out of a popular soap opera.
Homosexuality is still barely out of the closet in most of Mexico, where sugary boy-meets-girl telenovelas heavily influence notions of love and romance and many in the Roman Catholic Church strongly oppose gay unions.
Media pundits doubted Chavez would have spoken out were it not for the photographs, but praised his courage in a conservative nation where few artists admit to being gay.
"Christian Chavez showed a lot of bravery," columnist Yuriria Sierra wrote in Excelsior newspaper. "Why has no Mexican public figure ... felt comfortable enough to openly express their sexual preference?"
Mexican gay rights activist Sergio Villarreal said it was understandable previous generations of gay artists had kept their sexuality a secret for fear of public rejection, but hoped Chavez's courage would set a new example for the young.
"This young man represents a new way of seeing things, less prejudiced and more open," he said. "Christian Chavez's decision symbolizes this new way of seeing life and raises hope of a more inclusive future with more respect for differences."
FANS' LOVE 'BIGGER THAN ALL OF THIS'
RBD grew out of the television soap opera "Rebelde" (Rebel), set in an elite Mexico City boarding school where the three boy and three girl members of the group starred as students who go against the grain by starting a band.
Chavez said he hoped his fans would understand.
"Although I'm scared and filled with uncertainty I know that I can rely on the support of my fans, their love is bigger than all of this," he said.
Young Mexicans' feelings were mixed.
"It's fine, people have the right to choose, you can't force anybody to be something they're not," Juan Blancas, 17, said on Saturday as he gave out fliers in a Mexico City mall.
"I say no, it's really not on," 16-year-old Carla Gonzalez said as she walked past a music shop with a friend, adding, "You couldn't tell."
メキシコのポップ歌手が同性愛を告白、国内で波紋
2007年03月05日

 [メキシコ市 3日 ロイター] 
メキシコの人気ポップグループ「RBD」のメンバー、クリスチャン・チャベスさん(22)が同性愛を告白したことについて、カトリック教徒の多い同国では波紋が広がっている。
 チャベスさんは、カナダでの行事でパートナーのネクタイを結んでいる写真がインターネット上に掲載されたのを受け、ファンに自分が同性愛者であることを明かしていた。
 グループの公式ウェブサイトでチャベスさんは「拒絶や批判を恐れて話す準備の出来ていなかった私の一面を撮った写真が公開されました」とコメント。その上で「自分自身を偽ったり、うそをつき続けたりしたくありません」と述べた。
 これを受け、3日付の主要国内各紙は同ニュースを写真付きの一面記事として報道。一方、メディアの専門家らは、写真の存在が無かったら今回の件が起きたかどうか分からないとしながらも、保守的な国で自身の同性愛を告白したチャベスさんの勇気を称えている。