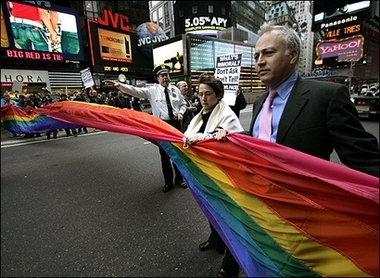 Matt Foreman(R), Executive Director of the National Gay and Lesbian Task Force, and Rabbi Sharon Kleinbaum(2ndR) block traffic with a banner moments before they were arrested in the middle of Broadway in Times Square during a protest expressing outrage at US General Peter Pace's comments on homosexuality by ACT UP (AIDS Coaltion to Unleash Power) in New York.(AFP/Timothy A Clary)

Rabbi arrested at New York demo over gays in the military
Thu Mar 15, 2:38 PM ET
AFP
Two leading US gay rights activists, one of them a rabbi, were arrested in New York Thursday at a demonstration to express outrage over a top US general's comments that homosexuality was immoral.
Rabbi Sharon Kleinbaum and
National Gay and Lesbian Taskforce
chief Matt Foreman were detained after sitting down in the road to block traffic passing a military recruiting station in the bustling Times Square intersection.
The ad hoc group of around 50 demonstrators were protesting comments made by the US military's top officer, General Peter Pace, who said in an interview published Tuesday that homosexual acts were immoral.
Shouting "Pace is immoral, gays are fabulous" and "military bigots have got to go," protesters, some wearing t-shirts saying "Queer Guerilla" and waving placards calling for Pace to quit, wrapped themselves in a giant rainbow flag.
Former New Jersey governor and gay activist Jim McGreevey condemned the US military's official policy on gays in the military, known as "don't ask, don't tell," saying it treated homosexuals as second class citizens.
"The whole 'don't ask, don't tell' policy is wrong in so many ways. It asks people not to be honest and open about their sexuality," he said.
"Homophobia is the last accepted prejudice in America. We battled racism and sexism and yet homophobia is unfortunately still tolerated... we need to change that," he told reporters.
"I think the joint chiefs of staff need to understand that being gay is part of who and what we are," he added.
Another protester, Ann Northrop, said the gay community was furious about Pace's comments.
"We will not stand by while we're being insulted by the leaders of our country or anyone else," she said.