Helping to give back the power that is theirs
By ANGELA JEFFS
The Japan Times: Saturday, March 31, 2007
The two small rooms and kitchen occupied by Kalakasan have been bulging at the seams since early morning. First there was a regular staff meeting. In the afternoon, a group of Filipino women providing support to one of their members, came with a distressed mother and teenager. The youngster was raped by four young men.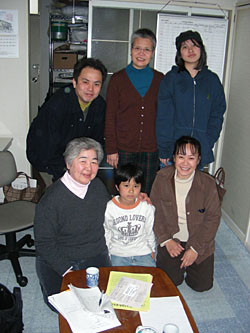 WORKERS AT KALAKASAN help women in need. Pictured (from bottom left, clockwise) are Sister Elizabeth Kato, Ken Suzuki, Leny Tolentino, Mikihiko Yone, Donna Nishimoto and Yuri Miyagi.
"We are trying to persuade her to take proper care of herself so that she can regain herself and press charges," explains full-time staff member Leny Tolentino after the group had gone.
"Afraid and embarrassed, she wants to go back to the Philippines and try to forget it. But we want to help her stay and stand up for herself. That's our work here: to empower women who feel powerless.
Tolentino came to Japan as a lay missionary from the Philippine island of Catanduanes in 1988. She worked at the Yokohama Diocese Solidarity Center for Migrants (SOL) until it closed in 2002.
Concerned with the pastoral care of migrant women, who continued to seek help after the center closed, the idea for Kalakasan -- the Tagalog word for "strength," was born.
"We moved here, near Shin-Kawasaki Station, in August 2002. Initially neighbors were hostile; they complained about the constant comings and goings and the noise the children would make. But this has settled down now. With most of us (the full-time staff) living in the community, there is acceptance."
Sister Elizabeth Kato, a Japanese-American from Hawaii, has also been with Kalakasan since its inception. Her job, she says, is largely administrative. "Maryknoll Sister Missionaries tend to be very hands on," she laughs.
Since her first deployment in Japan in 1967, Kato has studied Japanese in Kyoto, worked at a girls school in Yokkaichi, and spent 10 years supporting day laborers in Sanya. She joined Kalakasan because she saw the need for abused migrant women to reclaim their inner strength that has been smothered by negative experiences in Japan.
Donna Nishimoto arrives, a recovering victim of domestic violence (DV) who is now a full-time staff member. Her story, together with four others, exemplify Kalakasan's process in the book Transforming Lives: Migrant Women Blaze a Trail Towards Empowerment, published last year in collaboration with the International Movement Against All Forms of Discrimination and Racism-Japan Committee (IMADR-JC).
But as Nishimoto explains, she is a victim no longer. "In the beginning I was just angry, angry not only at what I and my children had suffered, but everything and everyone. Though destructive, it was this anger that sustained me." Now she feels her anger evolving whenever she experiences injustice -- injustices that can be found in institutions -- police, immigration -- as well as personal relationships. "Now I can address my anger to the right person in the right way. I am turning my anger into empowerment." Supporting her son here, she is a familiar face at the National Diet building in Nagatacho. Here, she actively lobbies Parliament for changes in laws pertinent to migrant workers in Japan.
"I advocate, I network-- seeking to improve the DV law that in 2001 gave protection to Japanese victims of domestic violence. We worked to change this to include non-Japanese. Yes, it was shameful that the law was not inclusive."
Right now, Nishimoto and her group are lobbying for a national network to support abused migrant women more fully. Women tend to seek support initially when in crisis, either at home or at work. Once the initial crisis has been overcome, they need continued support to rebuild confidence and identity.
After Crisis Intervention (Leny is one of the workers who face-off abusive partners and/or help couples find common ground) comes Follow Up Care, including home visits, healing sessions and training.
Integral to this program, says Nishimoto, are monthly meetings, parenting, theater and dance projects, massage and reflexology sessions, English classes, summer camps, seminars and involvement with International Day on Nov. 25 that marks Violence Against Women.
It is at this moment that part-timer Ken Suzuki -- the only male staff member -- arrives with three or four children in tow, to join those drawing quietly around a table in the second room. Here a blue wall-hanging has the words "Kalakasan -- Migrant Workers Empowerment Centre" marked out in white phone buttons.
"I used to work for a phone company," Nishimoto says, grinning. "It was the children's idea to glue them on." Suzuki, the women point out, won the Kirara Award back in 2003. Awarded by the Kanagawa Coop (a local cooperative movement in the prefecture), he donated the half million yen prize to expand support for Kalakasan.
Producing a statistical summery of 2006, Kato notes that over the year the center helped 286 women, 37 suffering domestic violence, 39 with marital difficulties, 37 involving children (including custody and visiting rights), 23 needing medical advice, 63 with visa issues, five with work-related problems, and 41 Others, including the death of a husband, debts, arrest and detention, housing, and unpaid wages.
In addition, Kalakasan is creating initiatives to further integrate into the community. "For example," says Tolentino, "our children are involved with Agri-garden, a community project near the local JR station where citizens are creating an organic garden and a natural pond as an attempt to reclaim the natural environment."
The women share their leadership training and social justice programs with Filipino women in trouble as far away as Hiratsuka, Shizuoka and Hamamatsu.
Last September, a group of Korean women, led by a Korean married to a Japanese man, visited the center. Staff have since heard that an organization similar to Kalakasan has been set up in South Korea.
Tolentino again: "Apparently there are increasing problems faced by migrant workers married to Koreans or working as entertainers. Their situation is very similar to that faced in Japan."
Tolentino's 'River of Life' project is especially close to her heart. Women gather to tell their stories and share their experiences in workshops, to gain strength from one another.
"We reclaim our creativity by acting out the realities of our lives in paint, song, dance and theater. Our one-day experience of gender-sensitivity was like a gentle brush stroking our skin. We need gentleness. It helps us feel strong again."
KMWEC, KKF Haimu #210, 1-34-8 Kita-kase, Saiwai-ku, Kawasaki-shi 212-0057 Phone: (0440 580-4675; fax 044-580 4676. E-mail: kalakasan@inada-noborito.com