BBC
Thursday, April 5, 2007
China launches first gay TV show

A Chinese TV channel has launched what it says is the first ever programme to focus on gay issues in China.
The programme is being broadcast over the internet and will feature gay presenters discussing issues related to the homosexual community.
The makers hope it will increase tolerance in a society where homosexuality is still a taboo subject.
For much of the Communist Party's time in power, homosexuals were persecuted - often jailed, or even executed.
Until 2001, the Chinese authorities still classed homosexuality as a mental illness.
No denial
The weekly 12-episode show has been produced by Hong Kong-listed broadcaster Phoenix Satellite Television.
It will be accessible to millions of people through the broadcaster's internet site and other portals, said the show's producer, Gang Gang.
It will be a forum for gay people "to get in touch with each other and communicate", Gang told Reuters news agency.
"In a lot of major Chinese cities, gay people are playing sports, swimming, working out, singing karaoke - they are getting together in all types of activities," he said.
The show is a sign that attitudes to gay rights are slowly changing, says the BBC's Dan Griffiths in Beijing.
Things have moved on, but many gays still have a difficult struggle in the face of traditional ideas about the family, especially those living in more conservative rural areas, our correspondent says.
The programme producer said homosexuals in China had been under pressure - mainly from "a lack of understanding".
"We hope that after this show airs, homosexuality will no longer be an issue, that society will be more enlightened about it, more understanding and more tolerant," Gang Gang said.
Chinese website to launch gay TV show
(AP)
Updated: 2007-04-04 15:13
A Chinese Web site will launch Thursday what its producer describes as the country's first show to focus on gay issues and the first with an openly homosexual host.
The weekly, hourlong Internet TV show "Tongxing Xianglian," or "Connecting Homosexuals," will debut Thursday on
www.phoenixtv.com
, producer Gang Gang said in a phone interview.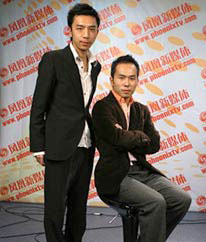 Host Didier Zheng (left) and producer Gang Gang of the new Chinese gay-themed show "Tongxing Xianglian" [AP]
The Web site is run by the same media company that runs the Phoenix satellite TV station. Gang said clips from the online show will be aired on the broadcaster.
Gang said while homosexuals have appeared on Chinese TV shows, this will be the first show to focus on gay issues and the first with an openly gay host, AIDS activist Didier Zheng.
He said he hopes the Beijing-based show will improve public understanding of Chinese homosexuals.
"There are many people in China's gay community, but people don't have a deep enough understanding about this community. This community faces a lot of trouble and difficulties. They face a lot of pressure," Gang said.
The new show will explore homosexuality from legal, parental and sociological perspectives, dealing with issues like gay marriage, Gang said. The program will also feature a friend-matching portion.
The show's host, Zheng, 27, is a France-educated activist at the Chi Heng Foundation, which works with AIDS orphans and promotes AIDS prevention.
"I hope to convey my love in caring for gays, my hopes for them to get better recognition in society," said Zheng, a Chinese citizen who pursued graduate studies in psychology at the Sorbonne.
Gang said he believes gays in China face less discrimination than in the West, where criticism of homosexuals stems from Christian beliefs.
"The pressure comes more from the Chinese problem of saving face," he said.