The Japan Times
Tuesday, April 10, 2007
BIG SPENDERS ON FASHION, TRAVEL
At 6.6 trillion yen, gay, lesbian market no small niche
By SHINICHI TERADA
Staff writer
Japan has an estimated 2.74 million people who are either lesbian, gay, bisexual or transgender, and in terms of targeting a niche market, they have a combined purchasing power of 6.64 trillion yen -- the equivalent of the nation's liquor consumption.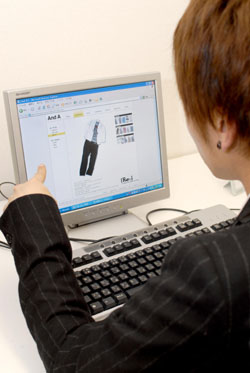 Akihiro, 22, who only wants to be identified by his first name, views a fashion brand's Web site popular with young gays. YOSHIAKI MIURA PHOTO
This is according to Tokyo-based marketer Pageanta Co., which sees many of the people in the so-called LGBT segment willing to spend vast sums on lifestyle-related items from fashion and art to travel.
"Their buying power is undeniable," said Yuko Hakoishi, founder and president of Pageanta, which operates a social networking site for its target clientele.
Hakoishi encountered the gay and lesbian segment while researching niche markets at an advertisement agency. Counting on large market potential, she established Pageanta last August, calling it the first and only marketing firm in Japan specifically targeting such people.
Because many nonheterosexuals refrain from starting families -- same-sex marriages are not permitted by law -- they have more disposable income, Hakoishi said.
"Many of them tend to enjoy the moment by spending for now rather than saving for the future."
Despite overall sluggish consumer spending, Hakoishi's company found that people in the gay and lesbian segment spend 1.2 times more than their straight counterparts. Hakoishi noted, for example, that straight people -- women and men -- spend 36,000 yen a year on average for cosmetics, while their gay and lesbian counterparts spend 46,000 yen. For overseas travel, the figure is 65,000 yen for straights and 82,000 yen for gays and lesbians, she said.
Akihiro, a 22-year-old gay man who asked that his full name not be published, said he spent 80,000 yen on clothing, shoes and accessories in March alone.
"I love And A brand. It touches my heart," he said of a clothing line popular with gays.
Like many other gay and lesbian consumers, Akihiro is a loyal customer to gay-friendly companies -- and he spends without hesitation.
The soft-spoken man with model-like looks spends not just for fashion items but strives to be "beautiful," because he sees women as his competitors.
"I went to a big gay party with my female friend. A good-looking guy picked her up, but no one was interested in me. That made me feel that I need to look better to win," he said with a smile.
Yukiko, a 31-year-old lesbian who also asked that her last name not be used, said she travels overseas with her partner two or three times a year, where she does not have to worry about being stared at. She spends a lot on traveling and polishing her skills in various fields.
"My generation is not afraid of staying single, so we don't hesitate to invest money on skill development," she said.
In the case of a 32-year-old gay who goes to a gym three times a week, design, rather than function, is a priority when it comes to shopping.
"I love the iPod. It feels good when you touch it," he said. "Softbank's mobile phones that come in 20 different colors are cool, too."
Pageanta's Hakoishi believes businesses can cultivate a potentially lucrative market by offering information about the purchasing trends of sexual minorities on her firm's Web site. Companies trying to sell goods and services to gays and lesbians can make use of the information and also interact with them via the Net, she said.
Many in this segment are heavy Internet users, as it allows some degree of anonymity and provides a forum for exchanging ideas and information, she said.
Foreign companies here already recognize the potential for this segment, as firms participate in various gay and AIDS-prevention events.
Tower Records ran an ad in the brochures of the annual Tokyo International Lesbian and Gay Film Festival, while Denmark-based furniture store BoConcept has run ads in yes, a magazine featuring nonstraight lifestyles published by a subsidiary of Tower Records.
"Gay-themed magazines are very limited here, so readers tend to read every page, unlike regular magazines that readers often leaf though," said Yukiko Konno, marketing coordinator of BoConcept Japan.
Employees of Body Shop outlets have participated in gay rights parades at different locations in Japan to offer giveaway goods.
Levi Strauss gives out condoms with the firm's logo printed on the package at events related to AIDS prevention, and is looking at the gay and lesbian segment as a marketing target.
"The question is how these activities can translate into money. We need to study the possibility of appealing to gay and lesbian customers," said Atsushi Murohashi, human resources manager at Levi Strauss in Japan.
Lehman Brothers Japan Inc. meanwhile sees the lesbian and gay segment as a pool of resources instead of a marketing target, and holds job seminars specifically targeting nonstraight college students.
To be sure, not all companies in the U.S. are gay-friendly and there is a deep divide of opinions over same-sex marriages and other issues involving homosexuality.
Hakoishi said there is also a backlash against the growing gay market in the U.S., citing as an example calls by religious conservatives to refrain from buying cars made by Ford Motor Co., which is running advertisements targeting gay and lesbian groups.
In Japan, many firms worry about the possible damage to their corporate image if they are seen targeting the nonstraight market, she said.
However, since the market itself is not widely recognized, willing businesses might be able to quietly cultivate the segment without worrying about a social backlash, she said.
"I know there is an atmosphere of gay bashing in the U.S. But in Japan, I don't think people care too much about them," said Midori Kyan, 27, a straight woman who is a regular customer at a trendy gay bar in Tokyo's Shinjuku district. "The Japanese gay scene may be described as gay-passing."
The Japan Times
(C) All rights reserved