The Wall Street Journal
PAGE ONE
Developing Nation: Japanese Clothiers Update Their Lines
Changes in Diet Produce Curvier Bodies in Women; The 'Love Bra' Catches Fire
By AMY CHOZICK
May 7, 2007; Page A1

TOKYO --
All over Japan, retailers are scrambling to keep up with a new look known as "bon-kyu-bon." It means "big-small-big" and it signals a change in the way Japanese women look: They're getting curvier.
Japanese stores that used to keep just two or three sizes of clothing on hand are rushing to stock larger sizes. Juicy Couture, known for its figure-hugging terrycloth tracksuits, opened one of its biggest stores in Tokyo last year. And Tokyo's high-end Isetan department store, which used to relegate its bigger sizes to one corner, now prominently features larger items from designers such as Ralph Lauren, Diane von Furstenberg and DKNY.
Wacoal Corp., Japan's largest lingerie company, was once known for its super-padded brassieres. Now the company has a new best-seller: the "Love Bra," a cleavage-boosting creation with less padding, aimed at curvier women in their 20s.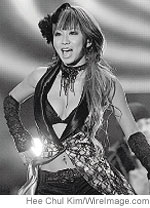 Kumi Koda at a performance in South Korea last year
Today the average Japanese woman's hips, at 35 inches, are around an inch wider than those of women a generation older. Women in their 20s wear a bra at least two sizes larger than that of their mothers, according to Wacoal. Waist size, meanwhile, has gotten slightly smaller, accentuating many young women's curves.
The average 20-year-old is also nearly three inches taller than she was in 1950, according to government statistics, and the average foot has grown by nearly a quarter of an inch.
The physical changes are largely the result of an increasingly Westernized diet, say nutritionists. Meals that used to consist of mostly fish, vegetables and tofu now lean heavily toward an American-style menu of red meat, dairy and indulgences such as Krispy Kreme doughnuts and Cold Stone Creamery ice cream.
All this extra protein and calcium has led to longer, stronger and fuller bodies. Shinichi Tashiro, an endocrinology professor at Showa Pharmaceutical University, says the intake of extra fat tends to go to either breasts or hips in adolescent girls.
Marketers say they first started noticing more women with hourglass figures a few years ago. One of the first people to act on the change was apparel wholesaler Kazuya Kito.
A Catalyst
In 2001, Mr. Kito founded Egoist, a trendy purveyor of slinky clothing designed to highlight the busty look, figuring that the curvier bodies would make women want to wear less-modest outfits. His fashion-industry friends scoffed at the idea. Back then micro-miniskirts were in style, but women, for the most part, kept their chests covered. Yet Egoist, whose wares include see-through sweaters made to show off decorative bras or skinny tube tops, became a huge hit and a catalyst for other skimpy-clothing brands.
"Now that Japanese women are more proportioned," they're ready for these clothes, Mr. Kito says.
Nami Sakamoto, an advertising-agency employee, embodies the new look. The 26-year-old is tall -- by Japanese standards -- at 5 feet 5 inches. She's also voluptuous, with a 35-inch bust and 35-inch hips.
"I had a hard time finding button-down shirts that would close," says the 26-year-old Ms. Sakamoto, especially when she was in high school and there were fewer foreign retailers in Japan that sold bigger sizes. "Sometimes the buttons would burst off." Now she buys clothes at Western retailers that carry larger sizes.
Other young women are buying special items to flaunt their new physique. "It's just more fun to show some skin," says Ayami Arii, a 19-year-old vocational-school student, who recently sported a tiny denim miniskirt and an iridescent pushup bra that peeks out from below her low-cut blouse. Her bra, a big seller at boutiques in Tokyo's Shibuya 109 department store, is called a "Showy Bra." Similar to a string bikini top, the $60 bras, made to be peeking out of a low-cut blouse, started appearing last year and come in a variety of colors, from red patent leather to leopard print and orange sequins.
The cleavage craze took off in 2003, when a young pop star named Kumi Koda appeared in ads around Tokyo wearing a barely-there metallic bra and not much else. In one image, she wore coconut shells over her chest. Then, two years later, she performed at the televised Japan Record Awards wearing thin tape-like gold satin straps over her breasts that revealed nearly everything when she danced. The 24-year-old star has become the champion of a new "If you've got it, flaunt it" attitude among young Japanese women.
The trend has some families concerned. Akiko Uchida, a 49-year-old restaurant owner, decided to enroll her 17-year-old daughter, Masumi, who wears an E-cup bra, in a private all-girls school where she would have to wear a uniform. She says her daughter is always trying to wear scoop-neck shirts and other clothes that show off her body. "I don't want boys to see her unsupervised," says Ms. Uchida, who plans to be even stricter when her daughter goes to college next year.
Complicated Terrain
Fashion has long been complicated terrain for women in Japan, a conformist society where showing some skin is a way to rebel against traditional roles. Fashion historian Akiko Fukai likens the new look to post-World War II Japanese women shedding their restrictive kimonos, which are designed to flatten the chest, in favor of Western garb.
Saki Toraiwa, a 21-year-old cashier at a bakery, says she likes the look of a tanned body and curves like Jennifer Lopez. When she's not wearing her work uniform, she likes to wear skin-tight T-shirts, jeans and high heels.
But she says she has to be careful not to dress in clothes that look too sexy when she's with her boyfriend, who prefers her in more-conservative fashions like flowing sundresses and girly skirts. Ms. Toraiwa wants to get married soon and doesn't want him to see her as a sex object.
"If I'm feeling confident, I'll show it off," says Ms. Toraiwa, "but lately a lot of it just depends on what my boyfriend likes."
Write to Amy Chozick at
amy.chozick@wsj.com