カテゴリ
以前の記事
検索
最新のトラックバック
その他のジャンル
ファン
記事ランキング
ブログジャンル
画像一覧
大陸を超えた広がりがあった 京大教授、エイズ国際会議の意義語る (京都新聞 2005/07/05)
(写真)エイズ国際会議の意義を語る組織委事務局長の木原京大教授(左)=5日、神戸市・神戸ポートピアホテル
 神戸市で開かれていた「アジア・太平洋地域エイズ国際会議」が5日、閉幕した。組織委事務局長を務めた木原正博・京都大医学研究科教授らが閉会式後に会見し、「アフリカや中近東からの参加も多く、大陸を超えた広がりがあった」と会議の意義を語った。
 木原事務局長は、5日間で約70カ国4500人の参加があったことを「海外からのサポートと期待の結果」と強調。「会議のテーマである『科学とコミュニティーの英知の統合』を反映させ、アジア太平洋地域が自らの問題として自分で解決する意欲が見えたと関係者から評価を受けた。成功を喜びたい」と総括した。
 また、NGO(非政府組織)アジア太平洋地域HIV陽性者ネットワークのグレッグ・グレイ代表は「(エイズ対策などで)日本政府は世界基金に5億ドルを拠出したが、国内では今も感染者への偏見や差別があり予防治療策も行き届いていない」と指摘、「今必要なのは行動だ」と、より積極的な支援を注文した。
 事務局次長を務めた樽井正義・慶応大教授は、会議に閣僚の出席がなかったことや、登録者が海外からの2000人に対して国内からは700人にとどまったことに言及し「政府も市民社会ももっと真剣に(エイズの問題に)取り組んでほしい」と批判。「今が分岐点に立っている」と感染拡大阻止へ関心向上を訴えた。
エイズワクチン開発強力に ウイルス撲滅へ専門家
(共同 2005/07/05)
 世界の感染者が約4000万人に達したエイズウイルス(HIV)に対し、長期的に撲滅を目指すにはワクチン開発を強力に進める必要があることを、神戸市で5日まで開かれたアジア・太平洋地域エイズ国際会議で専門家が強調した。
 従来の抗ウイルス薬に耐性を持つウイルスが出現し、新たな薬への期待も強く、今後の重要課題となった。
 開発中のワクチンについて、日本の国立感染症研究所や横浜市立大は会議で有望な候補を発表。世界で約30種類の研究が進んでいるという。
 1990年代以降、薬によって多くの患者の命が救われるようになったが、国際エイズワクチン構想のセス・バークリー代表は「現在の予防法や薬ではウイルスを根絶できない。治療費は世界で年間80億ドル(約8800億円)以上かかり、撲滅にはワクチンが不可欠」と指摘した。
エイズ国際会議が閉幕 (読売・関西発 2005/07/05)
エイズ国際会議が閉幕 (読売・関西発 2005/07/05)
 神戸市で開かれていた「第7回アジア・太平洋地域エイズ国際会議」は5日、閉幕した。70を超す国・地域から2700人余りが参加。「静かな津波」とも呼ばれるエイズ拡大の脅威との闘いに力を合わせることを誓った。
 午前11時からの閉会式では、感染者団体など七つの非政府組織の代表が会議の成果を報告。国連合同エイズ計画アジア太平洋地域事務所のプラサダ・ラオ所長は、地域・民間団体を中心にした取り組みの重要性を強調し、日本に対し「国内の対策をきちんとやるべきだ。学校での性教育と一般への予防努力を強めないといけない。もはや海外の問題ではない」と注文した。
 来年8月には国際エイズ会議がカナダのトロントで開催。アジア・太平洋地域の次回の会議は2007年、スリランカで開かれる。
                          ◇
◆感染防止へ広がる連帯の輪
 広がる連帯と共生の輪――。約70の国と地域の関係者が集い、5日間、神戸市で開かれた「第7回アジア・太平洋地域エイズ国際会議」。感染者、民間活動団体(NGO)のメンバー、研究者らは「各国の人たちのエイズとの闘いを知り、勇気づけられた」「KOBEで得たものを母国で生かしたい」と強調。それぞれの国と地域に帰り、感染防止へ向けて啓発や教育、医療の充実などに努める決意を新たにした。
 「会議で見聞きしたすべてが目新しかった」。南太平洋の島国・バヌアツのNGOスタッフ、エミリー・ボブさん(49)は振り返った。人口約20万人の母国では、エイズウイルス(HIV)の検査体制が未整備で、感染報告は1例しかない。「帰国したら政府と協力し、国民が検査を進んで受ける仕組みを作りたい」と抱負を語った。
 閉会式が行われた神戸市中央区のホテル周辺は、参加者たちが記念撮影をしたり、再会を誓ったり、和やかなムードに包まれた。
 ミャンマーで国連開発計画(UNDP)の地域開発プロジェクトに携わるティー・ティー・アンイさん(50)。会議で出会ったオーストラリアの研究者と話し込み、別れを惜しんだ。「多くの人が一つの目的に向かって真剣に話し合う姿に勇気づけられた。この経験と新鮮な知識を今後に役立てたい」
 組織委員として会議運営の"裏方"を務めた池上千寿子さんは感染者支援のNPO法人「ぷれいす東京」代表でもある。「アジアの人々から力をもらった。神戸から全国へ活動を広げるため、自分たちから積極的に発信したい」と話した。
 期間中、ボランティア約500人が案内や通訳にあたった。その一人、神戸市中央区の貿易商河村秀雄さん(79)は「会議を通じて、エイズが身近な問題だと改めて感じた」と言い、会議で知り合った人と記念撮影するなど交流を深めていた。
エイズ国際会議:市民社会との対等なパートナーシップを
July 5, 2005
The Heterosexual Revolution
By STEPHANIE COONTZ - New York Times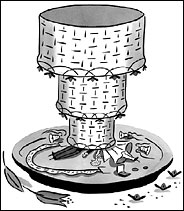 Michael Klein
Olympia, Wash.
THE last week has been tough for opponents of same-sex marriage. First Canadian and then Spanish legislators voted to legalize the practice, prompting American social conservatives to renew their call for a constitutional amendment banning such marriages here. James Dobson of the evangelical group Focus on the Family has warned that without that ban, marriage as we have known it for 5,000 years will be overturned.
My research on marriage and family life seldom leads me to agree with Dr. Dobson, much less to accuse him of understatement. But in this case, Dr. Dobson's warnings come 30 years too late. Traditional marriage, with its 5,000-year history, has already been upended. Gays and lesbians, however, didn't spearhead that revolution: heterosexuals did.
Heterosexuals were the upstarts who turned marriage into a voluntary love relationship rather than a mandatory economic and political institution. Heterosexuals were the ones who made procreation voluntary, so that some couples could choose childlessness, and who adopted assisted reproduction so that even couples who could not conceive could become parents. And heterosexuals subverted the long-standing rule that every marriage had to have a husband who played one role in the family and a wife who played a completely different one. Gays and lesbians simply looked at the revolution heterosexuals had wrought and noticed that with its new norms, marriage could work for them, too.
The first step down the road to gay and lesbian marriage took place 200 years ago, when Enlightenment thinkers raised the radical idea that parents and the state should not dictate who married whom, and when the American Revolution encouraged people to engage in "the pursuit of happiness," including marrying for love. Almost immediately, some thinkers, including Jeremy Bentham and the Marquis de Condorcet, began to argue that same-sex love should not be a crime.
Same-sex marriage, however, remained unimaginable because marriage had two traditional functions that were inapplicable to gays and lesbians. First, marriage allowed families to increase their household labor force by having children. Throughout much of history, upper-class men divorced their wives if their marriage did not produce children, while peasants often wouldn't marry until a premarital pregnancy confirmed the woman's fertility. But the advent of birth control in the 19th century permitted married couples to decide not to have children, while assisted reproduction in the 20th century allowed infertile couples to have them. This eroded the traditional argument that marriage must be between a man and a woman who were able to procreate.
In addition, traditional marriage imposed a strict division of labor by gender and mandated unequal power relations between men and women. "Husband and wife are one," said the law in both England and America, from early medieval days until the late 19th century, "and that one is the husband."
This law of "coverture" was supposed to reflect the command of God and the essential nature of humans. It stipulated that a wife could not enter into legal contracts or own property on her own. In 1863, a New York court warned that giving wives independent property rights would "sow the seeds of perpetual discord," potentially dooming marriage.
Even after coverture had lost its legal force, courts, legislators and the public still cleaved to the belief that marriage required husbands and wives to play totally different domestic roles. In 1958, the New York Court of Appeals rejected a challenge to the traditional legal view that wives (unlike husbands) couldn't sue for loss of the personal services, including housekeeping and the sexual attentions, of their spouses. The judges reasoned that only wives were expected to provide such personal services anyway.
As late as the 1970's, many American states retained "head and master" laws, giving the husband final say over where the family lived and other household decisions. According to the legal definition of marriage, the man was required to support the family, while the woman was obligated to keep house, nurture children, and provide sex. Not until the 1980's did most states criminalize marital rape. Prevailing opinion held that when a bride said, "I do," she was legally committed to say, "I will" for the rest of her married life.
I am old enough to remember the howls of protest with which some defenders of traditional marriage greeted the gradual dismantling of these traditions. At the time, I thought that the far-right opponents of marital equality were wrong to predict that this would lead to the unraveling of marriage. As it turned out, they had a point.
Giving married women an independent legal existence did not destroy heterosexual marriage. And allowing husbands and wives to construct their marriages around reciprocal duties and negotiated roles - where a wife can choose to be the main breadwinner and a husband can stay home with the children- was an immense boon to many couples. But these changes in the definition and practice of marriage opened the door for gay and lesbian couples to argue that they were now equally qualified to participate in it.
Marriage has been in a constant state of evolution since the dawn of the Stone Age. In the process it has become more flexible, but also more optional. Many people may not like the direction these changes have taken in recent years. But it is simply magical thinking to believe that by banning gay and lesbian marriage, we will turn back the clock.
Stephanie Coontz, the director of public education for the Council on Contemporary Families, is the author of "Marriage, a History: From Obedience to Intimacy, or How Love Conquered Marriage."
エイズ国際会議:市民社会との対等なパートナーシップを
(毎日 2005/07/05)
 神戸市で5日閉幕した「第7回アジア・太平洋地域エイズ国際会議」に参加した性産業従事者や同性愛者、HIV(エイズウイルス)感染者らでつくるNPOを結ぶ七つのネットワーク「セブンシスターズ」などは閉会式で声明を発表。各国政府に「HIV感染者や社会的弱者を含む市民社会と対等で有意義なパートナーシップを築き、エイズ感染の抑制に努めること」を要求した。
 声明は「エイズの予防や治療でさまざまな格差が存在するのは、各国政府が目標を達成できていない現れ」と指摘。国連エイズ特別総会の宣言などで表明されてきた目標を達成するため、各国が速やかに行動を起こし、必要な保健予算を確保することを求めている。
【大川泰弘】
アジアの地域対策急務 エイズ国際会議が閉幕 (神戸新聞 2005/07/05)
 神戸市で開かれていたアジア・太平洋地域エイズ国際会議は五日、エイズウイルス(HIV)感染の予防や治療の充実について議論を繰り広げた五日間の日程を終え、閉幕した。閉会式で、国連合同エイズ計画(UNAIDS)アジア太平洋地域事務所のJ・V・R・プラサダ・ラオ所長は「この地域のエイズ対策は極めて急務である」とあらためて訴えた。
 ラオ所長は日本の未成年者の感染拡大に触れ、政府に対して「学校での性教育、感染予防のための努力をもっと進めるべきだ」と注文を付けた。
 会議には四十五カ国から約二千七百人が参加。アジア・太平洋地域での感染拡大の試算が示され、特に感染の危険性が高い同性愛者やセックスワーカー(性産業従事者)らへの予防、治療の充実を目指し、当事者を交えて議論を進めた。
 閉会式では、組織委員会事務局長の木原正博・京都大大学院教授が、次回二〇〇七年の会議開催地スリランカの保健省担当者に引き継ぎ。共催者のUNAIDSは「私たちは今、分岐点に立っている。適切な対策が取られなければ、二年後は今回とは比べられないほど悲しい状況が待っている」とアピールした。
 司会を務めた非政府組織(NGO)代表、繁内幸治さんは「さまざまな違いを超え、理解を進めるため、神戸から心優しい市民社会をつくっていきたい」と決意を述べた。
・特集「
エイズ国際会議
」
エイズ国際会議:7つのネット代表が成果を報告、閉幕
Tuesday July 5, 4:05 PM
Asia-Pacific AIDS forum ends with call for greater gov't support
(Kyodo) _ Participants of an Asia-Pacific AIDS conference in Kobe called for greater proactive support from governments in the region for the prevention and treatment of HIV infection and AIDS as they concluded a five-day meeting Tuesday.
About 2,700 people from around 70 countries, including those in Africa and the Middle East, who took part in the seventh International Congress on AIDS in Asia and the Pacific shared the recognition that the region is "at a crossroads" in terms of the epidemic, with 12 million new infections expected in the next five years without immediate action.
Representatives of people living with HIV/AIDS such as sex workers and gays as well as their supporters demanded urgent action from each government, in line with previous declarations made at the United Nations and a ministerial conference on AIDS, including adequate health budgets.
"Every hour, more than 148 Asians contract HIV. The overall proportion of people in the region with advanced HIV infection receiving ARVs remains pitifully low," said Periasamy Kousalya from India on behalf of key nongovernmental organizations, in reference to antiretroviral treatment, an advanced therapy said to suppress HIV.
"We demand that our governments work in equal and meaningful partnership with civil society, including people living with HIV and vulnerable populations, in addressing the control of the epidemic," she said, seeking enhanced counseling and testing as well as a reduced stigma related to the disease especially among healthcare workers.
Maura Mea, a Papua New Guinean HIV-positive who contracted the disease from her husband, said at the closing ceremony, "We need actions...and community-driven leadership. The voice of positive people needs to be strengthened and needs to reach out loud and clear to every government department in every country."
Prasada Rao, director of the regional support team at the Joint United Nations Program on HIV/AIDS, said that in a region where 1,500 people die each day due to AIDS, "Business as usual is no longer an option."
Rao said that every government in the region agreed in 2001 on the goals in the U.N. Declaration of Commitment on HIV/AIDS, but not a single one has met them. "We don't need any additional commitments -- they already exist. What we need now is to act on them."
Both Rao and Masayoshi Tarui, vice secretary general of the conference's local organizing committee, warned that Japan is facing AIDS-related problems similar to those in the rest of Asia.
Rao commended Japan for its $500 million pledge to a global fund to fight AIDS, tuberculosis and malaria, but urged the country to "intensify sex education in schools and prevention efforts in general" to counter the growing number of reports of infections among young people and men who have sex with other men.
Tarui lamented the apparent lack of interest in the HIV/AIDS issue in the country, which was represented by the absence of Japanese ministers at the meeting despite attendance by some ministers from other Asian countries.
He also noted that Japanese participants accounted for only one-third of the total.
Muthu Puravalen of the Asia Pacific Council of AIDS Service Organizations said at a press conference that it is meaningless to discuss political leadership without government participation, suggesting fund provision is not enough.
"It has to be 'Walk the talk'," he said.
Masahiro Kihara, secretary general of the local organizing committee, said the Kobe conference helped enhance solidarity among those concerned about HIV/AIDS issues in Japan and other parts of Asia, and expressed his expectation that stronger ties will be an effective tool in the fight against the disease in the region.
The next Asia-Pacific AIDS conference is slated to be held in Colombo in 2007. The Kobe gathering was originally scheduled to be held in 2003 but was put off due to the outbreak of SARS in the region that year.
Tuesday July 5, 3:12 PM
Regional AIDS conference ends in Japan with talk of future challenges facing the region
- AP
After five days of hearing figures and seeing charts about the increasing spread of AIDS in the Asia-Pacific, Maura Elaripe Mea said Tuesday it's time for those living with the disease to rise up and demand what's needed to keep them alive.
As an HIV-positive woman from the impoverished Pacific nation of Papua New Guinea, she represents the growing face of the disease in the region where about 40 percent of the 8.2 million people infected are female.
"The voice of positive people needs strengthening and it needs to ring out loud and clear at every level and within every government department and in every country," she said during the closing ceremony of the Seventh International Congress on AIDS in Asia and the Pacific in Kobe, Japan. "The days of tokenism must be laid to rest."
Mea called on everyone to battle extreme stigma and discrimination that people living with the virus face daily, so that more positive people from a number of countries can speak up and reach out for help.
"We cannot just sit back and let the issue of ... scaling up access to treatment slip through our hands while our brothers and sisters continue to die and infections continue to rise," she said.
Papua New Guinea is facing the biggest epidemic in the region with an estimated 1.7 percent of the country's adults living with HIV. It's the only country in the Asia-Pacific where the disease has moved into the general population and the only nation UNAIDS fears will reach sub-Saharan Africa proportions.
But the challenges are as large and diverse as the region itself.
Targeting and reaching out to vulnerable populations that many countries would rather ignore is key, said J.V.R. Prasada Rao, regional director of the UNAIDS support team for Asia and the Pacific.
In order to keep the epidemic from ballooning over the next five years with a projected 12 million new infections, sensitivities must be put aside and sex workers, injecting drug users and men who have sex with men must be given condoms, clean needles and methadone.
"Without a doubt, we will have to concentrate our efforts on these groups despite the taboos, the social constraints and the moral arguments," he said.
But Andrew Hunter of the Asia-Pacific Network of Sex Workers said that's a difficult message to deliver when sex workers were not given a loud voice at the conference and some studies on the issue were not accepted for presentation.
"This conference, we had hoped, would be an opportunity for those of us who know what works and to respect the human rights of the most vulnerable groups to speak out but ... this has not happened," he said.
He said the next conference in Sri Lanka two years from now needs to include more involvement from affected groups.
The Asia-Pacific has the second-largest number of people living with the virus after sub-Saharan Africa. UNAIDS repeatedly called for governments to take a strong role in addressing the issue, including investing more in programs and prevention and conducting more surveillance to determine where problem areas lie. Migrant groups and young people also cannot be forgotten in the fight against the disease, UNAIDS said.
If response to the epidemic is dramatically increased over the next five years, the region has a chance to prevent 6 million new infections from occurring in a region where AIDS has already orphaned 1.5 million children, Rao said.
"In a region where 1,500 people die each day because of AIDS, the window of opportunity to reverse the epidemic is closing fast, "he said. "But that shrinking window can be held open by political will."
Japan tries to make condoms fun
Tue Jul 5, 3:56 AM ET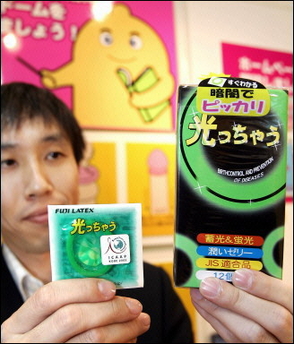 (Photo) Japan's condom maker Fuji Latex employee Toru Katsumata displays a flourescent-colored condom as part of Japan's Condom Association efforts to educate people about sexually transmitted disease at the 7th International Congress on AIDS in Asia and the Pacific in Kobe.(AFP/Yoshikazu Tsuno)
KOBE, Japan (AFP) - With bare-skinned porn stars providing a negative example, Japan is trying new tricks to get men to put on condoms, making rubbers that are thinner, thicker or glow in the dark.
A regional conference here on AIDS has largely focused on how to promote condom use in developing and conservative societies. But host nation Japan has seen condom sales shrivel.
Japan for the first time recorded more than 1,000 new HIV or AIDS cases last year, which is low by global standards but is at odds with most of the industrialized world where the number of new infections is decreasing.
"Since the mid-1990s, we have seen industry-wide sales plateau or slightly decline, mainly due to decreased use of condoms among young men and to young couples who do not have sex," said Akira Tsukamoto, salesman at Japan's top condom maker Okamoto.
The company occupies more than 60 percent of the 10 billion yen (90 million dollar) a year domestic condom market.
The use of condoms in Japan peaked in the early 1990s after a series of HIV cases led to a sense of emergency, Tsukamoto said.
"But that time has passed, and we are now seeing many young people who are used to watching porn videos and fantasizing, misunderstanding sex," Tsukamoto said.
"Young men nowadays say they get more pleasure without condoms. They prefer not to use condoms because they see porn stars are not using condoms. Because Japan does not have full and proper sex education for students, they just believe what they see," he said.
The Japan Condom Association, an industry group of eight Japanese manufacturers, showed off its new wares aimed at making condom use exciting.
Tsukamoto said his company has seen a hit with a super-thin condom, introduced in 2003 that is 0.03 millimeter (0.0012 inch) thick, even though at 2,000 yen (18 dollars) a dozen it is twice the price of the standard 0.05 millimeter ones.
"We spent eight years for research and development of the super-thin condom," he said.
But for those who would rather have the opposite sensation, Okamoto has also developed a "hard play" condom that is 0.1 millimeter thick, which Tsukamoto said can help stop premature ejaculation.
And then there is a condom meant to prevent another problem -- fumbling around in the dark.
"We have glow-in-the-dark condoms available. It is easy to see, so it is easy to wear in the dark," Tsukamoto explained.
Behind the gimmicks, though, he said the special condoms had a serious point. More young women are falling pregnant because of men who believe withdrawal before ejaculation can prevent pregnancy and diseases, he said.
"Condoms are necessary. We must get our message to young people," Tsukamoto said.
July 5, 2005
First Gay Couples Apply for Marriage Under New Spanish Law
By RENWICK McLEAN - New York Times
MADRID, July 4 - When Ramón Vizcaíno and Luis Ibarcena tried to apply for a marriage license here two months ago, they caused a minor scandal.
Confusing news reports had led them to believe that Spain had legalized gay marriage, they said, when, in fact, it had only passed a preliminary vote in Parliament.
"The people there were very surprised to see two men asking about marriage," said Mr. Vizcaíno, a 38-year-old security guard. "They looked at us like we were crazy."
But on Monday, the baffled faces and dismissive tones gave way to smiles and handshakes, as the men became one of the first gay couples to seek government authorization to wed under Spain's new marriage law, which took effect on Sunday.
"This means we are no longer second-class citizens," Mr. Vizcaíno said in an interview Monday. "We have always had the same obligations as other citizens. We deserve the same rights, too."
The lines inside the Madrid Civil Registry, where capital residents apply for marriage licenses, swelled with gay and lesbian couples for the first time on Monday, four days after Parliament passed a law giving same-sex couples across Spain the right to marry and to adopt children.
The vote makes Spain the first nation to remove all legal distinctions between same-sex and heterosexual unions, say advocates for marriage rights for gay couples. Belgium, Canada and the Netherlands have also legalized gay marriage, but only Canada's laws, which do not yet apply to all of the country, contain language as liberal as Spain's.
Near the close of business on Monday, Boti G. Rodrigo, an official at the registry, said that only four gay couples had formally applied for marriage licenses but that many more had come seeking information about the process.
"We expect that the number of same-sex couples will be disproportionately high for weeks, if not months to come," she said.
Ms. Rodrigo said that most of the couples requesting information on Monday had been together for years.
Parliament's decision to legalize gay marriage has provoked tremendous animosity among religious conservatives in Spain, a predominantly Roman Catholic country.
In a speech before Pope Benedict XVI in Rome on Monday, the archbishop of Madrid, Cardinal Antonio María Rouco Varela, condemned the law, saying it was evidence of a society in which "not only is faith denied, but also human reason itself."
Ricardo Blázquez, the president of the Conference of Catholic Bishops, also denounced the law on Monday, saying at a news conference near Madrid that it "throws moral and human order into confusion."
Many of the gay couples interviewed on Monday said they had grown up in Catholic households but were no longer practicing Catholics, in part because of the church's opposition to gay marriage. But Mr. Ibarcena, 32, the partner of Mr. Vizcaíno and also a security guard, said he still attended church regularly.
"I stand up and challenge them when they say things that are anti-gay," he said. "I haven't given up on them yet."
United Church of Christ backs same-sex marriage
By
JOHN BLAKE
The Atlanta Journal-Constitution
Published on: 07/05/05
The United Church of Christ became the first mainline Christian denomination to endorse gay marriage Monday when its 25th biennial General Synod decisively approved an "equal marriage rights for all" resolution.
The vote set off a celebration in the Georgia World Congress Center. Gay couples hugged one another. Some wiped away tears. A group of UCC delegates joined hands afterward and sang, "Amen." But other delegates rushed from the hall warning of schism within the 1.6 million member denomination.
The Rev. John H. Thomas, the president of the UCC, drew a link between the vote and the historical significance of another event on Monday.
"On this July Fourth, the General Synod of the United Church of Christ has acted courageously to declare freedom," said Thomas, who was re-elected to another term. He announced June 28 that he supported the resolution.
The vote affirms equal marriage rights for couples regardless of gender and says that the government should not interfere with same-sex couples who want to marry. It calls on denomination officers to press local, state and national legislators to support equal marriage rights.
Many mainline denominations, including the Presbyterian Church USA, the United Methodist Church and the Episcopal Church, also are wrestling with the issue.
Some members fear the issue could tear denominations apart much like slavery did in the 19th century.
Spain joined Belgium and the Netherlands last week in legalizing gay marriage. In Canada, the House of Commons has approved gay marriage and the Senate is expected to follow suit this month.
The Rev. Andrew Young, former mayor of Atlanta and a member of the United Church of Christ, was honored by the denomination at the convention. He had endorsed the resolution, and in remarks after receiving his award he praised the UCC's activist tradition. The UCC, which helped inspire the Boston Tea Party, says it was the first denomination to ordain a black pastor (1785) and a woman (1853).
"What seemed controversial back then seems so automatic today," Young said before the vote. "We wonder why it was a struggle at all. There's no education without controversy and there's no resurrection without crucifixion."
Opponents told the synod that the resolution ignores Jesus' declaration that marriage is between a man and woman.
Others said the denomination would lose members and financial support.
One group, Biblical Witness Fellowship, fought unsuccessfully for the resolutions' defeat. It's executive director, the Rev. David Runnion-Bareford, dismissed the UCC's slogan — "God is Still Speaking" — which some supporters of the resolution used to justify their position.
"God is still speaking; but they're speaking for God," Runnion-Bareford said. "They're going to redefine marriage speaking in the name of God. It's quite arrogant. Who dropped dead and left them in charge?"
Members from the Southern California conference that offered the resolution argued that marriage was an evolving institution and pointed to Biblical passages where polygamy was accepted, women were property and interracial marriages were taboo.
Lisa Stedman, a UCC delegate, walked before a microphone with her partner, Johanna, and said they didn't want to be partners. They wanted to marry.
"Separate but equal has never worked, and equal but different has never been truly equal," Stedman said.
Thomas said the synod's resolution waisn't compulsory. The denomination won't punish congregations that chose to ignore it.
"There's no discipline offered to those congregations," he said.
The Rev. Timothy Downs, head of the Southeast region, thinks some Atlanta congregations will embrace the resolution and others will struggle with it. Victory for the World United Church of Christ in Stone Mountain is the denomination's second-largest congregation in the country.
Downs said membership in the Southeast Conference has doubled to 12,000 since 1996. Four of the nine UCC churches in metro Atlanta area officially welcome gays and lesbians.
"Jesus Christ came first for the locked-out and those left behind," Downs said. "The overarching commandment from Jesus Christ is that we're to love God and our neighbors as ourselves. This decision is congruent with that commandment."
Thomas said he wanted the UCC to understand in the tense days ahead that "unity does not mean uniformity."
"My hope is that we won't run from one another," he said. "When we run from one another, we run from Christ."
Despite Thomas' consoling words, there's more controversy awaiting the UCC.
Today, delegates will take up another explosive issue: resolutions about the Israeli-Palestinian conflict.
One measure calls for the denomination to divest from companies "involved with Israel's occupation of the West Bank and Gaza." Several Jewish groups plan to protest.
United Church of Christ Panel OKs Gay-Marriage Resolution
United Church of Christ:
http://www.ucc.org
AIDS educators fight sex taboo
07/05/2005
By TARO KARASAKI Staff Writer
KOBE--A recent attempt to stop "Dr. Condom" from teaching safe sex is a perfect example of what is hampering efforts to curb AIDS in Asia, experts say.
Dr. Condom is actually Shinya Iwamuro, a urologist and public health expert. A junior high school in Kanagawa Prefecture has asked Iwamuro to refrain from showing how to affix the prophylactics (to inanimate objects) when he teaches a course on safe sex there later this week.
"How am I supposed to properly have the students understand? Properly being able to apply a condom is the most important part of learning to protect oneself," Iwamuro said here Monday as he prepared for a presentation at the International Congress on AIDS in Asia and the Pacific.
Education has been repeatedly described as crucial in containing a potential AIDS pandemic in Asia during the conference, which ends today.
But even in the host country, such education faces a huge obstacle.
Iwamuro, who gives 100 lectures at schools nationwide annually, says he thinks conservative politicians pressured the education board to ask the school to alter the content of his course on safe sex.
The Liberal Democratic Party is on a nationwide campaign to tone down sex education, a topic some conservatives deem "too radical and explicit" for children.
A symposium in June organized by an LDP group to study sex education drew more than 600 participants.
An organizer said the group is not opposed to sex education, but it wants to remove "education unfit for the hearts and minds of young children."
AIDS conference participants from Asia say such attitudes toward sex are a major barrier to their efforts.
"Even the Islamic clerics realize there is a problem, as they have youths suffering from HIV in their backyards," said Ari Yuda Laksmana, youth advocate counselor for the Indonesian Youth Partnership. He is lobbying with Jakarta for a law mandating reproductive and sex education for youths.
Ira Sridhiva, who helps commercial sex workers in South Sumatra, said the social stigma prevents the government from grasping the depth of the problem. "They do not acknowledge the existence of sex workers," she said.
Iwamuro has not given up.
He was recently heartened by the words of a principal at a junior high school where he teaches his course. The principal said he would protect the course because it is a form of "human rights education," since condom use advocates consideration for others.
"Nobody really ever put it that way before," Iwamuro said.(IHT/Asahi: July 5,2005)