カテゴリ
以前の記事
検索
最新のトラックバック
その他のジャンル
ファン
記事ランキング
ブログジャンル
画像一覧
Confronting Abortion Anew
Both sides in the fight see a test case in their struggle to recruit a generation that has come of age after 1973's Roe vs. Wade ruling.
By Alina Tugend
Special to The Los Angeles Times
July 8, 2005
NEW YORK — On the picturesque Iona College campus, a small Catholic-affiliated school in the suburb of New Rochelle, it is easy to find students ambling in the sunshine who are willing to talk about abortion.
What is not easy is pigeonholing their views.
Allyson Crespo, 21, a criminal justice major, is against abortion "100%." If people are going to have sex, "they've got to see it all the way through," she said, adding that she would not vote for a politician who favored abortion rights.
Steve Hutcheson, 22, majoring in international studies, sees the issue differently. "I think it should be up to the person — abortion should definitely be an option," he said.
Molly Heinsler, 22, a marketing major, doesn't know how she feels. "I'm too young to have my views set in stone right now," she said.
Crespo, Hutcheson, Heinsler and millions of others of their generation represent the future of the abortion debate in the United States.
They are increasingly in the spotlight in the ongoing national battle over abortion, which is likely to heat up given the polarized political climate, pending Supreme Court action and Justice Sandra Day O'Connor's retirement. For the first time in five years, the court has agreed to hear abortion-related cases. One, out of New Hampshire, centers on parental notification; the other concerns antiabortion protesters at clinics.
Not only do the abortion rights and antiabortion sides need young people to replenish their aging ranks, they view this generation as something of a test case — it has come of age after Roe vs. Wade, the landmark 1973 Supreme Court case that legalized abortion.
Although those who grew up during an era of legal abortions might be presumed to be strong proponents, that's not necessarily the case.
"There's a conception that today's youth is more liberal and more pro-choice. I don't think that's right," said Derrick Jones, youth outreach coordinator for the National Right to Life organization. "The youth today are the front line. They have grown up with abortion-on-demand and seen the impact of it firsthand."
Jones believes that young people have become repelled by what he calls the "culture of death," and are increasingly turning toward the antiabortion movement.
Five years ago, he said he used to get about 10 e-mails a month inquiring about setting up a teen or college antiabortion group. That number is now up to 25 to 30 a week, he said.
Those in the abortion rights camp, on the other hand, say the increasingly conservative tilt in the country is awakening young women to what they may lose.
"Young people see the issue differently than older people," said David Seldin, communications director for NARAL Pro Choice America. "There's not the motivational spirit of a generation that remembers what life was like when abortion was illegal, but the outrage toward people who are taking something away that they've always had."
Heinsler, the Iona marketing major, said that although she doesn't know where she stands on abortion, she can't envision it being available only in other countries or in back-alley clinics.
"It's like a foreign idea, that it could be taken away," she said. "It's something I can't even imagine."
According to the annual American Freshman Survey sponsored by UCLA, a slim — and becoming slimmer — majority of college freshmen believe that abortion should be legal.
Those who "agreed strongly" or "agreed somewhat" that abortion should be legal rose from 55.6% in 1977, when the question was first asked in that form, to a high of 67.2% in 1992. It gradually declined to 53.9% last year.
"Nineteen ninety-two was a banner year for students' commitment to the environment, abortion, race relations, to helping people in difficulty," said Linda J. Sax, associate professor of education at UCLA and survey director. "There's been a very steady decline in all those areas throughout the later part of the '90s."
Sax noted that unlike responses to other social issues, the survey showed no difference between men and women's attitudes toward abortion.
Abortion rights activists say the reproductive rights debate should include other controversies, including access to emergency contraception, such as the morning-after pill.
The ready availability of the morning-after pill in many parts of the country could mean that young people may be less concerned about access to abortion.
"The morning-after pill has taken a lot of pressure off," Heinsler said. And even though it is not available at Iona's health center, it is offered at a nearby Planned Parenthood clinic, she said.
For many young people, abortion also has been overshadowed by causes that seem more immediate.
"It's a very important political issue, but I think there are more important issues, like Iraq," Hutcheson said.
But national groups are eager to bring it to the forefront, and they say they have to do it in a way that captures the attention of a generation that already feels bombarded by competing messages and information.
"It's not that young people don't care, but there are so many things going on," said Crystal Lander, campus program director for the Feminist Majority Foundation. "A lot of people are vying for their attention — there's a war going on, there are other social issues, and that doesn't even include daily life. We have to find creative ways to combine issues."
The Feminist Majority, which supports abortion rights, employs seven campus organizers who work out of Rosslyn, Va., but often travel to universities in their respective territories. They help students plan events and strategies surrounding abortion and other reproductive issues. Currently, the group has affiliates on 165 campuses in 37 states. Choice USA, which also supports abortion rights, says it has about 50 campus organizations ranging from 10 to 200 members each.
Although the antiabortion movement uses similar organizing tactics, it is often more dramatic in its appeal.
The Genocide Awareness Project, part of the Center for Bio-Ethical Reform, based in Santa Fe Springs, travels to public universities for two-day "shows" that feature huge full-color signboards and banners depicting aborted fetuses.
Over the last five years, it has appeared at about 60 universities, said Gregg Cunningham, the center's executive director.
Private universities, unlike public ones, have the right to ban organizations from their campuses. In the near future, Cunningham said, if school officials deny the project access, "they will be punished."
Cunningham said schools that turn the group down could face having an airplane fly overhead — for days — towing a 50-by-100-foot banner depicting bloody fetuses.
"The airplanes will give us the opportunity to reach the elite, sectarian universities that have been pretty smug in thinking they can have a debate-free zone," he said. "We will use these pictures like a cudgel."
Cunningham said a number of private universities have denied the organization access in the past. Of three he named -- all Catholic universities — one said it had no recollection of a request for access or of turning it down, another said the Genocide Awareness Project had been allowed on campus, and the third said it turned down the request because it chose to use its own religious-based program to promote its antiabortion viewpoint.
While in many cases both sides are playing to their own constituencies, there are efforts to venture into the other's territory; for example, Cunningham said his group plans to focus on the "blue" states. "We will go after student opinion, and the pro-abortion states will become considerably less pro-abortion," he said.
Groups on both sides are trying untraditional approaches, such as distributing information at concerts or art shows.
NARAL Pro Choice America is testing a few pilot programs to see what proves effective. Last year, it sponsored a tour by Em and Lo, two online sex columnists, to do "Sex Ed for Grown-Ups," a six-city stint in bars and clubs around the country. The aim, Seldin said, was to reach post-college young people in areas like Portland, Ore., and Madison, Wis., where the audience might be receptive to getting involved.
"They talked about issues in a very humorous way, and reached audiences of people who never would have come out for a speech by a political figure or a talk on the history of reproductive rights," Seldin said.
The antiabortion movement is also trying to find new ways to appeal to younger activists.
"The pro-life movement has been portrayed as out of sync and curmudgeonly old white men. By embracing newer design techniques, the MTV mentality — if that makes us hip, so be it," Jones said.
And what could be cooler than rock? "Rock for Life," based in Stafford, Va., has a number of antiabortion bands listed on its website and has released three CDs. The website also lists, as a warning to listeners, what it calls "pro-abortion" bands.
"I get so many bands asking to join these days, I can't keep track," said Erik Whittington, director of the group.
And antiabortion rockers are the ultimate rebels, Whittington said, because "since we've grown up in a culture of death, it's rebellious to be pro-life."
▲
by

alfayoko2005

| 2005-07-08 21:49
The Los Angeles Times
EDITORIAL
Gonzales' Fatal Flaw
July 8, 2005
Our reasons may differ, but add our vote to the chorus of social conservative groups clamoring against a possible nomination of Alberto R. Gonzales to the Supreme Court. Because of his central role in decisions taken by the administration to flout international law in pursuing the war on terrorism, Gonzales was a poor choice for the attorney general's office — as we stated earlier this year — and he would certainly be a disastrous choice for the Supreme Court.
As White House counsel, Gonzales, a longtime friend of President Bush, wrote a memo in early 2002 arguing that detainees in Afghanistan and in other war-on-terrorism theaters were not subject to Geneva Convention protections, which he shrugged off as "quaint." Also, much to the distress of then-Secretary of State Colin L. Powell and many in the military, the White House's chief lawyer was intent on pushing an exceedingly narrow definition of torture that allowed for prisoner mistreatment.
Had he been a responsible counselor to his client, Gonzales would have urged Bush not to take the expedient shortcuts that led to the scandals at Abu Ghraib and elsewhere, and the unlawful detention of U.S. citizens denied access to counsel.
Even Justice Antonin Scalia, among the most conservative of jurists, was outraged by the White House's assertion, built on Gonzales' advice, that the executive branch could suspend the rule of law to fight terrorism. "The very core of liberty secured by our Anglo-Saxon system of separated powers has been the freedom from indefinite imprisonment at the will of the executive branch," wrote Scalia in his opinion in the case of Yaser Esam Hamdi, the U.S. citizen held incommunicado in a military brig.
Even with London's reminder of the ubiquity of terrorism in front us, no one with such a cavalier disregard for fundamental notions of due process should serve as one of the nine guardians of our individual liberties.
It's a sad statement of the times we live in that much of the opposition to a Gonzales nomination is coming from social conservatives, for far different reasons. They worry, on the basis of sketchy evidence, that the attorney general may be insufficiently committed to their antiabortion and anti-affirmative action crusades.
But where are the liberal advocates and Democratic senators who opposed Gonzales' nomination as attorney general? Is a torture-supporting nominee to the court really an acceptable lesser-of-evils these days?
This editorial page does not want to see retiring Justice Sandra Day O'Connor replaced by a justice eager to overturn Roe vs. Wade. But that doesn't mean settling for a nominee who as counsel to the president advised him that it was permissible to disregard core constitutional values and international norms.
▲
by

alfayoko2005

| 2005-07-08 21:34
Posted 7/6/2005 11:24 PM
Japan contemplates princess taking throne
By Paul Wiseman, USA TODAY
TOKYO — At 3½, she's a tree-climbing, top-spinning, harp-plucking, origami-making, kite-flying, singing, dancing threat to centuries of Japanese tradition.
She's Princess Aiko, and it looks more likely that she will one day become the reigning empress of Japan. This fall, a government commission is expected to recommend that Japan scrap a law that forbids female heirs from taking the Chrysanthemum Throne — a move that would clear the way for Aiko's ascension, provide a symbolic victory for women's rights in Japan and enrage the country's small but influential nationalist right wing.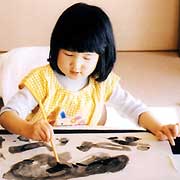 "This is serious business for these people," says Kenneth Ruoff, director of the Center for Japanese Studies at Oregon's Portland State University and author of a book on Japan's monarchy. At stake is "the far-rightest view of what makes Japan unique, with a capital U."
Japanese traditionalists believe that their monarchy's "unbroken bloodline," supposedly dating back 26 centuries, would be severed if Aiko married a commoner and gave birth to a child who eventually took the throne. The traditionalists believe the bloodline should pass through a male heir.
"If Princess Aiko becomes empress and has a child with an outsider, the bloodline will be broken," says Hidetsugu Yagi, a conservative professor of regional studies at Takasaki City University of Economics. "This has never happened in history. Some say (Aiko's child) would lose legitimacy. Could we call such a person emperor?"
Most Japanese aren't sweating it: In a poll by the Nihon KezaiShimbun newspaper in February, 81% of Japanese adults surveyed said they wanted to see the Imperial House Law revised to let Aiko take the throne.
No male heir in 40 years
Japan doesn't appear to have much choice. The royal family hasn't produced a male heir in 40 years and probably won't: Aiko's mother, the Harvard-educated Princess Masako, is 41. "Now we have a problem," says Akinori Takamori, a historian at Takushoku University. "It was bound to happen."
Long ago, Japan solved royal reproductive problems by importing concubines to produce a son or by adopting one from the extended royal family.
Imperial concubines are a definite no-no these days. And after World War II, the royal family's far-flung branches were pruned, their members reduced to living as mere commoners. Yagi recommends reviving the defunct branch families and reeling in a male heir from one of them, but that would involve supporting an expanded royal family with taxpayer money.
Japan has been debating female succession since Dec. 1, 2001, when Aiko was born to Masako and Crown Prince Naruhito, 45, the son of Emperor Akihito, 71. Japanese Prime Minister Junichiro Koizumi is on record supporting a female empress.
What's more, there is historical precedent: Japan has had eight empresses. The most recent was Empress Go-Sakuramachi, who abdicated in favor of her nephew in 1771. But "never has one of these empresses given birth to a child who went on to ascend to the throne," says Ruoff, author of The People's Emperor: Democracy and the Japanese Monarchy 1945-1990. "These empresses were caretakers, and then the throne reverted to a male born to a father who had imperial blood."
Only in 1947did the Imperial House Law officially ban women from the throne.
A long, secretive process
So what's the holdup now?
The royal family is a delicate issue in Japan, shrouded in secrecy, ritual and myths of divine origins. "People say Japan is different, the Japanese Imperial family is different and the 'Chrysanthemum curtain' should only be lifted very slowly," says Yoko Komiyama, an opposition member of Japan's House of Representatives and an outspoken advocate for women's rights. The Chrysanthemum is on the emperor's coat of arms.
Contentious legislation always takes time in Japan. Task forces must be formed, experts consulted and consensus sought.
The expert panel that Prime Minister Koizumi called to study imperial succession began meeting in January. The panel will likely weigh in this fall. The Imperial House Law could be revised next year, Japanese media outlets have reported.
The royal family already has shaken things up. The current Empress Michiko was the first commoner to marry into the imperial family.
Crown Prince Naruhito and Princess Masako have struggled to modernize royal traditions. They have clashed with the secretive and conservative palace bureaucracy that oversees their lives.
In an unusual display in May 2004, Naruhito took their complaints public. He said his wife was suffering from exhaustion from the stress of adjusting to royal life and the pressure to produce a male heir.
Last year, the palace released a video of Princess Aiko, offering an unusually intimate glimpse of her home life. The tape showed the then-2-year-old princess plucking at a harp and dancing with her mother. The palace also has revealed that Aiko likes origami, playing with tops and kites and climbing trees.
The princess's father has become a role model for Japanese fathers, who traditionally have left child-rearing responsibilities to their wives.
After the crown prince bought Children Learn What They Live by parenting expert Dorothy Law Nolte, the book became a best seller in Japan, according to The Japan Times.
"Crown Prince Naruhito has been a hands-on father," Ruoff says. "In fact, he has become a symbol of a new style of fatherhood." Which, he says, raises a question: If a father can help raise children, then why can't a girl grow up to be a reigning empress?
ASIA:
Dons Take Second Look at Gay, Lesbian Studies
Marwaan Macan-Markar
BANGKOK, Jul 8 (IPS) - Dede Oetomo, an openly gay Indonesian anthropologist, quit his post at a major university in his country when his request for a new academic programme - a masters degree in sexuality - was turned down.
That moment in February 2003 helped define what Indonesia's sexual minorities are up against: academies that are against opening their doors to serious examination of that Muslim country's culture of gays, lesbians and transgender people.
''That was the closest we got to getting the academic community to change its attitude,'' Oetomo said during an interview. ''Indonesia still does not have a university that is receptive to this idea. It doesn't help young scholars who want to work on queer studies.''
But what prevails in Indonesia, the worlds most populous Muslim country, is reflected in varying degrees across the rest of Asia: research at the university level focusing on the gay, lesbian and transgender lifestyles remains ignored, frowned upon or, if accepted, very much on the margins.
Consciously making up for the deficit, non-governmental organisations (NGOs) have a focus on human rights, sexual minorities and public health. According to a leading Thai gay activist, programmes conducted by NGOs on HIV/AIDS provided an avenue to engage Thai youth in discussions about homosexuality.
Yet, if the spirit of a ground-breaking conference that began here Thursday is any indicator, the lack of enlightenment within the halls of learning on the subject of may soon be a thing of the past.
Indeed, the organisers of the 'First International Conference of Asian Queer Studies,' which runs from Jul 7-9, were overwhelmed by the research papers they received from scholars across the region.
''We had expected about 50 papers, but the response was overwhelming. We got 225 abstracts for presentations,'' Peter Jackson, an Australian academic specialising in Thai history and a conference co-organiser, told reporters Wednesday. ''It was beyond our capacity.''
The compromise that was struck has resulted in 125 presentations from 24 countries for this conference, which has attracted 300 foreign participants and 100 Thais. The speakers come from countries that include Bangladesh, China, India, Indonesia, Japan, South Korea, Malaysia, Pakistan, Philippines and Singapore.
The broad themes to be addressed by this academic gathering range from Asian gay men and lesbians; gay, lesbian and transgender rights; Asian transgender cultures; Asian gay and lesbian cinema; history of Asian homosexual cultures; and HIV/AIDS and health.
''This conference will give more legitimacy to the need for scholarly work on sexuality,'' said Josephine Ho, an academic from Taiwan, where universities have been more excepting of gay and lesbian studies than in Oetomo's Indonesia. At the National Central University, where Ho, a feminist scholar, works, queer studies have been available since 1996.
Other countries where universities have responded to the emerging trend for scholarly work in sexuality include the Philippines, Japan, South Korea, Hong Kong, India and China.
Yet the climate is far from comforting for researchers. ''Academics who study homosexual cultures often suffer the same homophobic discrmination as gays, lesbians and transgenders themselves,'' says Jackson. ''While younger scholars are eager to research this region's communities, they are often stymied by anti-gay professors.''
Much of that arises from attitudes that are hostile towards homosexuals and lesbians across Asia. In former British colonies like India, Singapore and Malysia, for instance, homosexual acts are deemed a crime.
One Thai scholar reminded the conference that in at least 10 Asian countries, one can get the death sentence or life sentence for being a homosexual.
Even in Thailand, which is more liberal and open to gays and transgender people, sexual minorities suffer from a lack of rights to protect them.
To overcome these hurdles, university programmes in sexuality are vital, Ho explained during an interview. ''Having a university programme on such a theme will make gay and lesbian activity more acceptable, since it has been accepted as an academic field of study.''
''Queer studies are also vital to combat homophobic discourse,'' she added. ''And the gay and lesbian students will have a figure of respect to turn to, an academic in the university sensitive to their concerns, because the teacher, like the parent, is respected in Asian societies.''
For some of the other conference participants, this gathering in Bangkok is another seminal step in the march by Asia's sexual minorities to claim their place as equals in the societies they live in.
It adds to the growing list of firsts in the region's homosexual and lesbian culture. They include Tokyo having its first modern gay bar in 1948, the first sex-change surgery performed in Thailand in 1972, the first Asian gay rights organisation set up in Indonesia in 1981 and the Philippines hosting Asia's first Gay pride march in June 1994, says a background note.
The conference is bringing into relief undercurrents sweeping through Asian countries that are rapidly transforming, like China. ''The number of papers from East Asia, particularly China, was a surprise,'' says Jackson. ''It reflects the rapid sexual transformation happening in China.''
Such realities will also help ''debunk the notion that gay and lesbian culture is Western,'' adds Ho.
''The scholarly interest here shows the Asian flavour of gay and lesbian culture and, at times, the total transformation of concepts, making them different from Western concepts.''
[解説]エイズ感染 取り組みの遅れ目立つ日本、政府主導で流行阻止を (読売 2005/07/08)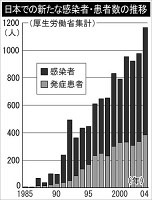 神戸市で5日まで開かれていた第7回アジア・太平洋地域エイズ国際会議は、エイズに対する政府の危機意識の低さを国内外に印象づけた。(科学部 宮崎敦)
 日本でエイズに関する国際会議が開かれるのは、1994年に横浜市で行われた国際エイズ会議以来で、今回のアジア・太平洋地域会議には、70以上の国からエイズ研究者や感染者、支援者ら約2700人が参加した。
 この地域のエイズウイルス感染者は、昨年末で800万人を超え、インドや中国などで急増している。日本も、昨年新たに報告された感染者と患者は1165人で、85年の集計開始以来、初めて年間1000人を超えた。
 エイズ対策は今や、政治的なリーダーシップによる流行阻止と感染者の差別解消、感染者らを支援する民間活動団体の協調が不可欠と考えられている。小泉首相は6月末、途上国に対するエイズ治療薬配布の推進役となる「世界エイズ・結核・マラリア対策基金」に5億ドルの緊急支援を表明しており、今回の会議では、政府がどのような姿勢を示すかにも期待が集まった。
 しかし、参加者からは「日本の政府関係者が議論に参加していない」(アジア感染者ネット代表、グレッグ・グレイさん)といった批判が噴出した。郵政民営化関連法案の国会審議と重なったこともあり、厚労相らが出席しなかったからだ。
 国連合同エイズ計画(UNAIDS)アジア太平洋地域事務所のプラサダ・ラオ所長は「日本の資金援助は素晴らしいが、なぜその先見の明を自国のエイズ対策に向けないのか」と疑問を投げかけた。
 また、海外の感染者が積極的に発言したのと対照的に、日本の感染者は差別を恐れてか、多くの議論に参加できない状況は、横浜会議から一歩も前進していない。
 感染者を支える非営利組織(NPO)「ぷれいす東京」代表の池上千寿子さんは「日本政府と感染者・支援者らとの間のギャップは、横浜会議当時より大きい」とみる。日本でエイズといえば、薬害が大きな注目を集めていた。しかし、エイズのもう一つの側面である性感染については、対策が十分に進まないまま国や自治体のエイズ対策関連予算が削減されている。
 タイでも売春は違法だが、タイ政府は、性風俗店で働く女性に対し「100%コンドーム装着」を求め、新規感染者を減らした。違法行為に手を貸したという批判もあったが、エイズ対策は、そこまでやらなければ効果がないことが、アジア各国の経験で実証されている。
 だが、日本のエイズ対策は、青少年や一般市民へのエイズ教育、コンドームの啓発、検査受診の呼びかけなど、広く薄い施策にとどまっている。
 UNAIDSは会期中、「日本人のエイズに関する知識不足や感染者が差別されやすい状況から考え、急速な流行は十分に起きうる」と、日本を名指しで警告した。
 神戸会議では、民間活動団体「ジョイセフ」(家族計画国際協力財団)が発表したエイズ予防啓発の紙芝居が、電気の通じない地域に住む子どもたちの興味を引く格好の教材として、各国から、購入の問い合わせが相次ぐなど、日本の支援団体の活動が評価され、草の根レベルの交流が進んだ。
 草の根の活動を生かしながら、国内の流行阻止に向けて政治がリーダーシップを発揮する時期を迎えている。日本のエイズ対策に課せられた大きな宿題といえる。
Culture
Govt apathy stuns AIDS confab
Atsushi Miyazaki / Yomiuri Shimbun Staff Writer
Attendees at the Seventh International Congress on AIDS in Asia and the Pacific were left with the distinct impression the Japanese government lacked awareness of the threat of HIV/AIDS.
The conference, which was held in Kobe and ended Tuesday, attracted about 2,700 participants from more than 70 countries, including AIDS researchers, those living with HIV/AIDS and those who support them. It was the first international AIDS meet in Japan since a meeting in Yokohama in 1994.
In late 2004, the number of people in Asia who had contracted the AIDS virus surpassed 8 million, with a dramatic rise in cases seen in both China and India.
Japan reported 1,165 new cases last year. It was the first time since the government began keeping such records in 1985 that the number of new infections had been higher than 1,000.
Many people now think cooperation is indispensible among political leaders working to stop the spread of the infection and discrimination against those who have contracted the disease and community-based organizations that support those living with HIV/AIDS.
Interest grew in what the government's stance would be at the congress after Prime Minister Junichiro Koizumi announced an emergency 500 million dollars aid package late last month for the Global Fund to Fight AIDS, Tuberculosis and Malaria.
But in the end, the government drew criticism from congress participants, such as Greg Gray, regional coordinator of the Asia Pacific Network for People living with HIV/AIDS, who complained that Japanese government officials had not joined the discussion.
The complaint seemed to stem from the fact that the government appeared to be focused entirely on the postal privatization bills and because the health minister and other top officials chose not to attend the conference.
Japan's financial assistance in the fight against AIDS is wonderful, Prasada Rao, regional director of the Asia-Pacific support team for the Joint United Nations Program on HIV/AIDS (UNAIDS), said, adding that the organization was baffled why the government did not apply this vision to its own AIDS policy.
Compared with many of their overseas counterparts, people with HIV/AIDS in Japan are more fearful of falling victim to prejudice and are unable to join in many debates on the subject, leaving them no better off than they were at the Yokohama conference.
Chizuko Ikegami of Place Tokyo, a nonprofit organization that supports HIV-positive patients, said, "The gap between the Japanese government and the HIV/AIDS infected and their supporters is even bigger than it was at Yokohama."
In Japan, a lot of attention has been given to AIDS patients who became infected through contaminated blood products. Yet the government's policy on educating the public and juveniles about the sexual transmission of the virus is lagging, while local governments are cutting funding for AIDS-related measures.
Thailand, like Japan, has outlawed prostitution. But its government has been successful in reducing the number of new infections in the industry by demanding that women working in the sex industry use condoms every time they have sex. While there are those who complain the Thai government is lending a hand to lawbreakers, every country in the region has experiences that show if they do not bend the rules, their AIDS measures will have no effect.
Japan's measures and policies for educating children and the general public on the virus, encouraging AIDS tests and education on condom use are too few and far between.
During the meeting, UNAIDS admonished Japan, saying the country's people were insufficiently educated about the infection, and that HIV/AIDS patients were easily discriminated against. It added that this could quite conceivably lead to a rapid outbreak of the virus.
The Japanese Organization for International Cooperation in Family Planning unveiled a set of picture cards at the congress designed to educate children in areas with no electricity about HIV/AIDS. The cards drew a flood of inquiries from interested buyers and brought Japan's community-based organizations high praise, showing that an exchange of ideas was taking place at the grassroots level.
But the day will come when the government must display leadership in stopping the spread of the disease at home. Japan clearly has its work cut out for itself.
(Jul. 9, 2005)
Mayor's Statement
7 July 2005
This was a cowardly attack, which has resulted in injury and loss of life. Our thoughts are with everyone who has been injured, or lost loved ones. I want to thank the emergency services for the way they have responded.
Following the al-Qaeda attacks on September 11th in America we conducted a series of exercises in London in order to be prepared for just such an attack. One of the exercises undertaken by the government, my office and the emergency and security services was based on the possibility of multiple explosions on the transport system during the Friday rush hour. The plan that came out of that exercise is being executed today, with remarkable efficiency and courage, and I praise those staff who are involved.
I'd like to thank Londoners for the calm way in which they have responded to this cowardly attack and echo the advice of the Metropolitan Police Commissioner Sir Ian Blair - do everything possible to assist the police and take the advice of the police about getting home today.
I have no doubt whatsoever that this is a terrorist attack. We did hope in the first few minutes after hearing about the events on the Underground that it might simply be a maintenance tragedy. That was not the case. I have been able to stay in touch through the very excellent communications that were established for the eventuality that I might be out of the city at the time of a terrorist attack and they have worked with remarkable effectiveness. I will be in continual contact until I am back in London.
I want to say one thing specifically to the world today. This was not a terrorist attack against the mighty and the powerful. It was not aimed at Presidents or Prime Ministers. It was aimed at ordinary, working-class Londoners, black and white, Muslim and Christian, Hindu and Jew, young and old. It was an indiscriminate attempt to slaughter, irrespective of any considerations for age, for class, for religion, or whatever.
That isn't an ideology, it isn't even a perverted faith - it is just an indiscriminate attempt at mass murder and we know what the objective is. They seek to divide Londoners. They seek to turn Londoners against each other. I said yesterday to the International Olympic Committee, that the city of London is the greatest in the world, because everybody lives side by side in harmony. Londoners will not be divided by this cowardly attack. They will stand together in solidarity alongside those who have been injured and those who have been bereaved and that is why I'm proud to be the mayor of that city.
Finally, I wish to speak directly to those who came to London today to take life.
I know that you personally do not fear giving up your own life in order to take others - that is why you are so dangerous. But I know you fear that you may fail in your long-term objective to destroy our free society and I can show you why you will fail.
In the days that follow look at our airports, look at our sea ports and look at our railway stations and, even after your cowardly attack, you will see that people from the rest of Britain, people from around the world will arrive in London to become Londoners and to fulfil their dreams and achieve their potential.
They choose to come to London, as so many have come before because they come to be free, they come to live the life they choose, they come to be able to be themselves. They flee you because you tell them how they should live. They don't want that and nothing you do, however many of us you kill, will stop that flight to our city where freedom is strong and where people can live in harmony with one another. Whatever you do, however many you kill, you will fail.
Watch a video of the Mayor's statement. (Windows Media Video)
"Aimed at ordinary working-class Londoners."
▲
by

alfayoko2005

| 2005-07-08 14:21
Tokyo Journal
Here Comes the Japanese Bride, Looking Very Western
By JAMES BROOKE
Published: July 8, 2005 - New York Times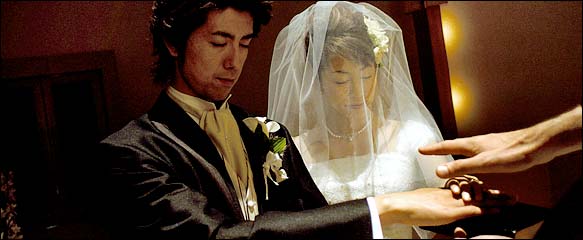 Charles Pertwee for The New York Times
Models hired for a bridal fair rehearse in the chapel of the Intercontinental Hotel, Tokyo Bay. Christian-style weddings now predominate.
TOKYO, July 1 - As a soprano sings "Ave Maria," a Japanese couple march down the center aisle of a hotel chapel, past white trumpet lilies, to the altar where an American "pastor" stands, gold cross gleaming on white robes.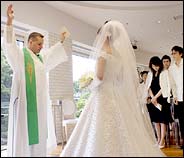 Charles Pertwee for The New York Times
Victor Spiegel, 37, a Florida native, performing a mock wedding ceremony at the New Otani Hotel in Tokyo as potential customers look on.
"Before God and these witnesses, I pronounce you husband and wife," intones Damon Mackey, a California native who took a two-day course to perform weddings on weekends, supplementing his income as an English teacher and part-time actor.
In Japan, where a love affair with Western "white weddings" is leading to a collapse in Shinto ceremonies, a new figure is taking over the altar: the gaijin, or foreign, "pastor."
Only 1.4 percent of Japan's 127 million people are Christians, but Christian-style ceremonies now account for three-quarters of Japanese weddings. To meet market demand, bridal companies in recent years have largely dispensed with the niceties of providing a pastor with a seminary education, keeping the requirements simple: a man from an English-speaking country who will show up on time, remember his lines, not mix up names and perform the ceremony in 20 minutes.
From a small beginning a few years ago, the Western wedding "priest" has suddenly become an established part of modern Japan's cultural tableau. The lure of easy money has prompted hundreds of foreign men to respond to newspaper advertisements here, like the one that read: "North Americans, Europeans wanted to conduct wedding ceremonies."
"Now all the hotels have chapels with someone dressed up as a priest," said William J. Grimm, a Maryknoll priest who edits The Catholic Weekly of Japan.
In fact, the less overtly religious the pastor, the better. Hotel managers generally discourage proselytizing by authentic Christian pastors.
"The companies like the nonreligious guy who just follows the script," said Mike Clark, a Japanese language student who performed weddings before moving home to Canada last fall.
The boom in what some Japanese magazines call "foreign fake pastors" speaks volumes about modern Japan's attachment to appearances and its smorgasbord approach to religion. Japanese often choose Shintoism for childhood age ceremonies, Christianity for weddings and Buddhism for funerals.
"Of course, words are important, but in a ceremony it is more about the whole image," Masahiko Sakamoto, 25, said after watching Kenyon L. Nelson, a retired businessman from Missouri, perform a wedding at a hotel bridal fair. "And a foreigner fits better into a Western wedding than a Japanese person would."
Maki Oyama, his fiancée, said firmly that she wanted a white dress, a foreign pastor and a hotel chapel wedding. She added, "In soap operas you have more examples of white weddings than of Shinto ones."
The passion for Western-style weddings was first fueled in the 1980's by the televised weddings of Prince Charles and Lady Diana and of the Japanese pop star Momoe Yamaguchi. Since 1996, according to the Ministry of Economy, Trade and Industry, the number of Christian weddings has nearly doubled while the number of Shinto weddings has plunged by two-thirds.
Western weddings revolve around love and elevate the bride to a princess, Japanese say. In a tradition-bound Shinto wedding, where the bride is encased in a wig and a kimono, the ceremony seems to be more about the merger of two families.
Only civil unions are legally valid here and with Japan's economy treading water, about 70 percent of all couples go on to have an optional religious ceremony. Now, hotels are tearing out money-losing Shinto shrines and replacing them with the ersatz Christian chapels staffed with a foreign "priest."
"I am supposed to finish in 18 minutes," Victor Spiegel, a 37-year-old Florida native, said after walking a pair of models through a touching, if briskly paced, wedding ceremony for a bridal fair. Overhead, a movie camera had run on a ceiling track, filming a three-woman chorus singing "Ave Maria," the couple marching past red roses suspended in crystal columns, and white curtains opening to a hotel garden where a green neon cross glowed in the afternoon sun.
Mr. Spiegel, an English teacher who performs more than 100 weddings a year, said that sometimes "the hotel will do 15 in a day."
At a bridal fair here, couples insisted that the Christian "pastor" had to be a foreigner. Youichi Hirahara, a 27-year-old civil servant, said: "It would seem very unreal and fake if there was a Japanese person conducting the ceremony. Very shady actually."
Among foreigners, competition has depressed the pay for a wedding ceremony to $120, from $200 five years ago. In a society that revolves around business cards, the card of one part-time "pastor" reads: "Max von Schuler Kobayashi: Performer, Actor, MC, Wedding Minister."
While the prime motivator for the Western wedding ministers is cash, many take an extra pride in their work.
"My goal was to make at least one person cry at each ceremony," said Mr. Clark, the Canadian student. He said performing weddings was a great part-time job "but kind of kooky, kind of surreal."
"There was the whole factory aspect of it, the 20-minute turnarounds," he said. "All icing, no cake. Then, there I was, an atheist, reading and reciting these Japanese Christian scripts that I barely understood."
Reg Hackshaw, 42, a New Zealander who performs weddings, said he was "raised as a Catholic, but got fed up with the hypocrisy." Asked if spending his Sundays dressed as a priest and marrying non-Christians at a hotel "chapel" conflicted with his agnosticism, Mr. Hackshaw answered: "O.K., I am dressing up in a robe, but it's not a religious ceremony. It's a performance."
"The number of times someone has asked what church I belong to I can count on one hand," added Mr. Hackshaw, who teaches English and works as a disc jockey during the week.
Noting that he had conducted over 2,000 wedding ceremonies, Mr. Hackshaw said that Japanese brides demanded foreign ministers, saying: "They identify Christianity as something foreign. And, because it is foreign, they want a foreign pastor."
At the hotel lobby here, where Mr. Sakamoto and his fiancée were planning their wedding with a foreign pastor, a similar view was heard.
"You don't see a foreign person doing a Shinto wedding, do you?" he asked. "Now that would be strange."
医療ルネサンス 増える性感染症(4)再発多い性器ヘルペス (読売 2005/07/08)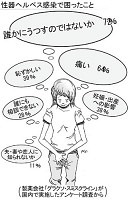 性器周辺に不快感やかゆみを感じた翌日、今度は激痛が襲ってきた。焼けるような痛みは一日中続き、歩くのもつらい。性器や肛門(こうもん)周辺に水ぶくれができた。
 怖くなった神奈川県のC子さん(25)は2000年夏、帝京大溝口病院(川崎市)に駆け込んだ。産婦人科客員教授の川名尚(たかし)さんは、症状から性感染症の一つ、性器ヘルペスと確信した。
 単純ヘルペスウイルス(HSV)による性感染症。昨年1年間に治療を受けた感染者数は約7万4000人。女性は男性の約2倍だ。
 潜伏期間は2~10日。抗ウイルス薬による治療をしないと強い症状が2週間以上続く。C子さんも薬を服用して、3日後には痛みも水ぶくれもおさまり、日常生活を取り戻した。
 薬で症状は抑えられても、残念ながらウイルスは体内に残り、完治することはできない。骨盤内の仙髄(せんずい)神経節などに潜伏し、体調を崩したり、生理がきたりするなど免疫が落ちた時に、再発を繰り返す。再発時の痛みは、初発時より軽く、その頻度は月に2、3回から年に1、2回までと個人差が大きい。
 再発の恐怖は感染者に大きなストレスを与える。「いつ痛みが出るかと思うと仕事に集中できない」。C子さんは涙を流した。
 HSVは接触により感染するが、性器だけでなく、肛門周辺の粘膜からも出てくるので、コンドームによる予防効果に限界がある。 「付き合っている彼にうつしていないだろうか」
 意を決して告白。相手も検査を受けたところ、結果は陽性だった。自覚症状がない場合もあり、気づいていなかった。
 「同じ病気の仲間とわかって、なんだかホッとした」とC子さん。2003年春に、その男性と結婚。年に2、3回、再発するが、夫婦で支え合う。
 川名さんは「性器ヘルペスで、がんや不妊になることはないので、深く考え込まず、上手に病気と付き合ってほしい」と話す。
 注目を集めているのが、再発を予防するために抗ウイルス薬を毎日服用する「再発抑制療法」だ。海外では1980年代から始まり、50か国以上で行われている。性交渉相手への感染予防効果もあるとされる。
 しかし、日本では再発予防目的での処方は保険で認められておらず、現在、承認を待っている段階だ。
 性器ヘルペスの検査 患部の細胞を取ってウイルスに侵されているか、顕微鏡で調べる検査が保険で認められている。しかしこの検査は感度が悪く、5~8割の感染者を見逃している、との指摘がある。厚生労働省研究班は、ウイルスを増幅して、その有無をチェックする、精度が高い検査法を開発中だ。
(2005年7月8日 読売新聞)
増える性感染症(3)子宮頸がんの誘発も
«Nous sommes tous, en cet instant, Londoniens.»

Le maire de Paris Bertrand Delanoë
▲
by

alfayoko2005

| 2005-07-08 11:44
China ignores AIDS victims
Pierre Haski YaleGlobal
FRIDAY, JULY 8, 2005
BEIJING In a recent meeting with UN officials, Prime Minister Wen Jiabao said on the subject of AIDS that the Chinese government is "determined and capable of curbing the spread of the disease, to ensure the people live a healthy and peaceful life." But in Henan, the region of China where AIDS exploded, the old habit of secrecy still rules.
With Beijing drastically underreporting the extent of the disease and resisting foreign help to fight it, thousands of infected Chinese are being left to further spread the virus and die unattended. Despite the public revelations of mass infections through contaminated blood, Henan residents continue to practice unprotected sex and send migrant workers to China's booming coastal region.
Only five years ago, AIDS was nowhere on the radar screen of China's leaders. Now AIDS-related items appear regularly in newspapers and television. The international community has praised the Chinese government for its change of heart toward a world epidemic that is still far from contained, particularly in Asia. But as is often the case in China, there is a big gap between the central government's stated intentions and some of its provinces' real actions.
Henan, a poor, rural and densely populated region of 100 million, has been hardest hit by the virus - the result of an infamous blood-trade scandal in the early 1990s. Authorities encouraged Henan's poor peasants to sell their blood to collecting stations for industrial use. Tragically, no precautions were taken, and tens of thousands - probably hundreds of thousands - of these peasants, who had never heard of AIDS, were infected with the deadly virus.
China's political system made a bad situation worse. My recent research shows that the authorities at local, provincial, and central levels knew everything by 1995. They stopped the blood trade, but did nothing about the mass contamination. From 1995 to 2003, people living with the AIDS virus were not informed of their infection, nor of the risks of contamination. Mothers gave birth to HIV-positive babies; existing treatments could easily have prevented these transmissions. Adults - particularly migrant workers in the industrial zones of eastern China - continued to have sexual relations without any precautions.
What has changed in Henan since 2003? Unfortunately, not enough. Even the number of contaminated peasants remains unknown. The ministry of health in Beijing laughs at Henan's official tally of 22,000. Dr. Zheng Ke, one of the Chinese doctors with the best field experience in Henan, puts the estimate at 300,000; others speculate the figure is closer to 500,000 or even a million.
Officially, the government has started distributing free antiretrovirals, the treatment that can stop the progress of the disease. The leadership has granted free education for children of AIDS patients and help for their communities. In reality, these treatments have been inadequate; a majority of patients rejected them because of side effects, while others have been trying all kinds of medicine, including experiments from Chinese army research centers. Many have opted against treatment altogether - and anxiously wait for their death. Worse, some were abandoned, like one man I met who was clearly developing the disease and who had been left waiting for a month for the results of his blood test. In dozens of interviews last year, I did not meet a single patient who was correctly treated.
This medical chaos would be enough to justify outside assistance. But Henan authorities are adamant not to allow any outside presence. When I travelled to the AIDS villages last year, I had to arrive at midnight and leave before daybreak to avoid the militias formed to stop journalists and nongovernmental organizations, both Chinese and foreign, from visiting AIDS patients. Chinese NGOs trying to organize orphanages for the thousands of Henan children who have already lost their parents have been violently chased from the province and their institutions closed.
This leaves tens of thousands of Henan peasants without adequate treatment, without any social support, and having to face the hostility of authorities who fear retribution for their role in the contamination process a decade ago. Until it brings assistance and justice to the victims of the Henan blood scandal, it's too early to cheer Beijing's change of heart on AIDS.
(Pierre Haski is a correspondent for the French newspaper Libération. This article is reprinted with permission from YaleGlobal Online (yaleglobal.yale.edu).)