カテゴリ
以前の記事
検索
最新のトラックバック
その他のジャンル
ファン
記事ランキング
ブログジャンル
画像一覧
Write Now!
New York Times Promotes Bisexual Stereotypes in "Straight, Gay or Lying?"
take action
>
write now!
>
New York Times
Promotes Bisexual Stereotypes in "Straight, Gay or Lying?"
July 07, 2005
Contact:
Cindi Creager, Director of National News
Phone:
646-871-8019
Email:
creager@glaad.org
On July 5, "The New York Times" published an article by Benedict Carey titled "Straight, Gay or Lying? Bisexuality Revisited." The article examined the findings of a forthcoming study that the "Times" says "lends support to those who have long been skeptical that bisexuality is a distinct and stable sexual orientation."
The claims put forward in the article, combined with the derogatory headline, are raising questions not only about the "Times'" reporting on this study, but also about the study itself. Particularly troubling are the dubious claims made by the senior author of the study, J. Michael Bailey, that "there is no hint" that bisexual orientation exists among men. Bailey's 2003 book on transsexuals also drew widespread criticism and was followed by complaints of research misconduct against Bailey by several of the book's subjects.
Unfortunately, the "Times'" report on the new study veers toward hasty generalization, including a second paragraph that reads, "But a new study casts doubt on whether true bisexuality exists, at least in men." It isn't until eight paragraphs later that readers encounter the first warning against drawing hasty conclusions based on the Bailey study's small sample.
But it's the article's headline -- "Straight, Gay or Lying? Bisexuality Revisited" -- that has generated the most concern and anger among bisexual community leaders and members. This sensationalistic, derogatory headline (not written by the article's author) impugns the honesty and integrity of bisexual people everywhere, accusing them of lying and deceiving others about their sexual orientation.
GLAAD contacted the "Times" about these concerns and asked that the online version of the headline be changed so it no longer insinuates that self-identified bisexuals are lying about their sexual orientation. The "Times" declined and defended the headline, saying that the phrase "gay, straight or lying" is "a commonly used phrase among many gay people."
In the past, the "Times" has been careful to not overstate the implications of new research. And while Carey's article does acknowledge that more research is needed in the area of sexual orientation, the sensational elements of his story, the derogatory implications of the headline, and its embrace of anti-bisexual sentiment do not reflect the usual journalistic standards of "The New York Times."
SUBMIT YOUR LETTER TODAY!
Please send a letter to the editor of "The New York Times" expressing your opinion about the paper's "Straight, Gay or Lying? Bisexuality Revisited" article and headline. The story's author has indicated to GLAAD that the paper is planning to run letters to the editor on this story early next week.
Please click on
WRITE NOW!
in the upper right-hand corner to write and send your letter.
To read "Straight, Gay or Lying? Bisexuality Revisited," visit:
http://www.nytimes.com/2005/07/05/health/05sex.html
.
Straight, Gay or Lying? Bisexuality Revisited - NY Times
Comment
Madrid's vanished horror
The bombings poisoned the political atmosphere and deepened the social divide
Victor de la Serna
Friday July 8, 2005
The Guardian
Explosions on jam-packed trains during rush hours with no prior warning, horrific results in terms of deaths, maimings and injuries, chaos and panic in a major European capital city, early if unreliable claims of responsibility by obscure al-Qaida subsidiaries: the resemblances between the 3/11 terrorist attacks in Madrid and the 7/7 attacks in London are so obvious that comment appears superfluous. The differences may be more revealing.
The key difference, of course, was that three days after 3/11 there was a 3/14 in Spain: general elections that the conservatives of the then prime minister, José María Aznar, were likely to win despite the fact that he was not himself running and despite widespread popular opposition to his backing the American invasion of Iraq. In the end, however, the Socialist party won after three venomous days of recriminations about the terrorist actions and their perpetrators.
These electoral effects contaminated reactions to the bombings in a deep and lasting manner - the same will not happen in the UK, where there are no electoral urgencies at present.
In Spain, that contamination was so intense that the main point in the recent report of the parliamentary inquiry into the attacks, 16 months after the events, was not related to the perpetrators but to the performance of Mr Aznar's cabinet. It was criticised by the current parliamentary majority for not having prepared better for Islamic terrorist actions and for "misleading" public opinion when it insisted early on that the Basque terrorist group, Eta, was most likely responsible - which would have helped the conservatives' electoral push.
For their part, the conservatives have, since then, devoted all their strenuous efforts to defending their record. They also insist that too many question marks remain about the 2004 attacks - the physical perpetrators were petty Madrid-based criminals; the explosives used were sold by traffickers in northern Spain who are suspected to have supplied Eta too; regional police authorities had known about those dealings since 2001 but had not acted. A local Socialist party official had even been visiting a suspected Islamist terrorist in jail. Ties between the suspected terrorists and the Moroccan secret services have surfaced.
Amid the barrage of political infighting, the actual investigation of the origins and ramifications of the attacks has proceeded at snail's pace. Several suspected terrorists were blown up - or blew themselves up - in an apartment on the outskirts of Madrid days after the bombing, which certainly made things more difficult.
In addition, it is hard to envision anyone among those who died or those who have been arrested having enough planning skills and technical sophistication to have organised the highly synchronised attacks and having set up the sophisticated explosive devices that were detonated with cell phones.
The poisoned political atmosphere has provoked a deepening social divide, with a triumphant Spanish left chastising the right as never before since the political transition of Franco's death, and the right now responding in kind against a Socialist administration whose main initiatives - like the recent legalisation of gay marriage - have been directly aimed at traditional, Catholic sensitivities in Spain.
Is disgust with the political deterioration a reason why the horror of 3/11 itself seems to have vanished so quickly from social consciousness in Spain, specifically, in Madrid? Or is it a sort of collective defensive reflex? The fact is that two months after the bombings a report of the Spanish Society for the Study of Anxiety and Stress determined that 8% of Madrid denizens showed symptoms of "serious depression"; a year later only 2% still suffered them, and now the psychological scars - save for the victims and their families - seem to have practically disappeared.
A very sad post-mortem.
· Victor de la Serna is deputy editor of the Spanish newspaper, El Mundo
|| Commentary ||
Surviving a nightmare
Like the millions of other London residents, a gay magazine editor comes to grips with the horrible terrorist attacks of July 7.
By Matt Miles
An Advocate.com exclusive posted, July 8, 2005

axm-mag.com
Until July 7—true to British spirit—when a policeman in London told you to evacuate the train station you didn't run in panic. No: you walked briskly, muttering about the inconvenience.
So, when hundreds of Londoners were ordered off the upper concourse of Liverpool Street station into the mild air of a midsummer morning on Thursday, it appeared we were amid the inconvenience of just another bomb scare in a city that has lived with terrorism for decades. Then five police cars and two ambulances screamed past and I overheard a man in a suit talking loudly into his mobile phone: "Somebody told me a power surge has caused an explosion at Liverpool Street."
I tried to picture how a power surge might cause an explosion and, with sirens echoing across the streets, I carried onto my job as editor of a London-based gay magazine. One of the sales guys opened the door for me. He told me that a bus had blown up near Russell Square. Upstairs two of my colleagues were checking the BBC news online. No mention of the bus, but the lead piece was the closure of the tube network due to reports of explosions, attributed to a power surge. My father also works in the city and uses Liverpool Street station. Although I was sure he wouldn't have been underground since he commutes from the suburbs I had to be certain. I tried to call his mobile, but the network was down, and I was, like so many thousands of people, stranded in the unknown.
Just as I was about to call directory inquiries to get his office number, my direct line rang. It was my boyfriend. He'd heard something about explosions, and hearing my voice was enough to stop the panic. Then came a call from my younger brother in Manchester, thoughtful as ever, just checking that I was OK and confirming that our dad was safe. As I put the phone down the radio confirmed the bus explosion and that the coordinated terrorist attack we'd been expecting for nearly four years had finally happened.
It hadn't sunk in. And perhaps it still hasn't.
"Strike where your opponent least expects it," goes the military maxim. Well, the London Underground was exactly where we expected a terrorist strike but, despite the "inevitability" of an al-Qaeda attack, and despite it being the first day of the G8 summit in Scotland, we didn't expect it on the seventh of July.
The night before, we had yet to come to terms with our city winning the Olympic Games of 2012. The sense of pride and optimism that had swelled since the Live8 concerts in Hyde Park and around the world, with their intention to free Africa of debt, had been amplified. In fact, there was so much promise, pride, and optimism kicking about that heads were spinning. I remember thinking on Tuesday, July 6, as I took one of my rare tube trips into town for a meeting, that perhaps we'd never get that terrorist hit after all.
I was looking forward to the weekend, when we could relax and make sense of this euphoric white noise.
Boom.
"A sound so horrific I never want to hear it again," said a man on the TV news. He'd been walking past the number 30 bus. By this time I'd heard of two people who had been nearly as close—a friend of a friend who had got off at the stop before the blast and someone who always takes the bus from Hackney to Marble Arch but had succumbed to a hangover that day instead. And then my friend Dieter called: "If I'd moved into Andrew's apartment in Aldgate, I could have been on the train to Liverpool Street."
A lot of could've beens, a lot of misinformation, a lot of people, perhaps instinctively, grabbing their part of the tragedy in order to make sense of what was happening around them. After all, the target seems so immense it's hard to grasp. When religious fundamentalist terrorists attack the West, what exactly is the enemy?
For all our sins against the environment and free trade (and God knows how many others buried in the vaults of time), there is, especially in our cities, the constant evolution in support of diversity. An attack on the everyday lives of London seems so much like indiscriminate mass murder that it is hard to comprehend. Perhaps that's why as I write this, 36 hours after the carnage, the street outside my office is packed with drinkers laughing, as if everything that happened yesterday was just another mugging outside a petrol station that went wrong.
On a summer night like this, six years ago, the aftershock was more defined. A gay pub in Old Compton Street, Soho, had been bombed. Again, the phone calls flew around. "Are you all right?" "We were about to go there." "We haven't heard from Michael." But then everyone knew who the victim was. It was gay men and lesbians. We'd been singled out, persecuted.
In the strange, perverted way these things happen, the sympathy felt after that bombing surely helped the gay rights movement in the United Kingdom take another great leap toward the near-equality we now enjoy. Just as with that tragedy, the impact of the four bombings this week will for a long time mean nothing but anguish to those whose lives have been blown apart. For myself and the millions of Londoners who embarked, unscathed, on the long walk home alone on July 7, the impact may take longer to define.
As I tried to make sense of this, my silence was punctuated by a phone call from a gay Muslim friend. He fears reprisal from those seeking somewhere to place blame. Such attacks from those who are trapped in hate is most probably as inevitable as the bombs we had long been expecting. But just as most of London returned to work today, so most of us will be strengthened by a will to live and let live that goes way beyond notions of national pride. It's something called human nature, and the 99.9% that isn't extreme enough to plant a bomb is in the typical British pub opposite this office having a drink, forgetting, carrying on.
Matthew Miles is the editor of AXM, a monthly gay lifestyle magazine in the United Kingdom. He is also an award-winning film and video producer and author of short stories.
London gay clubs reopen after attacks
Ben Townley, Gay.com U.K.
Friday, July 8, 2005 / 03:43 PM
SUMMARY:
London's thriving lesbian and gay scene will open its doors Friday night, in a show of defiance against Thursday's terrorist atrocities.
London's thriving lesbian and gay scene will open its doors Friday night, in a show of defiance against Thursday's terrorist atrocities.
The capital's major clubs and bars will open their doors, with the majority of promoters and owners saying they will be pushing for "business as usual."
At the Scala, the home to gay indie and alternative night Popstarz, the crowds will be welcome as usual, a spokeswoman told Gay.com. The venue is across the road from King's Cross, where one of yesterday's tube attacks took place and from where a large number of revelers arrive for the popular night.
"We're in the heart of where it all happened yesterday," the spokeswoman said," but it will be business as usual. You just can't let it get you down."
Those behind Fiction, which takes place at King's Cross venue The Cross, said they would also be open and welcoming the crowds.
At Heaven, in the heart of the capital at Charing Cross, organizers of the new Bang night said they had contemplated postponing the launch out of respect, but felt they had to go on.
"We've just to get on with it," promotions manager Gavin Nicholls told Gay.com U.K.
"We were considering shutting the night down, but that's what those behind the attacks would have wanted. That way they would have won," he said.
Kim Lucas, owner of one of Soho's biggest lesbian venues the Candy Bar, said the popular haunt would also be open, despite being closed the previous night.
She told Gay.com that Thursday night's decision was taken so as to encourage people to stay at home and allow the transport network to come under control. She said also that she had difficulties getting staff to the bar.
However, both Candy Bar and Delicious at Crash would be open for "business as usual," she said.
Gay district Soho, in the heart of London, is still quieter than usual, with some reports suggesting the number of commuters traveling into the city may be down by 50 percent. Numbers were expected to pick up later Friday, authorities said, although they are not expected to hit the capacity seen on a normal Friday night.
Gay London Returning To Normal
by Peter Moore 365Gay.com London Bureau
Posted: July 8, 2005 5:00 pm ET
(London) Subway stations in the heavily gay central London and Soho areas remained closed Friday in the aftermath of Thursday's terrorist attack, but life has slowly begun returning to normal
"Me gran was in the blitz," said Bradley Newcomb on Oxford Street. "She used to say how people would climb out of the shelters after the attacks and go on. These bastards aren't gonna stop me either."
Yet, despite the determination of Newcomb, and countless others like him, there remained an eerie quiet throughout the day. Shops reopened but even clerks in stores spoke in softer more deliberate tones. People on the streets appeared more vigilant, taking note of people and things they would normally not notice.
There was a much heavier than normal police presence in the area Friday night. Slowly over the course of the day gay bars and businesses reopened. The big clubs, each within steps of where the bomb blasts went off, were open, although early crowds appeared to be smaller than usual.
"Everyone is being very, very vigilante and looking around checking for any suspect packages," Gaydar Radio's Yannick Lawry reported from Old Compton Street .
The official death toll stands at 49, but authorities say it is likely to rise. An unknown number of bodies are trapped in a subway car deep underground at the Russell Square station.
More than 700 were injured in the attacks - the worst in the city since World War II. One hundred remained in hospital Friday night - 22 of them listed in serious condition.
The Queen Elizabeth, Prince Charles and other members of the Royal Family made separate visits to bombing victims at various hospitals in the capital.
The Queen expressed her admiration for all the Londoners who "are calmly determined to resume their normal lives."
Authorities have said the attacks had the signatures of the al-Qaida terror network and counterterrorism specialists said they were taking seriously an Internet claim of responsibility by a little known group calling itself The Secret Organization of al-Qaida in Europe.
09.07.2005
Gay Pride di Roma: basta discriminazioni, viviamo in pace
di red - l'Unità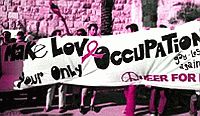 Roma si prepara ad ospitare i corteo che, in concomitanza con altre città nel mondo, festeggia la Giornata mondiale dell'orgoglio Glbt, gay lesbo bisex e trans. Il Coordinamento cittadino, che mette insieme diverse sigle dell'attivismo omosessuale, ha organizzato la manifestazione: partenza alle 16 da piazza della Repubblica per arrivare alla Bocca della verità, attraversando il centro della città. 41 linee Atac saranno deviate, speriamo che i romani non si facciano prendere dal nervosismo e si lancino in facili imprecazioni. Torna alla carica il movimento arcobaleno, portando all'attenzione di tutti, società civile e istituzioni, le sue istanze: subito una legge che condanni la discriminazione per orientamento sessuale e identità di genere e che sancisca parità di diritti in tutti i campi della vita sociale.
Ma la sfilata di quest'anno, colorata, eccessiva, rumorosa, partecipata – si aspettano 40mila persone – non potrà fare a meno di sentirsi vicino alla città di Londra e alla sua popolazione. E bandiere arcobaleno, prestate al movimento della pace ma simbolo classico delle mobilitazioni gay, saranno listate a lutto. Tuttavia c'è chi assicura che la festa, sebbene un po' in sordina, ci sarà ugualmente: «Sarà una parata Pride classica, nonostante tutto: è importante non snaturare la marcia. Non cediamo al terrore che vuole modificare il nostro vivere civile» dice Rossana Praitano, presidente del circolo Mario Mieli. Dai nove carri e dal lungo serpentone di persone arriveranno delel rivendicazioni precise: «Le nostre - prosegue la Praitano - sono bandiere arcobaleno, simbolo sia del movimento omosessuale sia della pace. Il tema di quest´anno è la lotta alle discriminazione, agli integralismi di ogni tipo, e contro la guerra».
Comune e Provincia di Roma patrocineranno di nuovo l'iniziativa. In marcia ci sarà l´assessore comunale alle Pari opportunità Mariella Gramaglia e il consigliere diessino Maurizio Bartolucci, che lancia un appello al Campidoglio per un impegno amministrativo preciso «affinché la delibera che istituisce il registro delle unioni civili nella nostra città venga posto all´ordine del giorno del consiglio comunale». Anche la giunta regionale di Marrazzo avrà il suo rappresentante. Luigi Nieri, assessore al Bilancio e alla Partecipazione: «Mi impegno - ha detto Nieri - affinché parta dalla Regione un forte segnale per la parificazione delle famiglie di diritto alle famiglie di fatto». Non mancano altre importanti adesioni, come quella del più grande sindacato italiano, la Cgil, dei Ds romani e dal presidente del municipio XI Massimiliano Smeriglio «per ribadire un concetto di civiltà: la questione dei diritti umani riguarda la persona e non i suoi orientamenti sessuali». Quest'ultimo è stato protagonista di una vicenda singolare: ha scoperto che dalle postazioni Internet del Comune il sito del
Gay Pride
era inaccessibile in quanto classificato come pornografico. Mobilitazione e rimozione dell'ostacolo: «L´assessore Gramaglia – ha detto Smeriglio - ha provveduto immediatamente a riparare a una gaffe». Dal Campidoglio arriva la spiegazione: «E´ vero che l´accesso ai siti pornografici è inibito dal Comune, e per questo vengono utilizzate chiavi commerciali che evidentemente hanno letto male qualche parola contenuta nel sito del Pride. Nessuna discriminazione».
イタリア・ローマプライドはじまる
Gays fired up for Pride march
50,000 expected in Rome for day of celebration and protest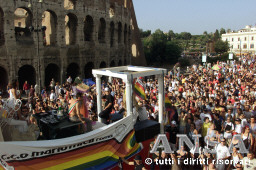 (ANSA) - Rome, July 8 - Gays, lesbians and bisexuals were geared up on Friday for the capital's annual Gay Pride parade, just days after a political row flared up again over same-sex unions .
This year's Gay Pride is expected to draw some 50,000 people from across the country, with a string of floats blending political activism with a festive, carnival atmosphere .
A float featuring "gay greats" such as Leonardo da Vinci, Michelangelo and Oscar Wilde will head the parade, which kicks off at 5pm from Rome's main train station, Termini .
Surrounded by dancers, street artists and marchers, it will travel down Via Cavour and wend its way past some of the capital's most famous monuments, including the Roman Forum and the Colosseum, before wrapping up at the Mouth of Truth .
But despite the elaborate costumes, vibrant music and riot of colour, the marchers will be pushing their call for equal rights .
"The key issue here is the fight against discrimination," said Andrea Giuliani, spokesman for the Mario Maieli circle, which is organizing the event .
"We'll use the chance to present the government with a collection of signatures calling for legislation outlawing discrimination against gays, lesbians, transsexuals and bisexuals." The demonstration will also urge parliament to approve a bill that would give gay and unwed partners living together a series of legal rights enjoyed by married couples .
Similar to France's Civil Solidarity Pact (PaCS), it would formalize a number of administrative and money-related obligations and benefits, such as mutual pension and inheritance rights .
The issue of same-sex unions has been at the centre of a row in Italy this week, after leading political figures criticized Spain's new gay marriage law .
Senate Speaker Marcello Pera described the law as "a triumph of secularism that seeks to transform desires, which are occasionally just whims, into human rights." House Speaker Pierferdinando Casini, a top figure within the National Alliance (AN) party, said it was "egotistical" .
The remarks drew support from other members of the centre-right governing coalition but came under fire from the opposition and gay rights groups. "It's simply ridiculous to declare that the Spanish law is a whim but it becomes outrageous when the person making the comment is Italy's second highest institutional figure," said the Senate whip of the opposition Green party, Stefano Boco .
The head of Italy's largest gay rights group, Arcigay, said it was a "dark day for Italian institutions" .
The Spanish law, which the lower house approved last week over the Senate's objections, makes Spain the third country in the world after the Netherlands and Belgium to legalize gay marriage .
Canada's lower chamber greenlighted a similar bill last week, which the Senate is expected to okay later this month .
Pope Benedict XVI, meanwhile, has made it clear that his papacy will bring no changes to the Catholic Church's stance on homosexuality .
In a clear condemnation of all same-sex unions at the start of last month, he described such forms of "pseudo-matrimony" as "anarchic" .
医療ルネサンス 増える性感染症(5)抗HIV薬で発症抑制 (読売 2005/07/09)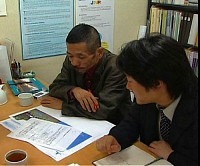 HIV感染者を支援する「JaNP+」事務所。左は長谷川さん(東京都新宿区)
 「治療薬はどんなもの」「副作用は?」……。
 ヒト免疫不全ウイルス(HIV)の感染告知を受けて間もない5人が次々と薬についての不安を漏らす。感染者の支援組織「
ぷれいす東京
」が今年3月、東京・高田馬場の事務所で開いた新規陽性者のためのグループミーティングだ。
 HIV感染症は、放置すると感染5~10年で免疫が正常に働かなくなり、特殊な肺炎や、悪性腫瘍(しゅよう)などを起こす。未発症者をHIV感染者、発症者をエイズ患者と呼ぶ。
 日本で初めての患者が見つかった20年前には死の病とされたが、増殖を抑える抗HIV薬を3種類以上服用する「多剤併用療法」が1996年、米国で開発された。発症前に薬を飲み始めることで死亡者数が減り、先進国では、発症を抑えられる病気に変わった。
 現在、抗HIV薬は約20種類が承認されているが、一つの組み合わせはいずれ効かなくなる。効果の持続性や副作用の程度を見ながら薬を切り替えていく。
 「先輩感染者」として会合の司会役を務めた神奈川県の20歳代後半の男性Dさんは「薬が命綱ですから、感染者は効果や副作用、選択肢など薬の情報を切実に求めています」と言う。
 疑問に答えるように、Dさんは自分の経験を語った。5年前、検査で陽性とわかり、すぐに3種類の薬を朝と就寝前の2回、服用し始めた。当初ウイルス量はかなり多い38万もあったが、1か月後には検出できない50以下に激減した。
 しかし、良いことばかりではない。薬の副作用で服用後2時間ほど、頭がボーッとして仕事に集中できないことがあった。薬を飲んでいてもウイルス量が徐々に増えてきたので、昨年は薬を3種類とも替えた。
 「ぷれいす東京」などが一昨年、感染者105人を対象に行ったアンケート調査によると、副作用では、下痢、疲れやすい、吐き気、睡眠障害などが多く、4人に1人が副作用などから服薬中止を経験していた。
 薬とは一生の付き合い。毎日の服薬に疲れてしまったり、副作用で飲めなくなったりして服用が中途半端になると、耐性ウイルスが出現し、命を脅かす。
 国内の患者・感染者は昨年初めて、新規の報告数が1000人の大台を突破。累計で1万人を超え、増加に歯止めがかからない。支援ネットワーク「
JaNP+(ジャンププラス)
」代表で感染者の長谷川博史さん(52)は「薬でウイルスは一掃できない。予防が第一。コンドームを使った安全なセックスを心がけて」と訴えている。(坂上博)
 (次は「着床前診断」です)
 HIV 抗体の有無を調べる血液検査は、多くの保健所で無料で受けられる。ただし、感染から8週間以上たたないと抗体は検出されない。検査の1、2週間後に保健所を再訪、結果を聞く。最近は陰性なら30分でわかる迅速検査を導入する保健所も増えてきた。
 詳しくはHIV検査・相談マップ(
http://www.hivkensa.com
)。
増える性感染症(4)再発多い性器ヘルペス (読売 2005/07/08)
Human Rights Violations Related to Women's Sexual Autonomy and Reproductive Choices (Human Rights Watch 2005/07/07)
In all parts of the world, women suffer discrimination and abuse because of their reproductive capacity. Community members, spouses, parents, and health professionals use discrimination, violence, and abuse as means to limit women's sexual autonomy and reproductive choices. Some of these abuses are even mandated by law. They violate internationally recognized human rights, including women's rights to life, health, nondiscrimination, bodily integrity, privacy, liberty, religious freedom, and freedom from torture.
Discrimination based on women's reproductive capacity and choices takes many forms. Human Rights Watch has documented how private companies in Mexico, Guatemala, and the Dominican Republic routinely discriminate against women on the basis of their reproductive capacity by obliging female job applicants to undergo pregnancy exams as a condition of work and by denying work to pregnant women. When Indonesian women migrate to Malaysia to seek jobs as domestic workers, they are routinely tested for pregnancy and sent back to Indonesia or denied travel if they test positive.
Discrimination based on women's reproductive capacity often intersects with other forms of discrimination, such as for example discrimination based on ethnicity or race. In South Africa, for example, farm owners deny black women farm workers maternity benefits and other legal rights.
Frequently, women are treated as incapable of making responsible decisions about their health and lives, especially when it comes to reproductive matters. In the Dominican Republic , Human Rights Watch found that pregnant women are given inadequate information prior to HIV testing, preventing them from giving their informed consent to the testing. Some women are pressured into being sterilized. In Argentina, on the other hand, women are routinely denied access to voluntary sterilization in the public health system, or are only allowed the procedure when their husbands have given express authorization.
All over the world, women and girls suffer adverse health, social, and economic consequences of unplanned and unwanted pregnancies because family planning and safe and legal abortion services are criminalized or made practically inaccessible. Every year, twenty million women undergo an abortion in illegal and mostly unsafe circumstances, resulting in as many as 78,000 deaths, the vast majority of which are preventable. In Argentina, the consequences of illegal and unsafe abortion have been the leading cause of maternal mortality for decades, causing one third of these deaths directly.
Across the world, family and community members pressure women to undergo mutilating, physically inhibiting, and often painful bodily alterations such as female circumcision or female genital mutilation. Human Rights Watch has documented the dire consequences of other harmful traditional practices, such as "dry sex" in Zambia, and "ritual cleansing" or "widow inheritance" in Kenya.
These practices are closely related to issues of sexual autonomy, and the rights of all women to decide on the number and spacing of their children. Cultural practices, as well as limited access to family planning and education, are used to control and limit women's sexual autonomy and restrict female sexual activity to that directly related to procreation. In the United States, state-sponsored sex education programs that focus on "abstinence only" until marriage teach adolescents that condoms do not work, , encouraging those adolescents who engage in sex to do so unprotected. Through the United States' President's Emergency Plan for AIDS Relief (PEPFAR) such programs are now being exported to countries with high HIV rates, in particular among women, such as Uganda.
Oregon Senate Passes Civil Union Bill
By CHARLES E. BEGGS
The Associated Press
Friday, July 8, 2005; 8:16 PM
SALEM, Ore. -- The state Senate approved a bill Friday that would give same-sex couples most of the legal benefits of marriage, but the civil union legislation appeared doomed in the Republican-run state House.
Two GOP senators joined 17 Democrats in passing the Senate bill, which also would outlaw discrimination based on sexual orientation in housing and employment. The measure has the support of Democratic Gov. Ted Kulongoski.
Chuck Deister, spokesman for House Speaker Karen Minnis, said that there are no plans to bring the bill to a vote in that chamber.
Oregon voters in November passed a state constitutional amendment banning gay marriage.
Republican Sen. Jeff Kruse on Friday called the Senate bill "another step down the road to Armageddon" and questioned whether pedophiles will want equal rights.
"This is dangerous ground, colleagues," he said. "This is a blatant attempt to overturn the will of the voters."
Ben Westlund was among the two Republican senators who voted for the measure.
"We are on the front lines of the civil rights struggle of this generation," Westlund said. "One of the freedoms that should be afforded to all human beings is the freedom to form families."
Vermont and Connecticut have passed civil union laws, while Massachusetts is the only state allowing gay marriage.
Oregon State Legislature
http://www.leg.state.or.us/
For Immediate Release:
Friday, July 8, 2005
OREGON SENATE TAKES HISTORIC STEP TOWARD EQUALITY
'Simple fairness means the same rights, protections and responsibilities for everyone,' said HRC President Joe Solmonese. - Human Rights Campaign
http://www.hrc.org/Template.cfm?Section=Press_Room&CONTENTID=27836&TEMPLATE=/ContentManagement/ContentDisplay.cfm
National Gay and Lesbian Task Force applauds Oregon Senate's passage of civil union and non-discrimination bill
Calls the efforts of Basic Rights Oregon a 'model of perseverance and commitment to lesbian, gay, bisexual and transgender equality'
http://www.thetaskforce.org/media/release.cfm?releaseID=847
The Financial Times
Arts & Weekend
Kamikaze kittens
By Andrew Lee
Published: July 8 2005 17:38 | Last updated: July 8 2005 17:38
On my living room wall there is a poster by the Japanese artist Makoto Aida, called "Harakiri Schoolgirls". I bought it in Tokyo a few years ago and it has fascinated me ever since. In the centre of the image stands a certain type of Japanese schoolgirl, a kogyaru, wearing loose white socks bunched around her ankles and her skirt hitched up so it's extra short. She has a fake tan and bleached blonde hair, and is raising a Samurai sword above her head ready to strike. At her feet kneels another schoolgirl who has just cut open her own stomach, harakiri style. She grasps the leg of the standing girl and waits for the coup de grace.
Around them five other schoolgirls are all in various stages of suicide - all smiling. One thrusts a sword through her neck and a rainbow appears in the blood spurting from her wound. Another lies on the ground cutting her exposed intestines with a dagger; blood flows into a drain, past discarded tissues and a karaoke bar flyer. A curious kitten looks on, and the head of an eighth girl lies decapitated in the corner.
It is a horrific, even misogynistic, image. But it's also beautiful. The juxtaposition of comic-style cuteness and ultra-violence is strangely alluring. It draws you in despite the horror. But what does such a gruesome image say about modern Japan?
The violence in this work is at odds with the perception of Japan as one of the "safest" countries in the world. But Aida's painting exemplifies many of the attributes that make contemporary Japanese art so distinctive. Aida is one of a number of artists in the past decade who have combined childlike innocence with violent or sexual themes. Whether this is political or simply aesthetic, the particular mix of cuteness, violence and sex has become the dominant trend in Japanese art. The question is, why?
In recent years Japanese pop culture has been gaining popularity in the west. Japanese cartoons, or anime, get mainstream movie distribution as standard. The films of Hayao Miyazaki, such as the Oscar-winning Spirited Away, are challenging the likes of Disney for the hearts of western children. Major bookstores now have manga sections and you can buy Hello Kitty products in Harrods and Top Shop. Most of these things appear very "cute", or kawaii.
In Japan kawaii is big business - and is the most over-used word in the language. Everything from beagle puppies (understandable) to the emperor (not so obvious) is labelled kawaii. It defines an industry of childish imagery that has become synonymous with Japan. Today it seems that even in the west there's no escaping from kawaii characters such as Pokemon.
This is just one side of kawaii - the kind we are used to seeing outside Japan. But in Japan the sweet and innocent is often mixed with something darker; and it is this more sinister side that shocks many foreign viewers of recent Japanese art.
In the 1990s Japan changed forever. The bubble economy burst, and with it the illusion of a secure life of riches and prosperity. An apparently safe and wealthy society, which had tried so hard to suppress the negative aspects of its past, suddenly saw salary men committing suicide because they had lost their jobs, while their children seemed to be running wild. A 14-year-old murderer left the head of his 11-year-old victim on a school gate, and schoolgirls prostituted themselves in order to buy Prada bags. But it was in 1995 that the crisis came. First, the Kobe earthquake killed more than 5,000 people, proving their homes weren't earthquake-proof after all. And then the Aum Shinrikyo cult gassed the Tokyo subway.
It was in the second half of the 1990s that this anxiety, fear and anger started to appear in contemporary art. Although most Japanese artists refuse to be labelled "political", they appeared at a political and social moment in their country's history. There is confusion and tension in their work. Making the horrific "cute" is perhaps a means to minimise anxiety about the future; if something is childlike it's less likely to be taken seriously, less likely to be feared.
Takashi Murakami is the Japanese artist who has done most to bring this new art to a broader audience. The reigning champion of the Japanese art scene, Murakami holds the record for the highest price paid for a piece of Modern Japanese art. His Miss Ko2, a 74in statue of a voluptuous cartoon waitress in a mini-skirt was sold at auction for $567,500. But he is probably best known for his recent collaboration with Louis Vuitton and the current collection of LV bags with "cute" flowers and eyes on them.
Frustrated by the hierarchy of the Japanese art world, which he saw as an imported western concept, Murakami propounded his "Superflat" theory of art in 2000. The term refers to both the flatness of traditional Japanese painting styles and the lack of emotional depth in Japan's modern consumer society. He rejected the distinction between the high and low art by incorporating his own cartoon character, Mr Dob, into his more "traditional" gallery art. Originally created in 1993, Dob has since mutated through several forms. It is his cute eyes that stare out from the Louis Vuitton bags. Recently Murakami has given Dob several companions, which the artist uses to prove that anything can be made cute - even something as horrific as the atomic bombing of Japan. In his "Eco Eco Rangers Earth Force" several of his new characters fly around two rising mushrooms clouds, one of which has a big, friendly smile and large black eyes. It is this image that opens his current exhibition at the Japan Society in New York.
Curated by Murakami, Little Boy: The Arts of Japan's Exploding Subculture is an exploration into the subculture that has influenced the artists whose work displays this cute/violent theme. Little Boy was the code name for the atomic bomb dropped on Hiroshima but it also refers to the mental state of Japan today, says Murakami. The premise for the exhibition (and the 448-page catalogue that accompanies it) is that during the post-war era Japanese society suppressed the emotions of losing the war, bottling up the anxiety and fear caused by having atomic bombs dropped on them. Rather than deal with reality, the Japanese chose to remain children in an adult world. The issue of "the bomb" was absorbed into a subculture of children's cartoons and monster movies, the subculture of the otaku. Often translated as "geek", otaku actually stems from the formal Japanese word for "your home" - most otaku are recluses obsessing over the minute details of anime, manga and other parts of Japanese pop-culture. Murakami believes the otaku - and the Japanese in general - are still interested in childish things. Japan, says Murakami, has been unable to grow up.
Murakami is a friendly well-fed man in his forties with round glasses and a ponytail. Dressed in shorts, a T-shirt and sandals, he appears, as you might expect from his musings, very childlike. His "Kaikai Kiki" studio in the suburbs of Tokyo, where we meet, has become legendary as the home of Japanese Neo-pop. He greets me in English and slips in and out of Japanese as we talk. In his view, the Japanese do not need to grow up. "I think Japanese society is really similar to the story in the Matrix movies," he says, comparing postwar Japan to a postapocalyptic Earth. "People cannot rise up or wake up because they are sleeping protected in a capsule. We already found out that that society is not real. But it is our normality. Perhaps this is why Japanese subculture has been so strong these 20 years. Maybe if we can keep our minds really childish we can be free."
In his New York exhibition, Murakami supports his argument with examples of the television anime and manga his generation was exposed to as children. The theme of apocalyptic annihilation is ubiquitous, from Time Bokan, a morning cartoon for infants, which ended each episode with an atomic mushroom cloud destroying the baddies, to Akira, an anime that shows the destruction of Neo-Tokyo by psychic children.
The juxtaposition of cute and horrific is not exclusive to Japanese art, of course - the British artists Jake and Dinos Chapman are notorious for the black humour in their artwork, for example. But the approaches are different. Japanese artists tend to take the very images that appeal to children, and the child inside us, and pervert them. Western artists, in contrast, typically take adult concepts and make them childish. The Chapmans might put a phallus on the face of a child to shock us but the result is not childish in any way.
Art in which children or childish things have adult sexuality or violence thrust upon them is obviously shocking. But in Japan these distinctions are slimmer. So works by Japanese artists that shock western audiences may actually seem fairly mundane to other Japanese.
Murakami, who likes to make grand analogies, compares these differences in perception to different computer operating systems (OS). "So think of a computer's OS as people's awareness of 'war' and of 'country'," he says, claiming the Japanese have stopped thinking about these ideas altogether. "When people from the UK see a violent manga they think it's violent and they're shocked. But because Japanese people don't have this OS they need something even more shocking, even more extreme to shock them."
For Japanese who have grown up in a society dripping with saccharine Hello Kitty-style characters and sticky pornographic comics, these cute/sexy/violent images seem almost normal. Or if not normal then at least commonplace.
The best place to see this phenomenon is in Tokyo. That Japanese of all ages read comics is nothing new. But walk past Tokyo stores displaying pile upon pile of brightly coloured manga and it's soon apparent that although these comics may share certain traits with innocent cartoons like Kimba or Astro Boy, they are not for kids.
Pornographic manga are everywhere, often hilariously so. More than 10 years ago on a train in Tokyo, one literally fell into my lap from the luggage rack where a businessman had left it. Anyone who has been to Japan has probably had a similar experience - these types of images are not exactly hidden away. In the electronics district of Akihabara, for example, stores filled with the latest high-tech gadgets have whole floors devoted to cartoon (anime) pornography. This is where the cute and the perverted mate. Anime DVDs showing cartoons of young girls being raped, tortured or worse must send many tourists running, their "Fujiyama" image of Japan tainted for life.
But these psuedo-paedophiliac images are not just the product of a misogynist, paternal society. One female artist who has been heavily influenced by this kind of sexual imagery is Mahomi Kunikata. Currently part of the Little Boy exhibition, Kunikata has a penchant for drawing violent erotic manga, or ero-manga.
Overweight with a self-confessed eating problem, Kunikata used to draw erotic manga with her older brother until he died of karoshi (overwork). Her younger brother has learning difficulties and her father has an unusual job for modern Japan: he's a hunter. Kunikata seems nervous as she shows me a couple of her sketch books, filled with rough hand-drawn manga. The characters all have the stereotypically cute wide-open eyes and the tiny little mouths that are so much a part of Japanese cartoons. Miffy the rabbit and other kawaii characters are even present - but the stories are sexual and violent.
In a shy voice Kunikata says: "In my head I have both cute images and very scary images. If I was to draw only one of them I'd be lying to myself so I have to draw both." A fairly simplistic answer which suggests that art is a kind of therapy, in her case at least.
Murakami calls this "New York-style psychological maintenance" and says all Japanese need it. "I think, people who have a hurt heart or hurt soul tend to go for extreme or masochistic kind of things to become excited," he says. "Because something is missing from them. It's in people's nature to keep looking for some kind of possibility when they feel something is missing inside of them. So people who create this kind of violent and extreme art want to know what it is inside that makes them want to create this, and the process of creation is their own kind of question and answer system towards the answer."
While art as therapy is nothing new, this cathartic need to express their inner knife-wielding child is something several artists claim feels natural. Junko Mizuno, author of the cult manga novel Pure Trance, says: "No one creates art work with only one emotion or one style. Nothing is only cute, it has to have something extreme, I think that is more natural."
Mizuno's own work is like a Hello Kitty vibrator (which do exist). It's cute, sexy and fun. The similarities to other Japanese artists who combine the kawaii with the ero are obvious, but the women in Mizuno's work are less passive.
"Japanese people like the image of a 'strong/weak' character," she tells me when I ask about the trend of schoolgirls with swords. "For example in Sumo, if a very small sumo wrestler is able to beat a bigger sumo wrestler he is very popular. So the idea of women who look weak but are actually very strong is very popular in Japan." So is this evidence that women are getting more powerful while the men remain childlike? "I think that women have actually gotten stronger," she says. "But looking at the manga drawn by men lately, I think they seem to be in a state of struggle or are confused."
Perhaps all this cute/sexy/violent art is proof of that confusion. From the outside Japan is generally seen as relatively safe and prosperous. Even when you visit Tokyo it's hard to believe that it is a country in recession; schoolgirls still shop for Prada and buy Murakami's Louis Vuitton bags. But the art tells a different story.
When I asked Makoto Aida about "Harakiri Schoolgirls" he told me that the connection between violence and beauty in his work was mainly "to challenge deep-rooted ideas about Japanese beauty and show the grotesque". He had "intentionally drawn a series of works trying to disturb/unsettle people this way."
In Aida's current London show, he continues to juxtapose the innocuous and the disturbing. "Untitled" for example is a pattern of computer-drawn people-carriers. Inside the cars sit bubble-headed people with emoticons for faces (like this >_). Next to them are traditional shichirin cooking stoves. It makes a nice wallpaper-like image. But when it becomes apparent that this is Aida's comment on the recent spate of internet suicides in Japan, the implications are more sinister. Those who are suicidal log on to special websites to find like-minded people to die with. They then arrange to meet, tape up the windows of their car, take some sleeping pills, put charcoal on the small portable stove they have brought with them and wait to die.
The other works in Aida's show share this dark approach. So perhaps there is another possible reason for all disturbing art. Yumi Yamaguchi, author of Cool Japan: The Exploding Japanese Contemporary Arts, says I'm looking too deep for an answer and she suggests that the juxtaposition of cute and sexy or violent is a gag. Over dinner with several of the artists in her book she tells me, "the most important thing in art is to make people laugh." The other artists present tend to agree, telling me that their work is a parody of contemporary Japan. But as rips slowly appear in the fabric of their well-ordered society, perhaps it's a case of if you don't laugh you'll cry.
"Little Boy: The Arts of Japan's Exploding Subculture" is at The Japan Society in New York until July 24. The catalogue is published by Yale University Press, $60, 448 pages.
"Pure Trance" by Junko Mizuno, published by Last Gasp, $19.98, 192 pages.
Makoto Aida's solo show "Donki Hote" is at Man in the Holocene at Ibid Projects, 210 Cambridge Heath Road, London E2, to July 31.