カテゴリ
以前の記事
検索
最新のトラックバック
その他のジャンル
ファン
記事ランキング
ブログジャンル
画像一覧
譲られた子、実子と届け出 最高裁、遺産相続に道
2005年07月23日15時34分  - 朝日
 ほかの人から譲り受けた子どもを実子として届け出たものの、後から実子でないことが問題化した場合、その子は親の財産を相続できるのか――。こんな「難問」に対し、最高裁第二小法廷(滝井繁男裁判長)は「遺言の解釈」を決め手に、今回の事例に限り相続できる道を開いた。22日の判決で、二審・大阪高裁判決のうち相続を否認した部分を破棄。審理を同高裁に差し戻した。
 こうしたケースは「藁(わら)の上からの養子」と呼ばれてきた。藁は産婦の寝床である産褥(さんじょく)のことで、産褥から出て子が生まれたことを世間に知らせる前にもらい受けたという意味だ。
 今回争われたのは、子のいない夫婦が親族から子(上告した60代男性)をもらい受けたケース。養母は62年に死亡し、87年に養父が死亡した後、男性が遺産を相続しようとしたところ、複数の親族から「真の親子関係がないのだから相続権はない」と指摘された。
 養父は遺言書で、遺産のうち不動産を「法的に定められた相続人」に渡すと記していた。一、二審はこれを「法定相続人」と解釈し、実の子でも養子でもない男性への相続を認めなかった。
 第二小法廷は遺言書の解釈について審理。「文言を形式的に判断するのではなく、遺言者の真意を探究するべきだ」とした上で、男性と養父が実の親子のように生活してきたことなどから、「男性に遺贈する趣旨と解する余地が十分にある」と判断した。
 子のいない夫婦が子をもらい受けた場合、「実の子のように育てたい」との思いから、嫡出子として出生届を出す例は少なくない。外見上養子と分からない利点があるが、養子として認められるための法的な手続きを経ておらず、実の親子関係がないと分かった場合、子に相続権を認めないのが判例だ。一方、「うその出生届を出していても、養子としての実態があれば、養子縁組としての効力を認めるべきだ」との学説も有力だ。 男性の代理人の高木義明弁護士は「実は取ったが、最高裁には正面から養子としての効力の問題に向き合って欲しかった。差し戻し審でも主張したい」と話した。

平成17年07月22日 第二小法廷判決 平成16年(受)第443号 親子関係不存在確認等,相続回復,土地所有権確認等請求事件
性別…不要、申請書など133件簡素化 京都市が来月から記載欄廃止 (京都新聞 2005/07/23)
 「印鑑登録の申請に性別記入は要りません」-。京都市は市民が市の機関の窓口で提出する申請書や申込書など133件の文書について、性別や職業などの個人情報記載欄を8月1日から廃止する。市は「念のため聞いていた部分もあるが、個人情報保護の観点から絶対に必要でないものは廃止する」としている。
 見直すのは性別、生年月日、職業、学歴、電話番号の五項目。市は昨年6月から「本人確認に本当に必要か」「行政サービスの実施に不可欠か」などを基準に、5項目のうち1つ以上が含まれている1340件の文書について検討してきた。この結果、約1割にあたる133件の文書で性別や職業の記載を不要と判断した。
 このうち展示物の質問などを受け付ける市歴史資料館相談申込書では統計データを取るため、性別や職業を聞いていたが「絶対に必要でもない」(資料館)として廃止する。
 また市青少年活動センター利用証交付申請書はトレーニングセンターの更衣室利用のために性別記入欄があったが、実際は職員が容姿で性別を判断できるため取りやめる。
 印鑑登録申請書や休日保育利用申込書などからは性別欄を、犬の死亡届などからは飼い主の電話番号欄をそれぞれ削除。中小企業技術者研修受講申込書や昼間里親登録申請書などからは学歴欄を廃止した。
 市は「学歴まで含めた5項目で幅広く見直すのは全国でも珍しいのではないか。社会情勢の変化に応じ、さらに見直しを進めたい」としている。
▲
by

alfayoko2005

| 2005-07-23 19:01 | トランス
Last Updated: Friday, 22 July, 2005, 14:05 GMT 15:05 UK
Spain sees first lesbian marriage
- BBC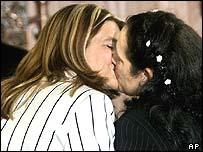 More journalists than guests were at Veronica and Tiana's wedding
Two women have become the first in Spain to get married since a new law allowing same-sex weddings.
Veronica and Tiana, from Spain and Argentina, were married in Mollet del Valles near Barcelona.
On Thursday, a judge in southern Spain angered the gay community by preventing two other women from tying the knot.
The judge questioned whether the new marriage law was compatible with the constitution, which refers to marriage only between "a man and a woman."
The first marriage between two men took place on 11 July a week after the marriage law came into force.
Spain's lower house of parliament voted in favour of the bill on 30 June, overruling its rejection by the upper house, the Senate. Polls suggest most Spaniards back the move, although thousands joined a Madrid rally against the bill before it was passed.
And some of Spain's local mayors have said they will not officiate at gay marriages.
スペインで女性同士が初めて結婚・合法化受け (日本経済 2005/07/23)
 【パリ=奥村茂三郎】スペイン北東部のバルセロナ郊外で22日、女性同士による初めての法的な結婚が成立した。結婚したのはスペイン人のベロニカさんとアルゼンチン人のタニさん。スペイン政府は7月4日に同性婚を認める新しい婚姻法を施行。11日には初の男性同士の結婚が成立していた。
 ただ、同性婚を巡る世論は割れている。同国南西部デニアでは21日、「新しい婚姻法は結婚を男女間のものとする憲法に違反する疑いがある」として判事が女性同士の結婚を差し止めた。 (12:11)
Spain: A Long Road From Fascist Era to Gay Marriage - LA Times
Sweden must halt deportations to Iran after hangings: gay rights group Fri Jul 22, 3:00 PM ET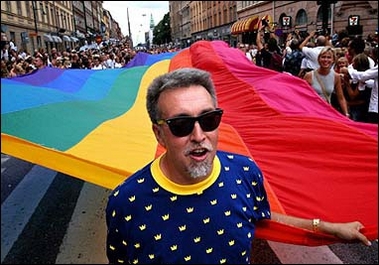 People march in the Stockholm Pride Parade in 2003. A Swedish gay rights group called on the government to immediately halt all deportations of homosexuals to Iran, saying two young men were hanged there this week for committing a 'homosexual act'(AFP/Pressensbild/File)
STOCKHOLM (AFP) - A Swedish gay rights group called on the government to immediately halt all deportations of homosexuals to Iran, saying two young men were hanged there this week for committing a "homosexual act."
"There are clear examples that homosexuals are killed in Iran for their sexual orientation. I think the Swedish government is extremely cynical when it sends gays and lesbians back to Iran," Soeren Andersson, head of the Swedish Federation for Lesbian, Gay, Bisexual and Transgender Rights (RFSL), told AFP.
The two men, one of whom was under 18 years of age, were hanged on Tuesday, officially for raping a 13-year-old boy at knife-point, but Andersson said it was possible that they had in fact only had sex with each other.
"It is not unusual that one uses such charges as an excuse (to execute homosexuals) in such reactionary states as Iran," he insisted.
Before their hanging in northeastern Iran, both convicts were also reportedly given 228 lashes each for drinking, disturbing the peace and theft.
Sweden's asylum policy makes it illegal for the government to deport any person "who due to her/his sex or homosexuality experiences a well-founded fear of persecution", but authorities have claimed that the death penalty for sodomy is no longer in force, allowing it to send gay asylum seekers back to Iran.
"They keep looking for excuses to send them back there, but it is dangerous for homosexuals in Iran," Andersson said.
Sweden, which is considered one of the world's most liberal countries when it comes to gay rights and gender equality, "has always wanted to be the voice of human rights in the world. The deportations of homosexuals to Iran is a stain on Sweden's reputation", he said.
The Swedish Migration Board told AFP on Friday that it does not keep statistics on the grounds rejected asylum seekers had used in their asylum applications.
"It's difficult to know how many cases there have been," agency spokeswoman Marie Andersson said.
RFSL asylum seeker attorney Stig Aake Petersson however claims that some 10 homosexuals and transsexuals have their asylum applications turned down each year.
"They are sent back or disappear somehow. One transsexual whose case was turned down committed suicide last year. I guess that was preferable to going back," he told AFP.
In 2004 at least 159 people were executed in Iran -- the highest rate in the world after China -- according to Amnesty International.
Iran's capital offences include murder, rape, armed robbery, apostasy, blasphemy, serious drug trafficking, repeated sodomy, adultery or prostitution, treason and espionage.
イラン:同性愛の青年男性二人を公開処刑
UPDATED: 12:40, July 22, 2005
Man offers to donate penis for odd woman - People's Daily
A man, who wants a sex change, offered to donate his penis to a woman, who wanted to be a man, the Guangzhou Daily reported Wednesday.
The man, 27, surnamed Xu, came from the countryside in southwestern China's
Sichuan
Province to work in Guangzhou.
Xu talked like a woman and showed some feminine characteristics, the report said.
The man, with six brothers and three sisters, said he enjoyed using his sisters' cosmetics ever since an early age.
He liked being friends with boys and tried to show his gentleness in the affairs.
However, his male friends stopped associating with him because they thought he was homosexual. He had attempted suicide three times, the report said.
"I am eager to have an operation for a sex change," he said.
However, he cannot afford the expenses and had to wait. When he learned that a woman, alias Gengzi, needed a penis to complete a sex change he thought he could give Gengzi his.
The donation was free as a blessing to Gengzi, he said.
"I'm not afraid of the danger in the operation to cut my penis, and am willing to be the first to donate a penis," he said.
However Gengzi has already had another "penis" attached, which was made of her own skin cut from the abdomen.
The hospital said the operation was smooth and they would operate on it again to implant a bone taken from Gengzi's chest to increase its hardness, the report said.
Chinese law did not forbid penis donation, said Lu Jian, lawyer with
Guangdong
Fazeming Law Firm, but doctors said penis transplant was unlikely to succeed.
A Chinese man had transplanted a donor's penis in 1993, but the organ failed after three months because of immune repelling effects.
Source: Shenzhen Daily
▲
by

alfayoko2005

| 2005-07-23 11:27 | トランス
July 20, 2005 latimes.com : World
THE CONFLICT IN IRAQ
Draft Constitution May Deal Setback to Rights of Women
Changes include loss of guaranteed seats in the assembly and erosion of their social status.
By Alissa J. Rubin, Times Staff Writer - Los Angeles Times
BAGHDAD — A draft version of the constitution would make fundamental changes in the legal rights of Iraqi women, undoing decades of progressive treatment and likely sharply reducing the number of women in the National Assembly.
Currently, women hold 31% of the seats in the National Assembly, and under the Transitional Administrative Law that set up the assembly, they must hold at least 25% of the seats.
However, the draft would remove the 25% requirement after two more terms of the assembly, almost certainly resulting in a significant reduction of seats held by women.
Women's rights would also be affected by language stating that women would have the same rights as men as long as there is no conflict with Islamic law.
Similar language on Islamic law is being added to every provision in the constitution after a push by Muslim clerics to emphasize Iraq's identity as an Islamic state.
That probably would mean a return to the practice, common in Persian Gulf nations, of having matters such as marriage, divorce and inheritance adjudicated by religious courts.
Under that system Sunnis, Shiites and Christians would have separate courts to deal with such matters.
Under Islamic law, daughters inherit a lesser share of their fathers' wealth than sons do, and divorce is easy for men, who can simply say three times that they divorce a woman to accomplish it. Women, on the other hand, must go through an elaborate and often embarrassing presentation of domestic circumstances with a cleric.
In practice, women's comfort with religious courts depends on their religious background and the views of the individual clerics approached by their families. For instance, a woman in a deeply tribal or religious family may find it difficult, if not impossible, to go to a secular court because of the family reproach it would bring.
The change would substantially alter the current law, which provides a level playing field.
"This sends a very bad signal — it sends a signal that women's rights are not right," said Rajaa Khuzai, a female doctor who is also a member of the Constitutional Committee responsible for the draft constitution and has spoken up on behalf of women's rights in the closed-door sessions. "Why go backward?"
Khuzai was particularly distressed by the elimination of the 25% minimum because, under Iraq's election structure, parties draw up lists of candidates and the 25% minimum guaranteed that at least every fourth person was a woman. If the minimum is eliminated, the parties probably will put women in fewer spots.
Some women in the assembly have begun to circulate a petition to change the new language, and Iraqi women's groups have begun to lobby to change the provisions. But they are expected to meet substantial resistance from clerics, both Shiite and Sunni, who have long wanted to reinstate the practice of resolving domestic matters in religious courts. Men on the committee supported the changes, arguing that it was more fair to eschew percentages. Some argued, somewhat disingenuously, that they would prefer a 50% quota but no one would accept that, so why have any number at all?
"Since men and women are equal, we should not have a specific percent," said Thamer Ghadban, a secular member of the committee, who was formerly in charge of the Ministry of Oil. "If you talk about equality, why not let them take 50%? But others would not like that."
The debate on domestic law also occurred in early 2004, when Abdelaziz Hakim, the cleric who now heads the largest Shiite party, held the rotating presidency of the U.S.-appointed Iraqi Governing Council. He proposed reinstating the use of religious courts for domestic matters, and the measure passed easily. But the U.S. civilian administrator in Iraq at the time, L. Paul Bremer III, had the authority to reject such changes, and did so.
The issue of women's rights is seen by many as somewhat minor, and so far, few men have spoken up for it in the constitutional debate.
"It's not a problem," said Kasim Daoud, who was national security advisor to former Iraqi Prime Minister Iyad Allawi. "I don't think we should give percents for how many women participate."
Kurds have been quiet so far on the change. But they also seemed not entirely aware of it.
One Kurdish member of the committee, Fraidoon Abdalqadir Faraj, said, "I had not heard about this. I wouldn't agree with it. In my opinion the women in this society play a stronger role than men, and they are half the society… and we have instructions from [Jalal] Talabani, the president, to broaden the participation of women."
Iraqi Constitution May Curb Women's Rights - NY Times
Iraqi Constitution May Curb Women's Rights
By EDWARD WONG
Published: July 20, 2005 - New York Times
BAGHDAD, Iraq, July 19 - A working draft of Iraq's new constitution would cede a strong role to Islamic law and could sharply curb women's rights, particularly in personal matters like divorce and family inheritance.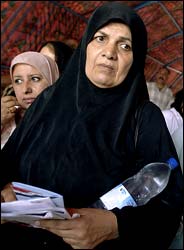 Adam Nadel/Polaris, for The New York Times
Women's groups demonstrated Tuesday in Baghdad against a constitutional draft intended to strengthen the role of religious law in Iraq.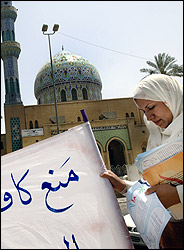 Adam Nadel/Polaris, for The New York Times
A banner saying "Stop the violence against Iraqi women" was carried at a Baghdad rally over constitutional issues as they affect women's rights.

The document's writers are also debating whether to drop or phase out a measure enshrined in the interim constitution, co-written last year by the Americans, requiring that women make up at least a quarter of the parliament.
The draft of a chapter of the new constitution obtained by The New York Times on Tuesday guarantees equal rights for women as long as those rights do not "violate Shariah," or Koranic law.
The Americans and secular Iraqis banished such explicit references to religious law from the interim constitution adopted early last year.
The draft chapter, circulated discreetly in recent days, has ignited outrage among women's groups, which held a protest on Tuesday morning in downtown Baghdad at the square where a statue of Saddam Hussein was pulled down by American marines in April 2003.
One of the critical passages is in Article 14 of the chapter, a sweeping measure that would require court cases dealing with matters like marriage, divorce and inheritance to be judged according to the law practiced by the family's sect or religion.
Under that measure, Shiite women in Iraq, no matter what their age, generally could not marry without their families' permission. Under some interpretations of Shariah, men could attain a divorce simply by stating their intention three times in their wives' presence.
Article 14 would replace a body of Iraqi law that has for decades been considered one of the most progressive in the Middle East in protecting the rights of women, giving them the freedom to choose a husband and requiring divorce cases to be decided by a judge.
If adopted, the shift away from the more secular and egalitarian provisions of the interim constitution would be a major victory for Shiite clerics and religious politicians, who chafed at the Americans' insistence that Islam be designated in the interim constitution as just "a source" of legislation. Several writers of the new constitution say they intend, at the very least, to designate Islam as "a main source" of legislation.
By rough count, nearly 200 women and men showed up in the fiery heat to hand out fliers and wave white banners in a throng of traffic. "We want to be equal to everybody - we want human rights for everybody," read one slogan. The demonstration came hours before two Sunni Arabs involved in writing the constitution were fatally shot near a Baghdad restaurant, threatening to throw the drafting process into turmoil.
"We want a guarantee of women's rights in the new constitution," said Hannah Edwar, an organizer of the protest. "We're going to meet with the constitutional committee and make our thoughts known."
A dozen women, some sheathed in full-length black robes, showed up to denounce Ms. Edwar's protest. They said they were followers of Moktada al-Sadr, the fundamentalist Shiite cleric who has led two rebellions against the Americans.
American and Iraqi officials say that several draft chapters of the constitution are floating around Baghdad and that no final language has been agreed on. Changes can still be made before Aug. 15, the deadline for the National Assembly to approve a draft. Protests by women and relatively secular blocs on the constitutional committee, like the Kurds, may force Shiite members to tone down the religious language.
"Some of the points regarding women's rights in this chapter are still to be reviewed," said Mariam Arayess, a religious Shiite on the committee.
Ms. Arayess said she believed that the draft was the most recent working version, and that it had fairly generous provisions for equal rights. She is one of fewer than 10 women on the 71-member drafting committee.
The chapter has 27 articles, most of which have relatively liberal provisions aimed at ensuring various civil rights. The first says that "all Iraqis are equal before the law" and that "equal opportunities are guaranteed for all citizens according to the law." The final article forbids censorship of the press.
References to Islam and Shariah appear in a few places. One clause says Iraqis will enjoy all rights stated in "international treaties and conventions as long as they do not contradict Islam." Such language is accepted by many Iraqis, including moderates, who say Islam is a vital foundation for the country.
But women's groups are incensed by Article 14, which would repeal a relatively liberal personal status law enacted in 1959 after the British-backed monarchy was overthrown by secular military officers. That law remained in effect through the decades of Mr. Hussein's rule.
The law used Shariah to adjudicate personal and family matters, but did it in as secular a manner as possible, pulling together the most liberal interpretations of Koranic law from the main Shiite and Sunni sects and stitching them together into one code.
Critics of the draft proposal say that in addition to restricting women's rights, it could also deepen the sectarian divide between Sunnis and Shiites. The draft also does not make clear what would happen in cases where the husband is from one sect and the wife from another.
Religious Shiite politicians tried once before, in December 2003, to abolish the 1959 law. As is happening now, women's groups and secular female politicians took to the streets.
Faced with the mini-rebellion, L. Paul Bremer III, then the effective American proconsul of Iraq, rebuffed the move, to the anger and dismay of many religious Shiites.
"We don't want to use separate Sunni or Shiite laws," said Dohar Rouhi, president of the Association of Women Entrepreneurs. "We want a law that can be applied to everyone. We want justice for women."
A Westerner familiar with the writing of the constitution said that when he saw a draft of the civil rights section less than a week ago, it did not contain the sweeping language on personal status law. In that version, he said, most measures - even those citing Shariah - were not as severe as they could have been.
"Compared to what some of the conservative Shiites were pushing, the glass is half full," said the Westerner, who would speak only on condition of anonymity, because he did not want to appear to be interfering in a sovereign Iraqi process.
He said there was some cause for alarm, though, pointing to a proposal to phase out a measure in the interim constitution requiring that a quarter of parliamentary seats go to women.
Ms. Arayess, the Shiite drafter, said some of the writers were considering keeping the quota for the next two terms of the parliament before allowing it to lapse. After that, she said, women should be able to stand on their own.
Migrant's risky behaviour in Chinese cities threatens to swell AIDS ranks
Fri Jul 22, 5:01 AM ET - AFP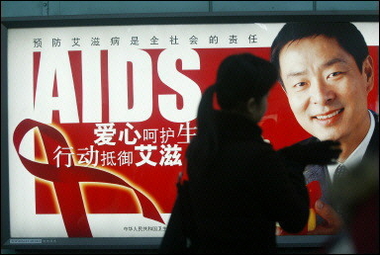 AFP/File - Fri Jul 22, 5:01 AM ET A subway station AIDS billboard in Beijing. China's massive wave of urban immigrants represents the greatest danger in the country's struggle to contain the spread of HIV/AIDS, researchers at an international population conference said(AFP/File/Frederic J.Brown)
China's massive wave of urban immigrants represents the greatest danger in the country's struggle to contain the spread of HIV/AIDS, researchers at an international population conference said.
Vinod Mishra of the research company Demographic and Health Surveys said the disease had now broken out of the high-risk groups of injecting drug users and sex workers and was spreading through the general population in China.
"The growing migrant population in China may be the 'tipping point' in China's battle with the AIDS epidemic," researchers Xiushi Yang and Valerian Derlega of the Old Dominion University in the United States and Huasong Luo of Yunnan University said.
The growth of urban migration in China since the early 1980's has been phenomenal with census data showing a rise of 11 million in 1982 to more than 79 million in 2000 and an estimated 120 million currently.
Research by Yang and colleagues found that the risk of HIV infection among temporary urban migrants was much higher than for non migrants. They were four times more likely to have unprotected sex and twice as likely to have used illicit drugs in their lifetime.
They also found that separation from the social bonds of their village communities was a key factor in the migrants high-risk behaviour.
Urban migrants, mostly males in their late teens, live together at their place of work such as construction sites, restaurants and living quarters provided by employers or in camps on the city fringes characterised by poverty, overcrowding and lack of health services.
Mishra said China with 1.3 billion people and India with 1.08 billion were on the frontlines in the battle against AIDS because of their massive populations which meant that even small changes in the percentage rate of infection translated into very large numbers of infected people.
"You have to watch the big giants, they will never have the prevalence rates of subSaharan Africa, but in terms of the number of people infected they could be huge epidemics," Mishra said.
India has 5.1 million people infected with HIV representing 0.9 percent of the population, ranking second behind South Africa with 5.3 million in absolute numbers, the researchers said.
They said the number of HIV infected people in China is at 840,000 or 0.1 percent of the population.
Official statistics, which do not reflect the true magnitude of the epidemic, suggest that the number of new infections in China doubled or tripled year to year in the early 1990's and grew on average 44 percent between 1994 and 2002, Yang and his colleagues said.
"AIDS has evolved from being a perceived disease of foreigners to an epidemic that has affected every population group and geographical location in the country," the researchers said.
The dominant route of infection is through needle sharing while injecting drugs but sexual transmission is on the rise, reaching 10.9 percent in 2002, and represents the fastest growing source of infections.
UNAIDS estimates that if the current trend continues up to 10 million people could be infected by the end of the decade, creating serious public health problems, social stability and economic development.
Numerous studies in China and other developing countries have also cited migration as one of the most important factors leading to the spread of HIV/AIDS in the country.
The New York Times Editorial
Fighting AIDS Behind Bars
Published: July 22, 2005
The United States has done relatively little to curtail the AIDS epidemic that rages within the prison system, where the H.I.V. infection rates are many times as high as in the world outside. Strategies for fighting disease behind bars are better developed in Europe, where the World Health Organization is 10 years into a public discussion project aimed at slowing the spread of H.I.V. and other deadly infections in the prison population. The Europeans seem to have grasped the idea that infections contracted behind bars end up back in the broader society when infected inmates get out.
The World Health Organization's most recent update consolidates what the Europeans have learned over the last 10 years and should be required reading for public health and prison officials in this country. The emerging consensus is that prison has become the perfect environment for the transmission of dangerous diseases like tuberculosis, hepatitis C and AIDS because of crowding, unprotected sex among inmates and widespread needle-sharing for intravenous drug use.
The rising infection rates among addicts in general show clearly that merely declaring sex and drug use illegal has not worked. The prison systems that have managed to slow the spread of AIDS have employed drug treatment and "harm reduction" strategies - like offering methadone maintenance and distributing condoms.
Many nations, including the United States, are hampered in the fight against AIDS by a pervasive denial of drug use and sex behind bars. Politicians often argue that harm-reduction strategies can seem to promote illicit behavior.
It's understandable that some prison systems may reject the idea of providing needles to people who use drugs behind bars, even though needle exchanges have proved to be a cheap and effective way to slow the spread of disease in the outside world. But it seems inexcusable that prisons don't pursue other strategies - like testing inmates and educating them about disease - while making condoms readily available to those who want them.
It's not necessary to condone behavior that spreads AIDS. But it is critical to acknowledge that such behavior persists in prisons. The aim must be to slow the spread of disease so as few people as possible get out with infections that endanger society.
Jul. 21, 2005. 01:00 AM
Gay marriage now legal, but fight's not over
Supporters celebrate royal assent
Conservatives make post-election plans
ANDREW MILLS
OTTAWA BUREAU - Toronto Star
OTTAWA—In a quiet ceremony yesterday afternoon, Chief Justice Beverley McLachlin signed a milestone law that makes Canada the fourth country in the world to sanction the equal right of gays and lesbians to marry.
"It's a real relief that this is done, it's through, it's over," said Rev. Brent Hawkes, senior pastor at the Metropolitan Community Church in Toronto, who in 2001 performed the first legal marriage between two men in Canada.
While supporters of same-sex marriage celebrated the proclamation of royal assent, some religious groups vowed to intensify their fight to have the law overturned and the Conservative party made plans to do it.
McLachlin acted in her capacity as deputy governor general yesterday, because Governor General Adrienne Clarkson is recovering from heart surgery.
The new law follows the decisions of lower courts in all but four Canadian provinces and territories that overturn traditional marriage laws. So the effect of yesterday's signing is that same-sex marriages will now be performed in Alberta, Prince Edward Island, Nunavut and the Northwest Territories.
Earlier this year, the Conservative party tried to delay the Commons' vote on same-sex marriage, hoping to make it an issue for the next election.
That attempt failed, and for the past three weeks, Bill C-38 has made its way through the Senate, where it passed by 47-21 late on Tuesday night.
Nevertheless, the Conservatives say that if they are elected to government they will reopen the issue by introducing a bill to redefine marriage as an institution shared by one man and one woman — the exact opposite effect of the new law.
"We take the view that marriage is a heterosexual not a homosexual institution," Tory justice critic Vic Toews said. "We don't take away rights. This is simply a recognition of a very unique relationship that is heterosexual in nature."
But gays and lesbians advocating for same-sex marriage would see such a move as stripping away rights the state has now said apply to same-sex couples.
"As the saying goes, the price of freedom is eternal vigilance," Hawkes said yesterday. "So we've got to keep making sure that as long as Stephen Harper is leader of the Conservative party, that they don't get a majority, so they can't try to roll this back."
Some Conservatives point to opinion polls and say it is time for their party to abandon its stance against same-sex marriage.
"If the majority of Canadians now recognize this as a rights issue, it's very unlikely that a move to take away rights would be seen as a popular one," said Gary Mitchell, national chair of Conservative for Equal Marriage, a group of Conservatives who are urging their party to support equal marriage.
But Harper has the support of the religious right, which sees the next election as an opportunity to change the government and reverse the law.
"We believe that whenever a government gets away from the people, the next election will punish that government," said Charles McVety, spokesperson for the Defend Marriage coalition.
Brian Rushfeldt, executive director of the Canada Family Action coalition, went a step further, calling Canada's democracy "dictatorial bordering on fascism."
But Mitchell compares legalizing marriage by gays and lesbians to such historical rights moves as letting women vote and allowing Chinese people to become Canadian citizens.
"I don't believe there is any case in this country where a law that has moved equal rights forward has ever been repealed," he said. "Over time, people will grow to understand, even some people who may still at this moment be absolutely against it, I do believe they will grow to understand and accept it."
Additional articles by Andrew Mills