カテゴリ
以前の記事
検索
最新のトラックバック
その他のジャンル
ファン
記事ランキング
ブログジャンル
画像一覧
Sunday, July 24, 2005 - Page updated at 12:00 AM
Iran's hanging of 2 teens draws condemnation
By ALI AKBAR DAREINI
The Associated Press
TEHRAN, Iran — Nobel Peace laureate Shirin Ebadi yesterday condemned the hanging of two teenagers accused of raping younger boys in northeastern Iran, a punishment that also prompted protests by the international community and rights groups.
Last week's hangings of an 18-year-old and 16-year-old on charges of involvement in homosexual acts violated Iran's obligations under the International Convention on the Rights of the Child, which bans such executions, Ebadi said.
Ebadi said her Center for the Protection of Human Rights will intensify its fight against Iran's executions of minors.
"My calls for a law clearly banning execution of under-18s have fallen on deaf ears so far but I will not give up the fight," Ebadi said.
Mahmoud Asgari, 16, and Ayaz Marhoni, 18, were hanged publicly July 19 in the city of Mashhad. They said they were not aware homosexual acts were punishable by death.
Asgari had been accused of raping a 13-year-old boy. His lawyer, Rohollah Razaz Zadeh, said Iranian courts are supposed to commute death sentences handed to children to five years in jail.
"The judiciary has trampled its own laws," Razaz Zadeh said.
He said Iran's Supreme Court allowed the execution despite his objections.
Iranian opposition groups and gay-rights organizations such as the London-based Outrage! suggested the rape allegations were trumped up to undermine public sympathy for the teenagers.
In Sweden, Foreign Ministry spokesman Per Saland said the government was "looking very seriously" at the hangings.
"We are against the death penalty and we particularly react when it comes to the execution of minors, pregnant women and the mentally disabled," Saland said.
The Swedish Federation for Lesbian, Gay and Transgender Rights posted a photo on its Web site showing hooded executioners tightening ropes around the suspects' necks. The group's chairman, Soren Andersson, called on Sweden's government not to deport gay and lesbian asylum seekers back to Iran.
Ebadi, who won the 2003 Nobel Peace Prize, has campaigned to protect children and improve human rights in Iran but has met stiff resistance from the judiciary.
The Iranian government last year refused to give Ebadi permission to stage a rally to protest children's executions.
Under Iranian law, girls older than 9 and boys older than 15 face execution if they commit crimes such as murder and rape. Under certain conditions, capital punishment is imposed for those engaging in illegal sexual relations.
In 2003, a 16-year-old girl said to be suffering from a psychological disorder was executed on charges of having an illegal sexual relationship.
About a dozen minors were executed in Iran last year, according to human-rights activists.
Iran's Ebadi says jailed journalist in poor health
Sun Jul 24, 2005 5:27 AM ET
TEHRAN (Reuters) - Iranian human rights lawyer and 2003 Nobel Peace Prize winner Shirin Ebadi warned on Sunday that her client, jailed journalist Akbar Ganji, is in failing health and complained she had not been allowed to visit him.
Ganji, 46, an outspoken critic of the Islamic state's clerical leadership, jailed in 2001, was rushed to hospital last Sunday after a five-week hunger strike. His wife said on Friday that his health was deteriorating.
"I call on the judiciary and human rights groups to pay serious attention to my client's dangerous situation," Ebadi said in a statement faxed to Reuters.
"Ganji's wife says his hunger strike continues in the hospital. He has even lost weight since being hospitalised."
Ebadi also criticized Iran's judiciary for refusing to allow her to visit him.
"As Ganji's lawyer I have not been allowed to visit him in the hospital," said Ebadi. "This is unlawful."
There was no immediate official response to the statement.
Ganji's family and rights activists say he has lost more than 52 lb (24 kg) in weight during his 43-day hunger strike, which he says is a protest against his continued detention while suffering chronic asthma and back pain.
Senior judiciary officials have denied the investigative journalist is on hunger strike and said his admission to hospital last weekend was for knee surgery.
Ganji, a former hardline Revolutionary Guard turned radical reformer, was sentenced to six years in prison following a series of articles he wrote linking officials to the murder of political dissidents.
The European Union and the United States have both called for his release.
Iran's outgoing President Mohammad Khatami has urged that Ganji be paroled since he has just six months of his sentence left to complete.
Iran's judiciary has said it will not yield to international pressure to free Ganji, but a senior judiciary official said on Thursday that a pardon might be considered.
Iran has a dismal record on press freedom, closing more than 100 liberal publications and jailing several journalists in a concerted crackdown on reformist media since 2000.
Sweden must halt deportations to Iran after hangings: gay rights group - AFP
Hankooki.com > The Korea Times > Opinion
Attacking the Traditions of Marriage

By Mike Weisbart
Korea Times Columnist
Victoria, British Columbia _ Wasn't that a nice thing the Korean Supreme Court said the other day? In a state of heightened enlightenment, it announced that men and women were equal in marriage, noting in effect that contemporary Korean society treats men and women equally in general so why shouldn't they be treated equally in the institution of marriage and under the family tree?
You might find their conclusion _ that men and women are equal marital partners (just in case it needed to be spelled out for any shocked readers out there) _ to be self-evident, but lower courts had ruled precisely the opposite. Initial rulings had it that women were mostly equal but not when it comes to receiving a share of the proceeds from the estate of a deceased parent. Confucianism being what it is, the oldest son has always had the ``responsibility'' of divvying up the family treasure and, if he decided to cut some family member out, well, that was his prerogative.
Supporters of the lower court rulings, irrespective of the legal issues, likely asked themselves why that member of the family would need the money if the husband is prepared to take care of her. In the end, the new ruling swept those rulings aside.
Koreans might be interested to know that Canadian high courts have also been busy attacking some of the more old-fashioned traditions of marriage. Last year, one provincial Supreme Court ruled in a case brought before it that to not allow gay couples to marry and enjoy the same status and benefits as straight couples is discrimination. Again, just in case it needs to be spelled out, the court said that homosexual men and women should have equal rights as heterosexual men and women.
The court's landmark decision led to a prolonged period of public debate and discussion over the issue. Politicians faced a relatively simple yet potentially painful political choice. They could have overridden the court's ruling, invoking a controversial clause in the constitution that would have simply put aside having to deal with the gay marriage issue for another five years, or they could risk opprobrium at the ballot box by agreeing with the court and adopting a new law to legalize gay marriage.
First of all, no federal parliament has ever used that power to disagree with the courts before (the province of Quebec uses it routinely to keep people from using English. Hard to believe, right?). Second, polls show a majority of Canadians to be in favor of same-sex marriage. In the end, members of Parliament were allowed to break from their party policies and vote freely, with the result being a majority in favor of extending equality to homosexuals.
In addition to Canada, the Netherlands, Belgium and Spain also allow gay marriage.
A good slice of the population remains vocally opposed. Most of those people are caught up in religious dogma (the Vatican labeled Canada's decision as ``a distortion of God's plan for the family'') or its increasingly quaint perspectives on marriage, but they are nonetheless entitled to their opinion, which was heard and rejected by a majority of lawmakers.
The dissenters are not unlike the Korean Confucian scholar who, when asked to comment about the Korean Supreme Court's decision last week, opined that making women equal in marriage will make everyone confused. Obviously the poor man is caught in a bit of a time warp. Then again, look at it from his side. Before the court's decision, everyone knew that women were subordinated to the husband's family upon going over to his side. Now who's going to make dinner?
Traditionalists can take heart, though, because no court decision advancing gender equality in Korea will actually do so quickly. The case decided on by the court last week involved 35 billion won in the late father's estate, meaning that the litigants had enough money to access the legal system and protect their interests. For most families, however, disputes over the father's fortune will continue to be fought out over the rice table well into the foreseeable future.
In Canada, by contrast, there will be no such delay. Long before the new legislation was voted on, gay couples had been taking advantage of the court decisions to get hitched. They'd even been driving up from the United States to take their vows. Indeed, just before my wife and I got married last year in Toronto, we met with our wedding commissioner to go over the details. After our meeting, she cheerfully got into her car and headed off to officiate a wedding for two lesbian Americans.
mike_weisbart@hotmail.com
07-24-2005 16:40
A Straight Perspective
Do heterosexuals have a role in the increasingly politicized battle for gay rights?

WEB EXCLUSIVE
By Kathryn Williams
Newsweek
Updated: 2:32 p.m. ET July 22, 2005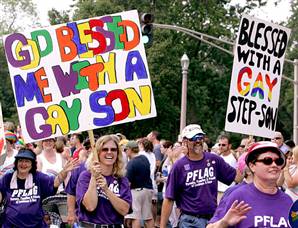 James A. Finley / AP
Members of Parents, Families & Friends of Lesbians & Gays (PFLAG) marched in St. Louis last month

July 22 - Between the upcoming U.S. Supreme Court nomination battle and next year's midterm elections, the battle over gay rights isn't going to go away any time soon. Heterosexuals may think they have little part to play, but ultimately it is they—the majority of the population--who will have a decisive say in the struggle.
While most Americans favor equal employment opportunity for lesbians and gay men, a recent Gallup poll found that 56 percent of Americans oppose marriage for same-sex couples, with 39 percent in favor and 5 percent unsure. The debate continues around the world, with the first gay male couple being married recently in Spain, the third country to legally recognize such relationships over strong objections by the Roman Catholic Church and other groups. Canada, where a similarly fierce political battle has played out, this week became the fourth nation on this list.
But when it comes to the conflict over gay marriage and other issues, most people aren't more involved than having an opinion. Husband and wife Ian Ayres and Jennifer Gerarda Brown, both law professors, hope to change that--at least among those who agree with their point of view. In their new book, "Straightforward: How to Mobilize Heterosexual Support for Gay Rights," the couple suggests ways that heterosexual allies can support lesbians and gay men. NEWSWEEK's Kathryn Williams recently spoke with the duo about their ideas. Excerpts:
NEWSWEEK: How would you characterize the current political climate toward gay men and lesbians in the United States?
Jennifer Gerarda Brown:
We certainly, in the fall of 2004, saw the expression of some pretty strong anti-gay sentiment in the form of those 11 state amendments [outlawing gay marriage]. On the other hand, polling shows very high levels of support for equal employment rights for gay people and some discrimination protections for them.
Ian Ayres:
We think that particularly the time is right to push forward for employment equality. We got employment equality on the books with regard to African-Americans before we got marriage equality.
What lessons can gay-rights activists take from the movement for racial equality?
Ayres:
There are a lot of people who wouldn't consider joining an all-white county club or drinking from an all-whites water fountain, but they are willing to marry when their gay and lesbian friends cannot marry, or to join a club that does not accept gay members, such as the Boy Scouts. Just making the analogy sometimes changes their behavior.
Brown:
Non-gay people need to become more active, just as white people were active in the civil-rights movement and men were active in the women's movement of the 1970s.
Has the gay-rights movement suffered since the religious right has extended its political influence?
Brown:
Well, certainly that is the common wisdom. On the other hand, I think within those religious communities there has been some really constructive conversation.
Ayres:
The United Church of Christ [last] week embraced same-sex marriage. Spain, a traditionally Catholic country, embraced same-sex marriage.
Brown:
The Episcopal Church U.S.A., though it has been under tremendous pressure globally for its stance with respect to homosexuality, has been standing pretty firm on this issue.
If the Republicans hold Congress in 2006, is that a setback for gay activists?
Brown:
It does make it harder to put progressive policies in place at the federal level, and it may make it harder to hold off something like the Federal Marriage Amendment.
Do you think Canada's decision to officially recognize same-sex marriages will influence Americans?
Brown:
I think a lot of Americans perceive Canada to be very similar to us. It's going to help Americans imagine what marriage equality might look like in the United States.
How do you feel about civil unions as a compromise?
Brown:
It is just exactly that. It's a compromise between people who really want full marriage equality for same-sex couples and those who, for one reason or another, have discomfort about that. It's a step forward, but it's not equality. It's a separate status, and we know from our constitutional history in this country that separate is not equal.
Your book talks a lot about using economic incentives versus just moral arguments to affect change. One example you use is a "vacation pledge."
Brown:
There are a lot of states that depend heavily upon tourism. People can go to vacationpledge.org, and they can promise to vacation in the first state that legislatively adopts marriage for same-sex couples.
One of the more radical strategies you advocate is for heterosexuals to "disable their privilege" by leaving their own sexual orientation ambiguous. But you're openly heterosexual in your book.
Brown:
We thought, "Well, sexual orientation really is relevant to the discussion, so we better be clear about the perspective that we're coming from."
Ayres:
There are actually times a heterosexual perspective gets missed in arguing [for gay marriage].
By encouraging people to be ambiguous about their sexuality, aren't you reinforcing taboos? Suggesting people hide their sexuality?
Brown:
No. I think it's great for gay-lesbian-bisexual people to be proud of their sexuality. What is more problematic sometimes is for heterosexuals to be proud of their sexuality because their sexuality is so empowered and it's so privileged, so maybe to downplay that a little bit is a good thing.
Ayres:
Some places ambiguation's appropriate; some places it's not. The [straight] neighbors of this lesbian woman whose [gay pride] flag was burned came to her and said, "We'll fly the flag on our homes too."
Brown:
A lot of heterosexuals really don't want to be perceived as gay. We're at least trying to get them to think about that, to think, "Well, what would be so bad if somebody perceived you to be gay?"
Do you have any friends or family who oppose gay rights?
Brown:
I'm sure we do. We certainly have people in our neighborhood, at church, who feel differently from the way we do. I think most of the time people are willing to have constructive conversations about these issues. For heterosexual people, it's sometimes hard to speak up. You don't want to be seen as a rabble-rouser.
You discuss "heterosexual holdouts," straight couples who boycott marriage. Can this be done on a scale that would pressure politicians?
Ayres:
When you ask somebody would you drink from a whites-only water fountain, people say "No!" Well, your not drinking isn't going to cause the legislature to change a water fountain. "Well, I don't care if it changes it or not, I'm just not willing to do that," [they might respond] … But I'm standing here right now with a wedding ring on my hand! It is reasonable for people to go ahead and take the benefits of discrimination, but it then calls upon you to do something to share some of those benefits, to make amends for taking these ill-gotten goods.
Brown:
Rather than boycotting marriage, heterosexual couples can say, "OK, we will marry, but let us do something to help this movement. Let us ask our guests to donate money to one of the gay-rights advocacy organizations in lieu of gifts, or let us say a prayer at our service that we hope one day for greater equality for couples who want to commit in this loving way." There are so many things that people can be doing that are affirmative.
© 2005 Newsweek, Inc.
© 2005 MSNBC.com
URL:
http://www.msnbc.msn.com/id/8667917/site/newsweek/

Violence Erupts At Latvia Gay Pride
by 365Gay.com Newscenter Staff
Posted: July 23, 2005 4:00 pm ET
(Riga) Latvian police arrested a number of protesters Saturday during the first gay pride parade ever held in the Riga, the capital.
Several dozen gays and lesbians marched through the center of the city demanding justice for sexual minorities, but they were badly outnumbered by the hundreds of demonstrators who lined the parade route.
There was a heavy police presence for the event after threats to break up the march were made by an extreme right-wing nationalist organization.
Members of the group hurled rotten eggs and insults into the marchers. Several of the demonstrators got into scuffles with police and were dragged away.
Gay pride celebrations had been cancelled by Erik Shkapars, the executive director of Riga City earlier in the week. (
story
)
Shkapars said he made the decision following criticism of the event by Latvian Prime Minister Aigars Kalvitis.
Kalvitis said that holding a gay procession near the Riga Dom Cathedral - the 13th century cathedral in downtown Riga - was a sacrilege.
But, on Friday, a judge issued a restraining order on the city and ruled the parade could go ahead. (
story
)
The judge said that the ban would have been a blatant violation of Latvia 's human rights obligations both as a member of the European Union, and under the European Convention on Human Rights.
The ban was the fourth attempt by authorities in Eastern Europe this year to prevent Pride marches taking place, but the first initiated by a national government figure. The previous attempts, in Moldova , Romania and Poland , were all instigated by city mayors.
In June, the mayor of Warsaw banned gay pride from the Polish capital city. Despite the edict more than 2,500 people marched anyway. (
story
)
Last Updated: Saturday, 23 July, 2005, 19:19 GMT 20:19 UK
Protests disrupt Latvia gay march - BBC
Latvian police have arrested protesters after they shouted insults and threw eggs at people taking part in the Baltic state's first gay pride march.
The few dozen marchers were outnumbered by hundreds of protesters who blocked the narrow streets of the capital.
Police were forced to alter the march route and to form a chain around the parade participants to protect them.
The march had sparked outrage in Latvia and only went ahead after a court overturned a council ban on the event.
Officials said that six of the protesters had been detained for their part in disrupting the march.
Prime Minister Aigars Kalvitis had opposed the event, saying Riga should "not promote things like that".
"For sexual minorities to parade in the very heart of Riga, next to the Doma church, is unacceptable," he told LNT television on Wednesday.
One of those who took part in Saturday's march, 61-year-old Lars-Peter Sjouberg, from Sweden, said he had been shocked by the offensive remarks made by protesters.
"Protesters here were really aggressive [...] but it won't stop me from helping my Latvian friends fight for their rights."
Last Updated: Friday, 22 July, 2005, 16:32 GMT 17:32 UK
Latvia gay pride given go-ahead

The first gay pride parade to be staged in the Latvian capital Riga has been given the go-ahead by a court, despite fears of homophobic violence.
The court found that the city council's reasons for banning the event on Saturday were unjustified.
Organisers saluted the decision, saying it was a victory for democracy and reason over prejudice and hate.
Prime Minister Aigars Kalvitis had opposed the event, saying Riga should "not promote things like that".
"For sexual minorities to parade in the very heart of Riga, next to the Doma church, is unacceptable," he told LNT television.
The city council's chief executive said he had withdrawn the parade's permit after receiving letters and e-mails from religious and extremist groups threatening to disrupt it.
Following the court ruling, the Riga Pride parade will now be allowed to pass through the Old City.
Revellers from Sweden, Russia, Lithuania, Estonia and Finland are expected to join the event.
Court tells Riga's city council to go ahead with Pride
Christopher Curtis, PlanetOut Network
Friday, July 22, 2005 / 04:44 PM
Despite fears of homophobic violence, Latvia's first LGBT Pride parade has been given the go-ahead by a court after it was canceled by Riga's city council.
On Friday, a Latvian court ruled that Riga's city council was unjustified for banning Saturday's event.
The city council's chief executive claimed he had withdrawn the parade's permit after letters and e-mails from extremist religious groups threatened to disrupt it.
The city council action on Wednesday just hours after Prime Minister Aigars Kalvitis opposed the event on LNT Television.
Kalvitis said Riga should "not promote things like that," claiming it was unacceptable that "a parade of sexual minorities will take place in the very heart of Riga, right next to the Dome [Cathedral]."
"We are a state based on Christian values, and we cannot promote things that, say, are unacceptable to a large part of society," he said in a quote published by the Associated Press (AP).
The Riga Pride parade will still pass through the historic part of Riga, including the Dome Cathedral. Organizers praised the decision as a victory for democracy and reason over prejudice and hate.
"It's very good that the court has defended freedom of expression and assembly," said Scott Long, director of the LGBT rights program at Human Rights Watch.
"It's unfortunate the prime minister interfered as he did. We will be monitoring the event closely to make sure it proceeds without violence or interference."
Tourists from Sweden, Russia, Lithuania, Estonia and Finland are expected to participate.
映画祭:同性愛など長短編22本上映 5年ぶり関西で--きょう、あす北区
(毎日・大阪版 2005/07/23朝刊)
 レズビアン、ゲイなどがテーマの長短編映画22本を上映する映画祭「関西 Queer Film Festival」が23、24日、大阪・梅田のHEP FIVE8階「HEP HALL」で開催される。毎年約6000人が来場する「東京国際レズビアン&ゲイ映画祭」の関西版で、関西開催は00年以来となる。
 映画祭では、レズビアン、ゲイに絞った東京の上映作品に加え、女性として生まれ、出産後に男性として生きた主人公を描いた『ロバート・イーズ』などの関西独自の作品も上映される。
 同祭実行委員長の木村真紀さん(30)は「自分だけが変なのかもしれないと悩んでいる人、普通の人など、生身の人間が集まる映画祭で、それぞれのドラマを感じて」と呼びかけている。
 当日券は1回券1600円、フリーパス1万円。問い合わせは同実行委(070・5666・1125)。ホームページ(
http://www.kansai-qff.org/
)。【泉谷由梨子】
女性の視点から憲法を考える きょう大阪市・城東区で
 (読売・大阪版 2005/07/23朝刊)
 関西で男女平等のための活動に取り組むグループ「女性と憲法プロジェクト」は23日午後1時30分から、城東区鴫野西のクレオ大阪東で「憲法の話をしよう~私たちにとって憲法とは~」と題した学習会を開く。
 講師に、EU憲法の研究者でもある
法政大法学部の建石真公子教授
を迎え、日本国憲法の概念や暮らしとのかかわりについて学ぶ。
 参加費700円。問い合わせは、同プロジェクト事務局の世界女性会議ネットワーク関西(06・6355・7190)へ。
講座:女性と憲法プロジェクト学習会--23日、大阪・クレオ大阪東 (毎日・大阪版 2005/07/14夕刊)
 23日(土)13時半、大阪市城東区鴫野西2のクレオ大阪東。EU憲法に詳しい法政大学教授の建石真公子さんが「憲法の話をしよう」をテーマに講演。参加費700円。世界女性会議ネットワーク関西(電話06・6355・7190)。
▲
by

alfayoko2005

| 2005-07-24 03:21 | トランス
Sex Education Tutoring in Zhengzhou
2005-7-23 14:35:17 CRIENGLISH.com - Chinastic, China Radio International
Children might have some relief from the anxieties and confusion of puberty in Zhengzhou city soon, if five local college students offering counselling services and sex education get their way
The group's organiser - a junior psychology student - placed the ad for the services on a community noticeboard in the city, hoping to attract troubled teens.The student has been offering a friendly ear to teens for the last year. She says most of her clients are wrapped up in the common problems of being young, like being in love and dealing with a changing body.
The sex education team is made up of three women and two men. Their main aims are to help teenagers understand more about sex, to sort out their emotions in this confusing time and to gain confidence to face society head-on.
Some parents are right behind the tutoring campaign, but still others believe teen problems are a symptom of getting older, and that kids will simply get over them as they grow up.
One student interviewed thinks the program is a good idea, simply because that kind of information doesn't exist anywhere else.
The experts agree. A social scientist from Henan Academy says teachers and parents should help children get through this troubling time in their lives with support and education.
Teens fight for sex change
By Sandra Lee and Tony Vermeer
July 24, 2005
From: Sunday Telegraph
AT least six NSW teenagers are planning legal action to change their sex following a Family Court decision to allow a 13-year-old boy to become a girl.
In an application supported by his parents, the Sydney boy recently won the court's permission to take puberty-blocking chemicals to stop developing an adult male's body.
His lawyer, Rachael Wallbank, says the next step is to take oestrogen at 16 to feminise the body with the option of having sex-change surgery after turning 18.
The case follows the Family Court's precedent-setting decision last year to allow a 13-year-old girl, "Alex", to become a boy.
The issue will be covered by the ABC's Four Corners program tomorrow night.
Ms Wallbank, herself a transsexual, said six teenagers in NSW were "lining up" to undergo similar treatment. She said they felt trapped in the wrong gender and were sure of what they wanted.
"There is no confusion - it's certainty in the face of every other obstacle, and it's unchanging," said Ms Wallbank, who will also appear in the Four Corners program.
But the decisions have created controversy with some doctors and ethicists claiming the teenagers are too young to make such decisions and the court should not be approving them.
Bio-ethicist Dr Nicholas Tonti-Filippini said allowing teenagers to change sex was horrendous and defied psychiatric opinion that indicated they often regretted the decision later.
"It's bad enough for young people in their 20s but to see that happening to children is quite horrific," Dr Tonti-Filippini told The Sunday Telegraph last week.
He said the Family Court was ill-equipped to determine such matters.
But Family Court Chief Justice Diana Bryant told The Sunday Telegraph the court had no predisposition towards granting sex changes to teenagers.
"Each case is judged on its merits," she said.
Justice Bryant acknowledged that the issue was controversial but said the court had a welfare jurisdiction that gave it the right to make such decisions.
The children are among as many as 40,000 Australians who suffer what medical experts have labelled "intersex" conditions.
Twenty-six-year-old Melbourne woman Christie North, who was born with male chromosomes and internal testes, said she did not feel out of place.
"It just affects me in that I cannot have kids and I don't get a period," she said.
▲
by

alfayoko2005

| 2005-07-24 01:31 | トランス
WHEN EAST MARRIES WEST
Groping for answers on gropers
By THOMAS DILLON The Japan Times: July 23, 2005
Beginning May 9, nine commuter lines in the greater Tokyo area began offering women-only train cars in response to the growing number of women being groped by men in the trains. The number of incidents reached 2,201 in 2004, up from 778 in 1996. Each line has designated one car from each train during the morning rush as being for women only.
These are not the first women-only cars in Japanese rail history, but to me this time the impact seems larger than ever before.
Why? Well, because now my main line is employing one such car. Not only that, the car designated for women only is none other than my car, the one I have wrenched myself into every day for almost a decade. The one that matches my exit point perfectly.
So now I must slide 10 meters down and take the next car. No problem, right? Except every other guy in my car must do the same -- with the end result being that there are two cars' worth of men trying to squeeze themselves into one car. It takes more than an attendant with white gloves to pack us all in. It takes a battering ram.
In the past, I was at least guaranteed a strap to hang on and believed, if I lived clean and prayed hard, God would sometimes reward me with a seat. Now I make far simpler supplications and ask only for enough air to breathe. And that I won't get crushed by the other wriggling bodies around me. Talk about being groped.
The other day, with my face mashed against the inside window, I could not help but spy the women in the rear car. Most had seats. Some stood. And a few were ballroom dancing. Or at least they could have if they wanted. They had enough room.
For the record, I am not pro-groper. Gropers are criminals and deserve to be groped themselves by the long arm of the law.
Nor would I be against the train lines establishing single cars for snifflers, snorers, college boys with BO, salarymen with gas, or any foul combination thereof. Or for any group that makes life a little harder for all commuters.
But for women only? Somehow I feel this is unfair. I feel I am suffering for someone else's crime.
So, rather than cars for only women, I suggest cars for only gropers. This protects women and serves to isolate the rightful problem.
"You cannot be serious," my wife says.
"And why not? If a man is stupid enough to molest women on a train, he might also be stupid enough to fall for this. Plus he would only have to reach such moronic heights once. For the cops could accept riding on that car as a confession and arrest the entire lot."
She gives me a look that says if reaching moronic heights were a crime, I might be public enemy No. 1.
"Why don't you simply walk two cars down, instead of one? Or even three cars? The crowd is bound to even out."
"But then I would be farther from my exit."
"So? Which is worse? Walking for 30 seconds? Or imitating a sardine for most of an hour?"
"That's not the point," I tell her. "The point is whether women should receive preferential treatment during rush hour. The only crime the great majority of men have committed is being born male."
"And some women might forgive you that. Yet, there are at least 2,201 men who are not innocent. Probably many more."
I argue that the 2,201 number reflects incidents, not gropers. Who knows? Maybe we are all victims of just one very active man -- sort of a supergroper.
From her face I can tell that she hadn't thought of that. Or that she can't believe I have thought of that. Or that anyone could think of that.
"All right," she says. "I know you have a more serious solution. Let's hear it."
I nod. "Mine is a simple idea, one that the train lines are gonna love. I recommend that women-only cars be continued, but that the females using them be required to pay an extra fee."
"But . . ."
"Then we'll see how many women are truly worried about gropers and how many are just taking advantage of the commuter lines' benevolence."
"That's . . ."
"The train companies will rake in a little loot as well."
". . . discrimination!"
So? And women-only train cars are not?
Of course, the sexes are not really equal and never have been. From politics to business to whatever, it's a man's world. That's not the way it should be, nor maybe the way it always will be, but that's the way it is, especially in Japan, where the "unfair" sex has traditionally been spoiled by the fairer one.
Like many other surface "solutions" to deep-rooted problems, single-sex train cars merely treat a symptom and not the illness. It may reduce the number of gropings, but will have no effect whatsoever on groper mentality. Only two things will eliminate that.
Better antigroper education. . . . This has continued for some time without much effect, perhaps because of that traditional spoiling or perhaps because much of it is lip service.
And stiffer groper penalties. . . . Like making gropers serve their prison sentences with both hands handcuffed to a commuter rail. Or tattooing the word "groper" to their foreheads. Or perhaps plastering their photos inside the trains in place of those cleavage-popping honeys who advertise manga, photos that, incidentally, might encourage groping just a bit.
"What you should do," my wife suggests, "is just wait. The crowds per car will eventually even out. Besides, you have no answer either. You're only 'groping' for ideas like everyone else."
Fortunately, such effort bears no penalty. Not even a punishing train ride if I'm wrong.
To contact Thomas Dillon, send e-mail to
marriedtojapan@yahoo.com