カテゴリ
以前の記事
検索
最新のトラックバック
その他のジャンル
ファン
記事ランキング
ブログジャンル
画像一覧
United Press International
Same-sex marriage on rise in Belgium
Jul. 25, 2005 at 9:45AM
Same-sex marriage has boomed since the concept was legalized in Belgium and 3 percent of all marriages are between homosexuals.
Some 2,500 same-sex couples have tied the knot since September 2003, the Ministry of Interior Affairs announced. It is not certain that marrying will remain this popular among Belgian gays in the future since registered homosexuals are barred from adopting children under national legislation.
The Belgian parliament has been discussing adoption rights for same-sex couples in recent months and a vote is expected after the summer recess.
Belgium was the second country, after the Netherlands, to legalize gay marriage. Same-sex marriages are now allowed in a number of countries, including Spain and Canada, whereas gay adoption remains fairly restricted.
Japan panel to suggest allowing empress, restoring royal titles
Mon Jul 25, 1:23 AM ET
TOKYO, (AFP) - Japanese experts will recommend that the government allow a female to take the throne or restore the status to men who lost their royal titles to ward off a succession crisis, a report said.
No boy has been born to the Japanese royal family since 1965, putting intense pressure on Crown Princess Masako to produce a male heir. She has shunned most public appearances since December 2003 due to stress.
A 10-member government-appointed panel from academic, legal, business and political circles is due to issue its interim recommendations Tuesday after reviewing the succession issue since January.
The panel will propose two options, including ending male-only succession rules to put three-year-old Princess Aiko, the daughter of Masako and Crown Prince Naruhito, in line to the throne, the Japan Broadcasting Corporation (NHK) said.
The public broadcaster said the other option will be to bring back some former royals or their offspring or to allow the current royal family to adopt male relatives.
US occupation authorities cut back on the number of imperial titles in 1947 to save government expenses. But the United States allowed Emperor Hirohito to stay on the throne after he surrendered and renounced his divinity.
Some traditionalists have argued that Japan should expand the royal ranks to avert the succession crisis.
However, opinion polls show wide public support for female succession amid sympathy for Masako.
Several empresses ruled Japan in the past. The last, Go-Sakuramachi, abdicated in 1771.
Naruhito's younger and only brother Prince Akishino, 39, and his 38-year-old wife Princess Kiko have two daughters.
The experts panel will continue discussions and submit a final version of its report later this year to Prime Minister Junichiro Koizumi's cabinet.
Koizumi's office declined comment on the NHK report.
性は今 エイズ国際会議から<下>
若者同士が伝え合う (東京 2005/07/26朝刊)
 「ぼくはゲイです。薬物経験もあります。そしてエイズです」
 神戸市で五日まで開かれたアジア・太平洋地域エイズ国際会議のイベントで出会ったAさんは、さらりと自己紹介した。
 二十代の大柄な大学生。治療を続けながら、ピアエデュケーションを実践するサークルに参加している。ピアとは仲間という意味で、同じ世代の若者にエイズに関する正しい知識を伝えて、性や命の大切さを一緒に考えていく活動だ。
 「自分に知識があれば、こうならなかったかもしれない。後悔したって始まらないんだよってことを、身をもって伝えていきたいんです」
 厚生労働省の今年四月の調査では、日本で報告された感染者と患者の合計が一万七十人と、初めて一万人を突破。二〇〇四年に新たに判明した感染者・患者も千百六十五人と、過去最高だった。
 新規感染者の大半は二十-三十代の若い世代で、原因は性感染が圧倒的に多い。エイズ対策が「待ったなし」の状況を迎えているのに、多くの若者や中高生も教育関係者も、まだまだ「よそごと」の思いが濃い。
 神戸会議では、関西の大学生らが「エイズフォーラム」を企画し、市民も集えるカフェを開き、エイズ予防の啓発や性教育について語り合った。
 長野県から参加した松本大の「ステディープロジェクト」は、東京HIV訴訟の元原告で同大非常勤講師の川田龍平さん(29)に学ぶ学生たちがつくったサークル。代表の小林裕二さん(21)は「今後は他大学と一緒に性教育マニュアルを作っていきたい」と言う。川田さんも「このままでは危険。正しい性の知識をきちんと伝えなければ」と性教育の重要性をあらためて強調した。
 学校の授業をきっかけに性教育の大切さを実感し、広めようとしている子たちもいた。
 松原高校(大阪府)のボランティア「るるくメイト」。壇上に上がった制服姿の女子高生たちは、笑顔で会場に「コンドーム、ちゃんと使ってますか?」と、明るく訴えた。
 「るるく」は、六年前に地元の保健所が行ったエイズの予防啓発講座の受講をきっかけに、有志らが集まってつくったグループ。府内の中学校や高校、大学にも"出張"しピアエデュケーションを行っている。
 女子生徒の一人は「性行動を奨励しているのではない。でも否定もしていない。性教育を通してエイズをはじめとする性感染症は身近な存在だと分かった。だから、みんなも性を知ることで自分の体を大事にしてほしい」と力を込めた。
 (酒井 ゆり、坂口 千夏)
性は今 エイズ国際会議から<上> タイの予防教育
Aging and HIV key challenges over next 50 years
Sun Jul 24, 7:33 PM ET - AFP
Massive population growth in the poorest countries, global aging, and the battle against the AIDS virus, were key challenges for the international community over the next fifty years, according to an international conference which concluded here.
This month the world's population crossed the 6.5 billion mark. But the increase has slowed from a two percent annual rise in the 1960s to 1.2 percent today -- with the nine-billion-mark expected to be cracked around 2050.
Falling fertility rates in Europe, Latin America and Asia have contributed to this slowdown. In China, home to 1.3 billion people and a one-child policy, the number of children per woman has fallen to 1.7 from a peak of 7.5 in the 1960s.
However in Africa fertility rates remain high and populations are predicted to rise rapidly, tripling by 2050 in a number of countries including Burkina Faso, Burundi, Chad, Congo, the Democratic Republic of Congo, Ethiopia and Uganda.
Demographer John Cleland of the London School of Hygiene and Tropical Medicine said that population increase could contribute more to deepening poverty than HIV infection in sub-Saharan Africa, where the population is predicted to rise from 750 million to 1.7 billion during this period.
In Europe and Asia falling birth rates and longer life expectancy are leading to an aging of the world's population.
According to UN figures, 20 percent of today's population in developed countries are over 60 and by 2050 that proportion is projected to rise to 32 percent.
"If nothing is done, the aging of the population will lead to a reduction in the workforce, a fall in economic growth and large shortages of labor," said Martine Durand, an economist with the Organisation for Economic Cooperation and Development (OECD).
Raising the retirement age is one of a number of politically difficult policy options facing governments along with increased immigration, encouraging people to have more children and employment creation, as they try to counter the economic effects of having a shrinking workforce and growing number of retirees.
Durand said governments in developed countries are already taking measures to delay retirement. Italy, Finland, Spain, Norway and France have already restricted the possibility of early retirement while Austria, Switzerland and Belgium have raised the legal age of retirement.
Due to falling fertility rates, immigration will continue to play an important role for a number of countries, particularly in Europe, over the next 25 years.
"Without immigration a number of European countries would experience a substantial fall in their populations," said Serge Feld of the University of Liege in Belgium.
Only Finland and France will be increasing their populations largely from natural population growth.
Increasing life expectancy is the other driver in the aging process with people in rich countries expected to live to an average of 82 years by 2050 compared to 76 years today, according to UN figures.
In the 50 least developed countries average lifespan is also expected to rise from 51 to 67, a figure which is conditional on the implementation of government programmes to treat HIV-infected people and stop the spread of the virus.
Life expectancy in southern Africa, which has the highest HIV infection rate in the world, has fallen from 62 years in 1990-95 to 48 years in 2000-2005. It is set to drop further -- to 43 years over the next decade -- before a slow recovery starts.
Some three million people died of AIDS related illnesses in 2004 while five million people became infected -- taking the global total to 40 million.
The two countries with the largest populations, China and India, are now on the frontline in the battle against the spread of HIV.
Vinod Mishra of the research company Demographic and Health Surveys said that in China the disease has broken out of the high-risk groups of injecting drug users and sex workers and is spreading through the general population.
China's massive urban migration, which has risen from 11 million in 1982 to 79 million in 2000, may be "the 'tipping point' in China's battle with the AIDS epidemic," according to Xiushi Yang of the Old Dominion University.
China has 840,000 HIV infected people or 0.1 percent of the population, although this likely to be an underestimate.
India has 5.1 million people infected with HIV representing 0.9 percent of the population, ranking second behind South Africa with 5.3 million in absolute numbers.
Only in America, abortion wars sour Supreme Court battle
Sun Jul 24, 6:42 PM ET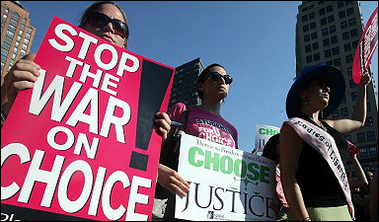 Pro-choice women protest U.S. President George W. Bush's nominee for the Supreme Court John G. Roberts Jr. in Union Square 20 July 2005 in New York City. Viewed from abroad, the United States' Thirty Years War over abortion, currently injecting venom into the fight over a vacant seat on Supreme Court, often seems unfathomable.(AFP/Getty Images/File/Mario Tama)
Viewed from abroad, the United States' Thirty Years War over abortion, currently injecting venom into the fight over a vacant seat on Supreme Court, often seems unfathomable.
An issue that turns elections, frames political careers and cleaves US society, abortion has powered decades of trench warfare in the courts, only now and then erupting into national view.
The spark for the latest firestorm: President George W. Bush's decision to choose conservative judge John Roberts as his first pick for the Supreme Court, to replace retiring icon Justice Sandra Day O'Connor.
Pro-abortion rights advocates are outraged, since Roberts' appointment threatens to whittle down the 6-3 majority on the court favoring the landmark 1973 Roe v Wade judgement legalizing abortion.
Roberts is on record as saying the case was improperly decided, and abortion rights advocates fear his confirmation by the Senate could be the first step towards overturning one of the key rulings in US Supreme Court history.
"The stakes could not be higher," the American Civil Liberties Union warned hours after Roberts was nominated last week, noting a key abortion case on parental notification is due to come before the court later this year.
Every year, hundreds of thousands of "Pro-Life" demonstrators brave frigid January temperatures to march through Washington, holding gory pictures of aborted half-formed foetuses, to mark what is for them the dark anniversary of Roe v Wade.
Abortion clinics throughout the United States are frequently targeted by demonstrators, in previous hot periods of the abortion wars, staff have been hassled, followed, and in rare cases, murdered.
"Pro-choice" advocates accuse those trying to outlaw the practise of risking the lives of women, and of wanting to enforce government control over women's bodies.
But why has abortion become the divisive issue poisoning US politics, but not had anywhere near the impact in other westernised, democracies?
Nancy Northup, president of the Center for Reproductive Rights, a pro-abortion group, blames America's radical 'religious right', the conservative corps of politically active evangelical Christian groups.
"It is because the base of the anti-choice movement in the United States is a religious right base," she said.
"American religious culture is different than Europe's religious culture and we have a very strong religious right here in the United States which has become highly political.
Conservative leaders have often used abortion as a political 'wedge' issue, to rally sympathetic voters, and castigate liberal opponents, as right-of-center thought has risen to dominate US politics over the last 20 years.
But conservatives have fumed that despite placing standard bearers in the White House and atop Congress, they have never seized control of the Supreme Court, and a chance to overturn Roe v Wade.
Many conservatives see the court, as populated either by liberals named by Democratic presidents, or Republican-appointed judges who turned out to be a sore disappointments for their movement.
"We are paralysed in America to do anything about this until this court is overturned," said Thomas Glessner, of the National Institute of Family and Life Advocates.
"We are going to have this battle until it is settled correctly ... there is a strong religious and moral ethic in our country to do something about abortion."
Opinion surveys show that a plurality of Americans, usually around 60 percent, oppose overturning Roe v Wade, though partisans on both sides cite data supporting their particular view.
Anti-abortion activists argue the practice is not just cruel, and should be unlawful -- but is inconsistent with the founding ideals of the United States.
"The Declaration of Independence talks about inalienable rights endowed by our creator on all human beings including the right to life," said Glasser.
Conservatives argue that because the country is a Republic, legislators, and not judges should decide issues such as abortion.
"We aren't to be governed by a body of unelected lifetime appointed officials, which the Supreme Court is, we are to be governed by our representatives," Glasser said.
Some people argue Roe v Wade was improperly decided, owing to its legal reasoning that banning abortion would infringe privacy rights enshrined in the Constitution.
"I think clearly there has always been some legal quarrel over it, and debate in the academic law literature, but what keeps it alive as a political issue is the very religious base of the movement," said Northup.
The abortion question in many European countries has been resolved through legislatures -- not through the highest constitutional court.
The 'will of the people' therefore seems less susceptible to be challenged -- than a Supreme Court which half the country seems not to trust.
▲
by

alfayoko2005

| 2005-07-26 07:21
IRAN: Activists condemn execution of gay teens
[ This report does not necessarily reflect the views of the United Nations]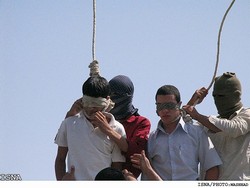 © Iranian Student's News Agency (ISNA)
The two teenagers were executed on 19 July
ANKARA, 25 Jul 2005 (IRIN) - Human rights groups the world over have strongly condemned the recent execution of two gay teenagers in northeastern Iran.
"It's entirely unacceptable that people are actually killed because of their sexuality," Kursad Kahramananoglu, head of the International Lesbian and Gay Association (ILGA), the oldest and only membership-based lesbian, gay, bisexual and transgender (LGBT) organisation in the world, maintained from Istanbul.
While exact details of the case remained unclear, he vowed if confirmed, ILGA would pursue the matter to the highest level, including the United Nations, noting a rise in homophobia in the world today.
Kahramananoglu was not alone in his condemnation. "Killing teenagers for what they do together is absolutely abhorrent," David Allison, spokesman for the London-based LGBT advocacy group Outrage said. He added that given that Iran was such an old civilisation, it was appalling that they should descend to such barbaric levels - especially against young people.
"To execute people simply because they are gay or have had gay sex just isn't acceptable in the 21st century," he exclaimed.
Their comments follow the public hangings of Mahmoud Asgari, 16, and Ayaz Marhoni, 18, on 19 July in Mashad, provincial capital of Iran's northeastern Khorasan province, on charges of homosexuality.
Asgari had been accused of raping a 13-year-old boy, though Outrage believed those allegations were trumped up to undermine public sympathy for the two youths, both of whom maintain they were unaware homosexual acts were punishable by death, an AP news report said on Sunday.
"The judiciary has trampled its own laws," Asgari's lawyer, Rohollah Razez Zadeh, was quoted as saying, explaining that Iranian courts were supposed to commute death sentences handed to children to five years in jail, but the country's Supreme Court allowed the hangings to proceed.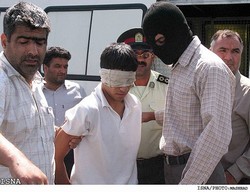 Tuesday's public execution of the youths has drawn sharp criticism of Iran's legal system
Meanwhile on Saturday, Iran's Nobel Peace laureate Shirin Ebadi condemned the executions, reaffirming her determination to ban the execution of minors.
"My calls for a law banning execution of under-18s have fallen on deaf ears so far but I will not give up the fight," the AP quoted her as saying, calling the executions a violation of Iran's obligations under the International Convention on the Rights of the Child (CRC).
Prior to the boys' executions, the teenagers were held in prison for 14 months and severely beaten with 228 lashes. The length of their detention suggests that they committed the so-called offences more than a year earlier, when they were possibly around the age of 16, a statement by Outrage explained.
Citing Iranian human rights campaigners, Outrage claims over 4,000 lesbians and gay men have been executed since the Iranian revolution of 1979. In total, an estimated 100,000 Iranians have been put to death over the last 26 years of clerical rule, including women who had sex outside of marriage and political opponents of the Islamist government.
According to ILGA, Iran is one of at least seven countries today which still retain capital punishment for homosexuality. Others include Mauritania, Sudan, Afghanistan, Pakistan, Saudi Arabia and Yemen. The situation with regard to the United Arab Emirates (UAE) is unclear.
In the wake of the hangings, Amnesty International (AI) on Friday called on Tehran to put a final stop to state executions, explaining as a state party to the International Convention on Civil and Political Rights (ICCPR) and the CRC, Iran had undertaken not to execute anyone for an offence committed when they were under the age of 18.
For the past four years, the Iranian authorities have been considering legislation that would prohibit the use of the death penalty for offences committed by persons under the age of 18. Under Article 1210(1) of Iran's Civil Code, the ages of 15 lunar years for boys and nine lunar years for girls are set out as the age of criminal responsibility, an AI statement said.
In January 2005, following its consideration of Iran's second periodic report on its implementation of the provisions of the CRC, the United Nations Committee on the Rights of the Child, the body of independent experts established under this Convention to monitor states parties' compliance with the treaty, urged Iran:
"to take the necessary steps to immediately suspend the execution of all death penalties imposed on persons for having committed a crime before the age of 18, to take the appropriate legal measures to convert them to penalties in conformity with the provisions of the Convention and to abolish the death penalty as a sentence imposed on persons for having committed crimes before the age of 18, as required by article 37 of the Convention."
[ENDS]
Pressure Mounts Over Iranian Execution Of Gay Teens
Posted on Mon, Jul. 25, 2005
Canada joins marriage movement
CALIFORNIA SENATE WORKING ON GAY-NUPTIALS LEGISLATION
San Jose Mercury News Editorial
Canada has become the fourth country in the world, after Spain, the Netherlands and Belgium, to officially recognize same-sex marriage.
It's a slow-moving trend, but a trend nonetheless. Like civil rights for people of color, same-sex marriage gradually will be accepted as the norm. Someday people will look back and wonder how discrimination against gay people ever could have been tolerated.
The battle over legalization in Canada often pitted proponents of equal rights against those defending religious beliefs. Sound familiar? In the United States, the struggle continues.
Only one state, Massachusetts, allows same-sex couples to marry. Vermont and Connecticut have approved same-sex civil unions.
In California, the Senate recently resurrected a same-sex marriage bill that had died last month in the Assembly. The bill's sponsor, Assemblyman Mark Leno, D-San Francisco, has gained the support of such diverse groups as the NAACP, the United Church of Christ, the United Farm Workers and the Los Angeles City Council.
Democrats predict Leno's bill, AB 849, will clear the Senate when it reconvenes next month and return to the Assembly in late August or early September. While passage is uncertain, just keeping the debate alive is progress. Arguments against equal rights don't hold up over time.
Canada's new law grants gay couples the same rights as unions between a man and a woman. Before its passage, those rights were progressively legalized in eight of Canada's 10 provinces and in two of its three territories.
This is the blueprint for U.S. proponents. When enough states have weighed in, discrimination in the remaining ones will become more glaring, and Congress will act. Leno's bill offers California a chance to be in the vanguard.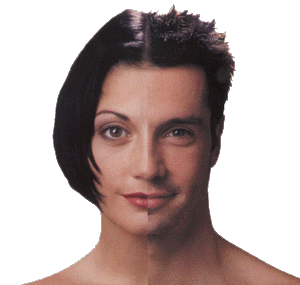 Man avoids criminal penalty with the help of sex change operation
07/25/2005 17:21
Such "perversions" will perhaps seem hilarious to legal experts, when the era of human cloning comes
Bulgarian citizen, Sredko Ichkov, a picker, invented the most original method to avoid criminal penalty. The criminal case was eventually closed at the end of the trial, whereas the perpetrator was declared as "missing." Ichkov had a sex change operation before the process: the man became a woman and obtained a new name, Albena Mikhailova. The judge ruled that a woman had nothing to do with the man's crimes. The trial proved that the contemporary legal base has to adjust itself to achievements of science and medicine.
Modern science will apparently make legal experts revise quite a number of laws and instructions. Genetics is capable of shaking fundamental principles of the society, when human body becomes a platform for various scientific experiments. Transsexual individuals do not fit in any legal instruction nowadays.
Sredko Ichkov, a common thief, was arrested in 2004. The Bulgarian man was caught red-handed: he was supposed to be jailed for three years. Sredko was released on bail for the period of 12 months: the man decided to use the time to drastically renovate himself. When he appeared in court again, the judge was shocked to see the defendant: the thief turned into a dark-haired woman.
The brunet told the judge that she used to be that "rude and uncouth dork," with whom she had nothing left in common. The "female" defendant was emotionally trying to prove to the judge that she had been trying to break loose from Sredko's body throughout her entire life and bid farewell to her criminal past. The woman claimed that it was Sredko Ichkov's criminal nature, which made her commit the crimes. She added that the sex change operation had helped her find peace with her true personality. "There is a person, whom I love and whom I am going to marry," the "renewed" defendant concluded.
The judge was apparently moved with the story of the reborn man. He did not venture to convict the woman, who physically and legally became an absolutely different person. The judge ruled that Albena Mikhailova could not be responsible for the crimes committed by Sredko Ichkov. The latter was declared "missing," and his criminal file was closed. Albena was released.
Other more dangerous criminals may decide to follow Sredko Ichkov's example. Australian serial killer Paul Charles Denyer, who was sentenced to life in prison, has been trying to obtain an official permission from authorities for sex reassignment surgery. The maniac submitted an inquiry on the matter after the prison administration prohibited him from using makeup.
The incident in Bulgaria has already made legal experts think about a way to benefit from possibilities of transsexual individuals. There would probably be some people, who would be happy to acquire a new body, hide from their creditors and avoid paying huge debts, for instance.
Transsexuals, however, continue bringing surprises to lawyers, demanding the development of special legal norms. British authorities, for example, refused to register marriages between two transsexual men: the British law pays attention to the original sex of a person only. The European Court upheld plaintiffs in 2002, who claimed that such laws violated their rights for a family.
There are some transsexuals, who do not want to be ascribed to either male or female sex. There was an incident in the Russian legal practice, when a resident of the Leningrad region, Vel Kundysh refused to receive the Russian passport. The person claimed he could not accept the ID on account of the gender column: the person referred to himself as a human being of medium sex. Vel Kundysh was born as a woman, Valeria Konysheva. She underwent psychiatric expertise in 1996 and was officially allowed to change her name. The human being strongly objected to the sex-based categorization in the passport: Vel Kundysh intends to file a complaint at the Strasbourg Court.
It is noteworthy that these "perversions" will perhaps seem hilarious to legal experts, when the era of human cloning comes. Will a clone be responsible for his/her prototype's crimes?
Russian lawyer, Pavel Astakhov, says that a sex change operation will not relieve a person of criminal responsibility according to the norms of the Russian Constitution. However, a person can avoid criminal punishment for a petty crime, if it is legally proved that a person stopped being socially dangerous as a result of certain changes.
Doctor of psychological sciences, Alexander Asmolov, says that a change of the sexual identity results in a sudden change of a person's consciousness. "They are people, who fundamentally change their purposes and aims trying to get rid of what they used to be before," the specialist said.
Read the original in Russian: (Translated by:
Dmitry Sudakov
)
Pravda.Ru
Related links:
Strana
▲
by

alfayoko2005

| 2005-07-26 03:04 | トランス
ミュージカル「ヘドウィグ・アンド・アングリーインチ」 三上パワー増して復活
(読売・大阪版 2005/07/25夕刊)
 一見グロテスクな主人公にもかかわらずそこに観客は一片の真実を見いだし、自分と重ねる。三上博史演じるオトコオンナのロックシンガー「ヘドウィグ」が初演から1年、力を増して帰ってきた。
 米国人俳優ジョン・キャメロン・ミッチェルが子ども時代、周囲にいた大人をモデルにして書き、ニューヨークのクラブで演じたのが1994年。オフブロードウェーで長期公演の後、映画化もされた。日本版の翻訳・演出は青井陽治。
 旧東ドイツから出国してロック歌手になるため米兵との結婚を決意、性別適合(性転換)手術を受けるが失敗する。股間(こかん)に「怒りの1インチ」が残った。渡米後、出会ったトミーとの愛と裏切り。曲を盗んでロックスターに上り詰めたトミーを自らのバンドとともに追いかける。これは元々一つだった半身と半身が求め合うというプラトンの「饗宴(きょうえん)」の寓話(ぐうわ)を踏まえている。
 コンサートの形式で進み、ミニスカートにハイヒールのヘドウィグが登場すると観客は総立ちに。オネエ言葉で卑わいなジョークを連発しながら悲惨な半生を語る姿が妙にキュートだ。初演の硬さが消えてアドリブも多い。
 三上の真骨頂はその歌いっぷりにある。パンクロックで怒りをぶちまけ、バラードでは情感を湛(たた)え、観客の心を激しく揺さぶった。
 カツラも衣装も脱ぎ捨て、こん身の力で歌うラストは圧巻だ。片割れを探して行き着いた先は飾りを捨てて歩き出す自分そのものだと暗示する。再演でより深くヘドウィグを生ききった。(丸)
 ――9日、大阪・シアタードラマシティ。  
 写真=三上博史(東京公演から、(C)ハービー山口)
ヘドウィグ・アンド・アングリーインチ (三上博史主演の劇場版)
Hedwig And Angryinch (映画版)
キャリア組30%を女性に 男女共同参画会議が答申
(共同 2005/07/25)
 政府の男女共同参画会議(議長・細田博之官房長官)が25日午後、首相官邸で開かれ、2006年度から実施する新たな男女共同参画基本計画策定に向けた考え方をまとめ、小泉純一郎首相に答申した。
 同会議は政策決定過程への女性進出が遅れている現状を問題視。国家公務員1種試験に合格した中央省庁幹部候補「キャリア組」の採用に数値目標を設け、女性の採用割合を04年度の19・4%から、10年度ごろまでに30%程度にするよう提言した。
 また、民法が女性にだけ離婚後6カ月間の再婚禁止期間を設けていることに対し「制度改正について国民理解を深めるよう努める」と、見直しの方向を打ち出した。
 出産や育児で離職した女性の再就職を図るため、求人年齢制限の解消などについて企業の取り組みを促進するほか、起業支援も充実させることを盛り込んだ。
「適切な性教育」、事例集作成へ 男女共同参画会議
2005年07月26日03時08分 - 朝日
 政府の男女共同参画会議(議長・細田官房長官)は25日、06年度からの男女共同参画基本計画の改訂に向けての「基本的な考え方」を小泉首相に答申した。学校での性教育について、「児童生徒の発達段階を踏まえて行うよう、学校関係者等に周知徹底を図る」としており、自民党などにある「行きすぎた性教育」への批判を反映させた格好だ。
 同会議が5月に公表した「中間整理」でも、「発達段階に応じた適切な性教育の実施」が打ち出され、今回は新たに「適切な性教育の内容や進め方については、国において検討を進め事例集を作成・配布する」などの文言が追加された。