カテゴリ
以前の記事
検索
最新のトラックバック
その他のジャンル
ファン
記事ランキング
ブログジャンル
画像一覧
The Workplace: Boardrooms and a place for women
By Thomas Fuller International Herald Tribune
WEDNESDAY, AUGUST 24, 2005
PARIS
The definition of sexism is prejudice or discrimination based on sex. But is there such a thing as good sexism?
The question came to mind after speaking with Christopher Clarke, the president of a headhunting company who says he believes that women make better executives, a view he has shared with audiences in Australia, Singapore, South America, the United States and his native country, Britain.
Clarke cites studies showing that women are better at performing many things at once, or multitasking, and that they have more sophisticated emotional intelligence, like being able to recognize another person's feelings more accurately than men.
"There's a lot of evidence that says that women are superior in evaluating people, in managing their ego, in calming aggression in others," Clarke said in an interview. "These are precisely the characteristics you need in a modern corporation."
As the president and chief executive of Boyden Global Executive Search, a company that placed 2,245 executives in the past 12 months, Clarke said companies seemed more interested in hiring top-level female executives, especially after the scandals at companies like Enron, Parmalat, Tyco and WorldCom. These companies might have avoided "aggressive types of behavior," Clarke said, if they had had more women as directors.
The most recent data from the Ethical Investment Research Service, based in Britain, show a small increase in the percentage of women on corporate boards, to 8.2 percent today from 7.1 percent in 2003, based on a survey of 1,600 companies worldwide. The sharpest increases have been in Scandinavia.
According to the same data, women today make up 27.5 percent of corporate board members in Norway. The United States has 13.3 percent female board members, Germany 8.4 percent, Britain 8.1 percent, France 6.7 percent, Singapore 6.3 percent, Hong Kong 5.2 percent, Italy 3 percent and Japan fewer than 1 percent.
The reasons for these low numbers are complex. One is that many women prefer to spend more time raising families. Women also shoulder a disproportionate part of managing domestic affairs in their relationships, perhaps best summed up by this bumper sticker spotted in Paris: "Behind every successful woman is herself."
Caroline Waters, the human resources director at BT, the British telecommunications company, says women are deterred from senior positions that require long workdays partly because they need to be able to balance family and corporate demands. "In many organizations, it is less acceptable to work flexibly at senior positions," Waters said.
Women are also put off by "closed and male-oriented culture," she said.
Clarke says it is in companies' interest to recruit more women into their boardrooms because more diversity means broader perspectives and "better decisions."
"The days of the dominant 800-pound gorilla steel magnates who built huge monopolies by roughriding over everybody are gone," he said.
Clarke published his views in the August newsletter of the National Association of Corporate Directors, a Washington-based nonprofit organization that promotes better governance on corporate boards. In the article, "The XX Factor in the Boardroom: Why Women Make Better Directors," he used sometimes crude evolutionary analogies to argue his point. Traditional corporate executives are like dominant male apes who have to collude with allies to cast rivals out of the troop, he wrote.
"As we share 98 percent of our genes with the great apes," Clarke wrote, "it is no surprise that in today's boardrooms we can observe much similar behavior."
How does he get away with generalizing female traits this way when seven months ago Lawrence Summers, the president of Harvard University, was criticized for wondering out loud whether women's biological makeup was linked to scientific aptitude? The difference is that Clarke is using biology to show where women excel, not the reverse.
Yet after listening to Clarke relate the corporate jungle to the animal kingdom, this thought comes to mind: Why do we need biological justifications for increasing female participation in corporate boardrooms? Surely companies should appoint more women to senior positions simply because it's the right thing to do.
Thomas Fuller can be reached at
fuller@iht.com
.
Calif. Bans Campaign Gay Bashing
by 365Gay.com Newscenter Staff
Posted: August 22, 2005 9:00 pm ET
(Sacramento, California) The California Senate passed legislation on Monday that bans the use of any negative appeal based on prejudice against gay and lesbian people by candidates or campaign committees. But, there's a condition to the Code of Fair Campaign Practices. The law would apply only to those who sign the voluntary pledge.
Nevertheless, the bill is the first of its kind in the nation.
The measure has already been passed by the Assembly and now goes to Governor Arnold Schwarzenegger who has not indicated whether he will sign it. He has 12 days to make up his mind.
"I urge the Governor to immediately sign this bill into law so we can move one step closer to ending anti-gay rhetoric in political campaigns," said Speaker pro Tem Yee.
"Candidates should not discriminate and victimize the gay and lesbian community for political purposes. Fostering campaigns that create fear and intimidation only incite a potentially dangerous situation for the gay and lesbian community."
Equality California joined Yee in calling for Schwarzenegger to sign the bill.
"Sidelining ethics and integrity to garner votes is simply bad politics," said EC Executive Director Geoffrey Kors.
"We cannot allow a few bad apples to hijack political campaigns and really cheapen the voting process with homophobia and anti-gay prejudice. Candidates must live up to a higher standard willing to represent all constituencies and communities. This is no gray area. Winning elections on the backs of lesbian, gay, bisexual, and transgender people is just wrong and opens the door to attacks and violence against our community.
Currently, candidates can sign a voluntary Code of Fair Campaign Practices pledge which states they will not use any negative appeal or prejudice based on race, sex, religion, national origin, physical health status, or age during their political campaigns. This Code of Fair Campaign Practices and a copy of the Elections Code provisions are required to be provided by the Registrar of Voters at the declaration of candidacy, nomination papers, or any other documentation that identifies the intent to be a candidate for public office.
Studies have concluded that political hate-driven messages have been directly connected to violence against gay and lesbian people. Incidents of violence against the gay community have peaked in national elections years, particularly in the 2004 presidential election where gay and lesbian issues played an unprecedented role at both the national and local levels. In 2003, when San Francisco issued civil marriage licenses to same-sex couples, incidents of violence rose over 14 percent throughout the city.
The Senate passed two other LGBT bills on Monday.
It voted 22-15 in favor of the Civil Rights Act of 2005 to clarify that discrimination in public accommodations based on sexual orientation, gender identity or marital status is illegal. The bill now heads back to the Assembly, where it was previously passed, for a concurrence vote. It will then head to Governor's desk for his consideration.
California law currently prohibits discrimination based on sex, race, color, religion, ancestry, national origin, disability or medical condition. Although sexuality and gender identity are not specifically mentioned courts have held that they are covered. The amendments passed today formalize the court position.
In a third action Monday, the Senate passed a resolution calling on Congress to repeal don't ask, don't tell, the ban on gays serving openly in the military.
The resolution now heads for a vote in the state Assembly before becoming official.
Senate votes to clarify that civil rights law applies to gays
Monday, August 22, 2005
(08-22) 12:09 PDT SACRAMENTO, (AP) --
The state Senate on Monday approved legislation specifying that a major civil rights law bars businesses from discriminating against people because of their sexual orientation or marital status.
Sen. Sheila Kuehl, D-Santa Monica, said the courts have uniformly ruled that the Unruh Civil Rights Act, named after former Assembly speaker and state Treasurer Jesse Unruh, already covers those two categories.
The bill, by Assemblyman John Laird, D-Santa Cruz, would remove any doubt and avoid litigation, Kuehl said. A 22-15 vote sent the legislation back to the Assembly for a vote on Senate amendments.
The Senate also approved:
_ A bill by Assemblyman Leland Yee, D-San Francisco, that would prohibit political candidates who agree to follow a code of fair campaign practices from using negative references to sexual orientation or gender identity. A 21-12 vote sent the measure to the governor.
_ A bill by Assemblywoman Jenny Oropeza, D-Long Beach, requiring the Department of Education to post on its Web site an athletes bill of rights spelling out that federal law bars sexual discrimination in school programs, including sports. A 26-10 vote returned it to the Assembly for a vote on Senate amendments.
___
On the Net: Read the bills, AB322, AB866 and AB1400, at
www.assembly.ca.gov
▲
by

alfayoko2005

| 2005-08-23 21:33 | トランス
Posted on Tue, Aug. 23, 2005
Gay parents gain key custody rights
HIGH COURT RULINGS FAVOR EQUAL PROTECTION
By Howard Mintz
San Jose Mercury News
Establishing unprecedented new legal protections for gay partners in custody battles, the California Supreme Court has for the second time this month put same-sex relationships on equal footing with married couples when it comes to issues such as raising children.
In three separate rulings, the Supreme Court on Monday concluded that lesbians who agree to raise children borne by their partners can be considered legal parents after their relationship ends with the biological mother. All three cases involved mothers who bore children through some form of artificial reproduction from sperm or egg donors.
The rulings strengthened the custody rights of non-biological parents in same-sex unions and clarified the uncertain legal landscape for thousands of gay couples across California who decide to have children. The rulings also were the latest evidence that the state's top court is receptive to the equal protection arguments of gay and lesbian couples, a factor being watched closely as the legal battle over gay marriage moves forward in the lower courts.
The Supreme Court earlier this month gave considerable legal backing to California's new domestic partners law, ruling in a San Diego case that the law gives gay partners the same protections as married couples in terms of how they are treated by businesses.
Now, the high court has extended that principle to custody feuds like one unfolding in Santa Clara County for Linda Hulberg, a Morgan Hill woman who has been seeking parental rights for two years from her former partner. Hulberg was in a three-year relationship with a woman who bore twin boys, and acted as a co-parent until their 2003 breakup, according to court papers.
Hulberg was not involved in Monday's rulings, but she has been waiting for the Supreme Court to decide the three cases while her bid to gain parent status is on hold in family court.
``I'm hoping these decisions make it a no-brainer,'' said Hulberg, a mortgage consultant. ``I should be a part of their lives."
It's not about gender, ``it's about responsibility,'' she said.
Conservative groups object
The rulings immediately drew criticism from conservative groups, who believe they will help energize proposed ballot measures aimed at restricting marriage to a man and a woman and dismantling the state's new domestic partners law.
``Today's ruling defies logic and common sense,'' said Mathew Staver, president and general counsel of Liberty Counsel, which intervened in the state Supreme Court cases. ``By saying that children can have two moms, the court has undermined the family.''
In the three cases decided Monday, the justices, despite different factual scenarios, determined that a non-biological partner enjoys parent status if they take part in the decision to have children and then play the clear, full-time role of a parent along with the biological mother.
The Supreme Court applied past decisions involving heterosexuals who conceive children through artificial reproductive science, as well as other areas of family law once reserved for mothers and fathers. In one case, the justices held that child support laws that punish deadbeat dads apply equally to estranged lesbian partners who had agreed to raise children together.
In that case, the justices held that a lesbian partner who agreed to raise twins is obligated to pay child support like any parent after a breakup. California Attorney General Bill Lockyer intervened on behalf of Emily B. in her effort to get child support in El Dorado County from her ex-partner, Elisa B.
``Today is an incredible day to be a parent in the state of California,'' Emily said after the ruling.
No bias vs. same-sex couples
In a second case out of Marin County, the court found that a woman who supplied her eggs to her partner and helped raise the child is considered a parent under the law. The court, by a 4-2 vote, said the situation was different than sperm and egg donors who do not establish a parent role with the biological mother.
``We perceive no reason why both parents of a child cannot be women,'' Justice Carlos Moreno wrote.
Justices Kathryn Mickle Werdegar and Joyce Kennard disagreed. Werdegar warned that the ruling would produce unpredictable results for custody fights around the state, and that it diminishes the birth mother's rights.
Diana Richmond, the lawyer for E.G., the birth mother in the Marin case, said the ruling could leave sperm and egg donors who do not want parent status vulnerable. However, Richmond added that all three rulings suggest the Supreme Court could prove open to arguments that California's gay marriage ban is unconstitutional.
``It is a court that appears to be free of bias against same-sex couples,'' Richmond said.
The third case was decided on more limited grounds. In that ruling, the justices found that a lesbian mother could not break a pre-birth agreement with her partner to share parental rights.
Courtney Joslin, an attorney with the National Center for Lesbian Rights who represented Emily B. in the El Dorado case, said the Supreme Court sent a clear message that gay couples should be treated the same as heterosexuals.
``Both members of a couple can be a child's parents,'' Joslin said.
Contact Howard Mintz at hmintz@mercurynews.com or (408) 286-0236.
California, US: Court Affirms Gay Couples' Parental Status - LA Times
▲
by

alfayoko2005

| 2005-08-23 20:36 | トランス
The Los Angeles Times
THE STATE
Court Affirms Gay Couples' Parental Status
California's justices rule that both members in same-sex relationships have full rights and responsibilities in child-custody issues.
By Henry Weinstein and Lee Romney
Times Staff Writers
August 23, 2005
SAN FRANCISCO — The California Supreme Court on Monday became the first in the nation to grant full parenting rights and obligations to gays and lesbians who have children.
In three closely watched cases, the justices set rules in an area where changes in family structure and advances in technology have outpaced the evolution of legal principles. In each case, they delivered a ruling that guaranteed that children born to gay couples have two legally recognized parents.
Each of the cases involved a lesbian couple who had children and later split up.
In one case, the court ruled unanimously that a lesbian mother cannot avoid paying child support for her partner's biological children who were conceived when the pair lived together.
That ruling puts lesbian couples on a par with unmarried couples whose relationships end.
In a second case, the justices, on a 4-2 vote, held that a Marin County woman who provided eggs to a partner, who was then artificially inseminated, is legally the children's second mother.
That ruling came despite the fact that before the children were conceived, the woman who donated the eggs had signed an agreement with her partner waiving parental rights.
The third case, involving a Los Angeles-area couple, was decided largely on procedural grounds. It upheld the parental rights of a woman whose partner became pregnant through artificial insemination while the two lived together.
Other state courts have granted partial rights in the form of custody or visitation without acknowledging full parental status, said Courtney Joslin, senior staff attorney for the National Center for Lesbian Rights, which represented the mother seeking child support.
"The court broke ground," Joslin said, adding that the ruling will affect "thousands and thousands" of same-sex couples and their children.
The rulings came as the battle over the rights and obligations of gay families is heating up statewide.
A case challenging the constitutionality of California's law limiting marriage to "a man and a woman" is moving through the courts and is expected to reach the justices next year. And a bill that would allow same-sex marriage has been revived in the Legislature.
On the other side of the debate, opponents of gay marriage are pushing to place several constitutional amendments on the June 2006 ballot that would ban same-sex marriage and roll back domestic partner benefits. Those existing domestic partnership rights already cover many gay couples with children. For children born after Jan. 1 of this year, state law says that children born to registered domestic partners should be treated the same as children born to married couples.
But tens of thousands of gay couples — no one knows precisely how many — had children before the domestic partnership law went into effect or have not registered as domestic partners. For them, the rules have been confusing and often inconsistent.
Monday's rulings sought to bring order to the legal chaos. The rulings drew praise from advocates for gay rights and were sharply criticized by groups opposed to same-sex unions.
"We believe these rulings, taken together, are a victory for kids," said Tom Dresslar, a spokesman for Atty. Gen. Bill Lockyer, whose office filed a brief in the child support case that was cited by the court. "The rulings recognize that the children of same-sex couples have the same interest in maintaining to the maximum extent possible ties to the people who raised them and love them."
By contrast, Randy Thomasson, president of Campaign for Children and Families, which opposes gay marriage, said the court's position "goes against nature."
"Despite junk science and frustrating rulings like this, children still need a mother and a father," Thomasson said. "A child does not have two mommies or two daddies; a child comes into this world because she has a mother who gave her egg and a father who gave his sperm."
The court's stand "ignores the self-evident truth that God designed a man and a woman to fit together and participate in the miracle of procreation," he said.
The court's first case involved two women known in the legal filings as Elisa B. and Emily B., who lived together in El Dorado County. The two women originally agreed that each should become pregnant by artificial insemination from the same semen donor.
Elisa got pregnant first and in 1997 delivered a son, Chance, who was healthy. A few months later, Emily had twins; one had Down syndrome. Both women breast-fed all three babies. They gave the children the same hyphenated surname.
The two agreed that Emily would be the "stay at home mother" for all three children while Elisa worked. Elisa provided medical coverage and listed all three as dependents on her income tax forms.
After six years, the relationship came apart. Elisa left with Chance in 1999 and moved to San Francisco. She helped Emily financially until May 2001, when contact and money were cut off, according to court records. Emily applied to El Dorado County for welfare benefits, and the county tried to make Elisa pay child support.
Lower courts divided on the case. A trial court ruled that Elisa was a "de facto legal parent" and had to pay, but a Court of Appeal said no. According to the appellate court, state law allowed only one person to be a child's mother. Elisa was legally the mother of the child she bore, but not of the children her partner gave birth to, the appellate court ruled.
The high court disagreed. "We perceive no reason why both parents of a child cannot be women," Justice Carlos Moreno wrote for the unanimous court.
"It is undisputed that Elisa actively consented to, and participated in, the artificial insemination of her partner with the understanding that the resulting child or children would be raised by Emily and her as co-parents, and they did act as co-parents for a substantial period of time. Elisa received the twins into her home and held them out to the world as her natural children," Moreno wrote.
"Having helped cause the children to be born and having raised them as her own, Elisa should not be permitted to later abandon the twins simply because her relationship with Emily ended," Moreno wrote.
Three years ago, the court ruled that men who establish themselves as parents are entitled to become legal fathers even if they did not help conceive the child. "These legal principles apply with equal force in this case," Justice Joyce Kennard wrote in a concurring opinion. "What is sauce for the gander is sauce for the goose."
Children cannot choose their parents and should not be deprived of the benefits of having two people to provide financial and emotional support just because their parents are lesbians, the justices said.
"I think these decisions protect children and their relationships with people who are their family members," said Alice Bussiere, an attorney with the Youth Law Center in San Francisco who filed a friend-of-the-court brief.
"The children had a really big stake in these cases. If they had gone the other way, they would lose a relationship with someone they considered a parent and in one case financial support as well."
At a press conference, Emily B. said the ruling "means that I'll be able to get off welfare and food stamps" and possibly Medi-Cal. "I just really want to thank the justices for seeing to it that these children have two equal parents."
Until now "there was a class of children that were just not seen and had no legal rights," she said.
Kaia, one of her 7-year-old twins, stood at her mother's side, grinning broadly, while Ry ran through the hallways. Emily B. said her ex-partner's position was "unfathomable to me…. I was abandoned with two children and went from a six-figure income to living on $15,000 a year."
Mathew Staver, the attorney for Florida-based Liberty Counsel, a group opposed to same-sex unions, said his group had opposed Emily B. in court to defend what he said was an important principle.
"Our position is the biological parent is the only parent, period, unless there's an adoption, and in this case their wasn't," he said. "I think you have to put the parental rights of the biological parent or adoptive parent first."
"On the surface, it might have appeal that you'd want to have someone who has means support someone who doesn't," he added. "But to give parental rights and indicate that a child has two moms I think undermines the rights of all biological parents."
Though the court was unanimous in the Emily B. case, the justices were more sharply divided on the Marin County case, with the court's four men siding against its two female justices.
That case involved a lesbian couple who decided to have a child together. One of the women, known in the case as K.M., donated her eggs to her partner, E.G., who was artificially inseminated. K.M. signed a document when she donated the eggs in which she waived her parental rights.
The two lived together after E.G. gave birth to twins in December 1995 and raised the children together, listing both mothers as parents' on the children's school forms. When the relationship ended in March 2001, E.G. insisted on sole custody. K.M. went to court.
In their 4-2 ruling, the justices said that California law gives parental rights to both mothers even though K.M. had signed a waiver form.
"When partners in a lesbian relationship decide to produce children in this manner, both the woman who provides her ova and her partner who bears the children are the children's parents," Moreno wrote for the majority.
Justices Kathryn Mickle Werdegar and Kennard each dissented.
Werdegar said the majority, in trying to clarify the law, had muddled it by calling into question the validity of written agreements that an unknown number of couples had relied on.
"Precisely because predictability in this area is so important, I cannot agree with the majority that the children in this case do in fact have two mothers," Werdegar wrote. "Until today, when one woman has provided the ova and the other has given birth, the established rule for determining disputed claims to motherhood was clear: We looked to the intent of the parties."
"We cannot recognize K.M. as a parent without diminishing E.G.'s existing parental rights," Werdegar wrote, warning that doing so might violate E.G.'s rights under the U.S. Constitution.
Diana Richmond, the attorney who represented E.G., said she was considering an appeal to the U.S. Supreme Court.
Richmond said she was particularly troubled that the majority had given short shrift to the waiver that K.M. had signed.
But K.M.'s attorney, Jill Hersh, said she was thrilled at the outcome. At Hersh's office, K.M.'s eyes watered as she described painful years away from the children, fraternal twins who are now 9.
"If you have children, you can only imagine what it's like to be separated from your children and feel their grief," said the Marin County woman, who released only her first name: Kim.
"It's been my life every day to wait and wait and wait and persevere…. I do hope that the decision provides hope to other families. No children should have to endure what my children have had to endure."
*
Romney reported from San Francisco, and Weinstein from Los Angeles.
US: Justices Protect Children of Calif. Gays - AP
High Court Protects Kids of Calif. Gays
By DAVID KRAVETS Associated Press Writer
(AP) - SAN FRANCISCO-In the latest ruling to recognize rights of same-sex couples, the California Supreme Court has said gay and lesbian couples who raise children are lawful parents and must provide for their children if they break up.
The state's custody and child support laws that hold absent fathers accountable also apply to estranged gay and lesbian couples who used reproductive science to conceive, the high court ruled Monday.
Click here to find out more!
Being a legal parent "brings with it the benefits as well as the responsibilities," said Justice Joyce Kennard.
The decision comes a month after the justices ruled that a California domestic partner law grants gays and lesbians who register with the state many of the same rights as married couples, but does not allow them to marry.
"The court is now protecting the children of same sex parents in gay families in the same way children are protected with heterosexual couples in heterosexual families," said Jill Hersh, who argued the case of a Marin County woman who was granted the right to be the second mother of twins after the birth mother moved out of state.
However, groups opposing gay marriage decried the justices' actions.
"Today's ruling defies logic and common sense by saying that children can have two moms," said attorney Mathew Staver of Liberty Counsel. "That policy establishes that moms and dads as a unit are irrelevant when it comes to raising children."
The ruling stemmed from three cases involving lesbian parents.
In the Marin County case, the court gave parental rights to Hersh's client, who had donated her eggs to her lesbian lover. The partner then had twins. After the couple split up, a lower court said the egg donor was not a legal parent because she did not give birth.
Lower courts and dissenting justices noted the woman, K.M., voluntarily signed a document declaring her intention not to become a parent of any resulting children, and should not be granted parental status.
But Justice Carlos Moreno, writing for the 4-2 majority, said a woman who supplies eggs to help impregnate her lesbian partner, with the understanding the child will be raised in their home, cannot evade her responsibility to that child.
In the other cases, an El Dorado County woman was ordered to pay child support for her former lesbian partner's biological children, and a woman from Los Angeles was told she could not legally terminate the parental rights of her former lesbian lover, years after obtaining a court order stipulating both were parents.
Both cases were decided unanimously.
Emily B., the El Dorado County woman whose former lover, Elisa B., must now pay to support the children, said she might be able to get off of welfare now.
"I'm absolutely overjoyed today," she said.
The court followed its 2002 decision in which it said men who establish themselves as parental figures may become legal fathers even if they did not help conceive the child.
"These legal principles apply with equal force in this case," Kennard wrote in a concurring opinion in the Marin County case.
In a sign of the broad acceptance same-sex parents have in California, the state attorney general's office supported the women who had asked the justices for an updated interpretation of the state's parental rights laws. Several child-advocacy organizations filed friend-of-the-court briefs taking the same side.
---
On the Net:
California Supreme Court:
http://www.courtinfo.ca.gov/courts/supreme/
2005-08-23T08:14:17Z
Calif. court sets precedent on lesbian parent law - Reuters
Calif. court sets precedent on lesbian parent law
Mon Aug 22, 2005 06:49 PM ET
By Jim Christie
SAN FRANCISCO (Reuters) - California's highest court ruled on Monday that lesbians who conceive children while they are a couple must both be treated as parents, even if they are not registered as a couple, giving them rights and responsibilities similar to unmarried heterosexual parents.
Gays in California may register as domestic partners and establish parental rights, but the rulings in three cases broke ground by holding unregistered partners to such standards.
"This is the first time any state supreme court in the country has made this ruling," said Courtney Joslin, a senior staff attorney with the National Center for Lesbian Rights.
Gay rights activists said the three rulings were significant because they held estranged lesbians who had conceived children with assisted reproductive technology to the same state law as unmarried heterosexual parents who break up.
"These cases build upon and apply existing California family law and hold that these children are entitled to the same protections that all other children are," Joslin added.
The package of three rulings comes amid a bitter debate in California over whether gays should be allowed to marry, an issue San Francisco Mayor Gavin Newsom thrust into the national spotlight by blessing same-sex weddings in City Hall.
In the ruling on Monday in the case of Elisa B. versus Emily B., the court held a woman is a parent and must provide financial support after backing her lesbian partner's artificial insemination. A lower court had ordered Elisa to pay child support after the couple separated.
"Elisa actively assisted Emily in becoming pregnant, with the understanding that they would raise the resulting children together," the court noted in its opinion.
The court held a biological link is not needed to settle parenthood if a child is conceived by artificial insemination. Additionally, it held the state has an interest in parents supporting children financially after relationships break up.
"We perceive no reason why both parents of a child cannot be women," the court added. "That result now is possible under the current version of the domestic partnership statutes, which took effect this year."
In K.M. versus E.G., the court held two women are parents if one provides ova to her partner to give birth to children and to raise them jointly. In such cases, parental rights and responsibilities cannot be waived, the court added.
In Kristine H. versus Lisa R., the court ruled a woman may not invalidate a declaration of parental rights made with her partner. That would be unfair to their child and "contravene public policy favoring that a child has two parents rather than one," according to the court.
California State Supreme Court upholds rights, responsibilities of same-sex parents - SF Chronicle
State Supreme Court upholds rights, responsibilities of same-sex parents
- Bob Egelko, San Francisco Chronicle Staff Writer
Monday, August 22, 2005
(08-22) 13:25 PDT San Francisco (SF Chronicle) -- Lesbian and gay couples who plan for a family and raise a child together can be considered legal parents after a breakup, with all the rights and responsibilities of heterosexual parents, the California Supreme Court ruled today.
In three decisions that a gay-rights advocate described as historic, the court upheld the claims of motherhood by estranged lesbian partners who had been involved in relationships that resulted in children born by artificial insemination. The court noted that the three women had cooperated in conceiving and rearing the children in a family setting and, thus, had the right of parenthood under the law — from the privilege of visitation to the responsibility of child support payments.
"We perceive no reason why both parents of a child cannot be women,'' said Justice Carlos Moreno, author of all three rulings. He said the court's statement in a 1993 surrogate-parent case, that a child can have only one natural mother, was limited to situations in which fatherhood was established and two women – the surrogate mother and the father's wife who signed the surrogacy contract – had competing claims for motherhood.
Courts in other states have granted visitation and other parental rights to same-sex partners who had bonded with their child, ruling that such a nurturing adult may be considered a "psychological parent'' even if not biologically related to the child. But today's rulings are the first in the nation to grant full parental status to both members of same-sex couples who participate in planning and rearing a child, said Shannon Minter, legal director of the National Center for Lesbian Rights, which took part in all three cases.
"This is one of those moments of legal history in the making,'' Minter said. "The decisions are going to be important not just in California but across he country.''
The rulings were issued three weeks after another gay-rights decision by the same court, prohibiting California businesses from discriminating against registered domestic partners as couples – for example, by granting memberships or discounts only to married couples.
Another case heading for the state's high court is a constitutional challenge to California laws defining marriage as the union of a man and a woman, in suits filed by gay and lesbian couples and the city of San Francisco. That case would be derailed, however, if voters approve either of two proposed initiatives to lock the ban on same-sex marriage into the state Constitution and repeal newly established benefits for domestic partners.
Today's rulings apply to couples who never registered as domestic partners or who had broken up before this year, when a new law took effect that granted domestic partners most of the same rights as spouses. Those rights included the same parental status as opposite-sex couples in similar circumstances – rights that the court extended beyond domestic partners today.
In one case, partners Elisa Maria B. and Emily B. had children in 1997 and 1998, respectively, using the same sperm donor, and raised them together before separating in 1999. Elisa agreed to provide financial support whenever she could for her stay-at-home partner's twins – one of them seriously ill – but stopped making payments 18 months after the couple separated.
Reversing a lower-court ruling, the Supreme Court said Elisa was a legal parent of the children she had helped to plan and raise, and must reimburse El Dorado County for the welfare her partner was paid after she stopped receiving child support.
"We were doing everything we possibly could to form a family,'' Emily B. said at a news conference after the ruling. Noting that children of an opposite-sex couple would clearly have been entitled to support in the same situation, she said the court recognized the needs of "children who were invisible.''
In a second case, the court said a Los Angeles woman, Kristine H., was bound by a pre-birth agreement she signed with her partner, Lisa Ann R., saying both would be parents of the child Kristine was carrying. Kristine opposed Lisa's request for visitation and custody after the couple separated two years later, but the court said Kristine had taken the benefits of the agreement and must accept the burdens.
Both those rulings were unanimous, but the court split 4-2 in a third case. A Marin County woman, K.M., donated eggs to her partner that were fertilized by an anonymous donor and resulted in the birth of twin girls in December 1995. The couple raised the children together for more than five years before separating, and the birth mother, E.G., took the twins to Massachusetts.
A state appeals court ruled last year that E.G. was the girls' sole parent, noting that K.M. had signed a prenatal agreement waiving parental rights. But the Supreme Court majority said the agreement – which K.M. claimed she signed under pressure – was not binding because K.M. was a biological parent and because the partners had intended to raise the children together.
In dissent, Justice Kathryn Mickle Werdegar said the ruling disregards the partners' intentions, violates E.G.'s right to choose to be a single parent, and calls into question the validity of many pre-birth agreements. One member of a couple who donates eggs to her partner may now be regarded as a parent in the future regardless of her intentions, Werdegar said.
The cases are Elisa B. vs. Superior Court, S125912; Kristine H. vs. Lisa R., S126945; and K.M. vs. E.G., S125643.
E-mail Bob Egelko at
begelko@sfchronicle.com
.
URL:
http://sfgate.com/cgi-bin/article.cgi?file=/chronicle/archive/2005/08/22/BAsamesex22.DTL
US lesbian parents precedent set - BBC
Last Updated: Tuesday, 23 August 2005, 03:36 GMT 04:36 UK
US lesbian parents precedent set - BBC
Lesbian parents have the same rights and responsibilities towards their children in the event of a break-up, California's highest court has ruled.
The ruling came in three separate cases involving lesbian parents who conceived under differing donor circumstances.
The court decreed that despite their differing circumstances each woman had custody rights and monetary obligations just as parents of the opposite sex do.
The decision comes as a bitter debate over gay marriage rages in California.
Methods of conception
In two of the cases two lesbians were living together and had a child after one of the partners donated an ovum to the other, who was then artificially inseminated.
The women were raising the children together, but when they broke up in each case the mother who bore the child wanted to be considered the legal mother.
In the third case a lesbian couple, listed as Elisa B and Emily B, were living together and decided that they should both become pregnant by an anonymous donor.
It was agreed that Emily B would stay at home to raise the couple's three children, but when they later split Elisa tried to argue that she should not have to pay maintenance for Emily's biological children.
A panel of state Supreme Court justices ruled for the first time that those laws which hold estranged fathers to account should also apply to gay and lesbian couples who have children together.
Gay marriage
Three years ago the same court ruled that men who take on the role of a father figure can become legal fathers even of they are not the biological parents.
"These legal principles apply with equal force in this case," Justice Joyce Kennard said.
Being a legal parent "brings with it the benefits as well as the responsibilities," she added.
"The court is now protecting the children of same sex parents in gay families in the same way children are protected with heterosexual couples in heterosexual families," said Jill Hersh, a lawyer for one of the women.
The rulings come amid controversy over whether gay marriage should be legal in California.
San Francisco started issuing marriage licences to same-sex couples in February 2004, after the city's new mayor decided to defy state law and allow gay weddings.
More than 3,400 gay couples got married before California's Supreme Court ordered a halt the following month.
California Ruling Expands Same-Sex Parental Rights - NY Times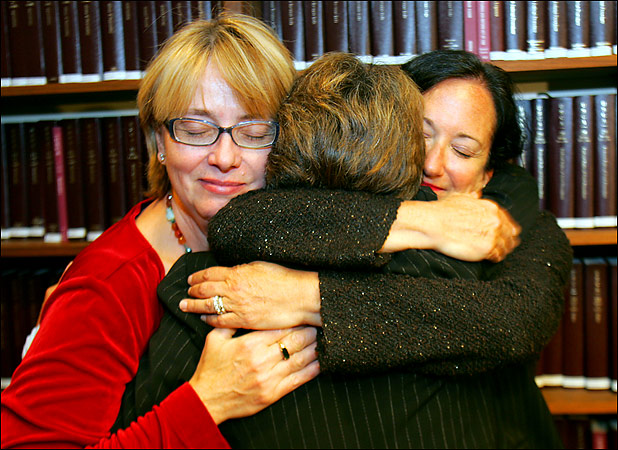 Jim Wilson/The New York Times
A woman identified as K.M., center, who sued to establish her parental rights celebrated with members of her legal team after the court's decision.
The New York Times
National
California Ruling Expands Same-Sex Parental Rights
By ADAM LIPTAK
Published: August 23, 2005
The California Supreme Court ruled yesterday that both members of a lesbian couple who plan for and raise a child born to either of them should be considered the child's mothers even after their relationship ends.
The court, stepping into largely uncharted legal territory concerning same-sex couples and parenting, issued decisions in three cases, ruling that women whose partners gave birth had parental rights or obligations in all three.
The cases involved a request for child support, a petition to establish parental rights and an attack on a lower court ruling issued before a child's birth that the child should have two women listed as parents on her birth certificate.
"We perceive no reason," the Supreme Court ruled, "why both parents of a child cannot be women."
Courts in about half the states have allowed members of same-sex couples to adopt their partners' children. Yesterday's decisions considered the separate question of whether the law could require former members of such couples to assume parental rights and obligations.
The cases all involved unorthodox conceptions, and the Supreme Court struggled to apply sometimes inapt state laws to them.
"While scientific advances in reproductive technology now afford individuals previously unimagined opportunities to become parents," wrote a dissenting justice, Kathryn M. Werdegar, "the same advances have also created novel, sometimes heartbreaking issues concerning the identification of the resulting children's legal parents."
The decisions broke new ground, advocates on both sides agreed.
"It is unprecedented around the country," said Joan Hollinger, who teaches adoption law at the University of California, Berkeley, "to have a state's highest court recognize that in the absence of an adoption, and even in the absence in some instances of a domestic partnership agreement, that two men or two women could be the full legal parents of a child born through assisted reproduction." Ms. Hollinger submitted supporting briefs on behalf of the children involved.
But the rulings troubled lawyers for groups defending what they called traditional values.
"You've essentially begun to undermine and unravel the family," said Mathew D. Staver of Liberty Counsel, a law firm that submitted briefs arguing against the recognition of two same-sex parents.
The decisions may also have implications for same-sex marriage in California. The question of whether the state Constitution requires the recognition of such marriages is before a state appeals court.
"If these cases are any indication," Mr. Staver said, "it makes it look like they're tending toward recognition of gay marriage."
The only one of the three decisions that provoked dissents, and the only one that seemed to leave open the possibility of an appeal to the United States Supreme Court, involved a woman identified as K. M., who provided an egg to her lesbian partner. The partner, E. G., gave birth to twin girls. K. M. had signed a form giving up her claims to any child at the time of the donation but, after the couple broke up, filed a lawsuit to establish her parental rights.
The Supreme Court, in a 4-to-2 decision, ruled for K. M. notwithstanding a state law that says a man who donates his semen to impregnate a woman who is not his wife is not a legal father. Justice Werdegar, dissenting, suggested that treating the donation of sperm differently from the donation of an egg "inappropriately confers rights and imposes disabilities on persons because of their sexual orientation" and so "may well violate equal protection."
The United States Supreme Court does not ordinarily hear cases considering questions of pure state law. But it could hear a claim under the federal Constitution's equal protection clause.
Diana Richmond, who represented E. G., said her client had not decided whether to appeal.
K. M., who declined to give her full name "to protect the privacy of my children," said in an interview arranged through her lawyer that she welcomed the decision.
"Next to the day my daughters were born," she said, "this is the happiest day of my life."
The other two decisions yesterday did not involve donated eggs.
In one, the court ruled that a woman identified as Elisa B. must pay child support to her former partner, who gave birth to twins while the women were a couple. The court made its determination based on commitments the women had made to each other and their treatment of the children each of them had while they were together.
In the third decision, the court ruled that a woman identified as Kristine H. did not have the right to challenge an earlier decision that granted her former lesbian partner parental rights, including putting her name on the birth certificate of Kristine H.'s child in the space provided for "father." The court based its decision on Kristine H.'s participation in the earlier proceeding.
Lawyers on the losing sides of the decisions said that the rulings would give rise to confusion between competing state laws, with someone said to be parent in California, for instance, not considered one if she moved to Texas.