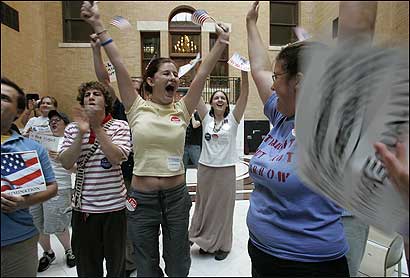 Same-sex marriage supporters jumped for joy after the Massachusetts Legislature rejected a proposed change to the state constitution Wednesday. (Globe Staff Photo / Michele McDonald)
Marriage ban falls, and gay marriage supporters celebrate
By Theo Emery, Associated Press Writer | September 14, 2005
BOSTON --A year ago, after lawmakers first approved a constitutional ban on gay marriage, Robyn Ochs stood on the marble steps of the Nurses Halls in the Statehouse and wept.
On Wednesday, the 46-year-old teacher from Brookline was all smiles. This time, the Legislature voted down the same amendment, and she cheered and laughed as stood near where she'd been the year before, holding aloft a hand-lettered sign reading, "Thank you Massachusetts."
"Last year I was crying from frustration. This year I was crying with happiness. I think the winds have shifted in Massachusetts, and we really have support for marriage equality," she said with a broad grin.
On Wednesday, lawmakers voted 157-39 against the same amendment they had approved at the previous year's Constitutional Convention. The move halts the proposed amendment from going on a statewide ballot in 2006. The amendment was hammered out following a state Supreme Judicial Court opinion that legalized gay marriage last year.
Wednesday's vote also marks the start of a battle over a new proposal to amend the constitution with a ban on same-sex marriage. Supporters of that proposal must gain petition signatures to bring it before the Legislature, and it could go on the statewide ballot in 2008.
But many of the same-sex marriage supporters were focused on Wednesday's vote. After the amendment was defeated, Ochs was among the hundreds of gay marriage supporters who packed Nurses Hall for a rally, whooping and cheering lawmakers who took to the podium, one by one, to trumpet the vote minutes before.
"This is a great day," said Beatrice Hernandez, 44, who stood hand-in hand watching with her 50-year-old spouse, Melba Abreu, who waved a small American flag. "It's not an issue of romance. It is an issue of our civil rights."
The scene at the Statehouse on Wednesday was far different from the year before. Then, the Statehouse was packed with both supporters and opponents of gay marriage, who turned the capitol into a raucous public square, with angry words, prayers, and songs from both sides echoing through every corner of the building.
This year, it was far more orderly. Police put up ropes to cordon off hallways and other areas, relegating the public to a few areas of the Statehouse. There were also far fewer people -- several hundred, compared with thousands last year -- and the number of gay marriage opponents was tiny, numbering perhaps in the dozens.
Some gay marriage supporters came to the Statehouse early Wednesday morning. Early arrivals lined Beacon Street holding signs and banners, and some lined up after the building opened at 8 a.m. to be first to enter the House chamber where debate was scheduled began in the afternoon.
Retired school teacher Al Sunderland, 76, of Swansea, arrived later. In late morning, he gathered with about a half-dozen gay marriage opponents and passed around stickers and pamphlets, prepared to spread the word about the 2008 proposed constitutional amendment which would ban gay marriage and civil unions.
Sunderland said that though there are fewer opponents this year, "this issue has not gone away." Rather, he said, they're gearing up for the next fight, over the 2008 ballot question.
"You've got a silent majority that are just quiet," he said. "They're appalled by what's going on."
In the Great Hall, rows of people sitting cross-legged on the floor watched the debate on a large-screen TV, cheering loudly when gay marriage supporters spoke.
In the back of the room, a small number of gay marriage opponents stood in a circle in matching white T-shifts, praying and singing, mostly ignoring those at the other end of the room.
Ernestine T. Cueller, a 73-year-old retiree from Charleston, was among the small group. She said that despite the small number of gay marriage opponents at the Statehouse, "we're winning this battle."
"We might not be shouting, and yelling too much, in the rooms or in the spaces of this beautiful and magnificent Statehouse, but we certainly are crying and weeping and yelling to our Lord, who hears us. We're calling on God. He hears us. You're going to see the victory, because we've come a long, long way," she said.
As they waited for Senate President Robert Travaglini to announce the tally, a hush fell over the crowd watching the proceedings. When Travaglini announced that 157 members voted against the amendment, the crowd erupted in cheers and broke into a rendition of the "Star Spangled Banner."
Anita Saville and Emily Kay, who married last year after 22 years as a couple, embraced and wiped away tears.
"Six thousand couples got married, and the world did not come to an end," said Kay, 54. "It has had no impact on anybody else's marriage and life."
Massachusetts Rejects Bill to Eliminate Gay Marriage
By PAM BELLUCK
Published: September 15, 2005 -
New York Times
BOSTON, Sept. 14 - In a sign that the legalization of same-sex marriage has changed the political landscape in Massachusetts, the legislature soundly defeated a proposed constitutional amendment on Wednesday to ban gay marriage and create civil unions, an amendment that lawmakers gave preliminary approval to in a raucous constitutional convention last year.
Wednesday's 157-to-39 vote by a joint session of the House and Senate partly reflected the fact that some legislators now consider same-sex marriage more politically acceptable, after a largely conflict-free year in which some 6,600 same-sex couples got married and lawmakers who supported it got re-elected.
The vote also reflected some lawmakers' reluctance to pass a bill that could either withdraw rights from already married couples or create a class of married gay men and lesbians and a class of those unable to marry.
Indeed, Senator Brian P. Lees, a Republican who is the minority leader and who co-sponsored the amendment, which received preliminary approval from the legislature in March 2004 in a 105-to-92 vote, said he voted against it Wednesday.
"Today, gay marriage is the law of the land," Mr. Lees said, noting that same-sex marriage became legal in May 2004. Voting for the amendment, he said, would mean "taking action against our friends and neighbors who today are currently enjoying the benefits of marriage."
Saying he had heard from over 7,000 constituents, most against the amendment, Mr. Lees added, "Gay marriage has begun and life has not changed for the citizens of the commonwealth, with the exception of those who can now marry who could not before."
Wednesday's vote also reflected a change in the strategy of opponents of same-sex marriage.
Last year some legislators who opposed both same-sex marriage and civil unions voted for the amendment because they considered it their best chance at preserving marriage for heterosexuals.
This year, after it appeared that the amendment would fail, many opponents of same-sex marriage started a citizens' petition for a stricter amendment that would ban same-sex marriage without creating civil unions.
The earliest that amendment, endorsed by Gov. Mitt Romney, could become law is 2008. Supporters must get 65,000 signatures, the votes of 50 lawmakers in two consecutive legislative sessions and the approval of voters in a referendum. Both sides expect a difficult fight.
Representative Philip Travis, a Democrat and opponent of same-sex marriage, argued Wednesday for the stricter amendment.
"The union of two women and two men can never consummate a marriage," Mr. Travis said. "It's physically impossible. We can't get around that."
In contrast to last year's long sessions packed with activists, Wednesday's session lasted two hours and drew smaller, calmer crowds.
Juan Carlos Huertas was one of a few dozen opponents of same-sex marriage singing Christian hymns at the statehouse. Mr. Huertas said that the idea that marriage is between a man and a woman is "written in the Scripture."
Nearby were about 200 supporters of same-sex marriage, some with T-shirts or buttons that said "I Do."
For weeks, same-sex couples and supporters met with legislators to present their case. Elaine Lamy, 49, and Chris Hannibal, 50, of Quincy, who married last year, met with Representative Bruce J. Ayers and Senator Michael W. Morrissey, who was also lobbied by the women's heterosexual neighbors. On Wednesday, the women saw the two legislators, both Democrats who had supported the amendment, vote against it.
Senator James E. Timilty, a Democrat who last year supported the amendment, also changed his mind.
"When I looked in the eyes of the children living with these couples," Mr. Timilty said, "I decided that I don't feel at this time that same-sex marriage has hurt the commonwealth in any way. In fact I would say that in my view it has had a good effect for the children in these families."
After vote, both sides in debate energized
By Raphael Lewis, Boston Globe Staff | September 15, 2005
The Massachusetts Legislature overwhelmingly defeated a proposed constitutional amendment yesterday to ban same-sex marriage and establish civil unions, reflecting a dramatic change of heart by dozens of moderate lawmakers and a new strategy by staunch opponents of legalized gay marriage.
The measure failed by a vote of 39 in favor to 157 against, after less than two hours of debate, ending efforts to bring the amendment to the 2006 ballot. The Legislature had voted 105 to 92 to give preliminary approval to the same amendment in March 2004, weeks before the Supreme Judicial Court's landmark ruling legalizing same-sex marriage took effect.
The lopsided defeat for the amendment was largely due to the fact that 55 lawmakers -- more than 25 percent of the Legislature -- who had supported the amendment last year switched and voted no yesterday. Seventeen of the Legislature's 18 freshmen lawmakers also voted against the amendment.
''I do think that a lot of people have been thinking over the last year," said Senate Republican leader Brian P. Lees, who abandoned his support of the amendment even though he was one of its cosponsors. He said he had nearly 8,000 letters and e-mails on the issue. ''I don't think it was cynical," the East Longmeadow senator said of the switch. ''It says in the constitution you have to go through two legislative sessions and things changed."
Many of the Legislature's most ardent opponents of gay marriage also abandoned the compromise measure, preferring another proposed amendment that seeks an outright ban on same-sex marriage. If backers obtain roughly 66,000 signatures in the fall, that measure will require just 50 backers in two successive sessions of the Legislature to appear on the 2008 ballot.
Yesterday's vote was a marked contrast to the emotional meetings of the Constitutional Convention in 2004 that brought thousands of chanting, placard-waving activists from both sides to the State House. By contrast, only a few hundred spectators came to the State House yesterday, most of them supporters of same-sex marriage.
Since May 2004 when Massachusetts became the first state to permit gay and lesbian couples to wed, at least 6,500 couples have been married in Massachusetts. Activists on both sides say the legalization has changed state and national politics by forcing the issue into legislative campaigns, last year's presidential campaign, and Governor Mitt Romney's potential run for the White House in 2008.
Last year, Romney backed the amendment defeated yesterday but since then has thrown his support behind the 2008 effort. Yesterday, he issued a brief statement expressing his pleasure with the outcome of the vote.
''I am pleased that the compromise amendment before the Constitutional Convention was defeated," said Romney, who spent most of the day in Washington, D.C. ''Now, we can work to put on the ballot a simpler amendment that simply defines marriage as between a man and a woman."
Supporters of same-sex marriage, who waged an intense lobbying campaign of lawmakers over the summer, say that among the 157 opponents of the amendment defeated yesterday were at least 115 and perhaps more than 120 legislators who are likely to oppose the 2008 amendment. The remainder of those who voted no were probably lawmakers who see the 2008 ballot question as a better means of eliminating gay marriage because it does not require the establishment of civil unions.
''We are so thrilled and excited and proud that a sound equal-marriage majority has soundly defeated this antigay amendment," said Marty Rouse, campaign director for MassEquality, which led the lobbying campaign. ''We had lawmakers changing their minds and coming to our side right up to the vote itself, and we lost count, quite frankly, at 115 solid supporters of equal marriage. It's a thrilling day, and it speaks well for our chances to defeat the next discriminatory amendment."
Critics of same-sex marriage said yesterday's vote was a necessary step to ready for their 2008 ballot effort. They said that they can now count on at least 60 legislative supporters of that ballot question, which is 10 more than needed to put it before the voters. ''This is fantastic; we're pumped," said Kristian Mineau, head of the Massachusetts Family Institute, which is spearheading the ballot initiative campaign. ''This was a flawed amendment. The citizens wanted a vote on marriage with no add-ons, and this opens the gate. There are no more barriers."
Some veteran lawmakers said yesterday that neither side should interpret what the outcome of yesterday's vote means for the new amendment effort. They said the dynamic in the Legislature is clearly too fluid to know how lawmakers will react to the amendment by May 10, 2006, when the Legislature would vote on the 2008 ballot question if supporters gather enough signatures to place it on the constitutional convention agenda. Top lawmakers set the May 10 date yesterday.
Gay-marriage advocates said they helped elect several lawmakers last fall who helped defeat the amendment yesterday. Two of the freshmen, Senator Edward M. Augustus, Democrat of Worcester, and Representative Carl M. Sciortino Jr., Democrat of Somerville, gave speeches to explain their opposition to the amendment.
''I would not be here if my own district hadn't said no to discrimination," said Sciortino, who is gay.
Said Augustus: ''It is evident that the sky has not fallen. What we saw [since same-sex marriage became legal on May 17, 2004] was how important marriage really is. We saw couples who had been together longer than some of us had been alive finally be able to receive the same benefits that other couples had always received and taken for granted."
Representative Philip Travis of Rehoboth, who is one of the Legislature's most prominent opponents of same-sex marriage, said a no vote was necessary to ensure that the 2008 effort could proceed. ''The other 49 are correct and we are wrong," Travis, a Democrat who also voted last year in favor of the amendment, said. ''We will have a pure vote on marriage as the union of one man and one woman."
In interviews, many in the crowd at the State House said they came to put a human face on the debate and to make sure that predictions of the amendment's defeat would come true.
''I took a vacation day from work today because you can't just expect things to happen," said Andrea DiMartino of South Boston, a supporter of same-sex marriage. ''They have to see us and know that we're here, that we're not going away."
After the vote, supporters of same-sex marriage packed the Nurses' Hall in the State House to cheer for the lawmakers who voted against the amendment to protect gay couples. One of those lawmakers was House Speaker Salvatore F. DiMasi, the North End Democrat who voted against the amendment last year and again yesterday.
''You deserve to be equal, and I am with you 100 percent," DiMasi told the cheering crowd.
Senate President Robert E. Travaglini, the prime sponsor of the amendment defeated yesterday and one of just two senators who backed the measure, appeared unfazed by the loss.
''For me, it's never been about winning and losing," Travaglini told reporters shortly after the roll call concluded. ''It's always been about fairness."
Raphael Lewis's email is
rlewis@globe.com
.