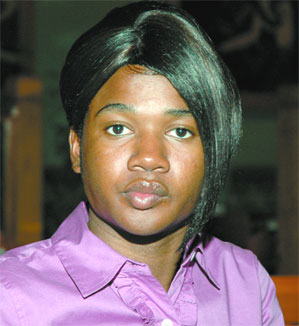 Sharli'e Dominique, a preoperative transsexual, said she at first thought it was a joke when police arrived at a Texas shelter to arrest her for using the women's shower. (Photo by Dalton DeHart)
NATIONAL NEWS
Trans, gay evacuees face harassment as waters recede
Gay groups raise thousands for Katrina relief effort
By ANDREW KEEGAN
Friday, September 16, 2005 - Washington Blade
As Hurricane Katrina's floodwaters slowly recede in New Orleans, cases of discrimination against gay and transgendered survivors are beginning to surface.
Gay organizations stepped in to help last week after a transsexual evacuee spent five days in jail for using a women's shower at a Texas shelter and a gay man suffered vandalism of his personal belongings at a shelter in Shreveport, La.
The majority of people experiencing discrimination from relief agencies are transgendered, according to Ann Robison, executive director of the Montrose Counseling Center in Houston.
The non-profit agency, which provides services to those dealing with sexual orientation, gender identity and HIV issues, now offers twice-weekly support groups for the many gay and transgendered hurricane victims relocated to the area.
"While they are isolated cases, when it does happen it's bad," Robison said. "We plan to talk with the Red Cross when this settles down. We have reports of transgender individuals not being allowed to take donated female clothes. That's ridiculous."
New Orleans evacuee Sharli'e Dominique, a preoperative transsexual, was arrested Sept. 4 by police at Texas A&M University in College Station after using the women's shower at Reed Arena, a temporary relief shelter for storm victims.
Dominique, 20, said her 16-year-old cousin, also a preoperative transsexual, was detained for using the women's shower but eventually released to the care of an older sister who was staying at the shelter.
Dominique, a middle school substitute teacher who is undergoing hormone treatment, arrived at the shelter Sept. 3. It wasn't until the third shower that a problem arose, she said.
"I asked the volunteer posted at the shower if I could use it," Dominique said. "She said, 'sure.'"
When campus security arrived to arrest Dominique for criminal trespass, she said she thought it was a joke, until police handcuffed and booked her.
"They didn't tell me anything in jail except that the court system was backed up for six months to a year and I should expect to be there that long," Dominique said.
Texas A&M police, who booked Dominique under her legal name of Arpollo Dominique, did not respond to interview requests.
John Van Alstyne, corps of cadets commander for Texas A&M, was in charge of the shelter and declined to comment on the arrest.
"All decisions were mine and I have no comment," he stated via e-mail.
Dominique' story became public only by chance. A reporter for the College Station Eagle stumbled upon her arrest record while looking for another case, according to Dominique.
The Human Rights Campaign, the nation's largest gay rights group, and Mara Keisling, president of the National Center for Transgender Equality, then contacted the university demanding charges against Dominique be dropped.
"We were made aware of the situation on [Sept. 8], after business hours," said David Smith, HRC's vice president of policy. "I contacted the detention center that evening and got nowhere after speaking with an extremely homophobic sergeant."
Texas A&M Vice-Provost Bill Perry contacted Smith on Sept. 9 indicating all charges against Dominique were being dropped.
The Montrose Counseling Center relocated and arranged housing for Dominique and her relatives, Smith said.
Gay man harassed
A gay man housed at the Louisiana State University Shreveport relief shelter experienced harassment from other evacuees, according to Ken Beatty, director of the Philadelphia Center, Shreveport's AIDS service agency.
Beatty said he received a call from a nurse working at the shelter expressing concern for the man's safety. The nurse indicated that everything the man brought to the shelter had been covered in shaving cream.
"The housing stock is almost gone in our area," Beatty said. "I, personally, along with a few friends, am helping the gay person in the shelter return to New York."
Officials at the LSUS shelter did not respond to phone calls for comment.
Anticipating further cases of discrimination, the Lambda Legal Defense & Education Fund posted a toll-free number, 1-866-542-8336, for gay men and lesbians affected by Katrina to report problems.
The gay legal group offers legal assistance for evacuees denied relief services based on sexual orientation; denied access to HIV medication; asked to provide documents to prove a relationship; or denied the right to handle the affairs of a deceased loved one.
The agency has not received any complaints from gay evacuees to date, according to the group's national headquarters in New York.
Rumors circulating on the Internet about relief agencies refusing to assist gay men and lesbians asking for assistance in locating their domestic partners could not be confirmed.
Calls to the Federal Emergency Management Agency and Louisiana Homeland Security & Emergency Preparedness were not returned.
Money trail
In addition to helping individual hurricane victims, national and local gay groups have joined in the deluge of relief funds created to aid those hurt by the disaster.
But the gay-specific funds take two decidedly different tacks when determining how to distribute what they raise: Some, like the Rainbow World Fund, forward the money to general relief agencies, while others plan to give their funds directly to gay groups.
The Rainbow World Fund, a gay humanitarian agency, has raised more than $250,000 to feed evacuees, according to Jeff Cotter, the group's director.
Rainbow World Fund then gives the money to America's Second Harvest, the nation's largest food bank network, to provide food to the survivors of Katrina.
By giving through the Rainbow group, instead of directly to America's Second Harvest, gay donors show a positive face to the general public, Cotter said.
"It's important our efforts are public and people see we contribute positively to the world, regardless of sexual orientation," he said.
Last week Rainbow World Fund faced criticism from Equality Mississippi, a gay rights group, which expressed concern money raised would not go toward local recovery efforts.
At press time, Equality Mississippi had received about $2,000 in donations, according to its director, Jody Renaldo.
"Most people are informing us they have already given to another agency," Renaldo said. "We've paid for a lot of supplies — from drink and food to clothing and bedding."
Long-term assistance
The Montrose Counseling Center has received about $3,000 in donations, according to Robison. Two additional organizations, Pride Houston, which raised $29,000, and the National Youth Advocacy Coalition are also collecting donations for the center, she said.
Coors Brewing Company and Steamworks, a national chain of bathhouses, each donated $10,000, Robison said. Donations are being used to provide housing, clothing and food vouchers for around 50 people, she said.
"We anticipate this being long-term assistance, which is why we encourage all evacuees to get their fare share from FEMA and the Red Cross, and we'll fill in the rest," she said.
Robison said whether to give to a local agency or a national charity comes down to the individual preference of each gay donor.
"I'm certainly not going to tell people how to give," she said. "What I will say is that we do business in the community and give our money to the community. Personally, I see it as a way to promote unity and pride in our community."
The Hurricane Katrina LGBT Relief Fund, promoted by a coalition of national gay rights groups, generated approximately $50,000 as of Sept. 13, according to Craig Bowman, executive director of the National Youth Advocacy Coalition,
The funds have not been distributed, Bowman said.
"We want this money to be targeted to the people who need it," he said. "We are waiting for the federal response to die down so we can see exactly what people need."
MORE INFO

Camp Sister Spirit
www.campsisterspirit.com
• Assists in the rebuilding of the Ovett, Miss., feminist retreat that was severely damaged during the storm.

Equality Mississippi
www.equalityms.org
• Assists victims primarily in Mississippi.

Hurricane Katrina LGBT Relief Fund
www.nyacyouth.org
• Distributed to gay relief organizations in affected areas.

Montrose Counseling Center
www.montrosecounselingcenter.org
• Assists gay and transgendered victims in Houston.

Pride Houston Katrina Relief Fund
www.pridehouston.org
• Provides direct services to gay evacuees in greater Houston area.

Rainbow World Fund
www.rainbowfund.org
• Donations go to America's Second Harvest to provide food for survivors of Katrina.

Under One Roof
www.underoneroof.org
• Assists HIV/AIDS service providers in affected areas.

To offer housing:
www.hurricanehousing.org
www.rainbowrelief.org

Comprehensive list of relief agencies:
www.thetaskforce.org

Compiled by Andrew Keegan
EDITORIAL
Cold water poured on trans Katrina refugee
After five homeless days from Hurricane Katrina, all trans New Orleans evacuee Sharli'e Dominique wanted was a shower. It landed her in jail for another five days. Friday, September 16, 2005 - Washington Blade
AFTER FIVE HARROWING days stuck on an Interstate 10 bridge and then at the completely lawless New Orleans Convention Center, with precious little food or water, all Sharli'e Dominique wanted was a shower.
But less than 24 hours after Dominque arrived at Texas A & M University in College Station, where she was housed at the campus' Reed Arena with other evacuees fleeing the devastation of Hurricane Katrina, Dominique found herself in jail.
Simply for taking a shower.
THOUGH SHARLI'E DOMINIQUE lives her life as a woman, she was born male, as Arpollo Vicks.
As a pre-operative male-to-female transgendered person, Dominque appears female in the only clothes she escaped New Orleans with: a tight white shirt with the word "sexy" on it in silver glitter, a pair of jeans and flip flops.
But in the shower, it was clear Dominique was born male. The commander who runs the shelter at Texas A&M, John Van Alstyne, says he received a complaint from another shelter resident about Dominique using the women's rest room. He warned her not to use it again.
But Dominique says she felt unsafe using the men's rest room, particularly to take a shower. So, she says, she asked and got permission from a shelter volunteer to take a shower in the women's rest room.
After she came out of the women's facility, Dominique was arrested for criminal trespassing. Having endured the life-threatening perils of Hurricane Katrina, the 20-year-old African American, who hopes to someday be a journalist, thought being bused to Texas A&M was going to be a lifesaver.
She could have never guessed she would land in a county jail for five days for wanting to get clean.
DOMINIQUE'S CASE IS one of the more dramatic illustrations of how already potent discrimination against gay, lesbian, bisexual and transgender citizens adds an extra layer of burden to those of us who are also victims of Hurricane Katrina.
Unfortunately, GLBT people are likely to face more hurdles, not fewer, as they struggle to get their lives back to some semblance of normal.
One of the big challenges is for people with HIV and AIDS, who have been stranded without their medicines or access to doctors. An estimated 8,000 people with HIV were left homeless after Katrina ripped through the Gulf States.
Many of those people are at temporary shelters, and fled without their medications. Others were trapped for days without electricity. Many of the HIV medicines require refrigeration.
Some patients now do not have access to their doctors, or to refilling prescriptions. Others may fear disclosing their HIV status to the shelters where they are staying, mindful of the prejudices that persist against the HIV-positive.
When a heterosexual person loses a spouse to Katrina, he or she would be entitled to surviving spouse Social Security benefits. Since the federal government does not recognize gay unions, surviving partners in a gay or lesbian relationship will not receive any such help to get their lives back in order.
Lawyers from Lambda Legal Defense & Education Fund, a national gay rights group based in New York City, have already expressed concern that the Federal Emergency Management Agency — which is bound by federal rules and regulations, including not recognizing gay relationships — excludes gay partners from family benefits offered to married couples.
But beyond the monetary benefits, some of the most simple, basic dignities remain in question: Will same-sex partners be housed together? Will separated partners get help to find each other, as other separated families do? Will people with injured partners be allowed to accompany them to hospitals and make important medical decisions with them, or for them, if needed?
Some of those questions are legal ones, and that does not fare well for gays in the states hardest hit by the hurricane: Louisiana, Alabama and Mississippi. None of these states are exactly known for their groundbreaking gay rights laws. Neither is Texas, where many of the refugees have been evacuated.
But at least in the short term, the legal issues take a back seat to the more basic and immediate questions of how gay and trans people will be treated by their fellow refugees, and by the people on the front lines who are supposed to be helping them.
MAYBE SHARLI'E DOMINQUE'S CASE offers a glimmer of hope.
While it is almost unfathomable that Dominique was forced to spend five days in jail for taking a shower, particularly given the circumstances she endured before arriving at the university shelter, the good news is that the county attorney who reviewed her case refused to press charges on the "criminal trespassing" charge.
Brazos County Attorney Jim Kuboviak became aware of Dominique's case after she received local media attention. After reviewing her file, Kuboviak ordered Dominique to be released from jail. She "lacked criminal intent to violate the law," he said in published reports.
After Dominque was released from jail, Claudette Peterson, a former director of an HIV clinic in College Station, took Dominique into her home so she wouldn't have to face the dilemma of whether to use the men's shower or the women's shower at the shelter.
Peterson also connected Dominique with the Montrose Counseling Center, a Houston organization providing housing and support for GLBT evacuees of the hurricane. The Center's executive director said once word of Dominique's plight hit the news, offers to help her had been pouring into the Center from around the country.
Perhaps most importantly, the publicity from her case helped Dominique find her mother and other family members. Dominique had become separated from her family during the hurricane, and hadn't known where they were or even if they had survived. Luckily, Dominique's mother and family had been evacuated to the George Brown Convention Center in Houston.
Perhaps most amazingly, Dominique has come through this trying ordeal with her spirit in tact.
"I'm not angry," she told the Eagle, the university's student newspaper. "It's good to finally get a little support. Maybe this will make people more aware of transgendered and transsexual people."
Mubarak Dahir is editor of the Express Gay News, a publication affiliated with this paper, and can be reached at mdahir@expressgaynews.com.