カテゴリ
以前の記事
検索
最新のトラックバック
その他のジャンル
ファン
記事ランキング
ブログジャンル
画像一覧
TELEVISION REVIEW
A smart look at an alternative campus lifestyle
By Joanna Weiss, Boston Globe Staff | September 20, 2005
Thank God for college. Where else do you have time for self-examination, distance from your parents and your past, and license to decide who you really are?
Especially when who you are, it turns out, is someone of the opposite gender?
This is campus life for the transgendered students featured in ''Transgeneration," a revolutionary documentary series that premieres tonight on the Sundance Channel. What's radical here isn't the topic so much as the way it's handled -- with maturity and respect -- at a time when every personal issue seems fodder for a leering TV treatment.
''Transgeneration" is provocative, yes, but only in the sense that it's straightforward, unflinching, and, in the end, wholly unsensational. It cuts through stereotypes and -- without being preachy -- helps us understand a subject that gets scant treatment in the skittish mainstream. (Maybe we should be thankful for that; you can imagine how MTV might have handled the topic, with odd camera angles and a soundtrack by Marilyn Manson.)
The Sundance series works, in large part, because the characters are so well-chosen and complex. T.J., who grew up a girl in Cyprus, is living as a man at Michigan State University, throwing himself into the collegiate mash of identity politics and left-wing activism. The first episode features a sequence straight from ''Rushmore:" We see him taking part in a string of campus clubs and, finally, starring as George W. Bush in an anti-capitalist play.
Lucas, a Smith College student who's becoming a man, is rebelling against his own campus activism. Once the cochair of ''Tangent," the campus transgender club, he's tired of letting gender issues define him. ''I'm much happier," he says, ''just being male."
Raci, a male-to-female transsexual from the Philippines, is a scholarship student at California State University-Los Angeles; she's poor, hearing-impaired, and so desperate for a healthy social life that she tries to hide her transgender status. ''Oh, it's a documentary about women in college," she says when people ask about the camera crew following her. In an acting class, she struggles with her guilt over a love scene; her partner has no clue he's embracing someone who's technically a man.
And Gabbie, a University of Colorado at Boulder student who is readying for surgery to become a woman, is honest, socially awkward, and painfully vulnerable. When she tells one male classmate, matter-of-factly, that she's being filmed ''for a documentary on transsexual students in college," the camera lingers on his small, tight smile.
''Transgeneration" is full of moments like this; it's frank about hormone treatments and medical issues and sexuality, but also about interpersonal relations, sex, and the things college student really talk about. It might be billed as a primer in transgender issues, but what it beautifully captures is college life, with all of its solipsism and confusion.
''It's about just being young," Lucas said by phone from Oklahoma, where he is living now, another college graduate looking for a job and starting a life.
Joanna Weiss can be reached at weiss@globe.com
Students: 'Transgeneration' positive - Miami Herald
▲
by

alfayoko2005

| 2005-09-20 23:38 | トランス
Miami Herald
Posted on Tue, Sep. 20, 2005
Students: 'Transgeneration' positive
BY GLENN GARVIN
ggarvin@herald.com
Every day of her childhood, Sara Giusti gazed into the bathroom mirror. ''I always expected to see a little boy looking back,'' Giusti recalls. ``But he was never there.''
One of Zack Hirschinger's first clues was his fascination with Bugs Bunny. ''Whenever he dressed up as a girl to fool Elmer Fudd, I was always excited,'' Hirschinger remembers, laughing. ``Bugs Bunny, the archetypal transgender superhero.''
Giusti, who now goes by the name Marc, and Hirschinger, who uses the name Paige, are both 21-year-old seniors at the University of Miami. And they're both transsexuals (or transgendered, to use a newly popular term) -- the genders of their brains do not match those of their bodies.
As members of spectrUM, a University of Miami organization of gays, lesbians and the transgendered, Giusti and Hirschinger got to see an advance copy of the first episode of Sundance's new show Transgeneration, a documentary series debuting tonight that follows the lives of four transsexual college students. They loved it.
''It's nice to see a positive portrayal of transgendered people,'' said Hirschinger. ' `Positive' isn't even the right word. Normal, that's the word I'm really looking for.
``On TV, we're usually sensationalized. On CSI or Law & Order, even if we have a positive portrayal, it's all wrapped up in the lewdness of a murder . . . Transgender is the last place where it's acceptable to turn it into a freak show. We're back where gays were in the early '90s.''
They both agreed that Transgeneration is an excellent account of the dilemmas from the mundane (which bathroom do you use in public buildings?) to the mortal (are you willing to take the risk of pumping opposite-sex hormones into a body that has the wrong genitals attached?).
''Any time I have to go to the bathroom on campus, I'm just like -- '' says Giusti, a journalism major from San Francisco. ``To women, I look like a guy, and they wonder what I'm doing in there. But it's really hard to break a habit you built up over 20 years.''
Though Giusti and Hirschinger both can point to plenty of hints of gender confusion going back to their earliest childhood, neither of them had ever heard of transsexualism or its underlying clinical term, gender dysphoria, until they were in college. Neither of them is very far along the road to a permanent surgical sex change. Hirschinger, who occasionally dresses as a woman, is just starting to look for a doctor to administer the female hormone estrogen, the first big step.
''There are a few people I've got to come out to before I do that, including my father, because once you're on the hormones, the changes are obvious -- I'll grow breasts,'' said Hirschinger, a film and creative writing major from Denver. ``But I've got to do something soon. My body is only going to get broader and hairier.''
Giusti isn't nearly ready to start taking the male hormone testosterone. ''I have ovaries,'' Giusti mused. 'If I start pushing testosterone into them, I'll have cancer by the time I'm 50. I have a body and I have to be responsible to it . . . Part of me is screaming `I want it, I want it,' and part of me is saying, 'You have to calm down and consider this rationally.' ''
▲
by

alfayoko2005

| 2005-09-20 23:32 | トランス
For Immediate Release
:
Tuesday, Sept. 20, 2005
BEST AND WORST COMPANIES FOR GAY AND TRANSGENDER EMPLOYEES REVEALED - Human Rights Campaign
Seven Times as Many Corporations Provide Full Protections Since 2002; Defense Giant Raytheon Leads Industry; Best Buy Soars While Radio Shack and Circuit City Sag
WASHINGTON — The Human Rights Campaign Foundation unveiled its fourth annual report card today on corporate America's treatment of gay, lesbian, bisexual and transgender employees, which includes a record 101 companies with a perfect 100 percent score — more than seven times as many since the first report card in 2002.
"Equality now illuminates thousands of factory floors, board rooms and cubicles across America," said Joe Solmonese, president of the Human Rights Campaign. "The enormous growth we've tracked in fair employee policies proves that corporate America is making good on the old adage: what's good for business is good for America."
The Human Rights Campaign Foundation's fourth annual report card — the
Corporate Equality Index
— rates Fortune 500 and other major companies on a scale from zero to 100 percent on seven key indicators of fair treatment for GLBT employees. Indicators include policies prohibiting discrimination based on sexual orientation and gender identity as well as equal health care benefits.
Among this year's key findings:
A record 101 companies score 100 percent, which is attributed to a sharp increase in gender identity non-discrimination policies. In 2002, only 13 companies earned a perfect rating.

Today, 5.6 million people work at the 101 companies that score 100 percent. In 2002, approximately 690,000 people were employed by the 13 companies that scored 100 percent.

Eighty-one percent of scored companies offer health benefits to the domestic partners of employees, up from 70 percent in 2002.
"With 101 companies scoring one hundred percent, millions of Americans now have protections they would have only dreamed of a few years ago," said Daryl Herrschaft, director of the Human Rights Campaign Foundation's Workplace Project and lead author of the report.
While industries like computer manufacturing have had 100 percent scores for years with leaders like IBM, defense giant Raytheon reached 100 percent this year as a first for its industry. In addition, BP and Chevron became the first oil companies to score 100 percent and Dow Chemical became the first in its industry to do so.
"Prudential Financial is proud of the recognition received from the Human Rights Campaign Foundation," said Arthur F. Ryan, chairman and CEO of Prudential Financial, a 100 percent company. "Diversity continues to be key to the ongoing success of our company, and we remain committed to ensuring an inclusive and supportive work environment for all people."
In electronics retail, Best Buy offers full protections to GLBT employees, while competitor Radio Shack scores a 29 percent and Circuit City holds a 43 percent score.
Corporations shown to be actively working against equality include Emerson Electric with a 29 percent score; Entergy with 36 percent; Exxon Mobil with 14 percent; and Perot Systems with a 14 percent score.
In the financial sector, Citigroup and J.P. Morgan Chase each score 100 percent compared to MBNA that has given money to anti-gay organizations and scores only 43 percent.
"Corporate America knows that treating employees fairly is not just the right thing to do, it's good for the bottom line," added Solmonese.
Starting Sept. 22 in Denver, more than 40 of the companies scoring 100 percent will attend this year's Out & Equal Workplace Summit where for two days they will join more than 850 GLBT employees, straight allies and human resources and diversity professionals who share the same vision of equal treatment in the workplace
The HRC Foundation's Workplace Project not only tracks corporate policies on GLBT issues, but also advocates for equal treatment within corporate America through educational programs and direct advocacy.
Read the report and download other materials.
米:LGBTに寛容な企業が増える - ロイター
▲
by

alfayoko2005

| 2005-09-20 23:25 | トランス
CHANGING ATTITUDES ABOUT FAMILIES
A third option on gay marriage
- Vikram David Amar, Ethan J. Leib
Tuesday, September 20, 2005 - SF Chronicle
Gov. Arnold Schwarzenegger has asserted that "respect for the will of the people" compels him to veto the Legislature's bill recognizing same-sex marriage for in-state residents.
The governor's reference to "the people" is apparently to Proposition 22, passed by California voters in 2000 comprising this single sentence: "Only marriage between a man and a woman is valid or recognized in California." Because of this initiative, Schwarzenegger believes the Legislature's measure is foreclosed. Although Schwarzenegger has the power to veto the bill, his claim that respect for the "will of the people" requires him to reject it is overstated.
For starters, more than five years have passed since Californians adopted Prop. 22, so we don't know precisely what their will is today. Voters have elected new state legislators since 2000, and the electorate of 2005 is itself different from that of 2000 in many ways. Particularly on the question of gay families, much has changed nationally and in the Golden State. In the past year, for example, California implemented one of the most extensive domestic-partnership laws in the country. Recent polls show that although 61 percent of those who voted favored Prop. 22 in 2000, about half of the state electorate today is supportive of same-sex marriage.
Of course, the problem of changing demographics and changing attitudes means that many statutes on the books -- perhaps especially statutes enacted by voter initiatives -- might seem anachronistic and out-of-touch. Yet, until these outdated statutes are amended, we must respect and apply their terms.
Under California's state constitution, amendments or repeals of initiatives require approval of the voters to become effective. So it becomes quite important to decide whether Schwarzenegger is right when he says the Legislature's bill inevitably conflicts with the operative terms of Prop. 22.
Assemblyman Mark Leno, D-San Francisco, and other sponsors of the bill argue that there is no insoluble tension between it and Prop. 22 because the initiative does not define marriage for in-state purposes. Rather, they claim, it merely requires that California not recognize same-sex marriages entered into in other jurisdictions. Leno's position has some support. The materials distributed during the initiative campaign in 2000 do reveal a focus on recognition of marriages that take place in other states. The initiative's supporters were especially concerned that California might be forced to recognize same-sex marriages from other states, such as Hawaii.
But, on balance, a faithful governor -- obligated by California law to respect and enforce a duly-enacted statute such as Prop. 22 until it has been invalidated by state appellate courts -- should conclude there is no lawful way to implement Leno's bill as things stand right now. Putting aside Leno's stretch of Prop. 22's text, if we embraced his interpretation, California could recognize in-state same-sex marriages but would not recognize similar marriages entered into by out-of-staters. California cannot do this under the federal Constitution, which generally prohibits discrimination by a state against persons from other states.
Unless we can say that the voters who enacted Prop. 22 actually intended that their initiative not apply if and when the Legislature recognized same-sex marriage for in-staters, then implementation of Leno's bill would make Prop. 22's operative language concerning recognition of out-of-state marriages unenforceable. That runs afoul of a state constitutional provision that, in effect, says the Legislature cannot through ordinary legislative processes "amend" or "repeal" a statutory initiative.
But does that mean that the governor has to veto the bill? Are his only two choices vetoing the bill or signing it and implementing it right now? The governor has a third choice that he should adopt based on a little-known provision in the state constitution: Section 10 (c) of Article II affirmatively empowers the Legislature to amend or repeal referendum statutes such as Prop. 22 by another statute so long as the new statute "becomes effective only when approved by the electors."
This means that even if Leno's bill can be said to amend or repeal Prop. 22, the bill is not out of constitutional bounds. Rather, it simply can't become effective until voters approve it through direct democracy -- that is, until a majority of voters ratifies it during an election. The governor may sign the bill and instruct officers not to enforce it until it is approved by the California electorate.
Thus, if Schwarzenegger really cares about the will of the people and is worried about the seeming conflict with Prop. 22, he can abide by the constitution by signing the bill and delaying its implementation while he calls for the bill to be considered by the people directly at the ballot box, so that the people can consider the new law. We believe that when he does, Schwarzenegger should make the case for altering Prop. 22. When you are governor, respecting the will of the people involves helping move that will in the direction of fairness and justice. In a well-functioning representative democracy, leaders lead -- and don't just reflect -- the polity.
Vikram David Amar and Ethan J. Leib are professors of law at Hastings College of the Law in San Francisco. Amar, a 1988 graduate of the Yale Law School and a former clerk to Justice Harry Blackmun, is a co-author of the Cohen and Varat constitutional law casebook. Leib, a 2003 graduate of Yale Law School, is author of "Deliberative Democracy in America" (Penn State University Press, 2004).
Page B - 7
URL: http://sfgate.com/cgi-bin/article.cgi?file=/chronicle/archive/2005/09/20/EDGOVEQCDS1.DTL
Iranian gay activists call for action
Gay.com UK
Tuesday 20 September, 2005 13:49
Gay activists within Iran are calling for more support from the international community, warning that the country is condoning the persecution and abuse of lesbians and gay men.
In a press release issued to GAY.COM, the Persian Gays & Lesbians Organisation (PGLO) said they are seeing examples of gay men being targeted by authorities because of their sexuality.
The call for help comes just a month after activists accused the Iranian government of executing two teenagers for having sex with each other.
In a case that sparked international protests, the boys were pictured being carried to the gallows and hung for their actions.
In a response to the outcry, Iran said the executions were also because the boys had raped a younger boy; claims that have been denied by campaigners within the country.
They warned that false charges were often drawn up in a bid to deflect international condemnation.
PGLO says its more recent case has seen a 22 year old man repeatedly flogged because of his sexuality.
Amir, has, it claims, been arrested and put in custody by police, fundamentalist militia and the revolutionary guard.
Additionally, the group says the police are using internet chat rooms to entrap gay men and arrest them.
Amir was sentenced to 100 lashes for being gay, they say, and has now escaped the country to an undisclosed location.
"Iranian homosexuals are usually subjected to extreme oppression and sometimes they are killed," the PLGO said in its release.
"Only small fraction of this violent homophobia comes to light. The largest part is hidden behind a curtain of fear. Many persecutions get mixed up with false accusations of crimes like rape, so that the real reasons are disguised."
"The Persian Gays and Lesbians Organisation asks all human rights activists and GLBT defenders to protest against homophobic attitudes and crimes in Iran. Let's work together to prevent such oppression and injustice."
UK-based Outrage, which helped organise the international protests last month, said British activists should challenge the situation in Iran.
It says too many people in the UK are failing to respond to the reports of homophobia.
"We deplore the gullibility of many gay, left and human rights groups concerning the abuse of LGBT human rights in Iran," Brett Lock said today.
"Too many are willing to believe the smears and slurs of the Iranian government and state-approved newspapers like Qods."
"Where are the left-wing campaigns in western countries to support the freedom struggles of Iranian LGBTs, women, democrats, socialists and workers?"
Czech Rep next for gay unions?
Ben Townley, Gay.com UK
Tuesday 20 September, 2005 13:12
The Czech Republic could be the latest to offer legal recognition for same-sex couples, after proposed new laws made their first tentative steps in the country's parliament.
Laws allowing civil unions were passed through the first stages of a vote, after the Communist opposition party backed the proposals for the first time.
Previous attempts to introduce the legislation to the parliament by the government were blocked by MPs, many of whom said the proposals would be destructive to the traditional family unit.
However, the government has maintained that the new laws would offer equality to the country's lesbian and gay population only and would not be gay marriage.
Additionally, it would help the country adhere to a commitment to equality made when it joined the European Union last year.
The proposed changes would give same-sex couples inheritance and next of kin rights, similar to the package on offer through the UK's Civil Partnership Act.
According to some press reports, couples would also have 'domestic partners' noted on their identity cards, which are compulsory in the country.
However, some fear that the latest backing of the laws, which are still at an initial committee stage, will be lost further down the line.
MPs blocked the legislation as recently as February this year, when the proposals were blocked by just one vote. It was the fourth time the laws were blocked.
Gay campaigners are now calling for the issue to enter parliament as soon as possible, fearful that a delay will see the issue being used in the country's upcoming election to mobilise the right wing.
It is not the first time that some of the newer members of the EU have attempted to update their gay rights policies.
Poland has also called for more rights to be given to lesbian and gay couples looking to register their unions.
However, the staunchly Catholic country was criticised by the late Pope and Polish native John Paul II for discussing the idea.
Elsewhere in Europe, France and Germany offer similar civil union packages to lesbian and gay couples.
Only the Netherlands, Belgium and Spain allow full gay marriage in Europe.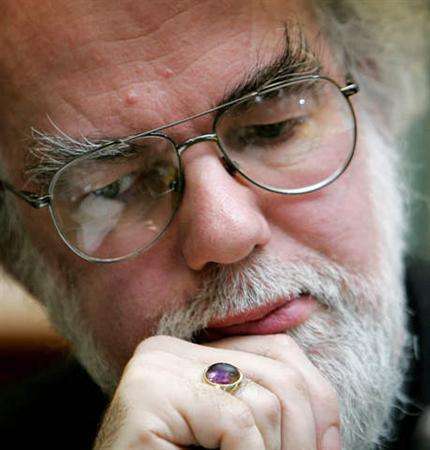 Britain's Archbishop of Canterbury, Rowan Williams, speaks during a news conference at Dromantine Conference Centre near Newry in Northern Ireland, February 25, 2005. Archbishop Williams faces a recurring nightmare trying to stop Anglican liberals and conservatives heading for schism over the increasingly divisive issue of gay rights. REUTERS/Paul McErlane
Anglicans face specter of schism over gay rights
Tue Sep 20, 2005 06:23 AM ET
By Paul Majendie
LONDON (
Reuters
) - Archbishop of Canterbury Rowan Williams faces a recurring nightmare trying to stop Anglican liberals and conservatives heading for schism over the increasingly divisive issue of gay rights.
"That is why Rowan Williams is looking so haggard nowadays," Church Times editor Paul Handley said on Tuesday as the spiritual leader of 77 million Anglicans worldwide fought to keep the church united.
Two years of deepening divisions were sparked by the ordination of a gay bishop in the United States and the blessing of same sex marriages in Canada.
Now the Church of Nigeria, the most vocal critic of liberal Anglicans in Western churches, has deleted all reference to Canterbury, the mother church of the Anglican communion, from its constitution.
"The longer this sort of rhetoric goes on, the less people will make the effort to stay together with people they disagree with," Handley told Reuters. "I can't see them wanting to leave each other alone."
The Nigerian Church, the second largest Anglican community after Britain, has opened its doors to other like-minded conservative Anglicans.
The newly formed Convocation of Anglican Nigerians in America hopes to accommodate thousands of conservative faithful in the United States who objected to the consecration of the openly gay bishop of New Hampshire, Gene Robinson.
"It looks as if we are heading in the direction of schism," said Rod Thomas, spokesman for Reform, an evangelical movement opposed to the ordination of women and gay priests.
"Rowan Williams is part of the problem and not the solution," he told Reuters.
In sharp contrast to the regimented hierarchy of the Roman Catholic Church, the Anglican communion is a broad grouping of churches across 164 countries always run by consensus.
HIGH STAKES
"Mutual respect and courtesy is one of the things that holds this vague organization together and that is in short supply," Handley said.
After the latest moves by Nigeria, liberals were reluctant to pitch into the increasingly bitter war of words.
The archbishop's office declined comment.
Robert Williams, spokesman for the Episcopal Church -- the U.S. Anglican province with 2.3 million members -- would only say: "The archbishop of Canterbury and his advisers are reviewing this matter at the present moment. I prefer not to make any statement."
The stakes are certainly high for the 450-year-old church.
Nigeria, home to quarter of the world's Anglicans, abhors the idea of gay clerics as does much of Africa where church leaders fear their followers will desert them for Islam or more conservative Christian churches.
The Church of England has also sparked the ire of traditionalists by allowing priests to register under Britain's new civil partnership law as long as they remain celibate.
Reform's Thomas argued that traditionalist churches in Asia, Latin America and Africa were thriving while the liberals in the West faced dwindling congregations.
"The Global South is booming. Churches which give in to a liberal agenda are going into decline. Churches which stand firm to the bible tend to be growing," he added.
Vatican weighs shift in policy on unmarrieds
Common-law status might apply to some unwed couples, top cardinal says - AP
Cardinal Camillo Ruini, at center, prays with other prelates Monday at a meeting of the CEI Italian Episcopal Conference in Rome.
Domenico Stinellis / AP
Updated: 10:14 p.m. ET Sept. 19, 2005
ROME - A top Italian cardinal said Monday that common-law status might be applied to offer some legal protection to unmarried heterosexual couples — offering a rare exception to the Catholic Church's condemnation of de facto unions.
Cardinal Camillo Ruini gave no indication the recognition would be extended to same-sex couples and said any protection should stop short of envisioning "something similar to a marriage."
The comments by Ruini, president of the Italian Bishops Conference and the pope's vicar for Rome, came amid a renewed debate over whether Italy should grant unmarried couples some form of legal recognition.
"For those unions that have the desire or the need to give legal protection to their mutual relations, there exists first of all the route of common law, (which is) very wide and can be adapted to various situations," Ruini said before Italian bishops.
However, any such protections should not "envisage something similar to marriage, but rather remain in the domain of people's rights and duties," the cardinal said.
Crack in a rock-solid policy
Ruini's remarks represented a rare exception in a debate where the church position in Italy has been rock solid. Luigi Accattoli, the Vatican correspondent of Corriere della Sera, Italy's top newspaper, called the remarks a "small opening on unions, not on gays."
However, Monsignor Ronny Jenkins, who teaches canon law at the Catholic University of America in Washington, said Ruini's approach "wouldn't be shockingly new."
Church law already recognizes the "civil effects" of non-marital unions in providing child care and other social benefits, but distinguishes between those and "the religious character and validity" of sacramental marriage in church, Jenkins said.
Papal biographer Marco Politi told The Associated Press, "The Italian episcopal hierarchy has clearly decided to act like a political player, bypassing the role of Catholic deputies in parliament."
Ruini "has indicated what, in the church's opinion, is the only way: that is to say, direct agreements between two people, recognized by common law, in some cases even protection through special norms, but without accepting any model for unions than that of marriage," Politi added.
Berlusconi rival prompts debate
The debate in Italy, an overwhelmingly Catholic country, was sparked last week when Romano Prodi, the center-left leader expected to challenge Premier Silvio Berlusconi in general elections next year, said he favored giving legal status to unmarried couples.
Prodi stopped short of proposing legalization of gay marriages, as is the case in Spain, and said he was looking to a 1999 French law that gave unmarried couples, including homosexuals, legal rights if they register their unions with the state.
Prodi was harshly criticized by the Vatican paper, L'Osservatore Romano, and even some of his center-left allies distanced themselves from his stance.
On Monday, Ruini said proposals to give legal recognition to de facto couples "are largely modeled on the institution of marriage, and envisage what might be called a 'small marriage': something of which there is no real need and which would produce, on the contrary, an eclipsing of the nature and value of a family and a very grave harm to the Italian people."
Italy, where Vatican influence is strong, does not recognize unions of unmarried couples. Gay and lesbian associations have been pushing for common-law couples to have legal recognition in hopes the move might pave the way for granting legal status to gay couples as well.
Pope condemns same-sex unions
In June, Pope Benedict XVI condemned same-sex unions as anarchic "pseudo-matrimony." Benedict, the former Cardinal Joseph Ratzinger, spearheaded a Vatican campaign against same-sex unions in 2003, issuing guidelines for Catholic politicians to oppose laws granting legal rights to gay couples when he was prefect of the Congregation for the Doctrine of the Faith.
Ruini quoted extensively from the pope's remarks in June.
The cardinal also said that while de facto unions are on the rise in Italy, he did not believe most of them want legal recognition.
Heterosexual couples are either looking to marry, he said, or else "want to remain in a situation of anonymity, without any bonds." Gay couples, Ruini said, "are not always looking for legal recognition: On the contrary, many run away from it on principle and want to remain an exclusively private matter."
In defending traditional families, Ruini said they play a "great social role" and pointed to what he said was "the decisive contribution that authentic families give to the upbringing of their children."
Italy: Vatican Fears Gay Nuptials On Its Doorstep - AP
More US companies tolerant of gays, says group
Tue Sep 20, 2005 1:09 AM ET
By Susan Cornwell
WASHINGTON (
Reuters
) - More large U.S. companies have fair-minded policies toward gays than ever before, continuing a trend that began in the 1990s, a gay rights group said on Tuesday.
Gay-inclusive policies, once concentrated in financial and high-tech firms on the east and west coasts, are permeating other industries including defense, chemicals, and oil and gas, the
Washington-based Human Rights Campaign Foundation
said.
The foundation released its fourth-annual Corporate Equality Index, grading 402 U.S. companies with at least 500 employees on their treatment of gay, lesbian, bisexual, and transgender workers.
This year 101 companies got a perfect score, close to doubling last year's group of 56 companies that received 100 percent. The top-rankers ranged from Dow Chemical Co.
and Chevron Corp. to bankrupt building materials company Owens Corning and Walgreen Co. , the nation's largest drugstore chain.

Raytheon Co. became the first defense contractor to achieve a perfect score. This summer the Waltham, Massachusetts-based company become the first big military supplier to expand its equal opportunity employment policy to include transgender workers.

Transgender is a broad term that applies to people who express an innate sense of gender other than their birth sex; this includes transsexuals and cross-dressers.

Raytheon's chief diversity officer, Hayward Bell, said that while the defense industry as a whole was considered more conservative and less tolerant than other industries, Raytheon sought to be progressive.

"We have some excellent performers who happen to be transgender," he told Reuters. "Maybe without this policy, we wouldn't have them."

"Who knows who creates the next technology, or the next innovation, that's going to create a new market, solve a customer's problem or save a life," Bell said. The company's message to its employees was, "We don't care who you are, we care what you can do," he said.

Companies are ranked according to seven criteria for the Human Rights Campaign Foundation's Corporate Equality Index.

These include whether they have the words "sexual orientation" in their primary written nondiscrimination policy; have the words "gender identity" or "gender expression" in that policy; offer benefits to employees' same-sex partners; have gay employee support groups; offer diversity training that includes sexual orientation; market to the gay community; and have no anti-gay activities such as rescinding benefits or policies.

The campaign says that there are still some companies that actively resist equal treatment for gay, lesbian, bisexual and transgender employees.

"ExxonMobil has the dubious distinction of being the only U.S. company to roll back both benefits eligibility for its employees' domestic partners and a sexual orientation nondiscrimination policy," the Human Rights Campaign Foundation said in its report.

Mobil had offered benefits to domestic partners and included sexual orientation in its nondiscrimination policy, but Exxon did neither, the report said -- and when Exxon purchased Mobil in 1999, Mobil employees were brought under Exxon's policies.

An ExxonMobil spokesman said the company did not discriminate. "We continue to believe that we have a policy in place that prohibits discrimination," Russ Roberts said.

Lambda Legal Opposes the Nomination of John Roberts for Chief Justice of the U.S. Supreme Court
'John Roberts had every opportunity to demonstrate whether he is committed to fairness and equality, but chose to dodge key questions. He provided no evidence of his commitment to these fundamental principles, and without such a commitment he is not qualified to serve.'
(New York, September 19, 2005) — After careful consideration, Lambda Legal announced today its opposition to the nomination of John Roberts for Chief Justice of the U.S. Supreme Court.
Kevin Cathcart, Executive Director of Lambda Legal, made the following statement:
"John Roberts had every opportunity to demonstrate whether he is committed to fairness and equality, but chose to dodge key questions. He provided no evidence of his commitment to these fundamental principles, and without such a commitment he is not qualified to serve. As a result, we are opposing his nomination.
"Our position stems from our firm belief that gay men, lesbians, bisexuals, transgender people and people with HIV must have a level playing field when they appear before the Court. The Constitution requires this and it is every justice's responsibility to ensure that it happens.
"John Roberts has not demonstrated that he will meet this responsibility and therefore is not qualified for a lifetime appointment as Chief Justice of the U.S. Supreme Court. Lambda Legal opposes his nomination, and we urge the Senate Judiciary Committee and the full Senate to vote 'no' on confirmation."
Among others things, Lambda Legal bases its decision on the following:
1) While Roberts stated that there is a right to privacy in the U.S. Constitution, he refused to elaborate in any meaningful way on its reach. What little can be gleaned from his comments suggests that he could take a very restrictive approach to privacy protections, with an undue emphasis on the country's history and traditions that could disenfranchise minority groups who historically have been denied those protections.

2) Roberts repeatedly refused to answer questions about whether he agreed with Justice Thomas' conclusion, dissenting in Lawrence v. Texas, that sodomy laws criminalizing private adult intimacy do not violate the constitutional right to privacy. This suggests that his conception of privacy protections may be so narrow as to allow for gay people to be made criminals for private, consensual intimacy between adults.


3) Roberts also refused to answer repeated questions seeking his views on the Supreme Court's analysis in Roe v. Wade, making it impossible to know the extent to which he would honor the underpinnings of this well-established precedent. Roe serves as an important foundation for the Supreme Court's decision to strike down the country's remaining sodomy laws in Lawrence.


4) Roberts further refused to say whether Congress has the power to enact laws prohibiting discrimination against LGBT people and provided no information about how he would analyze that question. This calls into question his deference to Congress' power to legislate to protect important national interests, including civil rights for all.


5) Roberts repeatedly refused to provide substantive answers to questions designed to bring to light more information about his judicial philosophy and how he would analyze key constitutional issues.
The full statement of opposition can be found at:
www.lambdalegal.org/cgi-bin/iowa/courtingjustice/index.html?page=justice_robertsopposition
.
In late August, in anticipation of John Roberts's confirmation hearings, Lambda Legal delivered
30 questions
to the Senator Judiciary Committee that were designed to determine whether Roberts had a commitment to fairness and equality for LGBT people and people with HIV. The substance of many of those questions were posed to Roberts last week. The questions can be found at
www.lambdalegal.org/cgi-bin/iowa/courtingjustice/index.html?page=justice_questions
.
###
Lisa Hardaway 212-809-8585 ext.266; Cell: 402-369-2104 Lambda Legal is a national organization committed to achieving full recognition of the civil rights of lesbians, gay men, bisexuals, transgender people and those with HIV through impact litigation, education and public policy work.
▲
by

alfayoko2005

| 2005-09-20 17:19