カテゴリ
以前の記事
検索
最新のトラックバック
その他のジャンル
ファン
記事ランキング
ブログジャンル
画像一覧
First gay MP criticises Lib Dems
Ben Townley, Gay.com UK
Thursday 22 September, 2005 12:27
The Liberal Democrats' first gay MP has criticised the party for not being more open about his sexuality.
Stephen Williams won the Bristol West seat from Labour in May and became the party's first out MP to be elected.
At a fringe meeting held at the party's Blackpool conference, he said he was "disgruntled" by the fact more people were not made aware of his sexuality, according to the Bristol Evening Post newspaper.
He said he was still facing questions about his family situation from other MPs, and would have preferred more people to have been told on his election.
"It has been a little embarrassing for me from the election onwards," the newspaper quotes him as saying.
"I still find in the members' dining room colleagues asking me if I am married or have any children.
"And there are some of my more curmudgeonly colleagues with whom I have not discussed it yet."
Before the election, gay charity Stonewall called for more lesbian and gay representatives in the House of Commons and urged all parties to field more out candidates.
The organisation says more gay MPs would help LGB communities feel better represented in the political world.
At present, there are still less than 10 out MPs.
In May's election, the Conservatives also elected their first out MP, Nick Herbet. Alan Duncan, the party's only other gay politician came out after being elected.
Williams also told the meeting that he faced homophobia from his constituents during the campaign trail for previous elections.
"Four years ago I got quite a lot of personal abuse - some quite hurtful letters and abusive emails. People would come up to me and say 'I am not voting for a queer'," he reportedly said.
Liberal Democrats UK
校内暴力:全国の公立小学校で1890件、過去最悪
(毎日 2005/09/22)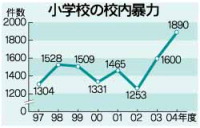 小学校の校内暴力
 全国の公立小学校の児童が04年度に起こした校内暴力は1890件で、前年度(1600件)に比べて18.1%増えて過去最悪となったことが、文部科学省の調査で分かった。小中高校を合計した校内暴力の件数は前年度より4.0%減っており、「キレやすくなっている」と指摘される小学生の突出ぶりが目立っている。
 文科省は22日、暴力行為やいじめなど子どもの問題行動を調べた「生徒指導上の諸問題の現状」を公表した。それによると小中高合計の暴力行為は校内が3万22件、校外が4000件で、ともに前年度(校内3万1278件、校外4114件)を下回った。
 校内での暴力行為の内訳は、小学校の1890件に対し、中学校では2万3110件、高校5022件。中学校が全体の8割近くを占める現実は変わらないものの、前年度との比較では中学校が5.5%減、高校が3.7%減で、小学校での増加ぶりが際立っている。
 小学校の校内暴力の内容を見ると、最も多いのは児童間暴力で992件だが、対教師暴力が336件で、前年度の253件から32.8%増と大幅な伸びを示している。
 これについて、同省児童生徒課は「小学校で感情のコントロールがきかない子が増える傾向にあるようだ。忍耐力や自己表現力、人間関係を築く力が低下しているのではないか」と見ている。
 一方、いじめは小中高と養護学校など特殊教育諸学校の合計で04年度2万1671件と、前年度の2万3351件から7.2%減。高校中退者数(私立を含む)は7万7897人で、前年度の8万1799人から4.8%減った。【井上英介】
小学生の校内暴力、過去最多 対教師が前年度比33%増
(共同 2005/09/22)
 2004年度に公立小学校の児童が校内で起こした暴力行為は、上昇に転じた前年度を290件上回る1890件で、1997年度の現行調査以降、2年連続で過去最多を更新したことが22日、文部科学省の「問題行動調査」で分かった。中高は増加した前年から減少した。
 文科省は「表現力や忍耐力不足から短絡的に暴力行為をする小学生がいる一方で、教員が子供を注意深く見るようになったことも増加の要因ではないか」としている。
 同省によると、小学生の校内暴力のうち、教師への暴力は336件で、前年度に比べて32.8%増えた。子供同士は992件(前年度854件)、器物損壊は544件(同477件)などとなった。校外での暴力行為は前年度比18.6%増の210件。
 中学生の校内暴力は2万3110件(同2万4463件)、高校生は5022件(同5215件)で、いずれも減った。
 小中高全体では、校内暴力は前年度比4.0%減の3万22件。校外暴力は4000件(同4114件)で、4年連続の減少だった。
 いじめは、小中高などの合計が2万1671件と、前年度から7.2%の減少。しかし、高校は51件増え、2121件に上った。学年別は中1が最も多く、全体の約30%を占めた。
 都道府県別では、小中高全体で暴力行為が増えたのが17府県、いじめが増えたのが15府県だった。1000人あたりの発生率は、暴力は高知の9.9が最多、徳島の0.2が最少で、いじめは栃木の3.9が最多、福島の0.1が最少だった。
 また、初めて実施した高校生の不登校調査では、全生徒の1.8%にあたる6万7500人が不登校で、うち36.6%が中退していた。
 国立を除く私公立の高校生の中退者は前年度より0.1ポイント減って2.1%の7万7897人だった。(共同)
◇
 ■暴力行為 文部科学省の調査では、公立小中高校の児童生徒が起こした暴力行為を(1)対教師(2)生徒間(3)教師や生徒以外の対人(4)学校設備などの器物損壊-の4種類に分類。「教師の胸ぐらをつかむ」「生徒同士がけんかをしてけがを負わせる」「卒業式で来賓を足げにした」「トイレのドアを壊す」などを対象に集計したが、明確な基準はない。生徒間が最多で、器物損壊、対教師の暴力が続いている。(共同)
小学生の校内暴力、2年連続増 「対教師」急増 文科省
2005年09月22日19時18分 - 朝日

 全国の公立小学生が04年度に学校内で起こした暴力行為は1890件で前年度比で18%増になっていることがわかった。03年度調査でも27%増で、2年連続大幅増となった。文部科学省が22日、公表した。このうち、子ども同士や器物損壊の校内暴力は10%台の増加だったのに対し、教師に対する暴力は過去最多で33%増と突出していた。中高生の校内暴力は減少し沈静化の傾向が見えるのに、小学生の校内暴力には歯止めがかかっていない。
 この調査は、文科省が毎年すべての公立小中高校を対象に、各教育委員会を通じて実施しているもので、今回は04年度に起きた子どもの暴力行為やいじめなどの発生件数をまとめた。
 文科省によると、小中高生全体の校内暴力の発生件数は、対前年度比4%減の3万22件。内訳は、小学生の1890件(18%増)のほか、中学生が2万3110件(6%減)、高校生が5022件(4%減)となっている。
 中高生に比べて突出して増加している小学生の校内暴力を細かく見ると、子ども同士の暴力が最も多く992件(前年度比16%増)、次いで器物損壊が544件(同14%増)、対教師暴力が336件と続く。対教師と子ども同士を除いた「対人暴力」は18件(13%増)だった。
 このうち、最も伸び率の高い「対教師暴力」は、(1)教師の胸ぐらをつかむ(2)いすを投げつける(3)故意にけがを負わせるなど、一定水準以上の暴力行為について学校から報告が上がったものをまとめたものだ。また、校内暴力で警察に補導された小学生の数は04年度が24人。02年度の2人、03年度の11人から急ピッチで伸びていた。
 校内だけでなく、学校外での暴力行為も中、高が減少したのに小学生は19%増の210件だった。
 一方、都道府県別では、校内外合わせて小学生の暴力行為が増加しているのは26都府県あった。
 小学生の対教師暴力の件数増加について文科省は「小学校では学級担任が子どもの問題を一人で抱え込み、学校全体や関係機関と一緒に取り組めない。結果的に問題が放置され、同じ児童が暴力を繰り返すケースもあるのではないか」と分析している。
 一方、同時に調査したいじめについては、公立の小中高校と盲・ろう・養護学校全体で2万1671件で、03年度に比べて7%減った。高校と盲・ろう・養護学校ではやや増加したが、小学校は5551件、中学校は1万3915件でいずれも前年度比8%減だった。
 今回、初めて国公私立高校の不登校者数を調べたところ、全体の1.8%にあたる6万7500人だった。小中学生は全体の1.1%にあたる12万3317人いた。
 一方、公・私立高校の中退者数は7万7897人で、82年度の統計開始以来最少だった前年度をさらに3902人下回った。
【社会面】2005年09月23日(金曜日)付
児童の暴力、もがく先生 石・くぎ投げられ/後ろからけり
 小学生たちが先生に向ける暴力から見えるのは家庭内暴力、感情にブレーキをかけられない子たちの多さ……。ひとくくりにできない背景に、教師たちは立ちすくむ。
●「家庭内暴力も一因」
 小粒の石が、くぎが、次々と投げつけられる。トラブルを起こして運動場を逃げ回る子を追いかけていたときのことだ。くぎはトラックのラインを地面に留めていたものを引き抜いて投げてきた。
 関西の小学校の先生がいま、格闘しているのは担任の3年の男子だ。
 黒板に向かって説明しているときや、机の間を回って指導するとき、後ろから突然、足をけられたこともある。
 昨年も3年を担任した。やはり教師に暴力で向かってくる子がいた。「もう家に帰る」と教室を飛び出すその子を同僚と追い、校門でつかまえて、相談室まで連れて行った。その途中、殴る、けるの大暴れ。話を聞こうと近寄ろうとすると突然、茶わんを投げられた。
 「この子たちの共通点は、親から暴行を受けていることなんです」と、先生は話す。暴力に訴える子は増えているという実感がある。
 「てめえがやったら体罰教師やで」。別の関西の小学校で、50代の男性教師のすねをけった6年男子の言葉だ。「教師の暴力が問題になることを、逆手に取る子がいる」と、栃木県の若手教師は言う。けんかを止めようと6年男子を羽交い締めにしたら「訴えてやる」と言われた経験がある。
●感情の抑制きかず
 文部科学省は対教師暴力の実例として「運動会の練習中、整列の指示に反発して教師をけった」(6年男子)などを挙げる。しかし、小学生ではこうした悪意の明らかなケースより、興奮を抑制できずに暴力を振るう「はずみ型」が多くなっていると教師らは感じているようだ。
 東京都内の女性教諭(48)は1年生同士のけんかに割って入り、腕にかみつかれた。歯形が残り、血も出たが「これを暴力と呼んでいいのか」と迷う。かつての中学生のような教師への集団反抗と違い、「甘え」との境界にある行為のように感じるからだ。
 関西の50代の女性教師は昨年1年間スカートをやめてズボンをはいて出勤した。「少しでも足のあざを減らしたかった」。担任したのは3年生。「いったんスイッチが入ると手加減できない」男の子がいた。ほかの子の盾になっては、けられた。
 放課後、毎日午後5時までおしゃべりに付き合った。親に構ってもらえない寂しさを知った。その後も相変わらずけられはしたが、「私と人間関係ができたら、その子、手加減できるようになったんです」。
●氷山の一角、複数が指摘
 対教師暴力として報告されたのは全国で04年度に336件。「指導」の形で収拾して表に出ないものはもっとあり、「氷山の一角」と複数の教師が指摘する。
 「同じことがあっても、職員同士や家庭との情報交換ができていて背景がわかって対処できれば『暴力』とはとらえない。逆に情報がないと『暴力』となってしまう」。都内の養護教諭が話した。
◆対象、身近な人に――愛知教育大の折出健二教授(教育臨床学)の話
 攻撃の対象が数年前の「見知らぬ人」から、今は友人や家族など「身近な人」に向かう傾向がある。対教師暴力もその表れだ。それだけ子どもたちが閉塞(へいそく)していると感じる。ほかの教師や学童保育の指導者ら、背景をじっくり聞き取ってあげる大人がいるかどうかが、克服の鍵だ。
◆児童にストレス――教育評論家の尾木直樹さんの話
 夏休み返上の補習や習熟度別授業、トレーニング的学力向上と、今の小学校には詰め込み教育の「圧」がかかっている。詰め込み教育はかつてもあったが、学力低下批判を受け、学校や教師も成果主義にさらされている分、今の方が後ろ向きだ。そうした環境のもと、児童のストレスが身近な象徴である教師への暴力として表れていると考える。
小学生の校内暴力が急増、昨年度は最悪の1890件に
(日本経済 2005/09/22)
 昨年度に公立小学校の児童が起こした校内暴力の件数は前年度比18.1%増の1890件に上り、2年続けて過去最悪となったことが22日、文部科学省がまとめた調査結果で分かった。教師に対する暴力は同32.8%の大幅増。昨年の調査で増加した中学・高校の校内暴力は減少に転じており、専門家は「忍耐力が低下し、ささいなことで暴力を振るう子どもが増えている」と指摘している。
 「生徒指導上の諸問題の現状について」と題する調査結果によると、公立小中高全体の校内暴力は3万22件で前年度比4.0%減。中学は同5.5%減の2万3110件、高校は同3.7%減の5022件。
 小学生の校内暴力で最も多いのは児童間の暴力で992件(同16.2%増)。器物損壊が544件(同14.0%増)、対教師の暴力が336件(同32.8%増)で続く。
 校外も含む小学生の暴力行為の総件数は2100件で同18.2%、323件増えた。増加件数は神奈川県(81件増)、埼玉県(79件増)、大阪府(77件増)など特定の府県に集中する傾向がある。暴力行為を起こした子は上の学年ほど多く、6年生が全体の44.9%を占めた。 (20:03)
文部科学省
ロバーツ長官誕生へ 米最高裁 上院委、承認に同意
(西日本新聞 2005/09/24)
 【ワシントン22日青木忠興】米連邦最高裁長官に指名されているジョン・ロバーツ連邦高裁判事(50)について、上院司法委員会は二十二日、十三対五の賛成多数で、長官就任の承認に同意した。与党の共和党だけでなく、民主党の一部も賛成票を投じた。来週予定されている上院本会議で正式に承認され、最高裁が新たな会期に入る十月三日までに保守系の新長官が誕生する見通し。
 判事九人の最高裁は中道系のオコーナー氏の引退表明、保守系のレンキスト長官の死去に伴い、判事二人分が空席になった。判事の構成は、世論を二分する問題に大きな影響を与えるため、議会の承認手続きは国民の高い関心を呼んでいる。ロバーツ氏の長官就任が確実になったことで、焦点はオコーナー氏の後任選びに移る。
 ロバーツ氏は指名承認のための公聴会で、人工妊娠中絶や同性結婚などの社会問題について「審議する可能性のある問題に予断を与えかねない」と、考えを明確にしなかった。このため、リベラル系の民主党議員らは「基本的な権利を擁護するかどうか確信を持てない」と適格性に疑問を投げ掛けていた。
米上院委 ロバーツ氏指名を承認 最高裁長官 来週にも本会議通過
(朝日 2005/09/24朝刊)
 【ワシントン==渡辺勉】米上院司法委員会は22日、ブッシュ大統領が故レンキスト連邦最高裁長官の後任に指名したロバーツ控訴裁判事(50)=写真=を13対5の賛成多数で承認した。本会議は与党の共和党が過半数を占めているうえ、民主党も長時間演説で議事を妨害する考えはなく、来週開かれる本会議で承認されるのは確実な情勢だ。
 採決では共和党議員10人が全員賛成したうえ、民主党議員8人のうち3人が賛成に回った。賛成した民主党議員は「弁護士、そして裁判官として信望がある」(コール議員)、「法律家中の法律家だ」(ファインゴールド議員)として、ロバーツ氏の資質を賛成の理由に挙げた。
 一方、反対に回った議員らは「何を考えているのか最後まで分からなかった」(ファインスタイン議員)として、妊娠中絶や公民権などの課題について自分の考えを明かさなかったロバーツ氏の答弁に不満を示した。
ロバーツ氏の最高裁長官指名、米上院司法委が承認
(読売 2005/09/23)
 【ワシントン=坂元隆】米上院司法委員会は22日、連邦最高裁長官に指名されたジョン・ロバーツ・ワシントン高裁判事(50)を13対5の賛成多数で承認した。
 ロバーツ氏の指名は来週に予定される上院本会議で採決にかけられるが、共和党が多数派を占めているため、本会議でも承認される見通しだ。
 ロバーツ氏は4日間にわたった公聴会で、穏健な保守派というイメージを印象づけるのに成功し、8人いる民主党委員のうち、筆頭委員のパトリック・レイヒー議員を含む3人が指名承認支持に回った。共和党のオリン・ハッチ議員は、「これまで会った(最高裁判事に指名された人物の)なかで最高だ」とロバーツ氏を絶賛した。
 ロバーツ氏が上院本会議での承認をへて、最高裁の開廷期間がはじまる10月3日前に長官に就任するのは確実視されており、米世論の関心は、引退を表明しているサンドラ・オコーナー最高裁判事の後任選びに集まっている。
次期連邦最高裁長官を承認、米上院司法委員会
2005.09.23
Web posted at: 14:45 JST
- CNN/AP
ワシントン――米上院司法委員会は22日、ブッシュ大統領が9月3日に死去したウィリアム・レンキスト氏の後任として、連邦最高裁長官に指名したジョン・ロバーツ連邦高裁判事(50)の可否を採決、承認した。
13対5の賛成多数で、野党・民主党の3人も支持した。上院本会議で来週、正式承認される見通し。
ロバーツ氏は今年7月、引退を表明したオコーナー最高裁判事の後任にいったん指名されたが、レンキスト氏の逝去に伴い、最高裁長官として再指名された。オコーナー判事の後任者は近く指名される見込み。
ロバーツ氏は保守派とされるが、承認に伴う民主党員の質疑で、保守派の強硬な信条には傾斜しないことを「約束」している。
ロバーツ最高裁長官を承認 米上院司法委員会
(共同 2005/09/22)
 【ワシントン22日共同】米上院司法委員会は22日、ブッシュ大統領が連邦最高裁長官に指名したジョン・ロバーツ連邦高裁判事(50)の承認の可否を採決、13対5の賛成多数で承認した。
 ロバーツ氏は来週の上院本会議で正式に承認され、最高裁が審理を再開する10月3日までに第17代最高裁長官に就任する見通し。50歳の長官は、1801年に45歳で就任したマーシャル第4代長官の後では最年少となる。
 司法委員会の投票では、与党共和党だけでなく、野党民主党も3人が賛成票を投じた。 保守派に属するロバーツ氏の妊娠中絶や同性結婚の権利、少数派優遇政策(差別是正措置)の合憲性など米国を二分する社会問題に対する見解を民主党などはただしたが、同氏は「今後審理対象になり得る問題に予断を与える」などとして、明確な回答を避けた。
 一方、極端な保守派のイデオロギーにくみしないことを繰り返し強調したため、右派を中心とした民主党の支持を得た。
米上院司法委、ロバーツ氏の最高裁長官就任を承認
2005年 09月 23日 金曜日 14:31 JST
 [ワシントン 22日 
ロイター
] 米上院司法委員会は22日、ブッシュ米大統領が連邦最高裁長官に指名したジョン・ロバーツ連邦高裁判事(50)の承認をめぐる採決を行い、賛成13、反対5で承認した。
 これを受け来週の上院本会議で正式に承認される見込み。ブッシュ大統領はまた、既に引退を表明しているオコナー判事の後任となる連邦最高裁判事をロバーツ判事の正式承認後ほどなくして指名する見通し。
 上院で正式に承認されると、ロバーツ判事は10月3日から始まる最高裁の新会期に間に合うことになる。
 ロバーツ判事は連邦高裁判事を2年務めた実績を持ち、1801年以来では最年少の最高裁長官となる。
Roberts Nomination Sent to Full Senate
Friday September 23, 2005 12:16 AM
By DAVID ESPO
AP Special Correspondent
WASHINGTON (AP) - John Roberts' nomination as chief justice cleared a Senate committee on a bipartisan vote of 13-5 Thursday, with next week's confirmation so certain that Republicans and Democrats turned increasing attention to President Bush's choice to fill a second Supreme Court vacancy.
Before the committee vote on Roberts, Sen. Herb Kohl, D-Wis., said, ``I will vote my hopes and not my fears, and I will vote to confirm him.'' Kohl was one of three Democrats on the Judiciary Committee who supported Roberts' nomination along with all 10 Republicans on the panel.
``I don't see how anybody can justify a vote against Judge Roberts, unless they want to nitpick certain areas that you can nitpick on anybody,'' said Orrin Hatch, R-Utah.
Five Democrats voted against Roberts, questioning his commitment to civil rights and expressing concern that he might overturn the 1973 court ruling that established the right to abortion.
``The values and perspectives displayed over and over again in his record cast doubt on his view of voting rights, women's rights, civil rights and disability rights,'' Sen. Edward M. Kennedy, D-Mass., said of the 50-year-old appeals court judge and former Reagan administration lawyer.
The Democratic support for Roberts marked a stinging defeat for the liberal groups that are lobbying energetically against confirmation. Without mentioning names, Sen. Barack Obama, D-Ill., criticized them in remarks on the Senate floor, accusing them of ``kneejerk, unbending and what I consider to be unfair attacks'' on lawmakers who disagreed with them.
Even so, one prominent conservative said he was unimpressed with the level of bipartisanship in committee.
``We're supposed to think the Democrats are being magnanimous? Give me a break,'' said Leonard Leo of the Federalist Society. He noted that several Supreme Court nominees of presidents of both parties have gained overwhelming bipartisan support in the past two decades.
The full Senate is to debate Roberts' nomination next week, with all 55 Republicans expected to support him. A final vote is expected Thursday, in enough time to allow him to succeed the late William H. Rehnquist and become the 17th chief justice before the court begins a new term on Oct. 3.
The committee session over, Democrats not on the panel began making their positions known.
Sen. Hillary Rodham Clinton, D-N.Y., a potential presidential contender in 2008, said she will oppose the nomination. In prepared remarks, she said, ``Desire to maintain the already fragile Supreme Court majority for civil rights, voting rights and women's rights outweighs the respect I have for Judge Roberts' intellect, character and legal skills.''
There was scant sparring in the Judiciary Committee as 18 senators took turns reading prepared statements laying out their positions. What passed for suspense had dissipated Wednesday, when Sen. Patrick Leahy of Vermont, the panel's senior Democrat, announced he would support the nomination.
With Roberts' confirmation a certainty, several senators on the committee were looking ahead to Bush's selection of a replacement for retiring Justice Sandra Day O'Connor.
Sen. Arlen Specter, R-Pa., the committee's chairman, told reporters he thought the president might name a successor shortly after Roberts' confirmation. ``He might wait until the following Monday, but seeing how President Bush operates, I think it will be sooner rather than later,'' he said.
Specter, a supporter of abortion rights, forecast a more contentious debate than Roberts has provoked - and then speculated about the impact on the court if there were a third vacancy next spring.
``I'm very much concerned if next June Justice (John Paul) Stevens retires,'' he said. ``If you have three appointees to the court you have a potential to have a sharp turn on the court, and that's a matter of concern.''
Stevens, the oldest justice at 85, has been a reliable member of the majority in 5-4 opinions upholding the 1973 abortion ruling and the constitutionality of affirmative action while limiting the application of the death penalty.
O'Connor often has been a swing vote, a majority maker whose retirement could signal a shift on the court on many contentious issues.
Sen. Lindsey Graham, R-S.C., offered public advice to the president. Bush should listen to all senators before making his next pick, the South Carolina Republican said, then should ``fulfill your campaign promise of selecting a strict constructionist, well-qualified person who loves the law more than they love politics.''
Sen. Charles Schumer, D-N.Y.. who voted against Roberts in committee, said, ``The signal to President Bush, whether you voted no or yes: Please send us a moderate, but if you send someone who is very ideological there'll be a much bigger fight than on Roberts because this is for the O'Connor seat and that's the swing vote on the court.''
Roberts spent part of his day meeting with individual Democrats who will cast votes next week on the Senate floor.
Sen. Robert C. Byrd said after their meeting he will vote for confirmation. ``I have faith in him - party doesn't make any difference to me,'' said the West Virginian, who earlier in his career served as Senate Democratic leader longer than anyone in history.
Partisanship flared only briefly in the committee, when Sen. Charles Grassley said he thought Democrats ``seemed to have more loyalty to their ideological and single-interest groups than we do to ours. ... We did not respond to our single-interest groups'' in supporting Justice Ruth Bader Ginsburg, he said, referring to a nominee whose support for abortion rights was well known.
Moments later, Leahy said Republicans were lining up for ``a lockstep vote'' for Roberts.
Sen. Russell Feingold of Wisconsin, a possible Democratic presidential contender in 2008, joined Leahy and Kohl in supporting Roberts.
Democrats opposed were Kennedy and Schumer as well as Dianne Feinstein of California; Richard Durbin of Illinois, the second-ranking Democrat in the Senate, and Joseph Biden of Delaware, also a potential White House contender.
How Some Senators Plan to Vote on Roberts
Friday September 23, 2005 12:16 AM
By The Associated Press
All 55 Senate Republicans are expected to vote for John Roberts' confirmation as Supreme Court chief justice next week. The 44 Democrats are less unified.
Democrats who have announced their support for Roberts (8):
Bill Nelson of Florida, Ben Nelson of Nebraska, Mark Pryor of Arkansas, Tim Johnson of South Dakota, Max Baucus of Montana, Robert Byrd of West Virginia, Jeff Bingaman of New Mexico, Kent Conrad of North Dakota.
Democrats who voted for Roberts on the Judiciary Committee (3):
Patrick Leahy of Vermont, Russ Feingold of Wisconsin, Herb Kohl of Wisconsin.
Democrats who have announced their opposition (6):
Harry Reid of Nevada, Barbara Boxer of California, John Kerry of Massachusetts, Jon Corzine of New Jersey, Frank Lautenberg of New Jersey, Barack Obama of Illinois, Hillary Rodham Clinton of New York.
Democrats who voted against Roberts on the Judiciary Committee (5):
Edward Kennedy of Massachusetts, Joseph Biden of Delaware, Dianne Feinstein of California, Charles Schumer of New York, Dick Durbin of Illinois.
▲
by

alfayoko2005

| 2005-09-22 19:01
AMNESTY INTERNATIONAL
PRESS RELEASE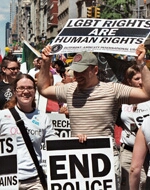 AI Index: AMR 51/150/2005 (Public)
News Service No: 252
22 September 2005
Embargo Date: 22 September 200504:00GMT
USA: Police mistreatment and abuse widespread in lesbian, gay,
bisexual and transgender communities nationwide
New Amnesty International Study Finds LGBT People of Color and Youth
Most Likely to Suffer; Calls on Police to Improve Training and Accountability
"The police are not here to serve; they are here to get served…every night I'm taken into an alley and given the choice between having sex or going to jail."
-- Amnesty International interview with a Native American transgender woman, Los Angeles
(New York) - In the most comprehensive report of its kind to date, Amnesty International (AI) reveals that police mistreatment and abuse of lesbian, gay, bisexual and transgender (LGBT) people are widespread nationwide and go largely unchecked due to underreporting and unclear, under-enforced or non-existent policies and procedures.
"Across the country, lesbian, gay, bisexual and transgender people endure the injustices of discrimination, entrapment and verbal abuse as well as brutal beatings and sexual assault at the hands of those responsible for protecting them - the police," said Dr. William F. Schulz, Executive Director of Amnesty International USA (AIUSA). "Some, including transgender individuals, people of color and the young suffer disproportionately, especially when poverty leaves them vulnerable to homelessness and exploitation and less likely to draw public outcry or official scrutiny. It is a sorry state of affairs when the police misuse their power to inflict suffering rather than prevent it."
In its 150-plus page report,
Stonewalled: police abuse and misconduct against lesbian, gay, bisexual and transgender people in the United States
, AI focuses on four cities - Chicago, Los Angeles, New York and San Antonio - surveys the 50 largest police departments in the country, as well as Washington, D.C., about LGBT policies and practices, and includes information from several hundred interviews and testimonies. AI's findings strongly indicate that there is a heightened pattern of misconduct and abuse of transgender individuals and all LGBT people of color, young people, immigrants, the homeless and sex workers by police. At times, the mere perception that someone is gay or lesbian provokes physical or verbal attacks.
The mistreatment and abuse documented in the report includes targeted and discriminatory enforcement of statutes against LGBT people, including so-called "quality of life" and morals regulations; profiling, particularly of transgender women as sex workers; verbal abuse; inappropriate pat-down and strip searches; failure to protect LGBT people in holding cells; inappropriate response or failure to respond to hate crimes or domestic abuse calls; sexual harassment and abuse, including rape; and physical abuse that at times amounts to torture and ill-treatment. Several examples include:
- Young gay men and advocates in Chicago told AIUSA of a police officer who, according to one man, will "remove his badge, gun and belt and then beat you unless you give him a blowjob, after which he'll just leave you there."

- Police officers accused a Latina transgender woman in San Antonio of stealing. One officer reportedly said, "People like you make the world a bad place." Three police officers and two detectives allegedly surrounded her while one officer searched her, exposing her pubic hair, buttocks and one of her breasts. She said, "I didn't ask to be searched by a female officer. I've tried that before - they don't care, to them we're all men." She was not charged with any crime. Officers refused to give her their badge numbers. She said, "I know to be respectful to police officers but I'm tired of the way they are treating us."

- Police officers allegedly beat, hog-tied and dragged Kelly McAllister, a white transgender woman, across hot pavement upon her arrest in Sacramento, CA. She was placed in a Sacramento County Main Jail cell with a male inmate who struck, choked, bit and raped her. That inmate received a mere three-month sentence. No officer has been disciplined for the incidents surrounding Kelly's incarceration.

- Two lesbians of color reported that two men in Brooklyn, NY, followed, harassed and threatened them, saying, "I'm going to kill you, bitch. You're not a man….I'm gonna put you in your place." The verbal abuse escalated to physical abuse; the two women called 911. When police were told this was a homophobic crime, the officers reportedly left without further investigating the incident or taking a complaint, telling the ambulance attendants responding to the women's call to leave. One woman reportedly was bleeding from the head due to a blow from one of the men. Her companion stated, "It was ridiculous. There she was running down the street bleeding and chasing after the ambulance."

- A Native American transgender woman reported that two Los Angeles police officers handcuffed her and took her to an alleyway. One officer reportedly hit her across the face, saying "you f---ing whore, you f---ing faggot," then threw her down on the back of the patrol car, ripped off her miniskirt and her underwear and raped her, holding her down and grabbing her hair. The second officer is also alleged to have raped her. According to the woman, they threw her on the ground and said, "That's what you deserve," and left her there.
While it is impossible to obtain accurate statistics, the AI study showed that transgender people, particularly women and the young, suffer disproportionately. A large percentage of transgender people reportedly are unemployed or underemployed, leaving the population more vulnerable to homelessness or situations that leave them exposed to police scrutiny and abuse. Meanwhile, 72 percent of police departments responding to AI's survey said they had no specific policy regarding interaction with transgender people.
AI welcomed the initiative taken by several police departments to improve their practices. The West Hollywood Station of the Los Angeles Sheriff's Department has a Gay and Lesbian Conference Committee that is open to the public and allows police to stay in touch with community concerns. The City of West Hollywood also established a Transgender Task Force that addresses policing issues. In Washington, D.C., the Gay and Lesbian Liaison Unit (GLLU) is staffed by four full-time officers and ten volunteers, and the head of the unit, Sgt. Brett Parson, reports directly to the police chief. GLLU is also involved with training efforts within the police department.
However, the AI report demonstrates that despite initiatives such as these, police departments nationwide need to do more to protect LGBT people - something that was reflected in responses to the AI survey of police policies and practices with regard to LGBT people. Of the 29 departments that responded to the survey, only 31 percent instruct their officers on how to strip search a transgender individual; two thirds (66%) of police departments reported providing training on hate crimes against LGBT individuals; and while most departments provide training regarding sexual assault (86%), about half (52%) do not include LGBT-specific issues.
"Police officers are hired to protect and serve all of their communities, not only the ones they deem worthy," said Michael Heflin, Director of Amnesty International USA's OUTfront program, which focuses on LGBT human rights. "Every human being, without exception, has the right to live free from discrimination and abuse, yet LGBT people nationwide are afraid to report hate crimes or other abuses to the police, who at times prove themselves to be the criminals. If we can't count on law enforcement to set an example, hate crimes and discrimination will continue to flourish in a land that otherwise has made relative headway in the fight for LGBT rights."
Under international law, everyone, regardless of sexual orientation or gender identity or expression, is guaranteed the fullest enjoyment of his or her civil, political, economic, social and cultural rights. The United States is party to the International Covenant on Civil and Political Rights, the principal international treaty that lays out fundamental rights such as freedom from arbitrary arrest and detention and torture, cruel, inhuman or degrading treatment, as well as the Convention Against Torture and the Convention on the Elimination of All Forms of Racial Discrimination.
For further information, please contact: Wende Gozan at +1 212 633 4247
or Ben Somberg at +1 212 633 4268
Public Document
****************************************
For more information please call Amnesty International's press office in London, UK, on +44 20 7413 5566
Amnesty International, 1 Easton St., London WC1X 0DW. web:
http://www.amnesty.org
For latest human rights news view
http://news.amnesty.org
▲
by

alfayoko2005

| 2005-09-22 17:28 | トランス
September 22, 2005
New Vatican Rule Said to Bar Gays as New Priests
By IAN FISHER and LAURIE GOODSTEIN
New York Times
ROME, Sept. 21 - Homosexuals, even those who are celibate, will be barred from becoming Roman Catholic priests, a church official said Wednesday, under stricter rules soon to be released on one of the most sensitive issues facing the church.
The official, said the question was not "if it will be published, but when," referring to the new ruling about homosexuality in Catholic seminaries, a topic that has stirred much recent rumor and worry in the church. The official, who has authoritative knowledge of the new rules, spoke on the condition of anonymity because of the church's policy of not commenting on unpublished reports.
He said that while Pope Benedict XVI had not yet signed the document, it would probably be released in the next six weeks.
In addition to the new document, which will apply to the church worldwide, Vatican investigators have been instructed to visit each of the 229 seminaries in the United States.
Although work on the document began years ago under Pope John Paul II, who died in April, its release will be a defining act in the young papacy of Benedict, a conservative who said last spring that there was a need to "purify" the church after the deeply damaging sex scandals of the last several years.
The church official said the ban would pertain only to candidates for the priesthood, not to those already ordained. He also said the document did not represent any theological shift for the church, whose catechism considers homosexuality "objectively disordered."
Although the document has not been released, hints of what it will say are already drawing praise from some Catholics, who contend that such a move is necessary to restore the church's credibility and who note that church teaching bars homosexuals, active or not, from the priesthood.
Other Catholics say, though, that the test should be celibacy, not innate sexuality, and they predict resignations from the priesthood that can worsen the church's deep shortage of clergy.
"I'm hearing that some men will choose to leave, because if they don't, it would be like living a lie," said the Rev. Robert Silva, president of the American National Federation of Priests' Councils, who opposes a ban because it would be "extremely hurtful" to chaste gay priests who are serving the church.
But the church official who discussed the expected new rules said the document called for barring even celibate men who considered themselves homosexual because of what he contended were the specific temptations of seminaries.
"The difference is in the special atmosphere of the seminary," he said. "In the seminary, you are surrounded by males, not females."
The issue of homosexuality in the priesthood and seminaries has long been a difficult one, which the Vatican appears to be addressing, particularly in the United States, on two apparently connected fronts.
The visits to the American seminaries cover a wide range of concerns, but among those the investigators will be looking for is "evidence of homosexuality" and whether seminarians are being properly prepared to live celibately. Both the document and the investigation come under the authority of the Vatican Congregation for Catholic Education.
Taken together, the document and visits seem aimed at imposing a stricter standard on both the atmosphere at seminaries and on whom they accept as candidates for the priesthood. Archbishop J. Michael Miller, the congregation's secretary, noted at a meeting in Baltimore last week with more than 100 bishops, priests and lay people that the new rules would come as no surprise because there was an existing Vatican document barring homosexuals from the priesthood, according to two church officials who spoke on the condition of anonymity because they felt there might be repercussions if they spoke for attribution.
Archbishop Miller appeared to be referring to a 1961 document that recommended against ordaining anyone who has "perverse inclinations to homosexuality or pederasty."
But that document has been overlooked by seminaries in the United States for many years. Although practices vary, most American seminaries in recent years have not uniformly rejected candidates with a homosexual orientation, seminary officials say.
Instead, they try to ascertain case by case whether the candidate is capable of living in a chaste and celibate manner, often rejecting candidates who have been sexually active in the years before deciding to join the priesthood.
Many gay men have entered the priesthood, though, and they are increasingly open with their colleagues, their bishops and in some cases, even with their parishioners, about their sexual orientation. The Rev. Donald Cozzens, a former American seminary rector, contended five years ago in his book "The Changing Face of the Priesthood" that "the priesthood is or is becoming a gay profession."
James Hitchcock, a conservative Catholic and a professor of history at St. Louis University, said some seminaries had reached the point of being "openly welcoming of homosexuals" and "don't even regard chastity necessary. "
"In that environment - and then you add to that the pedophilia scandals - probably the Vatican thinks that strong medicine is necessary for a serious disorder," said Mr. Hitchcock, who said he would nonetheless favor a system that allows for rare cases to be decided individually.
In fact, the degree to which the new rules would allow some slack appears to be a major question. It seems clear that the rules will be far more restrictive than current practice.
In what many church experts saw as a hint of the new rules, the archbishop leading the seminary visits was quoted last week by The National Catholic Register as saying even homosexuals not sexually active for a decade or more should not be accepted into seminaries.
But the church official said the rules were not absolute. The very definition of homosexuality, he said, is not fixed. And there may be rare cases in which a prospective seminarian who is confused about his sexuality might be accepted if the church decided he would still make a suitable, celibate priest.
"There is room for this," he said.
Still, Father Silva of the Federation of Priests' Councils and three other church officials, who spoke on condition of anonymity because they feared they would lose their jobs if they revealed dissension within church ranks, said several influential American church leaders had tried to persuade Vatican officials not to release a document about gay seminarians because it would create more problems in the priesthood than it would solve.
"People would do what they used to do, which is not be honest," said a gay American priest and professor at a Catholic college who did not want to be identified because he fears he could lose his church position if his sexual orientation was known.
"The irony is, if you look at the exact ages and seminary graduating classes of those priests who were convicted of sexual abuse in the past few years, they were not on the whole people who entered seminaries in the 1980's, when there began to be more openness about homosexuality," he said. "These were people from the old closeted days.
"So what the church is doing is repeating, in a weird way, the conditions they had before that gave rise to the abuse crisis."
But any move to ban or limit gay men from serving as priests would probably be popular among conservative Catholics, some of whom contend that heterosexuals hesitate to enter the priesthood because they have heard it is predominantly gay.
Mike Sullivan, of Catholics United for the Faith, a conservative advocacy group, said his group would favor a ban because putting a homosexual in an all-male seminary environment subjects that person to too much temptation, and increases his likelihood for failure.
"It's not appropriate to put an alcoholic in a bar either," he said.
On the general issue of homosexuality, official Catholic teaching, as explained in the catechism, says that while some people appear to have a predilection toward same-sex attraction, homosexual acts are impermissible and that homosexuals should remain chaste. But the church has also counseled understanding, and in 1986, the Congregation for the Doctrine of the Faith, headed then by Cardinal Joseph Ratzinger, now Pope Benedict XVI, denounced the "unfounded and demeaning assumption" that homosexuals could not control their sexual behavior.
The church official said, however, that the church was entitled to make its own decisions, based on theology, about who is allowed to be a priest, comparing the issue to that of women, who are barred from the priesthood as well.
"Being a priest is not a right," he said. "The Catholic Church never ordains anyone on the conception of human rights."
Ian Fisher reported from Rome for this article, and Laurie Goodstein from New York.
米大統領による次の最高裁判事候補指名、上院議員が警告
2005年 09月 22日 木曜日 11:29 JST
 [ワシントン 21日 
ロイター
] 米上院の指導部はブッシュ大統領に対し、大統領が次に指名する連邦最高裁判事候補の承認は、最高裁長官の後任に指名されているジョン・ロバーツ判事の時より困難になるだろうと警告している。
 上院司法委員会のアーレン・スペクター委員長(共和党、ペンシルベニア州選出)はホワイトハウスでの会合の後で、2人目の最高裁判事候補を指名するのは、ロバーツ判事が最高裁長官としてどのように責務を果たすかを見るまで待つべきだと大統領に勧告した、と述べた。
 同委員長は、大統領は引退予定のサンドラ・オコナー判事に対し、10―6月の間は留任するよう要請すべきだと主張。同委員長はオコナー判事にすでに話をしており、要請があれば留任すると同意したという。
 ホワイトハウスのマクラレン報道官は、大統領はそうした提案を拒否するだろうと述べた上で、オコナー判事はすでに引退を表明しており、大統領はその後任を近々指名する予定だと語った。
 ロバーツ判事は、9月3日に死去したレンキスト最高裁長官の後任に指名されている。司法委員会の重鎮パトリック・リーヒー上院議員(民主党、バーモント州選出)が同判事の承認支持を打ち出したことから、29日の上院で容易に承認される見通しとなっている。
▲
by

alfayoko2005

| 2005-09-22 13:51
Last Updated: Thursday, 22 September 2005, 03:35 GMT 04:35 UK
European press review - BBC
The future of EU following comments by Commission President Jose Manuel Barroso on the constitution attracts attention in Thursday's papers; speculation continues over Germany's electoral stalemate and Spanish papers question opposition to the country's new gay marriage law.
(snip)
Spain's gay marriages
Spanish papers examine the decision by Spain's opposition right-wing Popular Party (PP) to file a constitutional challenge against the recently passed gay marriage law.
Barcelona's
El Periodico
highlights the disagreements within the party over the decision, noting that a number of prominent party members oppose the move.
"The PP cannot disguise that this has created a split", the paper says.
Madrid's
El Pais
says the leadership of the Popular Party "insists that it is not questioning the rights of homosexuals but rather a law that is contrary to the constitution".
But the paper thinks it is "curious, as well as contradictory" for the party to say it is defending their rights by appealing against the law.
The party "will have to clarify whether it is just against the name - that gay weddings be called marriages - or whether it in fact opposes the full legal comparison of same sex couples with heterosexual ones".
The European press review is compiled by BBC Monitoring from internet editions of the main European newspapers and some early printed editions.
Men in Land of Samurai Find Their Feminine Side
Marketing Fosters Shift in Gender Roles
By Anthony Faiola
Washington Post Foreign Service
Thursday, September 22, 2005; A01
TAKAMATSU, Japan -- A rose by any other name is still a rose, but in the hands of Shogo Kariyazaki -- the celebrity florist who has bloomed into one of Japan's richest men -- a rose is as good as gold.
One part Liberace, one part Martha Stewart, Japan's gender-blending home guru was greeted this week by a standing-room-only crowd in this sleepy western town. With glossy lips, flowing bleached-blond hair and a black silk shirt embroidered with birds of paradise in flight, the slight 46-year-old exclaimed, "Beauty is the essential thing in life!" He then tossed yellow roses and pansies into a vase as his audience offered enthusiastic "oohs" and "aahs."
An estimated 20,000 locals -- one in every 15 residents of Takamatsu -- paid $5 each to view his "fantasy forest exhibition" of neon trees and heart-shaped anthuriums at the city's largest department store. Kariyazaki is so popular through his TV appearances, live shows and corporate sponsorships that he ranked as one of the country's biggest individual taxpayers last year, earning 10 times more than the average salary of Toyota's top executives, according to Japan's National Tax Agency.
Kariyazaki's fame mirrors rapidly changing norms in the land of the samurai. Gender roles have been undergoing a redefinition in recent years as women enter the workforce as never before and men embrace less confining views of masculinity.
Those views have become a topic of TV talk shows, magazine articles, academic research, films and, perhaps most notably, public acceptance. When Prime Minister Junichiro Koizumi, a divorced father of three, requested a dance with Richard Gere during a meeting this year, no one blinked an eye -- even when Koizumi had Gere lead their waltz.
"There's no question that men are changing the way they think of themselves in Japan. Even salarymen are interested in beauty and looking their best -- either for their girlfriends or just for themselves," said Kariyazaki, referring to the country's male office workers. "It doesn't matter if they are straight or gay. We are simply not afraid to show our feminine sides anymore."
Openly gay entertainers such as Kariyazaki have achieved mainstream success even as heterosexual actors have sought to cultivate an image of gentle manhood.
The shift is in part a product of changing fashion. The market for male esthetics has grown fourfold in the past seven years to $400 million annually, including day spas for slimming treatments, facials, manicures and eyebrow plucking. The largest such chain -- Dandy House -- has doubled in size since 2000, with 60 locations across the country.
Skin treatments have become particularly popular for bridegrooms, while many men are opting for costly electrolysis procedures for permanent removal of facial hair.
"Japan has never really stressed the concept of being macho in a Western sense, but what we find now is that men are actively seeking the soft and smooth look that is considered so attractive now," said Marco Shimomura, vice president of Dandy House. "They aren't scared of getting their hairs plucked. And believe me, it hurts."
On busy Tokyo subways these days, it is not unusual to see men fishing for packs of Virginia Slims cigarettes in European-style male purses. They have many models to choose from at Isetan Men's -- the successful 10-story department store in chic west Tokyo that opened two years ago and is now the cathedral of masculine vanity.
The store sells more than 100 types of male purses, including jade-colored alligator clutches and rhinestone-encrusted knapsacks along with hats with peacock feathers, pink leather card holders and thousands of pieces of exotic designer clothes. Sales have outpaced Isetan's other major Tokyo department stores, where the emphasis is on women's apparel, according to company officials.
Japanese marketers say they have learned one thing: Soft men sell. In a new commercial here for male skin care, Shido Nakamura, a 33-year-old married actor and father-to-be, grasps a white calla lily as the scene fades to him glancing at himself coyly in a bathroom mirror, gently applying skin lotion under soft lighting. The best-selling boy band SMAP, whose members sometimes don women's clothes for TV shows, stars in a cooking program where the members invite famous guests like Koizumi and Shinzo Abe, the nationalistic acting secretary general of the Liberal Democratic Party, to taste their home-cooked delicacies. The group now has its own best-selling recipe book.
"Waterboys" -- a film about a real-life high school in the Tokyo suburbs where male athletes formed the nation's first men's synchronized swimming team -- became a smash hit in 2001. Since then, male synchronized swimming has become a national sporting event in Japan, with scores of high school boys across the country now going toe-to-toe in an annual competition.
A poll by Shiseido, the Tokyo-based cosmetics giant, found that more than half of Japanese men in their twenties and thirties said it was important to be "gentle" while only a third said the same of being "intelligent." Perhaps most inexplicably, male thugs in the yakuza -- or Japanese mafia -- are now known to wear pink women's sandals and floral-patterned shirts while prowling the streets late at night.
Nagami Kishi, 60, head of the Research Institute for People and Corporations, who has lectured on the feminization of Japanese men, insists the movement is tied to a generation of absent fathers who "abandoned" their sons in a woman's world of mothers, sisters and aunts to spend all their time at work during Japan's post-World War II economic miracle. "When I was young, we were trained not to cry, but nowadays, men in their twenties freely express their emotions and cry even in front of women," Kishi said. "Young Japanese men are gentle, shy and sensitive; they've turned into a bunch of . . . mama's boys."
Yet Japanese men are softening at least in part, analysts say, because that's what Japanese women want. With record numbers of women here financially independent for the first time, the dating game has become a buyer's market for single women -- who, polls show, prefer men who are gentle and squeaky clean.
Kariyazaki, the celebrity florist, credits the changing definitions of masculinity for national acceptance of him and a number of other openly gay performers. Unlike in the United States, where gay entertainers still have problems receiving endorsements from large companies, Kariyazaki is a spokesman for some of Japan's platinum brand names, including All Nippon Airways and Mitsukoshi department stores.
"We have become more sophisticated about how we define masculinity," Kariyazaki said.
Preparations for his exhibition in this seaside city were a snapshot of Japan's changing gender roles. Kariyazaki directed a staff of mostly women as they lugged around heavy materials at the local Mitsukoshi, including massive pieces of wood. Famously temperamental when he works, Kariyazaki barked orders like a drill sergeant. One of his exhibits was a re-creation of his living room, including gilded rococo-edged sofas and floral Queen Anne chairs.
His demeanor changed when he greeted his adoring admirers. He lavished good wishes on fans who ranged from kindergartners to grandmas. They were equally effusive about him.
"Mr. Kariyazaki is amazing. You can see the power of masculinity in his work, but also the delicacy of his feminine side," said Yoshifumi Sasaki, 53, a construction company owner with a salt-and-pepper bouffant and a clutch handbag who attended the exhibition with his 47-year-old wife. "I think it's wonderful. The best of both worlds."
少女巻き込む性犯罪/モラル低下も拍車 (朝日・宮城版 2005/09/21)
 18歳未満の少女を巻き込んだ児童買春や淫行(いん・こう)などの性犯罪が一向に減らない。大人はもちろん「被害者」である若者のモラル低下もその傾向に拍車をかける。最近は携帯電話の出会い系サイトに代わり、友達の紹介から道を誤るケースが増えているのが特徴という。警察や児童相談所などは「凶悪な犯罪に巻き込まれる危険もある」と警戒を強めている。(金子智彦)
 ■きっかけは友達
 県警の今年8月までのまとめでは、児童買春や県青少年保護条例(4月から青少年健全育成条例)違反容疑などで摘発された加害者は66人で前年同期比で5人増えた。
 携帯の出会い系サイトがきっかけのケースは昨年から3割ほど減少したが、今は友達から直接勧誘を受ける「紹介型」が急増しているのが目立つという。
 ■「いいお金」入るバイト
 県北にある署の相談室。少女と向かい合った捜査員は「まさか」という感覚にとらわれがくぜんとしたという。目の前に座る一見「普通」の少女が無店舗型風俗店(通称デリヘル)で働いていた。
 彼女たちは気の合う友達から「お金が入るいいバイト」という口コミに軽々と応じていた。時には車で1時間ほどかかる場所まで出張することもあったという。
 ■家族の愛情求めて「交際」
 ただ、少女たちが見知らぬ大人に身を委ねる理由を、金欲しさという単純な動機だけで割り切ることは出来ない。親とのコミュニケーション不足など少女を取り巻く社会環境が原因と指摘する声もある。
 京都大大学院の木原雅子助教授(社会疫学)はこれまでに13万人を超える中高生に性意識調査などを実施した。その中にはお金ではなく、家族の愛情を求めたり、相談相手を得たりするために援助交際に走った例もあったという。
 木原助教授は「現実の人間関係が希薄化する一方で、マンガやテレビから非現実の性情報を刷り込まれ、子どもは性関係をせかされている」と指摘、「子どもを取り巻く大人が、人と人とのつながりでしか得られない温かみを伝える重要性を再認識すべきだ」と話す。
 ■「気づき」促す姿勢大切
 仙台市児童相談所では「性の逸脱行為」をした少女らと面談などを繰り返して自立を促す活動を行っている。
 面談に臨む少女の態度は一様に「うざい(うっとうしい)」「みんなやってる」。年々、規範意識の低下が顕著という。そんな意識を変えるには、やはり親のサポートが必要不可欠。高橋達男主幹は「命令口調で諭すと少女は逆に反発する。共に歩みながら『気づき』を促す姿勢が大切だ」という。
 夏休み期間中、繁華街では未明まで遊びに興じる若者の姿が目立った。県警少年課の飯塚公良夫課長は「エイズや性病にかかる危険性が高まり、凶悪犯罪に巻き込まれる恐れもある。十分注意してほしい」と警鐘を鳴らす。
 各地区の児童相談所では、思春期の子どもの悩みを受け付ける電話窓口が設置されている。仙台市児童相談所の相談専用電話番号は(022・718・2580)。
Posted on Wed, Sep. 21, 2005
Group flips on whether religion lets doctors refuse to inseminate lesbians
Associated Press
SAN FRANCISCO - The California Medical Association, which came under fire from gay rights groups after it filed legal papers backing two San Diego doctors who refused to provide artificial insemination to a lesbian, has withdrawn the controversial brief.
CMA chief executive Jack Lewin said that while the professional group still thinks the doctors should be allowed to argue in court that they refused to treat Guadalupe Benitez on religious grounds, the brief was retracted because of a recent California Supreme Court ruling holding that businesses must treat same-sex couples the same as married couples under the state's domestic partnership law.
"CMA continues to believe that the defendant physicians deserve a right to due process and a jury trial," Lewin said in a statement released Tuesday. "However, it is clear that CMA's policy commitment to oppose any form of invidious discrimination had been so significantly confused and misrepresented, that it was in the best interest of CMA to withdraw the brief."
Benitez sued the North Coast Women's Care Medical Group for discrimination after alleging doctors Christine Brody and Douglas Fenton refused to inseminate her because of her sexual orientation. She turned to another doctor outside her health plan and eventually gave birth to a son.
The clinic's doctors have argued that they should not have to treat women like Benitez because inseminating an unmarried woman contradicts their religious convictions.
Oral arguments are scheduled before the state's Fourth District Court of Appeal in San Diego on Oct. 11. The California Medical Associated wants to file a new brief arguing that neither Guadalupe Benitez's sexual orientation nor her marital status was medically relevant to whether her doctors were obliged to treat her.
Gay rights groups that had criticized the CMA's earlier contention that doctors have the right to cite religious grounds in denying certain medical care to gays and lesbians, if that refusal was based on the patient's marital status, applauded the association's move.
"The CMA is affirming principles of nondiscrimination in health care that they have stood for a long time," said Joel Ginsberg, executive director of the Gay and Lesbian Medical Association in San Francisco. "We are pleased to see them clarify their position and come out strongly against discrimination based on one's sexual orientation, gender identity or marital status."
The CMA's new brief states that legal and ethical standards prohibit physicians from discriminating, but says they can refuse to perform certain procedures on religious grounds, if they refuse such treatment for all patients.
Information from: San Francisco Chronicle, http://www.sfgate.com/chronicle
California Medical Association pulls legal brief supporting gay bias - SF Chronicle