カテゴリ
以前の記事
検索
最新のトラックバック
その他のジャンル
ファン
記事ランキング
ブログジャンル
画像一覧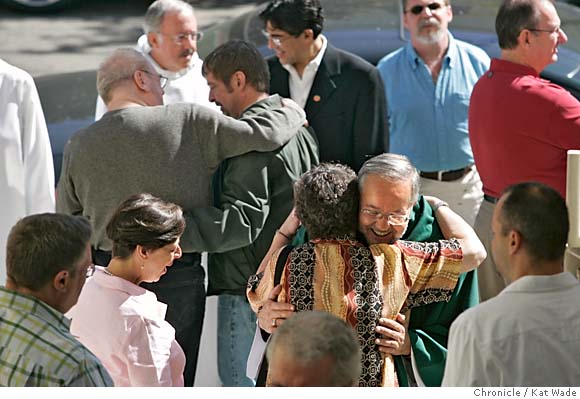 The Rev. Stephen Meriwether greets parishioners after Sunday Mass at Most Holy Redeemer Church. Chronicle photo by Kat Wade
Holding a rosary, Mark Andrew prays at Most Holy Redeemer in San Francisco. Chronicle photo by Kat Wade
BAY AREA
Gay Catholics keeping faith despite Vatican
- Wyatt Buchanan, SF Chronicle Staff Writer
Tuesday, September 27, 2005
As the Roman Catholic Church investigates homosexuality among seminary students -- and believers await the Vatican's expected ban on gay priests -- lesbian and gay Catholics are maintaining their faith by focusing on the day-to-day experiences in their parishes.
The church as an institution is separate, they say.
Locally, Most Holy Redeemer Church, a half block from 18th Street, a main artery of the predominantly gay Castro neighborhood, affirms gay congregants. Sunday morning, church leaders greeted almost 400 worshipers -- mainly middle-aged and older men -- with hugs at the door.
During Mass at the bright and well-kept church, the Rev. Stephen Meriwether told parishioners that downtrodden and misunderstood members of the community have long been scorned by the "movers and shakers" in religious leadership, though he never specifically mentioned the Catholic Church, its leaders or recent events.
"The will of the Father is to heal rather to inflict wounds," Meriwether told the church.
Parishioner Bob Barcewski said he often feels that priests at the parish speak in "code words," allowing them to address salient issues without stepping across lines of church teaching.
Most Holy Redeemer's priests baptize children of same-sex couples, and a large contingent of parishioners marches every year in San Francisco's gay pride parade. This year, they waved gay pride and Vatican flags together.
William Levada -- former archbishop of San Francisco and now, as prefect of the Congregation of the Doctrine of the Faith, the Vatican official who oversees implementation of church teachings -- once told parishioners that he enjoyed visiting Most Holy Redeemer because it was among the most welcoming in the diocese.
Across the country, in places such as Springfield, Mo., and Memphis, dioceses and parishes are reaching out to the gay, lesbian, transgender and bisexual community by starting ministries that cater to gays and lesbians and do not aim to change anyone's sexual orientation.
"The goal is to help people who are gay and lesbian to realize they are welcome in our church," said the Rev. John Geaney, spokesman for the Diocese of Memphis. There, the bishop oversaw the founding of a monthly meeting for gays, lesbians and their families.
"The bishop's concern is that people be treated as human beings," Geaney said.
The Vatican-ordered inspection of seminaries began Monday in St. Louis. St. Patrick's Seminary in Menlo Park, the only Northern California seminary and one of two training grounds in California for Catholic priests, will be visited by an inspection team Oct. 16-21.
Meanwhile, the Catholic World News reported that Pope Benedict XVI has approved an edict that states in part that "homosexuals should not be admitted to seminaries even if they are celibate because their condition suggests a serious personality disorder which detracts from their ability to serve as ministers."
Abuse victims' groups, other reform groups in the church and gay leaders criticize the seminary visits and the expected ban of gay priests as Vatican attempts at image management that are way off the mark. They also say the Vatican is trying to link gay priests with the sex abuse scandal that has plagued the American Catholic church for a decade.
"It's simplistic blame-shifting," said David Clohessy, executive director of the Survivors Network of those Abused by Priests, or SNAP. "What has scandalized millions of Catholics and hurt tens of thousands of kids was the repeated transferring and covering up of molesters by the hierarchy -- that's the crux of the issue."
About half the abuse survivors in SNAP are men and half women.
The church does not categorically reject gays and lesbians, nor does it condemn their sexual orientation.
The United States Conference of Catholic Bishops set out a guideline on homosexuality in a 1997 document titled "Always Our Children." First, according to the document, God's plan limits sexual intercourse to marriages between a man and a woman, and requires all intercourse be open to the creation of human life.
"Homosexual intercourse cannot fulfill these two conditions," the document states. "Therefore, the Church teaches that homogenital behavior is objectively immoral, while making the important distinction between this behavior and a homosexual orientation, which is not immoral in itself."
That distinction leaves room for parishes like Most Holy Redeemer to flourish, though many parishioners reject the notion that they are sinning by having sex.
"I do know that I belong to a church that essentially hates me, but I go to Most Holy Redeemer because I'm loved there and I give love back," said parishioner Barcewski, 59, who is gay and has belonged to the parish for 15 years.
Barcewski attended seminary for two years in the 1960s, in large part because it relieved social pressure to be attracted to women, he said.
Patrick Mulcahey, a parishioner for 11 years who oversees the church's Wednesday night meals for the homeless and a program for returning Catholics, said he dissents from the celibacy edict for gays.
"Let Rome say what it wants. What happens to me on Wednesday nights with all the volunteers and the 120 men and women who are not welcome anywhere in the world -- to be with them, nothing replaces that for me," said Mulcahey, 52.
Conservative Catholics such as Dale Vree, who edits the Berkeley-based New Oxford Review, say that stance is dangerous.
"You can have a homosexual inclination," Vree said. "That's not a sin. But if you're doing homosexual acts, that's a sin, and it's a mortal sin and it could send you to hell.
"They don't want to talk about that," Vree said of gay Catholics and their supporters. "What they want is for the spirit of the times, the worldly spirit, to invade the church, and that's not going to happen."
Gay-affirming parishes do not exist only in San Francisco, however. The Berkeley-based National Association of Catholic Diocesan Lesbian and Gay Ministries has advised dozens of congregations on starting ministries for gays, lesbians and their families.
"This is not only happening in the urban centers on the coasts, but also in middle America because dioceses are paying attention to the needs of gay and lesbian Catholics, and gay and lesbian Catholics and their families are becoming more vocal about their needs," said the Rev. Jim Schexnayder, who helped found the association in 1994.
The group's annual conference this weekend in San Jose attracted members of 50 parishes across the country. Schexnayder visited Springfield, Mo., early this month to speak to priests there on ministering to gays, lesbians and their families.
"The bishop thought it was something they needed to know. There was a big turnout, so obviously it was something the men wanted to hear," the Rev. John Gagnepain, who organized the event as part of the diocese's bimonthly "day of reflection," said by phone Monday from Missouri.
Gays, lesbians and their supporters see progress, but they know the church could force a more conservative atmosphere in parishes like Most Holy Redeemer.
"I'm someone who believes you have to live how you believe, and by doing that people will change," said Nanette Miller, 56, a lesbian appointed to the board of Catholic Charities CYO by then-Archbishop Levada. Miller has belonged to Most Holy Redeemer for 13 years, after a 20-year hiatus from the church.
"I met a group of loving and caring people during the height of the AIDS epidemic," she said. "I saw the sincerity of the people there, the compassion and the ability to be Catholic and gay. It was sort of like going home."
Staff writer Delfin Vigil contributed to this story. E-mail Wyatt Buchanan at wbuchanan@sfchronicle.com.
Page B - 1
URL:
http://sfgate.com/cgi-bin/article.cgi?file=/c/a/2005/09/27/BAG4OEU9HU1.DTL
At the Vatican, Exceptions Make the Rule By JOHN L. ALLEN Jr.
The New York Times
Op-Ed Contributor
At the Vatican, Exceptions Make the Rule
By JOHN L. ALLEN Jr.
Published: September 27, 2005
Rome
THE forthcoming Vatican document on gays in seminaries will unleash a wrenching debate about Catholicism and homosexuality, but one thing it is certain not to mean is that in the future there will be no gays in the priesthood. The continued presence of gays in the priesthood will be the product not just of difficulties in enforcement, or the dishonesty of potential candidates, but also of design.
Although this is a difficult point for many Anglo-Saxons to grasp, when the Vatican makes statements like "no gays in the priesthood," it doesn't actually mean "no gays in the priesthood." It means, "As a general rule, this is not a good idea, but we all know there will be exceptions."
Understanding this distinction requires an appreciation of Italian concepts of law, which hold sway throughout the thought world of the Vatican. The law, according to such thinking, expresses an ideal. It describes a perfect state of affairs from which many people will inevitably fall short. This view is far removed from the typical Anglo-Saxon approach, which expects the law to dictate what people actually do.
While Italians grumble about lawlessness, fundamentally they believe in subjectivity. Anyone who's tried to negotiate the traffic in Italian cities will appreciate the point. No law, most Italians believe, can capture the infinite complexity of human situations, and it's more important for the law to describe a vision of the ideal community than for it to be rigidly obeyed. Italians have tough laws, but their enforcement is enormously forgiving. Not for nothing was their equivalent of the attorney general's office once known as the Ministry of Justice and Grace.
The British historian Christopher Dawson has described this as the "erotic" spirit of cultures shaped by Roman Catholicism. Catholic cultures are based on the passionate quest for spiritual perfection, Dawson writes, unlike the "bourgeois" culture of the United States, which, shaped by Protestantism and based on practical reason, gives priority to economic concerns. As one senior Vatican official put it to me some time ago, "Law describes the way things would work if men were angels."
This value system means that while Vatican officials often project a stern moral image on the public stage, in intimate settings they can be strikingly patient and understanding. Policymakers in the Vatican tend not to get as worked up as many Americans by the large numbers of Catholics in the developed world who flout church regulations on birth control, for example. It's not that Vatican officials don't believe in the regulations. Rather, they believe the very nature of an ideal is that many people will fail to realize it.
Of course, one can debate whether a ban on birth control, or on gays in seminaries, ought to be the ideal. The point is that although Vatican officials will never say so out loud, few actually expect those rules to be upheld in all cases.
Some in the Anglo-Saxon world see this as a form of hypocrisy: the church apparently issues laws while winking at disobedience. But Vatican officials view it instead as a realistic concession to fallen human nature.
On background, some such officials have said that the point of the forthcoming document is to challenge the conventional wisdom in the church, which holds that as long as a prospective priest is capable of celibacy, it doesn't matter whether he's gay or straight. Vatican policymakers and some American bishops believe that's naïve. In an all-male environment, they contend, a candidate whose sexual orientation is toward men faces greater temptations and hence a greater cause for concern.
That's a debatable proposition, but it does not add up to an absolute conviction that no gay man should ever be ordained a priest. Rather, it means that bishops should take a hard look at such candidates, but in the end, they'll still use their best judgment.
Those determined to apply this decree in uncompromising fashion will be able to do so. But while the Catholic priesthood of the future may include fewer homosexuals - and it will certainly have fewer gay seminarians and priests willing to speak openly about their situation - it will not be "gay free."
On the ground, as bishops and seminary teams make decisions, many will still draw on that classic bit of Italian clerical casuistry: "If the pope were here, he would understand."
John L. Allen Jr. is the Vatican correspondent for National Catholic Reporter.
Ban on Same-Sex Attraction and Sexual Activity Could Be a Crucial Issue for Catholics' Attitudes NYT
出産直前被告に手錠措置 法相が容認
(東京 2005/09/27夕刊)
 東京拘置所に収容されていた被告の女性が、出産直前まで手錠がかけられていたことについて、南野知恵子法相は二十七日の閣議後記者会見で、「逃亡防止のために、適正な措置を取ったものと承知している」と述べ、現場の措置に問題はなかったとの考えを示した。
 女性が医療上必要がないのに陣痛促進剤を使用されそうになったことについては、「いろいろな状況の中での医師の判断であり、いい悪いは言えない」と述べた。
大臣閣議後記者会見の概要 2005/09/27
【東京拘置所における被収容者への対応に関する質疑】
Q:ちょっと前の報道になるんですけれども,東京拘置所に収容中の被告の女性が,陣痛促進剤を使用されそうになったと,また,出産直前まで手錠を掛けられていたという報道があったんですけれども,大臣の見解と,医療のプロとしての御自身のお考えについて伺いたいのですが。
A:矯正施設の被収容者の方々が出産をされる場合には,子どもの出生場所が矯正施設の住所とならないように外部医療機関の協力を得て,当該医療機関で出産ができるように配慮しているところでございます。その場合における医療機関の措置の内容については,専門家である医師がその方のお産の状況というものを鑑みながらされることであろうと思っております。その方がどのようなお産の状況にあったのかというのは,私存じ上げておりませんので,陣痛促進剤を使った方がいいとか悪いということは申し上げることはできませんけれども,私の過去の経験からお話をするならば,ある状況下において,例えば,破水があってしかも陣痛が来てない状況では,胎児のリスクを念頭に,陣痛促進剤で陣痛を誘発しようということは,ドクターの適正な処置診断の下に行われ得ることだと思っております。
Q:あと,手錠使用については・・・。
A:これは裁判所が発しました勾留状により勾留中の刑事被告人であり,勾留場所である東京拘置所外に搬送されるような場合には,法令に従いまして,逃走防止等のため,必要な措置を講じなければならないと。東京拘置所におきましては,そのための適正な措置を執ったものと私は承知いたしております。
Is France too chauvinist for a female leader?
When Ségolène Royal cautiously admitted that she was thinking of running for the most senior office in France, she was greeted with a chorus of disapproval. The objection? She is a woman. John Lichfield reports on a culture of chauvinism that continues to blight top-level French politics
Published: 27 September 2005 - The Independent
If you were to put Jean-Marie Le Pen and Jacques Attali in a small room, they would quarrel about almost everything. The veteran far-right leader and the owlish former Mitterrand aide, now an all-purpose fixer and guru, come from opposite corners of the wrestling ring of French politics and life.
But the ultra-right nationalist and the socialist apparatchik do agree on one thing. Both say Ségolène Royal will be the first woman to become president of the French Republic.
They are not the only ones to make such a rash prediction. I attended a Socialist rally in Mme Royal's home region of Poitou-Charente a couple of years ago. The hall, in the small, working-class town of La Couronne, near Angoulème, throbbed with enthusiasm for "Ségo", the elegant, cool, beautiful daughter of a right-wing army officer. The man next to me, a 50-something local councillor, said: "I have known it for a long time. People in this region have known it for a long time. Ségolène will be the first woman to become president."
Why, then, has Mme Royal's half-declaration of her possible interest in running for the presidency in 2007 ("only if I am asked by the party ... only if the moment is right") generated such a cacophony of jeers and insults? Why have most of the insults come from within her own party?
As Angela Merkel inches nearer to becoming the first woman chancellor of Germany, French politics has been faced with a bizarre and disturbing prospect: a madame president, or presidente, of the Republic.
It is not a prospect which appeals to the men, even the most supposedly progressive. Jacques Lang, the obsessively politically correct, sixty-something former culture and education minister, said the presidency "should not be a beauty contest". Laurent Fabius, the former prime minister, mocked François Hollande, the Socialist party's first secretary, Mme Royal's "husband", and father of her four children.
M. Fabius sneered: "Maybe we should have a rotating [husband and wife] presidency. But who would look after the children?" M. Fabius and M. Lang, of course, entertain presidential ambitions. But this does not entirely explain, or excuse, their reactions to Mme Royal's cautious statement in Paris-Match that she would run "if I am asked ... if I am best placed to help the party win".
The truth is that Mme Royal's conditional declaration of interest in the supreme job in French politics has produced a chorus of gibes largely because she is a woman. Mme Royal, 52, said yesterday: "It is just as if any old 'he' has a right to say that they are ready to run, but no 'she' has that right. These comments do not reflect the opinions of the great majority of Socialist party members ... The people who have made these remarks have insulted only themselves."
One Socialist politician who has abstained from jibes is François Hollande, 51. He and Mme Royal have lived together for 24 years. Their children are aged between 23 and 13. By Ségolène's choice, they have never married. (Since you ask, it is François who cooks and shops.)
François and Ségolène are a power couple unique in the world. Unlike, say, Bill and Hillary, or Tony and Cherie, or Jacques and Bernadette Chirac, they are not a political double-act, in which the woman complements the man or emerges from the shadow of the man. They are both successful politicians in their own rights; both preach a practical, moderate social democracy; both are ambitious.
Their friends have long predicted that there could be a collision of interests one day. M. Hollande already faces a difficult struggle to keep his party together, and keep his job, after the Socialist Party split over the EU referendum in May. He was evidently taken aback by Ségolène's "declaration", which he rightly said was "not really a declaration". The last thing he needed before a potentially bloody party conference in November was a row within the party about his wife. Ségolène's "non-declaration declaration" can then be seen partly as a warning to her compagne, or common-law husband, that she was not going to sit on the sidelines forever. There have been rumours for weeks that all was not well between Ségo and François. Her friends and supporters started a website in the summer - "Ségolène. 2007" - urging her to run.
Mme Royal did not tell François in advance what she was going to tell Paris-Match. On the other hand, she said she would never run for the presidency without the "support of François".
Within a couple of days, it was the turn of the most powerful woman on the French centre-right, Michèle Alliot-Marie. Mme Alliot-Marie - or Mam as she is universally known - said she also "hoped to play an influential role" in the 2007 race. Mme Alliot-Marie was the first woman to become defence minister in 2002 and is the first and only woman to lead a major French party. She did not exactly declare her hand. But she did remind the two men already jostling for the centre-right "nomination" - the Prime Minister, Dominique de Villepin and the Interior Minister, Nicolas Sarkozy - that politics is not a two-handed game, and not reserved for boys only.
Mam's "declaration" produced no gibes on the centre-right, probably because she has little real chance of getting anywhere. Ségolène's "declaration" sent shivers down socialist male spines because she does have a chance - an outside chance - of taking the centre-left nomination. Opinion polls frequently name her as the most popular socialist politician in France. A poll after her Paris-Match interview took her to the top of the long provisional list of socialist runners and riders, alongside M. Lang.
She is an excellent TV performer, a powerful stump-speaker, someone capable of talking politics in ordinary language (even though she is a product of the notorious Ecole Nationale d'Administration or ENA, the French finishing school for an arrogant, pointy-headed political elite.)
Most of all, as M. Le Pen once pointed out, she is one of the few Socialist politicians in France to talk convincingly of social and family "values", bridging the normal ideological gulf between left and right. She has been a successful and popular president of the Poitou-Charente region (Poitiers, La Rochelle, the Cognac country) since 2003. This is not a region previously regarded as easy territory for the left. If she was a man, she would be a, maybe the, leading centre-left candidate. Because she is a woman, she is jeered by her own camp.
France prides itself on being a nation of social advance, from the declaration of human rights in 1792 to the 35-hour week in 1998. Although it is struggling economically, it would be in dire straits were it not for its women. Four in five French women have jobs, more than almost any other EU country. They are also producing more babies than any other EU nation, save Ireland.
But France is also a conservative-Catholic, Mediterranean-macho country, where women are kept in the background. Only 4.5 per cent of French company directors are women (compared to 20 per cent in China). There has been, briefly and disastrously, one woman prime minister, Edith Cresson in 1991-92. But there are only 71 women in the Assembleé Nationale, and 506 men. This makes France 74th in the league table of female inclusion in national politics, behind Iraq and Afghanistan.
French women had to wait until 1944 to be given the right to vote, 20 years after women in Britain and 10 years after women in Turkey. France is not ready for a Madame Presidente, socialist officials say privately, excusing the reaction to Mme Royal's interview. Paris may be ready. Other big cities may be ready. But rural and small town France, La France Profonde, is no more ready to vote for a woman for president than it is to vote for Bertrand Delanoe, the successful, moderate Mayor of Paris.
M. Delanoe is the only senior politician in France to have openly declared himself a homosexual. He has been urged to join the lengthening queue of contenders for 2007 but he is said to accept that, outside the big cities, and in the South, his sexual orientation makes him unelectable.
So much for France as a nation of social advance. But is the the only score against Ségolène Royal the fact that she is a woman? Ségo is far from a typical socialist. She was born in Senegal into a military family of eight children. Her authoritarian father, who had risen from the ranks to become an officer, held trenchant right-wing and anti-feminist views. Ségolène, in revolt, declared herself a socialist in her teens. She met Hollande at ENA and became a protégé of François Mitterrand and Jacques Attali. François found Jacques Delors, then Lionel Jospin.
At first, her career prospered more than his. She was education minister and health minister, espousing causes not popular with socialists, such as the struggle against pornography and prostitution. When he became first secretary of the party in 1997, Ségolène's career stalled. M. Jospin did not like a husband and wife at the Socialist top table.
But when Mme Royal captured the Poitou-Charente region, she relaunched her career. Her supporters say she achieved her success by radiating warmth and talking about real, local problems not abstractions. Her (many) detractors in the party say she is at heart a cold woman, with a streak of her father's authoritarianism. But what Ségolène would actually do as president is unclear. Her critics say she has never held any of the large ministries of state and has never made a detailed speech on economic or foreign policy. This is true, but equally true of, say, Jack Lang. No one suggested, inside or outside the Socialist Party, that he had no right to declare presidential ambitions.
The point is not that Ségolène Royal is the perfect candidate for the Socialists and a shoo-in for the presidency. She is not. The point is, she has earned as much right as other contenders to be taken seriously. It is the shame of France, and the Parti Socialiste, that she is being jeered mostly because she is a woman.
Five other political partners who ran for office
* IMELDA MARCOS
The former Philippine first lady made two runs for the presidency, both of which were defeated. Her career in politics began in 1965 when her husband Ferdinand was elected president and, as first lady, she took an active role in politics. Even after his regime was toppled and they fled the country, the woman perhaps best-known for her collection of shoes returned to run for president but was once again trounced.
* SONIA GANDHI
The Italian-born politician took the helm of the Congress Party in India after her husband, Rajiv Gandhi, was killed in 1991 by a suicide bomber. She surrendered her Italian passport and became a full Indian citizen. She remains the president of the Congress Party, but says she does not want to become the country's next prime minister.
* GERALDINE FERRARO
Still the only woman to have run as a candidate for vice-president of the United States. In 1984, she ran with Walter Mondale for the presidency bill, but was dogged by questions over her and her real estate dealer husband's finances. She left politics after the failed run and now works occasionally as an analyst for Fox News.
* EVA PERON
Before she was the first lady of Argentina, she was a radio broadcaster. When her husband Juan Domingo Peron ran for the presidency, she used the airwaves to campaign for him. She was hugely popular as first lady and in 1951 sought to formalise her popularity by seeking the vice-presidency. The move so outraged military leaders that her husband rescinded her nomination. She died of cancer at the age of 33.
* HILLARY CLINTON
She was one of the most openly politically active first ladies in the history of the White House. Her husband Bill Clinton's career was plagued with rumours of extra-marital affairs, which produced both pity and scorn for Hillary. In 2000, she won a New York Senate seat, and has since been widely tipped as the next presidential challenger for the 2008 vote.
Ségolène Royal - Official Site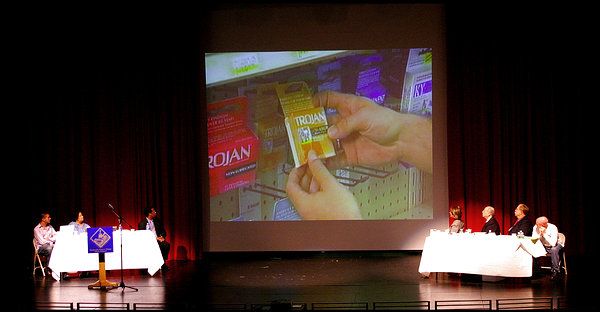 Panelists at the Teachthefacts.org forum watch "Protect Yourself," the sex education video that was cut from Montgomery's curriculum after protests.
Photo Credit
: Photos By Larry Morris -- The Washington Post
Sex-Ed Panel Aims to Sway Lessons on Gays
Montgomery Urged to Reject Teaching Homosexuality as Choice
By V. Dion Haynes
Washington Post Staff Writer
Monday, September 26, 2005; Page B03
Montgomery County school officials drafting a new sex education curriculum should reject lessons suggesting that homosexuality is a condition that can be reversed, speakers at a community forum said yesterday.
"A person's sexual attraction cannot be changed at all. There is no data to suggest that," said Paul A. Wertsch, a physician and chairman of the American Medical Association's committee on gay and lesbian issues, speaking before about 100 parents and other community members at Bethesda-Chevy Chase High School.
Wertsch was among the health educators who spoke at the forum sponsored by Teachthefacts.org, a parent group established to support the education curriculum proposed last year by the county Board of Education. The curriculum, which the parent group considered comprehensive, was dropped in the spring to settle a lawsuit brought by other parents who thought some of the lessons, including a demonstration of how to put on a condom, were too explicit.
With the school board starting from scratch on a sex education plan, both sides are campaigning fiercely to influence what Montgomery eighth-graders will hear about homosexuality and what 10th-graders will hear about contraceptives
Teachthefacts.org and the plaintiffs in the lawsuit -- Citizens for a Responsible Curriculum and the Virginia-based Parents and Friends of Ex-Gays and Gays -- are seeking representation on an advisory committee that will work with the school system on devising the lessons. The school board will select the committee next month.
The settlement, while not prohibiting the discussion of homosexuality, required schools to drop materials that described Baptist groups and other religious denominations as less tolerant of gays.
Speakers yesterday, citing numerous studies and personal anecdotes, attempted to counter their opponents' desire to include in the curriculum the viewpoint that homosexuality is a lifestyle choice that can be changed with therapy.
Robert Rigby Jr., a special-education teacher at Falls Church High School, said that he spent 17 years in reparative ministries trying to become straight and that during that time, "my life was an ongoing disaster." Rather than change his attraction to men, Rigby said, the therapy left him depressed and suicidal. Finally, he said, "a Baptist pastor said the words that changed my life: 'Robert, God made you the way you are, and God loves you the way you are.' "
In a phone interview, Michelle Turner, president of Citizens for a Responsible Curriculum, said: "There is no conclusive truth that sexual [orientation] is something you are born with. Where's the science?"
She added that the judge in the case ruled that if the school system addresses the issue of homosexuality in class, teachers must include viewpoints from more than one perspective. "If you open Pandora's box, you have to address everything that comes out of it."
Alexandra Koneff, 41, who has a sixth-grade daughter and a fourth-grade son in the school system, said she supports the approach sought by Teachthefacts.org. "I know kids are growing up a lot faster," said Koneff, who lives in Bethesda. "I want to make sure [my children] have all the information they need, not just a part of it."
Organizers of the forum showed "Protect Yourself," a seven-minute video that was intended to be part of the curriculum. The video opens with a young woman in a pharmacy standing before a row of condoms. She asks what the best ways are for young people to protect themselves from sexually transmitted diseases and pregnancy. The video then shows shots of several teenagers, who respond that refraining from sex or using condoms are best. At the end, the woman uses a cucumber to demonstrate how to put on a condom.
Glenn Northern, sexuality education policy manager at Planned Parenthood Federation of America, praised the video. "It mentions abstinence seven times. This is not simply giving lip service to abstinence."
Turner said the school system is clear in teaching against smoking and using illicit drugs but sends a mixed message on sex. "Why would they teach kids how to have sex when there are so many physical and emotional dangers?" she said.
2005.09.26
■「反進化論」米で台頭 渡辺久義・京大名誉教授に聞く
「知的存在」が人間を作った-
思考訓練として必要 - 産経
 ダーウィンの進化論を批判する「インテリジェントデザイン(ID)」論を学校教育に取り入れる動きが米国で広まっている。IDとは、人間の存在は進化論では説明できず、何らかの「知的存在」がデザインしたという理論で、従来の反進化論と違って多くの科学者が支持。ブッシュ大統領も、進化論以外も学校で教えるべきだとの姿勢を示している。日本で早くからIDを紹介している渡辺久義京大名誉教授に聞いた。(渡辺浩)
これは科学
わたなべ・ひさよし
昭和9年、岐阜県生まれ。京大文学部卒、同大学院文学研究科修士課程修了。専攻は英米文学。京大総合人間学部教授、摂南大教授などを経て京大名誉教授。著書に『ヘンリー・ジェイムズの言語』『イェイツ』『意識の再編』『善く生きる』、共著に『「新しい道徳教育」への提言』など。
 ――IDを分かりやすく説明してください
 米国ではあらゆるメディアで激論の対象になっていますが、ブッシュ発言でさらに認知度が高まっています。IDとは、この宇宙自然界の成り立ちを目的も計画もない機械的な力だけで説明しようという無理なことはやめて、自然的要因としての「必然」(自然法則)や「偶然」のほかに「デザイン」という要因を科学として認めようではないかという理論です。英語の「デザイン」は、構想、計画、設計、意図、意志、目的といった概念すべてを含みます。長年、科学の約束となってきた自然主義(唯物論)、つまり自然界の謎は自然界の内部で解決できるはずだという前提を揺さぶるものなので、特にダーウィニズム陣営からの反発が強いのです。
 ――推進しているのはキリスト教右派とされています。旧約聖書に基づく創造論の「神」を「知的存在」に言い換えているだけでは?
 もしそんなものであるなら、これを支持する科学者は一人もいないでしょう。米国の記者もよく「何で早く神と言わないのだ」と質問しますが、ID理論家はあくまで科学的実証から出発するわけで、彼らは、自然的要因からは生じえない「デザイン」の事実が厳密に実証できるのだから、従ってデザインの主体、デザイナーの存在が推論できるのだと言っているのです。神から出発するのではないのです。キリスト教右派だとか宗教勢力の画策などというのは、そういうふうに見たがる人の言うことです。
異説紹介を
 ――米国では親の教育権とも関連して進化論批判の歴史がありますが、日本の教育界に持ち込もうとすれば「非科学的」と猛反発されます
 宇宙に目的も方向もあり得ないとする唯物論、機械論が正しいなら、ダーウィンの進化論以外に全く考えようがなくなります。「どこが間違っているのだ」と食い下がるダーウィニストにとって、理論と証拠の不一致は関係がなく、初めの前提で答えが出ているのです。「科学的」「非科学的」を口論する前に、自分の立っている足場を確認する訓練をしなければなりません。IDが正しいかどうかより、思考訓練のきっかけを与えてくれるという意味で重要なのです。教科書に書くなら「ダーウィンの進化論に沿って考えるならば」と、仮説の紹介にとどめるべきです。
 ――しかし進化論は「公認の学説」になっています
 進化論には疑いようのない化石による証拠とか実験での証明は何もないのです。「公認の学説」とは異説を唱える学者は認めないということでしょう。それだけでも鉄槌(てっつい)を下す意味があるではないですか。例えばある教材に「その後生物は複雑化し、多細胞生物へと進化しています。五億三千万年前ごろには、海の中には、多様な生物がすむ世界になっていました」とあります。五億三千万年前といえば、前身となる生物の化石なしに多くの生物が(地質学的に言って)「一夜にして」出現したといわれる「カンブリア爆発」の起こった時期です。ダーウィン進化論にとって都合が悪いからこんなふうに書く。私は素人ですが、これはたちの悪い虚偽の記述だと言ってよいと思います。
 ――では、生命体はどうやって生まれたと考えますか?
 それは分からないとID派の学者たちは答えています。ダーウィニストは、分からないことでも分かっているように言うのが科学的だと考えています。「分からない」「神秘だ」と正直に言う方が知的に誠実ではないでしょうか。
学会を設立
 ――日本の学校でも教えるべきですか?
 思考訓練として教えるべきです。でないと日本人の頭は硬直したままです。それに「生命は無生物から発生した」「人間の祖先はサルである」という唯物論的教育で「生命の根源に対する畏敬(いけい)の念」(昭和四十一年の中教審答申「期待される人間像」の文言)がはぐくまれるわけがありません。進化論偏向教育は完全に道徳教育の足を引っ張るものです。
 ――その認識を日本で広めるために、どんな取り組みを行っているのですか?
 ID運動に呼応する形で、今私は同志とともに、啓蒙(けいもう)的な学会活動を始めています。われわれの文化の唯物論的体質が学問の世界から発しているのだから、学問の世界から矯正していこうという運動です。この学会とIDについての詳細はホームページ(http://www.dcsociety.org)をご覧ください。
                   ◇
進化論偏向は道徳教育にマイナス 日本の識者も主張
 「人間の祖先はサルだという教育は、生物の授業の仮説ならともかく歴史教育や道徳教育にはマイナスだ」「進化論はマルクス主義と同じ唯物論であり、人間の尊厳を重視した教育を行うべきだ」という議論は日本でも多くの識者から主張されてきた。
 マルクス主義の影響を最も強く受けているとされる日本書籍の中学歴史教科書は平成十三年度使用版まで、見開き二ページを使ってダーウィンの進化論と旧約聖書の創世記、戦前の歴史教科書の日本神話を対比させて聖書や神話を否定的に受け止めるよう誘導していた。
 このような教育に対し、日本神話の再評価を訴えている作家・日本画家の出雲井晶さんは「道徳の上では人間は人間、獣は獣。人間を獣の次元に落とす進化論偏向教育が子供たちを野蛮にしている。誰が日本人を作ったのかというロマンを教えるべきだ」と話す。
 中川八洋筑波大教授は著書『正統の哲学 異端の思想』でダーウィンを批判。創造論、進化論の双方が非科学的だとしても「文明の政治社会の人間の祖先として『神の創造した人間』という非科学的な神話は人間をより高貴なものへと発展させる自覚と責任をわれわれに与えるが、『サルの子孫』という非科学的な神話(神学)は、人間の人間としての自己否定を促しその退行や動物化を正当化する」と論じている。
♪ IDいよいよ日本上陸?