カテゴリ
以前の記事
検索
最新のトラックバック
その他のジャンル
ファン
記事ランキング
ブログジャンル
画像一覧
Sex lessons planned for all children
· Five-year-olds to get lessons on emotional life
· Leak reveals teenagers' ignorance and confusion
Denis Campbell, social affairs correspondent
Sunday December 4, 2005
The Observer
Compulsory sex lessons for primary school children as young as five are to be backed by the government's official advisers on sexual behaviour in an unpublished report obtained by The Observer. If accepted, the proposals would be the biggest shake-up in sex education in schools in England and Wales.
The document says the current system for sex lessons, which are mostly optional, is unfair, confused, damaging to pupils' health and development and partly responsible for Britain having the highest rate of teenage pregnancy in western Europe. At present all pupils get basic biological information, but those at some schools are also given details about subjects such as contraception and sexually transmitted infections.
A joint report from the Government's independent advisors on sexual health and teenage pregnancy recommends that detailed knowledge about sex should become a routine part of all pupils' education and points out that adopting such an approach makes young people better able to handle sexual issues. The 42 advisors include senior doctors, experts in sexual behaviour, specialists in bringing up children, nurses, and leading academics in the field.
They want ministers to make Personal, Social and Health Education (PSHE) a statutory subject in all primary and secondary schools in England and Wales. Certain schools provide PSHE to help prepare their students to understand the adult world of sex, alcohol, drugs and bullying.
The Sex and Relationship Education (SRE) element of PSHE includes much more in-depth discussion about sexual activity than the factual reproductive biology all pupils cover in science lessons as well as tuition on how to deal with pressure from friends or partners to have sex, where to get contraception and how infections such as chlamydia and genital warts are passed on.
The report, 'Personal, Social and Health Education in schools: Time for Action', has been compiled by the Independent Advisory Groups on Sexual Health and Teenage Pregnancy, which advise the Department of Health and the Department for Education and Skills.
Labour peer Joyce Gould, who chaired the inquiry, said last night that the government should make PSHE a statutory part of the national curriculum in order to tackle the high number of teenage girls becoming pregnant, the rising levels of sexually transmitted infections and widespread ignorance among young people about sex.
Gould denied the group's proposals would encourage promiscuity. 'Some people will say that if you don't tell them about it, they won't do it. But real life shows that's not the case. More and more young people are having sex at a younger age.'
If implemented, primary school children would be taught mainly about emotional issues such as relationships and friendships, with older ones starting to learn about puberty. Only secondary students would discuss sexual activity and its potential pitfalls.
Gill Frances, the acting chairwoman of the teenage pregnancy advisors, said SRE was vital to help pupils understand complicated sexual issues. 'Young people are growing up in an increasingly sexualised society, where there are mixed messages about sex. The result is that they end up confused because they don't understand what sex is all about.'
Frances said that mandatory PSHE would make many young people more likely to postpone their first sexual experience, and more confident at engaging with the opposite sex. The report shows that teenage pregnancy in Liverpool, Bradford and Hackney, in east London, fell after local schools introduced PSHE and SRE.
Members of the two advisory groups believe that junior ministers at the DFES and DoH, such as Beverley Hughes, the minister for children, young people and families, and public health minister Caroline Flint, are sympathetic to their plea. But education secretary Ruth Kelly, a devout Catholic, is thought likely to oppose such a dramatic extension of pupils' knowledge about sex. The growing number of faith schools could also make implementing PSHE difficult. Parents can currently remove a child from SRE if they are unhappy with the content.
Focus: Health and Education
Let's talk about sex
As government experts recommend that all schoolchildren should receive sex education from the age of five, three people with a personal interest give their opinions. Interviews by Denis Campbell
Sunday December 4, 2005
The Observer
The teenager
Vicky Glynn stopped going to college as a 17-year-old student in order to look after her newborn daughter Maisie. She is now a peer educator with the Brook Advisory Centre in Oldham
Neither me nor my boyfriend Lee got any proper sex education at school in Oldham. We learnt about how the parts of the body worked, but weren't taught about the sex aspects, like pregnancy. I learnt more about sex from my mum, friends and older sisters. I got pregnant when I was still at school, as did other girls in my year. That could have been avoided if we'd had decent sex education. I was fairly ignorant about the risks sex involves - many of the girls at school were the same. I was having sex and not thinking about contraception or the consequences. I knew I could get pregnant but did nothing to stop it. I thought it wouldn't happen to me.
I had Maisie two years ago, just after I left school. I was 17. But I didn't last long at college because it's tough being responsible for someone else, like getting them fed and dressed in the morning, as well as yourself. I came to the local Brook Advisory Centre as a young parent, but soon began advising young people about how not to get pregnant.
I'm now a peer educator. I go into secondary schools and colleges and talk to kids aged 13 and upwards about contraception, sexually transmitted infections, the dangers of sex and how they would cope if they had a child. We talk about the emotional impact of sex, like how they might have sex at 13 or 14 but regret it, and about why the age of consent is 16. My advice is always for young people to wait until they are ready, and protect themselves.
In my view, this is exactly the sort of stuff that schools should be doing themselves.
The reality is quite a few young people experiment with sex before they get to 16. I knew people who were having sex at 12 or 13. The trouble is 12-, 13- and 14-year-olds hear about sexual things, but don't know the facts. They see it as a bit of fun but don't know about the risks. I remind girls having a baby young means you have little money, hardly any time for yourself and don't get as much sleep as you'd like.
At the moment most sex education is optional in schools. I think every pupil should have good-quality teaching about sex. Making people aware of all these things won't encourage them to have sex; knowing about the risks will do the opposite. It might prevent unwanted pregnancies, or STIs, or emotional distress.Young people need proper sex education to help them with their health and wellbeing. It puts them in control of their lives.
The campaigner
Norman Wells, is the director of the Family Education Trust, a research charity in London that is concerned with family and young people's issues
Successive governments, including the last Conservative one and the current Labour one, have adopted the same approach: more sex education, earlier sex education, and easier and confidential access to contraception for young people.
But this approach hasn't achieved the Government's objectives. The rate of teenage conception has remained static for 30 years, and we are in the grip of a sexual health crisis, with spiralling rates of sexually transmitted infections. STIs are particularly located among young people from their mid-teens to about the age of 24, with alarming rates of infections like chlamydia.
One gets the impression that the average school is adopting the contraceptive-based approach, and almost taking the view that it's inevitable that young people will have sex. Our view is that to have that fatalistic approach is counter-productive and likely to lead to some young people becoming sexually active. Working on the basis that someone might do something can become a self-fulfiling prophesy.
If you have teachers in schools giving out the message that sex is almost a normal part of growing up, and advising that you should take this or that form of contraception, then young people might see that as a licence to become sexually active. A young man could then pressurise a girl to have sex by saying 'the teacher said it was OK if we used a condom', which might make it difficult for the girl. You can't lay all the blame at the door of sex education. There are other factors, such as the media's influence, peer pressure and parental supervision, or the lack of it. But some young people can access contraception from the school nurse without their parents knowing, much less approving. The existing approach to sex education is increasing the number of young people who are having sex.
Young people are being told that if they use condoms, that's the mark of sexual responsibility. They aren't warned that any sexual relationship outside a marriage will always carry the risk of an STI, and that condoms don't always stop infections like herpes and genital warts. We need to be more honest with young people and tell them sex belongs within marriage. We need to restore sex to its proper place, and not cheapen it and treat it in a casual way. Sex education in this country should pay much greater respect to marriage and sexual activity's proper place within marriage. That's the only way to stop a teenager getting an STI or a young girl getting pregnant.'
The parent
Julie Brown, 36, is a keen supporter of sex education being made compulsory at all schools
When I was at Aveley comprehensive in Essex the only sex education I got was very limited, very clinical and quite frightening. I got more information about periods from my sanitary towel packet than teachers at school. I remember we had a 'special assembly' on sex education one day, when a nurse came in to talk to us, with the boys in one hall, and girls in another.
In 2003 I was working as a volunteer parent mentor when a few parents who were worried about their kids experimenting with sex asked me how they could talk to them about contraceptives, STIs and 'when the time is right'. I realised that I didn't know, so I went on an eight-week 'Speakeasy' course run by the Family Planning Association designed to help parents tackle those issues.
That made me far more knowledgeable, and much more confident about talking to my four children about sex and sexual health. One day Ryan, my youngest, said to me 'you're bisexual, you are' when I wouldn't let him have something. He was 13 at the time. When I asked him if he knew what a bisexual was, he admitted he didn't. So we got the dictionary out, looked up words like 'bisexual', 'lesbian' and 'homosexual', and discussed what they all meant. That was educational!
My four children all go to, or have been to, Thomas Tallis secondary school in Kidbrooke, south London. Luckily the sex education there is pretty good because pupils get lessons in what's called Personal, Social and Health Education (PSHE), which includes elements called Sex and Relationships Education (SRE). So they all know what things like chlamydia and gonorrhoea are. All four are now pretty clued-up about sex, and I'm glad about that.
In the real world some young people will experiment with sex, even if you don't want them to. Therefore all we can do is advise and guide them. That's what SRE does, yet only a minority of schools offer it. I think that's appalling because the kids need to be educated in SRE. They need to be told, for example, that sex hormones kick in at puberty and can be really nasty and quite powerful things that can affect your moods and the way you feel physically and leave you feeling very emotional, and they need to be advised how to cope with that.
If more pupils got SRE, fewer 12- and 13-year-old girls would get pregnant, and children would be better able to handle the peer pressure to have sex just because their friends say they are. In my view SRE should be compulsory for all pupils, and be spread across their school life. It should start when they are five, although obviously the teaching needs to be very sensitive to the age and maturity of the kids concerned.
I understand why some parents might find the idea of their kids getting SRE at school scary, for example for religious reasons, or because the children may then ask awkward questions at home that the parents can't answer or don't feel comfortable talking about.
I'd allow parents to retain the right to choose whether or not their kid goes to SRE, but encourage them to see that it's to their advantage as well as the young person's. Learning what I and my kids have learnt about sex has definitely made us much more open with each other.
Sex education: What pupils learn
Now
5-7-year-olds learn that animals including humans, move, feed, grow, use their senses and reproduce; to recognise and compare external parts of the human body; that humans and animals can produce offspring and these grow into adults; to recognise similarities and differences between people and to treat others with sensitivity.
7-11-year-olds learn about the life processes common to humans and other animals - nutrition, growth and reproduction - and about the main stages of the human life cycle.
11-14-year-olds learn that fertilisation in humans is the fusion of a male and female cell; about the physical and emotional changes that take place during adolescence; about the human reproductive system, including the menstrual cycle and fertilisation; how the foetus develops in the uterus; how the growth and reproduction of bacteria and the replication of viruses can affect health, including HIV and sexually transmitted infections.
14-16-year-olds learn about the effects of sex hormones and some of their medical uses, including the control and promotion of fertility; about the defence mechanisms of the body and how sex is determined in humans.
In the future
Under the new plans, children from primary school age would be given more 'rounded' lessons on sex and relationships and a broader education on drugs, alcohol and handling money. For older children it would include more in-depth information about the methods of contraception, protection against sexually transmitted infections, the emotional side of sex and relationships and negotiating skills to help guide children through them.
アル・カイーダの女たち - Newsweek カヴァーストーリー 1/2からつづく
In the Middle East, Palestinian women have been among the ranks of fighters and terrorists attacking Israel since at least the 1970s, but the first to become a suicide bomber was Wafa Idris, a 27-year-old ambulance worker, who killed an Israeli civilian and wounded 140 in January 2002. In death she became a celebrity. More women and girls volunteered to die for a branch of Yasir Arafat's secular Fatah organization. He talked of an "army of roses," and the leadership of the radical religious organizations, Hamas and Islamic Jihad, were taken by surprise. Sheik Yassin, the crippled spiritual leader of Hamas, opposed the use of women as bombers. There were more than enough men, he said.
Still, Palestinian women clamored to fight and die to try to free their homeland. They argued that since the days of the Prophet Muhammad, women warriors have battled for the banner of Islam. Yassin and other religious scholars eventually gave ground, but only after debating how long a woman on a suicide mission could be away without a chaperone—before she died.
Not until January of last year did a woman from Hamas carry out an operation. Reem Riashi, a mother of two, recorded a videotape before her mission, saying she hoped her "organs would be scattered in the air" and her soul "would reach paradise." Would there be 72 houris to greet her there? No. The religious scholars who endorse suicide attacks have described an alternative paradise for women. Thauria Hamur, a 26-year-old captured by the Israelis before she could set off a bomb in May 2002, told NEWSWEEK in a prison interview that women martyrs would "become the purest and most beautiful form of angel at the highest level possible in heaven."
IV. The Hunt For Answers
In a letter written from hiding by Ayman Al-Zawahiri last summer, and meant for Zarqawi to read in Iraq, the Egyptian physician paused to talk about the women in his life. His "favorite wife," he wrote, was crushed by the concrete of a collapsed ceiling in an American bombing. "She went on calling for aid to lift the stone block off her chest until she breathed her last, may God have mercy on her and accept her among the martyrs," Zawahiri wrote in the letter, which was intercepted and disseminated by American intelligence. "As for my young daughter, she was afflicted by a cerebral hemorrhage, and she continued for a whole day suffering in pain until she expired. And to this day I do not know the location of the graves of my wife, my son, my daughter."
Such is the price of war, said Zawahiri. Yet the core leadership of Al Qaeda remains divided, it seems, about whether women should enter the struggle against the "satanic power" of the United States as combatants, much less as suicide bombers. Zarqawi has made his own decision. But a U.S. counterterrorism official, who insisted on anonymity because he was discussing intelligence matters, says that until authorities begin to see Saudi women sacrificing themselves in attacks, they will remain skeptical about the extent to which Al Qaeda Central has embraced the idea of female bombers. NEWSWEEK's investigation suggests, however, that those barriers are gradually falling.
Ataliban source, who for his own protection did not want to be further identified, says Zawahiri is an ardent supporter of both the education of women and their participation in military activities. Before the fall of the Taliban in 2001, Zawahiri tried to persuade Afghan leader Mullah Mohammed Omar to allow girls to have some basic schooling and combat training. The Taliban leader would not hear of it. After the American invasion of Afghanistan, Zawahiri raised the subject again. He even brought up the example of a famous Afghan woman named Malalai who fought against the British in the 19th century. But Mullah Omar —dismissed the idea once more, saying that the presence of women at the front or among soldiers would lead to a breakdown in discipline. After the meeting, the Taliban leader's private secretary warned Zawahiri not to raise the matter again, but Al Qaeda continued to hold military training for women at bases near the Jalalabad and Kandahar airports, according to this source, and kept it secret from the one-eyed leader of the Taliban.
Then, in late 2001, an aging mujahed named Sufi Abdul Aziz Baba was given the task of caring for the widows of 22 Qaeda fighters. As casualties mounted among the men, the number of women in the group continued to grow. On the run from the Americans, they hid out in a compound in the southeastern province of Paktika. The women—Uzbeks, Chechens and Arabs were given Kalashnikovs to defend themselves, and soon began training within the compound walls, out of sight of the men. Forced to flee again across the border into Pakistan, they fought a three-hour gun battle against the forces of an Afghan warlord who had gone over to the American side. A year later, to avoid an offensive by Pakistani troops, the women fled again to a new hideout near the Afghan border, Baba told NEWSWEEK. All the while, they continued military training. Last year a new Pakistani offensive forced these women, now well versed in the arts of killing, to disperse again along the Afghan frontier. There, says Baba, they are supported by a tightly woven network of jihadist organizations and family ties.
Indeed, in these remote lands Al Qaeda's fighters and their wives and widows often seem to be part of one extended family. Frequently the sisters and daughters of a holy warrior will marry one of his comrades in arms. The widows of slain guerrillas commonly wed one of their late husband's jihadist relatives. Although these networks appear isolated, they could form the enduring core of Al Qaeda in the future, or a new incarnation of it. And some of the women among them are now more than ready to take up arms, or to carry bombs, whenever the organization needs them. Or whenever the men are gone, or get out of the way.
As Mia Bloom writes in a forthcoming book, "The underlying message conveyed by female bombers is: Terrorism has moved beyond a fringe phenomenon and insurgents are all around you." But that is only the message for their enemies. In their own world, their willingness to carry out suicide attacks means something different. Among Palestinians, for instance, "the idea of violence empowering women has spread throughout the West Bank and Gaza Strip," writes Bloom. Suicide bombing is changing the rules of deference and subservience that have dominated the traditional society—a strange path to liberation for women hidden behind veils and burqas.
Can the west offer something better? Something to defuse the explosive anger of jihadist widows bent on vengeance, or young women craving freedom from foreign occupation for themselves and their people? In the comfort of Wash-ington, the answer would seem an obvious yes: education, jobs, equal rights. But in the dusty alleys of Tall Afar, the arid hills of Waziristan, the rubble of Grozny, the walled-off villages of the West Bank and maybe even the dilapidated rows of factory housing in Belgium, the answer may not always be so clear. In a television interview last week, after the people of Belgium learned to their horror that their Muriel had died as a suicide bomber in Iraq, Glenn Audenaert, director of the federal police, said he was not surprised to find such a woman in the ranks of people who "embraced the ideology of Al Qaeda." "It's a new generation, and, perversely, emancipation allows women to aspire to martyrdom," he said.
Finding another answer that is right—a variety of answers, in fact, for many unique societies—will help make the difference between an endless war of terror with "insurgents all around" and a fight that is won, with a peace that endures.
With Ron Moreau and Sami Yousafzai in Kabul, Scott Johnson and Kevin Peraino in Baghdad, Joanna Chen in Jerusalem, Mark Hosenball and John Barry in Washington, Anna Nemtsova in Moscow, Stefan Theil in Berlin, Eric Pape and Tracy McNicoll in Paris, Emily Flynn Vencat in London and Michael Hastings in New York
© 2005 Newsweek, Inc.
© 2005 MSNBC.com
URL:
http://www.msnbc.msn.com/id/10315095/site/newsweek/
MSNBC.com
Women of Al Qaeda
Jihad used to have a gender: male. The men who dominated the movement exploited traditional attitudes about sex and the sexes to build their ranks. They still do that, but with a difference: even Al Qaeda is using female killers now, and goading the men.
By Christopher Dickey
Newsweek
Dec. 12, 2005 issue - Very little is known about the first woman to become a suicide bomber for Al Qaeda in Iraq, except that she dressed as a man. Two weeks after a U.S.-backed operation to clean out the town of Tall Afar near the Syrian border in September, she put on the long white robe and checkered scarf that Arab men commonly wear in Iraqi desert towns. The clothes disguised her gender long enough for her to walk into a gathering of military recruits with no one taking much notice. The clothes also concealed the explosives strapped around her womb. "May God accept our sister among the martyrs," said a Web site linked to the organization of Jordanian-born terrorist Abu Mussab al-Zarqawi. She had defended "her faith and her honor." No name was given. But the bomb that blew apart that anonymous woman killed five men, maimed or wounded 30 more, and opened a new chapter not only in the war for Iraq but in the global struggle against terror.
Never before had any branch of Al Qaeda sent a woman on a suicide mission. Since female bombers first appeared in Lebanon two decades ago, their ranks have come mainly from secular Arab nationalist groups, from Kurdish rebels in Turkey and the non-Muslim Liberation Tigers of Tamil Eelam fighting the government of Sri Lanka. Only in the past few years did the Palestinian "army of roses" carry out terrorist attacks against Israelis, and the "black widows" strike at the enemies of Chechnya's rebels. Al Qaeda in Afghanistan, Al Qaeda in Iraq, Al Qaeda and its offshoots around the world held back. But as he has before, Zarqawi broke the taboos. His strategy is to create images of horror, "to look like he has more capability than he truly has," says Maj. Gen. Rick Lynch, the
Coalition forces spokesman in Baghdad. Zarqawi recruits where he can, he exploits whom he can and he attacks the softest of targets to get the peculiar kind of publicity he craves. Women are his new weapon of choice.
In October, Al Qaeda in Iraq claimed that a second female bomber, this time accompanied by her husband, killed herself attacking an American patrol in Mosul. And last week the world learned of the third: Muriel Degauque, 38, a fair-skinned Belgian from the grim rust-belt city of Charleroi near the French border. As a girl, she often ran away from home. As a woman, she had a succession of failed relationships with Muslim men: a Turk, an Algerian and finally a Belgian of Moroccan descent who followed the teachings of radical Salafists, similar to those of Al Qaeda. They went to live for at least three years in Morocco, and when she returned home she was fully veiled: alienated, lonely, in the thrall of a husband who consumed her entire world. Muriel—now calling herself Myriam—"couldn't have children," a spokesman for the Belgian prosecutor's office said last week. Even when she was near her parents, she rarely spoke to them. The last they heard from her was during the summer. On Nov. 9, she blew herself up attacking Iraqi police near the town of Baqubah. American troops gunned down her husband shortly after Myriam was killed.
That same night, Nov. 9, bombers hit three hotels in the Jordanian capital, Amman. As scores of dead and wounded were still being counted, Al Qaeda in Iraq announced that a woman had been among the suicide attackers there, too. Zarqawi, once again, was publicizing his new approach. But what Zarqawi did not know was that the woman had failed to detonate her bomb.
Sajida Mubarak al-Rishawi, 35, hid out for three nights in the Jordanian town of As-Salt, never removing the dud suicide belt concealed around her waist, until security agents tracked her down. It turned out that she had lost three brothers in the fight against the Americans, and had married her fellow bomber less than a week before she went on her suicide mission. The man was less a groom than a chaperone: according to Jordanian government sources, the marriage was never consummated. In a brief televised confession, al-Rishawi recounted how her bomb failed—but her husband's did not—amid a Jordanian wedding party. "There were women, men and children," she said. "My husband is the one who organized everything. I know nothing else."
There will be more women launching more attacks, a fact that is provoking new and growing concern among U.S. officials. Until recently, many analysts in American government agencies saw the threat of women suicide bombers as a largely theoretical problem. Their best judgment was that "Al Qaeda Central"—the close-knit organization around Osama bin Laden and ideologue Ayman al-Zawahiri—would resist any effort to use women as homicidal martyrs. But after the incidents of the past few weeks, they are taking the threat of female Islamic terrorists, particularly suicide bombers, much more seriously, according to two U.S. counterterrorism officials who asked for anonymity because they were discussing intelligence matters.
Having seen the phenomenon spread suddenly to Iraq and Jordan, the U.S. officials worry that the plague will move still farther, with women suicide bombers carrying out attacks in Western Europe or the United States. The agencies are particularly concerned about the threat posed by "married couples," either real long-term partners or couples who have been joined together for no other purpose than a suicide mission.
If there's consolation, it's that the terrorist assets now known to exist were not used as effectively as they might have been. The Belgian woman Degauque, with her European Union passport and her northern European looks, could have gained easy access to soft targets in many Western countries. Instead, she blew herself up in Iraq.
But the real lesson of the Degauque bombing is to expect the unexpected. "The terrorists are quite aware of the profiles that exist, and they always change things just enough to throw them off," says Prof. Mia Bloom, author of "Dying to Kill: The Allure of Suicide Terror." They also aim to provoke. American soldiers in Iraq may become ever more suspicious about women, particularly pregnant women. But in traditional Muslim societies, the need to search women meticulously—"invasively," as Bloom puts it—is sure to create popular anger. "It's a win-win proposition for the terrorists," says Bloom.
Yet the increasing use of women as weapons of holy war also challenges the view of the world that many jihadists thought they'd set out to defend.
II. Knights & Maidens
"Chivalry" is not a word normally associated with terrorism, at least not in the West. But the world in which Osama bin Laden would like to live, and the vision that inspires so many of his followers, is literally about days of old when knights were bold—and fair maidens were kept behind veils, their virtue protected, their lives entirely controlled by men. Since the 1990s, bin Laden has cast his fight as one against "crusaders," and the most important ideological tract by his right-hand man, Zawahiri, bears the title "Knights Under the Prophet's Banner."
While gender roles are evolving in many of today's societies, Al Qaeda has hoped to freeze them in a time of feudal traditions. Many of the organization's leaders have been intellectuals, doctors, lawyers and engineers who are perfectly at home with other aspects of modernity. But they differ violently with the West about the way women should be allowed to participate in daily life, viewing females as chattel in some cases, as revered mothers in others and almost always as icons to be protected from outside influences.
In jihadist propaganda, the invasion and violation of Muslim lands is intimately tied to the violation of Muslim women, either directly or through the corrupting role of Western values and attitudes. In its 1988 covenant, the Palestinian Islamist organization Hamas laid out its view of "the Muslim woman" as "the maker of men" and the educator of future generations—the person who prepares future fighters. "The enemies have realized the importance of her role," says the fundamentalist manifesto. "They consider that if they are able to direct and bring her up the way they wish, far from Islam, they would have won the battle."
In fact, many Arab and Muslim men, not just jihadists, see foreign occupation as a form of emasculation. (Just weeks after Saddam Hussein was toppled in 2003, Qasim Alsabti, the cosmopolitan owner of a Baghdad art gallery, told NEWSWEEK the U.S. occupation was "part of a plan to steal our souls—to castrate us.") Years under Israeli rule have broken down the structures of Palestinian families. "The image of the strong, providing father who can protect his women and children has been badly damaged and the male role has been eroded away," says Dr. Eyad Sarraj, director of Gaza Community Mental Health. That opens the way for radical groups like Hamas and Islamic Jihad to teach young boys that the way to be real men is to be religious—and to be ready to die.
The recruitment of men and boys for radical Islamic groups exploits not only their anxieties and fears but their basic sexual needs and desires. For years, well before anyone had heard of Osama bin Laden, Egypt's Muslim Brotherhood exploited the frustrations and confusion of people whose patriarchal societies were being challenged by urbanization and the inroads of Western ideas. In Cairo, where middle-class tradition demands that a man offer his wife a fully owned and furnished apartment before a marriage can be performed, or consummated, men often have to wait until they are in their 30s. The brotherhood preaches that piety is far more important than kitchen appliances, and couples can wed earlier if they follow the proper teachings. When the Iranian-backed Hizbullah militia started the systematic recruitment of holy warriors to fight the Israeli occupation of Lebanon in the early 1980s, its mullahs approved so-called mut'aa marriages, involving contracts of matrimony that could be almost as short as one-night stands.
Muslim men who come from traditional conservative backgrounds, or yearn for them, find themselves surrounded by the temptations of Western media. Increasing numbers actually find themselves living in the West, but on the margins of society and out of sync with its mores. The young men in the outer-city ghettos of France who recently rampaged for three weeks of nihilistic violence were, for the most part, brought up amid a confusing mix of their immigrant parents' conservative traditions, the casual sex of the hip-hop culture they see on the streets and in school, and denigrating pornography on the Internet. A women's organization called Ni Putes Ni Soumises (Neither Whores Nor Passive Victims) has fought for years against a plague of gang rapes and horrific "honor crimes" in these neighborhoods. Last month, when a girl from a Muslim background in a Paris suburb refused to go out with a Pakistani immigrant, he doused her with gasoline and set her aflame. She remains in an induced coma with burns over 60 percent of her body.
The pressures of sexual frustration in this life and the lure of sexual as well as spiritual rewards in the next are exploited as part of a cynical spiel by jihadist recruiters looking for boys and men to be suicide bombers. Hizbullah in Lebanon, Hamas and Islamic Jihad among the Palestinians, and the various incarnations of Al Qaeda have all played on Muslim teachings that promise 72 houris—virginal beings with black eyes and alabaster skin—to attend the martyr's desires in paradise.
The directions for physical and spiritual cleansing that Muhammad Atta gave out to his fellow hijackers before the September 11, 2001, attacks on the United States advise them to "feel complete tranquillity, because the time between you and your marriage [in heaven] is very short." Atta's own personal will, written in 1996, is a study in obsessive carnality. "Women must not be present at my funeral or go to my grave at any later date," he wrote. "He who washes my body around my genitals should wear gloves so that I am not touched there." In the mind of such a man, suicidal sacrifice is a path to ecstasy. There would have been no place in Atta's Qaeda for the women suicide bombers of today.
III. Killers & Virgins
What changed? The simplest answer is that al Qaeda's core organization in Afghanistan and Pakistan and its avant-garde in Iraq need more recruits. Jordanian researcher Hassan Abu Hanieh, who knew Zarqawi personally, says the terrorist leader is goading Muslim men. Before the attacks by women began, a Web site often linked to Zarqawi posted a message signed by him. "Are there no men, so that we have to recruit women?" he asked at the conclusion. "Isn't it a shame for the sons of my own nation that our sisters ask to conduct martyrdom operations while men are preoccupied with life?"
Zarqawi's sense of urgency may be fueled by the fact that he's on the run. "Since the first of this year, we have taken out 117 members of the leadership of the Zarqawi network, tier 1, tier 2 and tier 3," General Lynch told the press last week. But the need for recruits could also reflect a movement that is expanding, or aiming to expand, in both size and scope.
Of course, Zarqawi is also meeting a demand—by women. "The recourse to women doesn't happen at the start," says Haizam Amirah Fernandez, a Madrid-based analyst. "It comes when the battle escalates to all sectors of society. It happens after men become activists in guerrilla groups, fight and die, perhaps in suicide attacks. Then the widows or family members —seek vengeance, or want to give their life in the same cause."
Al-Rishawi, the failed suicide bomber in Jordan, had lost three brothers and her sister's husband to the war with the Americans. Some women who first shocked and terrified Israel in 2002 were motivated by the deaths of family and friends. But the most striking cult of vengeance, setting an example for other jihadist organizations, is the "black widows" of Chechnya. Although they have attracted relatively scant attention in the West—their targets are mostly Russian—their example among heroines of jihad is an important factor in the spread of suicidal terror.
The tales of these Chechen women are as much about tawdry victimization as battlefield heroics. They come from a rugged society where an old tradition, made worse after years of gunslinging war and anarchy, allows men to kidnap the bride of their choice. The kidnappers can settle disputes with the woman's family in cash, or with violence, according to Lida Yusupova of the Memorial Human Rights Center in Grozny. But once she's been taken, she's unlikely to find another husband. "No intelligent, nice young man in Chechnya would marry a nonvirgin girl," says Yusupova.
Some Chechen women who have lost husbands or sons in the war want to live only long enough to take revenge. The first attack by a "black widow," in the summer of 2000, killed 27 members of the Russian Special Forces. Then the spectral, silent presence of 18 "widows" during the deadly hostage siege of a Moscow theater in 2002 heightened their mystique. Over a four-month period in 2003, Chechen women carried out six out of seven suicide attacks on Russian targets, killing 165 people. Women bombers allegedly brought down two Russian airliners last year, killing all 90 passengers and crew.
Yet it's hard to say these Chechen women, whatever their grim accomplishments, have won respect in their own brutal world. The one detailed chronicle that exists of how a would-be martyr was trained is the confession of Zarema Muzhakhoyeva, who was 23 when she was caught two years ago. She had been kidnapped by a man 20 years older than she, a metal trader, and was pregnant with her first child when he was shot. ("Something went wrong between him and his competitors.") After some petty thievery, Muzhakhoyeva became a disgrace to her family. Her child was taken away. She volunteered for a suicide mission and was given training, a target and a bomb—but decided in the end that she didn't want to die, and gave herself up. In a long prison interview with the newspaper Izvestiya, Muzhakhoyeva talked about her male handlers almost like a streetwalker talking about her pimps: "Rustam treated me well, always told me jokes, never talked about death with me. On the one hand, he trained me to be a suicide bomber. On the other hand, we laughed like crazy when we saw each other. Because of that I was under the impression that maybe I wouldn't even have to blow myself up, that somehow I would survive. Rustam's wife hated me."
2/2へつづく
Percy & Roger say 'We will'. Colin & Justin say 'We won't'
Gay couples can register relationships from tomorrow. But will they?
Published: 04 December 2005 - The Independent
They met in 1966 and have endured decades of prejudice. So this month, Percy and Roger will enter a civil partnership with pride
Roger Lockyer and Percy Steven have been waiting 40 years for this moment. At eight o'clock in the morning on 21 December, the pensioners (Roger is 78, Percy 66) will become one of the first gay couples in Britain to formally register their relationship as a civil partnership.
"I felt quite certain from almost the first time I met him that this was someone I wanted to live with," said Mr Lockyer. "That never wavered. Now we will be able to assert to the world that we are a proud, gay couple."
The Civil Partnership Act, which was passed in November last year, gives same-sex couples the same tax rights as heterosexual married couples. From tomorrow, gay couples will be able to tell register offices of their aim to form a civil partnership. After 15 days couples will be able to register their partnership.
Mr Lockyer and Mr Steven have lived through every stage of gay liberation. When they first began their relationship homosexuality was still illegal.
"There was always the threat of blackmail," said Mr Lockyer, a historian. "But there was a very big gay sub-culture. I didn't feel at all apprehensive. Percy and I just behaved as any other courting couple would."
They first met in 1966, introduced by a mutual friend. "Percy and I were invited to a luncheon party and got on very well. It went swimmingly from then on.
"Over the years we have had our ups and downs. He walked out on me once or twice. We have had cross words and a couple of partings but they just served to strengthen the relationship. We are extraordinarily happy."
The couple have lived together for most of their 40 years together. Mr Lockyer worked at the University of London while Mr Steven has spent his career in the theatre world.
Mr Steven said they were registering their relationship for political reasons as much as personal ones. "Up until now if you are gay you have always been a second-class citizen. We paid our tax but we were denied rights. For me, the partnership is about coming into the modern world and being given our rights.
"Maybe there is now a formal recognition. It may take away the innate or sublimated distaste for gay people that some older people still have."
But there are more practical reasons too, Mr Lockyer added. "One of us clearly will die eventually. Were there not a civil partnership register it would cause terrible problems," he said.
The ceremony will take place at Marylebone Town Hall at 8am - the earliest that couples can officially register their partnership - and will be followed by a champagne breakfast. And while they now expect media attention during the day, "in the evening we will go out for a quiet dinner," Mr Lockyer said. "Just the two of us."
They have been together for 20 years and are famous as a television couple, but Colin and Justin will not tie the knot
Television presenters and property designers Colin McAllister and Justin Ryan have been together for 20 years and plan to stay together for the rest of their lives.
They have even considered starting a family. However, there will be no civil ceremony.
"Colin and I have opted not to," said Mr Ryan, 38. "We are of the mindset that if it is not broken, don't fix it. We have a very strong and fantastic relationship. Everything is great - there is no reason to change anything."
The couple first met in a club in Glasgow. Within a year they had bought a flat together and their interest in property development began.
They now write regular newspaper columns, present the property development programme How Not to Decorate on Channel Five and have written a book of the same name.
They have already discussed adopting a child but are adamant about not registering their partnership. They will lose out on "next of kin" rights that other gay couples will now have. They will not benefit from rights to each other's pensions and will be liable for inheritance tax if one of them dies.
But Mr McAllister, 37, and Mr Ryan denied that this would be a problem. "We have wrapped our wills together and our property is in both names, so if anything happens to the other we will be taken care of," Mr McAllister said. "Neither of us wants to leave the other with any financial problems."
There is another reason for the couple deciding not to have a civil partnership. They both believe that gay couples should be able to marry in the same way as heterosexual couples.
Although the rights and responsibilities are exactly the same in a civil partnership as in a traditional marriage, some gay rights campaigners have argued that the legislation does not go far enough.
Mr Ryan said: "Civil partnerships are not the miracle that everyone thinks they are. I want everyone to have the same, whether they are gay or straight. It is great because it is a step in the right direction, but it is not the full recipe.
"It would be inelegant of me to be dismissive, but it is only a legal pairing. It is not gay marriage. Why should I be less entitled to marriage than you? It is staggeringly unfair.
"A lot of people are rejoicing - at long last it is an opportunity to say we are together - and it is wonderful, but it is not enough."
Not that this will stop them attending any civil partnership ceremonies. "We have been invited to two or three over the next few months," Mr Ryan said.
"It will be great to go and help our friends celebrate their union. Unfortunately, we haven't been invited to Elton John's. I'm thoroughly disappointed - I really admire him."
What It Means: Pension rights - and pink Cadillacs
The Civil Partnerships Act 2004 gives gay and lesbian couples similar rights to those of married couples. They will be recognised as legal partners, giving them inheritance and pension benefits.
THE CEREMONY
While couples must register at their local town hall, ceremonies can be held anywhere. Hotels, National Trust houses and even football stadiums will be hosting ceremonies. Gay wedding planners Pink Weddings will offer couples "groom and groom" models for wedding cakes, chocolate fountains and pink Cadillacs.
THE RACE TO BE FIRST
Couples can give formal notice of their intention to register their partnership from tomorrow. They can register 15 days later. The first registrations will take place at 8am on 21 December. Local authorities are racing to be first. In Brighton, three couples will sign the register a few seconds after 8am, having filled in all the forms.
THE PINK POUND
Many companies are rushing to cash in on "pink weddings". Superdrug has produced an embroidered "his and his" towel set. Travel firms are marketing gay honeymoons. Virgin Atlantic's latest weddings brochure includes the option of holding the ceremony itself in Florida and Hawaii.
THE STATS
The Government predicts that 22,000 couples will register in the first five years. This is already looking like a serious underestimate. Some gay rights campaigners predict that number in the first year alone; Stonewall believe that eventually 50 per cent of all gay and lesbian couples will have a civil partnership.
AROUND THE WORLD
Four countries currently offer gay marriage - The Netherlands, Belgium, Spain and Canada. South Africa may become the first African country to allow same-sex marriage after the country's senior court ruled last week that denying gay people the right to marry was unconstitutional.
What They Think: 'I can't bear weddings - it's a waste of a Saturday'
From tomorrow, gay couples can give notice of their intention to register a partnership, with the first registrations taking place on 21 December. The 'IoS' asked gay celebrities what they think.
Julian Clary, COMEDIAN
"No one has asked me to marry them, sadly. I am all for civil partnerships, but I do hope that there won't be a spate of silly Soho queens waltzing down the aisle a week after they've met. I would love to know how the whole divorce thing will work - you know what gay men can be like."
Michael Cashman, LABOUR MEP AND EX-EASTENDERS ACTOR
"It gives me and Paul a huge sense of security. I want him to have my pension and inherit our house without it being swallowed up by inheritance tax. We are going to hold it [the ceremony] in March. We've got our eye on two venues. It will be a high-profile bash - we will go into equality with a bang."
Rebecca Loos, TELEVISION PERSONALITY
"When two people love each other and make a commitment it should be acknowledged as a wonderful thing and legal, no matter what their sexuality may be. Many in gay relationships don't believe they need a marriage to say anything, but there are always those who want to publicly celebrate it."
Ivan Massow, BUSINESSMAN
"I know it's a serious subject and I'm glad people will be able to form partnerships, but this rush to be the most loved-up couple is just embarrassing. Some of these people are simply spreading themselves all over the gay press and beyond... almost trying to 'outmarry' each other."
Matthew Parris, POLITICAL COMMENTATOR
"I can't bear other people's weddings - it is a waste of a whole Saturday. At least the problem used to be restricted to heterosexual couples, now gays are going into it too - appalling. One of the nice things about being gay used to be that one was spared the ceremonial baggage of marriage."
Gay marriage around the world
Sun Dec 4,12:12 AM ET - AFP
Although it is one of the most divisive issues of the day, homosexual marriages and other forms of same-sex partnerships are gaining acceptance around the world.
Britain this month will become the fifth country to allow gay 'marriages' on roughly the same basis as heterosexual marriages.
The Netherlands was the first nation to celebrate gay marriages in April 2001, followed by Belgium in January, 2003, Canada in June and Spain in July.
In the United States, Massachusetts recognizes gay marriage and the California senate approved it before the bill was vetoed by Governor Arnold Schwarzenegger.
Canada legalized gay marriages in June and has already discovered one anomaly after a woman sued for divorce on the grounds of adultery between her husband and another man. A Vancouver court defined adultery as taking place only between men and women.
Gay marriages have thrown up other legal conundrums, including establishing paternity of a child born in a lesbian wedlock.
Homosexual marriage in Spain, once one of the world's most staunchly Roman Catholic nations, has called down fulminations from the Vatican, but appears to be supported by a majority of Spaniards, whether straight or gay.
In Britain, the establishment Church of England has refused to celebrate same-sex unions, even though the gay marriage law comes into effect on Monday.
In a first for Africa, South Africa's Constitutional Court ruled in favor of same-sex marriages on Thursday and ordered parliament to change "intolerant" laws within a year.
At a level lower than marriage, many countries recognize same-sex civil unions, with no presumption of sexual involvement, for tax and inheritance purposes.
Denmark was the first country to allow "registered partnerships" or civil unions followed by the other main Nordic nations. France recognizes a union between any two adults, whether man or woman, in a Pact of Civil Solidarity (PACS). Portugal has had a similar measure on the books since 2001, but Prime Minister Jose Socrates has said his government will not consider gay marriage.
In the United States also, Vermont and Connecticut recognize same-sex civil unions, while Hawaii, Maine, New Jersey and California allow couples living together the same rights as married couples.
But many countries reject any kind of union between homosexuals, usually on religious grounds
Australia's conservative government passed legislation last year that defined marriage as "a union between a man and a woman to the exclusion of all others."
In India, homosexuality is an offense punishable by up to life in prison, and there is no discussion of the issue. Same-sex marriages are prohibited in China and Russia.
Japan also does not allow gay marriages and prohibits child adoption by homosexuals, although gays can obtain some inheritance and other family rights.
Thailand has a liberal attitude toward homosexuality, but not to gay marriage. In other countries, such as Sri Lanka, Pakistan and Afghanistan, it is simply out of the question.
Gay Couples Face Uncertain Legal Landscape
By DAVID CRARY, AP National Writer
Dec. 4, 2005
In more than one sense, Brian Rice and Jason Kelliher are pioneers. They were among the first same-sex partners in the nation to marry legally — last year in barrier-breaking Massachusetts — and now are among the few such couples to forgo their much-prized rights by moving to another state.
Their new home, Connecticut, is among the most liberal on the issue; its legislature has approved civil unions that extend marriage-like rights to gay couples. But that option doesn't tempt Rice and Kelliher.
"We've already reached the pinnacle of what a couple can hope for — a marriage license," said Rice, a lawyer. "Civil union is a second-class citizenship. ... We don't want to take a step backward."
Yet Rice and Kelliher know that if they venture to any other state — except back to Massachusetts — their status wouldn't improve. While a few states have recognized same-sex couples, many more are strengthening bans on gay marriage. Conservatives in some places — including Michigan and Ohio — are now taking aim at existing domestic-partner benefit policies.
"There are lots of families in states where it's harder to be a strong family, where the state does everything it can to weaken you," said David Buckel, an attorney overseeing marriage issues for the gay rights group Lambda Legal. "It's challenging, it's discouraging, at some points it's enraging."
Rice, 27, and Kelliher, 29, moved from Boston in August 2004 because of a job offer for Rice in Stamford, Conn. Kelliher now works for an apartment management company, and qualifies for domestic-partner health benefits from Rice's law firm.
They initially hoped Connecticut would recognize their marriage, but the state decided otherwise. They can't file joint state tax returns, as they could have in Massachusetts, and worry that they need to execute a will because Connecticut wouldn't consider the survivor a spouse in the event one of them died.
"There are very few attorneys who specialize in these issues, and the law is very unsettled," Rice said. "If you're moving from state to state, or traveling, protections you had in one state may not be available in another."
Despite the uncertainties, the couple sense they are better off in New England than in the dozens of other states that have explicitly outlawed gay marriage. Many have enshrined such bans in their constitutions; several also forbid civil unions.
"We're fortunate not to be facing some of the challenges couples are facing elsewhere," Rice said.
Among those challenges:
_In Michigan, Republican Attorney General Mike Cox and several conservative groups are arguing in court that the gay-marriage ban approved by voters in 2004 should be interpreted as barring local governments and public universities from providing health insurance to partners of gay workers.
_In Nebraska, state officials are trying to reinstate a ban on same-sex marriages that was struck down by a federal judge and is considered by gay-rights advocates to be the harshest such ban in the nation. Approved with 70 percent support in 2000, the constitutional amendment bars virtually any legal protections for same-sex couples, including shared health benefits for gays employed by the state. The amendment "made gay people into political outcasts," said American Civil Liberties Union lawyer Tamara Lange.
_In Ohio, conservatives who helped win passage of a 2004 ban on same-sex marriages and civil unions are now suing to stop a state university from offering health insurance to employees' same-sex partners.
That Miami University program "violates state law by creating a legal status for same-sex couples designed to mimic marriage," said lawyer Jeff Shafer of the Alliance Defense Fund. "Granting special legal status to newfangled nonmarital relationships is a state policy option rejected by the voters."
Lambda Legal lawyer Camilla Taylor said the lawsuit, if successful, would validate discrimination. "I'm sure gay and lesbian families are wondering if Ohio is the right state for them to live in," she said.
_In New Jersey, one of a handful of states with a domestic partnership law, activists were dismayed by two recent cases dramatizing the law's limitations. In one case, Ocean County officials refused to approve the transfer of death benefits to the lesbian partner of a cancer-stricken law enforcement officer, Lt. Laurel Hester. In another case, also involving lesbians who registered as domestic partners, 66-year-old Betty Jordan is suing the state because of a ruling that she is not entitled to the couple's home and cars after her partner's death in July.
Steven Goldstein, chairman of Garden State Equality and one of New Jersey's leading gay activists, said he was optimistic despite the two cases.
"The Hester case proves how progressive the state is," he said. "The outrage from the entire state is unbelievable — it brings home to legislators how narrow and insufficient the domestic partnership law is."
Some other recent developments have heartened gay activists. In Alaska — one of the first states to pass a constitutional ban on gay marriage — the state Supreme Court ruled in October it was unconstitutional to deny benefits to same-sex partners of public employees. And the mayor of Salt Lake City, capital of conservative Utah, signed an executive order in September extending health benefits to city workers' domestic partners.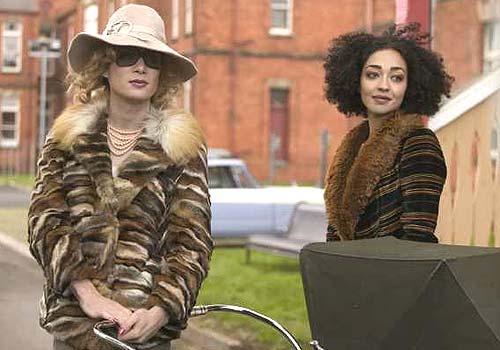 Cillian Murphy as Patrick and Ruth Negga as Charlie in "Breakfast on Pluto."
(Patrick Redmond / Sony Pictures Classics)
December 2, 2005
MOVIE REVIEW
'Breakfast on Pluto'
In "Breakfast on Pluto," a drag queen's way of disengaging amid chaos creates a likable yet unengaging character.
By Carina Chocano, Los Angeles Times Staff Writer
Patrick "Kitten" Braden, the husky-voiced, heavy-lidded transvestite played by Cillian Murphy in Neil Jordan's "Breakfast on Pluto," wishes that everybody would stop being so serious. Which is pretty wishful as wishes go, considering Patrick/Kitten grows up gay in repressive 1960s Ireland and struggles mightily to remain glib and shallow throughout the turbulent '70s, as bombs, riots and violent clashes make the world unsafe for fabulousness.
Based on a novel by Patrick McCabe (whose novel "The Butcher Boy" Jordan adapted in 1997), "Breakfast on Pluto" presents itself as a sort of 20th century "Candide," synoptic chapter headings and all. But more than the easily influenced naif of Voltaire's masterpiece, Patrick resembles eternal optimist Pangloss, who refuses to acknowledge that the violence and brutality around him are truer expressions of human nature than his own rosy delusions.
This sort of wishful thinking was precisely what Voltaire satirized, but "Breakfast on Pluto" seems to want to cast Patrick's blinkered view of the world as a positive trait. "Through his insane insistence on seeing the world as a beautiful place," Jordan says in the press materials, "Patrick never really loses, even when he loses everything." The thing is he never really gains much, either. He sits out the decade, claiming a hangnail. In the end, his disaffection make him a singularly uninvolving character, and his disengagement makes him seem alternately shallow, selfish and perverse.
The episodic story follows Patrick's adventures in the small fictional Irish town of Tyreelin, fictionally situated near the Northern Ireland border, after he's deposited on the priest's doorstep by his mother. Eily Bergin (Eva Birthistle) worked for the priest as a housekeeper, and is famous in town for her beauty and uncanny resemblance to the film star Mitzi Gaynor. It's clear from the start that the melancholy Father Bernard (Liam Neeson) is more than just a spiritual father to the boy, but the truth is never acknowledged. When Eily skips town for London, Patrick (Conor McEvoy plays him as a youth) is placed with a foster family that takes a dim view of his style and proclivities. He survives by forming a close bond with future IRA sympathizer Irwin (Emmet Lawlor McHugh, later Laurence Kinlan), his eventual girlfriend Charlie (Bianca O'Connor, later Ruth Negga) and their innocent friend Laurence (Seamus Reilly), who has Down's syndrome and a tragic fondness for small, remote control-operated robots.
Willfully and courageously true to himself, Patrick displays a rebelliousness and individualism that cut through the stuffy hothouse of the small Irish town like a breeze. (In one scene, his foster mother shoves a football magazine into his hands after catching him trying on his sister's dress; it prompts a fantasy in which he runs the field dressed in silver lamé.) And when he's finally expelled from school for writing a bawdy story about the clerical seduction of a young housekeeper, Patrick takes it as a sign to leave the town and venture out into the wide world.
He hitches a ride out of Tyreelin with an Indian-themed glam rockabilly band called "The Mohawks," and is surprised when lead singer Billy Hatchet (Gavin Friday) falls for him. So, for that matter, are the other Mohawks, who gawk at them from behind lace-fringed windows like the old women of Tyreelin. But if certain elements recall Jordan's "The Crying Game," the lack of emotional and narrative tension isn't one of them. Billy's mates may look askance at the affair, but there is no threat of danger. And Kitten glides through the world as though it had nothing at all to do with him. He may mewl and whimper, but one corner of his mouth remains upturned at all times. He's a Teflon drag queen.
Patrick pressures Billy into letting him join the band as its new singing "squaw," and when that doesn't work, Billy installs Patrick in his own love shack, a run-down caravan by a lake. By now, Kitten's (as Patrick now insists on being called, short for St. Kitten), defiance of convention has started to curdle into opportunism, aimlessness and disaffection, and when he discovers that Billy is running guns for the IRA, he endangers his life in a move that seems less idealistic than childish.
After leaving Billy, Kitten travels to London in search of Eily Bergin. There he falls into one dark, absurdist, violent misadventure after another — all of them funny and oddly lighthearted. He becomes, for a time, the lover and assistant to a sad-sack magician, played by Stephen Rea, who hypnotizes him into believing that random members of the audience are his mother, and is later injured in a nightclub blast and taken into custody as a suspect.
By the time Kitten is set free and his life starts to take a turn for the better, your empathy is all but cashed. Here is a kid who can't wipe the smirk off his face even during a brutal interrogation. Not that you don't want to like him — he's tragic, he's cute, he's more resilient than a day-camp trampoline. But the very characteristics that keep him alive and kicking are the ones that keep you at arm's length. No surprise, then, that even the satisfying and semi-satisfying conclusions to various narrative threads don't quite satisfy.
The same defense mechanisms that keep cruelty at bay seem to prevent love from getting through. The title of the movie refers to a far-outsky comment by a friendly biker whom Kitten befriends early in the movie. The biker passes Kitten a joint and enjoins him to go out and explore the world and expand his consciousness. But the metaphor ends up too literal a description of the young drag queen's distance from his own life. He's nibbling toast in outer space as his world explodes around him.
'Breakfast on Pluto'
MPAA rating: R for sexuality, language, some violence and drug use.
Times guidelines: Contains a brutal beating scene, bombings and sexual situations.
Pathé Pictures and Sony Pictures Classics present. In association with Bord Scannán na hÉireann/The Irish Film Board and the Northern Ireland Film & Television Commission a Parallel Films and Number 9 Films production. Director Neil Jordan. Producers Alan Moloney, Neil Jordan, Stephen Woolley. Written by Neil Jordan and Patrick McCabe. Based on the book by Patrick McCabe. Director of photography Declan Quinn. Film editor Tony Lawson ACE
Running time: 2 hours, 9 minutes.
"Breakfast on Plute" (Sony Pictures Classics)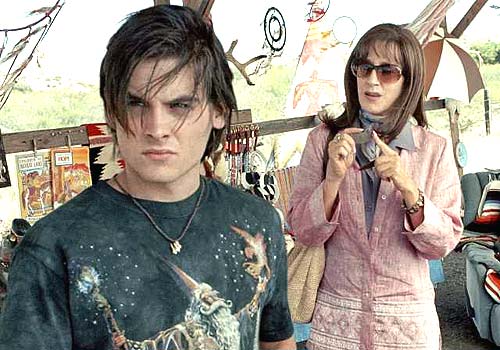 MAKING THE TRANSITION: Felicity Huffman plays a pre-op male-to-female transsexual who embarks on a road trip with her son, played by Kevin Zegers, in "Transamerica."
(Jessica Miglio / The Weinstein Company)
December 2, 2005
MOVIE REVIEW
'Transamerica'
Felicity Huffman is the engaging center of an unusual story about interconnectedness.
By Kevin Thomas, Los Angeles Times Staff Writer
Felicity Huffman is such a wonder, at once funny and brave, playing a pre-op male-to-female transsexual in the uneven comedy "Transamerica" that she sustains several lapses that might otherwise have sunk it. But Huffman's portrayal is so extraordinarily endearing and convincing and exquisitely nuanced that her Bree is engaging right to the finish.
What "Desperate Housewives" star Huffman manages is to depict a gender rite of passage that suggests that even a man convinced he is a woman trapped in a male body has had to learn how to express his femininity — and more important, to discover his humanity along with what kind of woman he will become.
Born Stanley, Bree has already undergone all the steps to becoming a woman except for the actual gender reassignment surgery. Bree has emerged as an angular, trim, middle-aged woman of self-conscious femininity and of prim and prissy demeanor who is rarely clocked as a transsexual. (Danny Glicker's costumes are a major assist: at once fluffy yet proper.)
Thankfully, she has an astringent sense of humor to offset her grandiosely precise way of speaking. She is a woman of strongly willed pride and dignity, and much of her life is spent in rising above dismaying situations with a starchiness that is amusing and admirably resilient. Huffman's performance is among the year's most distinctive and detailed.
Already armed with wide-ranging higher education, Bree is working on an advanced degree while supporting herself as a waitress and telemarketer in Los Angeles. She is eagerly looking forward to her surgery when she receives a phone call from Toby (Kevin Zegers), a 17-year-old Manhattan street hustler who's landed in jail and is trying to track down his father, Stanley, whom he has never met and who had a brief affair with his late mother. Bree wants nothing to interfere with her surgery, which took a full year to schedule, but her therapist (always delightful Elizabeth Peña) withholds her legal permission until Bree has met the son she never knew she had.
In a sense this is an unusually elaborate setup for a road picture, during which Bree and Toby become acquainted on an adventure-filled cross-country journey to Los Angeles, where Toby wants to become a porn star. Much of what happens along the way veers effectively between zaniness and poignancy, but director Duncan Tucker miscalculates when he makes a stopover visit with a transsexual group while Bree is passing herself of as a missionary to Toby and hiding the fact that she is his biological father. The inevitable moment of truth to which the entire film is building unfortunately occurs during a development that defies all probability but which Huffman and Zegers, who's up to being cast opposite Huffman, play with selfless daring.
Graham Greene, as a mellow Native American with an eye for Bree, lends the film welcome warmth and charm, but Tucker has directed that most formidable of actresses, Fionnula Flanagan, to go needlessly over the top as Bree's dragon of a mother. (More effective are Burt Young as Bree's laid-back father and Carrie Preston as her younger sister, in the midst of overcoming a drug habit.)
What Bree discovers in her journey with Toby is not only to be courageous but also that becoming a responsive, caring human being is as important as completing her gender transition.
'Transamerica'
MPAA rating: R for sexual content, nudity, language and drug use
Times guidelines: Strong adult themes and situations inappropriate for children
A Weinstein Co. presentation. Writer-director Duncan Tucker. Producers Linda Moran and René Bastian of Belladonna Productions and Sebastian Dungan. Executive producer William H. Macy. Cinematographer Stephen Kazmierski. Editor Pam Wise. Music David Mansfield. Costumes Danny Glicker. Production designer Mark White. Running time: 1 hour, 43 minutes.
Exclusively at the Sunset 5, 8000 Sunset Blvd., West Hollywood, (323) 848-3500.
The New York Times
MOVIE REVIEW | 'TRANSAMERICA'
A Complex Metamorphosis of the Most Fundamental Sort
By A. O. SCOTT
Published: December 2, 2005
To call Felicity Huffman's performance in "Transamerica" persuasive would be an understatement, as well as somewhat misleading. Her character, Bree (short for Sabrina), is a pre-operative transsexual who lives in a modest bungalow in Los Angeles and in a condition she refers to as "stealth." In other words, though still technically male, Bree passes for a woman, though there is nothing very stealthy about her elaborate, almost theatrical displays of femininity. In her tasteful pink outfits and meticulously applied makeup, she presents an image of womanliness that harks back to an earlier era. Her voice soft and breathy, she avoids cursing and peppers her conversation with Latinate words and foreign phrases.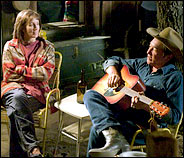 Weinstein Company

Felicity Huffman as Bree, formerly Stanley, and Graham Greene as Calvin in Duncan Tucker's debut feature, "Transamerica."
In this debut feature by Duncan Tucker, who wrote and directed it, "Transamerica" sets out to affirm Bree's dignity, to liberate her and others like her from any association with camp or freakishness. That the film succeeds without slipping too far into sentimentality or didacticism is in no small measure the result of Ms. Huffman's wit and grace. (She may also be the first film actor of either sex to do frontal nudity, in a single movie, as both.) Her work on "Desperate Housewives," for which she won an Emmy earlier this year, suggests a knack for gender parody, since that series is in essence a drag show that happens to star real women. The challenge Ms. Huffman faces here is more complicated: she must convey the layers of Bree's identity and the spaces between those layers. It is not just that the actress must play a man who is playing a woman - that much is a matter of technique (with some prosthetic assistance, to be sure) - but also that she must impersonate a performer in the midst of learning a complicated role. Her performance is a complex metamorphosis, and it is thrilling to watch.
"Transamerica" itself does not always live up to its star, but it is touching and sometimes funny, despite its overall air of indie earnestness. A week before her gender-reassignment surgery, Bree, formerly and reluctantly known as Stanley, discovers that a long-ago relationship has produced a previously unknown son named Toby (Kevin Zegers), who is now a teenage street hustler living in New York. Told by her therapist (Elizabeth Peña) that this is a loose end that must be tied up, Bree flies East to help the boy, who has run away from home after his mother's suicide. Allowing him to think that she is a Christian missionary - her upright, churchly bearing makes it easy to believe - she decides to take him back to rural Kentucky, where his stepfather lives.
Their journey gives Mr. Tucker a chance to indulge in yet another exercise in road-trip Americana, as Bree and Toby tour that mythic land where banjos and acoustic guitars compete with the crickets and loons. In keeping with the rules of cinematic cross-country travel, they eschew interstates in favor of winding two-lane highways, and eat in homey little roadside cafes. Along the way, they encounter a wise, warm black woman, a drunken and depraved hillbilly and a courtly Indian (Graham Greene), who takes a liking to Bree.
And of course, father and son do some tentative, poignant bonding, even though Bree can't bring herself to tell Toby the truth about their relationship. "I'm not his mother," she insists when strangers identify her that way, with increasing awareness of the absurdity of the situation. Luckily - for the audience, if not for Bree - they are forced to take a detour to visit her parents in Arizona, at which point the movie takes a welcome swerve. Off the road, it swerves toward a kind of domestic melodrama laced with mordant humor, as if Douglas Sirk had joined forces with Alexander Payne.
By its final third "Transamerica" has worked up enough momentum and self-confidence to overcome its sometimes obvious narrative, and to endow Bree's family of origin with an individuality that is both grotesque and heartbreaking. Her father, Murray (Burt Young), is an easygoing fellow in loose-fitting linen, but it is her mother, Elizabeth (the astonishing Fionnula Flanagan), who commands our attention. With her peroxide curls, silk pantsuits and heavy makeup, she might be an aging movie diva, and she has the volatile temperament to prove it. She verges on monstrousness, but stops short of being grotesque, and it is clear that while young Stanley may have rebelled against his mother, Bree has studied her behavior closely in search of both negative and positive examples.
Mr. Tucker is a subtle and conscientious writer; he takes care to treat Bree as a person rather than a case study. His individual scenes are more convincing than the narrative as a whole, which seems at times too neat, at times too ragged. But Ms. Huffman carries herself with such sensitivity and authority that you never doubt Bree for an instant.
This film is rated R (Under 17 requires accompanying parent or adult guardian). It has nudity and obscenities.
Transamerica
Opens today in New York and Los Angeles.
Written and directed by Duncan Tucker; director of photography, Stephen Kazmierski; edited by Pam Wise; music by David Mansfield; production designer, Mark White; produced by Linda Moran, Rene Bastian and Sebastian Dungan; released by the Weinstein Company. In Manhattan at the IFC Center, 323 Avenue of the Americas, at Third Street, Greenwich Village. Running time: 103 minutes.
WITH: Felicity Huffman (Bree), Kevin Zegers (Toby), Fionnula Flanagan (Elizabeth), Elizabeth Peña (Margaret), Graham Greene (Calvin) and Burt Young (Murray).
"Transamerica" official site
CLOSE-UP
SHOGO KARIYAZAKI
Flower power hed hed hed hed
By TOMOKO OTAKE
Staff writer
Shogo Kariyazaki is one of Japan's most flamboyant and outspoken authorities on beauty.
Shogo Kariyazaki
Since starting to study ikebana at age 24, the Tokyo native has risen to fame through his penchant for a sensitively decorative, yet often extravagant, approach to the traditional art of flower arranging. Now a colorful fixture on the nation's TV screens, as well as in magazines, Kariyazaki has also aggressively extended his reach to incorporate music and fashion, by combining his talents with those of such artists as pop singer Tatsuya Ishii, violinist Kaori Muraji and fashion designer Hanae Mori.

Memorably, at a recent opening party for his annual exhibit at Meguro Gajoen in Tokyo, Kariyazaki showcased his latest "collaboration with music" to the hundreds of guests. While an angelic young woman sang a classic tune beside him, Kariyazaki quickly "threw" flowers and branches into a gigantic vase, completing a gorgeous arrangement just as the final bars faded.

Now 46, the quick-tempered, fast-talking celebrity grew up by his own account as a shy, quiet boy in the northern suburbs of Tokyo. There -- he writes in his autobiography, "Kariyazaki Shogo: Hana wo Aishita Otoko (A Man who Fell in Love with Flowers)" -- his father was a local public servant, while his mother had worked in an office in glitzy downtown Ginza. From an early age, he says, he knew he had different tastes from other boys, who enjoyed things like baseball. But with his mother's encouragement for his preferred pastimes of playing the piano, gardening and cooking, he says he was able to find his "true calling" as a flower arranger.

During this recent interview at his Meguro Gajoen exhibition, Kariyazaki recalled his struggles as a youth, and how an encounter with veteran singer-songwriter Akihiro Miwa changed his life. He also openly shared his views on what some call the "feminization" of Japanese men -- as well as his own sexuality.
What is the theme of your exhibit this time?
This is my sixth year at Meguro Gajoen, and for this exhibition people in the city of Kasama in Ibaraki Prefecture have grown a whole variety of kiku (chrysanthemums) to be displayed. I'm helping the city too, by going there and making speeches. I'm friendly with the people of Kasama, and I'm trying to help the revitalization of the city.
I'm also featuring cymbidium, oncidium and moth orchids. I hope visitors will enjoy these great orchids. Berries are also prominently featured. Every room in the Hyakudan Kaidan (Hundred-Step Staircase) banqueting hall is very elaborately decorated and has a unique atmosphere, from wabi sabi (simple and antique) to kenran goka (gorgeous and dazzling). So I arranged flowers in a way that would fit each room. I also used a variety of glass vases that I myself made by hand, including ones that look like the face of a panda. I arranged flowers in a whole variety of styles, so it looks as though someone has turned a toy box upside down.
Works in his recent exhibition at Meguro Gajoen in Tokyo
We have to rearrange the flowers twice a day -- in the morning and at night. Because the exhibit runs for two weeks, it's an enormous amount of work. I couldn't have done it without the help of my staff. I'm very thankful.
I understand you have your own ikebana school in Tokyo.
Yes, and also on display at Meguro Gajoen are works by my students, who number about 700. They come from all over Japan, from Hokkaido to Okinawa, and also many students come from Singapore, Hong Kong, Paris and Shanghai for my lessons.
The motto of our school is, "A lifestyle that starts from flowers." But learning techniques alone is not enough. Aesthetic sensibilities, which are very important in flower arrangement, are nurtured through day-to-day activities, by going to movies and concerts, traveling, going for a walk and shopping. In those ways you can see and feel many beautiful things, through which you can polish your sense of beauty.
Why do you think some people lose their sense of beauty?
Many people waste so much of their time complaining. I'm saying, instead of wasting your time whining, let's find something beautiful; cultivate a mind that can feel beauty, instead of being preoccupied with jealousy. I think that people with jealousy and envy are losing so much in life.
I want people to know the power of beauty. Flowers are really powerful. Nearly 40,000 people will visit this exhibition. They have not only bought their tickets, but some of them have done shopping or had dinner here. Some will stay at this hotel, and others might feel like holding their wedding reception here in the future. Look at all the economic effect! See how economically powerful culture is!
People say the economy is bad, but the cure for recession is simple: It's culture; it's beauty. In this day and age, everyone is starving for beautiful things. I offer beauty to people young and old -- then they come en masse and loosen their purse strings. And many people are coming out of the exhibit feeling rewarded, happy, relaxed and rejuvenated. Flowers have that kind of power.
I am like a kyakuyose panda (a panda that attracts zoo visitors). I have been invited to stage exhibitions all over Japan, including at department stores. Why have I been privileged with such opportunities? Because I help their sales figures. They would not waste money on a project that they couldn't make money out of. I am fully aware of this.
You seem to have an extremely busy life.
Well, apart from my school, I also have my own flower-decorating business. In this economic environment, people say I must be having a hard time. But in our case, we are having a hard time because we get too many orders. Our staffers are overloaded. We arrange flowers for weddings, corporate parties and TV commercials. Then I have several exhibits every spring and summer. Plus I publish books at the rate of one every six months. I get all kinds of offers from publishers, even though the publishing industry is said to be in a recession. That's because my books have been best sellers. So, I have been helping the publishing industry, and people working in it are happy because my books sell and help them to earn income. To make all these people happy, I feel it's my mission to keep arranging flowers. And I believe flower arrangement is my calling.
How did you first become interested in flowers?
My parents loved gardening, and grew flowers in our garden. I naturally became interested, and picked up knowledge about flowers by watching my parents. During my high school and college years, I grew flowers as a hobby. Then after getting into college, I thought I might have a future as a flower arranger, and that's when my interest moved from growing to arranging. I started taking ikebana lessons. I enjoyed it so much I worked hard. That's how I started holding exhibitions, which led to various other opportunities. So here I am today.
But your success has not come without difficulties, has it?
That's right. I once thought that I wanted to study gardening at Chiba University, then I realized that my academic strengths were not in science but in liberal arts. I felt sad and felt like I failed. Then I failed to gain admission into college for two years in a row. I felt, "Why is it that things don't turn out the way I want them to?" Then, at another time, I aspired to become a pianist and worked very hard toward that goal. But then I realized that it would be impossible for me to become one because I started playing too late. Those are my failures, and back then, I agonized and felt sad about them. But on the other hand, I'm not the kind of person who frets about things -- I can "reset" myself and move on. It's the way I am.
How would you describe your personality?
I'm very emotional and very short-tempered, though I also have a tender side. I am very sensitive about what's beautiful. I'm very receptive. I am strong-willed about doing what I believe in. And I feel a keen sense of sympathy for those who are weak.
I understand you were heavily influenced by your mother. What kind of person was she?
My mother was just so kind. She was wonderful. Without her, I wouldn't have been born into this world, and without her help, I wouldn't be enjoying the success I am today.
Tell us about the singer Akihiro Miwa. I have heard you are his biggest fan.
Oh yes, Miwa-san. My mother was a big fan of his too, but when I was about 10 I saw him on TV, and I thought, "If I get immersed into this kind of world, which is so voluptuous, I would make my parents sad." After my mother passed away, I was feeling very depressed, and as I was wandering the streets of Shibuya I passed a place where a Miwa-san concert was being held. I couldn't get into the concert right then, but I went back a month later. That's when my association with Miwa-san started. Miwa-san taught me what life is, what beauty is. He still teaches me today. I think he saved my life. If I hadn't met him, I wouldn't be the Shogo Kariyazaki I am today. I admire him that much. It's thanks to him that I've made such a big break. He has taught me how to live naturally, without glossing things over, without trying to do something beyond your abilities. I know how difficult it is to do what you like and make a living that way.
There are so many people around me who are so full of jealousy and envy. I can't stand it if I have something that is not beautiful around me. Things like jealousy and envy are ugly powers. But somehow, I can turn ugly powers into positive powers. My will is very strong. I have my mission.
I also don't look back. I only look at the present and the future.
Some people say that Japanese men are becoming too feminized. What is your view on this?
They are becoming more beautiful. Men are exploring themselves. Of course, intellect and refinement from the inside are important. But appearances are just as important. It starts from washing your face and brushing your teeth to shaving, then evolves into taking care of your skin and eyebrows and hairstyles. It's definitely better to be beautiful. Who wants to be ugly? I think it's great that men are becoming more fashion conscious.
Some people might call it feminization, but that's not a bad trend. Femininity leads to gentleness and compassion. Well, some people might like the forceful roughness of a newborn lion. But I think the desire to be more beautiful is universal regardless of one's gender. Being fashion-minded makes you change, makes you live longer, creates new opportunities, leads to wonderful encounters with people. . . . I really think it's a key word for living happily.
In a Washington Post interview, you were depicted as one of Japan's "openly gay" entertainers . . .
That too. I thank the mass media. Because I'm on television nowadays, I can be open about myself. I used to hide it, and that was stressful. You feel like you are a social outcast. But now that I've come out of the closet, I don't have to pretend to be anything I'm not. I can be straight about it.
I've met a great partner, who is more than 10 years younger than I am, and we are living together. He is very earnest and wonderful. I introduced him to Miwa-san, who assured me that he has no hidden agenda and is just a great person.
Some people feel like they have to hide the way they are for work-related reasons, and that's OK. I think whether someone can come out is a case-by-case issue. There are lots of people who make a fuss about this kind of thing in Japan, though of course there are such people overseas as well. There are some people who discriminate. But in my case, coming out made me happy. I've committed no crimes, I haven't caused any trouble to other people -- and I am helping the economy. I'm ranked among the top taxpayers. I'm paying taxes more than anybody. So I don't worry about that at all.
But for you to be able to voice your opinions so frankly, does that mean that Japan has changed?
Yes, it has changed. But also, every one of us has something wonderful about ourselves. People can change by putting time and money into what they are good at, and becoming more confident about themselves. It's a lack of confidence that makes people cringe and worry about things. If you have one or two things that you are confident of, your life can change so much.
You yourself used to be very shy, right?
Yes. I've changed. So it's very important to be confident.
What's your philosophy when it comes to fashion?
Before, I used to wear black clothes only, because I thought as a flower arranger I should remain low profile and let the flowers speak for me. But Miwa-san advised me several months ago that I should wear bright-red underwear. Then I felt like dressing differently, and now I wear colorful clothes.
My fortunes have improved greatly since then. Good things come my way. The effect of color is huge. I realize more and more what a difference colors can make. Wearing brightly colored clothes makes you feel excited, and attracts people around you.
I hear that you are into feng shui as well.
Well, yes, I think it's better to try everything than not to. I try everything that people say is good. If it doesn't work, I quit it right away. If I feel good about it, I continue to believe in it.
And what about your hairstyle?
If you grow your hair long like this, it looks heavy. So the longer I've grown my hair, the more I've lightened the color. It's all calculated. It's all coordinated.
Where do you get inspiration for your work?
From everyday life -- going to movies, eating good food, taking a walk, going to a supermarket . . . through all of these activities I naturally pick out things that I find are nice, beautiful and interesting. They are naturally programmed into my brain. Then when I arrange flowers, I always play music -- ranging from classical to chanson, jazz and bossa nova. With the rhythm of the music, what is in the back of my mind comes out.
I don't create things intentionally. I guess my brain is wired in ways that are different from other people's. And I'm a multitasker. Like I said, I have various different businesses going on at the same time. I have mountains of work. I can carry out different jobs simultaneously. I realize I am very special in that sense.
Being so busy, how long do you sleep each night?
Well, I sleep about four hours. I'm trying to sleep more, up to six hours.
What are your hopes and fears?
I fear natural disasters -- like earthquakes, typhoons and accidents, things that I can't predict. As for hopes . . . I want to maintain my health. Because without health, I won't be able to live well. Remaining healthy is my ultimate hope.
How do you see your future professionally?
Right now I'm active in the fields of flower arrangement and cooking. But in the future I would like to expand my activities to include interior design, etc. And I would like to keep advocating a lifestyle featuring flowers.
The Japan Times: Dec. 4, 2005
Dr.北村 ただ今診察中
第87話 これからの避妊法 (毎日 2005/12/01)
 自分でいうのもなんですが、「Dr.北村 ただ今診察中」の読者は、全世界に広がっています。日本を離れて各国で活躍されている女性たちから送られてくるメールでそれをうかがい知ることができます。
 そんな女性たちから教えられた新しい避妊法の数々。腟リング、皮膚貼布薬、子宮内避妊法。今回は、日本には存在しないこれら避妊法を紹介します。
 1999年9月には米国に遅れること40年、ついに低用量経口避妊薬(ピル)が承認され、その後続々と銅付加子宮内避妊具、女性用コンドームが発売されるなど、日本の避妊の歴史に新たなページが開かれたと調子に乗っていたら、実は避妊先進国から見たら既に30年も前の代物だったのでは笑い話にもなりません。ピルはさらに進化し、量も3分の2程度に減った超低用量ピルの時代を迎えているのです。
 ドーナツ状の形をした腟リングが話題となっています。リング型の管に入ったピルの成分でもある女性ホルモン剤が腟内で持続的に放出されることによって避妊効果を保つ方法です。腟リングは、ホルモン剤が腟から吸収され肝臓を経由しないという利点があります。3週間リングを入れっぱなしにし、1週間休みます。避妊機序はピルと同様で、出血はお休みしている1週の間に起こります。腟リングの利点は、挿入と抜去を使用者本人が行えることです。
 ピルと同様の成分からなる皮膚(ひふ)貼付薬(パッチ)も注目を集めています。腕、腹部、臀(でん)部に貼付することによって、ホルモンを徐々に放出し避妊を可能にします。皮膚パッチは一週間程度のホルモン剤を供給することから、使用者にとってはピルのように毎日服用する必要がないこと、腟リングと同様、ホルモン剤が消化管を経由しないことから悪心や嘔吐(おうと)などの副作用が少ないことが特徴です。また、毎週1回決められた曜日に新しい製剤に貼り替え、3週間にわたって使用するもので、貼付しない4週目に消退出血が起こります。ピルのように月経の初日に貼付するデーワンスタートと、月経開始後最初の日曜日から貼付するサンデースタートの2種類の使用法があります。
 子宮内避妊具(Intra Uterine Device:IUD)は、現在世界のおよそ1億5千万人に使用されていますが、長期間使用する避妊法としては、費用便益の観点から高い評価を得ています。1960年代の初期以来、IUDは改良が重ねられ、銅付加や黄体ホルモン剤付加IUDが誕生しています。特に、黄体ホルモン剤が付加されたIUDはIUS(Intra Uterine System:IUS)と呼ばれています。IUSの代表的なMirena(R)は黄体ホルモン剤を放出するもので、垂直軸と水平軸がともに32mmのT型をしています。簡単にいえば、IUDとピルを合体させたようなものです。
 深刻な事態を招きかねない妊娠を回避する手段である避妊法開発に、極めて不熱心な日本のこと。ここに紹介した新しい避妊法を享受できる日はいつ訪れるのでしょうか。不熱心さは、女性の健康問題に対する無関心さの現れでもあります。