カテゴリ
以前の記事
検索
最新のトラックバック
その他のジャンル
ファン
記事ランキング
ブログジャンル
画像一覧
Uターンするのか (東京 2005/12/11朝刊)
 「男女がお互いの特性を認めつつ、責任を共有する『男女がともに支え合う社会』をめざします」  
十一月二十二日の自民党結党五十年大会で報告された新綱領
に、こんな文言がある。
 男女の"特性"と、わざわざ表現するのは「男は仕事、女は子どもを産み育て、家庭を守る」と言いたいからなのだろうか。
 もし、そうだとしたら、政府が二十一世紀の最重要課題と位置づけている「男性も女性も、個性や能力を発揮できる男女共同参画社会」の形成を、根底から揺るがしかねない。
 伝統的な「男は仕事、女は家庭」などの「社会的性別」(ジェンダー)を見直そうとしているのに、なぜいま男女の特性などと言いだしたのか。
 総務省の労働力調査によれば、共働き世帯は全世帯の半数近くを占めている。平均月収は六十万円強、その四分の一を支えているのが妻だ(二〇〇四年「家計調査」)。
 学費や医療費などの家計が年々ふくらみ、もはや妻の働きなしに生活できない家庭が多いのが実態だ。
 男女の役割をあえて区別すれば、男性は過労死になるような長時間労働を強いられ、女性は仕事も家庭も子育ても介護も抱えることになりかねない。
 「思い切った少子化対策を進め、出生率の向上を図り…」と書いてある新綱領にも矛盾している。
 必要なのは家事・子育てへの男女共同参画だろう。男性も女性も午後六時には家庭に戻れるような社会環境をつくるために、意識や社会の構造改革をすることこそ、少子化対策になるはずだ。
 時代の流れを「Uターン」させてはならない。 (国保良江)
国際婦人年連絡会 30周年 若い団体との連携模索 (東京 2005/12/11朝刊)
 思想・信条を超えた41の女性団体でつくる国際婦人年連絡会が、結成30周年を迎えた。国連の動きに呼応し、政府や自治体へ要望するなどの活動をしてきた。先月末には、記念のイベントが東京都内で盛大に開かれたが、メンバーの高齢化で一時の勢いを失いつつあり、若い世代との連携を模索している。 (国保 良江)
 国際婦人年連絡会が結成されたのは、「平等・開発・平和」を目指して国連が国際婦人年と定めた一九七五年。同十一月に四十一団体で開いた「国際婦人年日本大会」がきっかけになった。
 今は亡き市川房枝さんが委員長になり、同年十二月に「国際婦人年日本大会の決議を実現するための連絡会」(現・国際婦人年連絡会)を結成。後に五十三団体に増えた時期もある。
 連絡会が最も盛り上がったのは、七九年暮れの国連総会で日本政府も賛成した女子差別撤廃条約を、八五年に批准するまでの数年間だ。条約批准のためには多くの国内法を整備する必要があった。その一つが男女雇用機会均等法だ。働く女性も一般の女性も一緒に活動し、世論形成に大きな役割を果たした。
 九九年には女性たちが長年求めてきた男女共同参画社会基本法ができ、翌年には基本計画が作られた。行政改革で二〇〇一年には内閣府に「男女共同参画会議」ができ、その事務局として男女共同参画局が設置された。
 しかし、三十年が経過したことで、女性団体を担ってきた人々の高齢化が進み、かつての勢いは感じられない。
 同会世話人の一人で、日本YWCA理事長の江尻美穂子さんはその理由を「男女不平等の中で働いてきた戦前の女性の苦労が軽く受け止められ、法的には整備されつつある男女平等が当たり前に受け止められるようになった。その結果、物質的豊かさを追求し、世界の情勢にも、国の政治にも『女は家庭へ』という回帰的な動きにも無関心な人が増えているからではないか」と分析する。
 しかし、「時代の流れだから」と済ませられるほど、女性を取り巻く状況を楽観はできない。今回の大会でも、▽管理職に女性を▽パート労働者の均等待遇の実現▽男女雇用機会均等法の改正▽性別役割分担を前提にした社会を改めるなど、「労働」「家族・福祉」など六つの委員会から課題と行動計画が示された。
 江尻さんは「問題解決の近道は、女性が政策決定の場に多数参画することや、日本の社会は男性にも住みにくいので、ジェンダー(社会的性別)平等の視点に立つ男性を増やすこと。これらの方策はそのまま、私たちの活動を活性化させる起爆剤になるでしょう」と強調する。
 若い人たちに、どうしたら問題意識を共有してもらえるのか。どうしたら一緒に動いてくれるのか。次の時代をにらんで、運動を担ってきたメンバーらは模索している。
 同会事務局長の山口みつ子さんは、「電子メールを使えば、忙しい若い人でも簡単に活動に参加できます。若い団体と積極的に連携していきたい」と提案する。
 さらに「若い世代の中にも、環境問題とか夫婦別姓、エイズの問題など、個別のテーマで一生懸命活動している人たちはいる。こうした人たちと横のつながりを築ければ、女性を取り巻く社会的、政治的な問題に立ち向かう新たな力に育っていくのではないでしょうか」と期待を込める。
The New York Times
Music
The World's Most Popular Gay Postmodern Harpsichord Nerd
By CARL WILSON
Published: December 11, 2005
OWEN PALLETT'S personality, like his music, is full of incongruities.
One minute he is fussing with the funereal-looking harpsichord that he is refurbishing on the floor of his boyfriend's apartment in downtown Toronto, its legs removed, dusty wooden box askew and keys protruding at odd angles. The next, the boyish 25-year-old Mr. Pallett is firing up a Japanese video game that involves rolling an ever-expanding animated ball around fluorescent digital landscapes. He zaps through the menu to hear what he calls his favorite song of the year, sung by an Asian children's chorus with near-psychotic glee.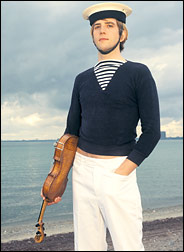 Debra Friedman/Klixpix
Owen Pallett, a musician of incongruities and sailor hats. Trained as an opera composer, he has used his experience to expand indie rock.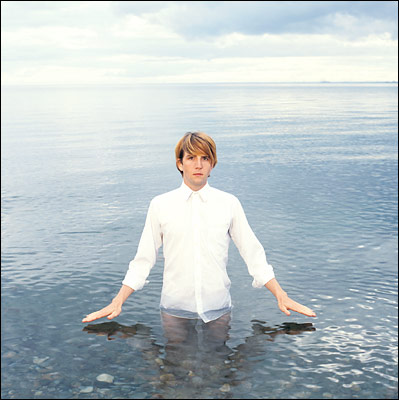 Debra Friedman/Klixpix
Owen Pallett says, "Toronto is the only place I've ever been where you can do just about anything, very straight or completely weird, and the audience will support it."
Yesterdays and tomorrows often collide around Mr. Pallett this way. He turned heel on a lifetime of classical music training to plunge into central Canada's independent-rock scene, arguably the most vibrant in the world. But he didn't start bashing out three-chord guitar tunes. Instead he is using his training to widen the genre's boundaries.
He first emerged as a string performer and arranger with multiple bands, among them the Arcade Fire, the Montreal ensemble whose debut album, "Funeral," is now nearing platinum levels, and has won fans including David Bowie and U2.
But lately Mr. Pallett is stepping out of his supporting role in a lush, solo-violin-based project called Final Fantasy, where his hybrid sensibility is in full bloom. In an online poll last month, he was ranked among the top four Canadian artists of 2005. Sean Michaels, proprietor of the influential music blog Said the Gramophone, said Final Fantasy was the music that most amazed him this year: "It reaches as deep and as recklessly as the country's more rockin' talents, and it's all performed with such ease and generosity that you'd think it was as easy as pushing your hair away from your eyes."
In Final Fantasy you hear how Mr. Pallett's art is born of contrast, not only between pop and contemporary composition, but between the organic and the electronic, the fantastical and the domestic, the abrasive and the sweet. A perfectionist who adores the rough-hewn, he is at once hopelessly nerdy and improbably cool. He is also a gay man who sings explicitly about same-sex love, but in a style so matter-of-fact and free of camp mannerisms, audiences often don't realize it.
You might compare him to John Cale, the viola player who translated the innovations of 1960's minimalist composers into the drone-rock of the Velvet Underground.
But where Mr. Cale was an outsider invading a resistant rock scene, Mr. Pallett has been warmly embraced. "Toronto is the only place I've ever been where you can do just about anything," he said, "very straight or completely weird, and the audience will support it."
Mr. Pallett grew up in various small towns in Ontario in a fractured family with a church-organist father and 10 siblings and half-siblings, a background that surfaces, fictionalized, in songs like the enormously catchy "Furniture": "My father had a dozen wives/ And a child by every one/ And I am from about Number 5/ So don't expect me to stay with anyone."
Like his brothers, he started studying music early, but for him it grew into an obsession, with 20th-century modernism exerting a particular pull. At the University of Toronto, he trained as a composer of contemporary opera. But his first compositions were written at 13 for the video game Traffic Department 2192, which an older brother designed. Since he didn't listen to rock and rap, video games were his conduit to pop culture. (His band's name is lifted from a hit Japanese game series.)
By the time he completed his degree, Mr. Pallett was alienated by the music establishment's rigid schools of thought. Unsure where to turn, he passed time doing paid gigs with cheesy bar bands. The turning point came when he was recruited by the Hidden Cameras, a boisterous "gay folk church music" indie-pop band later signed to Rough Trade Records in London. The Cameras helped transform Toronto's moribund rock landscape into a freewheeling scene with a penchant for conceptual humor, creative concert formats, visual art, sexual frankness and crowd participation.
As in Montreal, Toronto groups tended to swell into large collectives, with everyone pitching in on everyone else's projects. Fans in Europe and the United States began to pay heed.
For a disillusioned young composer, it was more alluring than anything so-called serious music had to offer. "Whatever you intended to do, the scene encouraged you," Mr. Pallett said. He branched out to become indie Toronto's designated string arranger, often overdubbing himself to simulate whole chamber groups, lending local albums a new sheen of sophistication.
He also formed Les Mouches, a combustible acoustic trio with free-jazz drumming. The group hooked up with Blocks Recording Club, a CD co-op with a handmade aesthetic, started by Steven Kado, a fellow ex-Camera.
The trio's album "You're Worth More to Me Than 1,000 Christians" was accumulating admirers in spring 2004 when Mr. Pallett was asked to play a benefit show. He decided to try an idea: he channeled his violin through a sampling unit that allowed him to play violin lines live, record and then layer them, using foot pedals to manipulate the arrangements in real time.
Calling it Final Fantasy was a small joke about the project's unabashed grandeur. But there was a purpose to the romanticism. "At that point my boyfriend and I were about to break up," he explained. "I thought that if there were any way to balance domestic and work life, it would be to have a band specifically for his ears." The gambit worked, and not only on his paramour, who now serves as his tour manager and helps design album art. Most everyone who heard Final Fantasy was stunned. The songs were as confidential as love letters, but as archetypal as fables, punctuated with barbed wit.
Even more compelling was the musical process: He would pluck a pizzicato rhythmic foundation, which would carry on as he layered a flowing melodic line, which might pause for an a cappella cry, then resume in a tapestry of sound recalling an Ennio Morricone movie score, which put Mr. Pallett's vulnerable-choirboy vocals in stark relief. The sheer mass of melody in the interwoven violin lines could be overwhelming.
Where other soloists (like the Chicago violinist Andrew Bird) employ the technique to turn themselves miraculously into one-person orchestras, Mr. Pallett makes the process visible, highlighting each step, rendering his performances at once more theatrical and more intimate.
Les Mouches continued for a while, but then Final Fantasy became the Arcade Fire's opening act. Mr. Pallett hastily recorded "Final Fantasy Has a Good Home," a rough but charming first album, and spent the rest of the year on tour.
He is grateful for the attention, but regrets the distance this whirlwind carried him from his other projects. "It was terribly disappointing," he said. "Still, I don't have any ideal of what I want to do. If people tell me they like quiet songs, I'll make quiet songs. I feel a bit like a servant."
But he chafes when people compare him to confessional songwriters like Nick Drake or Elliott Smith, and he uses the name Coldplay almost as a curse. "I think self-expression and catharsis makes bad music," he said. "There are potholes in people's perceptions, and you want to steer around some and totally dive into others."
One label he happily invites, with his video game and sword-and-sorcery references, is nerd, which he considers overdue for romanticization. Mixing it with gay sexuality seems like one of the freshest aspects of Final Fantasy - a byproduct of liberal Canadian attitudes that relieve Mr. Pallett of any pressure to assert or defend his identity.
And it only gets nerdier. He plans to put some songs out purely as sheet music - "an album you have to perform yourself" - in indie Toronto's participatory spirit. But his next CD, due in spring, is a song cycle based on "the eight schools of magic" in the ultimate geek game, Dungeons and Dragons. "I'm quite a grounded atheist in every way," he said, "but I enjoy that kind of codification of whimsy."
He previewed the suite once with a live string quartet, which will tour with him and his harpsichord next year. The group liberates Mr. Pallett from the repetitive structure of the loop pedal, unleashing a riot of notes and timbres that make his music seem far evolved from most indie-rock. It uses the mythical stuff of divination and transmutation as cover for more potent real-life matters, namely the horrors of change, loss and death.
"The best fantasies, like Narnia," he said, "hint at an entire developed world you're only being given a glimpse of. There's an element of concealment. You don't show the whole palm."
And so it is with Mr. Pallett's Final Fantasy, of which it seems safe to say even his fans have barely heard the beginning.
TIME
Saturday, Dec. 10, 2005
Why Japan Keeps Provoking China
Beijing's growing regional power has spurred a rightward political shift in Tokyo
By JIM FREDERICK/TOKYO
Surrounded by long, broad paths and shady groves of cherry trees, Yasukuni Shrine is one of the most pleasant refuges in the crowded urban tangle of central Tokyo. But its peaceful setting belies its central role in a deepening controversy over Japan's interpretation of its wartime past. Inside its walls, Shinto priests regularly honor men executed as war criminals after World War II, and memorabilia from kamikaze pilots, the Burma death railway and other highlights of Japan's wartime history are displayed at the shrine's museum, next door. When Prime Minister Junichiro Koizumi visited the Shinto sanctuary (as he has once a year, every year since taking office in 2001) on October 17, he knowingly ignited a firestorm of condemnation from China and South Korea. For those countries, the visits are a hurtful homage to Japan's warmongering past and are one of the main reasons Chinese premier Wen Jiabao called off a meeting with Koizumi at the East Asian summit starting December 12.
"Yasukuni has been a major obstacle to better relations throughout Asia for a long time," says Jeff Kingston, a professor of Japanese history at Temple University's campus in Tokyo, "but the friction just keeps getting worse."
Although the name Yasukuni means "Peaceful Nation," the Shine's controversial history has been anything but peaceful. Built in 1869, Yasukuni Shrine commemorates the souls of more than 2.5 million of Japan's war dead. During Japan's colonial era, military and political leaders made the shrine a focal point of Japan's native religion, which they used to help justify Tokyo's drive to conquer Asia. Nationalist propaganda proclaimed that the souls of those who sacrificed their lives at war for Japan would live on forever, venerated as heroes, at Yasukuni. Soldiers, pilots and seamen heading into battle would frequently bid farewell to each other by saying, "See you at Yasukuni."
Although Japan embarked upon a drive to become an economic superpower following its military defeat in 1945, the Yasukuni shrine has remained a quiet but potent and enduring symbol for the country's die-hard nationalists. Since 1959, priests at Yasukuni have quietly enshrined over 1000 convicted war criminals, including infamous figures like Hideki Tojo, the wartime prime minster and Nazi supporter who ordered the attack on Pearl Harbor. The shrine frequently attracts ultra-conservatives who wear rising-sun headbands, drive ominous black vans blaring military marches, and call on the Japanese people to reassert the emperor's divinity and resist foreign influences.
While those black-van nationalists have long been an easy-to-ignore radical fringe, increasing anxieties over China's new global assertiveness have spurred a gradual rightward shift in the Japanese mainstream over the past decade. For politicians like Koizumi, Yasukuni is regaining its talismanic importance — even before he was elected, Koizumi promised on the campaign trail to visit Yasukuni every year.
Not surprisingly, most Japanese are reluctant to acknowledge that nationalism is on the rise, and they resent the accusation especially from China, a country that spends a far greater proportion of its GDP on defense than Japan does. They point to Japan's 60-year track record as a democratic, pacifist, nuclear-weapon free nation, and say that Japanese leaders have apologized for World War II frequently and publicly. They also ask what the the more than $33 billion in direct aid, technical assistance and loans Japan has given to China since 1979 is, if not de facto reparations for past injustices.
But while Japanese school kids are not taught to hate the Chinese, they are sometimes offered a distinctly exculpatory version of World War II history. At Yasukuni's museum visitors learn that U.S. President Franklin D. Roosevelt restricted energy exports to Japan not in protest at Japan's invasion of China, for example, but because in 1939, he had resolved to join Great Britain in the war, and used "embargoes to force resource-poor Japan into war." Likewise, an exhibit on the "Nanking Incident" of 1937 does not mention the tens of thousands (and perhaps hundreds of thousands) of Chinese citizens the Japanese military slaughtered there in 1937 and 1938. It says only that, "The Chinese were soundly defeated, suffering heavy casualties. Inside the city, residents were once again able to live their lives in peace."
And due to Japan's distinction as the only country to have suffered the effects of atomic bombs, many Japanese even perceive their country as one of the war's great victims. The growing popularity of nationalist pop culture, meanwhile, is only reinforcing the lapses in education. In "Introduction to China," a best-selling comic book, readers learn that Japanese atrocities like the massacre at Nanking or the biological experiments on Chinese prisoners by the Imperial Army's Unit 731 either never happened or have been cynically exaggerated for Chinese political gain. And today, the comic claims, China is a leading exporter to Japan of crime, prostitution and disease.
With booming economic growth and accompanying military build-ups in East Asia, the arguments over historical events 60 years ago may sound somewhat beside the point to many outsiders. But with the premiers of China and Japan no longer on speaking terms, talk is already turning to this: Will Koizumi's successor visit Yasukuni?
Saturday, Dec. 10, 2005
Why China Loves to Hate Japan
Denouncing the erstwhile invader may provide an ideological buttress for China's own leadership
By MATTHEW FORNEY/BEIJING
You don't have to look far to see why Chinese grow up learning to hate Japan. Take the forthcoming children's movie, "Little Soldier Zhang," which Beijing-based director Sun Lijun says he made having "learned a lot from Disney." The film chronicles the adventures in the 1930s of Little Zhang, a cute 12-year-old boy feeling his way through an unfriendly world. But the resemblance to Pinocchio ends there. After Japanese invaders shoot Little Zhang's grandmother in the back, the boy seeks revenge by joining an underground Red Army detachment. He moves among heroic Chinese patriots, sniveling collaborators and sadistic Japanese. The finale comes with Little Zhang helping blow up a trainload of Japanese soldiers and receiving a cherished reward: a pistol with which to kill more Japanese. "I thought about including one sympathetic Japanese character, but this is an anti-Japan war movie and I don't want to confuse anyone," says Sun, who will premier his film on International Children's Day.
Chinese kids can be forgiven for thinking Japan is a nation of "devils," a slur used without embarrassment in polite Chinese society. They were raised to feel that way, and not just through cartoons. Starting in elementary school children learn reading, writing and the "Education in National Humiliation." This last curriculum teaches that Japanese "bandits" brutalized China throughout the 1930s and would do so today given half a chance. Although European colonial powers receive their share of censure, the main goal is keeping memories of Japanese conquest fresh. Thousands of students each day, for instance, take class trips to the Anti-Japanese War Museum in Beijing to view grainy photos of war atrocities — women raped and disemboweled, corpses of children stacked like cordwood. As one 15-year-old girl in a blue and yellow school uniform, Ji Jilan, emerged from a recent visit to the gallery, she told a TIME correspondent: "After seeing this, I hate Japanese more than ever."
So it is not surprising that this nationalist animosity reaches the highest levels of government. The Chinese Premier, Wen Jiabao, recently created shockwaves by saying he would refuse to meet with Japan's prime minister, Junichiro Koizumi, at a ground-breaking summit of East Asian nations that begins Monday. Reasons include rising Japanese nationalism and a recent visit by the Japanese Premier to the Yasukuni Shrine in Tokyo, which commemorates Japan's war dead, including some war criminals from the time of Japan's invasion of China in the 1930s. But underneath that diplomatic spat over history is a struggle for power and influence in East Asia that is increasingly straining Beijing-Tokyo relations. "The China-Japan relationship in the near term is more tense and worrisome than the potential for conflict elsewhere in the region," says Thomas Christiansen, an expert in Asian security at Princeton University.
Of course, nobody expects China to forget the past. The war launched by Japan's militarist leaders killed an estimated 20 million Chinese. During the Rape of Nanjing in 1937-38, soldiers butchered 300,000 civilians, according to Chinese figures. Most Japanese are aware of what happened but their society has never engaged in the type of introspection common in Germany after the Holocaust. Carefully worded official apologies have landed far short of the five-star kowtow demanded by Beijing, senior Tokyo officials occasionally deny atrocities and just last April a new government-approved textbook written by right-wing groups downplayed the wartime brutality visited on civilians.
The problem is that just as Japanese soldiers once dehumanized Chinese, Beijing's propaganda often paints Japanese as pure monsters. Grade school textbooks recount the callous brutality of Japanese soldiers in graphic detail, and credit the Communist Party with defeating Japan. (Another reason for Japan's surrender, it says, was the atomic bombs dropped by the U.S.) More moderate voices are silenced. A 2000 film by one of China's leading directors, Jiang Wen, remains banned because it depicted friendliness between a captured Japanese soldier and Chinese villagers. Although the film showed plenty of brutality, censors ruled that "Devils at the Doorstep" gave viewers "the impression that Chinese civilians neither hated nor resisted Japanese invaders."
Why keep up the propaganda onslaught 60 years after Japan's surrender? Many suspect China's unelected leaders hope to use anti-Japan sentiment to buttress their own legitimacy. Ever since the Tiananmen Massacre of 1989, support for the Communist Party has rested on the shaky foundation of economic growth. Nationalism, by contrast, could prove more enduring. "Reviving war memories keeps the nation united against Japan, and behind the party," says Beijing-based writer Liu Xiaobo. It's a risky strategy. Anti-Japan sentiment grew into rowdy street protests in Beijing and Shanghai in April, which the quickly government suppressed for fear they could spin out of control. But until China's leaders have some new pillar of legitimacy, Liu predicts, "the Japanese will stay devils in China."
▲
by

alfayoko2005

| 2005-12-11 14:45 | 国内政治
TIME
Monday, Dec. 05, 2005
Sex, Please--We're Young and Chinese
A generation after Mao suits, China is coping with an epidemic of free love
By HANNAH BEECH
Li Li has lost exact count of how many men she has bedded, but she knows the number is far above 100. "I don't keep statistics," says the former journalist, 27. But she isn't averse to kissing and telling. For the past couple of years, Li has kept a blog--written under the pen name Muzi Mei--that has chronicled everything from her penchant for orgies and Internet dating to her skepticism toward marriage when it means staying faithful to one man. This fall the Beijing resident posted a recording of her own lovemaking sounds that would make Paris Hilton blush. More than 50,000 people simultaneously tried to download the 25-minute podcast, crashing the host server. Despite government attempts to censor it, the sex diary is so popular that Li's pen name is intermittently the most searched keyword on China's top search engine. "I express my freedom through sex," says Li, unapologetically. "It's my life, and I can do what I want."
Freedom in the bedroom is a novel concept in China, where for decades communist minders dictated most aspects of people's private lives. Dressed in baggy Mao suits--hardly outfits to set the pulse racing--citizens of the People's Republic had to ask permission from local officials on everything from whom to marry to what kind of birth control to use. But these days many Chinese are walking on the wilder side. Sparked by the easing of government control over individual lifestyle choices and the spread of more permissive, Western attitudes toward sex, Chinese are copulating earlier, more often and with more partners than ever before. Today 70% of Beijing residents say they have had sexual relations before marriage, compared with just 15.5% in 1989, according to Li Yinhe, a sociologist at the Chinese Academy of Social Sciences. A survey taken last January of seven major Chinese cities found that among those 14 to 20, the average age of first sexual experience was 17.4, while those 31 to 40 had lost their virginity much later, at 24.1 years old. Says Fu Zhen, 28, a teacher in Shanghai: "My parents' only entertainment came from revolutionary movies, so they were very conservative about sex. My generation, we see everything from everywhere, and we are hungry for new experiences." As if to underline the point, Fu has adopted the nickname Carrie--as in Bradshaw, of Sex and the City.
All this hanky-panky is spawning new industries. Lingerie boutiques are proliferating in the big cities, and last month's Sex Culture Festival in the southern city of Guangzhou attracted more than 50,000 people eager to procure the very latest in adult toys--70% of which are now manufactured in China. One of the most popular? The "erotic butterfly," specially designed for women.
But China's sexual revolution has also brought unpleasant side effects. Although sex education is supposedly mandatory in Chinese middle schools, "many older teachers are too embarrassed, so they tear out the pages about sex from the textbooks," says Hu Peicheng, secretary-general of the China Sexology Association in Beijing. With little knowledge of birth control, an increasing number of unmarried women are getting pregnant in a culture in which single motherhood is still taboo. A survey by Shanghai medical researcher Yan Fengting found that 65% of urban women undergoing abortions in 2004 were single, compared with just 25% in 1999. Rates of sexually transmitted diseases are skyrocketing too, with HIV infections growing most quickly among Chinese 15 to 24 years old. Brothels barely disguised as beauty salons crowd the streets of China's big cities, while certain suburbs are known as "concubine villages" because of their high concentration of mistresses.
Those extra temptations--which the communists largely eradicated after taking power in 1949--have wreaked havoc on marriages, with 1.6 million Chinese couples divorcing in 2004, a 21% rise from the year before, according to the Ministry of Civil Affairs. "Before in society, we had a sense of right and wrong," says the China Sexology Association's Hu. "Now, we can do whatever we want. But do we have any moral standards left?"
Younger Chinese aren't too concerned. A poll by a Beijing magazine found that one-third of Chinese under the age of 26 had no problem with extramarital affairs. In a country where there's little political autonomy for young people, at least there's plenty of free love. "Maybe in the past, everyone was obedient and listened to the old grannies who lectured on who you could have sex with and in what position," says blogger Li. "But we don't have time to listen. We're too busy having sex."
♪ 地方三流大学の統一教会御用学者の分際で、日本の憲法学の権威に喧嘩を売る、これを「身のほど知らず」と言う
「女系天皇容認」をどう考えるか/高崎経済大学助教授 八木秀次氏に聞く(2005年12月10日 世界日報)
天皇の正統性 喪失の危機に直面
 秋篠宮殿下以来35年間、男性皇族の誕生がない中、皇室典範の改正を検討してきた小泉純一郎首相の私的諮問機関「皇室典範に関する有識者会議」はこのほど、女性・女系天皇の容認を打ち出した。
つづき(その1)(その2)

世界日報(有料)
Dr.北村 ただ今診察中第88話 隣の国のエイズ事情 (毎日 2005/12/08)
 上海の夜景の美しさに見とれていると、アッという間に偽ブランド品を売りつけようとする男女の群れと物ごいの親子連れに取り巻かれました。驚くべき勢いで進む都市化と貧困。今回は上海からのレポートです。
 12月1日の世界エイズデーに合わせるように上海への出張が決まりました。15年ほど前に訪れた上海は跡形もなく林立する高層ビルの数々。その陰で、HIV/AIDSは静かに、そして深く広がっていました。
 滞在中に入手した情報によれば、予防対策などが積極的に行われなければ、2010年末までにHIV感染者数は1000万人を超えるともいわれています。中央政府は、この数をなんとしても150万人までに抑えたいと考えているようです。
 中国本土におけるHIV感染者の数は、昨年の末までに推計84万人。しかし、政府とWHOの調査によれば、今年9月末までに、31,143人のAIDS患者を含む135,630人が感染者と報告されているに過ぎず、感染しているかどうか不明の感染者がいかに大勢いるかを物語っています。
 中国で最初にHIV感染者が発見されたのが1985年でしたが、今では中国全土31の省・地域に広がっています。1990年代後半に、汚染された器具の使用を余儀なくされた売血者でHIV感染者が出たことをきっかけに、急激な勢いで拡大していきました。そんな中国特有の事情もあって、今では、HIV感染の原因としては、23%が売血によるもの、薬物40%、性的接触9%、その他となっており、世界のHIV/AIDS事情とはいささか異なっています。1990年代後半以降は、輸血を原因とした感染例は減少していますが、最近では非合法の薬物や売春などが増加していることから実態をつかみきれないようです。
 滞在中、カラオケ・スナックに行くチャンスがありましたが、日本からの来客を求めてか、巧みに日本語を操るホステスであふれていました。旅の恥はかき捨てという言葉に甘えて、仮に日本の男性たちが安易な気持ちで「セックスを買う」などという行動に出たとしたら、恐るべき事態が日本にもたらされる危険性があることを実感しました。というのは、売春婦のHIV感染率は1996年の1万対2から、2004年には1万対93と急上昇しているというからです。
 深刻化する隣国中国のHIV/AIDS。中央政府は、今年のAIDS予算として8億元(9900万ドル)を計上しましたが、1997年には2000万元(240万米国ドル)だったといいますから、40倍になっていることがわかります。HIV/AIDSの拡大は国の存亡にもつながりかねないと、AIDS治療費の無料化、予防教育の推進などを目指そうと取組みを急ぐ政府の姿を垣間見ることができました。
 12月1日の世界エイズデーに、僕が手にした中国日報も上海日報も、中国本土のAIDS事情を一面トップで報道していました。しかし、帰国後、日本のいくつかの新聞を探してみたものの、世界エイズデーを知らせるようなニュースを見つけることができませんでした。これでは、G7の中で、日本だけがAIDS患者が増え続けているという現実も納得できる気がします。
 「エイズ……あなたは『関係ない』と思っていませんか?」
 2005年のレッドリボンキャンペーンの標語を、敢えてメディアの皆さんにお送りします。
 2005年12月8日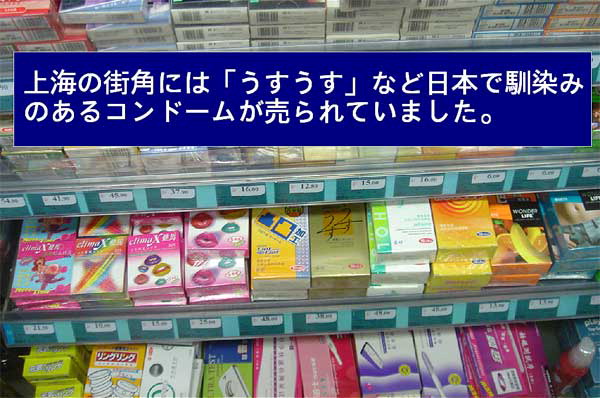 AIDS spreads its deadly claws through Japan's giant neighbor
Taking a moment one night to gaze at the glorious Shanghai skyline, I was soon swamped by men and women offering to sell me fake brand label goods and parents and children begging. Shanghai is a prime example of rapid urbanization and poverty.
I went to Shanghai to mark World AIDS Day on Dec. 1. It was the first time I had been there in 15 years and the city looked nothing like it had when I was last there. Shanghai's massive skyscrapers dominate the cityscape. But, in their shadow, the specter of AIDS is quietly creeping out further and deeper into China.
Documents I obtained in Shanghai showed that unless drastic steps are taken, China will be home to over 10 million HIV carriers by the end of 2010. China's central government is trying to keep this figure below 1.5 million.
As of the end of last year, there were an estimated 840,000 people in China with HIV. But central government and World Health Organization studies show that, by the end of September this year, only 135,630 people with the HIV virus -- 31,143 of whom had developed full-blown AIDS -- had been reported as HIV carriers, a situation that tells the story of how many people could be out there spreading a disease that they are not even aware they have contracted.
China's first AIDS case was discovered in 1985, but now the disease has spread to all the mainland's 31 provinces. In the second half of the 1990s, tainted equipment used with blood sellers caused a rapid spread in the disease.
This uniquely Chinese development means that of China's HIV carriers, 23 percent contracted the disease by selling their blood, 40 percent through contaminated pharmaceuticals and 9 percent from sexual contact. It's a situation somewhat different from the global HIV/AIDS status. Cases of AIDS contracted from blood transfusions have dropped since the '90s, but the number of contractions from illegal drug use and prostitution has grown.
While I was in China, I also had the opportunity to go out to a karaoke nightclub. The place was packed with Japanese-speaking hostesses. If Japanese men, buoyed by the local saying that they can cast off shame when traveling, take up one of the many offers to buy sex, they run the risk of creating a horrific situation in Japan. The HIV contraction rate for Chinese prostitutes has grown from just 2 in 10,000 in 1996 to 93 in 10,000.
HIV/AIDS is becoming an ever-increasing problem in Japan's giant neighbor, China. China's central government has allocated 800 million Yuan (99 million dollars) to combating the disease this year. Considering it only spent 20 million Yuan (2.4 million dollars) in 1997, the 40-fold increase in spending is significant. The spread of HIV/AIDS threatens the country's existence and the government is speeding to provide free treatment of AIDS, as well as carrying out educational programs aimed at preventing the spread of the disease.
Reading through the China Daily and Shanghai Daily on Dec. 1, World AIDS Day garnered front page coverage. However, upon returning to Japan, I failed to find a single Japanese newspaper that even mentioned World AIDS Day. Among the G-7 countries, I have no difficulty understanding why AIDS is spreading only in Japan.
AIDS Irrelevance? This was the slogan for the 2005 Red Ribbon Campaign. I'd like to remind the media that AIDS is far from irrelevant. (By Dr. Kunio Kitamura, Special to the Mainichi)
"Human rights are our common heritage and their realization depends on the contributions that each and every one of us is willing to make, individually and collectively, now and in the future."

Louise Arbour
United Nations High Commissioner for Human Rights

END TORTURE NOW!

Office of the United Nations High Commissioner for Human Rights

United Nations
▲
by

alfayoko2005

| 2005-12-11 08:59 | お知らせ