カテゴリ
以前の記事
検索
最新のトラックバック
その他のジャンル
ファン
記事ランキング
ブログジャンル
画像一覧
classicfm :: top 40 mozart
The Top 40 Mozart
The most prolific composer in the Classic FM Hall of Fame, Mozart wrote 655 of the world's most celebrated pieces of classical music. But which are your favourites?
We launched a poll to search for Mozart's most popular work as part of our celebrations to mark the 250th anniversary of the birth of the great composer in 2006.
「クラシックFM名誉殿堂」中最も多作な作曲家モーツァルトは、世界で最も有名なクラシック音楽655作品を書きました。ところで、その中であなたが一番好きなのはなんですか?
私たちは、2006年に偉大な作曲家モーツァルトが生誕250周年を迎えるのを記念して、人気投票を始めました。
The Top 40 Mozart
No. Work
順位 作品名(英語・日本語訳)
1 Clarinet Concerto in A クラリネット協奏曲イ長調 K.622
2 Requiem レクイエムニ短調 K.626
3 Ave Verum Corpus モテト「アヴェ・ヴェルム・コルプス」K.618
4 Piano Concerto No 21 in C major ピアノ協奏曲第21番ハ長調 K.467
5 The Marriage of Figaro 歌劇「フィガロの結婚」 K.492
6 The Magic Flute ジングシュピール「魔笛」 K.620
7 Laudate Dominum 証聖者のための盛儀晩課(ヴェスペレ)ハ長調 K.339より「ラウダテ・ドミヌム」
8 Cosi fan Tutte 歌劇「コシ・ファン・トゥッテ」 K.588
9 Flute and Harp Concerto フルートとハープのための協奏曲ハ長調 K.299(K6.297c)
10 Eine Kleine Nachtmusik セレナード第13番ト長調「アイネ・クライネ・ナハトムジーク」K.525
11 Clarinet Quintet in A クラリネット五重奏曲イ長調 K.581
12 Mass in C minor "Great Mass" ミサハ短調「大ミサ」 K.427(K6.417a)
13 Symphony No 40 in G minor 交響曲第40番ト短調 K.550
14 Piano Concerto No 20 in D minor ピアノ協奏曲第20番ニ短調 K.466
15 Exsultate Jubilate モテト「エクスルターテ・ユビラーテ(踊れ、喜べ、幸いなる魂よ)」 K.165(K6.158a)
16 Horn Concerto No.4 ホルン協奏曲第4番変ホ長調 K.495
17 Piano Concerto No 23 in A major ピアノ協奏曲第23番イ長調 K.488
18 A Musical Joke ディヴェルティメントヘ長調「音楽の冗談」 K.522
19 Don Giovanni 歌劇「ドン・ジョヴァンニ」K.527
20 Piano Sonata No.11 in A major ピアノソナタ第11番イ長調「トルコ行進曲つき」K.331(K6.300i)
21 Sinfonia Concertante in Eb major for Violin & viola ヴァイオリンとヴィオラのための協奏交響曲変ホ長調 K.364 (K6.320d)
22 Symphony No 41 in C major "Jupiter" 交響曲第41番ハ長調「ジュピター」K.551
23 Bassoon Concerto ファゴット協奏曲変ロ長調 K.191(K6.186e)
24 Coronation Mass K317 - Kyrie ミサハ長調「戴冠式ミサ」 K.317より「キリエ」
25 Andante in C major for Flute & Orchestra フルートのためのアンダンテハ長調 K.315(K6.297c)
26 Violin Concerto No.3 in G major ヴァイオリン協奏曲第3番ト長調 K.216
27 Horn Concerto No.1 ホルン協奏曲第1番ニ長調 K.412/514(K6.386b)
28 Horn Concerto No.3 ホルン協奏曲第3番変ホ長調 K.447
29 Symphony No 39 in Eb major 交響曲第39番変ホ長調 K.543
30 Violin Concerto No.5 in A major - 1st movement ヴァイオリン協奏曲第5番イ長調「トルコ風」 K.219より第1楽章
31 Flute Concerto in G major - Slow (2nd) movement フルート協奏曲第1番ト長調 K.313(K6.285c)より緩徐(第2)楽章
32 Serenade in D major "Serenata Notturna" セレナード第6番ニ長調「セレナータ・ノットルナ」 K.239
33 Symphony No 35 in D major "Haffner" 交響曲第35番ニ長調「ハフナー」K.385
34 Oboe Concerto in C major オーボエ協奏曲ハ長調 K.314(K6.285d)
35 Piano Concerto No 24 in C minor ピアノ協奏曲第24番ハ短調 K.491
36 Gran Partita Serenade セレナード第10番変ロ長調「グラン・パルティータ」 K.361(K6.370a)
37 Divertimento in D major K136 ディヴェルティメントニ長調 K.136 (K6.125a)
38 Horn Concerto No.2 ホルン協奏曲第2番変ホ長調 K.417
39 Solemn Vespers K.339 - Dixit Dominus 証聖者のための盛儀晩課(ヴェスペレ)ハ長調 K.339より「ディクシット・ドミヌス」
40 String Quartet in Bb major "The Hunt" 弦楽四重奏曲第17番変ロ長調「狩」 K.458
♪ 日本語のタイトル、ケッヘル(K)番号は音楽の友社「名曲大事典」などによる。
日本人が好きなモーツァルト作品ベスト10
「マイ・フェバリット・モーツァルト」ベスト10~「熱狂の日」
▲
by

alfayoko2005

| 2006-01-08 13:50 | Music
♪ もちろん、"re-compose"は「(再)構成」と「作曲」をかけたシャレ。でも、 "Dissonance"「不協和音」(弦楽四重奏曲第19番ハ長調K.465)に終わらなきゃいいけど。
The Sunday Times January 08, 2006
Mozart to recompose European constitution
Nicola Smith, Brussels
THE spirit of Wolfgang Amadeus Mozart is to be evoked in an attempt to resurrect the failed European constitution.
Austria took over the European Union's rotating presidency last week and wants to use a conference in Mozart's home town of Salzburg on January 27 — the 250th anniversary of the composer's birth — to bring new harmony to "Europe's orchestra", which notably failed to play in tune during 2005.
The Austrian initiative will dovetail with two other attempts in Brussels to save the unpopular constitutional document from the shredder. One is a "Plan D for Democracy, Dialogue and Debate", drawn up by the European commission, and the other is the European parliament's unfortunately named Duff report, co-written by Andrew Duff, a British Liberal Democrat MEP.
The idea of a Europe-wide public debate on the aims of the 25-nation bloc was first mooted by EU leaders last June after the Dutch and French rejected the constitution, effectively killing off the ratification process. Britain, which had the presidency for the second half of the year, avoided the issue, concentrating instead on securing a deal on the EU budget.
To relaunch the constitution, Wolfgang Schüssel, chancellor of Austria, has invited figures from the arts, scientists, diplomats and the media to contribute ideas on European identity while being serenaded by the Vienna Philharmonic Orchestra. Tony Blair and other EU leaders are not expected to attend.
The Austrians hope the conference will be inspired by Mozart, who "transcended borders with his music and was at home throughout Europe".
The link with Austria's wunderkind has prompted amusement and despair among some officials in Brussels. "The only spirit of Mozart necessary for this constitution should be Mozart's Requiem," joked one official.
The event has been named The Sound of Europe, an allusion to the 1960s film The Sound of Music, which was filmed in the Salzburg area. Austria said it chose the title because the film "had a happy ending".
Schüssel has sought to play down his country's ambitions in reviving the document, saying Austria will not bring about a "messianic transformation" in Europe. "I am in favour of a discussion phase to start with," he said in a recent interview. "It is important that we form a clear picture of the concerns of citizens."
But he has pledged to produce a timetable and "road map" for the constitution by June, when EU leaders gather in Brussels for a summit.
They are then expected to decide whether to persevere with the constitution, or redraft all or part of it before putting it to voters again. The task of finding a way out of the crisis may yet fall to Angela Merkel, the German chancellor who became Europe's golden girl in December after she brokered a deal on the EU budget. Germany takes over the presidency at the start of next year.
The European commission has launched Plan D, which will use celebrities as "European goodwill ambassadors" and aims to target young people and minorities. Margot Wallstrom, the communications commissioner, is urging television chiefs to create programmes on the EU that will attract public attention.
"I feel very much frustrated," Wallstrom said. "Politically many governments do not think they can score any new points and this makes it something they won't take on because there's not so much political profit to make. We need leaders that defend the whole idea."
The commission hopes to have the first conclusions from its public consultation ready by April, boosted by a conference on May 9 — the official "Europe Day" celebration and a public holiday for EU officials. Until recently the commission had stuck to its political mantra that there should be "no cherry-picking" of parts of the constitution. Cracks are already starting to show, however. Last week Jacques Barrot, the French transport commissioner, broke ranks by suggesting that certain parts of the constitution could be removed to save the rest of the charter.
The European parliament is also weighing in. A report co-written by Andrew Duff, a British Liberal Democrat MEP, and Johannes Voggenhuber, an Austrian Green, calls for parliamentarians to draw up a new text by the end of 2007. It would then be put to voters when they go to the polls in 2009 for elections to the parliament.
Duff says he wants it to be non-binding, however, avoiding the awkward problem of what to do if it is rejected.
Scientists claim they have cracked the mystery of Amadeus's skull
The mystery began more than a century ago, when a skull claimed to be that of Wolfgang Amadeus Mozart was brought to the foundation in Salzburg dedicated to the city's most famous son, writes Peter Conradi.
It may finally be solved this afternoon, when some of the world's leading forensic scientists will reveal in a documentary to be screened on Austrian television whether these are indeed the last remains of the composer, born 250 years ago this month.
Mozart, who died in 1791, is believed to have been buried in an unmarked grave in Vienna. Legend has it that years later a gravedigger who knew which body was Mozart's stole his skull, which eventually found its way to the International Mozarteum Foundation.
Experts have long been fascinated by the skull, which lacks a lower jaw, but have never been able to say for sure if it was Mozart's.
Burgl Czeitschner, who wrote the documentary, said the forensic search began with the hunt for female relatives of Mozart. Genetic material was then extracted from the women's thigh bones and compared by scientists at Innsbruck University's forensic institute with DNA from two teeth extracted from the skull.
Their result was clear, Czeitschner said — and had been 100% replicated by experts at America's Armed Forces Institute of Pathology, in Rockville, Maryland.
Experts warn, however, that whatever the result it is unlikely to settle the question for good, not least because mitochondrial DNA, the type being used for the tests, does not produce definitive results.
▲
by

alfayoko2005

| 2006-01-08 12:40 | Music
英自民党党首が辞任、飲酒問題で議員離反 (共同 2006/01/08)
 過去のアルコール依存を告白していた英国の野党第2党、自由民主党のチャールズ・ケネディ党首(46)は7日、所属議員の支持が得られなくなったとして、党首辞任を発表した。
 ケネディ氏は5日、飲酒問題を明らかにした際に党首続投の意向を示した。だが、党所属の国会議員から辞任すべきだとの声が高まり、進退問題が注目されていた。
 自民党はイラク戦争への反対を貫き、昨年5月の総選挙では1920年代以来最大となる62議席を獲得した。(共同)
Last Updated: Saturday, 7 January 2006, 22:26 GMT
Embattled Kennedy quits as leader
Charles Kennedy has resigned as Liberal Democrat leader. - BBC
Liberal Democratic Party
The Washington Post
Sorry, but AIDS Testing Is Critical
By Richard Holbrooke
Wednesday, January 4, 2006; Page A17
A month ago, on World AIDS Day, I wrote that despite all the public rhetoric about progress, "we are not winning the war on AIDS" and that the "very best that can be said is that we are losing at a slightly lower rate" [op-ed, Nov. 29]. I thought this was fairly obvious, given the fact that on each World AIDS Day since the first one 18 years ago, the number of people who are HIV-positive has increased. I thought it was even more obvious from just one stunning fact: that of the 12,000 people who will be infected in the next 24 hours around the world, over 90 percent will not learn they are sick until roughly 2013, when they develop full-blown AIDS. Meanwhile, not knowing their status, they will unintentionally spread it to other people over the next eight years, and these people will spread it to still more, and so on.
Given this situation, I suggested that current strategies are clearly not working, especially on prevention. While continuing to support increased funding for treatment of those who already have AIDS, I argued that far more emphasis should be put on detection and testing so that people learn their status and then, with counseling, change their behavior if they are HIV-positive, thus reducing the spread of the HIV virus.
This may sound simple, even self-evident, to those not involved with the issue on a regular basis, but no column I have written for this newspaper provoked a greater reaction. To listen to some of the criticism you would think I had called for mandatory testing and quarantining of people with AIDS. "This man is out of control," wrote one prominent AIDS activist under the headline, "Someone stop this man." I was accused of "championing a conservative, traditionalist public health approach, which is simply looking to identify the infected and contain them."
Such criticism ignored my strong public advocacy over the past six years of much more funding for treatment. But far more distressing were the assertions of "progress" from world leaders and editorial pages. Originally designed to put pressure on public officials, World AIDS Day has turned into an empty rhetorical ritual in which world leaders issue high-minded statements, after which they let another year of living ever more dangerously pass.
Although there were plenty of calls for more funding for treatment, so far as I am aware no one suggested new prevention strategies or even admitted that today's approaches are not working. Current policies on prevention are simple enough: Conservatives emphasize promoting abstinence (which is why a minimum of 30 percent of the American contribution to the effort is earmarked for that purpose), while liberals stress the use of condoms and the need to avoid needle-sharing. Of course, any of these practices, if followed rigorously, will prevent the spread of AIDS, but none is ever going to be used by enough people to reverse the spread of the disease. It is a classic case of American "red state-blue state" politics and ideology trumping the brutal reality on the ground, or, more accurately, in a bedroom or alleyway.
I have been told repeatedly, for more than four years, that the case for testing is not proven. But isn't it obvious that AIDS will continue to spread more rapidly as long as 90 percent of those affected do not know their status? Wouldn't greater knowledge of one's status -- held in the strictest confidence (an essential part of any testing program) -- greatly modify behavior, both for those who are HIV-positive and for the large majority who, even in the worst-hit areas, are not infected? And wouldn't the greatest beneficiaries of widespread testing be women, who are all too often helpless victims but who do not know either their own status or that of any man in their life -- and who have no way of getting their men to be tested?
Yet the dedicated and committed professional community engaged in this desperate struggle, including UNAIDS and the World Health Organization, still refuses to make testing a top priority. (One commendable exception is Randall Tobias, the Bush administration's special envoy on AIDS, who makes it a practice to be publicly tested -- if possible with a local official -- in every country he visits; he well may be the most tested person on Earth.)
Why, in general, is the issue played down? I believe it is partly a case of a mind-set that was locked in 20 years ago, at the dawn of the AIDS crisis. Stigmatization was a huge problem then, even in the United States, and antiretroviral drugs were not yet available.
But times have changed, and so has the nature of the disease and the way it is spreading. (The greatest step forward in prevention would be the development of an effective microbicide that women could self-administer, but that goal is still eluding researchers.)
Recently there has been encouraging action in three small African nations -- Lesotho, Botswana and Malawi -- which have started making testing routine and officially encouraged (but not mandatory). Lesotho's new policy, creatively called KYS, or "Know Your Status," is especially worth watching because it is a formal, widespread national effort. If it works, perhaps the high priests of the worldwide effort on AIDS will stop listening to their own echoes and unexamined assumptions -- and take action. If ever there were a place where an ounce of prevention was worth a ton of cure, this is it.
The writer, a former U.S. ambassador to the United Nations, is president of the Global Business Coalition on HIV/AIDS, a nongovernmental organization, and writes a monthly column for The Post.
Abortion Case Will Be Key at Alito Hearing
By MICHAEL RUBINKAM, Associated Press Writer
Tue Jan 3, 2:45 AM ET
Samuel Alito's decision as a federal appeals judge to uphold a 1980s Pennsylvania abortion restriction — later overturned by the Supreme Court — is likely to draw some of the toughest scrutiny at his upcoming confirmation hearing.
Pennsylvania lawmakers were among the first anywhere to approve restrictions on abortion — including one that required women seeking the procedure to notify their husbands. Alito voted to uphold that requirement, but the Supreme Court disagreed, striking it down in a landmark 1992 decision that reaffirmed Roe v. Wade.
Senators are expected to grill Alito about the case, Planned Parenthood v. Casey, at his Supreme Court confirmation hearing, scheduled to begin Jan. 9. They're also expected to ask him about memos he wrote in the 1980s in which he said Roe should be overturned.
While the court's decision in Casey upheld a constitutional right to abortion, the justices gave states new powers to make it more difficult for women to end their pregnancies. For that reason, activists on both sides regard Casey as the court's most important abortion case since Roe, the 1973 decision that legalized abortion nationwide.
Since Casey, state legislatures have approved hundreds of new regulations that determine when, where and how women may get abortions.
Waiting periods, parental consent laws, informed consent requirements and other restrictions have become commonplace. According to NARAL Pro-Choice America, an abortion-rights group, states have passed more than 460 abortion measures since 1995, although not all of them survived court challenges.
"The Casey decision greatly weakened the standard of review by which restrictions on the right to choose would be viewed by the court," said Blake Cornish, NARAL legal director.
While disappointed that the court failed to overturn Roe, anti-abortion activists seized on the court's reasoning that states may pass restrictions so long as they do not present an "undue burden" to a woman seeking to end her pregnancy.
"The Casey decision obviously did not go as far as we would have wanted, but it did allow us to work on legislation that (resulted) in saving lives," said Mary Spaulding Balch, director of state legislation for National Right to Life, an anti-abortion group.
Casey arose from 1980s-era abortion laws that were among the first of their kind in the nation.
They required women to wait at least 24 hours for an abortion; to certify that they had informed their spouses of the intended procedure; and to receive information from a doctor about fetal development and abortion risks and alternatives. Another provision required teenagers to get permission from a parent or judge before ending their pregnancies.
A three-judge panel of the 3rd U.S. Circuit Court of Appeals upheld most of the restrictions, but voted 2-1 to overturn husband notification, ruling that it presented an illegal barrier to women seeking abortions. The lone dissenter was Alito, who pointed out that the provision did not give husbands veto power over their spouses' decisions.
Although the Supreme Court rejected Alito's analysis, abortion-rights activists say the Casey decision gave them little to cheer about.
"Even though Roe stayed intact technically, Casey was the first challenge to Roe that started the erosion of Roe that is still going on now," said Dayle Steinberg, president and chief executive of Planned Parenthood of Southeastern Pennsylvania, the lead plaintiff in the case.
Jennifer Boulanger, who heads an abortion clinic that was a co-plaintiff in Casey, said women especially chafe at the 24-hour waiting period that the court's ruling ushered in.
"Most women who are making this decision have thought about it for weeks. By the time they call us, they're ready. They don't want to have to wait any longer," said Boulanger, executive director of the Allentown Women's Center.
Anti-abortion activists say such rules have worked to reduce the number of abortions.
After Pennsylvania's first abortion restrictions took effect in the early 1980s, the number of abortions in the state declined sharply — while rising nationwide. In the 1990s, the nation's abortion rate dropped as states began following Pennsylvania's lead.
"We were light years ahead of everybody else," said former state Rep. Stephen Freind, the architect of virtually all of Pennsylvania's abortion restrictions.
A 2004 study commissioned by the conservative Heritage Foundation found that abortion restrictions — including parental involvement, informed consent, a ban on the type of late-term abortion known as partial-birth abortion, and a ban on Medicaid funding of abortion — all helped reduce the number of abortions.
Abortion-rights activists cite other factors for the nationwide drop in abortions, including a decline in the number of unwanted pregnancies.
▲
by

alfayoko2005

| 2006-01-08 10:53
Dr.北村 ただ今診察中 第91話 新年は緊急避妊から (毎日 2006/01/05)
 初詣の後の初エッチ。間もなく天国から地獄へと突き落とされる時が訪れようと誰が想像できましょうか。「コンドームが破けている!」と叫んでもあとの祭り。余韻を楽しむどころではありません。上へ下への大騒ぎとなりました。
 インターネットを駆使して「セックスの後の避妊法」「モーニングアフター・ピル」「緊急避妊法」などの言葉を発見し、婦人科で受診すればなんとかなりそうだとの情報を得たものの、「正月休みのため診療は5日からです」とのつれない留守番電話の声でさらにパニック。しかも、緊急避妊法とは性交後72時間以内に対処する最後の避妊法との説明が、それに拍車をかけました。
 新年早々の最初の訪問者がこの大学生のカップルでした。「120時間以内であれば何とかなるからね」のひと声に緊張の糸が切れたのか泣きながら座り込む女性。ぼう然と立ちすくむ男性。今年も騒動の1年となりそうです。
 緊急避妊法とは、避妊をしないでセックスをしてしまったとか、コンドームが破けるなど避妊に失敗した、レイプされたなどの場合に行う最後の避妊手段です。性交後72時間以内とその12時間後に合計2回、必要量の女性ホルモン剤を服用する方法が一般的です。
 最近では、更に進化した薬剤が開発されており、僕のクリニックでは、国の許可をもらって輸入した緊急避妊ピル(NorLevo)を使っています。服用時期は早いに越したことはありませんが、セックスから120時間以内であれば高い避妊効果を期待できます。しかも、2回に分けて飲むのではなく、僕の目の前で1回だけ飲んでもらって終了ですから、真夜中に目覚まし時計をかけておく必要もなく、副作用の発現率もきわめて低いのが特徴です。
 「どうして避妊できるのですか?」との質問を受けますが、作用のしくみが科学的に解明されているわけではありません。ただ、排卵を抑制する、受精を妨げる、子宮への受精卵の着床を阻止するなどが考えられています。受精卵が子宮内膜に着床することをもって妊娠が成立したと定義するわけですから、着床を阻止する緊急避妊ピルは人工妊娠中絶薬ではありません。
 一般に排卵周辺期に避妊なしのセックスが行われた際の平均妊娠率は8%(最大36%)。緊急避妊ピルを服用すると妊娠率を4分の1に減らせることから、「緊急避妊法を知らないのは愚か、知らせないのは罪」と警告されています。緊急避妊ピルが頻繁(ひんぱん)に使用されたとしても、ピル(経口避妊薬)の避妊効果と比べて明らかに低いことから、僕のクリニックでは、「緊急避妊からピルへ」が合い言葉になっています。そのように行動を変える機会となれば、コンドームが破けた時の恐怖も「経験にマイナスなし」と笑って済ませられるはずです。
*……緊急避妊ピルはわが国では正式に承認されていないために、私たち医師の責任で、既存の薬剤を転用しています。しかも、副作用の強い1970年代の方法が今も採られています。国連加盟国の大半が承認している緊急避妊ピル。日本人女性の性と生殖に関する健康と権利がどれほど軽視されているかがおわかりいただけますでしょうか? なお、日本家族計画協会が運営している「緊急避妊ホットライン」電話03・3235・2638(月曜~金曜、午前10時から午後4時)では、緊急避妊ピルを処方してくれる全国約1500施設を無料で紹介しています。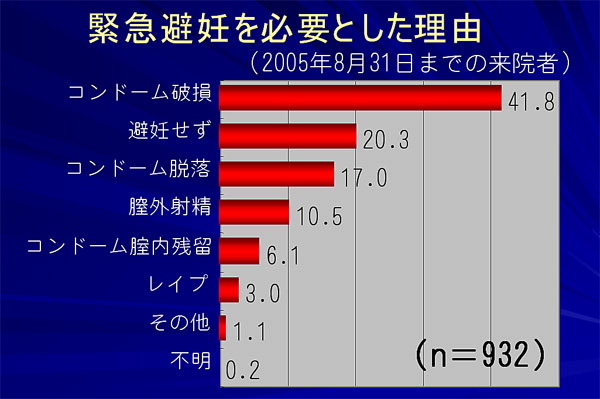 2006年1月5日
The last line of contraceptive defense (Mainichi 2006/01/08)
They had their first romp not long after making their first temple visit for the New Year. It didn't take much to fall from Heaven to a Hell filled with worry. In fact, a cry of "the condom's broken," ensured the young, university student couple were not going to enjoy the afterglow very much.
Using the Internet, they discovered such things as post-intercourse Emergency Contraception (EC) and the morning after pill. Whatever relief they felt about knowing a gynecologist could help, though, was dissipated when calls to a variety of clinics were met by answering machine messages informing them that services would not resume from the New Year holiday until Jan. 5. It sent them into a panic as they believed that post-coital EC was only effective if administered within 72 hours of intercourse.
This couple was my first patients for the year. Their relief was palpable when I told them that I would be able to help anywhere up until 120 hours after they'd had sex. The woman sat down and cried. The man stood numbly by. It looks like this year is going to be another action-filled one.
EC is the last line of contraceptive defense, used after having had unprotected sex, if a condom breaks or other birth control methods have proved ineffective, or even following a rape. Normally, EC involves giving a woman an appropriate dose of female hormones within 72 hours of intercourse, then following it with another dose 12 hours later.
Recently, there have been considerable developments in EC. I received permission from the government to import an as-yet unauthorized EC pill called NorLevo. It can be effective for up to 120 hours after intercourse. And it doesn't need to be taken in separate doses. The patient can take the morning-after pill in front of my eyes and that's it. They don't have to worry about having to wake up in the middle of the night to take their second dose. One of the features of the drug is that it carries an extremely low risk of after-effects.
I'm often asked how the drug works. Its scientific effects have not been revealed. But, depending on the time during the menstrual cycle that it is taken, EC may inhibit or delay ovulation, inhibit tubal transport of the egg or sperm, interfere with fertilization, or alter the endometrium (the lining of the uterus), thereby inhibiting implantation of a fertilized egg. As pregnancy occurs once the fertilized egg has settled in the endometrium, EC, which prevents this settlement from occurring, does not terminate a pregnancy, but prevents one from occurring.
The average rate of pregnancy following unprotected sex during the ovulation period is 8 percent (though it can be a maximum of 36 percent). Using an EC at that time slashes the likelihood of pregnancy to one-quarter of that. However, even frequent use of EC methods is still not as effective as the Pill, so in my clinic we generally encourage women to go on the Pill rather than having to resort to the morning after pill at a later date. Changing attitudes in this way can then make a broken condom something to laugh about instead of turning it into a terrifying experience. (By Dr. Kunio Kitamura, Special to the Mainichi)
The Financial Times
Arts & Weekend / Art, music & theatre
A woman's man
By David Pilling
Published: January 6 2006 15:32 | Last updated: January 6 2006 15:32
Outside an ornate, salmon-pink building in Tokyo, hundreds of women - many middle-aged and wearing short, formless jackets - are in a state of suppressed excitement. Organised into neat rows, some squatting, some standing, they are straining to monitor the comings and goings at what turns out to be a theatre entrance.
After a few minutes, a skinny young woman appears. Her angular, somewhat boyish face is accentuated by short-cropped hair. She wears jeans and a casual, flowery blouse. A hush falls on the crowd as she saunters along the line of admirers, bowing and accepting the envelopes and small gifts held out to her. When she reaches the end, she stands and waves, before disappearing into a small side door. The moment she is gone, there is a quiet reshuffling of the women outside, as a new group takes its place in the front row.
The huddle of admirers are all adoring fans of the young female stars of Takarazuka, a Japanese all-female theatre that is part romantic musical revue and part male impersonation. Takarazuka performances are flamboyant in the extreme, with gorgeous costumes, dazzling lighting effects, dancing and singing.
Most performances are divided into two. The first half is a play, often cribbed from European or American fiction and turned into a Japanese-language love story full of rousing numbers, fluttering hearts and heaving bodices. The second half is a revue, sometimes featuring tap-dancing, coats and tails and Broadway musical hits, usually sung in Japanese. Shows end with an obligatory "staircase scene", in which the stars shimmy down an illuminated staircase in a musical climax.
Takarazuka is the mirror image of kabuki, a Japanese dramatic form that dates from the early 17th century. In kabuki, all the actors are men. Some of them, known as onnagata, imitate women in a highly stylised fashion.
With Takarazuka, the main attraction is the otokoyaku, women who play the romantic male leads. These actresses are supported - emotionally and financially - by female fans who ply them with encouragement and presents. Some of the big stars even hand over their washing to fans after a performance to have it returned, neatly pressed, the following day. A few men also attend Takarazuka performances.
Fans are reluctant to explain the attraction of young women acting as star-crossed lovers, affecting the deep voice and stiff posture of a man, or accentuating the softness and delicacy of a woman. But Tomoko Umemoto, the wife of a Japanese banker, is less bashful. Speaking of the otokoyaku, she says: "They shine in their role as ideal, beautiful men." Women play men as women would like them to be, she says: gentle, romantic and good-looking.
It is a common conceit in Japan, whose art cherishes artifice. Japanese gardens feature raked stones or miniature trees twisted and formed by human hand. Kabuki enthusiasts swear that the onnagata who specialise in female roles are more beautiful than real women.
Takarazuka stars, some of whom go on to become television celebrities, are made rather than born. They are fashioned in a school in Takarazuka, a Japanese town that gave its name to the female revue. The school is central to their tradition. Unlike kabuki actors, who come exclusively from kabuki families stretching back generations, Takarazuka is meritocratic. Competition to attend the prestigious school is legendary: of about 1,000 girls who apply each year, just 50 are accepted. Once selected, they are trained in classical ballet, tea ceremony, jazz dance, voice and a clutch of other skills that make up a modern Takarazuka star.
Referring to this famously gruelling selection and training process, Umemoto says: "When we see them on stage, we feel full of life. When I see a woman trying so hard, I get power from that. Even if I am sad, or things are bitter in my own life, I think: 'I must struggle on.'"
Umemoto has spent six years supporting one star, Hikaru Asami, a well-known otokoyaku. "They start their careers at 15 and work up the ranks," she says, referring to the rise from high-kicking chorus-line girl to lead actress. "We are like their mothers and they are like our daughters or friends. We watch as they grow, and we say: 'Fight on. Fight on.'"
To support her idol, Umemoto attends several performances of the same monthly show and claps wildly at Asami's every entrance and exit. She sends her encouraging letters, and helps organise her fans outside the theatre.
The Takarazuka Revue Company was founded 90 years ago. It was the brainchild of Ichizo Kobayashi, who owned what became the Hankyu railway company, which still connects the huge commercial city of Osaka with the twee spa town of Takarazuka. The revue was designed to draw in the crowds - and get people using the railway. Next he established the Takarazuka Music School, part acting academy and part finishing school, at which young ladies - mostly from well-to-do families - were polished.
Takarazuka town is a study in kitsch. Many of the buildings are Italian in style, with red-tiled roofs and wrought-iron railings. Pink is in abundance. Statues of Takarazuka stars adorn the flowered walkway that leads to the theatre, designed like a medieval castle with more than a nod to Disneyland.
The school is less ornate. Masako Imanishi, a former Takarazuka star and now deputy principal of the school, showed me around the empty building during the summer holidays. Entrance to outsiders, especially men, is forbidden during term time. Now, as in Kobayashi's day, the institution's motto is "Purity. Integrity. Beauty". Imanishi, who has large-framed glasses, outsized pearl earrings and dyed-purplish curly hair, explains: "Refinement is everything. The school is about refining your heart and having a pure mind."
Kobayashi, like a latter-day Ms World impresario, insisted that all his young ladies were virgins. "Even now, you can't be married," says Imanishi. "In my day, you couldn't even have a boyfriend." As a student, she stopped walking in public with her father or brother lest the relationship be misconstrued.
In spite of these strictures, girls throughout Japan still dream of becoming a Takarazuka princess or, better yet, a prince. One such starry-eyed young woman was Mitsuki Tenju, who was brought up in Akita in the rural north of Japan. When she was a child, her parents took her to a performance of Takarazuka in Tokyo. "I remember looking up at the stage, and everything was so over-the-top and luxurious and gorgeous," she recalls.
Tenju, now on the chorus line of Star troupe, one of six Takarazuka companies, has short brown hair, strong boyish features and an open smile that will set hearts aflutter. She got into the school on her second attempt, but that turned out to be the easy part. Students - never called actresses, even after they graduate - start each day at 6.50am by bowing to a bust of Kobayashi. The school is famed for its rigorous discipline and obsession with cleanliness. Armed with cotton buds and masking tape, would-be stars are told to get down on their hands and knees and remove the tiniest flecks of dust from the already twinkling corridors. Imanishi says cleaning, along with classical ballet, is core to the school ethos. "They have to make everything sparkle so they can start each day with a new heart. That's what Kobayashi-san taught us," she adds, raising her eyes momentarily towards the heavens.
Scrubbing is followed by dance and music training, acting techniques, acting theory and the history of music. Those fortunate enough - and tall enough - to be designated otokoyaku spend hours practising male poses, struts and timbre.
The following day I joined a long line of women as they wafted towards the theatre for a performance. The production, A Kiss to The Flames, is based on Verdi's opera Il trovatore. The play is set in 15th-century Spain, providing ample excuse for actresses to don fine capes and leather boots, and to swish along the stage in layers of velvet and silk.
After a few opening songs rendered by a full orchestra, Manrico, the swashbuckling "male" lead, appears. He is played by Yoka Wao, Cosmos troupe's top otokoyaku. When she speaks her lines and breaks into song, she puts on a deep, gruff voice. Many of her mannerisms, including a purposeful stride, hands behind the back, are discernibly male. Yet she wears bright red lipstick, all the redder for her powder white make-up. When Wao lifts the leading lady off the ground, she does her best to disguise the considerable effort involved. When they kiss, the audience cannot quite see when - or even if - the actresses' lips collide.
The curtain (sponsored by Shiseido, Japan's top cosmetics company) goes down on the first half. The second act is a revue inspired by the films of Fred Astaire and Ginger Rogers. The performance ends, as do all Takarazuka shows, with an elaborate scene in which the stars tap down a giant glass stairway in ever-more outrageous costumes. The top actresses appear in huge Rio-style feather headdresses, which become progressively larger, culminating in what looks like an ostrich perched on the head of the lead otokoyaku.
In a society where women are under-represented in business and politics, it is tempting to see the attraction of Takarazuka as a yearning to be endowed with a man's social standing. Tenju, who recently graduated, says: "It is true that powerful women are not popular with Japanese men. Looking back at what I felt as a child, I was really longing to lead a powerful and energetic life."
Imanishi says a bigger attraction is pure escapism, though even this does not imply that the audience's lives are dull or difficult. "Takarazuka provides dreams and romanticism and energy and strength," she says. "There are some fans who pine for the stars. Even though they are the same sex, it is not impossible to fall in love. That's the magic of Takarazuka."
Kenko Kawasaki, an author and critic, says that feminist interpretations of Takarazuka are probably misplaced. Japanese housewives are not, by and large, unhappy, she says, even if some rarely socialise with their hard-working husbands. Many housewives, Kawasaki says, adhere to the Japanese saying: "A good husband is healthy and never at home." That sounds like the cue for a song.
David Pilling is the FT's Tokyo bureau chief.