カテゴリ
以前の記事
検索
最新のトラックバック
その他のジャンル
ファン
記事ランキング
ブログジャンル
画像一覧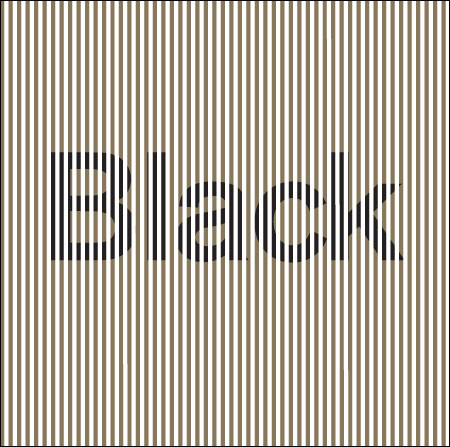 Illustration by Daniel Eatock
The Pressure to Cover By KENJI YOSHINO 1/2
The Case Against Assimilation
The flaw in the judiciary's analysis is that it casts assimilation as an unadulterated good. Assimilation is implicitly characterized as the way in which groups can evade discrimination by fading into the mainstream - after all, the logic goes, if a bigot cannot discriminate between two individuals, he cannot discriminate against one of them. But sometimes assimilation is not an escape from discrimination, but precisely its effect. When a Jew is forced to convert to Protestantism, for instance, we do not celebrate that as an evasion of anti-Semitism. We should not blind ourselves to the dark underbelly of the American melting pot.
Take the cornrows case. Initially, this case appears to be an easy one for the employer, as hairstyle seems like such a trivial thing. But if hair is so trivial, we might ask why American Airlines made it a condition of Renee Rogers's employment. What's frustrating about the employment discrimination jurisprudence is that courts often don't force employers to answer the critical question of why they are requiring employees to cover. If we look to other sources, the answers can be troubling.
John T. Molloy's perennially popular self-help manual "New Dress for Success" also tells racial minorities to cover. Molloy advises African-Americans to avoid "Afro hairstyles" and to wear "conservative pinstripe suits, preferably with vests, accompanied by all the establishment symbols, including the Ivy League tie." He urges Latinos to "avoid pencil-line mustaches," "any hair tonic that tends to give a greasy or shiny look to the hair," "any articles of clothing that have Hispanic associations" and "anything that is very sharp or precise."
Molloy is equally frank about why covering is required. The "model of success," he says, is "white, Anglo-Saxon and Protestant." Those who do not possess these traits "will elicit a negative response to some degree, regardless of whether that response is conscious or subconscious." Indeed, Molloy says racial minorities must go "somewhat overboard" to compensate for immutable differences from the white mainstream. After conducting research on African-American corporate grooming, Molloy reports that "blacks had not only to dress more conservatively but also more expensively than their white counterparts if they wanted to have an equal impact."
Molloy's basic point is supported by social-science research. The economists Marianne Bertrand and Sendhil Mullainathan recently conducted a study in which they sent out résumés that were essentially identical except for the names at the top. They discovered that résumés with white-sounding names like Emily Walsh or Greg Baker drew 50 percent more callbacks than those with African-American-sounding names like Lakisha Washington or Jamal Jones. So it seems that even when Americans have collectively set our faces against racism, we still react negatively to cultural traits - like hairstyles, clothes or names - that we associate with historically disfavored races.
We can see a similar dynamic in the termination of Robin Shahar. Michael Bowers, the state attorney general, disavowed engaging in first-generation discrimination when he said he had no problem with gay employees. This raises the question of why he fired Shahar for having a religious same-sex commitment ceremony. Unlike American Airlines, Bowers provided some answers. He argued that retaining Shahar would compromise the department's ability to deny same-sex couples marriage licenses and to enforce sodomy statutes.
Neither argument survives scrutiny. At no point did Shahar seek to marry her partner legally, nor did she agitate for the legalization of same-sex marriage. The Georgia citizenry could not fairly have assumed that Shahar's religious ceremony would entitle the couple to a civil license. Bowers's claim that Shahar's wedding would compromise her ability to enforce sodomy statutes is also off the mark. Georgia's sodomy statute (which has since been struck down) punished cross-sex as well as same-sex sodomy, meaning that any heterosexual in the department who had ever had oral sex was as compromised as Shahar.
Stripped of these rationales, Bowers's termination of Shahar looks more sinister. When she told a supervisor she was getting married, he congratulated her. When he discovered she was marrying a woman, it wasn't long before she no longer had a job. Shahar's religious ceremony was not in itself indiscreet; cross-sex couples engage in such ceremonies all the time. If Shahar was flaunting anything, it was her belief in her own equality: her belief that she, and not the state, should determine what personal bonds are worthy of celebration.
The demand to cover is anything but trivial. It is the symbolic heartland of inequality - what reassures one group of its superiority to another. When dominant groups ask subordinated groups to cover, they are asking them to be small in the world, to forgo prerogatives that the dominant group has and therefore to forgo equality. If courts make critical goods like employment dependent on covering, they are legitimizing second-class citizenship for the subordinated group. In doing so, they are failing to vindicate the promise of civil rights.
So the covering demand presents a conundrum. The courts are right to be leery of intervening in too brusque a manner here, as they cannot risk playing favorites among groups. Yet they also cannot ignore the fact that the covering demand is where many forms of inequality continue to have life. We need a paradigm that gives both these concerns their due, adapting the aspirations of the civil rights movement to an increasingly pluralistic society.
The New Civil Rights
The new civil rights begins with the observation that everyone covers. When I lecture on covering, I often encounter what I think of as the "angry straight white man" reaction. A member of the audience, almost invariably a white man, almost invariably angry, denies that covering is a civil rights issue. Why shouldn't racial minorities or women or gays have to cover? These groups should receive legal protection against discrimination for things they cannot help. But why should they receive protection for behaviors within their control - wearing cornrows, acting "feminine" or flaunting their sexuality? After all, the questioner says, I have to cover all the time. I have to mute my depression, or my obesity, or my alcoholism, or my shyness, or my working-class background or my nameless anomie. I, too, am one of the mass of men leading lives of quiet desperation. Why should legally protected groups have a right to self-expression I do not? Why should my struggle for an authentic self matter less?
I surprise these individuals when I agree. Contemporary civil rights has erred in focusing solely on traditional civil rights groups - racial minorities, women, gays, religious minorities and people with disabilities. This assumes those in the so-called mainstream - those straight white men - do not also cover. They are understood only as obstacles, as people who prevent others from expressing themselves, rather than as individuals who are themselves struggling for self-definition. No wonder they often respond to civil rights advocates with hostility. They experience us as asking for an entitlement they themselves have been refused - an expression of their full humanity.
Civil rights must rise into a new, more inclusive register. That ascent makes use of the recognition that the mainstream is a myth. With respect to any particular identity, the word "mainstream" makes sense, as in the statement that straights are more mainstream than gays. Used generically, however, the word loses meaning. Because human beings hold many identities, the mainstream is a shifting coalition, and none of us are entirely within it. It is not normal to be completely normal.
This does not mean discrimination against racial minorities is the same as discrimination against poets. American civil rights law has correctly directed its concern toward certain groups and not others. But the aspiration of civil rights - the aspiration that we be free to develop our human capacities without the impediment of witless conformity - is an aspiration that extends beyond traditional civil rights groups.
To fulfill that aspiration, we must think differently both within the law and outside it. With respect to legal remedies, we must shift away from claims that demand equality for particular groups toward claims that demand liberty for us all. This is not an exhortation that we strip protections from currently recognized groups. Rather, it is a prediction that future courts will be unable to sustain a group-based vision of civil rights when faced with the broad and irreversible trend toward demographic pluralism. In an increasingly diverse society, the courts must look to what draws us together as citizens rather than to what drives us apart.
As if in recognition of that fact, the Supreme Court has moved in recent years away from extending protections on the basis of group membership and toward doing so on the basis of liberties we all possess. In 2003, the court struck down a Texas statute that prohibited same-sex sodomy. It did not, however, frame the case as one concerning the equality rights of gays. Instead, it cast the case as one concerning the interest we all - straight, gay or otherwise - have in controlling our intimate lives. Similarly, in 2004, the court held that a state could be required by a Congressional statute to make its courthouses wheelchair accessible. Again, the court ruled in favor of the minority group without framing its analysis in group-based equality rhetoric. Rather, it held that all people - disabled or otherwise - have a "right of access to the courts," which had been denied in that instance.
In these cases, the court implicitly acknowledged the national exhaustion with group-based identity politics and quieted the anxiety about pluralism that is driving us back toward the assimilative ideal. By emphasizing the interest all individuals have in our own liberty, the court focused on what unites us rather than on what divides us. While preserving the distinction between being and doing, the court decided to protect doing in its own right.
If the Supreme Court protects individuals against covering demands in the future, I believe it will do so by invoking the universal rights of people. I predict that if the court ever recognizes the right to speak a native language, it will protect that right as a liberty to which we are all entitled, rather than as a remedial concession granted to a particular national-origin group. If the court recognizes rights to grooming, like the right to wear cornrows, I believe it will do so under something akin to the German Constitution's right to personality rather than as a right attached to racial minorities. And I hope that if the court protects the right of gays to marry, it will do so by framing it as the right we all have to marry the person we love, rather than defending "gay marriage" as if it were a separate institution.
A liberty-based approach to civil rights, of course, brings its own complications, beginning with the question of where my liberty ends and yours begins. But the ability of liberty analysis to illuminate our common humanity should not be underestimated. This virtue persuaded both Martin Luther King Jr. and Malcolm X to argue for the transition from civil rights to human rights at the ends of their lives. It is time for American law to follow suit.
While I have great hopes for this new legal paradigm, I also believe law will play a relatively small part in the new civil rights. A doctor friend told me that in his first year of medical school, his dean described how doctors were powerless to cure the vast majority of human ills. People would get better, or they would not, but it would not be doctors who would cure them. Part of becoming a doctor, the dean said, was to surrender a layperson's awe for medical authority. I wished then that someone would give an analogous lecture to law students and to Americans at large. My education in law has been in no small part an education in its limitations.
As an initial matter, many covering demands are made by actors the law does not - and in my view should not - hold accountable, like friends, family, neighbors, the "culture" or individuals themselves. When I think of the covering demands I have experienced, I can trace many of them only to my own censorious consciousness. And while I am often tempted to sue myself, I recognize this is not my healthiest impulse.
Law is also an incomplete solution to coerced assimilation because it has yet to recognize the myriad groups that are subjected to covering demands even though these groups cannot be defined by traditional classifications like race, sex, orientation, religion and disability. Whenever I speak about covering, I receive new instances of identities that can be covered. The law may someday move to protect some of these identities. But it will never protect them all.
For these and other reasons, I am troubled that Americans seem increasingly inclined to turn toward the law to do the work of civil rights precisely when they should be turning away from it. The primary solution lies in all of us as citizens, not in the tiny subset of us who are lawyers. People confronted with demands to cover should feel emboldened to seek a reason for that demand, even if the law does not reach the actors making the demand or recognize the group burdened by it. These reason-forcing conversations should happen outside courtrooms - in public squares and prayer circles, in workplaces and on playgrounds. They should occur informally and intimately, in the everyday places where tolerance is made and unmade.
What will constitute a good-enough reason to justify assimilation will obviously be controversial. We have come to some consensus that certain reasons are illegitimate - like racism, sexism or religious intolerance. Beyond that, we should expect conversations rather than foreordained results - what reasons count, and for what purposes, will be for us all to decide by facing one another as citizens. My personal inclination is always to privilege the claims of the individual against countervailing interests like "neatness" or "workplace harmony." But we should have that conversation.
Such conversations are the best - and perhaps the only - way to give both assimilation and authenticity their due. They will help us alleviate conservative alarmists' fears of a balkanized America and radical multiculturalists' fears of a monocultural America. The aspiration of civil rights has always been to permit people to pursue their human flourishing without limitations based on bias. Focusing on law prevents us from seeing the revolutionary breadth of that aspiration. It is only when we leave the law that civil rights suddenly stops being about particular agents of oppression and particular victimized groups and starts to become a project of human flourishing in which we all have a stake.
I don't teach classes on gay rights any more. I suspect many of my students now experience me as a homosexual professional rather than as a professional homosexual, if they think of me in such terms at all. But I don't experience myself as covering. I've just moved on to other interests, in the way scholars do. So the same behavior - not teaching gay rights - has changed in meaning over time.
This just brings home to me that the only right I have wanted with any consistency is the freedom to be who I am. I'll be the first to admit that I owe much of that freedom to group-based equality movements, like the gay rights movement. But it is now time for us as a nation to shift the emphasis away from equality and toward liberty in our debates about identity politics. Only through such freedom can we live our lives as works in progress, which is to say, as the complex, changeful and contradictory creatures that we are.
Kenji Yoshino is a professor at Yale Law School. This article is adapted from his book,"Covering: The Hidden Assault on Our Civil Rights," which will be published by Random House later this month.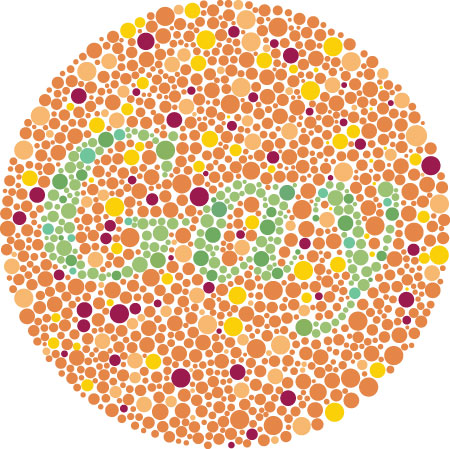 Illustration by Daniel Eatock
The New York Times Magazine
January 15, 2006
The Pressure to Cover
By KENJI YOSHINO
When I began teaching at Yale Law School in 1998, a friend spoke to me frankly. "You'll have a better chance at tenure," he said, "if you're a homosexual professional than if you're a professional homosexual." Out of the closet for six years at the time, I knew what he meant. To be a "homosexual professional" was to be a professor of constitutional law who "happened" to be gay. To be a "professional homosexual" was to be a gay professor who made gay rights his work. Others echoed the sentiment in less elegant formulations. Be gay, my world seemed to say. Be openly gay, if you want. But don't flaunt.
I didn't experience the advice as antigay. The law school is a vigorously tolerant place, embedded in a university famous for its gay student population. (As the undergraduate jingle goes: "One in four, maybe more/One in three, maybe me/One in two, maybe you.") I took my colleague's words as generic counsel to leave my personal life at home. I could see that research related to one's identity - referred to in the academy as "mesearch" - could raise legitimate questions about scholarly objectivity.
I also saw others playing down their outsider identities to blend into the mainstream. Female colleagues confided that they would avoid references to their children at work, lest they be seen as mothers first and scholars second. Conservative students asked for advice about how open they could be about their politics without suffering repercussions at some imagined future confirmation hearing. A religious student said he feared coming out as a believer, as he thought his intellect would be placed on a 25 percent discount. Many of us, it seemed, had to work our identities as well as our jobs.
It wasn't long before I found myself resisting the demand to conform. What bothered me was not that I had to engage in straight-acting behavior, much of which felt natural to me. What bothered me was the felt need to mute my passion for gay subjects, people, culture. At a time when the law was transforming gay rights, it seemed ludicrous not to suit up and get in the game.
"Mesearch" being what it is, I soon turned my scholarly attention to the pressure to conform. What puzzled me was that I felt that pressure so long after my emergence from the closet. When I stopped passing, I exulted that I could stop thinking about my sexuality. This proved naïve. Long after I came out, I still experienced the need to assimilate to straight norms. But I didn't have a word for this demand to tone down my known gayness.
Then I found my word, in the sociologist Erving Goffman's book "Stigma." Written in 1963, the book describes how various groups - including the disabled, the elderly and the obese - manage their "spoiled" identities. After discussing passing, Goffman observes that "persons who are ready to admit possession of a stigma. . .may nonetheless make a great effort to keep the stigma from looming large." He calls this behavior covering. He distinguishes passing from covering by noting that passing pertains to the visibility of a characteristic, while covering pertains to its obtrusiveness. He relates how F.D.R. stationed himself behind a desk before his advisers came in for meetings. Roosevelt was not passing, since everyone knew he used a wheelchair. He was covering, playing down his disability so people would focus on his more conventionally presidential qualities.
As is often the case when you learn a new idea, I began to perceive covering everywhere. Leafing through a magazine, I read that Helen Keller replaced her natural eyes (one of which protruded) with brilliant blue glass ones. On the radio, I heard that Margaret Thatcher went to a voice coach to lower the pitch of her voice. Friends began to send me e-mail. Did I know that Martin Sheen was Ramon Estevez on his birth certificate, that Ben Kingsley was Krishna Bhanji, that Kirk Douglas was Issur Danielovitch Demsky and that Jon Stewart was Jonathan Leibowitz?
In those days, spotting instances of covering felt like a parlor game. It's hard to get worked up about how celebrities and politicians have to manage their public images. Jon Stewart joked that he changed his name because Leibowitz was "too Hollywood," and that seemed to get it exactly right. My own experience with covering was also not particularly difficult - once I had the courage to write from my passions, I was immediately embraced.
It was only when I looked for instances of covering in the law that I saw how lucky I had been. Civil rights case law is peopled with plaintiffs who were severely punished for daring to be openly different. Workers were fired for lapsing into Spanish in English-only workplaces, women were fired for behaving in stereotypically "feminine" ways and gay parents lost custody of their children for engaging in displays of same-sex affection. These cases revealed that far from being a parlor game, covering was the civil rights issue of our time.
The New Discrimination
In recent decades, discrimination in America has undergone a generational shift. Discrimination was once aimed at entire groups, resulting in the exclusion of all racial minorities, women, gays, religious minorities and people with disabilities. A battery of civil rights laws - like the Civil Rights Act of 1964 and the Americans with Disabilities Act of 1990 - sought to combat these forms of discrimination. The triumph of American civil rights is that such categorical exclusions by the state or employers are now relatively rare.
Now a subtler form of discrimination has risen to take its place. This discrimination does not aim at groups as a whole. Rather, it aims at the subset of the group that refuses to cover, that is, to assimilate to dominant norms. And for the most part, existing civil rights laws do not protect individuals against such covering demands. The question of our time is whether we should understand this new discrimination to be a harm and, if so, whether the remedy is legal or social in nature.
Consider the following cases:
• Renee Rogers, an African-American employee at American Airlines, wore cornrows to work. American had a grooming policy that prevented employees from wearing an all-braided hairstyle. When American sought to enforce this policy against Rogers, she filed suit, alleging race discrimination. In 1981, a federal district court rejected her argument. It first observed that cornrows were not distinctively associated with African-Americans, noting that Rogers had only adopted the hairstyle after it "had been popularized by a white actress in the film '10.' " As if recognizing the unpersuasiveness of what we might call the Bo Derek defense, the court further alleged that because hairstyle, unlike skin color, was a mutable characteristic, discrimination on the basis of grooming was not discrimination on the basis of race. Renee Rogers lost her case.
• Lydia Mikus and Ismael Gonzalez were called for jury service in a case involving a defendant who was Latino. When the prosecutor asked them whether they could speak Spanish, they answered in the affirmative. The prosecutor struck them, and the defense attorney then brought suit on their behalf, claiming national-origin discrimination. The prosecutor responded that he had not removed the potential jurors for their ethnicity but for their ability to speak Spanish. His stated concern was that they would not defer to the court translator in listening to Spanish-language testimony. In 1991, the Supreme Court credited this argument. Lydia Mikus and Ismael Gonzalez lost their case.
• Diana Piantanida had a child and took a maternity leave from her job at the Wyman Center, a charitable organization in Missouri. During her leave, she was demoted, supposedly for previously having handed in work late. The man who was then the Wyman Center's executive director, however, justified her demotion by saying the new position would be easier "for a new mom to handle." As it turned out, the new position had less responsibility and half the pay of the original one. But when Piantanida turned this position down, her successor was paid Piantanida's old salary. Piantanida brought suit, claiming she had been discharged as a "new mom." In 1997, a federal appellate court refused to analyze her claim as a sex-discrimination case, which would have led to comparing the treatment she received to the treatment of "new dads." Instead, it found that Piantanida's (admittedly vague) pleadings raised claims only under the Pregnancy Discrimination Act, which it correctly interpreted to protect women only while they are pregnant. Diana Piantanida lost her case.
Robin Shahar was a lesbian attorney who received a job offer from the Georgia Department of Law, where she had worked as a law student. The summer before she started her new job, Shahar had a religious same-sex commitment ceremony with her partner. She asked a supervisor for a late starting date because she was getting married and wanted to go on a celebratory trip to Greece. Believing Shahar was marrying a man, the supervisor offered his congratulations. Senior officials in the office soon learned, however, that Shahar's partner was a woman. This news caused a stir, reports of which reached Michael Bowers, the attorney general of Georgia who had successfully defended his state's prohibition of sodomy before the United States Supreme Court. After deliberating with his lawyers, Bowers rescinded her job offer. The staff member who informed her read from a script, concluding, "Thanks again for coming in, and have a nice day." Shahar brought suit, claiming discrimination on the basis of sexual orientation. In court, Bowers testified that he knew Shahar was gay when he hired her, and would never have terminated her for that reason. In 1997, a federal appellate court accepted that defense, maintaining that Bowers had terminated Shahar on the basis of her conduct, not her status. Robin Shahar lost her case.
• Simcha Goldman, an Air Force officer who was also an ordained rabbi, wore a yarmulke at all times. Wearing a yarmulke is part of the Orthodox tradition of covering one's head out of deference to an omnipresent god. Goldman's religious observance ran afoul of an Air Force regulation that prohibited wearing headgear while indoors. When he refused his commanding officer's order to remove his yarmulke, Goldman was threatened with a court martial. He brought a First Amendment claim, alleging discrimination on the basis of religion. In 1986, the Supreme Court rejected his claim. It stated that the Air Force had drawn a reasonable line between "religious apparel that is visible and that which is not." Simcha Goldman lost his case.
These five cases represent only a fraction of those in which courts have refused to protect plaintiffs from covering demands. In such cases, the courts routinely distinguish between immutable and mutable traits, between being a member of a legally protected group and behavior associated with that group. Under this rule, African-Americans cannot be fired for their skin color, but they could be fired for wearing cornrows. Potential jurors cannot be struck for their ethnicity but can be struck for speaking (or even for admitting proficiency in) a foreign language. Women cannot be discharged for having two X chromosomes but can be penalized (in some jurisdictions) for becoming mothers. Although the weaker protections for sexual orientation mean gays can sometimes be fired for their status alone, they will be much more vulnerable if they are perceived to "flaunt" their sexuality. Jews cannot be separated from the military for being Jewish but can be discharged for wearing yarmulkes.
This distinction between being and doing reflects a bias toward assimilation. Courts will protect traits like skin color or chromosomes because such traits cannot be changed. In contrast, the courts will not protect mutable traits, because individuals can alter them to fade into the mainstream, thereby escaping discrimination. If individuals choose not to engage in that form of self-help, they must suffer the consequences.
The judicial bias toward assimilation will seem correct and just to many Americans. Assimilation, after all, is a precondition of civilization - wearing clothes, having manners and obeying the law are all acts of assimilation. Moreover, the tie between assimilation and American civilization may be particularly strong. At least since Hector St. John de Crèvecoeur's 1782 "Letters from an American Farmer," this country has promoted assimilation as the way Americans of different backgrounds would be "melted into a new race of men." By the time Israel Zangwill's play "The Melting Pot" made its debut in 1908, the term had acquired the burnish of an American ideal. Theodore Roosevelt, who believed hyphenations like "Polish-American" were a "moral treason," is reputed to have yelled, "That's a great play!" from his box when it was performed in Washington. (He was wrong - it's no accident the title has had a longer run than the play.) And notwithstanding challenges beginning in the 1960's to move "beyond the melting pot" and to "celebrate diversity," assimilation has never lost its grip on the American imagination.
If anything, recent years have seen a revival of the melting-pot ideal. We are currently experiencing a pluralism explosion in the United States. Patterns of immigration since the late 1960's have made the United States the most religiously various country in the history of the world. Even when the demographics of a group - like the number of individuals with disabilities - are presumably constant, the number of individuals claiming membership in that group may grow exponentially. In 1970, there were 9 disability-related associations listed in the Encyclopedia of Associations; in 1980, there were 16; in 1990, there were 211; and in 2000, there were 799. The boom in identity politics has led many thoughtful commentators to worry that we are losing our common culture as Americans. Fearful that we are breaking apart into balkanized fiefs, even liberal lions like Arthur Schlesinger have called for a recommitment to the ethic of assimilation.
Beyond keeping pace with the culture, the judiciary has institutional reasons for encouraging assimilation. In the yarmulke case, the government argued that ruling in favor of the rabbi's yarmulke would immediately invite suits concerning the Sikh's turban, the yogi's saffron robes and the Rastafarian's dreadlocks. Because the courts must articulate principled grounds for their decisions, they are particularly ill equipped to protect some groups but not others in an increasingly diverse society. Seeking to avoid judgments about the relative worth of groups, the judiciary has decided instead to rely on the relatively uncontroversial principle of protecting immutable traits.
Viewed in this light, the judiciary's failure to protect individuals against covering demands seems eminently reasonable. Unfortunately, it also represents an abdication of its responsibility to protect civil rights.
フェミニズム
29 (1) 方法論的思考と読解力の欠如 (「牧波」への反論 )
(平成18年1月7日初出)
 拙著『家族を蔑む人々 ──フェミニズムへの理論的批判』は多くの注目を集め、各方面で取り上げられている。その一方で批判や攻撃もまた多くなってきた。それだけ風当たりが強いということは、この本がフェミニストにとって大きな打撃となっていることをうかがわせる。
 私が本書で指摘したフェミニストに共通の欠陥は次の三点である。
1 方法論的思考ができない。
2 テキストを正確に読むという基本が欠けている。すなわち、相手の言っていることを正しく読んだ上で批判するということができていない。
3 論争において、テクニックにばかり走るので、内容がおろそかになる。
 私がせっかく指摘してやったのに、反省もしないし参考にもしないで、依然としてこの三つの欠陥を合わせ持ったままの論が現れた。「牧波昆布郎」と名乗る者の「レイマー氏を蔑(さげす)む林道義氏」という文章である。
http://d.hatena.ne.jp/makinamikonbu/20051229/1135874031
 この者の論は、本書で私が指摘したフェミニストの三大欠陥を典型的に示していて、格好の教材になるので、ここで取り上げてみようと思う。
つづき
■[As Nature Made Him]「レイマー氏を蔑(さげす)む林道義氏」への批判に答える
第3章 Re:方法論的思考と読解力の欠如 (「林道義東京女子大学 名誉 元教授」への反論 )
林道義著『家族を蔑(さげす)む人々 フェミニズムへの理論的批判』が多くの注目を集めたり、各方面で取り上げられている…というのは見たことも聞いたこともないが、それはともかく拙著「レイマー氏を蔑(さげす)む林道義氏」への批判が林 名誉 元教授のサイトに先日掲載された。それだけムキになるということは、あの素人が書いた、たったひとつの記事が、林 名誉 元教授にとって大きな打撃となっていることをうかがわせる。
牧波さんがこれまでの記事で指摘した「デイヴィッド・レイマー氏を辱めようとするバックラッシュ」に共通の欠陥は次の三点である。
1.方法論的思考ができない。というか扇動さえできれば内容はどうでもよく、レイマー氏自体にも興味はない。

2.テキストを正確に読むという基本が欠けている。すなわち、相手の言っていることを正しく読んだ上で批判するということができていない。おそらく、する気もない。

3.論争において、扇動にばかり走るので、内容がおろそかになる。そもそも、『As Nature Made Him』を使った男女共同政策批判は論理として成立しない。
牧波さんがせっかく指摘して差し上げたのに、反省もしないし参考にもしないで、依然としてこの三つの欠陥を合わせ持ったままの論が現れた。林 名誉 元教授の「『家族を蔑む人々』への批判に答える(1) 方法論的思考と読解力の欠如 (「牧波」への反論 )」という文章である。
http://www007.upp.so-net.ne.jp/rindou/femi36-1.html
この者の論は、これまで牧波さんが指摘した「デイヴィッド・レイマー氏を辱めようとするバックラッシュ」の三大欠陥を典型的に示していて、格好の教材になるので、ここで取り上げてみようと思う。
つづき
フェミニズム
29 (2)「生物学的根拠説」に立ちながら「ジェンダーフリー教育の弊害」を言うのは「矛盾」か ( macska への反論 1)
 (平成18年1月15日初出)
 拙著『家族を蔑む人々』(PHP研究所)の第一章で「ジェンダー」概念の徹底的批判を試みたが、一般読者が対象なので、フェミニストの言っている屁理屈、ごまかし論理をすべて網羅して批判できなかった。そこで「補遺」として、ここでフェミニストのフェ理屈を取り上げて批判しておきたい。
つづき
思いつきでしかない「ジェンフリ教育の弊害」/林道義氏への返答
ずいぶん前に書いた
「生物学基盤論を唱えながらジェンダーフリー教育の弊害を叫ぶ矛盾」
というエントリに対して、林道義氏から無謀にも
反論
があった。さっそく読んでみたところ、あまりにバカらしくて再反論する価値も無さそうだと思ったけれど、一応礼儀としてお答えしておこうと思う。大した内容はないので、論壇プロレス的なバトルを楽しみたい人以外はこの項目飛ばし読みしていいです。
つづき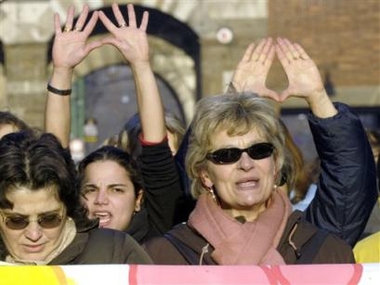 AP - Sat Jan 14, 12:55 PM ET
Some of the tens of thousands of women who marched through downtown Milan, Italy, Saturday, Jan. 14, 2006 to keep Italy's liberal abortion law intact while gays rallied in Rome Saturday to push for legal recognition for homosexual couples as both issues heated up in the campaign for the premiership. (AP Photo/Giuseppe Aresu)
Women March in Milan to Keep Abortion Law
By FRANCES D'EMILIO, Associated Press Writer
Sat Jan 14, 3:04 PM ET
Tens of thousands of women marched through Milan on Saturday to demand Italy keep its liberal abortion law intact while gays rallied in Rome to push for legal recognition for homosexual couples.
Both topics have become issues in Italy's election campaign, and the Roman Catholic Church and ministers in Premier Silvio Berlusconi's conservative government were scathing in denouncing the rallies.
"These demonstrators are really nauseating," Reforms Minister Roberto Calderoli, a member of the right-wing Northern League, was quoted as saying by the Italian news agency ANSA. "Family is a serious thing, based on love between a man and a woman."
Culture Minister Rocco Buttiglione, who is close to the Vatican, told reporters that people's energy should be spent on pro-family efforts like finding jobs and housing.
"These are the political problems you should put the spotlight on, because without children, Italy dies," Buttiglione said.
The Vatican newspaper, L'Osservatore Romano, denounced as "provocations" efforts to give legal recognition to unmarried couples "independent of whether the partners are of different or the same sex." A program on Vatican Radio described the gay rally in Piazza Farnese as "ideological sexuality."
A crowd of gays and their supporters filled the Rome square to lobby for legal recognition for both gay and unmarried heterosexual couples. "Let's free love from religious phobia," read one banner in the crowd, estimated by police to number about 1,000.
Piazza Farnese, where a Renaissance palace is home to the French Embassy, was chosen for the rally because in 2002 two Italian men registered their union at the French consulate under a French law giving broad legal rights to gay couples. One of the two men also had French citizenship.
Paola Pollice, 38, and Marco Sodini, 40, unmarried, brought their three children to the rally. "We are here to offer our support to non-heterosexual couples and their families," Sodini said.
The Milan demonstration, whose slogan was "Let's emerge from silence," was organized by women concerned that Catholic politicians, encouraged by the Vatican, will try to undo a 1978 law that makes abortion legal during the first three months of pregnancy.
Police estimated 50,000 people joined in the march, which ended in the square in front of the Duomo, the city's Gothic cathedral.
The events came two days after Pope Benedict XVI said it was wrong to give legal recognition to gay unions and also reaffirmed the Vatican's condemnation of abortion.
Italian bishops have made abortion a campaign issue for the first time since 1981, when Italians upheld the law in a referendum that had been backed by the Vatican in a bid to overturn the legislation.
Politicians in the center-left opposition challenging Berlusconi in April 9 parliamentary elections have been divided over how far to go in granting rights to homosexuals who live together. It is a delicate question for Romano Prodi, a Catholic who is Berlusconi's opponent for the premiership.
Italian gays and women protest against Vatican
By Rachel Sanderson and Roberto Bonzio
Sat Jan 14, 1:21 PM ET Reuters
Tens of thousands of Italians protested on Saturday demanding legal recognition for gay unions and the right to abortion, two days after Pope Benedict condemned homosexual marriage and the use of the abortion pill.
Clutching banners reading "We will no longer be silenced," the demonstrators, many women and gay couples, crammed into squares in Rome and financial capital Milan.
"We thought the church had withdrawn from interfering in Italian politics ... but instead there is a terrible resurgence. These are ugly signs for freedom of expression," Nobel literature laureate Dario Fo, a social campaigner, told reporters at the Milan protest.
Police said 50,000 people were gathered in the northern city's Piazza del Duomo overlooked by its giant Gothic cathedral. Organizers put the number at 100,000.
At the Rome demonstration, gay couples and a man in a strapless white wedding dress posed with Pope Benedict's picture.
Italy goes to the polls on April 9 and the Church's position on a host of issues could play a significant role in the result.
Gay unions are already legal in several European countries, including traditionally Catholic Spain. In Italy, the Vatican and many politicians are fighting the mere suggestion.
Pope Benedict in an address on Thursday said the defense of traditional marriage was "not a peculiarity of the Catholic moral teaching but part of an elementary truth regarding our common humanity."
He said it would be "a grave mistake" to legally recognize "other forms of unions."
Ministers from Prime Minister Silvio Berlusconi's center-right coalition on Saturday ratcheted up the Vatican's condemnation.
"These protests have absolutely sickened me," Reforms Minister Roberto Calderoli, a member of the populist, right-wing Northern League party said.
"These filthy things have made absurd claims for privileges on the basis of unproductive sex .... These are out of place and revolting."
Culture Minister Rocco Buttiglione said Italy's responsibility was to protect young heterosexual couples to allow them to have children, not to look after gay couples.
"Without children, Italy will die," Buttiglione said.
The election will pit former European Commission President Romano Prodi's center-left group, "The Union," against Berlusconi's ruling center-right.
Italy's Catholic Church has already served notice to the center-left that it will fight any move to recognize civil partnership for unwed heterosexual couples and gay couples.
Prodi has promised some form of recognition for unmarried couples but has stopped short of supporting gay marriage. His refusal to take part in Saturday's protests has caused a rift with some of the smaller left-wing coalition parties.
Gay Marriage Ban Advances in Va.
Amendment Wins Initial House Approval
By Chris L. Jenkins
Washington Post Staff Writer
Saturday, January 14, 2006; B01
RICHMOND, Jan. 13 -- The House of Delegates gave preliminary approval Friday to legislation that will place a state constitutional amendment banning same-sex marriage before Virginia voters in November.
The delegates voted 73 to 22 on House Joint Resolution 41, overriding appeals from opponents who said the measure could have far-reaching consequences for all unmarried couples in the state. The House must vote a final time on the resolution, but passage is almost certain. The Senate will also take up the measure during the 60-day General Assembly session, which began Wednesday.
Although the proposal passed overwhelmingly in both chambers last year, it must be approved in identical form this session before it can go to Virginia voters.
State law bans same-sex unions, but supporters of the constitutional amendment say it's necessary to clarify that Virginia is not compelled to recognize same-sex marriages or civil arrangements permitted in other states.
"We're advancing this amendment today because we trust the judgment of the people of Virginia and not the courts," said Del. Kathy J. Byron (R-Lynchburg), one of the measure's chief supporters. "Marriage is much more than just two people sharing a committed relationship. By changing the definition of marriage, the family, too, would be redefined, ultimately destroying the traditional family. And if the traditional structure of family no longer matters, what is marriage for?"
Several Democrats who oppose the measure, which would alter the state's Bill of Rights, said the language that would be presented to voters is too vague because it says in part that the Virginia Constitution should not recognize "a legal status for relationships of unmarried individuals." They said this could include unwed heterosexual couples and people in other arrangements.
The Democrats and other opponents also said such language could interfere with all unmarried couples making health care decisions and with property ownership. They said the measure as written could threaten protective orders and additional safeguards for unmarried victims of domestic violence by barring all legal recognition of unmarried family or household members.
The amendment "is really dangerous and has the potential of taking away other rights from Virginians," said Del. Kristen J. Amundson (D-Fairfax), who tried unsuccessfully to amend the measure on the floor. "If we're going to do this, let's do it right."
"We are far down the road of unintended consequences," said Del. James M. Scott (D-Fairfax). "We don't need to go any further. This is way over the top."
An authority on the state constitution expressed concern in an interview about the amendment's wording.
"It's pretty clear what the proposers are trying to do, but there may be some overkill here that could raise more questions than it actually answers," said A.E. Dick Howard, a professor of law at the University of Virginia and one of the drafters of the state's modern constitution.
Supporters said unmarried couples have other legal protections.
"We give the power of attorney independent of a marital relationship or a marriage-like relationship," Del. Robert G. Marshall (R-Prince William), who was an original sponsor of the amendment.
Del. David B. Albo (R-Fairfax), chairman of the House Courts of Justice Committee and a supporter of the amendment, said he will ask for a legal opinion from Robert F. McDonnell (R) after he is sworn in Saturday as attorney general.
"Our intent wasn't to affect private contracts or anything like that . . . and we can't invalidate wills and shared equity agreements and things like that," Albo said.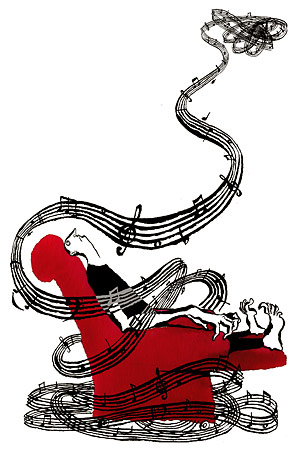 The New York Times
Art
January 15, 2006
Everyone's Invited to Wolfgang's Party, Willing or Not
By BERNARD HOLLAND
BRACE yourselves. The 250th anniversary of Mozart's birth is upon us, and there is heavy weather on the horizon. Blizzards are impressive both for their power and for their tendency to obscure our senses. We shall have Mozart blowing in our faces for the next year, and the accumulations will be staggering. We shall hear the good and the bad, the long and the short, the loud and the quiet, the famous and the obscure. It will take all of 2007 to dig our way out.
Concert programmers and opera managers can scarcely believe their luck. Here is a theme to hang one's season on, and nobody doesn't like Mozart. In Mozart's hometown, the Salzburg Festival is doing all the operas, including such childhood knockouts as "Ascanio in Alba" and the prepubescent "Bastien und Bastienne." Salzburg's chocolatiers may have to farm out production of Mozart kugels to Southeast Asia. Vienna, which stakes its claim as Mozart's home, too, during the 10 most productive years of his life, will present the appropriate products.
It was heartening to hear BBC Radio in London stand up and say no, not long ago. Having presented marathons of all of Bach (10 days) and all of Webern (less than four hours), the BBC took a pass on what would have been two relentless weeks of music from a man we hear so much of during any year. Officials feared a "too chocolate-boxy effect." One can puzzle over the explanation but be thankful for their decision. They must surely have looked back 15 years to Lincoln Center's we'll-perform-every- scrap-the-guy-ever-wrote assault on Mozart for the 200th anniversary of his death in 1991.
Art likes to set itself above commerce, but volume rules as much here as it does at U.S. Steel. More money makes banks better. More oil makes drilling operations better. More Mozart makes music better. There may be a revelatory "Don Giovanni" to come in 2006, or a more satisfactory edition of the Requiem, or new light on the string quartets, but make no mistake: this Mozart celebration will concern how much and how many at least as much as how good.
The Lincoln Center experience should be cautionary. It turned art into accountancy: Which visiting orchestra can we get to do the B flat Symphony (K. 22)? I'll bet we can pressure some debut pianist who's hiring the hall to do those four little sonatas Mozart wrote when he was 10. Where in the world do we find people to sing the canons, and where do we put the concert? Do we have to fly someone in to play the glass harmonica? What about the stuff for mechanical music boxes? Producers became like warehouse managers, measuring artistic success in knowing how to find things and get them on the trucks.
The effort was touching in its way, but it didn't have much to do with music. What came to mind was the legendary Juggler of Notre Dame, who, unable to offer up solemn Masses or beautiful music, performed his act before the altar. Musical marathons of any sort are like this. They pay their debt to great music with logistical skills and physical endurance on the part of both performer and listener. Music for its own sake becomes lost in the shuffle.
A marathon, or a complete anything defined by a time frame, is like a book without punctuation or paragraphs. No sooner do we begin dealing with the end of "Hamlet" than "King Lear" starts up. We don't need everything, much less a deadline to hear it in. We need a few things and a lot of space between them: the musical equivalent of those quiet cars on Amtrak trains to let us absorb what we have heard.
My fantasy Mozart 250th-anniversary year would pick two operas ("Così Fan Tutte" should be one of them), invest the productions with all the thought, talent, rehearsal time and material assistance the music world possesses, then take them around the world. Three weeks to a month should intervene in any one place. No operatic Mozart to be allowed between the two. And iPods will be fitted with anti-Mozart locks to be activated at appropriate intervals.
Choose two symphonies between Nos. 29 and 35. These are the ones known, loved but not belabored. Present them first with an early-music, period-instrument quick-tempo band and then with a 21st-century orchestra in the slower Wilhelm Furtwängler-Bruno Walter style. People will hear how time has changed Mozart, or at least changed our ears.
Take on tour, in two- to three-concert series, the six string quartets dedicated to Haydn along with the mature quintets. Give them to a group of longstanding excellence known for homogenous sound and coordination, but also give them to musicians who have never played together. There are two kinds of beauty here, both serving Mozart. Do the same sort of thing with the concertos, the instrumental pieces and the liturgical music. Avoid juvenilia for the sake of novelty; a lot of it is very boring.
You will get Mozart from every direction for the next 12 months. Presenters don't even have to pretend they have guts and imagination. They will simply throw more of the same at you and bask in their righteousness. Have courage, and be selective. Spend time at home with cotton in your ears thinking about Mozart. Don't try to listen to all of anything. More Mozart is not the path to the idea of Mozart.
▲
by

alfayoko2005

| 2006-01-15 12:08 | Music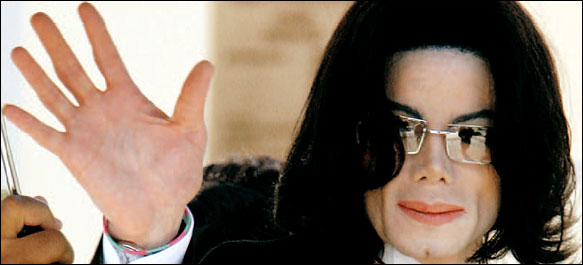 Michael A. Mariant/Associated PressMichael Jackson at his trial in April 2005.
The New York Times
Books
'On Michael Jackson,' by Margo Jefferson
The Man in the Mirror
Review by TOURÉ
Published: January 15, 2006
It's got to be really hard to write a short meditative essay about Michael Jackson, not unlike walking up to a sumptuous buffet and taking just a small plate. Jackson is probably the most deconstructable star of the past 30 years. His tabloid-headline life speaks to our obsession with fame. His seeming desire to slice the blackness from his face through repeated plastic surgery reflects our confusions about race as well as our overindulgence in cosmetic enhancement. The guttural cries and whoops, those prelingual ad-libs he includes in almost every song, link him to old blues recordings; but when laid over state-of-the-art grooves suggest a conversation about how to mix old-school Negro tropes with the latest African-American flavor. And I'm just getting started. How do you square Jackson's preoccupation with childhood innocence with the pseudomilitary iconography of his wardrobe and the flashes of violence in his videos? Or the business savvy that led him to purchase the lucrative song catalogs of the Beatles and Sly Stone with the gross financial mismanagement that may soon cost him those catalogs?
ON MICHAEL JACKSON
By Margo Jefferson.
146 pp. Pantheon Books. $20.
I could go on, but I'll run out of real estate. But despite the lack of any such restriction, Margo Jefferson, in her Kate Moss-thin book, moves through the major aspects of Jackson's life and ends quickly, without finding much uncharted territory. She touches on Jackson's love of Peter Pan, the increasing strangeness of his face, the way he studied the singer Jackie Wilson from the wings as a child, his standing up to his father's intimidation - all the usual Jacko touchstones, couched in the poetic writing you'd expect from a Pulitzer Prize-winning Times cultural critic. "He loves genres that emphasize mutable identities, carefree cartoons and horror tales," Jefferson writes. "And it's mutability that makes his dancing so special. That ability to turn a James Brown funky chicken smoothly into Josephine Baker's knock-kneed Charleston. . . . He has the ability to be liquid and percussive all at once, to create an aura of suspense and improvisation."
Lovely sentences, sure, but this meditation arrives years late, at a time when the story of the child star who became the world's biggest star and then became a freak has been told in so many books, articles, TV movies and documentaries that we know it by heart. Jefferson has a hard time finding new information that doesn't sound like fanzine factoids: Oldest brother Jackie is the one who first said little Michael should be the lead singer. Contrary to Jackson mythology, it wasn't Diana Ross who discovered the brothers but Gladys Knight. Jermaine "came to see Michael's eventual triumph as a betrayal." Marlon got the most beatings. Rebbie has released six albums in Japan. After Michael named his first two sons Prince Michael, Jermaine responded by naming his son Jermajesty.
Jefferson does sometimes find new ways to see Jackson, linking him to Shirley Temple (another child who mimicked and played with adult sexuality) and Little Richard. Michael has never suggested that Little Richard was an influence, but Jefferson argues that by watching him he learned how to bring both masculinity and femininity to the stage. "I am not saying that Michael Jackson is gay," she writes. "I am saying that he draws on gay culture - its signs and codes - but pretends that he doesn't and that we shouldn't notice."
Jefferson also points out that Jackson came along when American culture was particularly open to youthful sexuality: "The 70's were an interesting decade for child performers. The culture was clearly obsessed - let's say 'conflicted' - about children." It was the era when Brooke Shields and Tatum O'Neal arrived and Jodie Foster played a teenage hooker in "Taxi Driver." "This may seem distant from the Jackson Five, but it is not distant from Michael," Jefferson writes. "He was as much an object of sexual fantasies as any of these girls."
After Jackson's childhood, which was long on sexualization but short on self-esteem, it's not surprising that he grew up to have a strange sex life. Nearly everyone has an opinion on that sex life and on whether Jackson behaves inappropriately with little boys or is not touching them and is merely misunderstood. Jefferson wants it both ways so badly her conclusions are a bit hard to credit. She offers one of the most sympathetic explanations imaginable: "Is it possible that Michael Jackson sexually engages children? Yes. He compulsively reimagines the violation of his own innocence, then purifies himself with kind, caring acts. But isn't it just as possible that he is asexual? That he basks in that innocence and shelters it just as compulsively - that he is tempted but resists time and again? He sets the scene of his own violation, repeats the scenario but rewrites the ending. He rescues himself and the child. And yet, he experiences the excitement - the eros - of being tempted."
Sure, it's possible to believe that. If you're a Jacko fanatic. Or naïve. Jefferson grew up loving her subject, and maybe it's love that leads her to see Jackson so optimistically, and also to stop writing so soon. Whether you're looking at Jackson's face or his life, the longer you look the worse it appears.
Touré is a correspondent for BET and the author of "Soul City."
▲
by

alfayoko2005

| 2006-01-15 11:57 | Books
危うい男女共同参画論
2006年 01月 16日 社説は語るブログ
『産経新聞(06/01/15)』
男女共同参画-誤解を招く記述の是正は当然だ
 「男女共同参画社会基本法を着実に実施していくと共に、一部の現場にあると指摘されている混乱を解消したい」
(後略)
♪ 新聞名を間違えるとは、「ゴミ新聞にはゴミ読者」としかいいようがない(笑)
1月15日付・読売社説(1)
 [男女共同参画]「誤解を招く記述の是正は当然だ」 
 「男女共同参画社会基本法を着実に実施していくと共に、一部の現場にあると指摘されている混乱を解消したい」
 猪口・男女共同参画相は、5年ぶりに改定された男女共同参画基本計画の狙いをこう語っている。
 「混乱」とは、男らしさや女らしさをすべて否定する「ジェンダー・フリー」思想が、一部の自治体や教育現場に広がったことを指す。
 その反省を踏まえ、旧基本計画にあった誤解を招きやすい記述が、今回改められた。当然の措置と言える。
 「ジェンダー・フリー」を掲げて、端午の節句やひな祭りは、男らしさ、女らしさを押しつけるものではないか、と伝統文化を批判するパンフレットを配布した団体もある。
 旧基本計画には「社会的・文化的に形成された性別(ジェンダー)に敏感な視点を定着させ、職場・家庭・地域における様々な慣習、慣行の見直しを進める」との記述が盛り込まれていた。
 「ジェンダー」の用語の説明も不十分で、ジェンダー・フリー思想が一部の教育現場などに広がる一因にもなった。
 新しい基本計画では、「ジェンダー・フリー」という用語を使用して性差を否定するのは、「国民が求める男女共同参画社会とは異なる」と明記した。
 児童生徒の発達段階を踏まえない男女同室着替え、男女混合騎馬戦なども「極めて非常識である」とした。
 これまでも政府は、男女共同参画社会は男らしさ、女らしさを否定するものではない、との見解を、国会答弁などを通じて繰り返し表明してきた。誤った認識は是正されつつあるが、指針となる国の基本計画が改められた意義は大きい。
 今後、都道府県や市町村の男女共同参画計画も改定される。各自治体は、ジェンダーに関する政府見解を十分踏まえ、現場に徹底させる必要がある。
 新しい基本計画には、社会のあらゆる分野において指導的地位に女性が占める割合を2020年までに少なくとも30%程度になるよう取り組みを促進することや、科学技術の分野で男女共同参画を推進することなどが盛り込まれている。
 日本の人口は昨年から減少に転じ、超少子化社会を迎えようとしている。
 男女共同参画会議がまとめた先進諸国の2000年のデータでは、女性労働力率と出生率がおおむね正の相関関係を示している。女性の仕事と子育ての両立を支援することが、結果的には人口減少の歯止めにもなり得る。
 男女共同参画はそうした視点からも積極的に進めていく必要がある。
(2006年1月15日2時9分 読売新聞)
Editorial
Revisions improve gender equality plan
The Yomiuri Shimbun
The government's basic plan for gender equality has been revised for the first time in five years.
Kuniko Inoguchi, state minister in charge of measures for the declining birthrate and gender equality, explained its aim by saying, "I'd like to put teeth into the basic law for a gender-equal society and try to end the confusion that has arisen in its application."
The confusion she referred to is the spread in some municipalities and classrooms of extremist ideas on gender equality denying any differences between the sexes.
With this in mind, some misleading expressions in the old plan were corrected this time.
This was a reasonable action.
Some organizations supporting gender-neutral ideas have distributed pamphlets criticizing Japan's traditional culture, such as the Hinamatsuri doll festival for girls in March and the Boys' Festival in May, as imposing traditional gender roles.
The old plan for gender equality stipulated the need for sensitivity toward gender roles formed socially and traditionally, and for a review of various customs and practices at workplaces, homes and in the community.
However, the term "gender" was not explained sufficiently in it, leading to the promotion of radical gender-free ideas at some schools, which deny any sexual differences.
===
'Gender-free' not equality
The revised plan for gender equality stated that the denial of sexual differences under the term "gender-free" differed from the gender equality sought by society.
It also described as extremely preposterous such practices as allowing boys and girls to change clothes in the same room regardless of their development stages, and to make them participate in a mixed mock cavalry battle at a sports festival.
The government has maintained its view in the Diet and elsewhere that the plan for gender equality does not deny gender roles.
Though the misunderstandings have been corrected gradually, the revision of the government's guideline still means a lot.
Following the revision of the government plan, local governments' plans for gender equality will be revised. The prefectural and municipal governments have to make schoolteachers and school officials fully understand the government's view on gender equality.
The new basic plan also said women should fill at least 30 percent of leading positions in every field of society by 2020, and that gender equality should be promoted in the field of science and technology.
===
Birthrate fall can be stopped
The Japanese population started declining last year, and the nation is becoming a society with a very small number of children. In developed countries, there is a positive correlation between women's participation in the labor force and the birthrate, according to year 2000 statistics compiled by the Cabinet Office's Council for Gender Equality.
Helping women work and raise children at the same time will stop the population decline.
Considering this point, the basic plan for gender equality should be fully applied.
(From The Yomiuri Shimbun, Jan. 15)
♪ まともに理由をつけられないことを、すぐ「当然」でごまかす読売の低脳社説。
▲
by

alfayoko2005

| 2006-01-15 11:25
2006-01-15 雨だった。

■ジュディス・バトラーの講演会に行ってきました。
レポしているサイトがあったらリンク紹介していきます。なかったら後ほど簡単にレポしますね。というか、あまり報告されない予感が。
http://aqua.cocolog-wbs.com/aqua_00/2006/01/post_28ab.html
http://d.hatena.ne.jp/chidarinn/20060114
http://ambiguityxxx.blog34.fc2.com/blog-entry-70.html
時間ギリギリに駆け込んだchikiは、かなり後ろの席だってので、客の反応がよく見える。あらかじめ書いてきたと思われる原稿をとうとうと読み上げるバトラー。抽象度の高い内容の文章を淡々と読み上げているので、理解に体力と根気と前提知識が必要。時間がたつにつれ、眠りだす客、帰りだす客が人種や性を問わず何人かいた。性と人種を超えた人間が、おのおの居眠りすることで連帯していたとも言える(ぉ)。
(レポを書くかも)