「色つき下着」で波紋 (朝日 2006/03/28朝刊・週刊アジア・亜州見聞)
【シンガポール】色つきブラジャーの着用が禁じられているシンガポールの女子中学(日本の中学・高校1年)では売店で白い下着を売っており、違反者には着替えさせる。ところが、ある中学で罰として一日中下着なしで過ごさせていたことが分かった。
 保護者や生徒から「人目もあるのに」「子どもの人権無視だ」などと怒りの声が上がった。校長も、取材に対して行き過ぎを認め、改善を約束した。しかし「ブラジャーの色が目立つ体育の時だけ、他のクラスの子と取り換えて先生の目をごまかす」という生徒も。(ニュー・ペーパー)
Monday March 6, 2006
Braless order at school - Malaysia Star
STUDENTS of a secondary school in Singapore, who were recently found to be wearing coloured bras to school, were forced to go braless, reported China Press.
According to the daily, the school only allowed students to wear white, beige and light grey bras.
The daily said most of the affected students were caught wearing coloured bras during a Physical Education class
They were forced to remove the bras in the bathroom, which were then confiscated.
Describing the action as "too much", the daily quoted the students as saying they were mortified, more so as male teachers were present.
The daily said a school spokesman admitted that those who had given the order had "gone overboard."
She said the school had decided to provide white bras for those flouting the rules.
The daily also reported that several schools in the republic were taking different approaches in dealing with the matter.
One school was already selling bras to students.
Others had informed the parents before asking the students to leave the school to change their bras.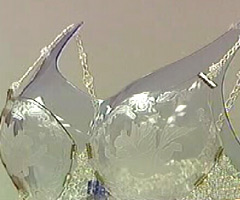 Singapore News »
Time is GMT + 8 hours
Posted: 22 March 2006 1930 hrs
'Cinderella Bra' flown into Singapore for Fashion Week
By Dominique Loh, Channel NewsAsia
SINGAPORE : Cinderella's got her glass slippers and now she has a 'crystal' bra to add to her wardrobe collection.
Called the "Cinderella Bra", it's made with glass and Swarovski crystals, and carefully hand-finished by skilled craftsmen.
The beads are sewn on the sides, center panel and straps. Angel patterns were also etched onto the cups.
Although it's called the "Cinderella Bra", don't expect Price Charming to come knocking on your door to try it out for size.
But starting April 8, you can go to Robinsons at Raffles City to have a closer look at this one-of-a-kind "wonder bra".
Also on display is the Pearl bra specially flown in from Japan. It is valued at more than $207,000.
3,000 quality pearls have been carefully selected to decorate it.
These uplifting designs have been brought to Singapore as part of the Singapore Fashion Week which kicks off on Friday.
- CNA /ls