カテゴリ
以前の記事
検索
最新のトラックバック
その他のジャンル
ファン
記事ランキング
ブログジャンル
画像一覧
Facing facts
- Edward Guthmann, San Francisco Chronicle Staff Writer
Wednesday, April 26, 2006
Claire Roberts had tried plastic surgery: two nose jobs, plus a surgical procedure in which her jawbone was shaved down to create a softer contour.
But nothing really worked. A transsexual who decided late in life to transition to female gender, Roberts went to San Francisco plastic surgeon Douglas Ousterhout last fall and requested a new face. She wanted to "pass," which in her case meant altering a Governator jaw, a large nose and a low, protruding brow line that "made me feel about as feminine as one of the females in 'Planet of the Apes.'
"I felt like I could not shift over to a full-time gender position until my face -- my identity -- was correct," explains Roberts. The 59-year-old Seattle musician and retired business executive is 6 feet tall and has a 25-year-old son. He found out about Ousterhout's innovative facial feminization surgery online and decided to take the leap. The results, five months later, are dramatic: instead of the receding hairline, lantern jaw and (actor) Geoffrey Rush profile, Roberts is a perfectly plausible female.
Ousterhout, who practices at the California Pacific Medical Center's Davies campus on Castro Street, is widely considered the country's foremost facial feminization surgeon. This is because of the cranial and maxillofacial techniques he developed to change the shape of the skull. Unlike most plastic surgeons with their standard menu of tummy tucks, eyelid lifts and rhinoplasties, Ousterhout, 70, brings skills he acquired at the Center for Craniofacial Anomalies at the UCSF Medical Center, where for 25 years he was head surgeon and worked on children born with severe skull deformities. In 1998, when HMOs reduced reimbursements for skull surgery ("I wasn't going to be able to afford my practice"), he switched to female feminization surgery full time.
"Most plastic surgeons aren't bone doctors," Ousterhout says, "and never spend time really analyzing the difference between the female and male skull." None, he claims, delivers the radical results he's achieved with 918 procedures beginning in 1978.
Surgeons who perform the work are rare. Ousterhout declined to estimate the current number, but Chicago plastic surgeon Mark L. Zukowski, who performs 80 to 100 facial feminizations per year, guesses there are "at most 12 (doctors) in the world, with three or four top people." Beverly Hills surgeon Gary Alter, whose practice also includes sexual reassignment and labiaplasty, is one of the more prominent specialists and does about 50 facial feminization operations per year.
For $22,000 to $40,000 -- roughly twice the cost of sexual reassignment surgery -- Ousterhout's patients undergo as much as 10 1/2 hours of surgery. They remain in the hospital two days after surgery, then transfer to the Cocoon House, a bed-and-breakfast facility run by two nurses in Noe Valley, for eight days of convalescence.
Eighty-five to 90 percent of Ousterhout's patients are transgender. Ninety-five percent come from outside the Bay Area. "I have one patient who wants the surgery so badly," he says. "She's in a coal-mining town somewhere in Kentucky and she says, 'I don't dare dress as a female where anybody can see me. Literally, I'll be killed.' And she's probably right."
Most of Ousterhout's patients, like Stacy Windsor of British Columbia, grew up thinking they were accidents of nature. "I figured out that I was supposed to be a girl when I was 5, when I was in kindergarten," she says. "For some reason there'd been this terrible mistake."
At 24, Windsor (not her real name) is one of Ousterhout's youngest surgical patients. Six feet two and lanky, a computer programmer who started taking female hormones and dressing as a woman at 19, Windsor came to San Francisco after researching Ousterhout on the Internet and reading testimonials.
Her mother, Karen, has flown in from southern Ontario to be at her child's side throughout the surgery and recovery. "She's my baby," Karen says. Not supporting her would be unthinkable, she adds, especially when "one of three transsexuals ends her life before the age of 30."
"It's pretty rare, sadly," Windsor says of her parents' support. "I had read all these horror stories on the Internet saying, 'If you're still living with your parents, be packed and ready to go when you come out to them.' And of course they were both totally fine with it."
Windsor, who looks like Hilary Swank in "Boys Don't Cry" -- only much more feminine -- is speaking in a private room at Ousterhout's office, its walls covered in plaques and diplomas from Ousterhout's long career. She's nervous about being exposed, especially at work, where everyone assumes she's a biological female. She asks not to be photographed for this story, or identified by her real name.
The procedure, she hopes, will help her not only to pass but also to feel more "integrated" in her female identity. "I'm having the jaw tapered," she says. "And I'm going to have the chin reduced and brought forward."
The male skull, Ousterhout explains, has more hooding over the eyes, whereas females have a more "open, convex orbit." During facial feminization surgery, Ousterhout pulls the face back from the forehead and removes part of the forehead bone, leaving a more feminine contour. The chin, which in men is wider and 20 percent longer than the female mandible, is reduced to female size and shape through a process called a sliding genioplasty. "It's like taking out the salami between two pieces of bread," he says.
"I also don't like the width of my nose," Windsor adds. In fact, it's as masculine and unavoidable as Adrien Brody's. The surgery will also lift her upper lip closer to her nose, allowing for a more feminine smile. It's a subtle difference, Ousterhout says, but men have a vertically longer upper lip than women. It's not noticeable when they smile, but when a man's lips are parted a few millimeters, the upper teeth are hidden. Ousterhout shortens the upper lip by making an incision immediately beneath the sill of the nose.
Last of all, the most obvious factor and biggest giveaway for transsexuals is the thyroid cartilage, or Adam's apple. While many surgeons make a small transverse incision in the front of the neck, immediately above the cartilage prominence, Ousterhout approaches it through an incision just behind the chin to leave less obvious scarring.
Eight days after her surgery, a few hours after her sutures and bandages are removed, Windsor welcomes me to the Cocoon House, where she's been napping and blunting the post-op edge with a series of gradually less potent pain pills. Her face is a bit pumpkin-like with orange and purple bruises and swelling around her nose, chin and jaw. Her voice is a tad weary.
"It's a horribly painful operation to recover from," Stacy says. "I was under anesthesia 13 hours. Transplants don't take 13 hours!" When the bandages were removed and she saw her new face, "I popped a Valium. It's such a huge change from how I looked before." For the next six weeks, Stacy has to take saline nasal spray six times a day. She can't wear glasses, a bicycle helmet or any kind of protective headgear for six months. Six days after our last visit, she sends an e-mail from British Columbia:
"My scalp incision shed a lot of hair around the edges, making me sensitive about people noticing it. And there's new stubble there, which will be a complete pain in the butt to style in about a month. I can't pluck my eyebrows because of risk of infection. ... I basically look like Stalin, or Bert from 'Sesame Street.'
"It's all stuff that's going to be just fine in the long term," she adds. "It's just gross now."
Stacy sees the facial surgery as being more about identity than vanity. She was homeless and on drugs two years ago, and says the expensive procedure -- $35,000 in her case -- was possible only because a family friend volunteered to front the cash. "Even if I'd found work in a field where I did well financially, it would've taken 10 years to save that much money."
"Ten really difficult years," her mother adds.
"I have a new opportunity here with the new face," Stacy says. "For the majority of Dr. O's patients, it's the difference between a very successful life and a sad and lonely, little life."
Not everyone agrees that FFS is desirable for transitioning transsexuals. San Francisco entertainer Veronica Klaus had genital reassignment surgery and breast augmentation but decided against facial surgery. "While I think it can be an important step in realizing one's potential, it's more important that one's self-esteem come first from the inside."
Lannie Rose, a San Jose author and transgender person. recommends facial feminization surgery only "if you have particularly masculine features and are having a difficult time passing in most circumstances." In her book, "How to Change Your Sex," Rose warns, "Although FFS is startlingly effective in feminizing the face, it only creates confusion if you wind up with a feminine-looking face on top of a linebacker's body; or very feminine features on a face that's still too damn large."
She's got a point: Think of Roberta Muldoon, the professional football player-turned-lady played by John Lithgow in "The World According to Garp." Or Roy "Ruth" Applewood, a Midwestern husband and dad, played by the bearish Tom Wilkinson, who shocks his family by coming out as transgender in the cable drama "Normal."
In fact, Ousterhout says, the size of the face is modified through FFS: "By reducing the forehead length through scalp advancement to a female position, and by reducing the vertical height of the chin in the sliding genioplasty, the face is made smaller in all regards."
For patients like Roberts, who go through life thinking of themselves as women despite a body that claims otherwise and then gradually find the courage to make the transition, Ousterhout's makeovers are life-changers. "The best way to describe this procedure and its impact on my life is that for the first time in 59 years my outside looks something like my inside."
Before FFS, Roberts says, "I thought I was ugly. I finally figured out that I didn't regard myself as ugly, but rather 'wrong.' The image in the picture was not me. Now it is, and that fact is so profound for me that I am still giddy from it!"
When the work was finished and she looked in the mirror, Roberts adds, "I said, 'Oh my God, I look like my mother!' While most women make this statement with chagrin, I made it with real joy. Actually, it's quite an overstatement since my mother was truly beautiful -- but I can now see much of her is in me, which touches me deeply."
E-mail Edward Guthmann at eguthmann@sfchronicle.com.
Page E - 1
URL: http://sfgate.com/cgi-bin/article.cgi?file=/c/a/2006/04/26/DDGEMIEF771.DTL
▲
by

alfayoko2005

| 2006-04-26 23:50 | トランス
Transgender movement emerging from shadows
By Bonnie Miller Rubin
Chicago Tribune staff reporter
April 3, 2006
Shawn Coleman bristles when an application poses the question "male or female?"--as if there are only two choices.
When it comes to sexual identity, the 23-year-old Shawn--born Patricia--sees a broad spectrum, a man-to-woman or a woman-to-man continuum with many stops along the way. Think gender without borders. He (the preferred pronoun) looks male but not completely. He is not a lesbian, a cross-dresser or contemplating a sex-change operation any time soon.
"I always knew I was different than other girls," explained Coleman. "I was never a fan of Barbie but liked playing sports with my two older brothers. People were always telling me to act more feminine--that I should sit with my legs crossed--but I found that stuff incredibly difficult. It wasn't the way I felt inside."
A graduate student at Iowa State University, Coleman is a transgender young adult and at the forefront of a movement that some say represents a new edge of grass-roots activism. Frequently lumped together with gays and lesbians, who have not always been welcoming, transgender people are carving a separate profile and flexing new political clout from campuses to corporations.
Transgender is an umbrella term that refers to people whose sexual identity differs from conventional expectations of what it means to be a man or a woman. It includes transsexuals, who have surgically moved from one sex to another. It includes those who have had electrolysis and take hormones. It also encompasses people like Coleman who identify and express themselves differently from the sex indicated on their birth certificates.
Because of the range of definitions and the stigma, reliable statistics are difficult to find. Pop culture has helped "trans" issues gain more visibility. Felicity Huffman's performance in "TransAmerica" grabbed the headlines--and a "best actress" Oscar nomination--but "Rent" and "Breakfast on Pluto" included such characters last year as well. On the Sundance Channel, a documentary series called "Transgeneration" followed four college students who morphed from one sex to the other. VH1's "Surreal Life" also features a "tranny."
The sports world, too, is seeing more fluidity. There's Terri O'Connell, a male-to-female transsexual and the only NASCAR driver to compete as both a man (T.J. Hayes) and as a woman. Canadian cyclist Kristen Worley, who also changed from male to female, currently is vying for a spot in the 2008 Olympics. The International Olympic Committee allows transsexual athletes to compete if two years has elapsed since surgery. The NCAA is studying a similar proposal.
More visibility has fostered more understanding.
"It used to be that when journalists called, the first question was about surgery," said Mara Keisling, 46, executive director of the National Center for Transgender Equality, who was born Mark and "transitioned" six years ago. "Now reporters are acknowledging the humanity."
Illinois bars discrimination
Seven states, including Illinois, have transgender-inclusive anti-discrimination laws. Even the business world, while not exactly rolling out the welcome mat, is becoming more receptive. More than 100 major corporations--40 in the last year alone--now include gender identity as part of their non-discrimination policies. That's up from eight firms just five years ago.
Gender Public Advocacy Coalition, a human-rights group, held a benefit in Chicago on Saturday, sponsored by such buttoned-down firms as IBM Corp., JP Morgan Chase and Citigroup.
"It's the next big social movement," said Riki Wilchins, GenderPAC's executive director. Wilchins compares these efforts to those waged by blacks in the 1960s, women in the '70s and gays and lesbians in the '80s.
Nowhere is the activity more evident than on the nation's campuses. In 2003, students organized GenderPAC's first youth chapters to help combat bullying and discrimination. Today, there are 40 campus chapters in 25 states.
"More than 200 schools have reached out to us," Wilchins said. "It just shows the breadth of interest right now."
Veterans of the movement such as Wilchins, 53, who transitioned to female in 1978 but answers to either pronoun, are heartened by the growing acceptance. Attending a gay youth conference in Des Moines two years ago, Wilchins was greeted by more than 1,000 cheering, stomping "genderqueers," an increasingly popular term used to refer to anything off the binary gender map.
"All these kids were just so gender non-conforming and testing the limits," Wilchins said. "I asked them, `How do you do this in Iowa?' But kids always get there about 10 years before everyone else."
One of those kids was Shawn Coleman, who says he had problems with only one roommate during college and that his mom considers this "a phase."
He currently favors close-cropped hair, baggy jeans and polo shirts purchased in men's departments. Sometimes, he binds his chest with an ACE bandage to conceal the silhouette of breasts, but usually comfort wins out. No artifice can quite disguise the high-pitched giggle.
For Coleman, it's as much about power as gender.
"I feel more entitled as a guy. . . . I have the right to be more aggressive, to do and say whatever I want," said Coleman, who is living in Chicago's Edgewater community while working on his master's thesis in sociology.
Is sex-reassignment surgery in the future?
"Not at all," he says, without hesitation. "I am about so much more than anatomy."
Surgery doesn't always work
While plenty of transfolks are eager to go under the knife, far more are content with sexual ambiguity for reasons that have as much to do with practicality as philosophy, experts say.
The surgery can be extremely painful, expensive ($20,000-plus, rarely covered by insurance), and the results often are disappointing, especially when going from female to male, said Michele Angello, a therapist in Wayne, Pa., who has counseled dozens of pre-operative candidates.
While surgeons have made strides with male-to-female genital surgery, the female-to-male construction has not been nearly as successful.
"Most don't even bother spending the money," Angello said.
Instead, many opt to try to "pass" by blurring the lines as much as possible.
"People don't want to jump out of one box, only to be shoved into another. . . . It's become almost politically incorrect to question [are you a man or a woman?] anymore," she said.
Such awareness has moved from campus to workplace. The fact that there are now trans attorney, librarian and veterans groups indicates how the movement has evolved in recent years, experts said.
Still, as this population has stepped up its activism, so have conservative groups. Concerned Women of America recently accused Mattel, maker of Barbie, of being "influenced by the transgender movement" with a survey that offered a choice on its Web site of "boy" "girl" and "I don't know." The options have since been altered.
But nowhere are opponents more focused than on the proposed Employment Non-Discrimination Act, a bill pending in Congress for more than a decade.
"Once these sad, disturbed people are protected by federal law, no business can stop a man from wearing a dress to work or stop a woman from dressing like a man," said a fundraising letter of the Traditional Values Coalition, one group calling for its defeat.
Even from the gay, lesbian and bisexual community, discrimination exists.
The Human Rights Campaign, often regarded as the most mainstream of all gay rights groups, had initially wobbled on including trannies in the legislation, fearing their presence "would give tepid supporters a reason to back off," said Gary Gates, a demographer at the Williams Institute at the UCLA School of Law.
But times are changing.
This "lack of understanding" was acknowledged in the first Human Rights Campaign handbook on the trans Americans. Most important, the group has now pledged to support only legislation that explicitly protects transgender employees' right to express their identity any way they choose. It is one more sign of their growing political influence.
"The `T' in the LGBT [lesbian, gay, bisexual, transgender] movement is no longer just an add-on," Gates said. "This really is the new frontier."
----------
brubin@tribune.com
▲
by

alfayoko2005

| 2006-04-26 23:46 | トランス
中国人女性の胸のサイズに変化、C─Eカップの需要拡大
16:09 JST

 [北京 25日 ロイター]
 中国で、栄養状態の改善に伴い女性の胸のサイズが大きくなり、下着メーカーは大きなカップのブラジャーの生産に追われている。
 上海日報が25日にウェブサイトに掲載した記事によると、大手下着メーカー、トリンプの販売員は「若い女性のほとんどがAカップまたはBカップのブラジャーを着けていた昔に比べると、状況はかなり変化した」と述べた。また、香港に拠点を置く下着メーカーのエンブリーはAカップブラの生産を中止。大きなサイズのブラジャーの需要拡大に応え、CカップからEカップの生産を増やしたという。
 上海日報によると、先週発表された北京服装学院の調査では、中国人女性の平均胸囲が1990年代初めに比べて約1センチ伸び、83.53センチになったことが示された。女性の栄養のバランスがよくなり、運動量も増えたことが変化の要因だという。
BBC
Last Updated: Tuesday, 25 April 2006, 11:48 GMT 12:48 UK
Chinese women 'need bigger bras'
Bra producers have been forced to offer bigger cup sizes in China because improved nutrition means women are busting previous chest measurements.
The Beijing Institute of Clothing Technology said the average chest size of Chinese women had increased by nearly 1cm in the past decade.
Measurements were taken from nearly 3,000 women over six years.
In response, some underwear companies have created sub-brands specialising in larger bra sizes.
"It is so different from the past when most young women would wear A- or B-cup bras," Triumph brand saleswoman Zhang Jing told the Shanghai Daily.
Meeting demand
The Hong Kong-based lingerie firm Embry Group no longer produces A-cups for larger chest circumferences and has increased production of C-, D- and E-cup bras to meet demand.
Embry opened special counters for its bigger-cup bras in February and is planning more outlets across the nation, the China Daily reported.
The clothing technology institute released a report last week saying the average chest circumference of Chinese women has risen by nearly 1cm to 83.53cm (32.89 inches) since the early 1990s.
This phenomenon, it said, was due to women eating more nutritiously and taking part in more sport.
Similar growth in the average height of children prompted a rethink last year in Beijing on the height allowance for free bus rides.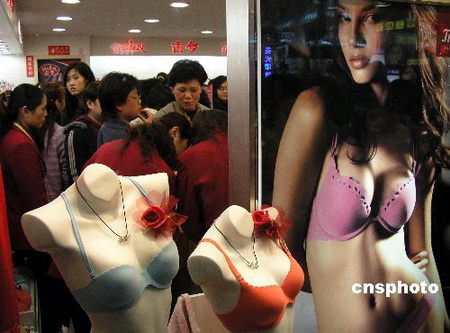 LIFESTYLE / Trends
Bra producers bust out D cups as breasts grow
(Shanghai Daily)
Updated: 2006-04-26 14:26
A recent report suggesting Chinese women are growing larger breast made headlines around the country, but it wasn't news to bra makers, many of whom have been producing larger cup sizes for the last year.
Some underwear companies have even created sub-brands specializing in larger bra sizes.
Most lingerie companies say they started producing the larger bras within the last year.
Hong Kong-based Embry Group, for instance, began reacting to the trend last year by halting production of small-sized bras for some of its product lines.
"We don't produce A-cups for some bras with larger chest circumference now as demand is low," said Li Na, an official with Embry, which has counters in most of Shanghai's department stores.
"At the same time, we increased production of C, D and E-cup products and also found sales booming," she said.
Zhang Jing, a saleswoman with the Triumph brand at Landmark Plaza said she's surprised to find many women under the age of 20 need bras with C, D or even E-cups.
"It's so different from the past when most young women would wear A- or B-cup bras," she said. "You will never expect those thin women to have such nice figures if they are not plastic."
Taiwanese underwear brand Ordifen is another to act quickly.
Feng Wei, an official with the Ordifen's design, development and research department, said the company began making more C-cup products last year based on sales feedback and an internal survey.
"We make and sell products differently in various areas based on data collected in those places," said Feng. "For a time we only made A and B-cup bras for many categories of products but now C-cups have become a major focus especially in big cities like Shanghai and Beijing."
While there are no numbers to prove breast are growing quicker in large cities than underdeveloped areas, many salespeople say they have noticed that trend.
As sales of larger bras are busting out, Embry opened special counters for its bigger-cup bras under the sub-brand Comfort in February and is planning to set more of such outlets around the nation.
The Beijing Institute of Clothing Technology released a report last week saying the average chest circumference of Chinese woman has hit 83.53 centimeters, up nearly 1cm from the early 1990s. The growth trend is credited to women eating more nutritiously and taking part in more sports.
朝日
「性差にとらわれないで」独初の女性首相、少女にエール
2006年04月26日19時09分
 古典的な男女の役割にとらわれないで――ドイツ初の女性首相のメルケル氏が25日、首相府に少女たちを招き、ジェンダー(社会的性別)にとらわれず、将来の道を探すよう強く促した。ドイツ女性の社会進出は戦後著しいが、「男性優位」の風潮が根強い職種も多く、首相がハッパをかけた格好だ。
 企業や研究機関が27日に10~15歳の少女向けに開く一斉職業体験日を前に懇談した。首相は「女性は男性同様、どんな仕事でもすることができる。あの仕事は女性向きとか、これは男性に限るといった観念はなくして欲しい」と力説した。
 また自身の学生時代にも触れ、物理学専攻者には男性が多く、「男性が実験器具を独占し、女性はそばで考えるしかなかった。だが研究の誤りを冷静に指摘した」と体験談を披露。「あらゆる展望が開かれている」と笑顔でエールを送った。
 職業体験日は政府の奨励で01年に始まり、約7000の企業や研究機関が機会を提供している。
German fights stigma against working mothers
By Mark Landler The New York Times
MONDAY, APRIL 24, 2006
FRANKFURT Surely Germany, cradle of the kindergarten and home to some of the world's most generous maternity-leave policies, would do everything it could to make life easier for mothers who work, right?
Well, no. Few developed countries are more resistant to the idea of working mothers, and the hostility can be summed up in one word: Rabenmutter.
It means raven mother, and refers to women who leave their children in an empty nest while they fly away to pursue a career. The phrase, which sounds like something out of the Brothers Grimm, has been used by Germans for centuries as a synonym for bad parent. Today, it is at the center of a new debate on the future of the German working woman, prompted by the first woman to lead the country, Chancellor Angela Merkel.
Merkel herself, a physicist and career politician, has no children, making her typical of her generation of German professional women. But she has appointed Ursula von der Leyen, a physician and mother of seven, as minister for family affairs.
Von der Leyen has taken it on herself to challenge some deeply held, if only whispered, prejudices here, chief among them that women must choose either to work or to raise children.
To her critics, many of whom belong to her own conservative Christian Democratic Party, von der Leyen is Germany's latest incarnation of the Rabenmutter - a driven creature determined to impose her own superhuman lifestyle on women who can neither deal with it nor afford it.
Never mind that people who study ravens say these birds are quite attentive mothers. Or that von der Leyen is not even raven-haired (her casually styled hair is blond). What upsets her critics is that she is unapologetic about her message.
"The question is not whether women will work," she said in an interview. "They will work. The question is whether they will have kids."
Germany, she said, must make it easier for women to do both, because it now has one of the lowest birth rates in the world. The number of children born here in 2005 was the lowest in a single year since 1945. If the trend holds, the population will decline 17 percent by 2050 - hobbling the economy and an already-strained social system.
Immigration can solve only part of the problem. Even if Germany's annual influx of immigrants were to double to 200,000, the population would still shrink 8.5 percent by 2050. And Germany already struggles to absorb the current waves of Turks and others.
The answer, von der Leyen argues, is to rewrite Germany's family policies. While they offer relatively generous payments and benefits, like two years of parental leave support, they help force women into a long-term choice between work and family.
Kindergartens and child-care centers close at noon, and most state-run schools by 1 p.m. Mothers without helpful parents or the budget for a nanny are stuck. The French government, by contrast, supports an extensive network of day-care and after-school centers, many open until 6 p.m.
Social attitudes only deepen the problems. While the law entitles men to paid family leave, few take it, fearing it will cripple their careers. Yet women who work while rearing children meet disapproval from colleagues and bosses.
Rather than vault the hurdles and shoulder the guilt, many German women skip having children. In 2005, 42 percent of those with academic careers were childless. That is double the percentage in France, which has one of Europe's highest birth rates.
Von der Leyen says she wants to combine the flexible child care of France with the financial incentives of Sweden. Her main proposal is to shorten parental leave support in Germany to 12 months, but tie payments - up to $2,200 a month - to income.
Higher-income families would have more incentive to have babies, while the shorter duration would prod mothers to return to work sooner.
She would also require fathers to take at least two months off work, if a family is to receive the full 12 months of benefits, to pressure men to take more responsibility.
That provision has particularly rankled conservatives in the Christian Democratic Party, which governs Germany in a grand coalition with the Social Democrats.
Some of that is old-fashioned gender politics: Many Christian Democrats, like conservatives in most places, champion traditional families, with a working father and a homemaking mother. But Germany's particular history also raises emotions in the debate, sometimes in contradictory ways.
The Nazis were the last enthusiastic practitioners of family policy in Germany, a fact that has made people here queasy about any repopulation schemes. But the Nazis also celebrated the stay-at-home mother, a fact that von der Leyen's supporters cite.
"The thinking that mothers should look after children and men should go out and support the family is a product of our dark past," said Reiner Klingholz, director of the Berlin Institute for Population and Development. "It's still in the minds of people, even if they sound liberal or progressive."
The New York Times
Never Mind Mars and Venus: Who Is 'the Decider'?
By JENNIFER STEINHAUER
Published: April 26, 2006
When President George W. Bush referred to himself as "the decider" last week, there was the ensuing list of dinner party queries: Is "decider" an actual word? (It is.) Is it applicable in the world of presidential politics? (Sure, whatever.) Doesn't everyone, politics aside, secretly believe that in interpersonal dealings, he or she wears the "decider" badge?
It seems the president, who thought he was simply fending off pressure to dismiss Defense Secretary Donald H. Rumsfeld — "I'm the decider, and I decide what's best," he said, adding that he had no intention of letting Mr. Rumsfeld go — has unwittingly added to the lexicon of marital relations.
Anita Willoughby and Jeffrey Naiditch were just polishing off their papaya mousse cake at a dinner party in Lower Manhattan last Sunday night when Mr. Naiditch decided it was time to go home. His wife was not quite ready to leave.
"He said, 'I am the decider, I get to say,' " Ms. Willoughby said. The small group dissolved into laughter, and a bit of nervous chatter.
Sure, "The Daily Show" has featured "the Decider" as a comic book character. But while spouses are often quick to say they jointly consider where to vacation, how many children to have, what car to buy and where to live, each is often quick to lay claim to some, if not all, of the domestic terrain.
Amy Popp, who stays home with her two children in the suburbs of Chicago, says she and her husband, Greg, consult on most things. Except the important ones.
"I decide what we can realistically afford," said Ms. Popp, 38. "I decide if the kid really needs to go to Joey's birthday party even though we never see him outside of school. I decide to buy Mother's Day cards for great-grandmas and send them. I decide when and where most things happen because I'm the one driving there, or wrapping the gift or whatever. Most decisions in this household affect me more than Greg, therefore I make them."
Vickie Taylor decided in a telephone interview that she and her husband, David, were both the deciders, except when it came to a recent party she wanted to give in their backyard in Austin, Tex. He vetoed it because he thought that it would be too hot and that their space was too limited.
"We agree on so many things," Mrs. Taylor said. "If he doesn't agree on something, it must be important."
Mr. Taylor, 66, decides what to watch on television. Mrs. Taylor, 65, simply leaves the room.
In many cases, women make the call, then men seal the deal. Debbie Busby, a technology consultant in Manhattan Beach, Calif., has made every decision in the extensive remodeling of the family's home (except where the speakers in the walls will be), but left the financial details to her husband, John.
"When we got an equity line on our house, I wanted him to do it," Ms. Busby, 41, said. "I am a little more of a diplomat. It is hard for me to be the one getting the best price. As for our car, I made the decision that I wanted the Audi. We were both there, but he did the talking."
People with items to sell are keenly aware that women play a crucial decider role in household purchases. According to the advertising agency Ketchum, women in the United States buy more than half of all new vehicles and influence more than 80 percent of all new vehicle purchases.
However, according to the 2005 Monitor study by Yankelovich, which tracks consumer trends, of 3,612 men and women surveyed, 73 percent of the men said they made the final decision on what make and model of car to buy, while 54 percent of the women did; 32 percent of the women agreed that their spouse was the decider.
"Given the way marketing and pop culture go together, I would definitely think that advertising firms would latch on to that phrase, 'decider,' " said Jonathan Jordan, an account supervisor at 919 Marketing, in Holly Springs, N.C. "I can see someone making a campaign in a mock setting, given the president's approval ratings."
But dubbing oneself "the decider" is often much less about the end product — a new stove, a vacation, a cabinet member — than it is about expressing power. Normally, in articles like this, you would have arrived at the part where a marriage therapist and sociologist would weigh in. But what about a dominatrix, whose trade revolves around power relationships?
Mistress Jennifer Hunter, using her professional name, says that many women who work for her enjoy exerting power, while male customers are more interested in "creating the illusion of giving up control."
"It has been the case that I have had a staff of women disproportionately weighted with nurses," Ms. Hunter said. "Time and time again, they would tell me that they were really under the sway of rude doctors and they absolutely loved wresting control."
Yet in practice, it seems that many contemporary marriages hew to a corporate management template.
Donna Perry Keller said that she and her husband, Rob Keller, who live in Kalamazoo, Mich., "defer to each other's core competencies." Mr. Keller, 38, a trained accountant, pays the bills. Ms. Keller, 37, a former schoolteacher, calls the shots with their 5-year-old twins.
"In situations where core competencies are irrelevant," Ms. Keller said, "we usually defer to the one who feels most strongly about the decision to be made."
When Mr. Keller wanted to go to Paris to celebrate their 10th wedding anniversary, but she preferred a town she had never visited, they went to Paris and Provence.
"A year or so after the twins were born," Ms. Keller said, "Rob clearly communicated that he would like another child if I felt up to the challenge. I didn't, so we didn't. He could tell that I felt strongly, and he never pushed the issue. For us, marriage is more a finesse game than a power game. It requires 'the suggester' and 'the discusser' as much as it does 'the decider.' "
Gay fairy tale sparks civil rights debate
By Jason Szep
Mon Apr 24, 8:29 PM ET
Reuters
The crown prince rejects a bevy of beautiful princesses, rebuffing each suitor until falling in love with a prince. The two marry, sealing the union with a kiss, and live happily ever after.
That fairy tale about gay marriage has sparked a civil rights debate in Massachusetts, the only U.S. state where gays and lesbians can legally wed, after a teacher read the story to a classroom of seven year olds without warning parents first.
A parents' rights group said on Monday it may sue the public school in the affluent suburb of Lexington, about 12 miles west of Boston, where a teacher used the book
"King & King"
in a lesson about different types of weddings.
"It's just so heinous and objectionable that they would do this," said Brian Camenker, president of the Parents Rights Coalition, a conservative Massachusetts-based advocacy group.
Camenker said he believes the school, Joseph Estabrook Elementary, broke a 1996 Massachusetts law requiring schools to notify parents of sex-education lessons. "There is no question in my mind that the law is being abused here," he said.
"I wouldn't be surprised if in the next couple of weeks there was some kind of (legal) action taken," he said.
Lexington Superintendent of Schools Paul Ash said the school was under no legal obligation to inform parents the book would be read to the classroom of about 20 children.
"This district is committed to teaching children about the world they live in. Seven-year-olds see gay people. They see them in the schools. They see them with their kids," he said.
"I see this as a civil rights issue. People who are gay have a right to be treated equally," he said.
"If it were North Carolina, this would be a whole different story. But the law in Massachusetts is that gay marriage is legal. We have lots of gay families in Lexington."
The issue erupted in Lexington when parent Robin Wirthlin complained to the school's principle after her 7-year-old son told her about the reading last month. She then turned to the Parents Rights Coalition, which released a statement on the issue to Boston media last week.
Since then, Ash has been swamped by e-mails on the issue from across the country, some in support but many written in anger including one from a North Carolina man who threatened "to beat his head into the ground," he said.
"I handed that one to the police," said Ash.
CULTURAL DIVIDE
The issue underscores a growing cultural divide over the issue of gay rights at a time when legal challenges seeking permission for gays and lesbians to marry are pending in 10 states. Two U.S. states have legalized civil unions.
It also comes as California considers introducing school textbooks highlighting the role of gays in its history.
Some legal scholars said the depth of emotion on the issue nationwide means educators should include parents in the debate on exactly when to start educating children on homosexuality.
"There is a difference between what is required and what is the right thing to do," said Charles Haynes, senior scholar at the First Amendment Center, which produces guidelines for schools and teachers on issues such as same-sex marriage.
"Some people believe that we are moving toward a kind of normalization of homosexuality as part of the fabric of our life. Others believe we are going in the other direction. Because we are now in a fork in the road where we are debating this, public schools are not the place to settle it," he said.
"King & King" was ranked eighth among the top 10 books people wanted removed from libraries in 2004, according to the American Library Association. Its Berkeley, California publisher, Tricycle Press, said complaints over the 32-page book first surfaced in 2004 in North Carolina.
An Oklahoma legislator last year cited the book as reason to impose new restrictions on library collections.
Written by two Dutch women, the book has sold about 15,000 copies in the United States since it was translated and published in 2002. A sequel,
"King, King and Family,"
about a royal same-sex family written by the same authors, was published two years later.
"We believe all children deserve to see themselves in books and these books were published for the children in gay families and for their friends" said Tricycle publisher, Nicole Geiger.
ユニセフ・世界キャンペーン エイズから子供守ろう=特集 (読売 2006/04/25朝刊)
 世界中で1分に1人ずつ15歳未満の子どもが命を落としている――。その原因は、免疫力の低下などを引き起こすエイズウイルス(ヒト免疫不全ウイルス=HIV)の感染だ。エイズは大人だけの問題ではなく、多くの子どもが犠牲になっている。国連児童基金(ユニセフ)は昨年10月から、子どもをエイズから守る世界的なキャンペーンを開始した。
(医療情報部 坂上博)
 日本ユニセフ協会は先月31日、東京都内で「ユニセフ子どもエイズセミナー」を開いた。参加した小学生から高校生まで約70人は、多くの子どもたちが感染被害にあっている世界の現状について理解を深めた。
 まず、父親をエイズで失ったアフリカ・ウガンダのナブケニャ・リタ・ブケンヤさん(20)が、自らの体験を語った。
 感染拡大が進むアフリカ・レソトを視察する同協会大使のアグネス・チャンさんは、子どもたち自身が予防の知識と行動力を持つことの大切さを訴えた。
 また、参加者は10人ほどでグループを作り、日本のエイズ教育や海外情報に関する資料を見ながら意見を交換した。
 「友達同士でエイズに関して話し合うことが恥ずかしい」「学校の先生も恥ずかしがって、しっかり教えてくれない」「エイズの話題をタブー視せず、現実を知って、友達に情報を伝えよう」――。様々な意見をまとめて会場で発表。これ以上、感染を広げない方策を探った。    
 ◇日本ユニセフ協会専務理事 早水研さん 
 ◆紙芝居で知識広める 
 アフリカ南部にあるスワジランドという国を2003年に視察しました。人口の35%がHIVに感染しています。ここで、ユニセフは現地政府と協力して様々な支援をしています。
 エイズで両親を失い、子どもたちだけで生きている例が多くありますので、1日1回は温かい食事が食べられるように鍋や釜などを提供し、村の大人たちに調理をお願いしています。
 学校の敷地に畑を作り、子どもたちに野菜の作り方を学んでもらいます。また、清潔なトイレを整備し、衛生管理の大切さを身につけてもらっています。
 HIVがどのように感染するかなどを分かりやすくまとめた紙芝居を見てもらうなど、知識を深める取り組みも支援しています。
 被害者が子どもの場合、最も重要となるのは、村や学校などのコミュニティーです。その力が効果的に発揮できるように支えていきたいと思います。    
 ◇エイズで父親失った ナブケニャ・リタ・ブケンヤさん 
 ◆遺児、進学の夢実現 
 私が7歳の時、パン屋さんで働いていたお父さんが亡くなりました。私はまだ小さかったので亡くなった理由を知りませんでした。数年後、お母さんに「どうしてお父さんは死んだの?」と聞いたら、「実はエイズだったのよ」と言われました。すごくショックを受け、「もう、それ以上、話さないで」と頼みました。
 ウガンダでは、小学校でエイズのビデオを見たり、ラジオ放送でエイズのニュースを聞いたりして、子どもでも、ある程度、知識があります。
 母親は専業主婦でしたが、父の死後、駐車場の見張り番などとして働き始めました。家計は苦しく学校の費用が払えなくなり、私は欠席が多くなりました。
 母が校長先生に掛け合ってくれて、高校を卒業できました。同じ境遇の友達の中には、学校をやめて働きだす男の子や、結婚する女の子もいました。
 大学に進学したかったのですが、お金がないのであきらめました。私の村に、日本の「あしなが育英会」が建設した「レインボーハウス」がありました。エイズ孤児に、カウンセリングを行ったり、日本語を教えたりする施設です。
 通い始めて間もなく、職員から「あしなが育英会が支援するので、日本の大学に行きませんか」と誘われました。そして昨年12月、早稲田大学国際教養学部に合格しました。躍り上がりたいほどうれしかったです。育英会が今年2月に東京・日野市に建設した学生寮で生活をしながら大学に通い、子どもたちの権利を守る仕事に就けるように勉強を頑張っています。
 本当に私は幸運で、希望をつかむことができました。今後は、エイズ予防を訴える活動も行っていきたいと思っています。   
 〈ウガンダ〉
 アフリカ東部の内陸に位置し、人口は2600万人。1980年代後半、世界で最初に爆発的な感染流行が起こった。リタさんのようなエイズ孤児が約100万人いる。  
 ◇日本ユニセフ協会大使 アグネス・チャンさん 
 ◆母子感染、薬で防ぐ 
 大使に任命された1998年、タイ北部の町に行き、山岳民族の女の子に出会いました。彼女は故郷の村からだまされて連れ出され、売春を強要された体験があります。一度、村に逃げ帰ったものの、HIV感染が判明し、追い出されてしまいました。
 幸い、民間の援助団体に助けられ、ようやく落ち着けたその町で、私は彼女と話す機会を得ました。「好きな人がいるけど、私は病気なので、絶対、そのことを口にできない」と寂しそうでした。タイの山奥にある施設には、エイズ発病後に捨てられた子どもたちもいました。何の罪もない子どもたちが、被害に遭っています。
 主な感染経路は売買春のほか、母子感染があります。母親が感染していても、薬を使うなどきちんとした形で出産すれば、感染の可能性は低くなります。でも、その技術と知識がある医師の下で産んでいません。エイズは、性的に活発な年代層を狙い撃ちします。つまり、働き盛りの人たちで、その人たちの命が奪われると、自分だけで生きていくことが難しい子どもたちが残されます。
 治療薬が進歩してエイズは死ぬ病気ではなくなりました。しかし、薬は高価で貧しいアジアやアフリカの国では使えない人がたくさんいます。
 最も大切なのは、感染を予防することです。子どもたち同士で、この問題について話し合い、予防を心がけてほしいです。
 私は、エイズが流行しているアフリカのレソトという国に行きます。日本にとっては遠い国ですが、皆さんと同じ子どもたちが犠牲になっていることを、お伝えしたいと思います。    
 〈レソト〉
 アフリカ南部の人口180万人の小さな国。約3人に1人がHIVに感染している。平均寿命は1990年に58歳だったが、2004年には35歳に低下した。5歳未満の死亡者の約4割は、エイズが原因だ。  
 ◆新たな感染、9割アフリカ 
 エイズ対策は、主に大人に注意が払われてきたが、子どもの被害も深刻だ。
 世界の子ども(15歳未満)の感染者は220万人。2004年は64万人が新たに感染し、50万人が亡くなっている。エイズで亡くなる6人に1人は子どもとされる。
 また、どちらかの親をエイズで失った子どもたち(エイズ孤児)は1500万人もいる。
 新たに感染する子どもの9割はアフリカだ。貧困から政府が効果的な予防策を行えなかったり、エイズの危険性を国民に理解させる教育が不十分だったりして、感染拡大が進んでいる。  
 ◆2010年までの4目標 
 ユニセフは昨年10月末から、「子どもとエイズ」と題した世界的なキャンペーンを始めた。世界155の国・地域が一斉に取り組む、ユニセフ創設以来の最大規模のものだ。四つの対策を実施し、2010年までに目標の達成を目指す。
 母子感染の予防 子どもの感染者の多くは、母子感染が原因だ。抗ウイルス薬を妊娠中の母親と、出産後の子どもに服用させるなどの予防対策を取れば、感染の確率は、何もしない時の35%から、ほぼゼロにできる。これらの対策を現地の病院などを通じて、必要とする女性の8割に提供する。
 感染した子どもの治療 治療を受けている子どもの感染者は、わずか5%未満だ。また、ほとんどのエイズ発病者は、命を奪うマラリアや肺炎の予防・治療薬を服用できていない。これらの薬を必要とする子どもの8割に提供する。
 若者の新たな感染予防 感染拡大を防ぐ唯一の手段は予防の徹底だ。コンドームの使用を含む予防の知識、性感染症の治療薬などを提供し、感染者・患者を25%減らす。
 エイズにより困難な状況にある子どもの保護 エイズで両親を失い、貧困、偏見、差別によって学校をやめ、生きるために働かなくてはならない子どもたちが多い。このようなエイズ孤児に支援を行うように各国政府に働きかける。   
 ◆「エイズは、大人だけの問題じゃない」シンポ 
 日本ユニセフ協会は5月23日午後6時30分から、東京・五反田のゆうぽうと簡易保険ホールで、「エイズは、大人だけの問題じゃない」と題したシンポジウム(外務省、読売新聞社後援)を開く。
 アグネス・チャンさんによるアフリカ・レソト視察報告のほか、エイズ予防財団の島尾忠男会長らがエイズ孤児らを支える方策などについて討論する。入場無料。定員1800人。
 氏名、住所、電話番号を明記してファクス(03・5789・2036)または電子メール(
unicef@req.jp
)で申し込む。問い合わせなどは同協会のホームページ(
http://www.unicef.or.jp/
)または広報室((電)0120・88・1052)へ。   
 写真=アグネス・チャンさんと一緒に記念撮影する子どもたち(東京・高輪のユニセフハウスで)
 写真=早水研さん
 写真=ナブケニャ・リタ・ブケンヤさん
 写真=アグネス・チャンさん