カテゴリ
以前の記事
検索
最新のトラックバック
その他のジャンル
ファン
記事ランキング
ブログジャンル
画像一覧
Press release – 308(2006)
Message by Terry Davis, Secretary General of the Council of Europe, to the participants of the International conference against homophobia (Moscow, 26 and 27 May 2006)

"Tolerance is not enough"

Strasbourg, 26.05.2006
– "I add my voice to those condemning homophobia which, regrettably, remains alive and well in many parts of Europe. I also want to express my hope that this form of discrimination will soon be a matter of the past.
When it comes to our attitude towards gay and lesbian people, Europe still has little to be proud of and much to make up for. Sixty years ago, gays and lesbians were victims of the Nazis. Today, they are no longer forced to wear a pink triangle, but they continue to be regularly exposed to prejudice, bigotry, violence and officially sanctioned discrimination.
Homophobia is a regrettable phenomenon, but for many gays and lesbians across Europe, it is not the worst of their worries. What they face far too often is not fear – but violence and hate.
If mentalities cannot change overnight, official attitudes and laws can, and must, when the protection of the most basic human rights are at stake. All 46 member states of the Council of Europe are legally bound to comply with the European Convention on Human Rights. Their authorities have the legal obligation to guarantee respect for
all
the rights of
all
their citizens.
First, we must demolish the walls of prejudice and intolerance. Then we must build a new structure of acceptance, equality and respect."
Council of Europe Press Division
Tel: +33 (0)3 88 41 25 60
Fax:+33 (0)3 88 41 39 11
pressunit@coe.int
www.coe.int/press
Communiqué de presse – 308(2006)
Message de Terry Davis, Secrétaire Général du Conseil de l'Europe, aux participants à la conférence Internationale contre l'homophobie (Moscou, 26-27 mai)

« La tolérance ne suffit pas »

Strasbourg, 26.05.2006
– « Je tiens à ajouter ma voix à celles qui condamnent l'homophobie, qui, malheureusement, reste bien vivante dans de nombreuses régions d'Europe. Je tiens aussi à exprimer mon espoir de voir cette forme de discrimination appartenir bientôt au passé.
S'agissant de notre attitude à l'égard des gays et lesbiennes, l'Europe n'a encore guère de quoi être fière et elle a encore beaucoup à se faire pardonner. Il y a soixante ans, les gays et lesbiennes étaient victimes des nazis. Aujourd'hui, ils ne sont plus forcés de porter un triangle rose, mais ils continuent d'être régulièrement en butte aux préjugés, au sectarisme, à la violence et aux discriminations consacrées officiellement.
L'homophobie est un phénomène regrettable mais, pour de nombreux gays et lesbiennes dans toute l'Europe, ce n'est pas le pire de leurs soucis. Ce à quoi ils doivent faire face bien trop souvent, ce n'est pas la peur – mais la violence et la haine.
Si les mentalités ne peuvent pas changer du jour au lendemain, tel n'est pas le cas des attitudes officielles et des lois, qui peuvent et doivent changer dès lors que la protection des droits les plus fondamentaux de l'être humain sont en jeu. Les 46 Etats membres du Conseil de l'Europe sont tous tenus juridiquement de se conformer à la Convention européenne des Droits de l'Homme. Leurs autorités ont l'obligation légale de garantir le respect de
tous
les droits de
tous
leurs citoyens.
Avant tout, nous devons abattre les murs des préjugés et de l'intolérance. Puis nous devrons construire une nouvelle structure faite d'acceptation, d'égalité et de respect. »
Division de la Presse du Conseil de l'Europe
Tel: +33 (0)3 88 41 25 60
Fax:+33 (0)3 88 41 39 11
pressunit@coe.int
www.coe.int/press
拙訳
テリー・デービス欧州評議会事務総長から、反ホモフォビア国際会議の参加者へのメッセージ(モスクワ、2006年5月26日・27日)

「寛容だけでは十分でない」

ストラスブール、2006年5月26日
- 「残念にもホモフォビアは、ヨーロッパの多くの部分に残っている。そのホモフォビアを非難する声に、私の声も加えたい。この形の差別が間もなく過去の問題になるという、私の希望を伝えたい。
ゲイ・レズビアンの人々に対する私たちの態度に関して言えば、ヨーロッパにはまだ、自慢できるものはほとんどなく、足りないものがまだたくさんある。 60年前に、ゲイ・レズビアンはナチスの犠牲者だった。今日、彼らはもうピンク・トライアングルを身に着けさせられることはなくなったが、常に偏見、悪意、暴力、および公式に認められた差別―にさらされ続けている。
ホモフォビアは残念な現象であるが、ヨーロッパじゅうの多くのゲイ・レズビアンにとって、それは彼らの心配の最悪のものではない。彼らがより頻繁に直面するのは、恐れではない―暴力と憎悪である。
基本的な人権の保護が危うくなっているとき、人々の心はすぐに変えることができなくても、公的な態度や法制度は変えられる、いや変えなければならない。欧州評議会の46すべての加盟国は、欧州人権条約に従うべく法的に縛られている。加盟国政府は、
すべての
市民の
すべての
権利を尊重・保障する法的な義務を負っている。
最初に、私たちは偏見および不寛容の壁を破壊しなければならない。次に私たちは、受容、平等および尊重の新しい仕組みを造らなければならない。
同性愛活動家、ロシアでゲイ・パレード敢行へ
chicagotribune.com >> Editorials
If gays marry, churches could suffer
By Douglas W. Kmiec, a professor of constitutional law at Pepperdine University School of Law
Published May 26, 2006
After an acrimonious session in which Sen. Russell Feingold (D-Wis.) stomped out and Committee Chairman Arlen Specter (R-Pa.) bid him "good riddance," the Senate Judiciary Committee approved sending the federal marriage amendment to the full Senate.
The Feingold-Specter tiff illustrates the intensity of feeling about adding to the text of the Constitution what the founders surely thought was obvious: "Marriage in the United States shall consist only of the union of a man and a woman." The need to reaffirm the self-evident was prompted by Massachusetts' judicial recognition of same-sex marriage, which motivated more than a dozen states to overwhelmingly proclaim otherwise.
With the states being so vigilant in defense of traditional marriage, is there really a need for the people to act? Yes. Activists are deployed across the country challenging traditional marriage, and it is more than likely that some additional judges will compound the Massachusetts mistake. This increased judicial approval of same-sex marriage will metastasize into the larger culture. Indeed, an insidious, but less recognized, consequence will be a push to demonize--and then punish--faith communities that refuse to bless homosexual unions.
While it may be inconceivable for many to imagine America treating churches that oppose gay marriage the same as racists who opposed interracial marriage in the 1960s, just consider the fate of the Boy Scouts. The Scouts have paid dearly for asserting their 1st Amendment right not to be forced to accept gay scoutmasters. In retaliation, the Scouts have been denied access to public parks and boat slips, charitable donation campaigns and other government benefits. The endgame of gay activists is to strip the Boy Scouts (and by extension, any other organization that morally opposes gay marriage) of its tax-exempt status under both federal and state law.
For technical legal reasons, it is difficult to challenge a religious group's non-profit status in federal court, but state court is more open. There, judicial decisions approving same-sex marriage or even state laws barring discrimination can be used to pronounce any opposing moral or religious doctrine to be "contrary to public policy." So declared, it would be short work for a state attorney general's opinion to deny the tax-exempt status of charities and most orthodox Jewish, Christian and Islamic religious bodies. If enough state lawyers do this, expect the IRS to chime in.
Punishing religious organizations for their moral beliefs might be thought contrary to the protections of the Constitution. Unfortunately, the Boy Scouts have had little success defending these bedrock precepts. Penalizing the Scouts for observing their own handbook, say lower courts, merely avoids the immediate harm of discrimination, even as the bald-faced assertion that moral belief is a "harm" is anomalous.
For the moment, same-sex marriage is confined to a single state, but litigation is ongoing in 10 states from New York to California. Three years ago, the Supreme Court came close to endorsing gay and lesbian marriage when it declared that morality alone was no basis for lawmaking. The court is under new management and is acting more restrained. But the political lobbying and litigating are unrelenting, and the targeting of the Scouts reveals that same-sex success can come by indirection.
That churches can be made the collateral casualties of the same-sex marriage campaign is important to grasp. At a minimum it gives partial answer to the view of indifference that asks how gay marriage hurts anyone. When judges treat your religious community, its schools and its charities on par with the purveyors of racial hatred, it will no longer be necessary to ask. But then, it will also be too late.
Many share the view, as I do, that marriage is a moral reality incapable of redefinition by court edict. Others disagree. Sending the federal marriage amendment to the states allows for an honest and civil debate, which is far better than back-door vengeance against moral dissenters--or is it a moral majority?
同性愛活動家、ロシアでゲイ・パレード敢行へ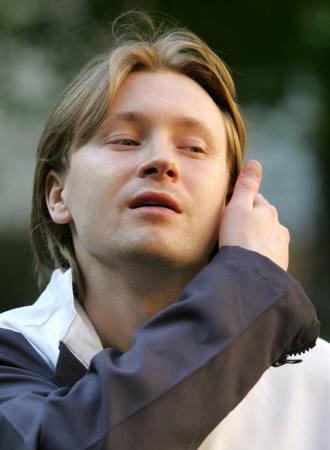 5月25日、同性愛活動家がモスクワで27日にゲイ・パレードを敢行すると表明。写真は同パレードの主催者。23日撮影(2006年 ロイター/Shamil Zhumatov)  
 [モスクワ 25日 ロイター] ロシアのモスクワ市内で、同性愛活動家らが今月27日にゲイ・パレードを行う。モスクワ市当局から禁止命令を受けた上、同性愛者に批判的な同国ではかえって偏見を煽る結果になると懸念する一部ゲイ・コミュニティからの声を押し切っての敢行となる。
 パレードを含む今回のゲイ・イベントを主催するニコライ・アレクセイエフ(28)さんは、イベントの目的について、ゲイ・コミュニティが社会の脅威ではないことを示すため、と説明する。
 ただ、教会指導者が同性愛を殺人や暴力と同罪とみなし、一部極右勢力がゲイ・クラブの襲撃を試みるロシアでは、目立つようなことはしたくないと考える同性愛者も多い。
 モスクワ市当局はパレードを「社会への反逆行為」だとしてこれを禁止したほか、右翼過激派はパレードを襲うと表明している。
 アレクセイエフさんはそれでも決行すると述べ、「パレードの本当の目的は、同性愛者への嫌悪と偏見に対する戦い。同性愛者への差別を禁止するよう、政府に求めていく」と決意を示した。
Court Bans Moscow Gay Pride
Created: 26.05.2006 13:00 MSK (GMT +3), Updated: 13:03 MSK
MosNews
The Tverskoy Court has ruled against holding a gay pride parade in Moscow, Interfax reported Friday.
The court upheld the decision of the Moscow authorities to ban the holding of the parade and rejected the appeal of the organizers, an Interfax correspondent reports.
The Mayor of Moscow, Yuri Luzhkov, has banned the gay parade and is threatening to also outlaw the parallel gay rights conference and festival.
The Mayor's diktat follows inflammatory statements by the leader of Russia's Muslims, who threatened violence if the planned Moscow Gay Pride parade went ahead.
Condemnations of gay people and the gay parade have also come from Russia's Chief Rabbi and the leaders of the Russian Orthodox Church.
Announcing the parade ban, the Mayor's office said last week: "This march could provoke a wave of protests which could lead to mass breaches of public order and disturbances, therefore the application for the march has not been successful."
The organizers have previously stated that they would hold a march regardless of the ban. Many well-known gay rights campaigners from around the world plan to attend Moscow Gay Pride. Prominent attendees include the Deputy Mayor of Paris and several members of the European Parliament.
Over 250 representatives from more than 30 countries will participate in the simultaneous Moscow International Gay Festival from 25 to 27 May, featuring a series of lectures by Merlin Holland, the grandson of Oscar Wilde. One such lecture was already disrupted on Thursday by nationalist protesters.
Moscow Pride was scheduled for a week after the start of the Russian Presidency in the Council of Europe and just before the summit of G8 leaders in St Petersburg. President Putin has not commented on the banning of Moscow Pride or on the threats of violence from religious leaders.
BBC
Last Updated: Thursday, 25 May 2006, 12:59 GMT 13:59 UK
Gay marchers to defy Moscow ban
Gay pride events have been staged in many cities worldwide
Russian gay rights campaigners say they will hold a gay pride rally on Saturday despite a ban by Moscow's mayor.
The organiser of Russia's first gay and lesbian festival, Nikolai Alexeyev, told the BBC that the gay activists would find an alternative route.
Moscow mayor Yuri Luzhkov banned the march, calling it an "outrage" and nationalists plan to disrupt the event.
But Mr Alexeyev said campaigners had already achieved their goal of raising awareness of homophobia in Russia.
"This event was just the opportunity for us to say no to homophobia and to attract the media attention to this problem and to attract the attention of the authorities," he told the BBC's World Today programme.
"In the last 10 months I would say the Russian media has talked about this problem more than in the whole of Russian history."
Mr Alexeyev said homophobia was a big problem in Russia and there were frequent attacks on gay people.
Earlier this month, 39 people were arrested in Moscow after protesting outside a gay nightclub. Riot police were brought in to control a mixture of right-wing and religious activists, who picketed the club and shouted insults at people leaving it.
Mayor Luzhkov said he banned the march because he believed homosexuality was not natural and because the event would cause outrage in society - a position supported by many Christian and Muslim groups.
Alternative
Mr Alexeyev said the ban means the march may not go ahead as originally planned, but there would be some form of public action on 27 May.
"Of course, we will not proceed on the same route that we applied for in the application, because there will not be enough security and there will be nationalistic groups who will gather in the same place and try to disrupt events," he said.
"We will have to find other options to go and realise our constitutional rights, it will be some kind of different gathering somewhere in the city."
Mr Alexeyev said opinion polls in April 2005 and April 2006 showed public attitudes were changing.
"If a year ago the majority was asking for the criminal prosecution of gays, this April the majority are against," he said.
"There are more people tolerant now than a year ago."
Gay Pride Parade Polarizes Moscow
By Kim Murphy, Los Angeles Times Staff Writer
May 26, 2006
MOSCOW — A small idea of what it means to be homosexual in Russia might be gleaned from the life and death of composer Peter Illich Tchaikovsky, who died in 1893 after contracting cholera from a glass of water.
A large part of the population here doesn't buy the official cause of death. The story persists — probably a myth, historians say, but who cares? — that the gay genius was confronted by former classmates, who accused him of assaulting the honor of their school with his male dalliances. A five-hour "trial" was held, the story goes, and Tchaikovsky took his own life in an agony of shame and regret.
This week, Russian gay activists are trying to stage the nation's first gay pride festival in a country that now officially tolerates a variety of lifestyles, but which in many ways has changed little since the days more than a century ago when homosexuals could legally be beaten with birch rods.
"There is still a huge problem in this country," said Nikolai Alexeev, organizer of the Pride '06 festival. "When you get outside of Moscow, people have nowhere to go. They are completely closeted, they cannot have any kind of open, happy life. They are basically scared to say they're gay."
The Pride '06 festival opened Thursday with a lecture by Merlin Holland, grandson of Oscar Wilde, the homosexual writer who spent several years in a British prison. About 20 protesters entered the hall, shouted anti-gay slogans and released an unidentified but apparently harmless gas before being arrested.
Moscow is home to a number of gay clubs, restaurants and bars. The federal law making homosexual activity a crime has been off the books since 1993. Indigo, a chic gay products store that features risque bikini underwear, lesbian calendars and works by noted gay authors, stands on one of the capital city's most elegant shopping streets, almost directly across from City Council headquarters.
Yet the proposal to stage a Gay Pride parade Saturday in connection with the festival has polarized the city, with even some gay activists issuing a statement that such a spectacle is "untimely, dangerous and provocative" in a city in which large segments of the population still view homosexuality as a perversion and an affront to the Russian Orthodox Church.
Political and church leaders have voiced strong opposition, and Russia's chief Muslim religious leader, Talgat Tadzhuddin, condemned the idea in even stronger terms.
"Under no circumstances should something like this be permitted. And if they come out into the streets anyway, they should only be beaten up. Any normal person would do that — Muslims and Orthodox Christians alike," he said.
Moscow Mayor Yuri M. Luzhkov denied festival organizers' application to permit 2,000 to march Saturday through central Moscow to Lubyanka Square, headquarters of the Federal Security Service. Deputy Mayor Lyudmila Shevtsova, in her recommendation for the denial, cited more than 200 letters of protest.
"In our country, homosexuality and lesbianism have always been considered sexual perversions, and were even prosecuted in the past. Currently, the stated actions are not prohibited by law," she said, "but their agitation, including gay festivals and a parade of sexual minorities, is in fact propaganda of immorality, which may be prohibited by law."
The potential for violence was apparent last month, when about 300 protesters organized by the nationalist Russian All-National Union swarmed outside a club at which a gay and lesbian party was planned, waving Orthodox icons and shouting anti-gay slogans.
Owner Grigory Plotkin said the crowd began throwing rocks and bottles as staff members from his club, which is not normally a gay gathering place, tried to exit. Demonstration organizer Igor Artyomov, a member of Moscow's regional council, said they were throwing only eggs and tomatoes.
"We have repeatedly stated our opposition to the public propaganda of such phenomena as homosexuality and lesbianism, because we believe they run counter to the norms of the main religions that are practiced in Russia," Artyomov said.
He said 43 of his activists were arrested and spent nearly 20 hours in jail after police cracked down on the protest. The next day, 22 more anti-gay protesters were arrested near a major Moscow public center.
Organizers of the Pride '06 festival say they will proceed with an unsanctioned picket action Saturday, to be held in an unannounced location in the city to try to avert violent protests.
"The mayor said it was because he had received so many letters of protest against a gay march, and because of that, he could not provide security," said Alexeev, a former graduate student at Moscow State University who left the institution after being told he would not be allowed to complete a dissertation on the rights of sexual minorities.
"The European Court [of Human Rights] has said many times that saying you cannot provide security means that you are surrendering to the people who would be against the minority. And they will always win. This is not democracy, if you organize your society in this way."
Fesitval organizers insist that they are trying not to stir up trouble but to move the debate in Russia an inch at a time up the road. It's too soon to talk about gay marriage in Russia, Alexeev said, but he would like to see legislation prohibiting discrimination against homosexuals.
Only this week, Alexeev said, a professor at Moscow State University who had been planning to speak at the festival was told he would not have a job in September if he appeared. "And this was said at a university that considers itself one of the leading universities in the world," he said.
But Yelena Kidanova, head of the civil rights group Tolerance and a manager at the Indigo store, said she elected to sign the statement opposing the "untimely" parade.
"The problem is acute, but an event like a street march can hardly help solve it. I personally wouldn't gain anything from marching up and down the street waving flags," Kidanova said.
"It would be much more helpful to get legislation passed. I think real political power lies in the hands of… those who quietly, diligently work every day."
Russia gays hear call: Go back to the closet
USフロントライン
更新2006年05月23日 20:22米国東部時間
生理なんかもういや~ピルで月経避ける女性が増加
 月経を避けるために経口避妊薬(ピル)やホルモン放出型の避妊具を使う女性が、若い世代や閉経期にさしかかった年代で増えている。毎月の生理現象をわずらわしいと考える女性が増えたためで、医療関係者も、月経をホルモン剤で抑え込むことの危険は低いとみている。
 AP通信によると、ピルの場合、月経の回数を年4回にまで減らすバール・ファーマスーティカル製「シーズナル」にすでに食品医薬品局(FDA)の販売認可が下りており、1年間継続して服用することで月経回数をゼロにするワイス製「ライブレル」には、6月末にもFDA認可が下りる見込み。ほかにも多くの製薬会社が同様のピルを開発中だという。
 現在のピルは、40年以上前のものと比べるとエストロジェンとプロジェスティン(いずれも女性ホルモン)の含有量がはるかに少ないが、心臓病、脳梗塞、血栓のリスク要因になる。また原因不明の不正出血や特定のがん患者、35歳以上の喫煙者は服用すべきではない。
 しかしピルには、卵巣がんや子宮内膜線がん、骨粗しょう症や骨盤感染症を防ぐという利点もある。またピルで月経を抑制すると、月経前の不快な症状や貧血、頭痛を避けられる。
 月経をなくすという発想は、2003年のシーズナル発売によって一気に広まった。3カ月おきに月経のための非服用期間を作り、月経を年4回にするシーズナブルの昨年の売り上げは、前年比62%増の1億1000万ドルだった。
 さらに年4回からゼロにするという考えが生まれても不思議はない。ファイザーの「ディポ・プロベラ」は、プロジェスチンのみの避妊注射で効果が3カ月間持続し、1、2年注射を受けると生理がなくなる。しかし骨粗しょう症のリスクが高まる。
 この6月には、オルガノンUSAがすでに欧州で10年の販売実績を持つ皮下埋め込み型避妊剤「インプラノン」について、国内販売を認めるかどうかが判断される見通しだ。
 月経抑制ピル市場で首位を目指すバールは昨年11月、月経を止める子宮内挿入剤メーカー、パラガードを買収した。バールの新製品「シーゾニク」(シーゾナルの後継品)は、今週末に認可が下りる見込みだ。
Menstruation Is Fast Becoming Optional
- By LINDA A. JOHNSON, Associated Press Writer
Sunday, May 21, 2006
(05-21) 15:45 PDT Trenton, N.J. (AP) --
For young women with a world of choices, even that monthly curse, the menstrual period, is optional.
Thanks to birth control pills and other hormonal contraceptives, a growing number of women are taking the path chosen by 22-year-old Stephanie Sardinha.
She hasn't had a period since she was 17.
"It's really one of the best things I've ever done," she says.
A college student and retail worker in Lisbon Falls, Maine, Sardinha uses Nuvaring, a vaginal contraceptive ring. After the hormones run out in three weeks, she replaces the ring right away instead of following instructions to leave the ring out for a week to allow bleeding. She says it has been great for her marriage, preventing monthly crankiness and improving her sex life.
"I would never go back," said Sardinha, who got the idea from her aunt, a nurse practitioner.
Using the pill or other contraceptives to block periods is becoming more popular, particularly among young women and those entering menopause, doctors say.
"I have a ton of young girls in college who are doing this," says Dr. Mindy Wiser-Estin, a gynecologist in Little Silver, N.J., who did it herself for years. "There's no reason you need a period."
Such medical jury-rigging soon will be unnecessary. Already, the Seasonale birth control pill limits periods to four a year. The first continuous-use birth control pill, Lybrel, likely will soon be on the U.S. market and drug companies are lining up other ways to limit or eliminate the period.
Most doctors say they don't think suppressing menstruation is riskier than regular long-term birth control use, and one survey found a majority have prescribed contraception to prevent periods. Women have been using the pill for nearly half a century without significant problems, but some doctors want more research on long-term use.
The new methods should be popular. A non-scientific Web survey for the Association of Reproductive Health Professionals found at least two-thirds of respondents are bothered by fatigue, heavy bleeding, "really bad cramps" and even anger. Nearly half said they would like to have no period at all or decide when to have one.
For some women, periods can cause debilitating pain and more serious problems.
Two recent national surveys found about 1 in 5 women have used oral contraceptives to stop or skip their period.
"If you're choosing contraception, then there's not a lot of point to having periods," says Dr. Leslie Miller, a University of Washington-Seattle researcher and associate professor of obstetrics and gynecology whose Web site, noperiod.com, explains the option. She points out women on hormonal contraception don't have real periods anyway, just withdrawal bleeding during the break from the hormone progestin.
According to Miller, modern women endure up to nine times more periods than their great-grandmothers, who began menstruating later, married young and naturally suppressed periods for years while they were pregnant or breast-feeding. Today's women may have about 450 periods.
Still, surveys also show most women consider monthly periods normal. Small wonder: Girls learn early on that menstruation is a sign of fertility and femininity, making its onset an eagerly awaited rite of passage.
The period is "way over-romanticized," says Linda Gordon, a New York University professor specializing in women's history and the history of sexuality.
"It doesn't take long for women to go from being excited about having a period to feeling it's a pain in the neck," said Gordon, author of "The Moral Property of Women: A History of Birth Control Politics in America."
She says caution is needed because there's not enough data on long-term consequences of using hormones continuously. Gordon notes menopausal women for years were told that hormone drugs would keep them young — until research uncovered unexpected risks.
"People should proceed very cautiously," she says.
Today's birth control pills contain far less estrogen and progestin than those two generations ago, but still increase the risk of heart attack, stroke and blood clots. The pill should not be used by women who have had those conditions, unexplained vaginal bleeding or certain cancers, or if they are smokers over 35.
But there are benefits from taking oral contraceptives too, such as a lower risk of ovarian and endometrial cancer, osteoporosis and pelvic inflammatory disease. And forgoing periods means no premenstrual syndrome and a lower risk of anemia and migraines, says Dr. Sheldon Segal, co-author of "Is Menstruation Obsolete?" Segal has been involved in research for several contraceptives.
Almost since the first pill arrived in 1960, women have manipulated birth control to skip periods for events such as a wedding, vacation or sports competition. Female doctors and nurses were among the first to block menstruation long-term to suit their schedules, said Susan Wysocki, head of the National Association of Nurse Practitioners in Women's Health.
"They were then more comfortable recommending it to their patients," said Wysocki, who uses a vaginal ring to prevent menstruation.
The idea gained momentum after Barr Pharmaceuticals launched Seasonale in November 2003. It's a standard birth control pill taken for 12 weeks, with a break for withdrawal bleeding every three months. Amid wide acceptance by doctors, sales shot up 62 percent last year, to $110 million.
Publicity for Seasonale made women wonder, if just four periods a year are OK, why have any at all?
Users of Pfizer Inc.'s Depo-Provera, a progestin-only contraceptive shot lasting three months, usually are period-free after a year or two. There's now a generic version, but the drug can thin bones.
And many women have been getting extra prescriptions so they could continuously stay on birth control pills, the Ortho Evra patch or the vaginal ring, rather than bleeding every fourth week. That schedule was set by the original birth control designers to mimic normal menstrual cycles. But the extra prescriptions have led to insurance company hassles.
"What Seasonale did is get rid of that nuisance," says Dr. Peter McGovern of University of Medicine and Dentistry of New Jersey.
New extended-cycle contraceptives will do the same. Wyeth is hoping by late June to get Food and Drug Administration approval to sell Lybrel, its low-dose, continuous birth control pill; approval also is pending in Canada and Europe.
Also in June, FDA should decide whether to approve Implanon, a single-rod, three-year contraceptive implanted in the upper arm that maker Organon USA has been selling it in Europe for a decade.
Berlex Inc. is developing its own birth control pill for menstrual suppression.
Barr, aiming to be a leader in extended contraception, last November bought the maker of ParaGard, an intrauterine device that blocks periods in some women. Barr's new product Seasonique, a successor to Seasonale, likely will get federal approval at week's end.
Dr. Patricia Sulak, who researches extended contraception at Texas A&M College of Medicine, applauds this new trend. The doses in standard pills are now so low, she said, that having seven days off them raises the risk of pregnancy.
"This redesign is way overdue," she says. "It's going to be the demise of 21-7."
On the Net:
Dr. Leslie Miller's site:
Association of Reproductive Health Professionals:
www.noperiod.com
www.arhp.org/
USフロントライン
更新2006年05月25日 20:01米国東部時間
シュワに勝てる候補はどっちだ~加州知事選、一本化で揺れる民主
 カリフォルニア州知事選に向けた予備選を6月6日に控え、民主党支持者はまだ誰を支持するか決めかねている。
 クリスチャン・サイエンス・モニターによると、選択肢は大きく分けて2つある。第1は、高所得者層の税金を引き上げ、同性婚を法的に認め、不法移民に運転免許証を交付しようと訴える州財務長官のフィル・アンジェリデス氏。徹底したリベラル派で、自ら「反シュワルツネッガー」を名乗る。
 第2は、政府支出およびサービス提供方法の見直し、福祉見直しを主張する州会計監査官のスティーブ・ウェスリー氏。「一味違う民主党」をスローガンに掲げる財政保守派だ。
 今回の予備選の勝利者が、11月に共和党候補(おそらく現職)と戦うことになる。アナリストや一部民主党は、穏健派のウェスリー氏の方が対シュワルツネッガー氏で勝算があると見ている。4月に実施された世論調査では、現職とウェスリー氏の支持率は43%で並んだ。
 ウェスリー氏はスタンフォード大学で教べんを取った経験があり、イーベイの管理職として巨額の財産を築いた。2002年の会計監査官選挙では、選挙運動に私財3250万ドルを投じたと報告している。
 アンジェリデス氏も億万長者だが、ウェスリー氏には及ばない。1998年に州財務長官に就任し、州民主党の委員長も務めた。州民主党のほか、ロサンゼルス・タイムズを含む一部地元メディアの支持を受けている。
 どちらの候補も優秀だがカリスマ性に欠け、民主党支持者の信頼を充分に勝ち得ていない。最近のLAタイムズの調査によると、どちらの候補も3分の1ずつ支持を集め、接戦となっている。残り3分の1はまだだれに投票するか決めていない。
 一方、シュワルツネッガー氏については、共和党内にほかの有力候補がおらず、支持率も最近は回復傾向にある。4月の調査では、45%が「再選を望まない」と答えたが、その数字は現在縮小しているという。
USA > Domestic Politics
from the May 24, 2006 edition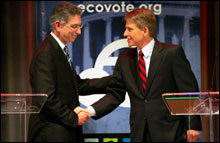 MEET THE CANDIDATES: State Treasurer Phil Angelides (l.) and State Controller Steve Westly debated in Los Angeles recently. The two are the major Democratic contenders for governor in the June 6 Democratic primary.
RICHARD HARTOG/AP

A contest over who will vie with Arnold
Two weeks before California's gubernatorial primary, one-third of Democrats are undecided.
By
Daniel B. Wood
|
Staff writer of The Christian Science Monitor
LOS ANGELES –
Californians voting in the Demo- cratic primary for governor June 6 have two major choices for their nominee:
Choice "A", State Treasurer Phil Angelides, wants to raise taxes on the wealthy, legalize gay marriage, and give driver's licenses to undocumented immigrants. He's a staunch liberal who calls himself the "anti-Arnold."
Choice "B", State Controller Steve Westly, wants to reinvent how government spends money, delivers services, and provides benefits. He's a fiscal conservative who describes himself as "a different kind of Democrat."
Whichever Democratic contender wins the primary will take on Republican Gov. Arnold Schwarzenegger in November. Recently, political observers considered the timing ripe for a Democrat to unseat Mr. Schwarzenegger, whose approval ratings have been in the cellar for months. Mr. Westly, because of his moderate views that are more in line with the state's general election voters, has been thought have a better chance to defeat the governor, say analysts and some Democrats. In a head-to-head match up, Schwarzenegger and Westly were tied at 43 percent in an April California Field Poll.
Bios of the Democratic candidates
Westly, who taught public management at Stanford University, made millions as an executive at eBay. He used his personal fortune to campaign for state controller in 2002, and has reportedly spent $32.5 million of his own money on the race.
Mr. Angelides is a millionaire, but does not have pockets as deep. He was elected state treasurer in 1998, and is a former chairman of the state Democratic Party. He's been endorsed by the state Democratic Party and some of the state's biggest newspapers, including the Los Angeles Times.
Although both candidates are considered competent, neither one is charismatic, and neither has inspired Democratic voters or many politicians in the Democratic party faithful.
"Californians don't really care about the June primary, and it may set a record for low turnout," says Robert Stern, director of the Center for Government Studies. "We have had too many elections ... [and] the governor has had great press lately," says Mr. Stern.
"The Democrats biggest problem is that neither candidate excites the people or the press. They just don't have the stature of the governor," he adds.
Current polling shows Westly and Angelides running neck and neck, with each receiving a third of voter support, according to the Los Angeles Times. Another third of voters are undecided. In April, Westly led in all the public polls, the Times reported.
That both Democrats have been attacking each other is not helping their candidacies, political analysts say, and is undermining a golden opportunity for the party. In several debates, the two have lashed out at each other with such invective, and handing Republican strategists ammunition for the general election campaign. Negative TV ads costing millions of dollars have also broadcast the Democrats' weaknesses.
Meanwhile, Schwarzenegger has no serious Republican opponent, and his standing with voters is improving lately. An April California Field Poll showed that 45 percent of likely voters say they are "not inclined to reelect him," but that number is shrinking.
With a lackluster primary expected, the fall election will likely come down to a referendum on Schwarzenegger, political observers say. He's recently won public plaudits for putting an historically massive state-improvement bond of $37.3 billion on the November ballot. State fiscal fortunes have also turned around as a result of an influx of tax revenue.
Schwarzenegger's message and support
To woo voters, Schwarzenegger has begun talking about a different issue each week, including education, prisons, environmental reform, and shoring up state levees.
He has taken a more conciliatory attitude with state lawmakers of late - an about-face from his previous habit of bypassing the legislature by taking issues directly to voters.
Schwarzenegger also brought in a Democrat as his chief of staff, and teamed up with other high-profile state Democrats - Los Angeles Mayor Antonio Villaraigosa, Assembly Speaker Fabian Núñez, and Senate President Pro Tem Don Perata - on education and state infrastructure improvements. Schwarzenegger's actions between now and November will help determine how Californians vote, Stern and others say.
"These guys have been basking in each other's sunshine," says Tony Quinn, a political analyst in Sacramento. "Some of the state's top Demo- crats don't find [Schwarzenegger] so horrible that they want him out. They don't mind having him there while they control the legislature. They realize they are big shots with things the way they are, and are littler shots if the state has a Democratic governor."
Indecision marks electors' mood in California
Reuters
Thursday, May 25, 2006; 6:58 PM

SAN FRANCISCO (Reuters)
- Republican Gov. Arnold Schwarzenegger faces a close race in November regardless of which Democratic candidate for governor wins California's June primary election, according to survey results released on Thursday.
Schwarzenegger is up for reelection in November and the Public Policy Institute of California described that race, either against Democratic candidates State Treasurer Phil Angelides or State Controller Steve Westly, as a "toss-up" based on its survey results of hypothetical match-ups.
Angelides and Westly face a "volatile" next few weeks as they are in a "statistical dead heat" among likely Democratic voters in the June primary and a third of those voters are undecided.
"California voters seem very indecisive at the moment," said institute survey director Marc Baldassare. "They are simply uncertain about the type of leadership they want."
"It's very uncertain and unsettled," he said. "The level of indecision is much higher than we saw in 1998 and 2002."
The indecision is being stoked by a number of factors, including angst about the economy, inflation, gasoline prices, the battered stock market and immigration, which voters ranked as the top issue they want candidates for governor to address.
According to the institute, 52 percent of Californians expect bad financial times in the coming year, compared with 43 percent in March, and a majority of Californians, or 57 percent, think the state is headed in the wrong direction.
Additionally, 58 percent believe the state's finances remain a big problem, with 32 percent saying they have grown worse in the last two years.
By contrast, Moody's Investors Service and Standard & Poor's recently raised their credit ratings on California's general obligation debt based on improved revenue and budget trends.
For the June election, 51 percent of likely voters said they would approve a $600 million state bond measure to finance building and renovating public libraries, and 50 percent of likely voters would back a measure to tax high-income households to fund preschool education for four-year-olds, while 43 percent oppose the tax measure.
Californians are "generally enthusiastic" about the public works bond measures on the November ballot. They are components of the legislature's public works investment plan, embraced by Schwarzenegger, to be funded by $37.3 billion in general obligation debt.
November's $10 billion bond measure for school projects, $20 billion bond measure for road work and $4 billion bond measure for flood control improvements are each supported by more than 60 percent of voters. The $3 billion bond measure for affordable housing on the November ballot is supported by 49 percent of voters and opposed by 47 percent of voters.
The sampling error for the total sample of the survey is plus or minus 2 percent, the institute said, adding it conducted the survey between May 14 and May 21 in English and Spanish with 2,000 adult California residents.
Phil Angelides for Governor
Endorsements (by LGBT Leaders)
Steve Westly 2006
Endorsements
Schwarzenegger.com
米カリフォルニア州:シュワルツェネガー「ガヴァネーター」に対抗できるスーパーヒーローを欠く民主党
SACRAMENTO
Veto promised for textbook legislation
Early statement on bill out of character for Schwarzenegger
- Greg Lucas, San Francisco Chronicle Sacramento Bureau
Friday, May 26, 2006
Sacramento --
If it reaches his desk, Gov. Arnold Schwarzenegger will veto legislation to require public school instructional materials to contain discussions about the contributions of gay, lesbian, bisexual and transgender people, a spokesman said Thursday.
The statement from the governor, who rarely takes positions on bills until they pass the Legislature, dooms the measure which also prohibits teaching or textbooks that reflect adversely on people because of their sexual orientation or identity.
"The issue for the governor is he is not supportive of the Legislature micromanaging curriculum," said Adam Mendelsohn, the GOP governor's communications director.
"California has an 18-member standards board that is a national model for looking at curriculum," Mendelsohn said. "The governor just believes it's not the Legislature's job to determine curriculum."
Backers of the bill vowed to continue pushing it through the Legislature. The measure cleared the 40-member Senate two weeks ago on a 22-15 vote after a sometimes emotional debate.
"We're going to keep going. The governor is clearly doing pre-primary electioneering, and I think it's kind of cowardly to do it on the backs of gay and lesbian kids," said the bill's author, Sen. Sheila Kuehl, D-Santa Monica.
Opponents of the bill argued that it promoted homosexuality and was unnecessary because local school districts can voluntarily offer instruction about gays.
"We're very pleased that Schwarzenegger is listening to the concerns of parents," said Randy Thomasson, president of Campaign for Children and Families, a group that opposes expanding gay rights.
"Schools should be about academics, not promoting alternative sexual lifestyles to impressionable children," Thomasson said in a statement Thursday.
Supporters said textbooks are silent about the contributions of gays or lesbians, just as they were once silent about those of other minority groups.
"The governor must not understand what this bill does and what it does not do. This is a simple nondiscrimination bill," said Geoffrey Kors, executive director of Equality California, the sponsor of the bill.
"We will request a meeting with the governor and ask him to reconsider his position and work with us to ensure inclusive and bias-free curriculum," Kors said in a statement.
For the GOP governor's re-election campaign, announcing he will veto the bill shores up his Republican base. Announcing early also helps him in the general election.
"If he wants crossover Democrats in the fall, his action on this bill will be out of their memory loop by then. And to win he certainly needs crossover Democrats in the fall," said Barbara O'Connor, director of the Institute for the Study of Politics and the Media at Cal State Sacramento.
In September, Schwarzenegger waited until the day after the Legislature passed a bill to allow same-sex marriage to say he would veto it.
However, while the bill was pending, the governor routinely said he believed the issue should be decided either by a vote of the people or a court decision.
Schwarzenegger has said he supports the state's domestic-partnership laws.
Page B - 1
URL: http://sfgate.com/cgi-bin/article.cgi?file=/c/a/2006/05/26/GAYTEXT.TMP
Gay school bill in trouble
Spokesman says the governor plans to veto curriculum measure, but Kuehl insists it can still pass.
By Andy Furillo and Judy Lin -- Sacramento Bee Capitol Bureau
Published 12:01 am PDT Thursday, May 25, 2006
Story appeared on Page A3 of The Bee
Gov. Arnold Schwarzenegger will veto a bill passed by the Senate and pending in the Assembly to revise California's school curriculum to include the contributions of gays and lesbians to the state and nation, a gubernatorial spokesman said Wednesday.
"The governor believes that school curriculum should include all important historical figures, regardless of orientation," said Schwarzenegger's director of communications, Adam Mendelsohn. "However, he does not support the Legislature micromanaging curriculum."
Wednesday's announcement signaled a death blow to the efforts of state Sen. Sheila Kuehl, D-Santa Monica, the openly lesbian author of the measure, to obtain recognition for the contributions of gays, lesbians, transgender and bisexual people to the social and historical landscape.
Kuehl's bill had passed the Senate on a 22-15 vote on May 11 and was awaiting hearings in the Assembly. She expressed disbelief that Schwarzenegger, who traditionally has withheld comment on legislation until it passes the Legislature and reaches his desk, has broken with his own precedent and made up his mind on a bill that still hadn't been vetted by one house of the Legislature.
"He hasn't made up his mind, I don't care what some underling might have said," Kuehl said.
Kuehl said she hasn't spoken to the Republican governor about the bill yet and that she didn't plan on trying to initiate a conversation with him until it had set sail in the Assembly. She said she intends to approach him on the subject.
"I expect it to go before the (Assembly) Education Committee, perhaps then the Appropriations Committee," Kuehl said. "When it gets to the floor, I expect to talk to the governor, and I expect to get it through. For them to take a position on it, I think is precipitous. There's nothing controversial about it. The right wing has drummed up a lot of old fears. Once people understand what it really does, the response is usually OK."
Schwarzenegger will come around to supporting the bill, Kuehl said, once he "understands how small a change it is."
Randy Thomasson, president of the Campaign for Children and Families and a longtime activist who has opposed gay rights legislation, welcomed Schwarzenegger's decision. But he said he wants more out of the governor.
"We're very pleased that Schwarzenegger is listening to the concerns of parents," Thomasson said. "Now the governor needs to pledge to veto the two remaining transsexual, bisexual, homosexual bills, AB 606 and AB 1056. Parents and grandparents are demanding it."
Assembly Bill 606 would ensure that school districts act to reduce harassment of students based on their gender identity and sexual orientation. Assembly Bill 1056 would offer $25,000 grants to schools to "promote tolerance and intergroup relations," according to a bill analysis.
Seth Kilbourn, political director for Equality California, which advocates for the lesbian, gay, bisexual and transgender community and sponsored Senate Bill 1437, said he was surprised that the governor would indicate his opposition to the bill at such an early stage.
"That is disappointing," he said.
With June being Gay Pride Month, Kilbourn said he doesn't see the political benefit for the governor in shooting down the bill.
"This would not be the best time for him to be doing that if he wanted to appear more friendly," Kilbourn said. "He's passed more pieces of legislation benefiting the GLBT community -- except for gay marriage -- than any other governor."
Kilbourn called SB 1437 an important and necessary bill that would help promote tolerance in classrooms.
"We are not asking for anything new. It's part of the diversity as required by the state of California," Kilbourn said. "It has enormous impact on gay and lesbian students. When gay issues are talked about, gay students feel better about themselves. For non-gays, it's an opportunity to learn about an underrepresented group in society and provides a more positive perspective."
About the writer:
The Bee's Andy Furillo can be reached at (916) 321-1141 or afurillo@sacbee.com.
Russia gays hear call: Go back to the closet
Homosexuality is no longer a crime, but as the nation's first gay pride parade nears, scorn and abuse intensify, and religious leaders weigh in
By Alex Rodriguez
Chicago Tribune foreign correspondent
Published May 25, 2006
MOSCOW
-- On a recent Sunday night, the organizers of a gay party at a Moscow nightclub peered nervously out the front door. Clustered outside were hundreds of screaming demonstrators, some of them liquor-addled skinheads throwing bottles and eggs, others old women in head scarves clutching Russian Orthodox icons and crosses studded with small nails.
The mob pounced on anyone who approached. The women used the icons as cudgels against guests coming up to the door. Young toughs in tracksuits and steel-toed black boots slammed their heads into the front door, shouting, "Russia is for Russians!"
"It was very frightening," said Lyubov Ulyanova, the club's director. "The police just stood there and watched it all."
Homosexuality was taken off the books as a crime in Russia in 1993, but the gay community remains a magnet for scorn and abuse, forced to tread carefully and quietly through a society saddled with Soviet-era biases.
Parade still lacks permit
Gay leaders in Moscow hope to raise awareness about their community Saturday, when they attempt to kick off Russia's first gay pride parade through the streets of the capital. Whether the event ever gets off the ground remains in doubt. So far, city leaders have refused to give parade organizers permission.
Gay leaders vow to stage the event anyway, despite the protests outside the Renaissance Event Club on April 30 and another demonstration at a different club the next night.
"We want this to be our public coming out," said Nikolai Alexeyev, a leading gay activist behind the parade effort. "We don't want to stay in the closet anymore."
In an age when gay communities in the West actively assert their rights and enjoy social acceptance, many homosexuals in Russia find themselves forced to keep their lifestyles a secret from families, friends and co-workers. Russian employers routinely find ways to cull gay workers from the workplace. Physical attacks on gay men are rarely taken seriously by police and Russian courts.
"The mindset within the gay community is, `Let's keep quiet, otherwise they will come and get us,'" said Alexander Golousenko, a 36-year-old gay Muscovite who owns a travel agency that caters to gays and organized the party at the Renaissance Event Club. "Everyone says, `Try not to show you are gay, be careful about what you say, be very discreet.'"
Russia's intolerance for homosexuality is rooted in the Soviet era, when it carried a penalty of up to five years in prison. A poll conducted in 1989 indicated that a third of Russians favored extermination of the country's gay population, and 30 percent favored segregating them, according to Igor Kon's 1995 book, "The Sexual Revolution in Russia." Only 6 percent of the poll's respondents supported the gay community.
"During the Soviet period . . . lesbians were locked up in psychiatric wards, treated as if they were insane and given medication normally given to schizophrenics," said Yevgenia Debryanskaya, a longtime gay activist and owner of Moscow's 12 Volts Club. "That same kind of homophobia that we had during Soviet times exists today."
With the advent of glasnost, a gay subculture began to evolve as journalists and academics began discussing homosexuality more freely. The movement picked up after the Soviet collapse in 1991. Clubs catering to the city's gay population opened; gay newspapers and magazines began circulating.
Nevertheless, in many ways Russia's gay community remains as stigmatized as it was during Soviet times. Alexeyev, 28, founder of the gayrussia.ru Web site, says his attempt to submit a doctoral thesis on the rights of Russia's gay community was rejected by his professors at Moscow State University.
Religious leaders take sides
"They simply said it's not the kind of topic they want at their university," Alexeyev said. His lawsuit alleging discrimination by the university failed in a Moscow court, and he now is pursuing the case in the European Court of Human Rights in Strasbourg, France.
Alexeyev appears headed for another showdown with authorities, this time over his attempts to organize Russia's first gay pride parade. Sergei Tsoi, a spokesman for Moscow Mayor Yuri Luzhkov, told reporters in February that a gay pride parade was out of the question, largely because it "evoked outrage in society, particularly among religious leaders."
One of those religious leaders, Talgat Tadzhuddin, a top Russian Muslim cleric, warned that Russian Muslims would take to the streets and flog gays if the parade were permitted. Bishop Daniil, a Russian Orthodox leader from the far eastern Yuzhno-Sakhalinsk, region, likened homosexuality to leprosy.
The backlash has been just as strident in the Duma, Russia's lower chamber of parliament. Alexander Chuyev, a prominent member of the nationalist Motherland Party, has proposed legislation that would criminalize material in the media or the Internet that in any way depicts homosexuality or promotes the gay community's agenda.
Chuyev doesn't mince words about his view of gays in Russia: As long as homosexual men and women stay in the shadows, he doesn't have a problem with them. "But if the gay community wants to come out into the open, that encroaches on our rights--our right to a normal life," Chuyev said.
Under Chuyev's proposal, an editor or TV producer could be banned from the profession for two to five years if convicted of publishing "gay propaganda" in the media or the Internet.
"In our country, the majority of people do not agree with homosexuality," Chuyev said. "So if homosexuality comes to public life, we'll see the beginnings of a very dangerous situation in society. A public citizen war, I think."
In making his case for banning the parade, Luzhkov told Human Rights Watch that city officials had to "take into account the point of view on the issue of the overwhelming majority of Muscovites and residents of Russia." Making popular sentiment the determining factor, Human Rights Watch argues, is an argument unlikely to hold up if the dispute is brought to international court.
"One key purpose of human-rights protection is precisely to ensure that majority opinion cannot deny the rights of minorities," Scott Long, director of Human Rights Watch's lesbian and gay rights program, wrote in a letter to Luzhkov dated May 8. "Banning the planned parade because of fears of disturbance due to counter-demonstrators would amount to giving violence a license to curb free expression."
----------
ajrodriguez@tribune.com
Representatives of gay community are adamant in holding gay parade in Moscow
バカが読む五流紙読売新聞
http://www.yomiuri.co.jp/editorial/news/20060525ig90.htm
国立墓地でのデモ禁止法案が通過 米議会
2006.05.25
Web posted at: 20:15 JST
- AP
ワシントン(AP) 米連邦議会は24日、国立墓地で米兵を埋葬する際に騒音を立てることなどを禁じる法案を承認し、ブッシュ大統領に送った。米国ではキリスト教の一派が、兵士たちの死は同性愛への寛容に対する神の怒りの現れだとし、葬儀の際にデモ活動を繰り広げることが問題となっていた。
「米国の戦没英雄に対する尊敬法」と名付けられたこの法案では、葬儀の前後1時間に、国立墓地入口から約90メートル以内と、墓地に通じる道路から約45メートル以内でデモをすることを禁止する。違反すれば、最高10万ドル(約1120万円)の罰金と1年の刑が課せられる。
上院のフリスト共和党院内総務は、「悲しいことだが、必要な対策だ」と述べた。
一方、今回の法案をめぐって問題視された、カンザス州のキリスト教グループの聖職者フレッド・フェルプス氏は、法案の通過を受け、「言論の自由に対するはなはだしい侵害だ」と抗議した。
Congress passes funeral protest ban
Bill targets group that taunts mourners at military rites
Thursday, May 25, 2006; Posted: 4:07 a.m. EDT (08:07 GMT)

WASHINGTON (AP)
-- Demonstrators would be barred from disrupting military funerals at national cemeteries under legislation approved by Congress and sent to the White House.
The measure, passed by voice vote in the House Wednesday hours after the Senate passed an amended version, specifically targets a Kansas church group that has staged protests at military funerals around the country, claiming that the deaths were a sign of God's anger at U.S. tolerance of homosexuals.
The act "will protect the sanctity of all 122 of our national cemeteries as shrines to their gallant dead," Senate Majority Leader Bill Frist, R-Tennessee, said prior to the Senate vote.
"It's a sad but necessary measure to protect what should be recognized by all reasonable people as a solemn, private and deeply sacred occasion," he said.
Under the Senate bill, approved without objection by the House with no recorded vote, the "Respect for America's Fallen Heroes Act" would bar protests within 300 feet of the entrance of a cemetery and within 150 feet of a road into the cemetery from 60 minutes before to 60 minutes after a funeral. Those violating the act would face up to a $100,000 fine and up to a year in prison.
The sponsor of the House bill, Rep. Mike Rogers, R-Michigan, said he took up the issue after attending a military funeral in his home state, where mourners were greeted by "chants and taunting and some of the most vile things I have ever heard."
"Families deserve the time to bury their American heroes with dignity and in peace," Rogers said Wednesday before the House vote.
The demonstrators are led by the Rev. Fred Phelps of Topeka, Kansas, who has previously organized protests against those who died of AIDS and gay murder victim Matthew Shepard.
In an interview when the House bill passed, Phelps said Congress was "blatantly violating the First Amendment" rights to free speech in passing the bill. He said that if the bill becomes law he will continue to demonstrate but would abide by the restrictions.
Sen. Pat Roberts, a Republican from Kansas, said the loved ones of those who die have already sacrificed for the nation and "we must allow them the right to mourn without being thrust into a political circus."
In response to the demonstrations, the Patriot Guard Riders, a motorcycle group including many veterans, has begun appearing at military funerals to pay respects to the fallen service member and protect the family from disruptions.
More than a dozen states are considering similar laws to restrict protests at nonfederal cemeteries. The American Civil Liberties Union has filed a lawsuit against a new Kentucky law, saying it goes too far in limiting freedom of speech and expression.
The International Gay and Lesbian Human Rights Commission (IGLHRC)
United Nations: IGLHRC Commends the U.S. for Reversing Earlier Anti-Gay Vote at UN and Supporting Lesbian and Gay Rights Groups
Date: May 24, 2006 US & Canada » USA » Press Release
The International Gay and Lesbian Human Rights Commission (IGLHRC) commends the United States for voting last week to support the application of two lesbian and gay groups seeking United Nations consultative status. The vote was a reversal of its position in January 2006 when it voted, along with Iran and eight other nations, to reject the applications of two lesbian and gay groups.
After that January vote, IGLHRC helped form a coalition of 40 human rights organizations to send a letter to Secretary of State Condoleezza Rice, calling for an explanation of the vote which aligned the United States with governments that have long repressed the rights of sexual minorities. IGLHRC also led a delegation of advocates in Geneva, Switzerland to meet with the US mission to the United Nations Commission on Human Rights, where participants expressed their surprise that the United States would vote against inclusion at the UN. IGLHRC participated in meetings with a number of missions to the UN in New York to strategize about turning votes around on this issue.
"Having a participatory voice in the proceedings of the United Nations is an intrinsic component of both free expression and democracy," said Paula Ettelbrick, executive director of IGLHRC. "The United States' anti-gay vote in January was shocking. We are glad that the Administration heard our concern and reversed its position."
Last week, the U.S. supported the applications of Germany's Lesbian and Gay Federation and the International Lesbian and Gay Association (ILGA)-Europe for consultative status with the UN Economic and Social Council. Consultative status is the only official means by which non-governmental organizations (NGOs) around the world can influence and participate in discussions among member states at the United Nations. Nearly 3,000 groups enjoy this status.
In May 2005, ILGA and a Danish gay rights group had applied for ECOSOC status, but some states moved to have their applications summarily dismissed, an almost unprecedented move at the UN, where organizations are ordinarily allowed to state their cases. The U.S. abstained on a vote which would have allowed the debate to continue and the groups to be heard. It then voted to reject the applications, joined by Cameroon, China, Cuba, Iran, Pakistan, the Russian Federation, Senegal, Sudan, and Zimbabwe.
国連経済社会理事会、さらに2つのLGBT系NGOの参加を拒否 今回米は賛成