カテゴリ
以前の記事
検索
最新のトラックバック
その他のジャンル
ファン
記事ランキング
ブログジャンル
画像一覧
Gay issues now on a Canadian school curriculum
Fri Jun 2, 1:11 PM ET

VANCOUVER, British Columbia (Reuters) -
Canada's westernmost province has settled a civil rights complaint by creating a new high school course on social justice that will include sexual orientation issues.
The gay couple who filed the 1999 complaint said the new course, which will be offered as an elective for British Columbia's Grade 12 students, should help foster diversity and tolerance within the province's public schools.
Provincial Attorney General Wally Oppal said the class, which will also study race and ethnicity issues, was less controversial than it would have been in the past because of a growing acceptance of the social contributions of homosexuals.
"This is really a classic case of much ado about little or nothing," Oppal told reporters on Thursday after announcing the settlement of the complaint that had alleged the province's school curriculum discriminated against gay and lesbian students.
B.C. to add gay issues to school curriculum
Same-sex couple withdraw complaint after province agrees to offer course
EVA SALINAS
Globe and Mail 2006/06/02

VANCOUVER --
The B.C. government is breaking new ground in education by adding gay and lesbian issues to the provincial curriculum, educators and equality advocates say.
"It's really a tremendous leap forward for the education system," said Peter Corren, who recommended curriculum changes to the government.
Mr. Corren, 59, and his partner Murray Corren, 60, launched a complaint with the B.C. Human Rights Tribunal in 1999, objecting to the limited diversity taught in schools. Last month, they agreed to a settlement from the Ministry of Education and the Ministry of the Attorney-General, and they withdrew their complaint yesterday.
The settlement includes the introduction of a high-school course, to be drafted for September, 2007. "I think it shows how we're leading in a lot of areas," Attorney-General Wally Oppal said of the plan. "The idea is to teach the students more about diversity. By that I mean ethnicity, racism, gender issues, issues relating to sexual orientation."
Peter Corren said educators from around the province will design the course from scratch, as there has been nothing comparable elsewhere in Canada. The closest example, he said, is legislation that was recently passed in California requiring gay and lesbian history to be taught in schools, although Governor Arnold Schwarzenegger is expected to veto the decision.
Peter Corren and his partner, who teaches in Coquitlam, charged in their complaint that the government has systemically discriminated by omitting mention of gay, lesbian and transgendered relationships in school curriculums.
In its settlement, the government promised not only to add an elective Grade 12 social-justice class, but also to conduct a general curriculum review, to see if similar content could be added in other areas. It also committed to amend an existing policy that allows students to opt out of compulsory subjects, such as sex education.
Peter Corren called current curriculum "heterosexist," and said that updates are also needed in other provinces. "It needs to reflect the values enshrined in the Charter and certainly by many new laws -- including the marriage one," he said.
The Correns, who were married two years ago, have led successful fights for equality in B.C. several times, including a campaign for the right to marry and campaigns against discriminatory adoption laws and a case of book-banning by the Surrey School Board.
"I would expect that a lot of provinces would probably be having a look at what we're doing today," Education Minister Shirley Bond said, applauding the couple's latest victory. The ministry emphasized the broad scope of the new course and the fact that it will be optional. Ms. Bond said it is still up to individual school districts to offer the course, and then it's up to the students to take it.
Jinny Sims, president of the B.C. Teachers' Federation, is delighted with the option. A social-justice course will encompass race, gender and poverty issues that students deal with, she said, and she called that "the right thing to do."
Charley Beresford, a trustee with the Victoria District School Board, echoed her sentiments. Under her lead, the school board was the first in B.C. to adopt an anti-homophobia policy a few years ago, she said. The policy was motivated by the death of a gay Vancouver man, Aaron Webster, who was beaten to death with a club in 2001.
"We should be taking every step we can to make everyone feel safe," Ms. Beresford said, mentioning a study released earlier this week by a B.C. adolescent health organization that found lesbian teens are five times more likely to attempt suicide than their heterosexual peers, and homosexual boys are more than twice as likely.
In 2004, the Vancouver School Board implemented a similar anti-homophobia policy and in May of this year, Ms. Beresford's school district launched an awareness campaign of the phrase "that's so gay," commonly used by schoolchildren.
Polish capital to allow gay march and counter-rally
Thu Jun 1, 3:04 PM ET
AFP
Municipal authorities gave permission for a gay rights march to be held in Warsaw June 10, and allowed far-right activists who oppose homosexual practices to hold a counter-rally the same day.
The two marches are to be held at the same time and along the same route, but in different directions.
Organisers of the "Equality Parade" say they expect around 1,500 people, many from abroad, to take part in the demonstration and voice their support for gays in Poland, who complain they are victims of intolerance.
Claudia Roth, head of Germany's Green Party, and Volker Beck, a German Green deputy who was attacked Saturday during a banned gay demonstration in Moscow, are expected to take part in the Warsaw rally.
The ultra-Catholic, nationalist Polish Youth organisation hopes around 500 people will turn up the same day for a counter-demonstration to protest against the "propagation of homosexuality" and to voice support for family values.
In 2004 and 2005, Warsaw mayor Lech Kaczynski -- who was appointed Polish president in December -- slapped a ban on the Equality Parade.
Several thousand people defied the ban last year and marched through the centre of the capital. Courts later ruled Kaczynski's ban was illegal.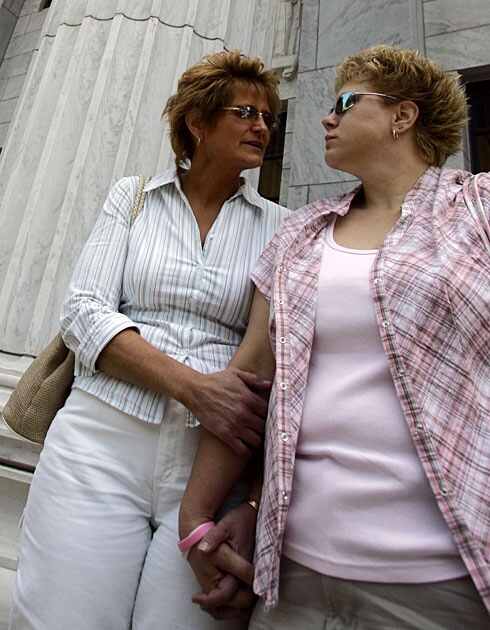 By Jim McKnight, AP
Kathy Burke, left, and Tonja Alois wait for New York State's highest court to hear arguments on gay marriage Wednesday. Polls show that Americans are evenly divided over the proposed constitutional amendment to ban gay marriage.
USA Today
Our View
Just say 'I don't'
Updated 5/31/2006 9:35 PM ET
Apparently, issues such as immigration, corruption, gas prices, the budget deficit, the war in Iraq and the prospect of Iran acquiring nuclear weapons aren't substantial enough to occupy members of Congress.
When senators return from their Memorial Day recess next week, their thoughts will turn to June weddings. They plan to spend their time on a bitter, divisive and unnecessary debate over a proposed constitutional amendment to ban gay marriage.
Even supporters of the Marriage Protection Amendment readily concede that the measure to ban same-sex marriage nationwide has virtually no chance of becoming part of the Constitution. (It would need approval from two-thirds of both chambers of Congress, plus ratification by three-fourths of the states.)
So why bother?
Well, Election Day is a few months off. Supporters hope the controversy will energize their base of social and religious conservatives opposed to same-sex marriage.
Their plan could well backfire. Polls show that Americans are evenly divided about the amendment. Religious activist groups are annoyed that President Bush, who supports the amendment, isn't lobbying hard enough for it.
At the same time, the 31 Republican sponsors risk alienating moderate and independent voters who are turned off by the pandering for a futile effort that will further divide the nation.
The gay-marriage issue exploded when Massachusetts' highest court ruled in November 2003 that same-sex couples have a right to marry. Since then, more than 7,300 gay couples there have done so. The commonwealth has survived.
But the public backlash elsewhere has been strong. Nineteen states have amended their constitutions to ban gay marriage. Most other states prohibit it as well.
The state activity makes the proposed constitutional amendment all the more unnecessary. It would take away the traditional authority of states to regulate marriage and impose a one-size-fits-all edict on a nation still grappling with the issue.
Most partisan drives to write social policy into our enduring Constitution have, fortunately, failed. The prohibition of alcohol was such a disaster that it was repealed 14 years later. The Framers purposely made it difficult to amend the Constitution so that intense passions of the day wouldn't lead to laws that might last forever.
Supporters of the amendment trumpet the need to protect the "sanctity" of marriage. But preserving the authority of states to decide how to handle same-sex unions — whether through marriage or some domestic partnership or civil union law that protects the basic financial, health and legal rights that heterosexual couples take for granted — doesn't affect anyone else's marriage. And the 1996 federal Defense of Marriage Act already says states may refuse to recognize same-sex marriages performed in other states.
The proposed amendment would squelch the important debate going on at the state level and poison political dialogue. It should be jilted and left at the altar.
Find this article at:
http://www.usatoday.com/news/opinion/editorials/2006-05-31-our-view_x.htm?csp=34
Opposing View
Protect traditional marriage
Posted 5/31/2006 9:33 PM ET
By Wayne Allard
Respect for the democratic process compels this Congress to protect traditional marriage in the face of a coordinated effort to redefine marriage through the courts.
Marriage, the union between a man and a woman, has been the foundation of every civilization in human history. It is incorporated into the fabric of our culture and civic life. It is the platform on which children, families and communities are nurtured.
Unfortunately, the U.S. Constitution is being amended to reflect a new definition of marriage — not by democratically elected members of Congress, but by unaccountable and unelected judges.
As a result, I introduced an amendment to the Constitution that simply defines marriage as the "union of a man and a woman," while leaving to state legislatures the freedom to address the question of civil unions and domestic partnerships. The amendment would not overturn current state and local laws dealing with these arrangements.
Democracy and representative government are at the core of this debate. In 2004 and 2005, voters in 14 states overwhelmingly passed constitutional amendments protecting marriage. Today, 19 states have constitutional amendments protecting marriage, and 26 have statutes designed to protect traditional marriage. The will of the people is clear on this issue.
Unfortunately, dissatisfied with the outcome of these votes, activists have intensified their campaign to circumvent the democratic process and redefine marriage through the courts. Currently, nine states face lawsuits challenging traditional marriage laws. Among these lawsuits are challenges to state constitutional amendments passed by an overwhelming majority of voters.
Recent decisions by activist judges not only fail to respect the traditional definition of marriage, they also highlight a lack of respect for the democratic process. The courts are driving a redefinition of marriage contrary to democratic principles.
The process to amend the U.S. Constitution is one the American people can trust.
My amendment reflects a belief that the institution of marriage is too precious to surrender to the whims of a handful of unelected, activist judges. The American people should have a say in the matter. If we in Congress fail to define marriage, the courts ultimately will not hesitate to define it for us.
Sen. Wayne Allard, R-Colo., is the author of the Marriage Protection Amendment.
Find this article at:
http://www.usatoday.com/news/opinion/editorials/2006-05-31-opposing-view_x.htm
The Times June 02, 2006
fashion ... er ... well, maybe not
Dress rehearsal on a catwalk reveals the politicians who want to be a model leader
From Leo Lewis in Tokyo
CALL it "vote couture". The leading contenders to succeed Junichiro Koizumi as Japan's Prime Minister effectively declared their candidacies yesterday by strutting their stuff on the catwalk.
Three ministers set aside the cares of office to model casual wear, the highlight of a campaign to persuade Japan's salarymen to leave off their jackets and ties at work this summer.
Think Gordon Brown, Margaret Beckett and Jack Straw doing a twirl for the cameras to press their claim to succeed Tony Blair.
They could not have been more obvious in their intentions. The Minister of Finance, Chief Cabinet Secretary and Foreign Minister exploited the event as the first photo-opportunity of what promises to be a long summer of one-upmanship before the party leadership election in the autumn.
The race to succeed Japan's maverick Prime Minister was always going to be quirky and heavily emphasise appearances — Mr Koizumi owes much of his international recognition to a mane-like shock of hair and a love of Elvis Presley. The campaign to succeed him as President of the ruling Liberal Democratic Party (LDP) and Prime Minister has not begun officially. But analysts agreed thatparticipation in the "Cool Asia" fashion parade by three of the four favourites should be thought of as the starting gun.
First on the catwalk was Taro Aso, the outspoken and nationalistic Foreign Minister, whose comments on China's military, Taiwan's history and the Yasukuni war shrine have caused outrage. He is regarded as a strong contender. The undone top button on his pink shirt suggested a man trying to soften his image, but the designer of his blazer, Noble House, gave the game away: this is a man intensely proud of his connection to the Imperial family.
He was followed by Sadakazu Tanigaki, the Finance Minister. He is regarded as an outsider in the contest and has been criticised as too "square" to lead. With the top button of his shirt and the jacket of his neutral beige suit tightly fastened, he did little to disabuse potential voters of that image.
Finally, Shinzo Abe, the Chief Cabinet Secretary, sauntered down the catwalk in a loose-fitting Louis Vuitton suit.
In both personality, political outlook and supposed charm with female voters, Mr Abe is seen by many as the natural successor to Mr Koizumi - an image he has attempted to play down to assert himself as his own man.
At 51, he has not held a Cabinet position for long, and his critics believe that although he may have the breeding — his grandfather and great-uncle were prime ministers — he does not have the experience.
The other figure thought to be in with an excellent chance was notable by his absence.
Yasuo Fukuda was perhaps using his non-appearance to deliver a message that he is too seasoned and well positioned to engage in such trivial showmanship.
If, as most analysts believe, the race does come down to a tussle between Mr Abe, Mr Aso, Mr Fukuda and Mr Tanigaki, the issues of fiscal policy, healthcare and education will likely be overshadowed by each candidate's views on the controversial Yasukuni war shrine and whether a Japanese prime minister should pay official visits to it.
Politicians on the catwalk
Read Leo Lewis's weblog
▲
by

alfayoko2005

| 2006-06-02 10:35 | 国内政治
Finland's trailblazing path for women
By Laura Smith-Spark
BBC News
One hundred years ago, Finnish women became the first in the world to have unrestricted rights both to vote and to stand for parliament.
In elections the next year, 19 female MPs were elected and women have continued to play a central role in the nation's politics ever since.
A century on, Finland's female President Tarja Halonen has just been voted into office for a second term and women's representation in parliament stands at a healthy 38%.
Meanwhile, many nations in Europe and across the world trail far behind in terms of gender equality.
Italy, for example, is the worst performer in the EU, with only 11.5% of parliamentary seats filled by women. Worldwide, the average is only 16.6%.
As Finland's Foreign Minister Erkki Tuomioja told Associated Press: "We're not perfect, we have a lot to do still, but we are an example for the rest of the world."
So how did Finland become a trailblazer for women's political rights?
Radical change
According to Finnish political commentator Olavi Borg, the catalyst for change was a radical overhaul of the entire Finnish electoral system.
WOMEN'S SUFFRAGE
1893 - New Zealand gives women right to vote but not to stand for election
1902 - Australia grants women restricted right to vote
1906 - Finland gives women unrestricted rights both to vote and to stand for election
1928 - Britain grants universal suffrage
1971 - Swiss women win right to vote
On 1 June 1906, Finland's parliament extended full political rights not only to women but also to all men, rather than an elite few.
"Before this reform 70% of all adult people were outside suffrage," Professor Borg, formerly of Finland's Tampere University and an MP in the 1970s, told the BBC News website.
"It was a revolution by law."
The change came at a time when Finland, controlled by Russia until it gained independence in 1917, saw an opportunity to increase its freedom amid Russian upset following military defeat by Japan.
It would be 38 years before France gave women the vote and 65 years before Switzerland followed suit.
'Big gap'
According to Kareen Jabre of the Inter-Parliamentary Union, women's rights can often be boosted as a result of more widespread political upheaval.
She cites the examples of Rwanda, Burundi, Iraq and Afghanistan, where new political constitutions drawn-up post-conflict have greatly improved women's political status.
The image of women in politics is changing
Kareen Jabre
Inter-Parliamentary Union
Rwanda, where quota measures are in place, now tops the global table for female parliamentarians, with 49% of seats held by women.
But, Ms Jabre said, there is still a long way to go in most parts of the world, even where women have had the right to vote and be elected for decades.
Of particular concern are many Arab and Pacific countries - apart from Australia and New Zealand - where women's representation is very limited, she said.
This is partly down to strong cultural traditions and partly the result of political rules historically written by men which make it hard for women to win their way to power.
"What is very clear is that the gap between having access or being granted the right to vote and making it to parliament is quite big," Ms Jabre said.
"It's not the case where you have this right that women will make it immediately to parliament. That throughout history has been quite striking."
'Never-ending process'
However, there are signs of progress.
Several countries have recently elected their first female leader - Liberia, Chile and Germany among them - and women in Kuwait are preparing to vote and stand in parliamentary elections for the first time later this month.
"The image of women in politics is changing. There are a lot of positive signs and I think the evolution is going to speed up in the coming years," Ms Jabre said.
Prof Borg believes the secret of Finland's success on this front, as with its Nordic neighbours, is a long-standing cultural tradition of gender equality.
And having equal female representation in the Eduskunta, or parliament, has brought obvious advantages, he said, not least in creating Finland's enviable social policies.
Speaking to some 100 international guests on the hundredth anniversary celebrations for Finland's parliament, President Halonen was clear that universal suffrage was a right worth fighting for.
"Even though we have cause to celebrate today, we should remember that maintaining and improving the democratic system is a never-ending process," she said.
"Democracy can only become reality if citizens are interested in and prepared to participate in the decision-making concerning matters common to us all."
Story from BBC NEWS:
http://news.bbc.co.uk/go/pr/fr/-/2/hi/europe/5036602.stm
Published: 2006/06/01 14:50:51 GMT
Japan May Plant a Flag in Students' Backpacks
A bill would mandate that patriotism be taught. Not everyone salutes the idea.
By Bruce Wallace, Los Angeles Times Staff Writer
June 1, 2006

TOKYO —
If the Japanese government gets its way, educators will soon add another course to the standard curriculum of reading, writing and arithmetic: teaching students to show love for their country.
The proposal to make education more patriotic signals the determination of conservatives here to combat what they see as a self-obsessed youth culture, characterized by rampant school bullying and juvenile crime, that they say is eroding the nation's vaunted social order.
Under proposed revisions to the 1947 basic education law that are being debated in parliament, teachers would be required to instill in students "an attitude that respects tradition and culture, and loves the nation and the homeland that have fostered them."
The changes alarm liberal critics who worry that a legal duty to teach a love for Japan would override the constitutionally guaranteed freedom of thought and conscience. They argue that mandating educators to teach patriotism echoes the ultranationalism of imperial Japan, which led to the catastrophic error of military aggression and, ultimately, ruin.
But the mood in Japan is strongly in favor of strengthening pride in country. Recent polls show two-thirds of the public supports the revisions.
During parliamentary debates last week, critics of the proposal said some schools were already grading students on their level of patriotism. Fifty elementary and middle schools in Saitama prefecture just north of Tokyo have been marking students on their love of Japan, a practice the teachers union contends is spreading to other parts of the nation in anticipation of changes to the basic education law.
"How can patriotism be evaluated?" complained Sachiko Nishinaka, an official with the Japan Teachers Union. "If a student says the SDF [Self-Defense Forces, the nation's military] should be sent to Iraq, does this student deserve an A? If a student says, no, there are other things Japan could do besides sending the SDF, does this student deserve an A?"
The government enjoys a comfortable majority in parliament and hopes to pass the amendments before the legislative session ends June 18, though a crowded agenda means the bill may have to wait until the fall.
However, all three major parties agree that the basic law needs amending. They are merely squabbling over the wording.
The changes would be the first revisions to a law written during post-World War II U.S. occupation. Japanese conservatives never liked the original measure's emphasis on individualism, which was aimed at cultivating independent thought as an antidote to the prewar Imperial Rescript on Education. That document shaped generations of students by stressing the merit of obeying the emperor and the state.
Some observers argue that modern Japanese schools, which still require student uniforms and emphasize rote learning, are hardly hives of unfettered individualism. But there is also a widespread perception that discipline and social unity have been diluted by the pressures of a long economic recession and the Internet Age.
"We are not intending a law that would draw us into war," Prime Minister Junichiro Koizumi told legislators last week, noting that the revisions would also require teachers to imbue a respect for other countries. "The bill puts heavy importance on an education suitable to a new era and is aimed at nurturing admirable manpower for the benefit of Japan."
The measure is part of a broader attempt by conservatives to control education policy and the powerful teachers union, one of Japan's last bastions of leftist politics. It includes a clause requiring education policy to be carried out "in accordance with other laws," a potent phrase designed to make it easier for authorities to enforce directives on teachers.
The basic law made education immune from "improper control," a protection teachers have cited in fending off political interference. They have challenged everything from government textbook selection to school boards' attempts to force them and students to stand, face the flag and sing the national anthem at graduation ceremonies.
That latter battle has been particularly bitter. Many teachers have refused to stand, citing the anthem's links to the militarist era. They have been disciplined by school boards and, in some cases, prosecuted by the government.
On Tuesday, a retired Tokyo teacher was found guilty of "obstructing business through the use of force" for disrupting a 2004 high school graduation ceremony. Katsuhisa Fujita, 65, was charged after he implored parents not to stand for the anthem as required by the Tokyo Metropolitan Board of Education. Though Fujita was ejected from the ceremony, about 90% of the students remained seated during the song, school officials said.
The judge fined Fujita nearly $2,000, dismissing the prosecution's demand for an eight-month jail sentence. But the stance of the deeply conservative Tokyo board has driven the number of dissenters down from more than 200 in 2003 to just 44 last year.
It is that record of intimidation that worries critics of the plan to write patriotic education into law.
"Most people genuinely have deep respect for their homeland," said an editorial in the daily newspaper Asahi Shimbun. "But once patriotism is enshrined in law, there is a danger of teaching children to uniformly be more patriotic."
*
Hisako Ueno of The Times' Tokyo Bureau contributed to this report.
ひと・自らの性同一性障害を本につづったフェンシングの元日本代表 杉山文野(すぎやま・ふみの)さん(24) (朝日 2006/06/02朝刊)
 体は女なのに心は男。そんな性同一性障害(GID)との診断を半年の通院の末、5月に受けた。「風呂とトイレは男女のどっちに入ればいいのかな」と改めて思った。
 物心付いた頃から女の子扱いに抵抗があった。立ち小便をしてズボンを汚し、好きな女の子にはどきどきした。首都圏の小中高一貫の女子校でセーラー服を着た。女体の着ぐるみの上に、女装する感覚だった。生理が始まり、心と体の不一致が大きくなる。自己嫌悪と周囲にばれないかという恐怖感の中で過ごした。
 フェンシングが救いにもなった。中学でジュニア女子の日本代表に。04年にはナショナルチームに入った。今は子どもたちを指導する。
 性別を聞かれれば、「真ん中」と答える。人との付き合いの幅が広がるうちに、自分は「男+女」だと思えるようになった。性別の前に自分を磨こう。そうなるまでの半生を「ダブルハッピネス」(講談社)につづった。日常の不便や周囲への告白。ガールフレンドとの性行為での満足感と、それでも残るもやもやにも触れた。
 GIDに悩む人は全国で数千人という。カミングアウトして当選した議員の存在や、テーマに取り上げたテレビドラマ「金八先生」の影響で認知は進んだが、偏見は依然残る。「僕らは少数派だけど、間違っているわけじゃない。受け入れられない人たちや社会に障害はないんですか」
文・写真 曹 喜郁
♪ トランスのスポーツ選手、とくにFTMの場合は、男子のトップと太刀打ちできないことが厳しい。女子だったから日本代表になれたので、もしそうでなければこの本を出せたのかどうか。
▲
by

alfayoko2005

| 2006-06-02 08:26 | トランス
HUMAN RIGHTS WATCH
Russia: Investigate Attacks on Gay Pride March
Freedoms of Assembly and Expression Must Be Protected

(Moscow, June 2, 2006) –
Russian authorities must launch a full investigation into the violent attacks on peaceful gay pride activists in Moscow on May 27 and prosecute those responsible, Human Rights Watch said today. The investigation must also encompass the police response to the attacks. Human Rights Watch called on the authorities to drop charges against participants in pride events for taking part in "an unsanctioned demonstration."
Human Rights Watch documented the violence in a briefing paper released today, and called on Russian officials to fulfill their obligation to protect human rights by refraining from homophobic rhetoric and ensuring that freedoms of expression and assembly are upheld.
"Victims of prejudice and violence deserve full justice," said Scott Long, director of the Lesbian, Gay, Bisexual, and Transgender Rights Program at Human Rights Watch, who witnessed the events in Moscow first-hand. "The authorities in Moscow have endorsed discrimination and fostered an environment that allowed hatred to rise. Now they must investigate these attacks, and ensure that civil liberties and personal security are not hostage to homophobia."
On May 27, several dozen Russian lesbian, gay, bisexual, and transgender people, accompanied by Russian and foreign supporters, sought to hold two successive protest rallies, one to lay flowers on the Tomb of the Unknown Soldier near the Kremlin Wall, and the second a vigil at City Hall in support of freedoms of assembly and expression. Organizers of Moscow's lesbian and gay pride festival decided to hold these events after a court upheld Mayor Yuri Luzkhov's ban on a pride march planned for that day.
At the sites of both events, hundreds of anti-gay protesters, including skinheads, nationalists, and Orthodox followers, attacked the participants, beating and kicking many, while throwing projectiles and chanting, "Russia free of faggots! Death to sodomites!"
Skinheads punched Volker Beck, a gay member of the German parliament, and struck him with a rock, injuring his eye. Police briefly detained Beck. Others detained included parade organizers Nikolai Alexeyev and Yevgenia Debrianskaia.
"At both sites police at first seemed to allow the skinheads and others free rein to assault lesbians and gays," said Long. "When police finally intervened, they forced the two groups closer together, aggravating the violence. They failed totally to protect people peacefully trying to exercise their rights."
On May 18, Luzhkov formally banned a proposed pride parade. Days before the planned event, he stated: "If any one has any deviations from normal principles in organizing one's sexual life, those deviations should not be exhibited for all to see."
"Instead of leading Muscovites to embrace equality, Mayor Luzhkov supported and promoted homophobia," said Long. "Given this failure of leadership, the violent ending should surprise no one."
Internal documents from the mayor's office seen by Human Rights Watch indicate the office sponsored a sustained campaign against measures in support of lesbian, gay, bisexual or transgender persons. In one document, dated March 2006, Luzhkov advised subordinates that: "It is necessary to take concrete measures to prevent holding public and mass gay events in the capital." He instructed them to: "Organize an active campaign in the mass media... using appeals from citizens and religious and public organizations."
In another March memorandum, deputy mayor Liudmila Shvetsova told the mayor, "A law can be promulgated to limit the rights or freedoms of [gay or lesbian] people." She urged that "the competent executive bodies... identify concrete measures for banning any actions, including public ones, involving propaganda and holding gay festivals or gay parades."
Several people in addition to Volker Beck were brutally beaten by anti-gay extremists on May 27. Pierre Serne, a French activist, was physically attacked twice and suffered injuries to his eye, shoulders, back, arm, and leg. Kurt Krickler, an Austrian activist, was beaten by skinheads on the street.
At least six lesbian, gay, bisexual, and transgender activists and their supporters were arrested and charged with organizing or participating in an "unsanctioned demonstration." All are believed to have been freed the same evening and may face fines for their alleged offences. Several dozen anti-gay protestors were also detained and later released, most also facing similar charges relating to participation in unsanctioned demonstrations.
Related Material
Pride and Prejudice: A Chronicle of the Events of May 27, 2006 in Moscow
Background Briefing, June 1, 2006

Photos of the protests in Moscow
Image, June 1, 2006

Live from Moscow, Prejudice and Pride
Blog, May 24, 2006

Russia: End Anti-Gay Violence, Permit Gay Pride Parade
Press Release, May 8, 2006
From:
http://hrw.org/english/docs/2006/06/02/russia13495.htm
▲
by

alfayoko2005

| 2006-06-02 07:30
性的少数者の家族が連携 堺で団体設立 (産経・関西版 2006/5/29  8:46)
 同性愛者など性的少数者の家族や友人らでつくる団体が28日、堺市で設立された。
 性的少数者の当事者団体はあるが、家族の団体は全国的にも珍しい。昨年、同性愛であることを公表した尾辻かな子大阪府議(31)も設立メンバーとして参加。性的少数者は自らの性的指向を家族に打ち明けられなかったり、打ち明けても家族が事実を受け入れられず、双方が苦しむケースが多く、同じ境遇の家族が連携し、情報交換などを行うという。
 この日、会場となった堺市の尾辻府議の事務所には、当事者やその家族12人が集まり、これまでの思いや、今後の活動について語り合った。
 参加者の1人で大阪府在住の無職の男性(76)は平成7年、公務員だった20代の長男の元に同性愛者の団体からの手紙が届き、「おかしなものが来ているよ」と話しかけたところ、あくる日「大事な話がある」と呼ばれ、「僕はもう結婚しない。実は同性愛者だ」と告白されたという。
 「本当に驚いた。息子に『お前、直らんのか』と言ってしまった。妻も『赤紙が来て兵隊に取られたと思えばいいのか』と泣きました」
 その後、葛藤(かっとう)はあったものの、長男から渡された本を夫婦で読み、親子で何度も話し合いをする中で「大事な息子であることに変わりがない。親として息子の生き方に協力しよう」と、事実を受け入れられるようになったという。
 団体では、そうした家族らが知識を得たり情報交換する場を作り、当事者とその家族の手助けをすることを目的としている。今回は関西在住の家族らが集まったが、札幌市や東京都内でも同様の動きがあり、全国的な連携を目指しているという。
 昨年、同性愛であることを公表した尾辻府議も母親と参加し、同会の設立について「(当事者の)家族や友人には正しい知識がない場合が多く、こうした場で知識や経験を分かち合うことで、本人も家族も楽になれるのではないか」と話している。
 団体は「LGBTの家族と友人をつなぐ会」。問い合わせは、仮連絡先の尾辻事務所(TEL072・282・5588)。また同会のブログ(
http://blog.goo.ne.jp/family2006
)でも、家族向けのアドバイスや、次回会合などの情報が掲載されている。