カテゴリ
以前の記事
検索
最新のトラックバック
その他のジャンル
ファン
記事ランキング
ブログジャンル
画像一覧
Gay Comrades in East Asian Countries Are Emerging From the Shadows
Travel Book Unveils a Vibrant Gay Scene in Unexpected Places. Utopia Guide to Japan, South Korea & Taiwan : The Gay and Lesbian Scene in 45 Cities Including Tokyo, Osaka, Kyoto, Seoul, Pusan and Taipei
(PRWEB) June 5, 2006
-- In the 1760s Japan had guidebooks in circulation detailing the homosexual pleasures to be found in its famous "floating world" of geisha and kabuki courtesans. Three centuries later a bold new publication is unveiling the vibrant contemporary gay and lesbian scene, not only in Japan, but in two neighboring countries often assumed to be rigidly conservative.
The Utopia Guide to Japan, South Korea & Taiwan opens a window into gay and lesbian life in 45 cities including Tokyo, Osaka, Kyoto, Seoul, Pusan and Taipei, revealing a vibrant gay scene in unexpected places.
Japan's homosexual sub-culture is ancient and sophisticated. References to same-sex relationships appear in 11th century diaries and even the womanizing protagonist of The Tale of Genji, one of the world's earliest novels, discovers his beloved to be outcharmed by her brother.
Modern Japan's gay scene, while offering a staggering variety of sexual outlets, can also be frustrating, discriminatory and oppressive. Gay liberation and activism have only recently emerged from the shadows.
"To make the lives of homosexuals happier in Japan, a major overhaul of attitude is needed for society to simply be aware that we exist," laments Sarichan, owner of Frenz, a funky Osaka bar. "There are many famous homosexuals and transvestites on TV and in the news, yet somehow they are perceived as an object rather than as a person with a life."
"I often introduce myself as the owner of a gay bar and, although I don't get any shocked responses or rejection, I am asked what kind of dress I wear or something unenlightened like that."
In a country where 98 percent of the population gets married, young gays, lesbians and transgenders have begun to push beyond such stereotypes, becoming decidedly more visible and participating in public pride events. To build awareness some have even coined a novel national holiday -- New Half Day -- on April 4, midway between Girl's Day and Boy's Day.
In South Korea, long in denial about its homosexual sub-culture, gays actually benefit from the strong separation of church and state, with legal rulings overturning attempts to institutionalize homophobia.
"Korea is not a closed society as the world often imagines," says Ted Park, a passionate entrepreneur who opened Seoul's first publicly promoted gay bar. "Koreans are very open minded and friendly, yet quite conservative sexually, whether straight or gay. Legally we are well protected. Children are taught about homosexuality in elementary school and we have laws against discrimination based on sexuality."
Taiwan also defies expectations of social conservatism with its very progressive government programs to end discrimination against homosexuals. In spite of Confucian underpinnings, gays and lesbians have government support and protection, hold visible public events, benefit from public educational programs, and enjoy plenty of role models in the cultural arena.
Ashley Wu, Director of Public Affairs for the Taiwan Tongzhi Hotline Association, helps his nationally registered LGBT association work towards the eradication of prejudice against queer people from their large offices in downtown Taipei.
"Here is a brochure about homosexuality produced by the Taipei City government for distribution in secondary schools," he explains, flipping through a large, glossy and beautifully designed booklet. Inside are dozens of LGBT organizations, the history of Taiwan's gay movement, as well as safer sex information designed to reach young tongzhi (this former Communist title "comrade" has been wittily co-opted by the Chinese queer community).
"Our in-school programs have increased acceptance of young tongzhi who tell us they suffer much less teasing and bullying as a result."
Government support is vital, but it's up to gays and lesbians to become visible and define their communities. Reflects Park, "Since we are well protected legally, our future depends on how much we take advantage of this freedom. We cannot expect the government to show or teach us how to enjoy life."
The Utopia Guide to Japan, South Korea and Indonesia compiles contact details for organizations and businesses that are popular with both local and visiting homosexuals, including accommodation, bars, discos, spas, and restaurants. A special section of the book highlights groups, clubs, and spaces that are especially welcoming for women. Dozens of tips and warnings from locals and visitors provide first hand insights for both frequent visitors and armchair explorers.
The book is available for sale now in printed and electronic form at www.utopia-asia.com/utopiaguide/ and in bookstores internationally and from popular online book resellers.
A pioneer on the Internet, Utopia has been Asia's most popular resource for gays and lesbians since 1994. Utopia's website is located at www.utopia-asia.com and more information about Utopia may be found at www.utopia-asia.com/utopiais.htm
"These fun pages dish out the spice on even the most buttoned-up spots in Asia." -- TIME Magazine TIME Traveler
"A really good place to start looking for information... excellent coverage of gay and lesbian events and activities across Asia." -- Lonely Planet
###
Tokyo HIV infections reach record levels
06/05/2006
BY TAKAAKI IKEDA, THE ASAHI SHIMBUN
The number of persons affected by AIDS is on the rise in Tokyo, with an average of 1.14 people being confirmed as either HIV positive or having developed AIDS each day.
Last year saw record numbers of people affected by the disease.
During 2005, 417 people within the Tokyo area were diagnosed as having being HIV positive, compared to only 51 people in 1990.
Not only are numbers up, but the social dynamic of those affected has shifted: Last year, 90 percent of the 417 people diagnosed were Japanese men, a major change from 1992, when 60 percent were confirmed to be non-Japanese.
People in their 20s and 30s account for 72 percent of people with AIDS in the city, and there has been an increase in the number affected through homosexual activity.
Physician Tsuyoshi Yamaguchi, 73, has been involved in HIV/AIDS-related testing at a consultation facility near the southern exit of Tokyo's Shinjuku Station for almost 10 years.
"The number of those who actually have the disease is four to five times the reported level," Yamaguchi said. "Moreover, Japan is the only developed nation where the number of AIDS sufferers is continuing to increase. There is a fear that this could lead to a rampant spread of the virus."
Another cause for concern is the increase in sexually transmitted diseases such as chlamydia, which heightens the risk of HIV infection.
The 3,938 people infected with HIV in Tokyo represent about 40 percent of an estimated 11,000 nationwide.
Last year, 832 people were newly diagnosed as being HIV positive, while 367 people were reported to be suffering from AIDS nationwide.
The number of people infected with HIV first surpassed the 1,000 mark in 2004. In 2005, it reached 1,199.
While the numbers of those with the virus is rising, the number of people being tested for HIV is not.
In 1992, more than 31,000 people were tested in Tokyo for HIV. The figure last year was 22,000.
Numerous tactics have been employed to encourage people to get tested, such as providing weekend testing and offering same-day results.
While these measures have had some impact in the past, authorities fear they may have reached the end of their effectiveness.
"We have tried all sorts of means and are getting closer to hitting a ceiling," said an official from the Tokyo metropolitan government, which launched its first HIV/AIDS week dedicated to educating the public and promoting HIV testing Thursday.
The public "are either feeling comfortable or their interest has weakened," Yamaguchi said.
That complacency--or ambivalence--could be life threatening.
Thanks to medical advances it is possible to inhibit the spread of HIV, meaning that AIDS need not be fatal. Early detection is crucial.(IHT/Asahi: June 5,2006)
東京都内、HIV感染最多 昨年417人

The New York Times
June 5, 2006
Editorial
Divide and Conquer the Voters
President Bush devoted his Saturday radio speech to a cynical boost for a constitutional amendment banning gay marriage. It was depressing in the extreme to hear the chief executive trying to pretend, at this moment in American history, that this was a critical priority.
Mr. Bush's central point was that the nation is under siege from "activist judges" who are striking down anti-gay-marriage laws that conflict with their own state constitutions. That's their job, just as it is the job of state legislators to either fix the laws or change their constitutions.
If there's anything the country should have learned over the past five years, it is that Mr. Bush and his supporters have no problem with judicial decisions, no matter how cutting edge, that endorse their political positions. They trot out the "activist judge" threat only when they're worried about getting out their base on Election Day.
The aim of the president's radio address — which darkly warned that Massachusetts and San Francisco (nudge, nudge) are going to destroy marriage — is the same as the Republican leadership's plans to trot out one cultural hot button after another in the coming weeks. After gay marriage comes the push for a constitutional ban on flag burning, a solution in search of a problem if there ever was one.
All this effort to divert the nation's attention to issues that divide and distract would be bad enough if the country were not facing real, disastrous problems at home and abroad. But then, if that weren't the case, Mr. Bush probably wouldn't feel moved to stoop so low.
米大統領、同性婚禁止の憲法改正を支持 (日本経済 2006/06/05)
 【ワシントン支局】ブッシュ米大統領は上院が来週初めに採決する見通しの同性間の結婚を禁止する憲法改正案について、5日にホワイトハウスで宗教関係者らを招き、可決を求める声明を発表する。11月の中間選挙に向け、支持に陰りが出ている保守層にアピールする。
 大統領は先週末の演説で「結婚はあらゆる文化と宗教が尊ぶ最も永続する重要な人類の制度だ」と強調。同性婚を容認する判決を下したネブラスカ州などの判事を非難した。 (16:01)
「同性婚禁止に向けて改憲支持」と米大統領
2006.06.04
Web posted at: 19:19 JST
- CNN/AP/REUTERS
ワシントン──ブッシュ米大統領は3日、毎週恒例の国民向けラジオ演説で、同性同士の結婚を禁止する憲法改正案を支持する姿勢を表明した。
大統領は、男性と女性の結婚が子どもの幸福と社会の安定につながると述べ、「結婚が社会に与える良い影響が薄まらない限り、文化や宗教、自然といった根源から切り離されてはならない」と明言した。
週明けには上院で改正案の採決が予定されているが、可決される可能性は低い。野党の民主党は、与党の共和党が今年11月の中間選挙をにらんで、同性婚に批判的な保守層の受けを狙っているとの認識を示している。
同性婚禁止 憲法修正、支持訴え 米大統領がラジオ演説 (産経 2006/06/04)
 【ワシントン=山本秀也】ブッシュ米大統領は3日、週末恒例の国民向けラジオ演説で、同性間の結婚を禁じる憲法修正案への支持を呼びかけた。週明け後に予定される上院での修正案採決を控えての発言だが、11月の中間選挙に向けて、同性婚に批判的な保守層の票獲得を狙うものといえる。
 同性婚は2003年にマサチューセッツ州で合法化。これに続き、サンフランシスコ市が同性婚の届け出受理に踏み切るなど地方レベルで同調の動きが広がる半面、保守層を中心に反発も強く、全米で議論を呼んでいる。
 ブッシュ大統領はラジオ演説で、「自由社会にあって、国民は生活形態を選ぶ自由を有する」としながらも、一部の州で司法や行政が伝統的な婚姻のあり方を覆して同性婚に道を開いてきたことを強く非難。さらに、社会の基礎となる婚姻が「文化、宗教、自然の営みから切り離されるべきではない」と述べるなど、あくまで男女間での婚姻を守る政府の責務を強調した。
 大統領は週明けの5日にも、憲法修正案への支持を演説で表明する。
 同性婚を認めない憲法修正案は、先月18日に上院司法委員会を通過。成立には上下両院で3分の2以上の賛成を得たうえ、全米50州の4分の3にあたる38州で支持を獲得する必要があり、成立へのハードルはかなり高いとの見方が強い。
 チェイニー副大統領の娘で同性愛者のメアリーさん(37)は、FOXテレビとのインタビューで「(修正案は)差別を憲法に書き込むものだ」と述べ、大統領を批判していた。
<米大統領>同性婚禁止の憲法修正、支持する意向を表明 (毎日 2006/06/03)
 【ワシントン及川正也】ブッシュ米大統領は3日、国民向けのラジオ演説で、同性婚を禁止する憲法修正を支持する意向を表明した。5日に再開する上院は男女の婚姻のみを認める憲法修正決議案の審議を開始する予定で、11月の中間選挙をにらみ、保守とリベラルの対立が際立つ同性婚問題を争点化することで保守層の支持を固め直す思惑がある。
 もともと同性婚反対の立場の大統領は演説で、上院審議に先立って5日に修正を支持する憲法学者、宗教指導者らと会談すると発表。「結婚保護の修正を連邦議会が通過させ、承認のために各州に送付するよう要請する」と強調した。
 実際の憲法修正のためには上下両院で3分の2以上の賛同を得て発議し、50州のうちの4分の3にあたる38州での承認が必要となる。
 上院では共和党内にも反対論があり、可決の可能性は小さいと見られている。中間選挙と同時にアイダホ州など6州で同性婚禁止を問う投票が実施される予定で、大統領の発言は保守票の底上げを図るのが真の狙いとみられる。
President's Radio Address 2006/06/03
Audio
THE PRESIDENT: Good morning. Next week, the United States Senate will begin debate on a constitutional amendment that defines marriage in the United States as the union of a man and woman. On Monday, I will meet with a coalition of community leaders, constitutional scholars, family and civic organizations, and religious leaders. They're Republicans, Democrats, and independents who've come together to support this amendment. Today, I want to explain why I support the Marriage Protection Amendment, and why I'm urging Congress to pass it and send it to the states for ratification.
Marriage is the most enduring and important human institution, honored and encouraged in all cultures and by every religious faith. Ages of experience have taught us that the commitment of a husband and a wife to love and to serve one another promotes the welfare of children and the stability of society. Marriage cannot be cut off from its cultural, religious, and natural roots without weakening this good influence on society. Government, by recognizing and protecting marriage, serves the interests of all.
In our free society, people have the right to choose how they live their lives. And in a free society, decisions about such a fundamental social institution as marriage should be made by the people -- not by the courts. The American people have spoken clearly on this issue, both through their representatives and at the ballot box. In 1996, Congress approved the Defense of Marriage Act by overwhelming bipartisan majorities in both the House and Senate, and President Clinton signed it into law. And since then, voters in 19 states have approved amendments to their state constitutions that protect the traditional definition of marriage. And today, 45 of the 50 states have either a state constitutional amendment or statute defining marriage as the union of a man and a woman. These amendments and laws express a broad consensus in our country for protecting the institution of marriage.
Unfortunately, activist judges and some local officials have made an aggressive attempt to redefine marriage in recent years. Since 2004, state courts in Washington, California, Maryland, and New York have overturned laws protecting marriage in those states. And in Nebraska, a federal judge overturned a state constitutional amendment banning same-sex marriage.
These court decisions could have an impact on our whole Nation. The Defense of Marriage Act declares that no state is required to accept another state's definition of marriage. If that act is overturned by activist courts, then marriages recognized in one city or state might have to be recognized as marriages everywhere else. That would mean that every state would have to recognize marriages redefined by judges in Massachusetts or local officials in San Francisco, no matter what their own laws or state constitutions say. This national question requires a national solution, and on an issue of such profound importance, that solution should come from the people, not the courts.
An amendment to the Constitution is necessary because activist courts have left our Nation with no other choice. The constitutional amendment that the Senate will consider next week would fully protect marriage from being redefined, while leaving state legislatures free to make their own choices in defining legal arrangements other than marriage. A constitutional amendment is the most democratic solution to this issue, because it must be approved by two-thirds of the House and Senate and then ratified by three-fourths of the 50 state legislatures.
As this debate goes forward, we must remember that every American deserves to be treated with tolerance, respect, and dignity. All of us have a duty to conduct this discussion with civility and decency toward one another, and all people deserve to have their voices heard. A constitutional amendment will put a decision that is critical to American families and American society in the hands of the American people, which is exactly where it belongs. Democracy, not court orders, should decide the future of marriage in America.
Thank you for listening.
END
Discurso Radial del Presidente a la Nación
Audio
EL PRESIDENTE: Buenos Días. La semana entrante el Senado de los Estados Unidos comenzará a debatir una enmienda constitucional que define el matrimonio en los Estados Unidos como la unión de un hombre y una mujer. El lunes me reuniré con una coalición de líderes comunitarios, autoridades constitucionales, organizaciones familiares y cívicas, y líderes religiosos. Son Republicanos, Demócratas e Independientes que se han juntado para apoyar esta enmienda. Hoy quiero explicar porqué yo apoyo la Enmienda de Protección del Matrimonio - y porqué estoy recomendando al Congreso que la apruebe y la envíe a los Estados para ser ratificada.
El matrimonio es la institución humana más duradera e importante - honrada y alentada en todas las culturas y por todas las religiones. Años de experiencia nos han mostrado que el compromiso de un esposo y una esposa al amor y a servir el uno al otro promueve el bienestar de los hijos y la estabilidad de la sociedad. El matrimonio no puede aislarse de sus raíces culturales, religiosas y naturales sin debilitar esta buena influencia sobre la sociedad. El gobierno, al reconocer y proteger el matrimonio, sirve los intereses de todos.
En nuestra sociedad libre, las personas tienen el derecho de escoger cómo vivir sus vidas. Y en una sociedad libre, las decisiones sobre una institución social tan fundamental como lo es el matrimonio deben claramente ser tomadas por las personas -no por los tribunales. El pueblo estadounidense se ha pronunciado claramente sobre este punto, tanto a través de sus representantes cómo en las urnas electorales. En 1996, el Congreso aprobó la Ley de Defensa del Matrimonio por mayorías bipartitas abrumadoras tanto en la Cámara de Representantes como en el Senado - y el Presidente Clinton la sancionó. Y desde entonces, votantes en 19 estados han aprobado enmiendas a sus constituciones estatales que protegen la definición tradicional del matrimonio. Y hoy en día, 45 de los 50 estados tienen ya sea una enmienda constitucional estatal o un estatuto que define el matrimonio como la unión de un hombre y una mujer. Estas enmiendas y leyes expresan un consenso amplio en nuestro país por proteger la institución del matrimonio.
Desafortunadamente, en años recientes, jueces activistas así como algunos oficiales locales han tratado en forma agresiva de redefinir el matrimonio. Desde 2004, tribunales estatales en Washington, California, Maryland y Nueva York han derrocado leyes que protegen al matrimonio en esos estados. Y en Nebraska un juez federal declaró nula una enmienda constitucional estatal que prohibía matrimonios entre personas del mismo sexo.
Estas decisiones en nuestros tribunales podrían tener un impacto sobre toda nuestra Nación. La Ley en Defensa del Matrimonio declara que ningún estado está obligado a aceptar la definición del matrimonio de otro estado. Si esa ley es nulificada por tribunales activistas, entonces los matrimonios reconocidos en una ciudad o en un estado podrían tener que ser reconocidos como matrimonios en otras partes. Eso significaría que cada estado tendría que reconocer los matrimonios redefinidos por jueces en Massachussetts o por oficiales locales en San Francisco - no obstante lo que digan sus propias leyes o constituciones estatales. Esta pregunta nacional ahora requiere una solución nacional - y en un tema de importancia tan profunda, esa solución debe venir del pueblo y no de los tribunales.
Una enmienda a la Constitución es necesaria porque los tribunales activistas han dejado a nuestra Nación sin ninguna otra opción. La enmienda constitucional que el Senado considerará la semana próxima protegería completamente al matrimonio contra ser redefinido - dejando al mismo tiempo que las legislaturas estatales estén en libertad de tomar sus propias decisiones para definir arreglos legales que no sean el matrimonio. Una enmienda constitucional es la solución más democrática para este tema, ya que debe ser aprobada por las dos terceras partes de la Cámara de Representantes y del Senado... y luego ratificada por las tres cuartas partes de las 50 legislaturas estatales.
A medida que este debate se lleve a cabo, debemos recordar que todo estadounidense merece ser tratado con tolerancia, respeto y dignidad. Todos tenemos un deber de llevar adelante esta discusión con civilidad y decencia el uno hacia el otro - y todas las personas merecen que sus voces sean escuchadas. Una enmienda constitucional pondrá una decisión que es fundamental para las familias estadounidenses y la sociedad estadounidense en manos del pueblo estadounidense - exactamente donde debe estar. La democracia, y no las órdenes judiciales, deberá decidir el futuro del matrimonio en los Estados Unidos.
Gracias por escuchar.
Yahoo! News Full Coverage: Gay & Lesbian Issues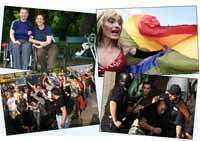 Bucharest Daily News 2006/06/05
Gay Parade again marred by violence
Otilia Haraga
Over 500 gay rights activists pleaded for civil partnership legalization and an end to discrimination, during the Gay Parade on Saturday amid jeers and anti-gay protests bordering on violence.
As the designated hour for the beginning of the march drew nearer, the atmosphere grew more and more tense. Remarks such as "We are not homosexuals, we are real men" coming from groups of people gathering for anti-gay protests could be heard, while a massive police barricade flanked the street. Officers on horseback and in cars together with gendarmes positioned every ten meters showed the police had prepared for the worst.
Romanian and foreign gay rights activists, as well as supporters of their cause, carrying colored balloons and a 200-meter long rainbow flag -- a symbol for harmony and diversity which has been the banner for other gay pride parades organized all over the world -- began their march on Unirii Boulevard and reached Unirii Square in a relatively short period of time. The procession, shouting "We Love You!" and "Homophobia - the Worst Disease," was headed by Romanita Iordache, the president of the Accept Association, Florin Buhuceanu, executive manager of Accept, Diane Fisher, bishop at the Metopolitan Community Church, and Romanian Princess Briana Caradja, who had come to support the march.
The first incidents took place about five minutes after the march commenced, when people from the balconies of the blocks on Unirii Boulevard started throwing eggs and stones at the participants. One of the most severe altercations occurred close to Unirea Shopping Center when about 60 people tried to break through the police barricade to attack the marchers. After being stopped by the police, they centered their fury on the security forces instead, throwing stones at them, which led to 50 people being detained.
All in all, the parade lasted roughly two and a half hours, as the marchers continued on to Constitutiei Square, where they were met by another wave of protesters, Libertatii Boulevard and Natiunile Unite Boulevard. The march came to an end in the proximity of Izvor Park, where the participants dispersed under the surveillance of the police, some of them taking the subway while others went home by cab.
Londoner Eirwen Edwards, 37, and Anne Matthews, 46, were among the gay-rights activists participating in the march. "I wanted to support it. I am interested to see what the situation in this country is and had some interesting conversations with people along the way," said Edwards, who was in a wheelchair pushed by her partner, as she is only able to walk short distances. She said "an accident" prevents her from returning completely to her previous way of life. "When I was last in Romania, homosexuality was illegal. Now it's different, but it is still a tense situation. The atmosphere within the march was great, but unfortunately the atmosphere was very aggressive."
Even while they gave statements to Bucharest Daily News, a group of people nearby were looking in a strange, curious manner, prompting both them and BDN reporters to head for safer surroundings. "Within a few years, maybe not," said Edwards when asked her opinion about whether civil partnerships are likely to be legalized in Romania in the near future. "But also I think because of gay pride movements elsewhere, there is that foundation that Romania can join into, so it might not take as long, especially with Romania entering the European Union." Having been with Anne Matthews for three years, the couple declared that in their case marriage is not an option, particularly since they have another partner in England.
Once the gay-rights activists had exited the tightly secured perimeter and started heading off to their various homes, violence could no longer be contained. Six participants of the Gay Parade, among which two were foreign citizens (an Italian and a Spaniard) and two girls, were attacked and beaten between the Izvor and Piata Unirii subway stations. One of the victims told the Mediafax news agency that their attackers were a group of young people aged 20 to 25 and none of the passengers on the train intervened in the scuffle. "We got on the subway at Izvor station and it did not take three minutes before they rushed upon us. There were about six or seven of them. ... They held onto the upper bars with their hands and kicked us with their feet in the head and the shoulders, wherever they could," stated one of the victims for the Mediafax press agency. A photographer who was nearby managed to take some pictures, but he too was hit by one of the aggressors. According to the victims, all this happened without any of the other passengers intervening, all the passengers in the proximity moving to the other side of the wagon. "One of the girls called to them for help. She said "You are people too, how can you not say anything?" but nobody reacted," said the victim. According to the Accept executive manager, Florin Buhuceanu, the victims will submit complaints at the police and the association will grant them legal assistance. "It is sad that it comes to such manifestations against people who exercise rights in a democratic fashion as the Constitution allows," said Buhuceanu for the Mediafax News Agency with reference to the event.
The Gay Parade took place under the sign of tolerance and diversity, being part of the GayFest event, which covered an entire week of debates, movie projections and theater plays focusing on the situation of the gay community. About six hours before, a counter- manifestation organized by the New Right Christian Forum took place for the promotion of traditional family values and "normality." The Right Wing denied any involvement in the incidents during the Gay Parade and the president of the organization, Tudor Ionescu, warned they would sue those who unjustly accuse the organization. Earlier this week, the Romanian Orthodox Church, to which about 80 percent of the Romanians are affiliated, labeled the gay parade as an "attack against the morality of public life, the sacred institution of family and endangering the formation of the young generation," condemning the local authorities for authorizing the march. Last year, Bucharest City Hall gave the green light to the march only after the intervention of President Traian Basescu and Justice Minister Monica Macovei, also prompting the discontent of the Council Against Discrimination.
BBC
Last Updated: Sunday, 4 June 2006, 00:52 GMT 01:52 UK
Clashes mark Romanian gay pride

Police used teargas and batons against the protesters
Militant protesters trying to break up a gay rights march in the Romanian capital, Bucharest, have clashed with riot police who made dozens of arrests.
Ten people were reportedly injured in the violence at the GayFest event which saw hundreds of gay rights activists marching against discrimination.
They were also calling for the legalisation of same-sex marriages.
Hundreds of protesters turned out, some throwing eggs, stones and plastic bottles at the marchers.
Correspondents point out that homosexuality is legal in Romania but the public largely accepts the majority Orthodox Christian Church's view that it is a sin.
"Romania does not need you," was one chant heard among the protesters who included Orthodox nuns and a priest brandishing crosses.
Foreign supporters
Earlier, Bishop Ciprian Campineanu told a televised meeting that the Bucharest march was "an outrage to morality and to the family".
In pictures: Bucharest march
Reuters news agency reports that protesters were injured when they clashed with the police, who fired teargas and used batons to hold them at bay.
Gay people from Spain, Britain and Serbia also attended the march, the Associated Press reports.
Ed Rekosh, a US human rights lawyer who attended the march with his wife, said he believed homosexuals should have the same marital rights as heterosexuals.
"If they love each other they should have the same rights as others who love each other," he said.
Homosexuality was fully decriminalised in Romania in 2001 after partial decriminalisation in the 1990s.
The first Bucharest GayFest march took place in 2005 after an initial ban was overturned.
Romanian anti-gay protesters clash with police
Sat 3 Jun 2006 3:55 PM ET

BUCHAREST, June 3 (Reuters) -
Ten people were injured and dozens detained when militant protesters trying to break up a gay rights march clashed with riot police in the Romanian capital on Saturday, police said.
Hundreds of activists marched through downtown Bucharest to protest against discrimination in the largely conservative society and call for the legalisation of same-sex marriages.
But the parade was disrupted by more than a thousand protesters, who threw eggs, stones and plastic bottles at the activists, who were shielded by police in trucks.
Some protesters, including Orthodox nuns and a priest, carried crosses and chanted "Romania does not need you". Some protesters clashed with police, who fired tear gas and used batons to hold them at bay. They detained 51 people. "Romania has problems with accepting any minorities," Octav Popescu, one of the parade organisers told Realitatea TV.
Homosexuality is legal in Romania, which hopes to join the European Union in 2007, but the public largely accepts the powerful Orthodox church's view that it is a sin and a disease.
The Australian
Japanese call on patriotism to battle fears of rising juvenile delinquency
Peter Alford, Tokyo correspondent
June 05, 2006
CAN learning to love their country steer Japanese schoolchildren away from the snares of delinquency, which apparently lurk everywhere, even in the world's most law-abiding nation?
Conservatives hope so, because though hard evidence does not support their notion that youngsters are going off the rails in large numbers, teenagers are the object of great moral fluster in Japan.
"You cannot speak to young people on the train nowadays - they will knife you," declares an after-work drinker in a suburban Tokyo bar. His companions, middle-aged office workers, agree emphatically.
Pressed for first-hand examples, they talk about kids sprawling on seats, talking loudly, eating in public, and schoolgirls wearing cosmetics. The knifings invariably come from the newspapers.
"There is moral decay among juveniles and ever-younger members of society are committing crimes," editorialised Yomiuri Shimbun, the world's biggest-selling daily newspaper, in support of the "patriotic education clause" in the revised Fundamental Law on Education.
The new law would make it public education policy to teach "an attitude that respects tradition and loves the nation and homeland that has fostered them, respects other nations and contributes to the development of international society".
Though that wording seems benign, critics on the lookout for new manifestations of Japan's old ultra-nationalism claim the Liberal Democratic Party is softening up the electorate for its real objective: amending the pacifist postwar constitution.
"There's been no revision of the fundamental law since 1947 and there has been no necessity to change before because everyone, from the LDP to the socialists, agreed on the basic principles of education," says Mikio Someya, of the Japan Teachers Union.
"Many of those positions have been eroded under the Koizumi Government, and now it is changing these laws with the ultimate view of revising the constitution."
However, conservatives were disappointed last week when Prime Minister Junichiro Koizumi decided against extending the national Diet's spring session to pass the revised law before he retires in September.
But its absence does not mean patriotic education is impossible. Prefectural education boards can allow school principals to include the subject in social studies courses, and even grade students on their love of country. In Saitama, north of Tokyo, 52 schools are already doing that.
The revised law does not call for patriotic evaluation, and Mr Koizumi thinks it is a bad idea. But some education boards could take the law as a licence for de facto compulsion of patriotism.
That's what happened after 1999, when the Government allowed schools to choose to raise the Rising Sun flag each morning and have voluntary singing of the Kimigayo anthem. Since 2003, more than 300 teachers have been disciplined for refusing to sing the anthem, more than 90 per cent in Tokyo, where nationalist governor Shintaro Ishihara holds sway.
Given the public mood, it is likely Mr Koizumi's successor will return the education bill to the Diet later in the year.
Although the Government does not explicitly equate an absence of patriotism with low moral fibre, the Central Council on Education, which supports patriotic education, does. "It's difficult for present-day youth to have dreams and purpose and their will to observe (social) norms, public morality and self-discipline has been declining," the council, a panel of eminent and mainly elderly people, grumbled in its advisory paper.
Several months after the paper was prepared in 2004, Japan suffered one of those "What have we become?" moments. Satomi Mitarai was fatally stabbed at school by an 11-year-old classmate, who took offence at something her friend had written on the internet page they shared.
It was a sad but rare occurrence, as Mariko Hasegawa, a behavioral scientist, said at the time.
"The media focuses on these terrible crimes committed by a few mentally damaged individuals, but they make out anyone can do such a thing," Hasegawa said.
But Satomi's killing came weeks after the release of official data reportedly showing a juvenile crime surge. True enough, the 2212 serious offenders aged 14 to 19 years in 2003 - out of about 6.7 million in that age group - was the highest total in four years.
But it was not anywhere close to the juvenile crime peak in 1983 when, in popular memory, youngsters were generally much better behaved, or 1964 when many of today's worried grey-heads were in their first flush. As the Satomi stories were being written, juvenile crime - as measured by arrests and convictions - was falling, and it fell again last year.
What the youngsters themselves think of all this is almost inscrutable to a foreign journalist with an uncertain grasp of their language, and perhaps also to many Japanese parents.
Theirs is not a culture that encourages intra-generational frankness, except when senior citizens exercise their customary right to scold anyone younger for bad manners. This tradition is fading, however, because some young adults are no longer docile when tongue-lashed.
Last May, an elderly woman approached a 22-year-old at a Tokyo subway station and gave her an earful for fixing her mascara in public. The office lady responded with a vigour that, unfortunately for them both, propelled her critic into the side of a moving carriage.
Hiromi Osedo, 17-year-old daughter of The Australian's Tokyo office manager, says she can see why old folk are anxious and annoyed, but they miss the point.
She thinks the real juvenile problem these days is people turning aggression inwards, from hikikomori (the youngsters who refuse to leave their rooms) to youth suicides. Last year, 433 university students and 281 high school students killed themselves, as did seven primary schoolkids.
"In the trains, I know youngsters do behave badly (Hiromi's talking about sprawling, not knifing) and the old people notice that. They blame us, but they also blame our parents for not disciplining us," she said.
"But things were worse a decade ago, in my brother Yoji's time. Then there was a lot of bullying and other really bad behaviour among high school girls. We're more disciplined now and study harder, especially the ones who are going on to university."
And patriotic education?
"It won't work," Hiromi says firmly. "If the politicians are serious about this, it will make the students like North Koreans."
She means brain-washed, but Bradley K. Martin reveals in Under the loving care of the fatherly leader: North Korea and the Kim dynasty that the teenagesons of Pyongyang apparatchiks have long indulged in serious gang fighting, despite all their patriotic education.
▲
by

alfayoko2005

| 2006-06-05 09:32 | 国内政治
The New York Times
Race to Lead Japan May Turn on Asia Ties
By NORIMITSU ONISHI
Published: June 4, 2006
TOKYO, June 3 — With Prime Minister Junichiro Koizumi set to retire in September, the battle in the governing Liberal Democratic Party over who will succeed him as party leader and prime minister is well under way. So far, the race is turning into a referendum on what to do about Japan's troubled relations with its Asian neighbors, especially China.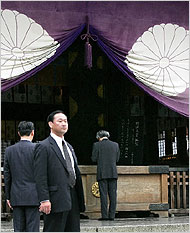 Kazuhiro Nogi/Agence France-Presse - Getty Images
Premier Junichiro Koizumi, right, at the Yasukuni Shrine in 2005.
China Rises
Inside the New China
A four-hour television series and interactive web site by The Times, The Canadian Broadcasting Corporation and the ZDF network of Germany.
nytimes.com/chinarises »
Japan's relations with China and South Korea have chilled, particularly in the last year, because of several disputes over history, territory and Mr. Koizumi's visits to the Yasukuni Shrine, the memorial where the country's highest-ranking war criminals are enshrined.
Polls here indicate the race is now between politicians with starkly different views: Shinzo Abe, 51, the chief cabinet secretary, who has said that a Japanese prime minister should visit the Yasukuni Shrine and who has become extremely popular by being tough on North Korea and China; and Yasuo Fukuda, 69, a former chief cabinet secretary, who has criticized Mr. Koizumi's visits to the Shinto shrine and talked of rebuilding friendly ties with the rest of East Asia.
Although neither has yet declared his candidacy for the September party election, Mr. Abe leads in the polls. Mr. Fukuda has narrowed the gap significantly in recent weeks, however, buttressed by what experts say is the growing public sentiment that fixing ties with China should be one of the next prime minister's top priorities.
"I think that's a major factor," Takenori Kanzaki, the leader of the New Komeito, the Liberal Democratic Party's junior coalition partner, said in an interview. "I think that Abe, the chief cabinet secretary, will basically follow the Koizumi line, including foreign policy. By contrast, Fukuda, the former chief cabinet secretary, says clearly that he will revise it. So in that sense, the focus is on Abe versus Fukuda."
Mr. Kanzaki — whose Buddhist-backed party opposes the Yasukuni visits — said they "lie at the root" of Japan's strained ties with China and South Korea.
Mr. Koizumi has said that his annual visits are to mourn for the war dead and to pray for peace. But to Asian nations invaded by imperial Japan, the shrine is a symbol of Japanese militarism; its museum espouses the rightist view that Japan waged war in Asia to liberate it from European domination and was tricked into war by the United States.
The Yasukuni visits have punctuated disagreements over history between Japan and its Asian neighbors. Beijing and Seoul have suspended top-level meetings with Tokyo as a result.
Inside Japan, criticism of the visits has risen along with fears that strained relations with its neighbors will hurt Japan economically, isolate it diplomatically and weaken its alliance with the United States.
The Japan Association of Corporate Executives, a prominent business association, recently released a 13-page statement opposing the Yasukuni visits and calling for the building of a nonreligious war memorial. The group said the visits had damaged relations with China and Japan's national interests, and its chairman said bluntly in a news conference that Mr. Koizumi's successor should refrain from visiting the shrine.
Mr. Koizumi has been one of the Bush administration's staunchest supporters in the war in Iraq, and has strengthened Japan's military ties with the United States. Although hawks in Washington have applauded Mr. Koizumi's tough stance against China, concerns about Japan's worsening ties with China have grown among moderate Republicans and Democrats.
Michael Green, the former director of Asian affairs at the National Security Council who is now at Georgetown University, said the Bush administration believes "it would not be helpful for the U.S. to broker a resolution to these sensitive historical issues."
"But there is a growing consensus in Japan that the next prime minister needs to take proactive measures to improve relations with China," Mr. Green said in an interview during a recent visit here. "That would be good. If that doesn't happen by 2008 when the next administration in the U.S. takes over, people may start questioning how much we can rely on Japan."
In speeches and interviews, Mr. Abe has played down the strained ties with China and South Korea. Instead, he has emphasized the importance of strengthening diplomatic ties with Asian countries, like India and Australia, that have "common values" with Japan.
In a recent interview with the Nihon Keizai Shimbun, Japan's major economic daily, Mr. Abe said Japan would continue to do business with China, but called China a destabilizing factor in Asia.
"We don't share basic values like freedom and human rights," he said. "If you ask me whether the rule of law is established there, it's not."
By contrast, in a recent speech, Mr. Fukuda said Japan needs to revise its policy toward the rest of Asia. Mentioning the Asia policy that was carried out by his father, Takeo Fukuda, a prime minister in the 1970's, he said that Japan must resume "heart-to-heart" dialogue with its neighbors and ultimately build an East Asian community.
Mr. Fukuda said that Mr. Koizumi's visits to Yasukuni had had no positive effect on Japan.
With the growing criticism against the Yasukuni visits here, Mr. Abe has recently softened his stance. Asked directly whether he would continue the visits as prime minister, he has refused to answer. In the past, he has said that he would want any future prime minister to continue the visits.
In general, Mr. Abe is regarded as ideologically more conservative than Mr. Koizumi. For instance, Mr. Koizumi has stated that he accepts the validity of the postwar Tokyo Trials, which found Japanese guilty of war crimes, including the 14 Class A war criminals enshrined in Yasukuni. In a recent parliamentary debate, Mr. Abe indicated strongly that he did not believe the trials were valid.
Also, in Parliament and in television interviews, asked directly whether Japan had led a war of aggression or liberation in Asia, Mr. Abe has said that he would leave the judgment to future generations or historians.
"On the issue of how to define the last great war, I think it's not the government's job," Mr. Abe said in a parliamentary exchange in February.
Though Mr. Fukuda is thought to have the support of moderates and businesspeople, Mr. Abe is believed to be more popular among the actual voters in the September election: party members.
Hiroshi Imazu, a lawmaker who has yet to decide whom to support, said he endorses Mr. Koizumi's tough stance toward China. The leader of a group of lawmakers that supports visits to Yasukuni, Mr. Imazu said that Japan had become diplomatically isolated.
"But I don't think the fault is Koizumi's, but China and South Korea's attitude," he said.
Mr. Abe is considered by party members and the public to be more of a charismatic, Koizumi-style politician capable of appealing directly to voters and carrying the party to victory in general elections. Perhaps because of his age, Mr. Fukuda is regarded as belonging to an older generation of politicians more comfortable making deals in smoke-filled rooms.
"Abe has made himself clear on various issues to the people, while Fukuda seems like an old-style politician," said Jozo Takeda, a legislator in Hyogo Prefecture.
Mr. Abe is also said to enjoy more support in the regional party branches, where members are concerned less with foreign diplomacy than pocketbook issues, especially the widening inequality gap between urban and rural areas.
"We'll make a decision and vote on this issue," said Fumito Murakami, secretary general of Akita Prefecture's party branch. "We don't care about foreign policy."
▲
by

alfayoko2005

| 2006-06-05 07:03 | 国内政治
シュワ知事の人気回復、再選に向けタフさ発揮
(2006年6月5日1時26分 読売新聞)
 【ロサンゼルス=古沢由紀子】低迷が続いていた米カリフォルニア州のアーノルド・シュワルツェネッガー知事(共和党)の人気が急速に回復している。
 再選を目指す今秋の中間選挙に向けて民主党寄りの姿勢を打ち出したためで、持ち前のタフさを発揮している。
 知事が6日の同州予備選で共和党候補に選出されるのは確実な情勢。一方、民主党では有力候補2人がしのぎを削っているが、知名度では元ハリウッドスターに及ばない。
 2日公表された世論調査では、知事を「好ましい候補」とした有権者は46%で、昨秋時点より8ポイント上昇。無党派層に限れば、18ポイントも増えた。逆に「好ましくない」とした人は8ポイント減少して46%に。民主党の2人の支持率と比較しても、2005年6月の調査開始以降初めて両者をリードした。
 知事は、前知事のリコールに伴う選挙で03年に初当選。しばらく高い人気を誇ったが、徹底した財政再建策などで共和党色を強めたため支持が急落、再選に黄信号がともっていた。
 このため知事は、民主党元幹部の女性を側近に起用して周囲を驚かせたほか、教育費増額、地球温暖化対策などリベラル色の強い政策に転換。政府の不法移民対策も批判し、同州で特に不人気のブッシュ大統領とも距離を置いている。
 身内の共和党からは「変わり身が早すぎる」との反発もあるが、民主党サイドは「党派色を薄める知事の戦略は成功している」と危機感をあらわにしている。
(2006年6月5日1時26分 読売新聞)