カテゴリ
以前の記事
検索
最新のトラックバック
その他のジャンル
ファン
記事ランキング
ブログジャンル
画像一覧
Historic Judy Garland concert restaged in New York
Thu Jun 15, 2006 7:03 AM EDT
By Chris Michaud

NEW YORK (Reuters)
- Eclectic pop singer Rufus Wainwright bridged musical generations on Wednesday with a daring re-creation of Judy Garland's legendary 1961 concert at Carnegie Hall.
Wainwright took the stage to thunderous applause from the sellout crowd and launched straight into the first number, "When You're Smiling."
The Canadian crooner said, "We're not in Kansas anymore, we're in New York," -- a play on the memorable line from the "Wizard of Oz" movie which launched Garland's career. Backed by a 40-piece orchestra, Wainwright then restaged the monumental concert often called the greatest single night in show-business history.
Garland's double album, "Judy at Carnegie Hall," won two Grammys, including Album of the Year, and became her best-selling record, made when she was 39.
Wednesday's show was the first of a sold-out two-night run.
Among some two dozen numbers were classics such as "Do It Again," "That's Entertainment!" and "Puttin' on the Ritz."
But it was the songs most closely associated with Garland -- "San Francisco," "The Man That Got Away," "The Trolley Song," "Swanee," "Chicago" and her signature, "Over the Rainbow," that drew the strongest response.
Wainwright's dreamy, reedy tenor marked an arresting counterpoint to Garland's throaty belting.
Wainwright, like Garland, made it a family affair. He performed with his mother, Kate McGarrigle, his sister Martha, and Garland's daughter, Lorna Luft, who appeared for a duet rendition of "After You've Gone."
Liza Minnelli, Garland's other daughter, did not appear on stage.
Wainwright spoke often of Garland's influence during the performance, which was filmed by Oscar-winning director Sam Mendes. "When I was a kid I wanted to be Dorothy," he said.
He cracked at one point, "I'm going to speak now, because on the album Judy speaks here." When a light malfunctioned, he joked, "this didn't happen in the original."
Garland's Carnegie Hall concert was one of several comebacks throughout her troubled life, which ended with her death in 1969 at 47.
Not long before the show she had nearly died from hepatitis and was told her career was over. The Carnegie Hall performance defied that prognosis, and spawned a 16-city U.S. tour and years of sold-out concerts.
Stars in the audience 45 years ago included Rock Hudson, Richard Burton, Julie Andrews and Henry Fonda. On Wednesday, Sarah Jessica Parker, Joel Gray, director John Waters, Gina Gershon and designer Patricia Fields were among the fans who gave Wainwright several standing ovations.
"I did feel a real connection to Judy Garland and did really commune with her," Wainwright said at the show's end.
It was clear from the ecstatic response that the thousands who attended felt the same way.
Reuters/VNU

BBC
Last Updated: Thursday, 15 June 2006, 12:31 GMT 13:31 UK
Wainwright brings Garland to life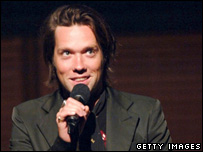 Wainwright said after the show he "felt a real connection" with Garland
Canadian singer Rufus Wainwright has recreated Judy Garland's legendary 1961 concert at Carnegie Hall in a sell-out show in New York.
Wainwright performed several of Garland's most famous numbers at Wednesday's concert, including Chicago and Over The Rainbow.
Garland's original show has often been called the greatest single night in show-business history.
"When I was a kid, I wanted to be Dorothy," Wainwright told the audience.
The singer will perform a second concert on Thursday evening.
Momentous
Wainwright performed with Garland's daughter Lorna Luft on the duet, After You've Gone, but her other daughter, Liza Minnelli, did not appear on stage.
Garland's Carnegie Hall concert was one of several comebacks during her troubled life - she nearly died from hepatitis not long before the show.
Rock Hudson, Julie Andrews, Richard Burton and Henry Fonda were among the audience.
Her double album, Judy at Carnegie Hall, won two Grammys, including album of the year. It went on to become her best-selling record. She died at the age of 47 in 1969.
Wainwright first found fame in the US with his self-titled debut album in the spring of 1998.
ルーファス・ウェインライト (ユニヴァーサル・ミュージック)
Source: AAP
Fight not over on gay unions: ACT
June 15, 2006
ACT Attorney-General Simon Corbell has lashed out at the Senate decision to reject a move to overturn the federal ban on civil union laws, describing it homophobic.
Senators today voted 32-30 to reject the motion which would have reversed the Federal Government's ban on the ACT law.
"I am disappointed by the decision, but not surprised," Mr Corbell told AAP.
"It is a homophobic decision."
Mr Corbell supported the historic decision of Liberal senator Gary Humphries to cross the floor.
"I welcome his decision to support the right of the territory to make laws that affect our community."
The ACT will now look to create a new Act, but Mr Corbell warned it will not be watering down the intention of the original law.
"It's still our intention to give the same level of recognition provided for in the Civil Unions Act," Mr Corbell said.
Senator Humphries earlier told the Senate there were many duties a member of parliament had to perform, and many loyalties owed.
"But mine primarily must be to the people who elect me, to the people of the Australian Capital Territory," he said.
"And I recognise that they have, in effect, through the democratic process, made a decision and I believe we need to respect and honour that decision."
オーストラリアに負けた!首都キャンベラ周辺地域(ACT)のシヴィル・ユニオン法
June 15, 2006 - 1:20 AM
Japan lobby group backs patriotism
By Linda Sieg

TOKYO (Reuters)
- A Japanese lobby group which backs traditional values, seeks to rewrite the U.S-drafted constitution and wants schools to teach patriotism is winning growing support for its agenda from both ruling and opposition party politicians.
Nippon Kaigi (Japan Conference) is also keen for the prime minister to visit a shrine for war dead on the anniversary of Japan's defeat in World War Two -- an emotive date in Asia -- and preserve an ancient tradition of males-only imperial succession.
"We are dedicated to our conservative cause. We are monarchists. We are for revising the constitution. We are for the glory of the nation," commentator Hideaki Kase, a member of the group told Reuters in an interview.
"We represent Japan's 'red' prefectures," added Kase, comparing supporters of Nippon Kaigi -- founded almost a decade ago -- to the conservative voters who helped to elect U.S. President George W. Bush.
Central to Nippon Kaigi's platform is a desire to restore values such as group harmony, or "wa", and devotion to the public good -- a moral code they say was eroded when U.S. Occupation authorities gave pride of place to individualism in an effort to root out militarism after Japan's 1945 defeat.
A lack of such values, supporters argue, fosters violent juvenile crime, classroom chaos and corporate scandals.
"Of course, it is important to respect autonomy, but people do not live on their own," Liberal Democratic Party (LDP) lawmaker Hakubun Shimomura, told Reuters in an interview.
"We need to rear children who have a spirit of contributing to society," added Shimomura, secretary-general of a 246-member group of MPs with close ties to Nippon Kaigi.
"We want to preserve Japan's national character. I don't think that is 'nationalism'," he said.
LOYAL FOLLOWERS
Nippon Kaigi has long urged Japanese prime ministers to visit the Yasukuni shrine, where World War Two leaders convicted as war criminals by an Allied tribunal are honoured along with fallen soldiers, on the August 15 anniversary of Japan's 1945 defeat.
Japan's ties with China and South Korea, where bitter memories of Tokyo's military aggression run deep, have chilled since Prime Minister Junichiro Koizumi began annual visits to Yasukuni in 2001, though he has avoided the emotive August 15 date.
Nippon Kaigi's secretary-general, Yuzo Kabashima, said the group had 50,000 paid-up members, while its supporters, including members of Shinto and other religious groups, numbered around 6 million, a figure some analysts questioned.
Foreign Minister Taro Aso, a dark-horse candidate to succeed Koizumi, is a former chief of the parliamentarian support group, while front-runner rival, Chief Cabinet Secretary Shinzo Abe, has been a member, although both left the group when they joined the cabinet, a Nippon Kaigi official said.
"The liberals in the LDP were the major current for a long time, but in terms of power and influence, not any more," said Sven Saaler, an associate professor at the University of Tokyo.
"All this lobbying by Nippon Kaigi has contributed to a change in the LDP and a change in the balance."
Momentum has been building in the LDP and the main opposition Democratic Party to revise the U.S.-drafted, pacifist post-war constitution to resolve the ambiguous status of the military as Japan seeks a bigger regional and global security role.
The government has also submitted a bill to change another Occupation-era law spelling out the goals of education policy, to include instilling "love of country" -- a change critics say has disturbing echoes of wartime teaching.
The bill looks set to be taken up in an extra session of parliament this autumn.
Plans to revise the imperial succession law to permit females to take the throne have been put on hold while the country waits to see if a pregnant princess gives birth to a boy.
And a caveat against trying to erase all sex-based differences -- a goal Nippon Kaigi fears feminists are pursuing -- was included in a government gender equality plan last year.
Still, Kabashima said the pace of change was too slow as the key issues "still run on rails laid down by the Occupation. So Japan is not really an independent, sovereign nation."
The extent to which Nippon Kaigi's values-based agenda resonates with the broader public, though, is hard to gauge.
"The positions that Nippon Kaigi takes are non-mainstream, yet they have tremendous influence in the ruling party," said Andrew Horvat, a visiting professor at Tokyo Keizai University.
"I think Japan is headed for a very divisive debate on values."
▲
by

alfayoko2005

| 2006-06-15 11:39 | 国内政治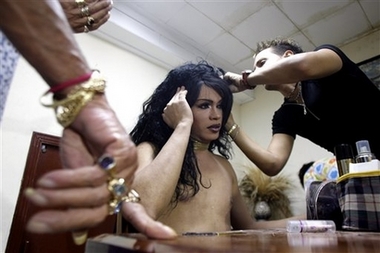 Abrahan Bueno, whose stage name is 'Dark Imperio,' prepares for a show as he gets his wig adjusted in a night club in Havana,Cuba, June 2, 2006. Once persecuted, then excluded, and finally tolerated, gay Cubans such as Bueno have seen the debate over sexual diversity explode in recent weeks as the nation is riveted by a soap opera featuring gay characters. Bueno hopes such debate will eventually allow gays to form associations and set up public spaces where they can express themselves with official approval, rather than gathering somewhat clandestinely. (AP Photo/ Javier Galeano)
Cuban soap opera sparks debate
By ANDREA RODRIGUEZ, Associated Press Writer
Wed Jun 14, 4:46 PM ET
Once persecuted, then excluded, and finally tolerated, Cuban homosexuals have seen the debate on sexual diversity expand in recent weeks as a state-sponsored soap opera featuring some gay characters has riveted the nation.
In a recent episode of "La Cara Oculta de la Luna," or the "Dark Side of the Moon," Yasel, who is married and the father of a little girl, is as surprised as viewers are to discover he is physically attracted to another man, named Mario.
The attraction leads to a sexual relationship and Yasel's subsequent contraction of the HIV virus that causes AIDS.
The series on state television is intended to educate Cubans about AIDS by telling the stories of those with the virus.
But it also has sparked a more open debate about homosexuality in a society where macho attitudes persist. And while some Cubans have welcomed the debate, others have been offended, questioning why such subject matter is even discussed on "revolutionary" state television.
"From now on, these themes will have to be discussed with more frankness," said Fredy Dominguez, script writer for the telenovela that has sparked discussions among Cubans of all ages and walks of life.
Reactions from some viewers were so intense that the government brought together a panel of experts to discuss the show. One viewer called in, outraged that homosexual relationships were presented "as if they were natural."
"It compels us to be better people, to be more tolerant," said panelist Manuel Calvino, a well-known psychologist.
"The show isn't a work of art; a lot of criticisms could be made," Mariela Castro, director of Cuba's National Center for Sex Education, said in an interview. "But the debate is satisfying."
Castro, whose center works to educate the public about sexual diversity, said an open discussion of such issues can help ease persisting prejudices and stigmas.
"Before, it would have been unthinkable to show this subject on Cuban television," agreed Tomas Fernandez Robaina, a 65-year-old gay professor.
But some other gay Cubans worry the show could perpetuate the idea that AIDS is punishment for homosexual activity.
"In the end, it treats homosexuality from an unhappy point of view. It's a sad story," said Olivia Prendes, a 34-year-old lesbian. "It's a continuation of the same silence."
What Cuban gays need is not just tolerance, but acceptance and respect, Prendes and others said.
Still, things have changed greatly since the 1960s, when gays were placed in work camps to be re-educated along with political dissidents, Jehovah's Witnesses and hippies.
The camps were phased out in the 1970s, but gays continued to live on society's margins, kept away from young people and key government jobs.
The exclusion gays suffered during those years was famously described by the late Cuban exile author Reinaldo Arenas in his memoir, "Before Night Falls," which was made into a film released in 2000, and other works. The film led to an Oscar nomination for actor Javier Bardem, who portrayed Arenas.
After losing his job and being jailed in the 1970s, Arenas left the island during the Mariel boatlift of 1980 and settled in New York, where he later died.
In the 1990s, the Cuban film "Fresa y Chocolate," or "Strawberry and Chocolate," did much to confront the stereotypes of homosexuality on the island.
Nominated for an Academy Award in the Best Foreign Film category in 1995, the movie by Cuban filmmaker Tomas Gutierrez Alea told the story of Diego, a sophisticated gay writer, and his non-sexual friendship with a naive young man named David who begins to question his long-held prejudices.
"Discrimination against homosexuals is a problem that now has been largely overcome," President Fidel Castro said in a recently published interview.
Cuban gays generally agree with that assessment, saying they no longer fear they will be arrested or lose their job because of their sexual orientation.
But many say they still lack associations and public spaces where they can express themselves with official approval, rather than gathering somewhat clandestinely.
Some would like official approval for clubs where transvestites can stage shows using female impersonators. Although some such clubs exist, and are tolerated, they are still illegal.
"What would be best today is that the work of ... transvestites be officially recognized," said transvestite performer Abrahan Bueno, whose stage name is "Dark Imperio," or "Dark Empire." "That's what I would ask for as a gay person."
Rice urges "respect" in marriage debate
Associated Press
Wednesday, June 14, 2006 / 03:05 PM
SUMMARY:
The secretary of state ducks a question on her own views, but calls for "sensitivity that real individuals and real human beings are involved."
WASHINGTON -- Secretary of State Condoleezza Rice on Wednesday urged "respect" and "sensitivity" in the debate over same-sex marriage, but ducked a question about her own views on the question.
"This is an issue that can be debated and can be discussed in our country with respect for every human being," Rice told a newspaper interviewer.
"When we get into difficult debates about social policy, we get into difficult debates that touch people's lives; the only thing that I ask is that Americans do it with a kind of sensitivity that real individuals and real human beings are involved here," Rice said.
The Senate last week by a wide margin rejected a constitutional amendment to ban same sex marriage. It was a defeat for President Bush and other Republicans who hope the issue will rally GOP voters for the November elections. The amendment, first floated in 2004, could be brought up yet again.
Asked for her opinion of the amendment, Rice told the News & Record of Greensboro, N.C., "This is not my area of expertise or, frankly, my area of concentration at this point."
Rice spoke following an address to the Southern Baptist Convention. The newly chosen president of the nation's largest Protestant denomination opposes same-sex marriage, as does Bush.
"The union of a man and woman in marriage is the most enduring and important human institution," Bush said before the Senate vote. "Our policies should aim to strengthen families, not undermine them. And changing the definition of marriage would undermine the family structure."
Forty-five of the 50 states have acted to define traditional marriage in ways that would ban same-sex marriage -- 19 with state constitutional amendments and 26 with statutes.
The proposed federal amendment would prohibit states from recognizing same-sex marriages. After approval by Congress, it would have to be ratified by at least 38 state legislatures.
コンドリーザ・ライス国務長官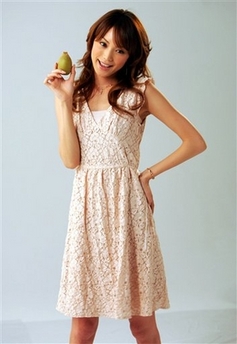 Model/actress Yuri Ebihara, 26, poses with a kiwi fruit during a shooting at a studio in Tokyo Wednesday, May 3, 2006. Ebihara, now widely viewed in Japan as the personification of cute, commands such influence the clothes she sports in a fashion magazine, such as lacy pastel skirts, are instant sellouts. (AP Photo/Shizuo Kambayashi)
Cuteness a hot-selling commodity in Japan
By YURI KAGEYAMA, AP Business Writer
Wednesday June 14, 2006
Cute is cool in Japan. Look anywhere and everywhere: Cartoon figures dangle from cell phones, waitresses bow in frilly maid outfits, cherries and bows adorn bags, even police departments boast cuddly mascots.
These days, Japan Inc., known in the past for more serious products like Toyota cars and the Sony Walkman, is busy exporting the epitome of cute — bubble-headed Hello Kitty, Pokemon video games, the Tamagotchi virtual pet, just to name a few.
But the prevalent obsession with things cute has the world's second biggest economy engaging in some serious soul-searching lately, wondering what exactly is making its people gravitate so frantically toward cuteness. A big reason for the emerging debate: Cute-worship is gaining such overseas acceptance it's rapidly becoming Japan's global image.
"Cute is a boom. This style has suddenly become a fashion element among youths around the world," said Shuri Fukunaga, managing director at Burson-Marsteller in Japan, who advises global companies about communication and marketing. "Marketers in Japan are seeing this and are adept at churning out products that incorporate this style for overseas."
Nintendo Co., which makes Super Mario and Pokemon video games, recorded $3.1 billion in U.S. and European sales in fiscal 2005. The entertainment content business in Japan totals some $116 billion, the equivalent of about two-thirds of Toyota's sales, according to the Digital Content Association of Japan.
Skeptics here say Japan's pursuit of cute is a sign of an infantile mentality and worry that Japanese culture — historically praised for exquisite understatement as sparse rock gardens and ukiyoe woodblock prints — may be headed toward doom.
Osaka Shoin Women's University professor Hiroto Murasawa, an expert on the culture of beauty, believes cute is merely proof that Japanese simply don't want to grow up but feels they must change to articulate its views on the international stage.
"It's a mentality that breeds non-assertion," he said of the cute mind-set. "Individuals who choose to stand out get beaten down."
On the other side of the argument stands Tomoyuki Sugiyama, author of "Cool Japan," who believes cute is rooted in Japan's harmony-loving culture.
Collecting miniatures such as mementos for cell phones can be traced back 400 years to the Edo Period, when tiny carved "netsuke" charms were wildly popular, said Sugiyama, president of Digital Hollywood, a Tokyo school for computer-graphics designers, video artists and game creators.
"Japanese are seeking a spiritual peace and an escape from brutal reality through cute things," he said.
Model-cum-actress Yuri Ebihara, 26, widely viewed here as the personification of cute, commands such influence the clothes she sports in a fashion magazine, such as lacy pastel skirts, are instant sellouts.
"I make it a point never to forget to smile," said Ebihara, often seen in TV ads and on billboards. "If someone doesn't find me cute, I want to know why because then I'll work on it to get better at being cute."
Yutaka Onishi, editor in chief of CanCam, the 650,000-circulation magazine that propelled Ebihara to stardom, says the petite, girl-next-door Ebihara, is pioneering a look that's distinct from the tall sexy beauties of the West.
"Cute is that exclamation from the soul of Japan's younger generation," much like "soul" or "La Raza," Onishi said.
Ryoko Sato, a Japanese artist, shrugs off much of pop culture as empty fluff and seeks to delve deeper through works like "The Kiss." The photo of a skinned mouse next to its furry hide is a statement on how cute is as skin-deep as cruelty or ugliness.
"To me, cute always in my work couples with the grotesque," she said. "There's always a dark side to it."
Still, such naysayers are a minority.
"Japanese women see value in youth and want to combine childishness and cuteness with sexiness and glamour," says Sakae Nonomura, a researcher with the cosmetics company Kanebo. "Cute has now grown so widespread that various types of cute coexist."
Indeed, Japanese have come up with nuances of cute such as "erotic-cute" and "grotesque-cute," and use such phrases in everyday conversations.
Thirty-eight-year-old garbage collector Hideki Kojima is such a believer in cute he patronizes a "maid cafe," one of several that have sprung up in Tokyo, where waitresses don maid outfits and greet customers by squeaking: "Welcome home, master."
Sometimes Kojima goes three times a day to the cafe, which serves food and allows customers to take photos and play games with the maids, drops as much as $90 a visit for a chance to gawk at the maids.
"They're cute," Kojima says with conviction. "It can't really be explained in words."
Nobuyoshi Kurita, sociology professor at Musashi University in Tokyo, says cute is a "magic term" that encompasses everything that's acceptable and desirable — this nation's answer to the West.
Kurita thinks it's important to watch Japan's youngsters, who see the bustling streets of downtown Tokyo — where the cute aesthetic is born — as the center of their universe.
"Where cute goes determines the future of Japan," he said, adding that Japan's cute offerings may one day command the respect of luxury goods from Europe. "If it succeeds, Japan's future will be bright. If it doesn't, then Japan may disappear."
[クラシック小話]モーツァルト/ディヴェルティメント 野中圀亨(寄稿) (読売・西部版 2006/06/14夕刊)
 ◇第17番K.334
 ◆優美なパリ様式を求めて 
 モーツァルトは後世の人々のために作品を書いた訳ではない。その時々に、彼に作曲を依頼した人のために書いたのであり、それを演奏しようとする人たちを念頭に入れて楽譜を書き記していったのである。
 だから、今、楽譜を見てもわからないことがある。例えば、ディヴェルティメント第17番K.334。ヴァイオリン2部、ヴィオラ、バスと2本のホルンのパートが残されているのだが、ホルンは2人としても弦楽はそれぞれ何人で弾けばいいのかわからない。各パート1人なのか、合奏でやるのかを知りたいところだ。極端に言えば、室内楽なのかオーケストラの曲なのかが不明なのである。
 そこでさまざまな形での録音が残されることになる。カラヤン指揮のベルリン・フィルハーモニー管弦楽団による演奏は、弦楽奏者の人数が多く、筆者には重く感じられる。一方のウィーン八重奏団のものは各パート1人ずつで風通しがよく、ウィーン・スタイルの艶(つや)やかな演奏で味があり、雰囲気もいい。となると、この室内楽スタイルが正解かと思っていたのだが、シャーンドル・ヴェーグ指揮によるカメラータ・ザルツブルグの演奏を聴いた瞬間、その魅力的な音に思わず吸い寄せられてしまった。小編成の合奏で、音楽が小気味よく運ばれる。細かい音が見え、ほどよい量感がある。
 モーツァルト23歳のときの作品。どこかの宮廷などに就職を求めて出かけたマンハイム・パリ旅行は、ことごとく失敗しただけでなく、母親を病気で失い、自らも失恋して、ようやくザルツブルグに帰って来たのだが、この曲はそのころ作られた。注文主はザルツブルグの名門貴族ロビニヒ家。だが、わかっているのはそこまでで、何の祝い事のために演奏されたのかはわかっていない。おまけに自筆譜も失われているのだ。こういうときにこそ演奏記録などが欲しいのだが。
 さて、この作品、六つの楽章で構成されており、当時の習慣通りメヌエットが二つある。初めのメヌエットはとびきり有名で、単独にも演奏されるほど。全体にパリの優美なロココ風の色合いが強いのはパリ旅行の影響と考えられるが、第2楽章のアンダンテは重いニ短調で、陰影のある情感を醸し出す。失恋や不幸などの影響か。
 こういう要素を持った作品であることを考え合わせると、CD選びもパリ風味を求めてフランスのパイヤール室内管弦楽団のしゃれた演奏も無視できなくなるし、のちに顕著になるウィーンのスタイルにも愛着がわく。CDの決定盤など決められそうにない。(のなか・くにあき=音楽評論家)
     ◇
 アクロス・ストリング・アンサンブル演奏会 8月20日午後3時、福岡シンフォニーホール。モーツァルトのディヴェルティメント第17番K.334ほか。  
 写真=ヴェーグ指揮、カメラータ・ザルツブルグ盤(輸入盤)
▲
by

alfayoko2005

| 2006-06-15 04:23 | Music