カテゴリ
以前の記事
検索
最新のトラックバック
その他のジャンル
ファン
記事ランキング
ブログジャンル
画像一覧
滋賀県知事に嘉田氏 3党推薦候補破る
2006年07月02日22時29分 朝日
 滋賀県知事選は2日投票され、即日開票の結果、無所属新顔で京都精華大教授の嘉田由紀子氏(56)が、無所属で現職の国松善次氏(68)と、無所属新顔で県労働組合総連合議長の辻義則氏(59)を破り、初当選することが確実になった。政党の推薦を受けなかった嘉田氏は環境団体を中心にした草の根選挙を展開し、無党派の風を起こした。女性知事は大阪、熊本、千葉、北海道に続き、全国で5人目。投票率は44.94%だった。
 3選をめざした国松氏を推薦した自民、民主、公明の各党は思わぬ敗北を喫した。中でも知事選などでの「相乗り」を原則禁止し、与党との対決姿勢を打ち出しながら、今回は例外扱いとした民主は、来年の統一地方選や参院選に向けた取り組みの見直しを迫られるのは必至だ。
 嘉田氏は、建設費約250億円のうち240億円を県や地元自治体が負担する東海道新幹線の新駅建設問題を最大の争点と位置づけ、県債残高が約8800億円にのぼる厳しい財政状況を踏まえて、「建設凍結」を主張。支持を取り付けた社民のほか、研究者として琵琶湖の環境保全に取り組んできた経歴から、環境団体などが積極的に支援した。無党派層を広く取り込んだほか、新駅建設に反発する自民の一部からの支援も受け、民主の支持層もつかんだ。
 国松氏は、「新駅は地域間競争に打ち勝つために不可欠」として建設推進を掲げ、2期8年の実績と「安定した県政」を強調。近隣府県の知事や衆院議員らも応援に駆けつけたが、新駅建設に否定的な声が県民に多かったうえ、各党「相乗り」の組織選挙が思うように機能せず、嘉田氏に傾いた流れを食い止められなかった。
 辻氏は新駅について「キッパリ中止」と訴えたが、嘉田氏と主張が重なったこともあり、票を伸ばせなかった。
THE AMERICAS: Graceland and Yasukuni: two shrines and two national myths They do not tell the full story of the rock legend and the war heroes, says David Pilling
By DAVID PILLING
Financial Times Asia , Asia Ed1 ed , p6 , Friday , June 30, 2006
It is oddly fitting that Junichiro Koizumi, a prime minister whose five-year term has been shaped by his annual pilgrimage to a controversial shrine dedicated to Japan's war dead, should end his farewell US trip worshipping at the shrine of an American fallen hero: Elvis Presley.
When George and Laura Bush walk side by side with Japan's most famous Elvis fan today through the ornate front porch at Graceland and into a house full of green shag-pile carpet (some of it on the ceiling), the understated Japanese beauty of Tokyo's Yasukuni shrine will be far from their minds.
Indeed, there is little obvious connection between a garish mansion where America's most famous rock star died of a drugs overdose after a life of unrivalled fame, and a sacred Shinto shrine where the souls of 2.5m, mostly obscure, Japanese soldiers are said to gather. Yet the similarities between Graceland and Yasukuni are not as absurd as they appear.
Both are monuments to the eternal spirit, and both present an idealisation of the national essence, says Jeff Kingston, professor of international studies at Tokyo's Temple University. "They both beautify history."
At Graceland, we get the rags-to-riches story of the American dream shorn of its darker side, in this case the tragic descent into obesity, drug-dependence and untimely death.
At Yasukuni, particularly at the adjacent Yushukan museum, visitors are presented with a whitewashed view of history in which Japanese soldiers, like fleetingly beautiful cherry blossoms, were glorious liberators and victims but never aggressors.
"The two museums represent degrees of revisionism," says one Washington observer.
The leaders of the world's two biggest economies, who fly down to Memphis on Air Force One today, will not get special treatment at Graceland. As always, the upstairs of the house, including the bathroom where Elvis died, will be discreetly cordoned off.
Jack Soden, the thoughtful chief executive of Elvis Presley Enterprises, defends the partial view of Elvis's home, saying: "There is no respectful or dignified way to include it in a tour of the house."
The official Graceland version of events has Elvis dying, at 42, of cardiac arrhythmia, shortly after he played two of his favourite songs on one of the mansion's several pianos. Or, as it says on Elvis's gravestone in a phrase that would not be entirely out of place at Yasukuni: "God saw that he needed some rest and called him home to be with him."
Elisa Brewer, who has visited Graceland, says: "I think he fell off the toilet and suffocated in vomit, or in the shag carpet."
The receptionist at Graceland's corporate office will only say: "They say he died of a heart attack. So that's what we go by."
So far as airbrushing history goes, this is mild stuff. The same, say critics, cannot be said for the Yushukan museum, with its proud displays of Zero fighter aircraft and glorification of war. The museum, updated in 2002, presents a view of history that most Chinese, South Koreans and (sotto voce) American officials find entirely distasteful.
The Nanjing massacre, for example, is presented as a liberation, while all mention of Japan's use of chemical weapons, human vivisection and Korean sex slaves is omitted. The bombing of Pearl Harbor, where Elvis spent Dollars 65,000 constructing a memorial, is presented as forced by the allied blockade.
Thomas Schieffer, the US ambassador to Tokyo, concedes he dislikes the museum. But he refrains from criticising Mr Koizumi's pilgrimages to Yasukuni, even though war criminals convicted by the Americans are honoured there. "I think the museum is very disturbing, but I think the museum and the prime minister's visit to Yasukuni are separate issues," he says.
Mr Koizumi is widely expected to make his final pilgrimage to Yasukuni as prime minister on August 15, the anniversary of the war's end and the most controversial possible day for a visit.
Mr Bush will certainly not be accompanying him. But the US ambassador is delighted that Mr Koizumi is going to Graceland.
"It's a part of America, and to have the prime minister get a feel for it will be fun. It will also give him a better idea of what America is all about."
Copyright (c) 2006 Financial Times Ltd.
Japan and America: Don't leave me now
The Economist , n950 , The Economist ed , p79 , Saturday , July 1, 2006
George Bush's best Asian buddy is retiring
WITH the only world leader to have serenaded him with the Elvis Presley song "I want you, I need you, I love you" retiring in a couple of months, President George Bush may soon feel a bit lonesome. For his friendship with Junichiro Koizumi was based on more than just tender words. After the attacks of September 11th, Mr Koizumi threw his country behind America. Stretching Japan's pacifist constitution to its limits, he sent refuelling ships to the Indian Ocean to help America against the Taliban and troops to help reconstruction in Iraq. By inviting Mr Koizumi to Washington on June 29th, Mr Bush wanted to say goodbye and thank you.
The alliance is in far better health than during the 1980s, when American politicians complained of a Japanese economic invasion and a few alarmists even predicted conflict. Mr Koizumi has long looked forward to this trip as his swansong, say aides. Yet something is not quite right. A few weeks ago, Mr Koizumi looked set to be accorded that rarest honour, an address to a joint session of Congress. Now, it transpires, the highlight of the trip will be a pilgrimage with Mr Bush to Graceland, Elvis's home outside Memphis.
Fair enough: Mr Koizumi is an ardent Elvis fan. But the change of venue may spring from worries at the five visits he has made as prime minister to the Yasukuni shrine in Tokyo, which honours Japan's war dead, including 14 Class A war criminals. Suspicion of Japan is strongest in Asia, but there's a bit about in America too. Many servicemen were brutally treated by the Japanese during the war. And American policymakers sometimes fret that Japan's insensitivity makes engaging with a rising China harder.
So, when the possibility of an address to Congress was mooted, Henry Hyde, the chairman of the House International Relations Committee and a war veteran, wrote to the speaker, Dennis Hastert. It would, said Mr Hyde, not be appropriate for Mr Koizumi to use the podium used by Roosevelt to denounce the Japanese attack on Pearl Harbour if he then made his annual visit to Yasukuni on August 15th, the anniversary of Japan's defeat in 1945. The idea of an address to Congress melted away.
Still, he and Mr Bush have substantial issues to discuss. Most recently, the importance of America's alliance with Japan has been underlined by North Korea's preparations to test a long-range missile. America and Japan share an obvious interest in persuading Kim Jong Il not to lob missiles in their direction. Japan feels less threatened, however, by Iran's apparent intention to build nuclear weapons. Urged by America to help it isolate Iran, it fears that this would cut off one of its main sources of oil.
Japan's interests were not exactly the same as America's in Iraq, either, but Mr Koizumi backed Mr Bush in part because the stakes, for Japan, were lower. Its oil supply was not threatened, and its commitment of troops was largely symbolic. For America, however, preventing Iran from going nuclear is of paramount importance, and doing so peacefully depends in part on Japan supporting any sanctions regime. Japanese officials, however, are very keen to see agreement at the UN Security Council--unlikely, given China's reluctance to let the issue interfere with its own quest for oil.
A final tension between America and Japan concerns trade. If the Doha trade talks are not to collapse, both countries must open their farm markets more. Japan is especially reluctant to do so, as was illustrated by a recent spat over American beef, in which fears of mad-cow disease strengthened the hands of protectionists.
What of the future? Given Mr Koizumi's friendship with Mr Bush, many worry that relations between America and Japan may cool after he goes. That will depend on Mr Koizumi's successor. Of the two main contenders, Yasuo Fukuda wants to mend relations with China by, among other things, drawing the Yasukuni sting. The favourite, Shinzo Abe, is more overtly hawkish. But either will surely find that, whatever they feel about America, they need it.
▲
by

alfayoko2005

| 2006-07-02 18:40 | 国内政治
A painted man holds the republican colors in the Gay Pride march in Madrid. Organizers said more than 1.5 million people took part in the Spanish capital's gay pride march, a week before the country's first visit by Pope Benedict XVI.(AFP/Bru Garcia)

More than 1.5 million attend Madrid gay pride
Sat Jul 1, 7:51 PM ET
AFP
Organizers said more than 1.5 million people took part in the Spanish capital's gay pride march, a week before the country's first visit by Pope Benedict XVI.
The pope, who is to attend the fifth Catholic World Meeting of Families in Valencia, has recently intensified his criticism of gay marriages, which were legalized in Spain a year ago by the Socialist government of Jose Luis Rodriguez Zapatero.
The slogan of Madrid's gay pride was "For diversity, all families count".
Police gave no figures for the number of participants in the immense rally that crossed the centre of Madrid in sweltering summer heat.
"Soldier of Hitler and of God, out to this pope inquisitor", read some banners at the demonstration, referring to German Cardinal Joseph Ratzinger who became Pope Benedict XVI.
The head of the Roman Catholic Church, who will be in the eastern Spanish port of Valencia on July 8-9, on Friday said families are "the key structure of society" and are based on the "marital union between a man and a woman according to the plans of the Creator".
Since Spain made same-sex marriages and adoptions by gays and lesbians legal last year, more than 4,500 couples have benefitted from the law.
22 sailors march in U.K. gay pride parade
By KATIE FRETLAND, Associated Press Writer
Sunday, July 2, 2006
As usual, the Village People's "In the Navy" rang out during London's annual gay pride parade on Saturday. For 22 of the marchers, it was true.
Wearing crisp navy blue jackets with gold striped cuffs, shining medals and ivory shirts, 22 Royal Navy personnel marched openly in uniform for the first time in the annual pride parade through central London.
"To be quite honest, it's a dream come true," said Petty Officer Karen Surtees, a navy medic based in Gibraltar. "I'm so excited about it, I felt ill this morning. We can express who we are, what we are and wear our uniforms in pride today."
Surtees said she joined the force 14 years ago, when being openly gay meant losing her job. She, like many others, kept quiet about her sexual orientation for years.
The British government lifted a ban on gays serving in the country's armed forces in 2000 after the European Court of Human Rights ruled that the restriction was a violation of human rights.
Since then, soldiers and Royal Air Force personnel have marched officially in pride parades, but Saturday's outing was a naval first.
"After 23 years in the navy, mostly closeted, this is tremendous," said Commander David Walker, 47, of West Mersea, England. "It tells the general public the navy is gay friendly, and it tells the dinosaurs who think this should be swept under the carpet that the top brass supports us."
Behind the sailors, thousands of revelers trailing pink, red and white Union Jack flags and rainbow balloons danced, cheered, paraded and lined the streets. Police said about 40,000 people participated.
"We've fought long and hard to have equality," said Thomas Haywood, 34, of Edinburgh, Scotland. "Today is a real celebration."
This year's march was the culmination of EuroPride, a two-week gay, lesbian and trans-gender festival held in a different European city each year.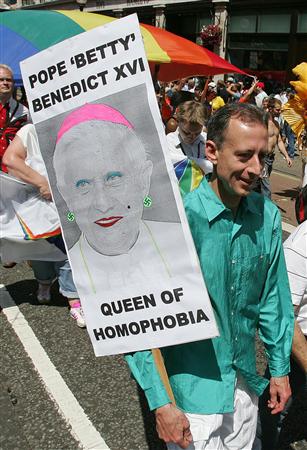 Gay rights activist Peter Tatchell holds a placard during the Euro Pride parade in London July 1, 2006. REUTERS/Stephen Hird

Gay Pride comes to London
Sat Jul 1, 2006 4:26 PM BST
By Jeremy Lovell

LONDON (Reuters) -
Thousands of gays, lesbians and transvestites from across Europe paraded through central London on Saturday to proudly state their sexuality.
Amid a fleet of gaudily decorated floats with blaring music, whistles and dancers the marchers flowed down the shopping magnet of Oxford Street, past Nelson's Column and down to the Houses of Parliament watched by the amused and the bemused.
"It has been great. Everyone was very accepting. There was no abuse, just support," Europride local organiser Emily told Reuters.
"This is a great public relations exercise for the gay and lesbian world."
Organisers had hoped the blazing sunshine and the fact that the march did not clash with the England versus Portugal World Cup match would bring up to 500,000 onto the streets.
But police said in the end just 40,000 took part in the incident-free event whose theme was "Pride against Prejudice".
Last year's London Gay Pride march -- an annual event in the city for more than 30 years -- attracted some 250,000 people even though it coincided with the Live 8 concert in Hyde Park.
While pink was predominant on Saturday -- including a forest of red, white and pink, instead of blue, Union Jacks -- it was by no means the only colour in a kaleidoscopic show.
Costumes ranged from skimpy briefs to outfits evoking Brazil's Mardi Gras, with a scattering of cowboys, sailors, soldiers, police, fairies, goths and even everyday garb.
Banners declared "Pride" and urged people to come out of the closet and declare their sexuality, and there was even one declaring "No to Islamophobia. No to homophobia".
BBC
Last Updated: Saturday, 1 July 2006, 15:52 GMT 16:52 UK
Colourful parade marks EuroPride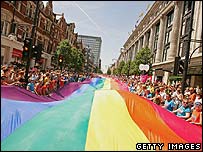 The parade marks the end of a festival of gay and lesbian culture

Thousands of people have attended a huge parade marking the end of a two-week European festival of gay and lesbian culture.
Streets in central London were closed as marchers, floats, dancers and bands led the EuroPride procession.
Spectators cheered as the parade, including a giant rainbow flag, wound its way towards Trafalgar Square.
"It shows to the world what London is, the world's most diverse, gay-friendly city," said organiser Jason Pollock.
Mr Pollock, EuroPride London 06 chief executive, said the festival had drawn 750,000 people to the capital.
Men in uniform
A Scotland Yard spokesman said about 40,000 people had turned out for the parade.
About 40 Royal Navy personnel paraded in their uniforms for the first time at the march.
Army and RAF personnel were not given permission to take part in their official uniforms, however.
The parade travelled along Oxford Street and Regent Street then on to Piccadilly Circus and Trafalgar Square, then Whitehall and Victoria Embankment.
Mayor Ken Livingstone, who was at the front of the parade, said it was a chance to celebrate the lesbian and gay community's contribution to the city.
He said: "What this shows as we march through the city of London - one of the greatest cities on earth - is a city can be a wonderful place to live in with people of every race, religion and sexuality."
EuroPride 06 (@london.gov.uk)
EuroPride London '06
July 1, 2006
Is what's funny in Japan funny in L.A.?
The Yoshimoto Kogyo comedy troupe will find out today when it takes the Kodak stage.
By Bruce Wallace, Los Angeles Times Staff Writer
TOKYO — Everyone knows a joke's never funny when you have to explain it. So the members of Japan's Yoshimoto Kogyo comedy troupe know they are risking stage death this afternoon when they bring their act to L.A., to see if gags that make them howl in Japan can get a giggle out of Americans too.
Consider what the Japanese find hilarious:
• Two guys spend 10 minutes finding ways to squeeze the word "egg" — "tamago" in Japanese — into their machinegun conversation.
• A female comic with a green Mohawk and long blond side locks that a Hasidic Jew would die for moans about her lack of romantic prospects.
Don't get it? Then try the wildly popular Razor Ramon, also known as "Hard Gay." A 30-year-old shock comedian who dresses in sunglasses and a Freddie Mercury-inspired micro leather outfit, Hard Gay's guerrilla act includes helping out people who haven't asked for it while swiveling his hips to "La Vida Loca" and screaming his signature catchphrase "Hoooo!" Hmmm.
That's the kind of baffling mania to be had from Yoshimoto Kogyo, which is bringing about two dozen of its top stars to the Kodak Theatre today at 5:30 p.m. for a single sold-out show — all to be performed in Japanese. Some of Yoshimoto's acts rely on more slaps to the forehead than a Three Stooges movie, but the company dominates the Japanese comedy landscape, a talent-spewing machine whose stars gravitate from packed live performances at its fabled Osaka theater to roles on Japan's ubiquitous zany TV shows.
"We've prepared many spots and skits that a non-Japanese audience would understand," says Koji Imada, 40, one of Yoshimoto's core performers, during an interview at a Tokyo TV station shortly before he left for California. "Our humor creates situations for people to laugh at even if they don't speak Japanese.
"Like we have Medaka Ikeno, a really, really short guy — that'll be funny," he says with the assurance of someone convinced that any adult male under 5 feet is inherently hysterical. "We're very worried about Hard Gay, though."
Yoshimoto's managers know from their occasional forays abroad — the last one was in Shanghai in 2002 — that not all comedy travels across languages and cultures, even if the foreign audience is filled with expat Japanese nostalgic for some humor from home. The Kodak show has been directly marketed at Japanese Americans and Japanese nationals living in the L.A. area, right down to Japanese-language advertising. The performance has no plans for English skits, and there will certainly be no headsets for translation.
But the audience will still have been inculcated in American sensibilities. Which may account for comedian Kampei Hazama's onstage flop in New York during a 1997 Yoshimoto performance.
Hazama's routine featured a scene in which his monkey character tries to mate with another comedian playing a cat.
"Japanese people love that skit, even kids love it," says Imada. "But in New York, no one laughed. Parents were trying to shield their children's eyes.
"We failed," he acknowledges, though noting that foreign failures can have an upside back home. "When we tell that story to Japanese audiences back here, they laugh even harder," he says.
There's not a lot of crossover between Japanese and American comedy. Imada says he has never heard of "Seinfeld," though surprisingly he has seen episodes of "Soap," the '70s sitcom that broke boundaries on the bizarre.
"Oh, and I liked that show with the wife who wiggles her nose and had special powers," he says animatedly. " 'Bewitched,' yeah. And John Belushi. His samurai guy? Not so accurate. But very funny."
Much of Yoshimoto's comedy follows a Japanese form called "manzai," a conversation between two or three performers, roughly scripted, in which the funny half of the act plays off the straight man. Think Martin and Lewis or Sonny and Cher, but with names like "Downtown," "London Boots" and "Oriental Radio."
But comedy in Japan has its own cultural peculiarities, with a firm line drawn between performers and the audience. At a recent Yoshimoto performance at its Tokyo theater located on the top floor of a department store, the crowd that seemed weighted toward young women was respectful throughout.
Not a heckle. No boos. Not even a groan. If a joke wasn't funny, they just sat quietly.
Then the straight man would slap the funny man and everyone got back on the laugh track.
"Humor in Japan is something the general public watches on TV," says Imada. "They leave humor to the funny people, the professionals. We show our art. And the audience is supposed to accept it and enjoy it."
If Internet chat rooms are any measure, there are some L.A.-area fans already familiar with Hard Gay and other Yoshimoto characters who are looking forward to an American performance with gushing enthusiasm. They need not worry that Yoshimoto will expect them to be up to speed on obscure Japanese news that hasn't crossed the Pacific. Politics and news have not been trendy in Japanese comedy for at least a decade, Imada says.
Instead, the emphasis is on lightness. Jokes about daily life. Funny words, or sounds, repeated with grimaces. (And before Westerners roll their eyes, they might ask what was so universally funny about "Well excuuuse me" anyway.) With a frequency that might make some Westerners uneasy, Japanese comics take glee in mocking other peoples' looks. Bad teeth. Extra pounds. Lack of height.
Which is why Imada is so unsure about how well Hard Gay will go over with a California audience. When he gyrates his way across a stage in an exaggerated flounce, just who is the joke supposed to be on?
And Imada knows a little bit about California. He even knows the governor.
In the early 1990s, several Yoshimoto players were hired and flown to Los Angeles as extras in an ad Arnold Schwarzenegger was shooting for a Japanese health drink. After the shoot, Schwarzenegger asked the troupe to show him some "typical" Japanese comedy.
"We cleared a small stage in the corner of the studio and brought out a chair for him," Imada recalls. Then they ran through a few skits. One included a scene where a woman comedian gets pushed hard by a male comedian.
"It's her act," Imada says. "She gets smashed against a wall by the man and then she says to him: 'You're so generous.' The Japanese love it.
"But Schwarzenegger went very silent. He said it was funny, but he didn't laugh at all." Imada pauses. He's a comedian — he knows about timing.
"We're not going to do that one in Los Angeles," he says.
Mixed picture emerges of global gay rights
By DAVID CRARY, AP National Writer
Sat Jul 1, 2:24 PM ET
While cities around the world hosted upbeat gay pride parades in recent weeks, human-rights activists kept watch on a contrasting set of developments: gays beaten by demonstrators in Moscow, convicted on sodomy charges in Cameroon, targeted by sweeping anti-gay legislation in Nigeria.
"It shows there are still dangers in just being gay — and dangers in speaking out," said Paula Ettelbrick, executive director of the New York-based
International Gay and Lesbian Human Rights Commission
.
"You need people willing to stand up and claim their space, even against tremendous odds — country by country, city by city."
Ettelbrick's commission, along with other human rights groups and some members of Congress, are intensifying their efforts to monitor and protest abuses and oppression of gays and lesbians overseas. Results have been mixed.
Regions of concern include Africa, where many politicians engage in anti-gay rhetoric; Islamic countries where gay sex is illegal and sometimes punishable by death; and certain Eastern European countries where gay pride marches have been banned or targeted by harassment and violence.
"In a lot of countries, you've got gays and lesbians enjoying new visibility, but at the same time the opposition forces become more angry," said Scott Long of Human Rights Watch. "People need to be aware of the possible backlash."
Among the recent incidents:
_In Moscow, gay activists were pummeled by right-wing protesters and detained by police on May 27 when they tried to gather after the city banned a gay pride parade. Mayor Yuri Luzhkov says he will ban such parades as long as he holds office.
More than 30 members of Congress signed a letter asking Russian President Vladimir Putin to condemn the anti-gay violence.
_In Cameroon, where gay sex is punishable by up to five years in prison, seven men were jailed more than a year before being convicted three weeks ago on sodomy charges. Human rights groups say the men were abused in prison and convicted despite lack of evidence.
Ettelbrick's organization also says many youths have been expelled from schools in Cameroon on suspicion of homosexual behavior. Closeted gays have been targeted by the West African country's tabloid newspapers, which claim to have "outed" several dozen prominent people.
_Nigerian President Olusegun Obasanjo has proposed a bill that would criminalize same-sex relationships — imposing prison terms for not only for gays or lesbians who have sex, but also for organizers of gay rights groups and participants in same-sex marriage ceremonies.
"In Africa, politicians trying to shore themselves up see homophobia as a useful thing to exploit," Long said.
Rep. Barney Frank (news, bio, voting record), D-Mass., one of three openly gay members of Congress, wrote to Obasanjo in May, warning he might reconsider his support for U.S. aid to Nigeria unless the legislation was withdrawn.
_Frank and five other members of Congress also protested the convictions and imprisonment of 11 men arrested in November at what police in the United Arab Emirates called a mass gay wedding. Initially, authorities said the men would be tested for male hormone levels and might face hormone injections, though these procedures did not occur.
_In Jamaica, which outlaws gay sex, gays are frequent targets of attacks and harassment. The Caribbean island's best-known gay activist was murdered in 2004 by an assailant wielding an ice pick; a gay man who counseled people with AIDS was shot dead last year.
_Iran is a constant concern to activists because of recurring reports of men being executed for gay sex. A pending Human Rights Watch investigation has verified that such executions occur, Long said, though it is difficult to gauge how frequently.
"The minimum you'll face is torture in jail or court-ordered floggings," he said of gays arrested in Iran.
U.S. activists were pleased this year when the State Department's annual worldwide human rights report devoted more attention than usual to problems gays face. Even Frank, who disagrees with most Bush administration policies on gay issues, took note.
Worldwide, Frank said, "things are getting better, but not fast enough."
Eastern Europe has become one of the most intriguing gay rights battlegrounds, as activists in several countries confront conservative political and religious leaders who disdain Western Europe's gay-friendly policies.
In Poland, about 3,000 people marched peacefully three weeks ago in Warsaw's annual gay rights march, an event marked in previous years by violence and official bans. Former Warsaw Mayor Lech Kaczynski, now Poland's president, refused to grant permits for the parade in 2004 and 2005, saying such events threatened Polish society.
The European Parliament adopted a resolution in mid-June asserting that homophobia is on the rise in Poland.
Latvian lawmakers have approved a constitutional ban on marriage for same-sex couples and refused to outlaw workplace discrimination against gays, despite concerns that European Union policies require such a law. Last year, hundreds of anti-gay demonstrators jeered and hurled debris at marchers in Latvia's first gay pride parade.
Allan Carlson, a conservative American scholar organizing a World Congress of Families in Warsaw next year, says Polish and Latvian authorities should discourage anti-gay violence, but he supports their efforts to resist the gay-rights and gay-marriage movements sweeping Western Europe.
"The pressure on these countries will be enormous," he said. "They see the promotion of gay culture as one more ideological threat to their values."
___
On the Net:
Human Rights Watch:
http://www.hrw.org
Central Europe sees its first gay marriages
Saturday, July 1, 2006
AFP
The first same sex marriages in Central Europe took place at registry offices across the Czech Republic as gay couples seized on the opportunity to take advantage of a long fought for change in the law.
The very first Czech "gay marriage" was between cook, Pepa, and railway worker, Karel, in the registry offices of the eastern city of Ostrava.
"It is the first registered partnership in the Czech Republic," proclaimed registrar, Jana Stancikova, who conducted the ceremony.
The law allowing single sex marriages, or registered partnerships, took effect on July 1, with the Czech Republic the first country in the region to allow such ceremonies.
Pepa and Karel, who have lived together for seven years, intended taking a honeymoon in Croatia.
They said one of the main reasons for sealing their relationship with a civic ceremony was to put their finances on a more stable footing. "We have saved a bit of money together. Now we know that we will have the right to something if something happens to one of us," they said.
Stancikova later married 27-year-old baker, Stepanka, and 30-year-old Vendulka, both from Opava, in the far east of the country near the Polish border.
"As soon as I knew that the law had been passed, I asked Stepanka for her hand," said Vendulka.
Vendulka regretted that the new law -- approved by lawmakers in December 2005 and then winning the bare overall majority required to overturn a veto by President Vaclav Klaus, does not allow single sex couples to adopt children.
Klaus said the vote was "a defeat for all of us who believe that the family in our society is fundamental, unique and unrivalled."
Stancikova said 10 gay and lesbian couples had booked the civic ceremony with dozens of others asking for more information.
An opinion poll this year showed 62 percent of Czechs in favour of same-sex marriages or registered partnerships.
Previous proposals for registered partnerships have been rejected four times in separate votes in parliament. The first time was in 1998 and the last in February 2005, when the proposal was defeated by a single vote.