カテゴリ
以前の記事
検索
最新のトラックバック
その他のジャンル
ファン
記事ランキング
ブログジャンル
画像一覧
JanJan
安倍氏は日本版ネオコンの領袖―上野千鶴子氏インタビュー 2006/09/11
 自民党総裁選は安倍晋三氏の独走状態。安倍政権が誕生するのはほぼ確実な状況になっている。北朝鮮拉致事件での厳しい姿勢で知られている安倍氏だが、実は女性学の担い手からは「バックラッシュの急先鋒」として警戒されている。歯切れのよい論理を展開するフェミニズムの旗手・上野千鶴子東大大学院教授に、フェミニストから見た安倍晋三像について聞いた。
 一問一答は以下。電子メールによる書面回答。
――総裁選の各候補をどう見るか。どのような人物像か。特に有力な安倍氏についてのご意見を伺いたい。
 安倍晋三氏は、幹事長に就任する前まで自民党が2005年につくった「過激な性教育・ジェンダフリー教育実態調査プロジェクトチーム」の座長を勤めた人物。その事務局長を勤めた山谷えり子氏が、男女共同参画および少子化担当大臣の猪口邦子氏と対極的な見解をもちながら同担当政務官に就任したのは安倍氏の推薦と言われている。男女共同参画行政を後退させる保守勢力がリーダーとかつぐきわめて危険な人物。拉致問題でのタカ派姿勢といい、靖国参拝といい、外交問題が争点となっているが、そればかりでなく国家主義と家族主義を強化する日本版ネオコンの領袖であり、最悪の選択だと思う。
――安倍氏独走となった原因は何か?本人のマスク、小泉氏の後ろ盾、ほかの候補者との兼ね合い、など。
 甘いマスクが女性に人気があるというが、信じられない。
 小泉氏はポピュリズムの政治に長けているから、「党益」を考えて安倍氏を推したのだろうが、政策的には後継者となりえない。「国益」を考えて財界が推すような、ニューライト的な保守合理主義者(福田康夫氏がそのひとりだが)の人材が自民党にきわめて少なくなったことが問題だ。
――もし安倍政権になった場合、どのような政治になるか。政策など。
 小泉政権はネオリベとナショナリズムの奇妙な結託だったが、少なくともネオリベ的合理主義があった。安倍政権がネオコンとナショナリズムの同伴なら東アジアにとって危険。国際的にもリーダーシップを失うばかりか、「国益」をも損ねる。ネオリベのもとで息を潜めていた旧保守勢力が復活し、格差社会の不満を吸収するネオ・ナショナリズムと合体すると、日本の進路は危うい。
――安倍政権になった場合、フェミニズムはどのように対抗するのか。
 これまで獲得してきた権利を、ひとつひとつ現場で闘って守る水際の攻防戦をやるほかない。地方政治では、首長選や地方議員選などにかつてない動きがある。首長選は住民投票の性格を持つから、女性票のゆくえが影響力を持つ。地方政治に期待したい。
――来年の参院選の行方は。野党との対決をどうみるか。
 昨年の衆院選での自民大勝が小選挙区制のトリックだったことは周知のとおり。選挙区制を変えることは至難だから、同じメカニズムを反自民の流れに利用するほかない。民主党も第2自民と言われるが、民主党の求心力に期待せざるをえない。共産党を含む野党共闘に、各党が現実的になるべきだと思う。公明党はどのみち政権党についてくる。ポスト小泉の安倍政権の「失速」が追い風になるはずだから、この機をつかめない野党に存在価値はない。
(編集部)
「ジェンダー」への介入(上野千鶴子)
月曜評論=「ジェンダー」への介入(上野千鶴子)
2006.09.04 信濃毎日新聞朝刊
 日本各地で男女共同参画行政への揺り戻し(バックラッシュ)が強まっている。
 今年の一月に東京都が国分寺市の人権講座の講師にノミネートされたわたしに、「ジェンダーフリー(社会的・文化的な性差の解消)という用語を使うかも」というだけの理由で介入した国分寺市事件。この三月に、千葉県議会が県女性センター設置のための条例案を否決して、同県内の三館が事業停止に追いこまれた千葉県議会事件。そして四月に発覚した"福井発焚書坑儒[ふんしょこうじゅ]事件"…。
 福井県のケースは県生活学習館「ユー・アイふくい」の開架書棚から、ジェンダー関連の図書百五十三冊が撤去されたという事件である。そのなかに、わたしの著書が共著も含めて十七冊も入っていた。市議らの抗議によって書籍はもとに戻ったが、その後も書籍リストの情報公開をめぐって福井県の迷走が続いた。
   *   *
 自民党が「過激な性教育・ジェンダーフリー教育実態調査プロジェクトチーム」をつくったのが二〇〇五年。官房長官に就任する前の安倍晋三氏が座長、現男女共同参画、少子化担当政務官の山谷えり子氏が事務局長を務めた。全国から三千五百の実例が集まった、というが、その大半は根拠の薄弱な伝聞情報。それにもとづいて「ジェンダーフリー」を使わないという内閣府の通達を引き出し、はては「ジェンダー」という文言の削除を要請するにいたった。
 第二十期の現日本学術会議には、「学術とジェンダー」の課題別委員会があるが、すでに世界的に確立した学術用語である「ジェンダー」に対する政治的な介入に警戒を強めている。山谷氏に至っては、「無償労働」や「家族経営協定」も不適切と主張している。「家族経営協定」とは、農家の嫁の無償労働の経済評価を求めて、戦後各地の農村ですすめられてきた家族の民主化運動の目標ではなかったか。
 一部には男女共同参画社会基本法の改廃をめざす動きもある。基本法は九九年に国会で全会一致で可決されたもの。前文には「二十一世紀の我が国社会を決定する最重要課題」とあるのに、数年のうちに起きたこの揺り戻しは何だろう。
   *   *
 ポスト小泉の総裁レースは安倍氏独走と言われている。靖国参拝をめぐって安倍氏のタカ派ぶりが争点になっているが、彼の政治姿勢に危惧[きぐ]を持つのは外交についてばかりではない。女性に人気があるといわれるソフトな外見の背後に、保守的な家族観がある。氏のブレーンといわれる中西輝政、八木秀次、西岡力氏らは、保守系論壇誌の常連執筆者で、「日の丸・君が代」を推進し、「慰安婦」を否認する「新しい歴史教科書」づくりに関係した人たちだ。
 歴史のなかには「一歩前進二歩後退」の例がいくらでもある。この三十年、女性を取りまく状況は大きく改善した。今の若い女性は、あたりまえのように大学に進学し、企業で働くことを人生の選択肢のうちに入れ、結婚したからといって退職を強制されず、セクハラを受ければ告発する権利を持っているが、どれも先輩の女性たちが苦闘のなかから手に入れたものだ。既得権と思っているものも、闘って守らなければたやすく失われる。女性が元気になることを、喜ぶ人たちばかりではない。
 「女は台所にひっこんでいろ」と言われる時代がまた来るかもしれないと思えば、今度の総裁選のもうひとつの争点は「ジェンダー」だということを忘れないでいたい。
   (うえの・ちづこ 東大大学院人文社会系研究科教授)
The Los Angeles Times
Gay Marriage Gets Even
Keep the confetti handy, because the tide has turned on same-sex unions.
By David Ehrenstein
DAVID EHRENSTEIN maintains a blog at fablog.ehrensteinland.com.
August 8, 2006
GAY MARRIAGE in the United States is on the ropes and fighting for its legal and political life. In the last year alone, Gov. Arnold Schwarzenegger vetoed a same-sex marriage bill in California; the supreme courts of New York, Washington and Georgia upheld marriage bans; and at least a dozen states have passed, or are working on, anti-gay-marriage laws.
True, gay and lesbian couples residing in Massachusetts can get hitched, but gone are the heady days of 2004 when scores of male and female couples dashed up the steps of San Francisco's City Hall to say their respective "I do's."
But take heart. Lance Bass, a singer with the now-defunct boy band N'Sync, has come out of the closet, disclosing to People magazine two weeks ago that he's in a "very stable relationship" with actor/model and reality television star Reichen Lehmkuhl. Upon hearing this news, the first word that popped into my head was "even!"
"Seinfeld" fans doubtless recall the 1994 episode when Jerry, in contrast to the ever-roiling fortunes of George, Elaine and Kramer, finds that everything works out "even" for him. If he loses one job, he's sure to get another. If he breaks up with a girlfriend, he'll quickly find a replacement. So it is with gay marriage in the U.S. — even as we lose ground politically, cultural acceptance continues to accelerate.
Same-sexuality, once marginalized, is now part of the mainstream. And it's this mainstreamizing that the radical right longs to reverse — hoping against hope that a federal gay-marriage ban will be a "They Shall Not Pass," leading to a complete socio-sexual 180. The trouble for them is not only that a gay-marriage ban would be shutting the barn door long after the horse has fled — but that the horse in fact has won the Kentucky Derby. When Ian McKellen can blithely bring a boy toy with him to the Oscars, Rosie O'Donnell be afforded a place of honor on "The View," and Anne Heche lose cred for re-embracing heterosexuality, it's pretty clear that, in the immortal words of Judy Garland, "I don't think we're in Kansas anymore."
The turning point was the AIDS epidemic. As people were dying, closet doors flew open, and the straight world quickly learned that the gay one wasn't as alien as they imagined. In Hollywood, this had a particular effect via the Disney cartoon blockbusters "The Little Mermaid," "Beauty and the Beast" and "Aladdin." Because many of the leading Disney animators were gay, rival studios lured talent with the promise of same-sex spousal benefits. Faster than Aladdin's genie, this practice went industrywide, with a once-reluctant Disney falling right in line, much to the chagrin of Focus on the Family. This year, as the L.A. Times' Patrick Goldstein has noted, three of the four most profitable movies have been animated features; the fourth stars a sexually ambiguous pirate.
Just as telling, a recent New York Daily News item noted that "Sean William Scott turned heads when he showed up at Los Angeles gay bar Heat on the arm of David Geffen." In the past, no newspaper column made mention of gay bars, and had they done so, the stars in question would have fought tooth and nail to scotch the item. Not now. And the reason can be found in a Pew Research Center poll released last week.
"On the subject of gay unions, 56% opposed giving gays the right to marry, but 53% favored allowing gays to enter into legal agreements that provide many of the same rights as married couples," a Reuters summary reported. "There has been an increase … in the proportion of Americans who believe homosexuality is innate — 36%, up from 30% in 2003. Similarly, 49% believed homosexuals cannot be changed to heterosexual, compared to 42% in 2003."
The tide has clearly turned. Pat Buchanan, of all people, is calling for an "armistice" in the culture war and encouraging conservatives to give up fighting for a constitutional amendment banning gay marriage. As columnist and gay dad Dan Savage noted in a New York Times Op-Ed article last month, "I'm confident that one day my son will live in a country that allows his parents to marry. His parents are already married as far as he's concerned, as my boyfriend and I tied the knot in Canada more than a year and a half ago." So until the "Land of the Free" catches up with the Great White North, it's no to gay marriage, but yes to Lance Bass.
Even.
Dan Walters: Governor frustrates gay rights warriors, but it works for him
By Dan Walters - Sacramento Bee Columnist
Published 12:00 am PDT Friday, September 8, 2006
Story appeared in MAIN NEWS section, Page A3
Those who wage political war over gay rights don't appreciate noncombatants, Gov. Arnold Schwarzenegger is learning as he deals with a flurry of measures passed by a pro-gay rights Legislature.
Equality California hailed the passage of 14 bills in 2005-06, saying it "broke the record for the most lesbian, gay, bisexual and transgender (LGBT) rights bills ever passed by a state legislature in our nation's history."
As the session ended, Schwarzenegger had already signed four bills and vetoed two others -- including one sanctioning same-sex marriage -- but had eight remaining, and his shades-of-gray approach to the issue had left both of the warring factions uncertain.
When Schwarzenegger signed Senate Bill 1441, which adds "sexual orientation" to the state's nondiscrimination statutes, the red flags went up among the "pro-family" groups that oppose efforts by the "pro-equality" organizations to expand gay rights, and they redoubled efforts to flood Schwarzenegger's office with e-mails and phone calls seeking vetoes of other bills.
Proponents, meanwhile, saw the signature as a sign that he might approve another measure by the same state senator, Santa Monica Democrat Sheila Kuehl, that would prohibit classroom instruction that "reflects adversely" on anyone because of his or her sexual orientation -- even though Schwarzenegger had previously indicated he would veto it.
Even though Kuehl had removed provisions requiring positive views of LGBT persons to be presented, Schwarzenegger did veto the bill this week, declaring that it "attempts to offer vague protection when current law already provides clear protection against discrimination in our schools based on sexual orientation. ..."
Pro-gay rights groups were vocally dismayed, of course. "Yet again, this governor has shown that he will play politics with our lives when a few extremists yell loud enough," said Geoff Kors, Equality California's executive director. But those occupying trenches on the other side of no-man's land didn't especially appreciate the veto. "That's good, but what about the two other sexual indoctrination bills ..." said Randy Thomasson, president of Campaign for Children and Families, reiterating a demand that "the governor must veto all three ... or the people will veto him."
Of the seven gay rights bills still awaiting Schwarzenegger's acceptance or rejection, Assembly Bill 606 is considered to be the most important by those on both sides. The measure, carried by Assemblyman Lloyd Levine, D-Van Nuys, would require the state schools superintendent to develop an anti-harassment and anti-discrimination program centered on sexual orientation, and allow state support to be withheld for school districts lax in adopting it. During a rally on the Capitol steps this week, Robla School District Board President Craig DeLuz labeled AB 606 "the worst of all of them."
The other bills generating heat include those to create a pilot program for encouraging tolerance of those "individuals and groups that have been, and continue to be, systematically and historically marginalized"; to add a survey on bullying and harassment based on "race, ethnicity, gender and sexual orientation" to a current survey of public school students about alcohol and drug use; and to allow domestic partners to file joint state income tax returns.
Schwarzenegger will probably veto some contested measures and sign others. He appears to lean against gay rights measures involving schoolchildren, but toward those that bar discrimination or enhance equality -- short of marriage -- for LGBT Californians in the larger society.
The question, of course, is whether positioning himself in no-man's land and dodging bullets from both sides help or hurt him in his quest for a second term. And all-in-all, it aligns him with the mainstream of voter ambivalence about gay rights.
As much as they may dislike Schwarzenegger's signing SB 1441 and other bills, those on the anti-gay rights side know that were he to lose to Democratic challenger Phil Angelides, the full gay rights agenda would be quickly enacted. Pro-gay rights blocs, meanwhile, are likely to already be committed to Angelides, so the downside political risk for Schwarzenegger is minimal.
About the writer:
Reach Dan Walters at (916) 321-1195 or dwalters@sacbee.com. Back columns: www.sacbee.com/walters.
米カリフォルニア州:教育現場でのLGBT差別禁止法案に、シュワ知事が拒否権行使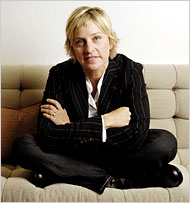 Chris Pizzello/Associated Press
Ellen DeGeneres will be the second woman to preside over the Oscars.
calenderlive.com
THE ENVELOPE
Everybody likes Ellen, especially Oscar
Seen as having broad appeal with television viewers, the comedian is tapped to host the 79th Academy Awards.
By Robert W. Welkos
Los Angeles Times Staff Writer
September 9, 2006
With no disrespect meant to Jon Stewart or Chris Rock, the last two Oscar hosts who garnered mixed reviews for their efforts, the announcement that Ellen DeGeneres will emcee the 79th Academy Awards appears designed to boost the ratings of the show by presenting a comedian who has a broader appeal with the public than her two predecessors.
"Certainly, I believe the presence of Ellen will help the ratings — absolutely," Laura Ziskin, producer of next year's Oscar show, said Friday. " … She's popular with a very wide audience. She is not a niche performer. She touches a lot of demographics."
This year's show, hosted by Stewart of Comedy Central's "The Daily Show," drew 38.8 million viewers, an 8% decline from the previous year's show hosted by Rock, who was seen as an experiment in a bid by the Academy of Motion Picture Arts and Sciences to attract a younger audience.
Ziskin, who produced her first Academy Awards telecast in 2002, said that with DeGeneres, who starred in the 1990s' sitcom "Ellen" and now hosts the Emmy-winning "The Ellen DeGeneres Show," audiences can expect humor that can be biting and pointed, but not mean-spirited. It's her first turn as Oscar host, though she has hosted the Emmys and the Grammys.
"If you go back to the classic Oscar host, Johnny Carson, you always felt good and yet he could still zing you or surprise you," Ziskin noted. "But he was nice. I like that part."
Academy President Sid Ganis described DeGeneres as "endlessly energetic, chipper and smart as a whip."
"We've had our eye on her and she's had her eye on us for a long time," he added.
Bruce Davis, the academy's executive director, said that with the selection of DeGeneres, the Oscar telecast will have had six different hosts in as many years. One reason, he said, was because "almost nobody wants to do it twice in a row anymore. It's a very hard thing to do. People feel they are competing against their own past successes if they do it back-to-back."
Davis added that the academy would be happy for any of these six comedians to return as hosts, and even noted that David Letterman, who is thought to have bombed as emcee in 1995, has since been approached about returning.
"He had the highest-rated Oscar show, except for the 'Titanic' show [in 1998], in recent history," Davis said.
But Davis said he doesn't believe the host is the most important factor in determining the show's ratings. Ziskin noted that the tune-in is often in direct proportion to the popularity of the nominated movies.
DeGeneres was not available for comment Friday.
robert.welkos@latimes.com
The New York Times
September 9, 2006
Ellen DeGeneres Is Chosen as Host of Next Year's Oscars
By SHARON WAXMAN

LOS ANGELES, Sept. 8 —
They've tried it rough. Then snarky. Now it's Ellen.
The Academy of Motion Picture Arts and Sciences has chosen the genial daytime talk show host Ellen DeGeneres to be host of next year's Academy Awards, with the latest direction of the broadcast to be "sparkly, up and fun," said the show's producer, Laura Ziskin.
"She's very warm," Ms. Ziskin said of Ms. DeGeneres on Friday. "She can be really sharp, and biting, and topical. But she's never mean or jaded." She added: "I want to do a big entertainment show, and Ellen is an entertainer."
Ms. Ziskin took pains to say that "mean or jaded" wasn't meant to describe the hosts of recent years, the often profane Chris Rock in 2005, and the political satirist Jon Stewart this year. But some in the academy did object to Mr. Rock's pointed jabs at Jude Law when he led the show, and Mr. Stewart brought a hip, caustic tone to the gig from his cynical nightly perch on "The Daily Show." The ratings dropped this year, but not as much as those for many other award shows in recent years.
Ms. DeGeneres, 48, said she had long dreamed of being the host of the Oscars, and promised to bring her own tone to the show. "It's cool to be edgy," she said in an interview on Friday. "But I think comedy should be smart, funny and able to be enjoyed by everybody, not holier than thou."
She added: "There's enough fear and negativity in the world without adding to it, and I think comedy should be all-inclusive. I'm working on how I start the Oscars next year, because I want to be proud of it. I've wanted to do this for so long, it's important to me to walk that line."
Ms. DeGeneres won wide praise for striking the right tone when she was host of the Emmys in 2001, shortly after the attacks of 9/11. In what was still a traumatic period for the country, she managed to provoke laughter when she came onstage wearing a dress with a large swan wrapped around her neck, poking fun at a similar frock once worn to the Oscars by the singer Bjork.
Ms. DeGeneres will be only the second woman to lead the show on her own. Whoopi Goldberg did so four times.
Ms. Ziskin said she would drop recent attempts to freshen the awards by having nominees come onstage, or having the host go into the audience. "I don't think that works," she said. "There are all kinds of things you can do to make the Oscars fun and exciting and different. On the other hand, they're the Oscars. It doesn't want to be reinvented."
Asked what she might wear to the awards, Ms. DeGeneres observed: "I'm wondering. Maybe I'll wear tux culottes. What do they call that? A skort?" She thought for a moment, then added: "I still have that swan dress sitting around."
シネマトゥデイ
ブラッド・ピット、「同性婚が認められるようになったらアンジーと結婚するよ」
2006/09/11
ブラッド・ピットが雑誌のインタビューでアンジェリーナ・ジョリーとの結婚について語った。ピットはエスクワイア誌のインタビューで「結婚をしたいと思っている人たちが全員結婚できる世の中になったら、僕とアンジーも結婚を考えるよ」と言っている。シャーリーズ・セロンも同性婚が認められれば結婚すると言っているセレブのひとり。このコメントは同性同士の結婚をサポートしている態度から来ているものの、マスコミにしつこく聞かれるのをかわす一種の方法とも受け止められている。
Pitt Will Wed Jolie When All People Can Marry
By WENN| Saturday, September 09, 2006
HOLLYWOOD - Brad Pitt insists he won't marry girlfriend Angelina Jolie until the restrictions on who is allowed to marry is the U.S. are dropped.
The 42-year-old star revealed his views on marriage in an article on "fifteen things I think everyone should know" in Esquire magazine.
He explains, "Angie and I will consider tying the knot when everyone else in the country who wants to be married is legally able."
Pitt also claims he "cannot imagine life" without his adopted children, Maddox, 5, and Zahara, 1.
He says, "They're as much of my blood as any natural born, and I'm theirs.
"That's all I can say about it. I can't live without them. So: Anyone considering (adoption), that's my vote."
Pitt and Jolie's third child, Shiloh, was born in May and he says he subscribes to a laid-back parenting style.
He adds, "I try not to stifle them in any way. If it's not hurting anyone, I want them to be able to explore.
"Sometimes that means they're quite rambunctious!"
宮崎日日新聞社説
男女参画条例を修正?
避けたい、振り出しへ戻る愚
2006年09月10日
 憲法で法の下の平等は保障されており、必要ない―。この理屈であれば、振り出しへ戻る、だ。
 都城市の男女共同参画社会づくり条例から「性別または性的指向にかかわらず」の1項を削る修正案が議会へ提案された。その条理故に全国から高く評価された"市民宣言"だったわけで、差別意識を是正していく困難な道のりを証す事象といえる。
 条文化することで"よし"とし、地道な啓発活動を怠ってきた市の責任は重い。この修正案が成立する事態にでもなると、取りようによっては「敗北宣言」である。慎重な議会審議を期待したい。
本家が"先祖返り"
 この条例は2004年の制定審議から波乱を含み、議会採決は1票の僅差(きんさ)。もし否決されていたら性的少数者をさらに日陰へ追い込む、危うい橋を渡ったものだ。
 当時の主なる反対派の主張は、「全国から同性愛者などが集まり"ゲイ・ランド"になる恐れ…」。現状を見る限り根拠のない風評だったわけだが、2年ほどで「性別または性的指向にかかわらずすべての人の人権が尊重される」先進的な定義を"撤廃"しようというのだから、市民の意識改革は進んでいないのではないか。
 確かに憲法の人権規定はある。それでも同性愛者や性同一性障害者らが日常生活のあらゆる場面で、肩身の狭い立場に置かれるのが現実だ。だからこそ法律や条例などで細則を設け、理念を再認識する行程も必要になる。
 多くの自治体が視察に来て、同じ内容の条例が広く運用されることからも、都城市の条例は理にかなうものであったはずだ。高らかに宣言した本家本元が"先祖返り"したのでは、身もふたもない。
先進国に共通の課題
 都城市の修正案は市民から求めたパブリックコメントを参考にしているという。学識経験者で組織する懇話会で審議したというが、パブリックコメントの結果も、懇話会審議の内容も開示されないのは問題である。疑念が市勢を著しく停滞させた例は過去、枚挙にいとまがない。
 それにしても、このところの都城市は市政運営が迷走気味ではなかろうか。まとまりかけていた大学進出を長峯誠市長の判断で白紙に戻し、一方で高鍋町が振興の柱と位置付ける南九州大学へ誘致の触手を伸ばす。さらに今回の方針転換も、多くの県民は理解に苦しもう。
 都城市は「都島」の地名が残る。内陸部で島が付く一帯は中世期に交通の要衝、と民俗学者の故・瀬戸山計佐儀さんに聞いた。中央と旧薩摩、肥後藩の主街道が交錯して情報が豊富に集積、必然的に進取の気質が形成されたとも。そうであるのならば、全国の旗振り役を務めるのに異論の入る余地はないはずだ。
 国際情勢のみならず、わが国を含めて先進国は人権尊重の観点から、さらに人口減少の面からも女性の社会参加へ熱い視線を送る。性同一性障害も認知されつつあり、温かく迎えて協働するための模索は進む。都城市の男女共同参画社会づくり条例が"錦の御旗"であるかぎり、高く掲げ続けるべきではなかろうか。
 市議会文教厚生委員会の審議は19、20日に予定されている。見識を期待しておく。
宮崎:都城市の男女共同参画条例 同性愛者ら修正案に抗議へ
The Scotsman 2006/09/10
The princess and the people
EMMA COWING
IN OCTOBER last year, during the run-up to her wedding, Japan's Princess Sayako took some lessons. Not in how to spice up married life, or throw a decent dinner party, but rather how to live like a commoner.
She was thought to have been doing rather well - learning to drive, getting her head round domestic finances and whatnot - but one day, turning to a friend, she reportedly betrayed her isolated and privileged background by asking: "If one shops at the supermarket, how does one carry all the food?"
Just under a year later, as the Japanese royal family arrive in their droves at Tokyo's Aiiku hospital to welcome the first male heir to the family for four generations - the as yet unnamed baby son of Prince Akishino and Princess Kiko - his aunt, now known simply as Mrs Sayako Kuroda, is adapting to her new life. Willingly cast out of the family under the Japanese imperial system, which states that a royal daughter must join her husband's family following her marriage, the 36-year-old now lives in a modest Tokyo apartment with her husband, Yoshiki Kuroda, a Tokyo town planner who earns around £35,000 a year.
She has quit her part-time job as an ornithologist, makes her own bento boxes - the ingredients for which she buys, yes, at the supermarket - and can sometimes be spotted strolling through Tokyo's Shinjuku Gyoen park, enjoying the sunshine. She still maintains close contact with her parents, brothers and their families - they are, after all, her relatives - but she is no longer one of them.
She has no title, no privileges, no inheritance, and no place on the country's civil list. Those who have been watching the recent hand-wringing among Japanese dignitaries over the line of succession on the Chrysanthemum throne, however, must be thinking that, all things considered, she's better off out of it.
Steeped so deeply in tradition that they make the British Royals' ceremonial occasions look like a family entertainment night at a Haven Holiday Park, the Japanese imperial family is a maelstrom of ritual and conservatism that seems out of step with modern Japan. And yet it is a fairly new law (it was introduced in 1947) that bans females from ascending to the throne, and has caused huge problems for a family that until last week seemed determined to give birth only to girls.
The birth of the young Prince has, it seems, taken the subject off the agenda. But it has also sparked new discussion over the lack of equality that is clearly inherent in Japan's first family. Working women across Japan are said to be angered that the debate over succession - before Princess Kiko's pregnancy, the prospect of Princess Aiko, the four-year-old daughter of Crown Prince Naruhito, ascending the throne was being seriously discussed - is likely to slide from the media's gaze.
For many young Japanese women, Princess Sayako is something of an icon: strong, independent and said to be fond of a drink. Her mother Empress Michiko - who was born a commoner - made a concerted effort to adapt her daughter to relatively normal everyday life from a young age, even providing her with her own kitchen so that she could learn to cook. Sayako went to university, and often attended student parties with friends.
She even took a job after graduation, spending more than a decade as a researcher at the Yamashina Institute of Ornithology, a move that was unheard of for a member of Japanese royalty. Now, although she has given up work, she is free to pursue her life relatively undisturbed by the trappings of royalty. Her story is in marked contrast to that of her sister-in-law, Princess Masako, the wife of Crown Prince Naruhito and mother of Princess Aiko.
Princess Masako was born Masako Owada, the daughter of a high-ranking Japanese diplomat. As a child she travelled all over the world, living first in Moscow and then, as a teenager, in the United States, where her father was appointed a guest professor at Harvard University.
She was exceptionally bright at school and fluent in English by her teens, achieving a perfect 4.0 grade average and becoming president of the prestigious National Honor Society. Not content with attending one university, she went to three, graduating magna cum laude (the highest distinction possible) with a BA in economics from Harvard, completing a graduate course in international relations at Balliol College, Oxford, as well as spending time at the University of Tokyo, which is where, in 1987, she first met her husband-to-be.
Masako could have chosen to marry the Crown Prince then and there, but she was ambitious, and determined to have a career. She took a job in the Japanese ministry of foreign affairs and again travelled the world, this time in her own right, meeting both Boris Yeltsin and Bill Clinton as part of her job.
Meanwhile, she was quietly seeing the Crown Prince, who was besotted with her. She, however, was equally besotted with her career, and turned down two proposals from him in favour of work. Finally, in January 1993, she accepted him. They were married in June of that year and it was then that life as the newly crowned Princess Masako knew it ended.
Forced to give up her work - it is illegal for Japanese royal family members to be employed by the government - she sank into depression. Knowing that she was expected to provide the family with an heir only added to the pressure, and in 1999 she suffered a miscarriage. Princess Aiko was born in 2001. Less than 18 months later, Princess Masako disappeared from public life.
While the Japanese media were left to wonder as to her whereabouts, it wasn't until six months later that, in a dramatic break from tradition, her husband announced that his wife was finding royal life difficult. The burdens of motherhood, her official duties, the scrutiny of the media and a bout of shingles had exhausted her, he told a shocked Japanese public.
Two months later, the royal household itself made public the news that she was suffering from a mental illness - or "adjustment disorder" - and was suffering from sleeplessness, anxiety, and general "mental and physical weariness".
Her recovery has been slow. It is only since December last year that she has begun making public appearances again, and she has also released her own statement, saying that she is "gradually getting better".
It is clear that the career path of a princess was not, perhaps, the best one for Masako. But more than that, her tale, compared with that of her sister-in-law, lays bare the vast gender dichotomy of Japanese culture, traditionally one of the most patriarchal in the world.
It is a country that is, perhaps, at a crossroads: celebrating its energetic, bright young career women, while at the same time still wishing to be allowed to treat them as secondary to men in almost every way.
For the country's feminist-minded women, it must be frustrating that there is now no prospect of a female figurehead in its royal family. Whether that will ever change is a decision likely to lie in the hands of a tiny, as yet unnamed baby boy.
This article: http://living.scotsman.com/people.cfm?id=1339232006
Last updated: 10-Sep-06 00:58 BST
TIME
Sunday, Sep. 10, 2006
The Princess Wars
A newborn royal heir stirs the debate over the modern Japanese woman
By BRYAN WALSH/TOKYO
When Japan's Princess Kiko gave birth to a 5-lb. 10-oz. baby boy on the morning of Sept. 6, ensuring the survival of the Japanese imperial line for at least another generation, the entire country appeared to twinkle with joy. Newspapers printed millions of special supplements, titans of industry issued congratulations, imperial enthusiasts gathered in front of the palace bearing flags and shouting "Banzai!" But Fumiko Wada, a housewife from Chiba, just outside Tokyo, wasn't celebrating. Wada is a dedicated fan of Crown Princess Masako, 42, and feels Kiko's miraculous pregnancy was just a way to steal the spotlight from her older sister-in-law, who has long been under intense pressure to bear a prince of her own, as only males can inherit the Chrysanthemum Throne. "Princess Kiko should have stayed in Masako's shadow and supported her," Wada opines. "But she is like a chameleon. Whatever is required, she'll do." Wada pauses. "That's why I dislike her."
Japan is divided into opposing camps of royal watchers: Team Kiko and Team Masako. It is an unusual development. The imperial family, the oldest royal line in the world, is also the most tightly controlled. Its members aren't allowed to have last names, personal wealth, opinions or, for the most part, lives. But the behind-the-scenes tug-of-war over the future of the dynasty has made the royals unexpectedly human--and made Masako and Kiko living symbols of the intense pressure on Japanese women to be both modern and traditional.
In the modern sense, you couldn't ask for a more qualified crown princess than Masako. Daughter of a Japanese diplomat, educated at Harvard, Oxford and the University of Tokyo, Masako was so dedicated to her budding career in Japan's Foreign Ministry that she rebuffed Crown Prince Naruhito's engagement proposal for five years before finally marrying him in 1993. "I thought she was so striking and cool," says Harumi Kobayashi, a fan who has published three books on Masako.
But as year after year passed without a royal pregnancy, hopes that Masako would become the modern face of the imperial family gradually died. It was clear that she had failed in her one traditional duty: to produce a male heir. All her education and accomplishments meant nothing by comparison. Japanese tabloids cast aspersions on her patriotism and her toughness, and not long after she gave birth to a daughter, Aiko, in December 2001, Masako sank into a depression. Now she has gone from an icon of style to an object of pity. "She's been crushed," says housewife Hiroko Nishiyama, a Kiko backer. "I feel sorry for her."
Meanwhile, Masako's demure and traditional sister-in-law, the wife of the Emperor's second son Akishino, seems born to be a Japanese princess. Earlier this year, as conservatives searched for a way to defeat legislation that would allow women to ascend to the throne--a move that had the support of some 80% of the Japanese public--it was Kiko, then 39, who conceived her miracle boy out of pure imperial duty, according to some of her fans. "The Emperor had been worried and depressed that the crown princess had no more children," says Nishiyama. So Kiko and Akishino "decided to have another child to lift the burden from the Emperor's shoulders." Whether or not that's true, Kiko has become the darling of the Japanese media and Establishment for being everything Masako is not. "Princess Kiko was courageous to give birth to a third child in a society of low birthrate," said House of Councilors president Chikage Ogi. "This is what women should learn from her."
But even if the traditional Kiko is lionized, the country's plummeting birthrate shows that Japanese women--regardless of their princess preference--are increasingly choosing modern lives. So the big loser in all this could be the baby. As Japan continues to change while the dynasty stands still, the prince may find it surprisingly difficult to find a Japanese woman willing to become his princess.
With reporting by Michiko Toyama/Tokyo