カテゴリ
以前の記事
検索
最新のトラックバック
その他のジャンル
ファン
記事ランキング
ブログジャンル
画像一覧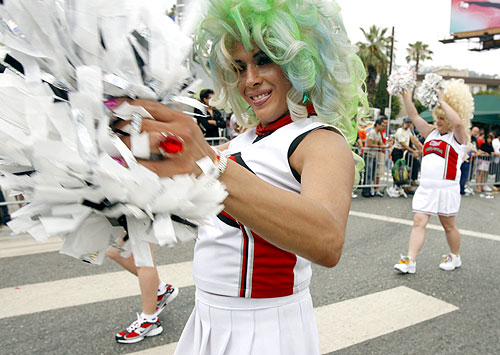 KIND OF A DRAG? Men dressed as cheerleaders march down Santa Moncia Boulevard in West Hollywood in June's gay pride parade. Some say the parade has gotten stale and perhaps should be included in a larger cultural festival.
(Ringo H.W. Chiu / LAT)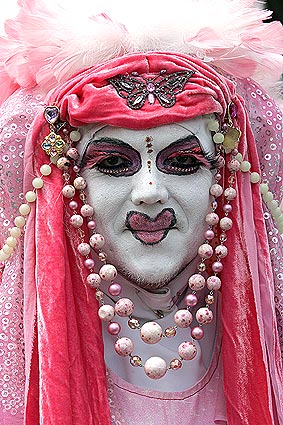 MASKING DISAPPOINTMENT: A parade participant marches with lavish makeup and costume during the Gay Pride Parade 2006 along Santa Monica Blvd. in West Hollywood.
(Ringo H.W. Chiu / For the Times)
Still Proud, but Seeking More Gaiety
Some in West Hollywood have grown tired of the same old drag queens and leather-clad bikers in their annual parade. A monthlong event is floated.
By Bob Pool
Los Angeles Times Staff Writer
September 13, 2006
Forget the bikini-clad musclemen waving from floats gaily draped in rainbow colors. Never mind the burly guys bouncing down the street in frilly pompom-girl costumes and flouncy wigs or the tight leather shorts worn by the beefcake bikers.
West Hollywood's annual gay pride parade needs to be seriously beefed up.
That's the conclusion of community and civic leaders who grumble that the 35-year-old salute to gay rights has become predictable and dull — dare we say it? — more boring than bold.
The sight of painted drag queens strutting down Santa Monica Boulevard in sequined gowns held up by basketball-stuffed brassieres might have been jaw-dropping three decades ago.
But no more.
"Our parade is pretty lame. This being the entertainment capital you'd think there'd be more creativity," said Jimmy Wood, a 38-year-old West Hollywood realty agent who has attended the parade for years and says the floats seem to be the same every year. "I like the drag queens and all the other usual suspects. But they need to get the studios involved. Our parade is pretty weak in production value."
The parade's organizers hoped to boost the event last year by making headline-grabbing celebrity socialite Paris Hilton co-grand marshal of the parade with her mother, Kathy Hilton. But the move left some parade regulars rolling their eyes — and helped prompt city leaders to get involved.
The City Council convened a special task force made up of marketing and financial experts as well as gay rights activists to study the parade. They have concluded it needs more of a head transplant than a mere facial makeover.
"People like the parade and festival, but they want to know what's new. They want the latest, hippest and coolest," said West Hollywood Mayor John Heilman. "But how do we win over some of the people who say, 'Oh, I did that five years ago?' How do we make it appealing to somebody who went to gay pride 20 years ago and doesn't have any compelling reason at this point to come back?"
The panel suggests that if the 2-square-mile city nestled between Hollywood and Beverly Hills is to maintain its reputation as Southern California's most vibrant gay enclave, it needs to both liven up and expand the gay pride celebration.
Instead of only a weekend event, there should be a monthlong series of arts, film, cultural and social activities "that celebrate the creativity" of not just West Hollywood but all of Los Angeles, the task force decided.
Professionals need to be put in charge of the marketing and promotion of the new "Pride Month," according to the recommendation.
And the city itself needs to coordinate the renewed festival — which should include the creation and enforcement of "higher standards for participation in the parade."
Leaders of the nonprofit Christopher Street West Assn., which organizes the event, say they support the changes and have some of their own in mind, including larger floats and perhaps allowing parade-goers to participate in the march.
Named for a drag-queen-led gay liberation "rebellion" staged at the Stonewall Inn bar on New York City's Christopher Street in 1969, the group has organized and run the parade since 1970. Its president, Rodney Scott, steadfastly defends the event's track record.
"I don't think it's broken," he said of the parade. "What the City Council is saying and we're saying is, 'How do you take it to the next level?' How do we reach more people with our message? It's not about stuffing more people along the parade route. It's about reaching people."
Scott, 41, defended Paris Hilton's role in the 2005 gay pride parade, although he admits it remains controversial.
Some in West Hollywood question what qualified Hilton to be the grand marshal of an event that celebrates gay rights.
"Paris Hilton became a lightning rod for some people who asked how we could select someone like that," Scott said. "People had the impression she wasn't a good role model for lesbian, gay, bisexual and transgender people."
"We never said she was a role model," he added. "We knew her participation in the parade would bring visibility. And she did."
As they begin to tinker with the parade, Scott said it's crucial that officials don't "sanitize or censure to diminish people's creativity or the individualism of our community."
The gay pride parade draws about 300,000 people a year and is one of two big annual gay-themed events in the city. The other is the Halloween carnival and celebration.
While city leaders say the parade is losing steam, they've received complaints that the Halloween celebration is getting too wild. It attracts upward of 400,000 participants and onlookers.
Now the city plans to discuss tweaks to that event as well.
But West Hollywood leaders should tread carefully, said resident Ken Sapp Jr., a 36-year-old cameraman intern.
"No disrespect to straight people, but Halloween is like Christmas for us."
bob.pool@latimes.com
▲
by

alfayoko2005

| 2006-09-14 22:41 | トランス
朝日
オペラ「午後の曳航」に喝采 異彩放ったヘンツェ
2006年09月13日
 夏の1カ月余り続いたザルツブルク音楽祭は、生誕250年を迎えたモーツァルトほぼ一色だった。そんな中、異彩を放っていたのが三島由紀夫原作、ドイツの大物現代作曲家ハンス・ベルナー・ヘンツェのオペラ「午後の曳航(えいこう)」だ。
 原作は、主人公の少年が、あこがれていた船乗りが母との結婚で海を捨てたことに幻滅し、仲間と船乗りを殺害するストーリー。ヘンツェが80年代末に「裏切られた海」の題でドイツ語のオペラに。その後、歌詞を日本語に訳すなどし、原題の「午後の曳航」で、ゲルト・アルブレヒト指揮、読売日本交響楽団が03年に東京で初演した。
 今回の公演は、さらに手を加えた改訂版の世界初演。この音楽祭で日本人が日本語でオペラを歌うのも、もちろん初めてだ。
 アルブレヒトによれば、改訂作業では、翻訳がもたらす、日本語の歌詞と曲の音型との不自然さを解消するために「ヘンツェに約40分の曲の追加を要求した」という。結果に、この名指揮者は「ヘンツェの最も力強く、美しい作品となった」と手応えを感じた。
 船乗り役のバリトン、三原剛も「ヘンツェが三島の作品を愛し、深く読み取っていることが楽譜から感じられる」と称賛。三原をはじめとした歌手たちや、イタリア国立放送交響楽団の熱演もあり、原作の情景が浮かび上がる曲に仕上がっていた。
 日本語の不自然さはなお残り、日本語の歌詞やト書きのための字幕(ドイツ語・英語)が大幅に省略されていて、聴衆には難解な部分もあったかもしれない。
 それでも公演後は「ブラボー」の声が次々飛び、客席のヘンツェに対してスタンディングオベーションが10分以上続いた。オーストリア通信は「今年の音楽祭で、おそらく最長だ」と伝えた。
 7月に80歳を迎えたヘンツェを祝う今回の公演は成功を収め、大きな誕生日プレゼントとなった。
A whirlwind tour of Mozart's 22 operas
By George Loomis International Herald Tribune
TUESDAY, SEPTEMBER 12, 2006
SALZBURG The Salzburg Festival ended Thursday having made good on its promise to produce all 22 of Mozart's operas. As it began, critics feared an overabundance of Mozart in his 250th anniversary year and expressed mixed views about the project. In truth, few critics can afford to spend enough time in Salzburg to form first-hand opinions, which, of course, won't stop them from expounding on the subject.
Say what they will, "Mozart 22," the crowning achievement of Peter Ruzicka's brief term as Salzburg's intendant, presented a staggering opportunity for Mozart devotees, not least because the Big Seven operas (which now include "Idomeneo" and "La Clemenza di Tito") account for less than a third of the titles. How can it be that so many operas by one of the form's greatest masters are so little known? "Mozart 22" gave fans a chance to find out.
The 40-day festival reported that subscription sales to all the operas amounted to a grand total of 48. But this hardly signals a box office fiasco, since sales of other series and individual tickets (priced for top-tier operas at up to €360, or about $465) ensured good houses. Veterans of "Mozart 22" are a privileged elite.
As luck would have it, one such happy Mozartian sat next to me at a performance, Luis Gutiérrez from Mexico City, who isn't one of the 48 but bought individual tickets to all the performances. Like those, presumably, in the core group, he is thoroughly versed in Mozart's operas. He said the experience left him especially impressed with Mozart's greatness as an opera seria composer and mentioned "Mitridate" and "Lucio Silla," which Mozart wrote in his mid- teens for Italy, as special favorites. Gutiérrez, who said he is a retired chairman of the airline AeroMexico, described himself as a "Mozart aficionado" who has completed a book on the composer.
One opera Gutiérrez isn't too keen on is "La Finta Giardiniera" (The Feigned Garden Girl), a long and diffuse comedy that in a slimmed down version on Saturday became the last of the 22 to hit a Salzburg stage. Yet at age 19, Mozart had already long been a master of the Italian aria, and he lavishes them in abundance on a crazy plot that sometimes only barely holds together. It finds an implausible but often hilarious match in Doris Dörrie's production, designed by Bernd Lepel, which sets the opera not in a garden but in a garden supply store, with racks of merchandise bearing price tags along with more fanciful elements like huge animated flowers, garden statues that come to life and even a man-eating plant.
The Marchioness Violante, sung by Alexandra Reinprecht in a resonant soprano not always under full control, disguises herself as the gardener girl Sandrina simply by putting a plastic bag over her enormous wig. She otherwise remains in elaborate 18th-century garb - although by the end, in one of the production's many sexually charged moments, she wears only a towel. Violante is eventually reconciled with her lover, Count Belfiore (John Mark Ainsley, in graceful voice), but not before they undergo bouts of madness as they are threatened by a giant spider. Véronique Gens and Ruxandra Donose excelled as Arminda and Ramiro, another couple that eventually come back together, while Adriana Kucerova and Markus Werba, as Serpetta and Roberto, ably represented the servant class. As the town mayor - here the store manager - John Graham-Hall shined in his aria lauding musical instruments as means for expressing love.
Ivor Bolton led the Mozarteum Orchestra with aplomb in what was left of the score after the omission of seven arias and a duet. Dörrie's humor misfired only once, but seriously so, when an enormous bird pretended to mouth the words while Violante sang a heartfelt aria about a turtledove.
"Idomeneo" was staged in the new 2,179-seat Haus für Mozart, which replaces the old Kleines Festspielhaus, regarded as too long and too narrow. The new hall, modified accordingly, comes equipped with a second balcony and 250 more seats. It has won high marks for acoustics, but the production by Ursel and Karl-Ernst Herrmann, a thorough reworking of their staging a few years back, frustratingly positions the singers in a variety of places with consequences to the sound quality.
Like other productions by the Herrmanns, this "Idomeneo," abstract and subtly colored, has plenty of visual appeal, but the action veers between the highly stylized and the overly emotional, so that it is often hard to get a grip on the plight of the characters. Still, it comes as a powerful moment when the Cretan king Idomeneo at last confesses that his rash vow to Neptune requires the sacrifice of his own son, Idamante.
Heading a splendid cast, Ramón Vargas made his handsome lyrical tenor serve heroic duty in the title role. Magdalena Kozena was a fresh-voiced Idamante, and Ekaterina Siurina sang Ilia with uncommon character. Anja Harteros's Elettra was a model of vocal strength and dramatic intensity. Roger Norrington led the Camerata Salzburg in a shapely, naturally paced account of the score.
Richard Strauss, an important force in the festival's early history, has been sparsely represented in recent years, although Ruzicka's tenure did see "Die Liebe der Danae" and "Der Rosenkavalier." It was a grand idea to follow "Idomeneo" the next night with a concert performance of Strauss's 1931 reworking of the opera for its 150th anniversary.
The old view that opera seria is not stage-worthy no longer holds water, but Strauss's extensive changes show just how deeply held that view was. Secco recitatives are supplanted by accompanied ones bearing his own harmonic imprint, and aria texts are replaced with continuous words that avoid repetition (unfashionable since Wagner). Strauss transfers Elettra's music to Ismene, a high priestess. His most creative contribution comes in a luxuriant and extended quartet near the end that might have come from "Die Frau ohne Schatten." Yet his love for Mozart shines through it all.
Leading the Staatskapelle Dresden, the conductor Fabio Luisi proved to be an effective advocate, and strong contributions came from Robert Gambill (Idomeneo), Britta Stallmeister (Ilia), Iris Vermillion (Idamante) and Camilla Nylund (Ismene).
Though often overshadowed by more glamorous events, new music at Salzburg has flourished under Ruzicka, himself a composer. Among this summer's 15 commissions was Hans Werner Henze's revision of his 1990 opera "Das Verratene Meer" based on Yukio Mishima's novella "The Sailor Who Fell from Grace with the Sea," which was also performed in concert. The grim conclusion of this story about a sailor killed by his stepson's gang is foreshadowed in every bar of Henze's fascinating if relentlessly stern score. He is said to have written a considerable amount of new music. But the opera follows the original scene structure, and Gerd Albrecht, to whom the score is dedicated, made a number of cuts in leading the Orchestra Sinfonica Nazionale della RAI Torino. Now called "Gogo No Eiko," the opera is sung in Japanese, but whether the new language wins the opera new admirers remains to be seen.
▲
by

alfayoko2005

| 2006-09-14 21:16 | Music
The Japan Times: Thursday, Sept. 14, 2006
Twins wreak havoc in Poland
By GWYNNE DYER
LONDON -- "I am afraid that with Jaroslaw Kaczynski as prime minister, Poland will become more extreme, more anti-European and a more xenophobic country," warned Bronislaw Komorowski, a member of the opposition Civic Platform party, when the second Kaczynski twin was made prime minister by his brother, President Lech Kaczinski, in July. He could have added that Poland is becoming more anti-Semitic, more homophobic and much more vengeful toward former communists and collaborators.
The Kaczynski twins, chubby 57-year-olds whose baby faces remind everyone that they first shot to fame as child actors in the 1960s, are identical in both their appearance and their politics. They are nationalist, Catholic and conservative (as mayor of Warsaw, Lech banned gay parades and called the organizers "perverts"), which is why they appeal to the left-behinds of Polish society, the rural, the poor and the uneducated, who provided most of the votes for their Law and Justice Party last year.
Then they promised that they would never occupy both of the great offices of state, and Jaroslaw remained as party leader while Lech took the presidency. But the man he appointed as prime minister instead, Kazimierz Marcinkiewicz, showed an unexpected streak of independence, so two months ago Lech fired him and appointed Jaroslaw in his place.
Since then, it has gone from bad to worse: quarrels with Germany, with Russia, with the European Union that Poland joined only two years ago -- and above all, a determined drive to punish everybody who served or helped the communist regime that collapsed 27 years ago.
The campaign's most prominent victim is former president Wojciech Jaruzelski, who declared martial law in 1981 and jailed about 10,000 Solidarity members. Jaruzelski has always claimed that he did it only to forestall a Soviet invasion that would have ended in a national disaster, for the Poles would have fought back, the country would have been devastated, and all possibility of reform would have been lost for decades.
Most of Soldarity's former leaders now accept Jaruzelski's justification for his decision, though they spent years in jail because of it. Former president Lech Walesa, Solidarity's founder, was publicly reconciled with Jaruzelski last year in a joint television appearance. But Jaruzelski is now charged with being the head of an "organized criminal group that aimed to perpetrate crimes that consisted of the deprivation of freedom by internment," and at the age of 82 he faces a possible 11 years in jail. Hundreds of thousands of other Poles also face reprisals under the new law introduced by the Kaczynskis.
Under the old rules, members of Parliament, judges and top civil servants, and security officials were required to state whether they had collaborated with the communist-era secret police, but they were not automatically banned from those jobs. Under the new law, all persons in "positions of public trust" who were over 17 when Solidarity finally brought down the communists in 1989, including diplomats, local officials, school principals, lawyers and journalists, will lose their jobs if they cannot produce a certificate (to be issued by the Institute for National Remembrance) showing that they were not collaborators.
Employers who do not demand certificates from their employees will also lose their jobs. The secret police files of people who held public office under the communists will be published on the Internet, together with the names of all former secret policemen. And of course thousands of individuals will be punished in this way because of false or misleading information in those files.
Similar things happened in other countries of the former Soviet bloc just after the communist regimes were swept away by the revolutions of 1989, though nothing so extreme. But to institute such a witch hunt 17 years later, when most of the targets of this revenge are retired or nearing the end of their working lives, is vindictive and pointlessly destructive.
It is the same resentful obsession with past wrongs that caused President Kaczynski to cancel a visit to Germany recently after a small-circulation German newspaper satirized him as a "potato-head." It gives rise to demands that Poland erect a memorial to the 1940 massacre at Katyn, in which Soviet troops murdered at least 15,000 Polish reserve officers, directly across the street from the Russian embassy. And it turns a blind eye to anti-Semitism, gay-bashing and other relics from the darker parts of Poland's past.
Poland is highly nationalist because it has had a dreadful history of partition, conquest and oppression at the hands of its far bigger neighbors, Germany and Russia. It is the most Catholic country in Europe because its religion was a rallying point during the long decades of foreign occupation. It is socially conservative because almost half its people are still essentially rural. None of that is bad in itself, but the Kaczynskis know how to push all of Poland's buttons, and they do it shamelessly and relentlessly.
Two million young Poles -- over five percent of the population -- have left the country for greener pastures in Western Europe since EU membership made it easy for them to move. The 17 percent unemployment rate, the highest in the EU, gave them a big incentive to go, but in many cases that wasn't all that pushed them out. There is another Poland, but quite a lot of it is currently living abroad.
Gwynne Dyer is a London-based independent journalist and historian whose columns appear in 45 countries.
性的少数者の人権に配慮を 関係者ら、都城市長に要請 (共同 2006/09/14)
 同性愛者など性的少数者の人権尊重を盛り込んだ全国でも珍しい宮崎県都城市の「男女共同参画社会づくり条例」の関係部分が、市町合併に伴う見直しで削除されたとして、同性愛者であると公表している大阪府の尾辻かな子府議(31)が14日、長峯誠市長を訪ねて再考を求める文書を手渡した。
 国際的な人権擁護団体や、米国を中心とする同性愛者の人権擁護団体も抗議や見直しを求める公開書簡を送ったという。
 合併前の都城市が2004年に施行した条例は「性別または性的指向にかかわらずすべての人の人権尊重」と明記。性的指向は「性的意識の対象が異性、同性、両性のいずれに向かうかを示す概念」だと説明していた。
【FT】9・11の英雄ジュリアーニ、トップを目指す
2006年 9月11日 (月) 17:39
(フィナンシャル・タイムズ 2006年9月8日初出) ワシントン=ホリー・イェーガー
 ニューヨークの世界貿易センターが攻撃された後、ニューヨーク市長ルディ・ジュリアーニはしばらく「アメリカの市長」と呼ばれた。冷静かつ堂々とした指導力はニューヨーク内外で広く賞賛された。
 そして今。ジュリアーニ氏は名実共に「アメリカの市長」になろうとしている。2008年米大統領選に出馬してホワイトハウス入りをねらうか、検討しているのだ。
 共和党の候補指名レースに出馬するかどうか、11月の中間選挙を待って決める。ジュリアーニ氏はこれまで、そう繰り返してきた。共和党は次の大統領選で、過去40年以上なかったほどの候補者乱立状態になりそうな気配だ。そんな中でジュリアーニ氏は出馬について明言を避けてきたが、「9・11」の5周年が近づくにつれて、同氏の動向に注目が集まってきた。
 ジュリアーニ氏自身も候補者のようにふるまっている。中間選挙で苦戦が予想される共和党候補の応援演説に出かけたり、大統領候補指名の予備選が早い段階で行われる州を歴訪したり、国内各地の候補者に自分の政治団体から資金を提供したりと、活発に動いている。そしてジュリアーニ氏の活発な動きに、有権者は気づいている。そういう結果が、世論調査で出ている。フォックス・ニュースが世論調査会社オピニオン・ダイナミックスと今月実施した共同調査では、共和党候補になると予想される中でジュリアーニ氏が支持率27%を獲得し、トップだった。2位は僅差でアリゾナ州のジョン・マケイン上院議員だった。
 多くの人がジュリアーニ氏の指導力を評価し、国の安全保障に力を発揮するだろうと期待している。だからこそ、同氏は今のこの早い段階でトップの支持率を獲得したのだ。しかし重大なマイナス要素もいくつか抱えている。最大のネックとなりうるのは、政治的に「危うい」社会問題についての、同氏のスタンスだ。同氏の姿勢はニューヨーク市長としてはふさわしかったが、米国の保守層とは相容れないものだ。そして米国全土を舞台にした指名獲得レースでは、その保守層が決定的な役割を演じる。
 「(ジュリアーニ氏が)中絶支持者で、銃規制支持者で、同性結婚の支持者だと、共和党員は知ってるのか知らないのか。それともどうでもいいのか?」 クイニピアック大学世論調査研究所のピーター・ブラウン氏は指摘する。
 出馬すれば、ジュリアーニ氏はほかにも色々と問題を指摘されるはずだ。公民権保護を重視する人々は、同氏が市長時代に様々な形で市民の公民権を制限したと批判している。連邦検事としてどう行動したかも、つぶさに点検されるはずだ。そして市長退任後に設立した投資・コンサルティング会社ジュリアーニ・パートナーズの顧客リストも、詳しく検証されるだろう。
 マスコミの目の前で泥仕合となった前妻ドナ・ハノーバーさんとの離婚劇も、改めて注目されるに違いない。ジュリアーニ氏の下でニューヨーク市警本部長だったバーナード・ケリック氏が、公私にわたる不適切な行為を原因に、国土安全保障長官の指名を辞退する羽目になったことも、再び取り上げられ、ジュリアーニ氏とケリック氏の関係が改めて問われることになるだろう。1994年のニューヨーク知事選で、ジュリアーニ氏が民主党のマリオ・クオモ知事を応援したという過去についても、共和党は改めて問題視すれるかもしれない。
 ニューハンプシャー在住の共和党全国委員会メンバー、トム・ラス氏は、有権者はまだジュリアーニ氏の経歴の細かいところまで見ていないと話す。「(ジュリアーニ氏について)有権者が知っているのはひとつ。自分の町が危険にさらされたとき、有能な指導者として振舞う姿を世界中に披露した。この事実のみだ」
ラス氏によると、元市長がニューハンプシャーを訪れると、実にたくさんの人が元市長の本「リーダーシップ」を抱えて、サインを求めてやってくるのだという。「しかも、本の背には必ずしわが入っている。つまり、やってくる人たちは、本をただ買っただけじゃなくて、実際に読んでいる。次へのとっかかりとしては、これは実に強力なものです」
Hero Giuliani eyes biggest prize
Financial Times
By Holly Yeager in Washington
Updated: 11:12 p.m. ET Sept. 8, 2006
In the weeks after the twin towers were struck, Rudy Giuliani became known as "America's Mayor", admired in New York and beyond for his calm but commanding leadership.
Now he is poised to try and convert that honorary title into an official one, as he contemplates a run for the White House in 2008.
Mr Giuliani insists he will wait until after November's midterm elections to make a decision about entering the Republican race, which is shaping up to be the most wide-open contest for the party's presidential nomination in more than 40 years. But, as the September 11 anniversary has approached, so too has interest in his potential candidacy.
Mr Giuliani has been acting very much the candidate, making campaign appearances on behalf of Republicans in tough congressional races, visiting states with early primaries, and distributing money from his political action committee to candidates across the US. Opinion polls show voters are taking notice. A Fox News/Opinion Dynamics poll this month put him at the top of Republican presidential candidates, with 27 per cent of the vote, followed closely by John McCain, the Arizona senator.
But while Mr Giuliani's reputation as a leader and his perceived strength on national security have propelled him to an early lead, there are factors that weigh heavily against him. Most important is his stance on several hot-button social issues, which served him well in New York but put him at odds with the conservatives who play a decisive role in the national nominating process.
"Do Republicans not know he is pro-choice, pro-gun control, and pro-gay marriage, or don't they care?" said Peter Brown, assistant director of the Quinnipiac university polling institute.
Mr Giuliani could face problems in other areas, as well. Civil libertarians have criticised his mayoral record, and his record as a federal prosecutor would also face fresh scrutiny. So too would the client list at Giuliani Partners, the investment and consulting company that he launched after he left the mayor's office.
He is also likely to face questions over the messy public break-up of his marriage to Donna Hanover; his ties to Bernard Kerik, his one-time police commissioner, who was forced to withdraw his nomination as Mr Bush's secretary of homeland security, after allegations about personal and business improprieties; and his decision in 1994 to endorse Mario Cuomo, New York's Democratic governor.
Tom Rath, a member of the Republican National Committee from New Hampshire, said voters have not yet focused on the details of his resumé. "What they know about him is, when his city was at risk, he presented to the world an image of a guy very much in control."
When the former mayor is in New Hampshire, Mr Rath said, people show up carrying his book, Leadership, and hoping for his autograph. "The bindings of those books are always cracked," said Mr Rath. "They didn't just buy his book, they've read it, and that's a powerful start."
Reuters
Thursday, September 14, 2006
Japan city's move to change pro-gay law draws ire
A Japanese city's plan to amend a precedent-setting local law on gender equality and discrimination against homosexuals has set off protests by activists who say the law is being watered down.
The plan coincides with growing concern among conservatives about a breakdown in traditional values, worries that prompted the government to include a caveat against trying to erase all sex-based differences in a gender equality plan last year.
The local assembly in Miyakonojo, a city of 171,000 some 900 km (560 miles) southwest of Tokyo, this week began debating a revision to a 2003 city law that explicitly bans discrimination based on gender or sexual orientation.
Proposed changes to the law, called the "Law for a Gender Equal Society", would revise a sentence that reads: "In a gender-equal society, human rights should be respected for all people regardless of gender or sexual orientation."
The new phrasing would be: "In a gender-equal society, human rights should be respected for all people."
City officials say the change would make the law, which comes to a vote on Sept. 22, easier to understand.
"We feel that by saying 'all people' it's understood that this includes everybody," said Meiko Kawasaki, who is in charge of gender equality.
"As we see it, our position hasn't changed," she said, adding that the city will issue a guidebook on enforcing the law saying there should be no discrimination based on gender or sexual orientation.
Activists, however, were outraged.
"We do not understand the reasons behind this at all," said Kanako Otsuji, a prefectural assembly member from the western city of Osaka and Japan's first openly lesbian politician.
"If it were clear that discrimination no longer existed, that would be one thing. But people are afraid of what they don't understand," she said in a telephone interview from Miyakonojo, where she planned to meet city officials.
The international organisation Human Rights Watch issued a letter addressed to Miyakonojo mayor Makoto Nagamine on Thursday protesting the revision and urging the city to reconsider.
"Language affirming equality on the basis of sexual orientation has been part of that ordinance since 2003," Scott Long, director of the group's Lesbian, Gay, Bisexual and Transgender Rights Program, said in a statement from New York.
"Its proposed removal ... would send a damaging message that your community is regressing from the promise of equality."
Contentious from the start, the law was enacted late in 2003 by a vote of 13 to 12 after prolonged debate under a previous mayor, who was voted out the following year, media reports said.
After Miyakonojo merged this year with several neighboring towns, officials agreed to review all previous laws and held hearings to gain input from local citizens.
No members of women's groups or gay and lesbian groups were invited to take part in the hearings, Kawasaki said.
"From the point of view of human rights, all people are included (under the law)," she said. "There's no change in this."
A city official said no penalty is specified for breaking the law.
Source: Reuters
米ヒューマン・ライツ・ウォッチ:都城市長への抗議状を送付
Human Rights Watch
Letter to the mayor of Miyakonojo Municipality about the removal of "sexual orientation" from the gender-equality ordinance
September 13, 2006
His Honor Nagamine Makoto
Mayor
Miyakonojo City
Miyazaki Prefecture
Japan
Dear Mayor:
On behalf of Human Rights Watch, I write in protest against the move to eliminate references to "sexual orientation" from Miyakonojo City's "Ordinance for the formation of a gender-equal society." Language affirming equality on the basis of sexual orientation has been part of that ordinance since 2003. Its proposed removal—by a process which has excluded the full input of citizens and civil society—would send a damaging message that your community is regressing from the promise of equality and its commitment to non-discrimination.
On behalf of Human Rights Watch, I write in protest against the move to eliminate references to "sexual orientation" from Miyakonojo City's "Ordinance for the formation of a gender-equal society." Language affirming equality on the basis of sexual orientation has been part of that ordinance since 2003. Its proposed removal—by a process which has excluded the full input of citizens and civil society—would send a damaging message that your community is regressing from the promise of equality and its commitment to non-discrimination.
As you are aware, the Basic Law for a Gender-Equal Society (Law 78/1999), passed by Japan's Diet in 1999, committed Japan to "respect for the human rights of women and men, including: respect for the dignity of men and women as individuals; no gender-based discriminatory treatment of women or men; and the securing of opportunities for men and women to exercise their abilities as individuals" (article 3). While the law did not propose penalties for discrimination, it was an important affirmation of government's positive responsibility to promote equality at all levels. The same law made local governments responsible for "formulation and implementation of policies related to promoting formation of a gender-equal society corresponding to national measures (article 9). In response, Miyakonojo City in 2003 passed a human rights ordinance that affirmed the equality of people regardless of sexual orientation as well as gender. It was one of the first local governments in Japan to include sexual orientation in its commitment to promote equality. The final text of the ordinance was achieved through a process including open hearings at which citizens as well as local lesbian, gay, bisexual, and transgender (LGBT) groups spoke.
However, Miyakonojo City was consolidated with three other towns in January 2006, and officials agreed that ordinances enacted before this would undergo review. Human Rights Watch is concerned by reports that an open hearing was not held as the "Ordinance for the formation of a gender-equal society" was revised. LGBT groups and individuals and their supporters were denied the full opportunity to express their case. While municipal authorities insist that the proposal rises from discussions of a committee of experts, that discussion has not been made public.
Article 2.1 of the previous ordinance stated, "In the gender-equal society, for all people irrespective of gender and sexual orientation, human rights should be fully respected." Article 2.6 defined "sexual orientation" as "a concept describing the direction of an individual's sexuality, which can be directed to someone of the different or same gender, or to someone irrespective of their gender."
In the ordinance now proposed, Article 2.1 now reads, "In the gender-equal society, for all people, their human rights should be equally respected." Article 2.6 has been completely deleted.
The rationale for these proposed changes is explained, on the city's website, as "to simplify the contents." A simplification of an ordinance on gender equality which removes the term "gender" as well as "sexual orientation" is not a streamlining but a drastic weakening of the contents.
The Miyazaki Prefecture's "Miyazaki Prefecture Development Policies of Human Rights Education," introduced in 2005, includes a section on "Problems faced by gender minorities." This section recognizes persisting discrimination and prejudice based on sexual orientation as well as gender, and urges active steps toward accepting sexual diversity. The new text of your city's ordinance belies this aim. It also places your city at odds with the express finding of international human rights bodies that sexual orientation should be a status protected from discrimination. In 1994, the United Nations Human Rights Committee, which interprets and monitors compliance with the International Covenant on Civil and Political Rights (ICCPR), found that protections against discrimination in articles 2 and 26 of that treaty should be understood to include sexual orientation. Japan has been a party to the ICCPR since 1979.
The proposed revision of the gender-equality ordinance will be debated by the city assembly this week. I urge you to support retaining the existing language. Miyakonojo City's resonant support of equality made it a model in Japan. Its example is too important for you to retract it now.
Sincerely,
Scott Long
Director
Lesbian, Gay, Bisexual and Transgender Rights Program
Human Rights Watch
cc: Office of Miyakonojo City Assembly
Related Material

More of Human Rights Watch's work on Japan
Country Page
宮崎:性的少数者排除は否定 都城市長、苦しい答弁
宮崎日日新聞
性的少数者排除は否定 都城市長、苦しい答弁
2006年09月14日
 都城市が9月定例市議会に上程している男女共同参画社会づくり条例案について長峯誠市長は13日、同市議会一般質問で、旧都城市の同条例にあった「性別または性的指向にかかわらず」という表現を削除した理由として「『すべての人』の中に性的少数者も含まれるとの考え方によるもの。性的少数者を排除しようとしたわけではない」と答弁した。
 一方、前田四一郎市民生活部長は、市が今年2月から3月に実施したパブリックコメントで、旧条例の「性別または性的指向にかかわらず」を新条例案に残すことについて賛成5件、反対13件の意見が市民から寄せられたと報告した。
 反対意見について「懇話会や庁内検討では『一部の偏った見方であり、受け入れられるものではない』という点で終始一貫していた」と答弁した。反対意見を否定しながらも結果的には反対意見通りに問題の表現を削除するという矛盾を含んだ説明となった。
宮崎:都城市 同性愛者に配慮の文言削除 - 朝日・宮崎版
♪ 例によってバカ丸出し。福井県は間違ってもこんな幼稚で身勝手なカルトの苦情など受け付けてはならない。
2006.09.14
福井県へ苦情申出書提出 「福井県のフェミ本撤去問題(23)」 [ カテゴリ未分類 ]
昨日、福井県男女共同参画・県民活動課に、男女共同参画施策申出書、及び別紙(資料)を提出いたしました。原本は福井県民90名、県外の人24名の連名となっています。ぜひ、ご覧頂きますようお願いいたします。
 先月末、今大地さん、上野さん、寺町さんなどから男女共同参画施策苦情申出書が提出されていますが、その内容には大きな疑問を感じております。県の行ったことを「検閲」ととらえていること、また、私個人のことについても、「推進員にあるまじき条例の趣旨に反する行為であるにもかかわらず放置していること」と書いていることなどです。
 私は、県の当初取った処置は基本計画(第2次)の趣旨のかなった適切なものであったと思います。しかし、その後の対応は確かに不適切でした。
 私自身のことについて言えば、やはり基本計画(第2次)の趣旨にかなった適切なものであったと思っています。私は、男女共同参画の趣旨にかなう健全な(普通の)本を置いてほしいと思っているだけです。 以下に、申出書を掲載いたしますので、ご覧ください。なお、別紙(資料)は、Free Page Listの★書籍の具体的記述通りですのでそちらをご覧ください。
男女共同参画施策申出書
平成18年9月13日
福井県知事
西川一誠様                  
県が実施する男女共同参画の推進に関する施策または男女共同参画の推進に影響を及ぼ
すと認められる施策について、以下のとおり申し出ます。
申出等に関する県の施策
福井県男女共同参画条例、第2章男女共同参画の推進に関する基本的施策、第9条
県は、広報活動などを通じて、基本理念に関する県民などの理解を深めるよう適切な措置を講ずるともに、男女共同参画の推進に関する教育および学習の機会の充実に努めるものとする。
申出(苦情)の具体的内容
1 福井県生活学習館におかれている図書の中には、男女共同参画の推進に不適切と思われる図書が多くある。今年の初めに、近藤實氏から、男女共同参画に必要かどうか非常に疑問とのことで、150冊余のリストが提出され、県は3月に撤去した。(県の主張は、内容を確認するため一時的に移動しただけとのこと)
このことは、昨年末、国の基本計画が改定されたことに沿うものと考えられ高く評価したものです。以下に、基本計画の関連する部分を抜粋します。
男女共同参画基本計画(第2次)概要
  第2部、施策の基本的方向と具体的施策
2、男女共同参画の視点に立った社会制度・慣行の見直し、意識の改革
  (2)国民的広がりを持った広報・啓発活動の展開
   【具体的施策】
男女共同参画の理念や「社会的性別」(ジェンダー)の視点)の定義について、誤解の解消に努め、また、恣意的運用・解釈が行われないよう、わかりやすい広報・啓蒙活動を進める。
* 「社会的性別」(ジェンダー)の視点
1、(中略)
このように、「社会的性別の視点」でとらえられる対象には、性差別、性別による固定的役割分担及び偏見等、男女共同参画社会の形成を阻害すると考えられるものがある。その一方で、対象の中には、男女共同参画社会の形成を阻害しないと考えられるものもあり、このようなものまで見直しを行おうとするものではない。社会制度・慣行の見直しを行う際には、社会的な合意を得ながら進める必要がある。
2、「ジェンダー・フリー」という用語を使用して、性差を否定したり、男らしさ、女らしさや男女の区別をなくして人間の中性化を目指すこと、また、家族やひな祭り等の伝統文化を否定することは、国民が求める男女共同参画社会とは異なる。例えば、児童生徒の発達段階を踏まえない行き過ぎた性教育、男女同室着替え、男女同室宿泊、男女混合騎馬戦等の事例はきわめて非常識である。また、公共の施設におけるトイレの男女別色表示を同色にすることは、男女共同参画の趣旨から導き出されるものではない。
上記1、2、について、国は計画期間中広く国民に周知徹底する。
しかし、県は5月中旬、すべての書籍を元に戻した。その理由を県は、「個人への誹謗中傷や人権侵害、暴力的表現など公益を著しく阻害するような記述はなく問題がなかった。」と述べている。
近藤實氏が問題にしたのは、男女共同参画に必要かどうか(ふさわしいかどうか)という点であり私たちもそのことを疑問に思っているのだが、このことについては全く考慮されず、県は全く関係ない基準を持ち出して判断したのは甚だ遺憾であります。
以上により、苦情の第一として、
 県は、国の基本計画で、国の目指す(多分県の目指すものと相違はないと思う)方向が明示されたにもかかわらず、なぜ、提出された書籍リストに付いて、男女共同参画にとって相応しいかどうかという視点で確認作業を行わなかったのかをお尋ねします。
 また、今からでも、国の基本計画の判断に基づいて、書籍内容がふさわしいかどうかを再検討する考えはないのかをお尋ねします。
2 今年はじめに近藤實氏が提出したリストは、書籍名、副題、著者、出版社名などを記しただけのもので、不適当とする具体的根拠を明らかにしてはいませんでした。今回、すべての図書ではありませんが、別紙の10冊の書籍について、簡潔に不適当とする根拠を明らかにいたしました。ぜひ、しっかりお読み頂きたいと思います。
現在、国はジェンダー・フリーと言う用語を使用しない旨、各自治体に通達していると聞いております。県の西藤教育長は、県議会での答弁で「福井県ではジェンダー・フリー教育は行われていない」と明言しています。
しかし、別紙にあるように「学校をジェンダー・フリーに」「ジェンダー・フリー教育」と言う本が、生活学習館におかれています。そして、その内容は、ジェンダー・フリーの学校づくり、ジェンダー・フリーの教育実践についての具体的記述です。
その他の、書籍も、男女共同参画にとってふさわしいか甚だ疑問であります。
以上により、苦情の第二は、
別紙の10冊について、男女共同参画にふさわしいかどうかを明確にお答えいただきますようお願いいたします。  
なお、以下に、県が書籍の内容について、男女共同参画にとってふさわしいかどうかを検討、判断すること、また不適当と判断した場合その書籍を排除することは、上野千鶴子氏、寺町緑氏、今大地晴美氏らが述べているような、「言論の弾圧」、「検閲」に全く当てはまらないことを少しく述べたいと思います。
 公立図書館では、購入する書籍について検討会を開き、適当かどうかを判断している。先日、福井県立図書館で聞いたところ、必ず本中身を見て、合議制で購入するかどうかを決めるとのことであった。例えば、女性の裸の写真が載っている本があるとすると、芸術と考えるか猥褻なものと考えるか検討する、当然、意見は分かれることがあるが、何らかの判断を下す。
 小学校、中学校、高校の図書館には、それぞれの児童、生徒にふさわしい本が置いてあるはずだ。ふさわしくない本があった場合、それを排除することを、「憲法で禁止する検閲だ」と言い、「言論・学問の自由を侵害する」という人はいない。その判断基準は、< 常識 >ではないだろうか。
 生活学習館も、常識の線で判断していただければ大きな間違いはないと思う。国の基本計画の上記抜粋は、まさに常識を文章化したものに過ぎない。
もう一つ、関連して、申し添えます。昨年7月、国分寺市の「人権講座」の講師を依頼された上野千鶴子氏は、ジェンダーフリーの言葉を使う恐れがありとして講座が中止されたとのことである。これには、東京都の教育委員会が関与したようだが、東京ではこのように断固たる対応をしている。
それに引き換え、残念ながら、福井県は、なんらの判断も示さないでいる。公務員としての職務に対する責任を放棄しているとはいえないだろうか?
確かにこの問題は、難しい問題であり、判断が容易ではない。しかし、ある意味では先に記したように常識の問題であるように思う。  
最後に、この苦情申出書を、男女共同参画審議会に諮問していただくことをお願い申し上げます。特に、先に、今大地氏、上野氏、寺町氏などから提出された苦情申出書が男女共同参画審議会に諮問されるのであるならば、バランス、平等の観点から必ず同等の扱いをしていただきますようお願い申し上げます。
The New York Times
September 13, 2006
McGreevey Tells Oprah Winfrey About New Book, and New Life
By SHIA KAPOS

CHICAGO, Sept. 12 —
James E. McGreevey, who resigned as New Jersey governor two years ago after revealing that he had an affair with a man he put on the state payroll, told Oprah Winfrey on Tuesday that he has renewed faith in God and wants to work on education and poverty, according to several people who were in the audience for the taped interview.
Scheduled to air next week in conjunction with the release of Mr. McGreevey's memoir, "The Confession," the interview on "The Oprah Winfrey Show" was the first stop on a publicity tour.
Reporters were not allowed into the taping, but members of the audience said the hourlong conversation ranged from Mr. McGreevey's relationship with God to the sexual encounters he had with a former staff member in his home. He told Ms. Winfrey that "he felt he was being dishonest and had to change his life around," said an audience member who spoke on the condition she not be named.
Many who watched the taping said there was little new. "It was underwhelming," one guest said. As sometimes happens on the taped show, audience members were told not to discuss the interview.
As they left the studio in the West Loop neighborhood here, many offered "no comments" with the practiced ease of celebrities, but some mentioned a few details: Mr. McGreevey, 49, wore a suit and tie, laughed and joked throughout the interview, and was thoughtful in discussing the people in his life.
Audience members gasped at a few comments, some because they were astonished, others moved. "He was very real, whether you agree with him or not," one woman said.
Ms. Winfrey won the first interview, but Mr. McGreevey is scheduled to appear next week on "Today," "The View" and "Hannity & Colmes." His agents describe it as more a coming-out story than a political tell-all.
Mr. McGreevey, who did not speak to the small posse of journalists at the studio, also discussed poverty and education, causes Ms. Winfrey has taken up on her show and in her personal life. He was joined in the studio for the taping by about a dozen friends, including State Senator Ray Lesniak of Elizabeth, N.J.
The former governor has largely stayed out of public view since the stunning day in August 2004, when he stood with his wife at a news conference and announced, "I am a gay American."
He stepped down from the state's top job and separated from his wife. He now lives with his partner, Mark O'Donnell, 42, an Australian financial adviser.
"He's a human being who has a right to live his life the way he wants," said Casey Grant, a retired flight attendant who lives in Chicago and watched the taping. "No matter what kind of governor he was."
Andrew Jacobs contributed reporting from Newark.
ゲイで前ニュージャージー知事のマクリーヴィ氏、オプラ・ウィンフリー・ショーに出演