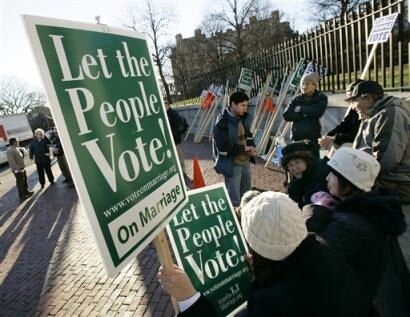 Gay marriage opponents sit outside the Statehouse in Boston Tuesday, Jan. 2, 2007, after lawmakers in Massachusetts, the only state where gay marriage is legal, voted Tuesday to allow a proposed constitutional amendment to move forward that would effectively ban it. The amendment's backers had collected 170,000 signatures to get a question on the 2008 ballot asking voters to declare marriage to be between a man and a woman, but they still need the approval of two consecutive legislatures. (AP Photo/Elise Amendola)
同性婚認める州憲法修正か 米マサチューセッツ
2007年01月03日18時56分 朝日
 AP通信などによると、米国の州で唯一、同性同士の結婚を認めているマサチューセッツ州の上下院は2日、結婚を男女間のものと限定する州憲法修正案を08年に住民投票にかけることについて採決し、200人の議員のうち、必要とされる4分の1を上回る61人が賛成した。
 実際に住民投票にかけるには連続した会期での採決が必要。次期会期でも、採決に持ち込まれれば50人を上回る賛成があるとみられる。住民投票をへて修正が成立すると、同州での同性婚は認められなくなる。
Proposed Mass. gay marriage ban advances
By STEVE LeBLANC, Associated Press Writer
Wednesday, January 3, 2006
A proposed constitutional amendment to halt gay marriage is a step closer to making the 2008 Massachusetts ballot, but the governor-elect said Wednesday that the fight to preserve the state's unique same-sex marriage rights will continue.
Lawmakers voted Tuesday to advance the proposed amendment, which would define marriage as the union between a man and woman.
The measure still needs approval in the next legislative session before it can appear on the ballot, and both supporters and opponents of gay marriage promised to step up their campaigns.
"This fight isn't over," said Democratic Gov.-elect Deval Patrick, who opposes the amendment.
Patrick had been out of the country until Monday, and he had conducted a furious round of last-minute lobbying to try to prevent the vote Tuesday. If the Legislature had recessed Tuesday, the final day of its session, without voting, amendment supporters who had collected more than 120,000 signatures would have essentially had to start over.
"This is democracy in action. It's not a vengeance campaign. It's not a hate campaign. It's just an opportunity for the people to vote," said Kris Mineau of the Massachusetts Family Institute, which backs the amendment.
Gov. Mitt Romney, an opponent of gay marriage who took the first step Wednesday toward becoming candidate for the GOP 2008 presidential nomination by filing papers to create an exploratory committee, called the vote to advance the proposed amendment an important step on the path to the ballot box.
"This is a huge victory for the people of Massachusetts," he said.
About 8,000 same-sex couples have wed in Massachusetts since the Supreme Judicial Court ruled in 2003 that the state Constitution guarantees gays the right to marry. A few other states offer civil unions with similar rights for gay couples, but only Massachusetts allows gay marriage.
"There are thousands and thousands of supporters who are committed to ensuring that the rights of a few are never put to a public popularity ballot," said Marc Solomon, campaign director for MassEquality, a gay rights group.
House Speaker Salvatore DiMasi, who had avoided calling the proposed amendment to a vote last fall, said its wording discriminates against gays.
One state lawmaker, Rep. Philip Travis, said the Legislature was simply upholding its duty to respond to a petition calling for a statewide vote on the issue.
The state's high court had admonished the Legislature for avoiding a vote on the citizen petition last fall but said it had no power to intervene.
The amendment needs to be approved by 50 members of the current Legislature and 50 members of the new Legislature before going to voters on the 2008 ballot. Tuesday's vote fulfills the first part of that process.
Supporters of gay marriage say the tide is in their favor.
Seventeen lawmakers who voted Tuesday won't be returning in the new legislative session, including some of the most vocal opponents of same-sex marriage. Gay marriage supporters say they will pick up a total of seven votes to block the proposed amendment in the new session, according to Solomon.
But gay marriage opponents say they're confident they have a solid base of more than 50 lawmakers who won't flip their votes.
___
AP reporters Glen Johnson and David Weber contributed to this report.
Massachusetts lawmakers approve gay marriage vote
By Kevin McNicholas
Tue Jan 2, 6:50 PM ET
Reuters
Massachusetts lawmakers approved a measure on Tuesday that could give voters a chance next year to ban gay marriage in the only U.S. state where it is legal and overturn a historic ruling by the state's highest court.
"We see this as a victory," said Kristian Mineau, president of the Massachusetts Family Institute, a conservative Christian organization.
With hundreds of protesters on both sides of the emotionally charged issue chanting slogans outside the gold-domed Statehouse, 61 lawmakers voted to advance the proposed constitutional amendment to ban same-sex marriage -- more than enough needed under state law for such initiatives.
The 200-member legislature, which has faced a grueling battle over the issue for three years, immediately moved to reconsider its vote, a step gay-marriage supporters had hoped would defeat it. But the measure passed a second vote by the same 61-132 margin.
If it clears another legislative test expected by early next year, Massachusetts residents will vote on it in 2008.
"If it goes to the ballot, it would be a disaster for this state," said Arline Isaacson, co-chair of the Massachusetts Gay and Lesbian Political Caucus. "The state will endure one of the nastiest and most divisive debates you've ever seen with the radical right money pouring in and an anti-gay campaign of the likes people could not possibly imagine."
Although a majority in the Democratic-controlled state legislature voted against it, the measure needed only 50 votes to pass. It also was backed by 170,000 Massachusetts voters who signed a petition along with social conservatives including Republican Gov. Mitt Romney, a probable White House contender.
Gay marriage advocates, including Democratic Gov.-elect Deval Patrick, had lobbied to kill the proposed amendment by pressing the state constitutional convention to recess without voting on the proposal.
ANGERING ROMNEY
That is what happened on November 9 when lawmakers threw their support behind gay-marriage advocates by adjourning the constitutional convention without moving on the issue, angering Romney, who then asked the state's highest court to intervene.
The Supreme Judicial Court ruled last week that it could not force lawmakers to vote but urged them to do so anyway, saying they had a constitutional duty to vote. That statement appeared to sway legislative leaders.
The proposed amendment, which would define marriage as between a man and a woman, now goes to a second legislative vote expected by early 2008. If it clears that hurdle, it will be added to a ballot next year for a popular vote.
"I believe a vote to advance this question to the 2008 ballot is irresponsible and wrong," Patrick, who will be sworn in this week, said in a statement before the vote. "It would do nothing more than condemn us all to more years of debate and expense on a matter that is legally and practically settled."
In 2003, the state Supreme Judicial Court ruled that a ban on gay marriage was unconstitutional, leading to America's first same-sex marriages the following year. More than 8,000 gay and lesbian couples have since married.
The debate in Massachusetts comes about two weeks after New Jersey became the third U.S. state to provide equal rights for same-sex couples in committed relationships known as civil unions.
Marriage between same-sex couples is legal in Belgium, Canada, the Netherlands, Spain and South Africa.