カテゴリ
以前の記事
検索
最新のトラックバック
その他のジャンル
ファン
記事ランキング
ブログジャンル
画像一覧
The New York Times
Abe Rejects Japan's Files on War Sex
By NORIMITSU ONISHI
Published: March 2, 2007

TOKYO, March 1 —
Prime Minister Shinzo Abe denied Thursday that Japan's military had forced foreign women into sexual slavery during World War II, contradicting the Japanese government's longtime official position.
Mr. Abe's statement was the clearest so far that the government was preparing to reject a 1993 government statement that acknowledged the military's role in setting up brothels and forcing, either directly or indirectly, women into sexual slavery. That declaration also offered an apology to the women, euphemistically called "comfort women."
"There is no evidence to prove there was coercion, nothing to support it," Mr. Abe told reporters. "So, in respect to this declaration, you have to keep in mind that things have changed greatly."
The United States House of Representatives has begun debating a resolution that would call on Tokyo to "apologize for and acknowledge" the military's role in wartime sex slavery.
But at the same time, in keeping with a recent trend to revise Japan's wartime history, a group of conservatives in the governing Liberal Democratic Party is stepping up calls to rescind the 1993 declaration. Mr. Abe, whose approval ratings have been plummeting over a series of scandals and perceived weak leadership, seemed to side with this group. A nationalist who has led efforts to revise wartime history, Mr. Abe softened his tone after becoming prime minister last fall. In fact, he first said he recognized the validity of the declaration, angering his conservative base.
"Some say it is useful to compare the brothels to college cafeterias run by private companies, who recruit their own staff, procure foodstuffs and set prices," Nariaki Nakayama, the leader of 120 lawmakers who want to revise the declaration, said Thursday.
"Where there's demand, business crops up," Mr. Nakayama said, according to The Associated Press. "But to say women were forced by the Japanese military into service is off the mark. This issue must be reconsidered, based on truth, for the sake of Japanese honor."
Historians believe some 200,000 women — Koreans, Chinese, Taiwanese, Filipinos, as well as Japanese, Dutch and other European women — served in Japanese military brothels. For decades, Japan denied that its military had been involved, calling the brothels private enterprises and the women prostitutes.
But in 1992, a Japanese historian, Yoshiaki Yoshimi, outraged by government denials, went to the Self-Defense Agency's library and unearthed, after two days of searching, documents revealing military involvement in establishing brothels. One was titled "Regarding the Recruitment of Women for Military Brothels." Faced with this evidence, the government acknowledged its role and issued the declaration.
But the response angered people across the political spectrum. The women and their supporters said that the government was not fully acknowledging its responsibility because the declaration was issued by Yohei Kono, then chief cabinet secretary, and not adopted by Parliament. It is known inside Japan simply as the "Kono Statement."
What is more, supporters accused the government of evading direct responsibility by establishing a private, nongovernment fund to compensate the women. Many former sex slaves have refused to accept compensation from this fund.
But conservatives said the declaration went too far in acknowledging the military's role in recruiting the women. While the documents showed that the military established the facilities, Mr. Yoshimi did not find documentation that the military had forcibly recruited the women. Conservatives have seized on this distinction to attack the declaration.
Supporters of the women say that the Japanese authorities famously burned incriminating documents or kept them hidden.
At the same time, many former sex slaves have stepped forward in recent years with their stories. Three testified in the United States Congress recently, saying that Japanese soldiers had kidnapped them and forced them to have sex with dozens of soldiers a day.
Prime Minister Denies Women Were Forced Into WWII Brothels
Posted on Fri, Mar. 02, 2007
Prodi wins reprieve in Italy
ALESSANDRA RIZZO
Associated Press

ROME -
Romano Prodi's center-left government has a new lease on life. But if the past nine months are any indication, his allies will not make it easy for him.
Since taking power in May, his fractious coalition has bickered over everything from Italy's international commitments to rights for unmarried couples.
Last week Prodi resigned after his allies failed to support him in a Senate vote on foreign policy, including the country's military presence in Afghanistan.
But the Italian president asked the premier to stay on and test his majority in votes of confidence in parliament. If a government loses a vote of confidence it must resign.
Prodi faced his toughest test earlier this week when he survived a vote of confidence in the Senate, which is almost evenly split between the center-left and the conservative opposition.
He faces another vote in the Chamber of Deputies on Friday but it was expected to be little more than a formality as his allies have a comfortable majority in the lower house.
Although the government's immediate survival appeared guaranteed, its long-term stability is fraught with obstacles. Skepticism remains over what Prodi can accomplish with a coalition that stretches from Communists to Christian Democrats and commands only a slim parliamentary majority.
"Do we need a government that must watch its back constantly, that cannot deal with issues unless it tiringly debates them and often reaches a compromise that is the lowest common denominator among various positions?" said Sergio Romano, a leading political commentor.
Several divisive issues await the government.
A Cabinet plan to legalize unmarried couples, including homosexual ones, appears to have been sacrifed to safeguard government stability. The government-proposed legislation has irked the Vatican and angered Catholic politicians in the bloc.
Prodi dropped mention of the proposal in a 12-point plan that serves as the new government platform - an apparent nod to Catholic politicians courted by the center-left to broaden the coalition. The premier did make a brief mention of the issue in a Senate speech, but only to say it was now up to parliament to decide on the matter.
Gay right activists have planned a demonstration next week in Rome to push for the legislation, and the protest is likely to draw coalition officials and foment the controversy.
Afghanistan, where Italy has 1,800 troops, remains a touchy issue. Some radical leftist senators maintain their opposition to the military deployment and say they will vote against an upcoming measure to refinance the mission there. Prodi may have to rely on help from Berlusconi, who has said his center-right forces would back the measure.
A reform of Italy's onerous pension system and the planned construction of a high-speed train connecting Turin and Lyon, France, are also potentially divisive issues.
Moody's Investors Service predicted Prodi's survival, but said this week that the government's efforts for reform would be compromised.
On a brighter note for Prodi, the government is expected to be able to continue opening up sectors of the economy to more competition. Previous rounds of liberalizations were pushed through despite fierce opposition from targeted categories, even though in some cases they were watered down.
Prodi credited his government's action for helping the country's slow recovery from a zero-growth economy.
"Our strategy is bearing the fruit we had hoped for," Prodi told lawmakers shortly before Friday's vote of confidence. "We are not going to stop. This is the right path."
Italy's economy expanded last year at its fastest pace since 2000, according to government statistics released Thursday. Gross domestic product rose 1.9 percent in 2006, compared with just 0.1 percent the previous year - but still below the euro-zone average of 2.7 percent.
Prime Minister Denies Women Were Forced Into WWII Brothels
By Hiroko Tabuchi
Associated Press
Friday, March 2, 2007; A09

TOKYO, March 1 --
Japan's prime minister denied Thursday that the country's military forced women into sexual slavery during World War II, casting doubt on a past government apology and jeopardizing a fragile detente with his Asian neighbors.
The comments by Shinzo Abe, at a time when a number of lawmakers are pushing to roll back a 1993 apology to the women, were his clearest statement as prime minister on military brothels known in Japan as "comfort stations."
Historians say that about 200,000 women -- mostly from Korea and China -- served in Japanese military brothels throughout Asia in the 1930s and 1940s. Many women say they were kidnapped and forced into sexual slavery by Japanese troops.
But Abe, who since taking office in September has promoted patriotism in Japan's schools and a more assertive foreign policy, told reporters that "there is no evidence to prove there was coercion" against the women to make them prostitutes.
His remarks contradicted evidence in Japanese documents unearthed in 1992 that historians said showed that military authorities had a direct role in working with contractors to forcibly procure women for the brothels.
The documents, which are backed up by accounts from soldiers and victims, said Japanese authorities set up the brothels in response to uncontrolled rape sprees by invading Japanese soldiers in East Asia.
In 1993, then-Chief Cabinet Secretary Yohei Kono apologized to the women, though the statement did not meet demands by survivors that it be approved by parliament. Two years later, the government set up a compensation fund for victims, but it was supported by private donations, not government money, and has been criticized as a way for the government to avoid owning up to the abuse.
The mandate for the fund is to expire March 31.
Abe's comments were certain to rile South Korea and China, which accuse Tokyo of failing to fully atone for wartime atrocities. Abe's government has been working recently to repair relations with Seoul and Beijing.
The statement came hours after South Korean President Roh Moo Hyun marked a national holiday honoring the anniversary of a 1919 uprising against Japanese colonial rule by urging Tokyo to come clean about its past.
State Department spokesman Sean McCormack declined to comment on Abe's statement. "I'll let the Japanese political system deal with that," he said.
Nationalist politicians and scholars in Japan claim the women were professional prostitutes and were not coerced into servitude by the military.
Before Abe spoke Thursday, a group of lawmakers from the ruling Liberal Democratic Party discussed their plans to push for an official revision of Kono's 1993 apology. Nariaki Nakayama, chairman of the group of about 120 lawmakers, sought to play down the government's involvement in the brothels by saying it was similar to a school that hires a company to run its cafeteria.
"Where there's demand, businesses crop up . . . but to say women were forced by the Japanese military into service is off the mark," he said. "This issue must be reconsidered, based on truth . . . for the sake of Japanese honor."
Lee Yong Soo, 78, a South Korean who was interviewed recently while she was visiting Tokyo, said she was 14 when Japanese soldiers took her from her home in 1944 to work as a sex slave in Taiwan. "The Japanese government must not run from its responsibilities," said Lee, who has long campaigned for Japanese compensation. "I want them to apologize. To admit that they took me away, when I was a little girl, to be a sex slave. To admit that history."
Japanese leader questions military brothel apology as victims cry foul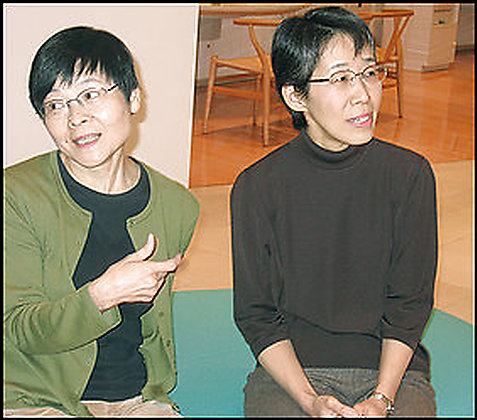 Michiko Koseki, left, and Atsuko Kimura are among six women who have filed a lawsuit against a Tokyo-based trading company alleging sex discrimination.
Photo Credit: By Anthony Faiola -- The Washington Post
Japanese Working Women Still Serve the Tea
Despite Hopes for Change as Their Ranks Have Grown, Discrimination Persists

By Anthony Faiola
Washington Post Foreign Service
Friday, March 2, 2007; A09

TOKYO --
During her many years working for a major Japanese trading company, Michiko Koseki said, she and her female co-workers have suffered a series of indignities both small and large. But the 59-year-old clerical worker was nevertheless shocked a few years ago when her company suddenly decided to move all the men in her department to nicer offices while keeping the women in the old work space.
The affront, she said, did not end there. Koseki, whose job involves handling invoices and customs forms, was then ordered to trek down the hall to serve tea to male employees and visiting customers. The logic: There were no female employees in the new work area, a problem in a country where women in the office are still expected to pour beverages during business meetings.
"I bitterly complained, but my boss said, 'We can't hire a new woman just to pour the tea,' " said Koseki, who has joined five other women in a broad sex discrimination suit against the company, Tokyo-based Kanematsu Corp. "And of course, there was no way a man was going to do it."
She continued: "Women in this country were supposed to be taking a big step forward. But for many of us, it feels like a step back."
In Japan, home to the world's second-largest economy, women have entered the workforce in record numbers over the past 15 years. The phenomenon was once heralded by many as the start of a new era of sex equality in a country where women have long lagged a step behind men professionally.
But leading academics and workers rights groups say the vast majority of Japan's 27 million female workers have instead encountered a far different reality: a system of corporate discrimination based on sex.
As many Japanese companies have sidestepped weak labor laws, they have relegated women to "administration tracks" with substandard pay and fewer prospects for promotion, while channeling men into "career tracks" with greater opportunity for upward mobility and higher compensation.
The number of working women in Japan picked up after the burst of the economic bubble here in 1991, when companies began hiring more of them as a cheaper source of labor. Many of those new hires were brought on as part-time or contract workers without benefits or job security. Although many assumed that those positions would evolve into better-paying full-time jobs, statistics show that hasn't happened. Today, Japan has a record 8 million part-time workers -- more than 90 percent of them women.
"As women have come into the workforce, there has been only fractional progress in overall equality in the workplace," said Mutsuko Asakura, a professor of labor law at Tokyo's Waseda University. "In some companies, you've actually seen women fall further behind."
Critics say Japan has also failed to keep up with Western legal standards in the workplace, including on the issue of sex discrimination. A U.N. study released last year said Japan ranked behind all other industrialized nations in terms of empowerment of women, with 10.7 percent of senior corporate and political positions held by women, compared with 42 percent in the United States.
In Japan, women on average earn 44 percent of what men earn -- the widest income gap between sexes in the developed world. Even as the percentage of women in the workforce rose from 37 to 41 percent between 1980 and 2005, the number of women in top management positions climbed only slightly, from 1 percent to 2.8 percent
Many analysts here see closing the gender gap as one of the most critical issues confronting the country. With a strong anti-immigration policy and a low birthrate, which caused a decline in Japan's population last year for the first time since World War II, analysts say Japan needs to fully incorporate women into the workforce.
"Unless we begin seeing a major shift, with women integrated more equitably into corporate Japan, it is going to be very difficult for this country to find the labor needed to sustain the economy in the future," Asakura said.
Such concerns come as women here rethink their place in society, with statistics showing more of them choosing to forgo traditional lives of marriage and child-rearing. And although younger Japanese men appear to be embracing those changes -- and show a willingness to view women as equals -- the older Japanese men who hold the vast majority of corporate and political power seem far less willing.
Health Minister Hakuo Yanagisawa, 71, in January publicly described women as "baby-making machines" and suggested Japan had a birthrate problem because women were failing in their duty to produce children. In November, Hakubun Shimomura, 52, one of Prime Minister Shinzo Abe's top aides, said the country could easily address a national shortage of public day care if women would simply "stay at home and raise their children.''
"For many years in Japan, managers saw women in the office largely as prospective marriage prospects for their junior male employees," said Katsutoshi Kezuka, a labor law professor at Tokyo's Chuo University. "Obviously, there are still men out there who are having problems shedding that image."
Female workers are increasingly breaking taboos by taking their grievances to court. They have not, however, found a sympathetic ear in the legal system.
Japan lags severely behind North America and Europe in anti-discrimination laws and enforcement. The country passed its first comprehensive workplace sex discrimination law in 1985 -- a measure initially considered a "guideline" for companies rather than a requirement. Subsequent refinements have added teeth to the law, but legal experts say courts still tend to favor private-sector discretion in hiring and advancement practices.
Koseki and five other women launched their discrimination suit against Kanematsu Corp. in 1995, alleging the company systematically created a caste system and kept female employees on the lower rungs. Company officials declined to be interviewed, citing the pending lawsuit.
One plaintiff and longtime employee, Atsuko Kimura, 49, said she was once told by a male personnel director that the only women who should work for the company were those who "wanted to do office work or were suitable to become wives for male employees."
Court records and testimony from the plaintiffs indicate that of the 333 employees Kanematsu had on career tracks, only nine were women. Its administration track included 121 women and one man, who was disabled.
Kimura, Koseki and other plaintiffs claim that assigning women to the administration track helped the company routinely pay larger bonuses to men who had no more training than their female counterparts. A court has also been presented with evidence related to Kanematsu's decision to relocate the men in its sales department to the new, sunnier office area in 2001.
A Tokyo district court judge ruled in favor of the company in 2003, arguing that Japan's equal opportunity law does not "prohibit a corporation from applying different hiring, job assignment and promotion rules" to men and women. The case is now on appeal, with a ruling expected this summer.
"There is a 27-year-old man who does almost exactly what I do, and he is already making more than me," said Koseki, a single woman who is set to retire next year. "I've been with the company for 42 years. And the court says that's fair? Well, I strongly disagree."
Special correspondent Akiko Yamamoto contributed to this report.
書店員のオススメ読書日記
『キッチン』2007年2月22日
読売新聞
 この本には映画にもなった名作「キッチン」、その続篇である「満月-キッチン2」、そして「ムーンライト・シャドウ」の三作が収録されている。
 「ムーンライト・シャドウ」は読む度に心を動かされる作品だ。
 内容をおおまかに言えば、恋人を事故で失った主人公が絶望と喪失感の中である不思議な体験をし、それからもう一度前進することを決意する物語である。
 主人公さつきが苦しみながらも日常を淡々と過ごしていく様がリアルで、読んでいるこちらもせつなくなってくる。
 そして読みどころはやはりラスト近くの"不思議な体験"のシーンだろう。それはなにも荒唐無稽な出来事ではなく、『こんなことってあるかもしれないよなー』と思わせる感動的な場面だ。
 加えて言うと、私が毎度心をグッとつかまれるのが、最後の一行。このラスト一行が私にとってこの作品を特別なものにしているのだと思う。
出版社:新潮社
書名:キッチン
著者:吉本ばなな
定価:420円(税込み)
(リブロ福岡西新店 奥原未樹子)
▲
by

alfayoko2005

| 2007-03-02 11:52 | Books
Japanese leader questions military brothel apology as victims cry foul
The Associated Press
Thursday, March 1, 2007

TOKYO:
Yasuji Kaneko, 87, still remembers the screams of the countless women he raped in China as a foot soldier in the Imperial Japanese Army in World War II.
Some were teenagers from the Korean peninsula serving as sex slaves in military-run brothels. Others were women in villages he and his comrades pillaged as they battled in eastern China.
"They cried out, but it didn't matter to us whether the women lived or died," Kaneko said in an interview at his Tokyo home. "We were the emperor's soldiers. Whether in military brothels or in the villages, we raped without reluctance."
Japan's forced prostitution of some 200,000 women in military brothels in the 1930s and '40s has long constituted one of the most horrifying chapters of its wartime rampage across Asia. The top government spokesman was finally forced to acknowledge wrongdoing in 1993.
Now Japan's government is questioning whether the apology was needed.
Prime Minister Shinzo Abe on Thursday publicly denied women were forced into the military brothels in conquered lands, boosting renewed efforts by right-wing politicians who claim the women involved were professional prostitutes, rather than victims of abuse.
"There was no evidence to prove there was coercion as initially suggested," Abe told reporters. "That largely changes what constitutes the definition of coercion, and we have to take it from there."
The debate is heating up just as a private fund set up to compensate some of the victims is about to expire at the end of March amid accusations it was only a cover for the government to avoid taking responsibility. Tokyo has rejected most compensation claims, saying they were settled by postwar treaties.
Victims are outraged, and are pressing ahead with their demands for a full government apology rather than the 1993 statement of remorse by a spokesman.
"The Japanese government must not run from its responsibilities," said Lee Yong-soo, 78, who said she was taken as a 14-year-old from Taegu, Korea, by Japanese soldiers in 1944 to work as a sex slave in Taiwan. "I want them to apologize. To admit that they took me away, when I was a little girl, to be a sex slave. To admit that history."
The issue is not limited to Japan. Last month, the U.S. House of Representatives held hearings on a resolution that urges the government of Japan to "apologize for and acknowledge" the imperial army's use of sex slaves during the war.
The sex slaves issue has also sparked tensions between Japan and its neighbors, who accuse Tokyo of trying to whitewash wartime atrocities.
Historians say that up to 200,000 women, mainly from the Korean peninsula and China, were forced to have sex with Japanese soldiers in military brothels as so-called "comfort women" during World War II. Many more were raped at gunpoint as Tokyo's troops rampaged through the region.
After decades of denial, incriminating defense documents discovered in 1992 forced the government to acknowledge that the military government ran brothels populated by women forcibly taken from their homes, and to offer an apology the following year.
The Asian Women's Fund, created in 1995 by the Japanese government but independently run and funded by private donations, has provided a way for Japan to compensate former sex slaves without offering official government payments.
Many comfort women have rejected the fund, calling for a direct government apology — approved by Parliament — and compensation funded directly by Tokyo.
For Japanese rightists, however, Japan's apology went too far. Just hours before Abe spoke, a group of ruling Liberal Democratic Party lawmakers met to prepare a proposal that urges the government to water down parts of the 1993 apology and deny direct military involvement.
"Some say it is useful to compare the brothels to college cafeterias run by private companies, who recruit their own staff, procure foodstuffs, and set prices," said Nariaki Nakayama, chairman of the group of 120 lawmakers, of which Abe is a member.
"And where there's demand, businesses crop up ... but to say women were forced by the Japanese military into service is off the mark," he said. "This issue must be reconsidered, based on truth ... for the sake of Japanese honor."
Though right-wing Japanese are unapologetic, participants say the assertions are far from the truth.
"The brothels were run by the military. There's no question about that," Kaneko said, adding that he was once ordered to guard sex slaves being circulated around military posts.
"There were so many soldiers, and so few comfort women. Sometimes, four or five women had to serve several hundred soldiers," he said.
Those memories are still vivid for Lee, the former sex slave. For 10 months in the northern Taiwanese town of Hsinchu, soldiers raped her, kicked her and cut at her with swords.
"I was so young. I did not understand what had happened to me," Lee said. "My cries then still ring in my ears. Even now, I can't sleep."
El PP rechaza en el Congreso la ley de identidad sexual tras apoyarla en el Senado
La Cámara Baja aprueba la norma con el apoyo de todos los grupos, salvo el popular
EFE / ELPAIS.com - Madrid - 01/03/2007
El Congreso ha aprobado hoy la Ley de Identidad de Género, que permitirá a los transexuales cambiar de nombre y sexo en el Registro Civil sin necesidad de cirugía, con el respaldo de todos los grupos, a excepción del PP, que, sin embargo, apoyó la norma en el Senado. El PP ha sido duramente criticado por los transexuales presentes en la tribuna de invitados durante el pleno de la Cámara Baja.
Los portavoces parlamentarios se han felicitado por contribuir a la "igualdad" y "dignidad" de los transexuales, a excepción del popular Juan Santaella, quien ha justificado la posición de su grupo en la necesidad de "una resolución judicial y no un simple trámite administrativo, por garantía de los afectados", para modificar los datos en el Registro Civil. La postura del partido que lidera Mariano Rajoy ha sorprendido en el pleno del Congreso, ya que esta formación suscribió el texto durante su debate en el Senado, consensuando, incluso, algunas de sus enmiendas.
El portavoz de Asuntos Sociales del PSOE, Pedro Zerolo, y la coordinadora del Área Transexual del Grupo de Gays y Lesbianas de los socialistas, Carla Antonelli, han achacado este giro a la influencia del sector "ultraconservador" del principal partido de la oposición. Los representantes de los transexuales han reprochado al PP el haber oscurecido este "día histórico" en el que, han alegado, "España se ha situado en la cabecera de Europa" y en "la avanzadilla de los derechos de los transexuales".
La Ley de Identidad de Género, que inició su andadura el 2 de junio de 2006, permitirá a las personas transexuales cambiar su nombre y su sexo en el Registro Civil, siempre y cuando un médico o psicólogo clínico colegiado acredite la "disforia" de género. Una vez tengan esta acreditación, un cambio registral mediante un procedimiento gubernativo y no judicial, otorgará a la persona afectada la nueva identidad.
Las personas que se hayan sometido a la cirugía de reasignación sexual no tendrán que cumplir esos requisitos y los menores de edad no podrán acceder al cambio registral del sexo, un hecho que ha lamentado en el debate en el Congreso la parlamentaria de IU Isaura Navarro. Rosa Bonás, de ERC, ha censurado el no haber sido más ambiciosos a la hora de abordar esta materia, al no aprobarse dos de las enmiendas de Esquerra para permitir el cambio a los extranjeros y a los menores, ya que, ha señalado, "la edad más difícil para todos es la pubertad".
A la cabeza de Europa
El cambio de nombre y sexo obligará a quien lo obtenga a pedir la emisión de un nuevo DNI ajustado a la inscripción registral rectificada, conservando siempre el mismo número del documento. En España hay entre 3.000 y 8.000 personas transexuales, según calculan las asociaciones que les representan. Pero sólo un tercio se somete a una reasignación de sexo, según datos del hospital Carlos Haya de Málaga, el único en España que realiza estas intervenciones de forma gratuita.
España se sitúa, con esta ley, a la cabeza de los países con una legislación progresista sobre la transexualidad, todos ellos europeos. Holanda, Alemania, Francia, Italia, Suecia y Reino Unido regulan el cambio de género. Este último país tenía hasta ahora el modelo más avanzado. Como el español, no reclama la cirugía, pero el diagnóstico en Reino Unido sólo lo puede realizar un panel de expertos nombrados por el Gobierno, y no basta con un informe médico o de un psicólogo clínico.
BBC
Last Updated: Thursday, 1 March 2007, 20:42 GMT
Spain eases law for transsexuals
Spain has passed a law allowing transsexuals who have not had a sex change to alter their gender on birth certificates and other documents.
Only a third of Spain's 8,000 transsexuals opt for surgery to realign their gender.
Many transsexuals who do not look like the sex on their identification face ridicule, discrimination and unemployment, activists say.
The governing Socialists say the new law will give them back their dignity.
Alec Cassanova, of the National Federation for Lesbians, Gays and Transsexuals, told the BBC: "Transsexuals who cannot go through surgery due to health reasons...they will finally be granted this right."
Spain's parliament passes law easing restrictions on transsexuals
The Associated Press
Thursday, March 1, 2007

MADRID, Spain:
Spain's parliament on Thursday passed a law allowing transsexuals to change their name and gender on official documents without needing to undergo surgery first.
The law, which had progressed through the country's lower legislative chamber earlier in the week, was opposed by the conservative opposition Popular Party.
The new legislation requires transsexuals to present an official medical diagnosis stating a clinically proven case of gender dysfunction and to have undergone appropriate treatment for two years before changes in identity documents can be performed.
Up until now, transsexuals in Spain could only change name and gender officially after a sex change operation and with the approval of law courts.
Pedro Zerolo, spokesman for social affairs in the ruling socialist party and Carla Antonelli, who represents gay and lesbian interests in the party, said "Spain has placed itself at the forefront of Europe, as a leader in transsexual rights."
Zerolo said the law would bring Spain into line with countries such as Britain, whose Gender Recognition Act also loosened restrictions on transsexuals in 2004.
Legislation easing social barriers on transsexuals is the latest in a series of laws aimed at promoting greater social equality in Spain since the Socialist government came to power in March 2004.
Same gender marriages were approved by parliament in this once staunchly Catholic and conservative country in 2005.
▲
by

alfayoko2005

| 2007-03-02 04:12 | トランス