カテゴリ
以前の記事
検索
最新のトラックバック
その他のジャンル
ファン
記事ランキング
ブログジャンル
画像一覧
Gay couple tie knot in first Mexico City civil unions
By Gunther Hamm
Fri Mar 16, 8:18 PM ET
Reuters
Two gay lawyers celebrated a civil union in Mexico City on Friday, becoming the first legally recognized homosexual couple in the traditionally macho capital of one of the world's most Catholic countries.
Dressed in somber suits, Alejandro Diaz and Rafael Ramirez tied the knot in a short ceremony held in a city council building, the first since the city approved a law permitting civil unions in November.
After signing papers and listening to a short speech from a local councilor, Diaz, 27, said "Married." Ramirez, 31, said "My husband." They hugged but declined to kiss.
"The era of plurality and diversity is permeating Mexico City," Julio Cesar Moreno, the local councilor who oversaw the ceremony, told dozens of wellwishers and journalists.
Throughout the day, around 10 gay couples exchanged vows in the city.
In Iztapalapa, one of Mexico City's poorest neighborhoods, journalist Antonio Medina, 38, was united with Jorge Cerpa, 31, a bank employee. The two kissed and raised their hands triumphantly after the open-air ceremony.
A man wearing felt angel wings then handed them flowers to the strains of a small string orchestra.
Homosexuality has long been frowned on in Mexico and in most of the country, boy-meets-girl soap operas help mold traditional notions of love.
However, it is now not uncommon to see same-sex couples holding hands in increasingly liberal Mexico City, although assaults on gays remain common.
'HITLERIAN'
Civil unions allow any two people, gay or otherwise, to form a partnership protecting property, pension and inheritance rights. The country's first civil union of a gay couple took place in the northern border state of Coahuila in January.
Civil unions fail to give all the legal rights of marriage, most notably the right to adopt children.
With a majority in the municipal assembly and control of the mayor's post, leftists in Mexico City are briskly passing laws liberalizing gay rights, abortion and euthanasia.
Catholic Church officials have called the moves "Hitlerian" and warned believers not to vote for the leftist Party of the Democratic Revolution.
"A Catholic who votes for one of these (politicians) has a huge lack of values," said Hugo Valdemar, spokesman for the Mexico City archdiocese, the world's largest.
Medina said the church should not get involved in people's private lives.
"We respect people's beliefs but we believe the church should not climb into anybody's bed," he said to cheers from a crowd of guests and local dignitaries, some waving rainbow flags often used as a symbol of gay pride.
Mexico's Catholic Church leads the world's second-biggest Catholic population after Brazil. Some 90 percent of the country's 107 million people call themselves Catholic and conservative evangelical groups are also winning adherents.
First gay couple unites in Mexico City
By LISA J. ADAMS, Associated Press Writer
Fri Mar 16, 10:06 PM ET
An economist and a journalist became the first couple united under Mexico City's new gay civil union law, kissing while an orchestra played "Besame Mucho" and police cordoned off streets around a white wedding tent filled with guests.
The new law, which took effect on Friday, grants same-sex couples inheritance rights and social benefits similar to those enjoyed by married heterosexual couples. It reflects a growing acceptance of homosexuality in what has traditionally been a macho society, as well as a willingness by Mexico City — the second municipality in the country to legalize same-sex unions — to join the international debate on gay marriage.
After dating for four years and three months, journalist Antonio Medina, 38, and economist Jorge Cerpa, 31 were united in front of the government offices for Mexico City's Iztapalapa borough, signing documents under a banner that read "Civil Union Law: Your right to choose."
Dozens of supporters, including several couples who plan to register their own same-sex unions soon, waved rainbow flags, showered the couple with flower petals and yelled "Bravo!" Firecrackers exploded nearby.
"With this law, a history of exclusion comes to an end," Medina said. "Today, the love that before did not dare speak its name has now entered the public spotlight."
The left-dominated legislature of Mexico City, a semi-independent zone with some of the same powers as states, passed the law in November.
The capital was the first in the predominantly Roman Catholic country to approve such a law. A similar measure went into effect in January in the northern state of Coahuila and a lesbian couple registered their union shortly thereafter.
Coahuila state lawmakers from the conservative party of President Felipe Calderon have filed a court challenge claiming that gay unions violate constitutional provisions protecting the family.
The Catholic Church in Mexico also has spoken out forcefully against the law.
Kansas City Star editorial
Posted on Sat, Mar. 17, 2007
'Comfort women' denials split hairs, damage credibility
Japan should own up to its sordid actions
Japanese Prime Minister Shinzo Abe has denied that the military was involved in coercing thousands of women to serve as sex slaves during World War II. This is another sad example of Japanese denial over the country's wartime savagery.
Abe seemed to suggest that since the Imperial Japanese Army wasn't directly involved in forcibly rounding up the sex slaves — estimated at 200,000 — Imperial Japan's guilt is somehow diminished, even though the women were confined to brothels patronized by the military.
But in 1993 Tokyo acknowledged that the Imperial Japanese Army did help set up the network of the euphemistically named "comfort stations" in nations invaded by Japan during the war.
Abe now wants to back away from that admission. The latest line: Yes, coercion was involved in rounding up the women, but it was done by private dealers rather than government authorities.
This is a virtually meaningless distinction when discussing countries that fell victim to the ferocious brutality of Japanese troops.
The controversy over wartime atrocities has flared anew in part because of a resolution introduced in the U.S. Congress, urging Japan to acknowledge responsibility for its abuse of the comfort women and to apologize for it.
The Yomiuri Shimbun, echoing Abe's argument, noted that, "The (U.S.) resolution says the Japanese military commissioned the acquisition of comfort women. However, no documents have been found to support this assertion. Historians also accept that no such orchestrated action was undertaken by the Japanese military."
Nonsense. This flies in the face of testimony by the surviving "comfort women" as well as the work of historians — some of them Japanese — who cite statements from military officials and documents from the United States and other countries.
Japan has profoundly damaged its standing in Asia and the world — and undermined its ability to provide leadership commensurate with its economic status — by decades of haggling over its past.
The aspiration of many Japanese is for their country to become a "normal nation." It's not likely to happen as long as Japan continues to deny its own past.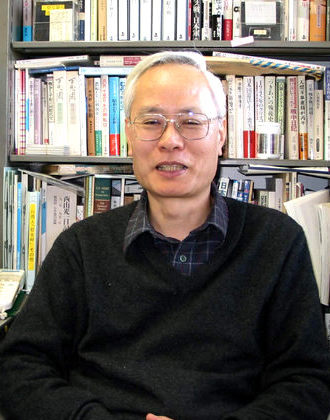 The Hankyoreh
[Interview] Japanese professor calls PM's historical stance 'bizarre'

Prof is expert on issue of WWII sexual slavery by Japan
"It is bizarre that Prime Minister Abe only speaks of whether or not the 'comfort women' were taken forcefully by the Japanese military. Wasn't the very system of 'comfort women' one based upon sexual slavery?"
"Abe said that there were no violent abductions of women, but in fact there were. The 1994 report released by the Netherlands found such actions took place in at least eight separate locations."
An authority on the issue of the comfort women, the over 200,000 foreign women made to serve as sexual slaves for the Japanese military during World War II, Japanese professor Yoshimi Yoshiaki of Chuo University methodically criticized Prime Minister Abe's recent comments and historical consciousness. In reference to the 1993 apology made by Chief Cabinet Secretary Kono Yohei, Yoshimi said "it was unclear who exactly was taking responsibility," and that on the next opportunity, legal responsibility must be clearly assigned and an unambiguous apology must follow.
Professor Yoshimi unearthed official documents from March 1938 sent to the Japanese military stationed in China detailing regulations regarding "comfort stations" and the "recruitment" of women for them. His discovery was carried in the news daily Asahi Shimbun in 1992, and the Japanese government admitted to some degree the reality of the forced abductions the following year via Chief Cabinet Secretary Kono Yohei's statement.
What first drew the professor's interest to the subject was his meeting with Kim Hak-sun, who was forced to serve as a comfort woman and the first one to openly declare this bitter part of her past. "I felt a responsibility as a historian to study the subject when on the NHK network, Kim Hak-sun expressed her desire that Japanese youth be informed about how the Japanese military had commited such vile deeds during the war."
However, his research activities brought him the unwanted attention of Japanese right-wing groups. For some time, the phone would ring at 2 or 3 a.m. As soon as he picked up the receiver, the caller would hang up. Presiding over a document center on the Japanese war, he dug into the reality of the Japanese germ warfare program, as well.
On March 8, Professor Yoshimi spoke at a gathering hosted by a group of Japanese lawmakers, where he sharply criticized Abe's comments.
Question Recently, Prime Minister Abe has repeatedly made apologies in regard to the comfort women issue...
Answer It appears like a temporary retreat on his part. I think he's changing his stripes in view of the American reaction. But his heart has not changed. His stock argument is that there were no forced abductions by Japanese military personnel, and that given that fact, there is nothing else to discuss. In other words, there was no coercion 'in the narrow sense of the term.' His opinion is that civilians managed the activities, and thus the Japanese government and military is exempt from responsibility.
Q There are also scholars who assert, like Prime Minister Abe, that the documents of the Japanese government do not prove such a "coerced agreement" took place.
A Prime Minister Abe is focusing exclusively on the issue of how the comfort women were taken. What is important, however, is whether or not the women wanted to work at the comfort stations. No matter how courteously they were taken away, the things done to them at the stations were criminal. In clause 226 of the old Meiji Constitution, trade in people, kidnapping, and overseas abduction are all outlawed. Yet it seems that Prime Minister Abe does not know these actions were and are criminal, regardless of whether the victims were taken by force. In 1937, the Japanese Supreme Court found a comfort station guilty of kidnapping under clause 226.
There was also a system of licensed prostitution within Japan during the war. The rights of the women working to stop work and leave were acknowledged only on paper, but research shows they were no different from sex slaves. The overseas comfort stations were much more severe. The women there had none of these rights, and endured nothing less than sexual slavery. Some say that there are no documents to prove this, but it is only natural that there are no memorandums ordering the Japanese soldiers to "violently conscript" women.
Q What's your view of the Kono Statement [or the Kono Apology]?
A We must not retreat from the Kono Apology. We must take another step forward. The major problem with the Kono Apology is that it is unclear exactly who is taking responsibility for the human rights abuses. By some interpretations of the statement, the government merely provided a small amount of assistance to civilian enterprises. But it is clear from the historical documents that private companies could not have established the comfort stations singlehandedly. The facilities could not have been made without permission from the military. The comfort station administrators were pawns of the Japanese, whether the military or the police.
Furthermore, the Kono Statement speaks only of moral responsibility, but clearly asserts there is no legal responsibility within its legalese. At this point, though, full responsibility [both moral and legal] needs to be taken and reparations must be paid.
Q What do you think of the resolution before U.S. Congress [to compel the Japanese government to apologize officially]? Prime Minister Abe said there was no further need for apologies...
A The thought behind the U.S. resolution seems to be that insufficient Japanese reflection on the issue of war responsibility is creating an uneasy situation in East Asia. I think of the resolution as less criticism than advice. Indeed, it is advice that Japan needs to hear. Rather than vaguely putting the issue aside, Japan should take this opportunity for the sake of the future to officially record its responsibility and send a message that this must never happen again. Several Prime Ministers have released letters of apology, but they were all tinged with vagueness. After clarifying where responsibility lies, it is right to apologize.
Q I feel that Japan's historical consciousness is on the retreat in view of Prime Minister Abe's statement.
A Me, too. The new consciousness is most clearly rearing its head in school textbooks. The year following Kono's apology in 1993, the comfort women issue was described in all middle school textbooks. But afterwards, people like Abe began a movement to remove this content, and now there is not a single textbook that discusses the issue frankly. There is one textbook that mentions the comfort facilities without elaboration, and there is another that explains that they were coerced into this 'work.' The comfort women have all but disappeared from Japanese books.
Two years ago, Minister of Education, Culture, Sports, Science and Technology [and head of the group of legislators urging the withdrawal of Kono's apology] Nakayama Nariaki declared, "it is a good thing that the number of references to the comfort women has decreased."
But in addition, several Prime Ministers sent separate letters of apology to the victims stating, "the truth of the comfort women must be passed down to future generations," yet they have not lived up to their words.
Q What do you see as the context for the decline of Japanese historical consciousness?
A It seems like it is related to the situation that emerged since the mid-1990s. After the bubble economy collapsed, there were few things on which one could rely and finding regular employment became difficult. It was amidst this atmosphere that the desire for pride took root.
Students these days do not want to reflect upon the past at all, and are unwilling to acknowledge the things that occurred. However, if there were mistakes in the past, then a healthy pride would require one to acknowledge them and vow to never allow them again. Of course, there are many young people who think this way, too.
Another reason is that although the Japanese media prominently covered this issue earlier, now they show hardly any interest. Only recently have they brought up the issue, and only to the extent of covering the U.S. Congressional resolution under debate, as well as Chinese and Korean criticism about the issue.
Kim Do-hyeong, Tokyo Correspondent
Please direct questions or comments to [englishhani@hani.co.kr]
Posted on : Mar.17,2007 14:21 KST Modified on : Mar.17,2007 14:40 KST
© 2006 The Hankyoreh Media Company. All rights reserved.
No part of this material may be reproduced, stored in a retrieval system, or transmitted in any form or by any means, electronic, mechanical, mimeographical, in recorded form or otherwise for commercial use, without the permission of the Hankyoreh Media Company.
Uncomfortable truth for Japan
Ellen Goodman
The Boston Globe
Friday, March 16, 2007
The name is what first grabbed my attention. Comfort women? What a moniker for the sexual slaves who were coerced, confined and raped in the Japanese military brothels strung across Asia during World War II.
The very name reduces the women to the sum of their service. What kind of comfort did they supply? The label is only marginally more humane than the other words for the women listed on the procurement rolls: "items" and "logs."
Now comfort women are back in the news. They're back because California Representative Mike Honda held hearings on a bill asking Japan to finally "acknowledge, apologize, and accept historical responsibility in a clear and unequivocal manner for its Imperial Armed Force's coercion of young women into sexual slavery." They're back because the Japanese prime minister, Shinzo Abe, chose instead to deny that the women were coerced or that the imperial government was to blame.
Abe was hardly the only one in his ruling elite to make such a gaffe. They don't even consider it a gaffe. Another lawmaker, Nariaki Nakayama, breezily dismissed the government's procurement of some 100,000 to 200,000 young women by describing it as a private enterprise. "Where there's demand," he said, "business crops up."
Honda, himself a Japanese-American who spent childhood years in internment camps here, said, "Prime Minister Abe is in effect saying that the women are lying." Mindy Kotler of Asia Policy Point puts it more baldly. Abe, she said, called these elderly survivors "lying whores."
Koon Ja Kim, a Korean, remembers to this day what she was wearing — "a black skirt, a green shirt and black shoes" — when as a 16-year-old girl she was taken to a brothel where she comforted 20 or more soldiers a day. Jan Ruff O'Herne, a Dutch woman taken at 19, remembers beatings and rape even by the doctor who paid calls to the brothels checking for venereal disease. Lee Yong-soo left with venereal diseases and shame for over half a century. Liars all?
This time the denial of history threw Japan's image back 15 years, prior even to the Kono statement, a half- hearted apology to the women, composed in 1993 by a Cabinet member. But it's also a reminder of the distance the world has come on these issues.
This is women's history month, when attention here in the United States is often focused on founding mothers like Susan B. Anthony. But this year, the comfort women are showing the long way we've come from victim to heroine.
For millennia, rape was seen as a side effect, even a perk, of war. As recently as World War II, the Free French gave Moroccan mercenaries license to rape enemy women in Italy. In the 1990s there were rape camps in Bosnia, and sexual assault is a grisly routine in African conflicts.
Nevertheless, wartime rape is becoming less a matter of personal shame and more a matter of international outrage. It's designated as a war crime by the United Nations. And more than one comfort woman, like O'Herne, spoke out after seeing stories about the Bosnian camps.
There are few countries that haven't been complicit in this war crime. But the Japanese military actually planned and managed a vast system of forced brothels complete with scheduled "comfort" appointments for soldiers, visits by doctors and government-issued condoms named "Attack No. 1."
Undeniable? "There is a right wing in Japan," says Kotler, "that we would think of as equivalent to the Holocaust deniers." But Japan is not the only country that wants to rewrite history. If some Japanese leaders talk about the World War II syndrome, some U.S. leaders talk about the Vietnam syndrome. In 2001, a revisionist Japanese textbook excising wartime atrocities caused a furor across Asia. The revisionists argued that history should make children proud of their country. Maybe telling the hard truths would make those children proud.
Abe has backed off his denial inch by inch. On a Japanese television show he even expressed formal, if offhand, sympathy for "the injuries of the heart" of the comfort women. But as Andrew Horvat, an American professor in Japan, says, "If someone has to provide sexual services for 20 soldiers a day, she comes home with more than just 'injuries of the heart.' She comes home sterile, infected with a stubborn STD, and in a state of psychological trauma."
So we have a shrinking, aging cohort of women standing on the cusp of history. It is long past the time for modern Japan to fully apologize and claim responsibility for its past. Maybe there is no final comfort for the comfort women, but there should be justice.
The New York Times
March 17, 2007
Japan Repeats Denial of Role in World War II Sex Slavery
By NORIMITSU ONISHI

TOKYO, March 16 —
The government of Prime Minister Shinzo Abe repeated Friday that there was no proof that the Japanese military forced women into sexual slavery during World War II.
In a written statement endorsed by the cabinet, the government referred to a study from the early 1990s and said that "among the materials it discovered, it did not come across any that directly show that the military or authorities so-called forcibly led away" the women, known euphemistically as comfort women.
The statement was in response to a request from an opposition lawmaker, Kiyomi Tsujimoto, for Mr. Abe to explain remarks in which he had denied that the military coerced the women into working as prostitutes for Japanese soldiers throughout Asia.
The remarks caused a furor throughout Asia as well as in the United States, where the House of Representatives has been considering a nonbinding resolution that would call for Japan to acknowledge and apologize unequivocally for its wartime sex slavery.
The government stated that it would adhere to a 1993 declaration that acknowledged and apologized for Japan's brutal mistreatment of the comfort women. But Mr. Abe, who has been under pressure from the right wing of his Liberal Democratic Party to reject the 1993 declaration's admission of state responsibility, said last week that the women had been coerced by private brokers.
The 1993 declaration said, "The government study has revealed that in many cases they were recruited against their own will, through coaxing, coercion, etc., and that, at times, administrative/military personnel directly took part in the recruitments."
Mr. Abe, whose approval ratings have been plummeting since he took office last September, said that Japan would not apologize even if the House resolution passed.
In a meeting with reporters on Friday, the American ambassador, J. Thomas Schieffer, said he hoped that the government "would not back away" from the 1993 statement.
Mr. Schieffer described as "credible witnesses" former comfort women who recently testified in Congress about being coerced into prostitution by the Japanese authorities.
"I take the word of the women that testified," Mr. Schieffer said.
He added: "I think they were coerced to engage in prostitution. That means they were raped by the Japanese military at that point in time. I think that happened, and I think it was a regrettable, terrible thing that it happened. I think the events speak for themselves."
A group of conservative lawmakers in the Liberal Democratic Party has been leading efforts to soften the 1993 declaration, and is planning to conduct a new investigation into the comfort women issue. Mr. Abe, a founding member of that group in the 1990s, has said that the government will cooperate in the new investigation by providing it with documents.
BOOK REVIEW
'Grotesque' by Natsuo Kirino
Two Japanese prostitutes' lives of self-deception.
By Christine Smallwood
March 18, 2007
Los Angeles Times
Grotesque: A Novel
Natsuo KirinoTranslated from the Japanese by Rebecca Copeland
Alfred A. Knopf: 468 pp. $24.95
The juxtaposition of the words "Japan" and "sex" inevitably conjures up images of a buttoned-up salaryman lavishing gifts on a teenager in enjo kosai, or "assisted dating"; ignoring his wife at home, he visits a sex club and buries his head in explicit manga or buys a schoolgirl's used underthings from a vending machine. The news is everywhere: Japanese men have double lives! They go crazy for sex tourism! Half have paid for sex!
Unmentioned in these stories, of course, is the woman being paid. But that's to be expected. Sex workers are fantasized about, talked about and argued over, but, Jenna Jameson and the occasional World Health Organization report aside, rarely heard from. In books and movies, call girls and strippers pop up as a lazy way of signaling male vice (think Tony Soprano's Bada Bing club) or are employed as shorthand for female degradation without the pesky problem of character development. (It's been a long time since "Klute.") Somehow a hero's "universal" existential crisis tends to eclipse creative possibilities for how a woman might experience depravity in a way that wouldn't involve giving comfort to a string of Mr. Lonelyhearts.
Natsuo Kirino's "Grotesque" sets out to be an antidote to this lack of imagination. One of Japan's most celebrated crime authors, she uses gore and sex as tools of social protest. Her only other novel to be translated into English, "Out," played psychosexual games but was primarily concerned with class: how four women employed on the night shift at a bento-box factory, none of whom could rely on a man for help, could make it, well, out. The fact that a body — OK, a few bodies — were hacked in the process was just a little color to fill in the stark lines.
"Out" was dark, but the plot of "Grotesque" is buried deep in the gutter. If you've ever wanted to read about a streetwalker wearing blue eye shadow who turns tricks with homeless men in vacant lots, this book is for you. The crudeness and violence, a daily reality for these women who have long since outgrown their school uniforms, is the result of a tightly regimented culture, where accidents of birth determine one's station and force some women off the grid.
Three furies haunt "Grotesque": the freakishly beautiful Yuriko; her unnamed ugly, malicious sister; and the sister's needy, overachieving classmate, Kazue. Yuriko and her sister are half-Japanese, half-Swiss; when their parents move abroad (their mother will commit suicide), the two, who cannot get along, spend their high school years in separate homes. Yuriko lives with family "friends" (if a "friend" sleeps with a 14-year-old when his wife isn't looking); her sister lives with their grandfather. Both attend the prestigious and cutthroat Q High School for Young Women in Tokyo. The story opens after Yuriko, who starts turning tricks as a teenager, and Kazue, who leads a double life as a cheap streetwalker and an employee at an elite engineering firm, have been murdered. The suspect is a Chinese illegal immigrant named Zhang, once the paid lover of the daughter of a high-ranking Communist official, who may or may not have killed his sister, who was — you guessed it — a prostitute. Yuriko's sister is the only one of the lot who hasn't sold her body, and she's a virgin.
Yuriko's "lascivious blood" left her "no choice but to lust for men"; she was a sex maniac who "never loved anyone, not once." It's hard to know what to make of Kirino's insistence on Yuriko's nymphomania-for-hire, which is, after all, a male fantasy — in this case replete with "red leather coat" and "silver ultra-minidress." As she ages, she becomes uglier, a kind of red-light portrait of Dorian Gray. But do not fear. "[A]s long as there is life in my body," she vows, "I will go on wanting men."
The sister has her own "talent" — "the uncompromising ability to feel spite," which she "polished every day." As narrator, she relishes describing this meanness more than performing it, for there is little in the way of plot. Each woman becomes a more debased version of herself: Downwardly mobile Yuriko moves from an exclusive clientele to sharing a corner with Kazue; the sister takes pleasure in their deaths. Zhang's story is a welcome interlude because something happens: He flees home and struggles with forces outside his own mind.
"Grotesque" is not a thriller, it is an anthropological study. And in this tightly closed system of overdetermined perversity, the book takes on a fantastic quality; characters are more symbol than substance. As each pops up in the others' stories, their self-deceptions become apparent and the truth of their lives and relationships even more muddled.
Kirino's grotesques are lonely, twisted and suffering, but they aren't capable of being surprising in the way that real people are. They are not characters but templates, proof that the contest for beauty and money, combined with a lack of power, pushes women into the very stereotypes that ultimately destroy them.
The story is told through changing perspectives and forms — Yuriko's and Kazue's diaries, Zhang's testimony and the sister's narration. Perhaps Rebecca Copeland's translation is to blame — as a non-Japanese speaker, I can't say — but the writing in "Grotesque" isn't as fresh as in "Out." That book was a quick, crackling read; here the prose is blunt and heavy and the dialogue wooden, often reading like lines in a student play. "Mitsuru, you are a complete idiot," the sister drones during an argument with a former classmate. "I've listened to you go on and on about being at the top of the class, getting into Tokyo University Medical School, and all that crap about osmosis, and I'm just fed up." Or: "My old man was a southpaw," Yuriko's former pimp reminisces. "When he struck you he packed a bigger wallop than expected." Somehow, an American ear can't quite hear a pimp — even a washed-up pimp — describe his "old man's wallop."
Money structures the narrative (it's no accident that the book, like "Out," begins with a chart converting yen into dollars). At status-crazy Q High School, Kazue sews the Ralph Lauren logo on her knee socks; as an adult, she carefully documents what each john pays her. "Money was definitely more valuable than life," Kazue puzzles. "But then, when I died, my money would be meaningless.... I was disgruntled by the fact that I couldn't figure out something so simple." The reader might be too.
Kirino's narration twists around lies — perhaps the greatest damage done to Yuriko's sister and Kazue is their inability to know themselves, to see themselves for the trapped animals they are. "Mustn't entertain any desires of your own," Yuriko reminds Kazue. "No one's going to be good to you." Even female sexual power, taken to the extreme, disappoints. "Sex is the only way a woman has to control the world," the sister thinks. "But this is a complete delusion. The delusions arise from believing that prostitution is the only way." But who really believes that? Maybe now that she's done with "Grotesque," Kirino will return to writing characters who are more human than monster — or who are more truly monstrous for being human. For though waters in "Grotesque" are dark, they are, in the end, too shallow.
Christine Smallwood is the assistant literary editor at the Nation and co-editor of the Crier magazine.
▲
by

alfayoko2005

| 2007-03-17 09:46 | Books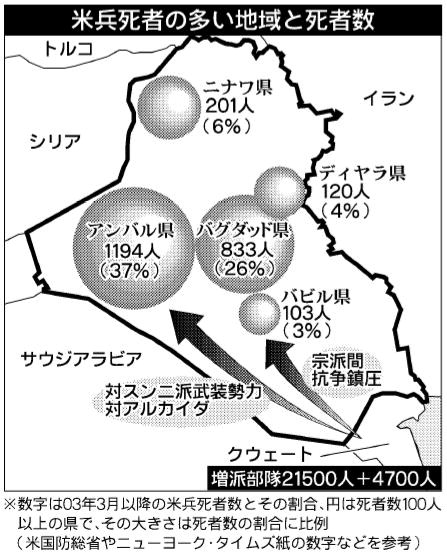 イラク戦争:開戦4年 ブッシュ政権、剣が峰/イラク社会、闇続く
毎日新聞 2007年3月15日 東京朝刊
 ◇犠牲3000人、世論に逆行し増派
 イラク戦争開戦から20日で丸4年となる。ブッシュ米政権が中東民主化への試金石と位置付けたイラク民主化は宗派間抗争や武装勢力の抵抗で迷走を続けている。ブッシュ政権は1月、高まる米軍撤退論を退け増派に踏み切り、「最後の賭け」に打って出たが、米兵の死者は3000人を超え、世論のイラク政策批判は強まるばかりだ。08年大統領選を控え、今年のイラク情勢はブッシュ政権の命運を決する正念場となる。
 「傾向を見極めるのは時期尚早だが、勇気付けられる結果もいくつか出ている」。イラク駐留米軍に着任して約1カ月のぺトレアス司令官は8日、2月上旬に着手した米軍増派とイラク治安部隊による治安強化作戦の成果をアピールした。
 具体的には、▽バグダッドでの宗派間抗争の減少▽96カ所の兵器庫の発見▽自動車爆弾製造工場2カ所の破壊▽国際テロ組織アルカイダ中堅幹部を含む数百人の過激派拘束や殺害--などが成果。「状況はなお厳しいが、暴力を断ち切るため努力を尽くす」と強調した。
 重点の一つは、兵器庫の発見や捜索。兵器の一掃を目指すことで根っこを断ち切るためだ。米陸軍によると、バグダッドでは大規模な掃討作戦で爆弾攻撃などが2月末までに4週間連続で減少した。
 こうした進展の一方、治安の悪化はバグダッドからすそ野を広げ、米軍もこれへの対応を迫られている。ぺトレアス司令官はバグダッドへとつながる周辺の要衝を含む「バグダッド・ベルト(地帯)」の治安確保の必要性を指摘する。また、スンニ派の爆弾攻撃が依然続く一方、シーア派民兵が地下にもぐったとの情報もあり、予断を許さない状況が続いている。
 米軍は増派分の配置が6月初旬に完了、陣形が整う。しかし、ブッシュ政権は早くも当初の増派計画を拡大し、2万1500人に加えて戦闘支援部隊など4700人を追加派兵することを発表した。計画の練り直しを迫られた形で、場当たり的な印象もぬぐえない。
 ブッシュ政権の米軍増派による治安安定化計画は、昨年11月の中間選挙で議会多数派を奪取した民主党の強い反発を招いた。民主党はイラク政策について「明確な方向転換」となる米軍撤退を掲げ、08年8月末までの撤退完了を求めている。
 米紙ワシントン・ポストとABCテレビが2月下旬に実施した世論調査によると、ブッシュ政権と民主党のどちらのイラク政策を支持するかの設問ではブッシュ政権34%に対し民主党が54%。撤退支持派は現状維持派を上回った。
 米国防総省の集計によると、03年3月の開戦からの米兵死者数は13日現在3192人。最大の有志連合国の英国も年内の段階的撤退を発表、隊列の先細りは隠しようもない。
 米陸軍首脳部は今夏までの成果を期待するが、米紙ロサンゼルス・タイムズは12日、増派計画が失敗した場合に備え、国防総省が段階的撤退計画の立案に着手したと報道した。ホワイトハウスも「万が一の場合に備えた計画作成も進んでいる」と認めており、ブッシュ大統領は剣が峰に立たされている。【ワシントン及川正也】
 ◇宗派間抗争、女性の権利を抑圧
 バグダッドでは駐留米軍とイラク治安部隊による治安回復作戦が進行中だ。しかし、声高に叫ばれる作戦の「成果」はバグダッド市民の耳にはうつろに響く。暴力への恐怖、イスラム教シーア派、スンニ派双方の原理主義勢力の影響力は市民の生活のひだにしみ込み、特に女性の権利を抑圧している。
 「どうして学生だという理由だけで狙われるの」。バグダッド大学2年の女子学生、モナさん(20)=仮名=がバグダッド東部の自宅で毎日新聞のイラク人助手に訴えた。モナさんは新学期が始まって間もない昨年10月、大学通学をあきらめた。それが「自殺行為」だと悟らせる事件に巻き込まれたからだ。
 事件が起きたのは10月1日午前8時過ぎ。モナさんら女子大生4人を乗せたタクシーが3人組の武装した男に停車させられた。男たちは運転手を車外に引きずり出し、射殺した。「大学に行こうとする女は殺される」。男の一人がモナさんらにすごんだ。「シーア派が牛耳る大学に通うことは許されない」と主張するスンニ派武装勢力による犯行とみられる。
 モナさんは「状況は悪くなるばかり」と戦後の4年間を振り返る。モナさん一家はシーア派だが、父親は旧フセイン政権党バース党の幹部。03年4月の旧フセイン政権崩壊後、シーア派によるバース党関係者への報復を恐れ、まず父親が住みなれたバグダッド東部から旧バース党関係者の多い西部へと移った。
 父親を除く家族は同市東部にとどまったが、当時高校生だったモナさんは頭髪を隠すヘジャブ(スカーフ)の着用を強要されるなど、宗教色の濃いシーア派組織の影響が増す一方だった。その後、家族は父親のいる同市西部に移り住んだが、昨年11月、「シーア派が住む場所はない」とスンニ派武装勢力に退去を迫られ、再び東部への転居を余儀なくされた。
 女性であるという理由で抑圧されてきた4年間。モナさんは「私たち家族に居場所はない。私はただの学生だったのに、どうしてこんな目に遭わなければいけないのか」と話す。
 バグダッドの大学ではシーア派民兵組織に加わった男子学生らが女子学生にヘジャブやロングスカートの着用を強要するなど宗教的価値観の押し付けが横行。これに対しスンニ派過激勢力が大学をテロの標的とする。
 治安上の理由で大学生の出席率は3割程度。国連とイラク政府の推計によると、12歳以下の児童約60万人が学校に通っていない。うち74%が女児とされ、女性の識字率低下が懸念され始めている。
 イラクはかつて最も女性が社会進出しているアラブ国家とされてきた。イラク連邦議会の女性議員、ハファフジ氏(シーア派)は「社会全体における女性の地位は危機的な状況にある」と警鐘を鳴らしている。【カイロ高橋宗男】
==============
 ◆イラク開戦後の主な動き◆
03・ 3・20 イラク戦争開戦
    4・ 9 フセイン政権崩壊
    5・ 1 ブッシュ米大統領が大規模戦闘終結を宣言
   12・13 フセイン元大統領拘束
04・11・ 3 ブッシュ米大統領再選
05・12・14 ブッシュ米大統領が大量破壊兵器の情報の誤り認める
   12・15 イラク連邦議会選挙
06・ 4・22 マリキ氏を首相に指名
    5・20 イラク正式政府発足
    6・ 7 「イラクの聖戦アルカイダ組織」のザルカウィ容疑者殺害
   11・ 5 フセイン元大統領に死刑判決
   11・ 7 米中間選挙で共和党敗北
   12・ 6 「イラク研究グループ」がブッシュ米大統領に提言
   12・30 フセイン元大統領の死刑執行
07・ 1・10 ブッシュ米大統領がイラク新政策発表
    3・10 バグダッドでイラク安定化国際会議開催
毎日新聞 2007年3月15日 東京朝刊