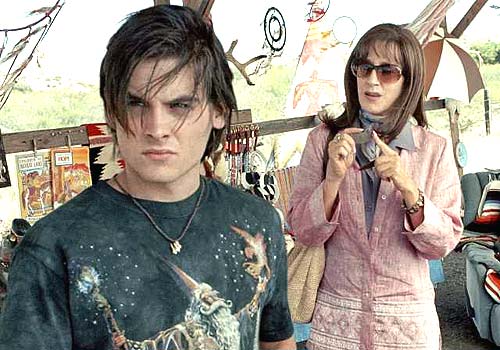 MAKING THE TRANSITION: Felicity Huffman plays a pre-op male-to-female transsexual who embarks on a road trip with her son, played by Kevin Zegers, in "Transamerica."
(Jessica Miglio / The Weinstein Company)
December 2, 2005
MOVIE REVIEW
'Transamerica'
Felicity Huffman is the engaging center of an unusual story about interconnectedness.
By Kevin Thomas, Los Angeles Times Staff Writer
Felicity Huffman is such a wonder, at once funny and brave, playing a pre-op male-to-female transsexual in the uneven comedy "Transamerica" that she sustains several lapses that might otherwise have sunk it. But Huffman's portrayal is so extraordinarily endearing and convincing and exquisitely nuanced that her Bree is engaging right to the finish.
What "Desperate Housewives" star Huffman manages is to depict a gender rite of passage that suggests that even a man convinced he is a woman trapped in a male body has had to learn how to express his femininity — and more important, to discover his humanity along with what kind of woman he will become.
Born Stanley, Bree has already undergone all the steps to becoming a woman except for the actual gender reassignment surgery. Bree has emerged as an angular, trim, middle-aged woman of self-conscious femininity and of prim and prissy demeanor who is rarely clocked as a transsexual. (Danny Glicker's costumes are a major assist: at once fluffy yet proper.)
Thankfully, she has an astringent sense of humor to offset her grandiosely precise way of speaking. She is a woman of strongly willed pride and dignity, and much of her life is spent in rising above dismaying situations with a starchiness that is amusing and admirably resilient. Huffman's performance is among the year's most distinctive and detailed.
Already armed with wide-ranging higher education, Bree is working on an advanced degree while supporting herself as a waitress and telemarketer in Los Angeles. She is eagerly looking forward to her surgery when she receives a phone call from Toby (Kevin Zegers), a 17-year-old Manhattan street hustler who's landed in jail and is trying to track down his father, Stanley, whom he has never met and who had a brief affair with his late mother. Bree wants nothing to interfere with her surgery, which took a full year to schedule, but her therapist (always delightful Elizabeth Peña) withholds her legal permission until Bree has met the son she never knew she had.
In a sense this is an unusually elaborate setup for a road picture, during which Bree and Toby become acquainted on an adventure-filled cross-country journey to Los Angeles, where Toby wants to become a porn star. Much of what happens along the way veers effectively between zaniness and poignancy, but director Duncan Tucker miscalculates when he makes a stopover visit with a transsexual group while Bree is passing herself of as a missionary to Toby and hiding the fact that she is his biological father. The inevitable moment of truth to which the entire film is building unfortunately occurs during a development that defies all probability but which Huffman and Zegers, who's up to being cast opposite Huffman, play with selfless daring.
Graham Greene, as a mellow Native American with an eye for Bree, lends the film welcome warmth and charm, but Tucker has directed that most formidable of actresses, Fionnula Flanagan, to go needlessly over the top as Bree's dragon of a mother. (More effective are Burt Young as Bree's laid-back father and Carrie Preston as her younger sister, in the midst of overcoming a drug habit.)
What Bree discovers in her journey with Toby is not only to be courageous but also that becoming a responsive, caring human being is as important as completing her gender transition.
'Transamerica'
MPAA rating: R for sexual content, nudity, language and drug use
Times guidelines: Strong adult themes and situations inappropriate for children
A Weinstein Co. presentation. Writer-director Duncan Tucker. Producers Linda Moran and René Bastian of Belladonna Productions and Sebastian Dungan. Executive producer William H. Macy. Cinematographer Stephen Kazmierski. Editor Pam Wise. Music David Mansfield. Costumes Danny Glicker. Production designer Mark White. Running time: 1 hour, 43 minutes.
Exclusively at the Sunset 5, 8000 Sunset Blvd., West Hollywood, (323) 848-3500.
The New York Times
MOVIE REVIEW | 'TRANSAMERICA'
A Complex Metamorphosis of the Most Fundamental Sort
By A. O. SCOTT
Published: December 2, 2005
To call Felicity Huffman's performance in "Transamerica" persuasive would be an understatement, as well as somewhat misleading. Her character, Bree (short for Sabrina), is a pre-operative transsexual who lives in a modest bungalow in Los Angeles and in a condition she refers to as "stealth." In other words, though still technically male, Bree passes for a woman, though there is nothing very stealthy about her elaborate, almost theatrical displays of femininity. In her tasteful pink outfits and meticulously applied makeup, she presents an image of womanliness that harks back to an earlier era. Her voice soft and breathy, she avoids cursing and peppers her conversation with Latinate words and foreign phrases.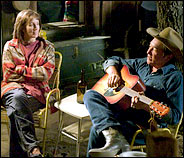 Weinstein Company

Felicity Huffman as Bree, formerly Stanley, and Graham Greene as Calvin in Duncan Tucker's debut feature, "Transamerica."
In this debut feature by Duncan Tucker, who wrote and directed it, "Transamerica" sets out to affirm Bree's dignity, to liberate her and others like her from any association with camp or freakishness. That the film succeeds without slipping too far into sentimentality or didacticism is in no small measure the result of Ms. Huffman's wit and grace. (She may also be the first film actor of either sex to do frontal nudity, in a single movie, as both.) Her work on "Desperate Housewives," for which she won an Emmy earlier this year, suggests a knack for gender parody, since that series is in essence a drag show that happens to star real women. The challenge Ms. Huffman faces here is more complicated: she must convey the layers of Bree's identity and the spaces between those layers. It is not just that the actress must play a man who is playing a woman - that much is a matter of technique (with some prosthetic assistance, to be sure) - but also that she must impersonate a performer in the midst of learning a complicated role. Her performance is a complex metamorphosis, and it is thrilling to watch.
"Transamerica" itself does not always live up to its star, but it is touching and sometimes funny, despite its overall air of indie earnestness. A week before her gender-reassignment surgery, Bree, formerly and reluctantly known as Stanley, discovers that a long-ago relationship has produced a previously unknown son named Toby (Kevin Zegers), who is now a teenage street hustler living in New York. Told by her therapist (Elizabeth Peña) that this is a loose end that must be tied up, Bree flies East to help the boy, who has run away from home after his mother's suicide. Allowing him to think that she is a Christian missionary - her upright, churchly bearing makes it easy to believe - she decides to take him back to rural Kentucky, where his stepfather lives.
Their journey gives Mr. Tucker a chance to indulge in yet another exercise in road-trip Americana, as Bree and Toby tour that mythic land where banjos and acoustic guitars compete with the crickets and loons. In keeping with the rules of cinematic cross-country travel, they eschew interstates in favor of winding two-lane highways, and eat in homey little roadside cafes. Along the way, they encounter a wise, warm black woman, a drunken and depraved hillbilly and a courtly Indian (Graham Greene), who takes a liking to Bree.
And of course, father and son do some tentative, poignant bonding, even though Bree can't bring herself to tell Toby the truth about their relationship. "I'm not his mother," she insists when strangers identify her that way, with increasing awareness of the absurdity of the situation. Luckily - for the audience, if not for Bree - they are forced to take a detour to visit her parents in Arizona, at which point the movie takes a welcome swerve. Off the road, it swerves toward a kind of domestic melodrama laced with mordant humor, as if Douglas Sirk had joined forces with Alexander Payne.
By its final third "Transamerica" has worked up enough momentum and self-confidence to overcome its sometimes obvious narrative, and to endow Bree's family of origin with an individuality that is both grotesque and heartbreaking. Her father, Murray (Burt Young), is an easygoing fellow in loose-fitting linen, but it is her mother, Elizabeth (the astonishing Fionnula Flanagan), who commands our attention. With her peroxide curls, silk pantsuits and heavy makeup, she might be an aging movie diva, and she has the volatile temperament to prove it. She verges on monstrousness, but stops short of being grotesque, and it is clear that while young Stanley may have rebelled against his mother, Bree has studied her behavior closely in search of both negative and positive examples.
Mr. Tucker is a subtle and conscientious writer; he takes care to treat Bree as a person rather than a case study. His individual scenes are more convincing than the narrative as a whole, which seems at times too neat, at times too ragged. But Ms. Huffman carries herself with such sensitivity and authority that you never doubt Bree for an instant.
This film is rated R (Under 17 requires accompanying parent or adult guardian). It has nudity and obscenities.
Transamerica
Opens today in New York and Los Angeles.
Written and directed by Duncan Tucker; director of photography, Stephen Kazmierski; edited by Pam Wise; music by David Mansfield; production designer, Mark White; produced by Linda Moran, Rene Bastian and Sebastian Dungan; released by the Weinstein Company. In Manhattan at the IFC Center, 323 Avenue of the Americas, at Third Street, Greenwich Village. Running time: 103 minutes.
WITH: Felicity Huffman (Bree), Kevin Zegers (Toby), Fionnula Flanagan (Elizabeth), Elizabeth Peña (Margaret), Graham Greene (Calvin) and Burt Young (Murray).
"Transamerica" official site