S
M
T
W
T
F
S
1
2
3
4
5
6
7
8
9
10
11
12
13
14
15
16
17
18
19
20
21
22
23
24
25
26
27
28
29
30
カテゴリ
以前の記事
検索
最新のトラックバック
その他のジャンル
ファン
記事ランキング
ブログジャンル
画像一覧
[映画]「愛についてのキンゼイ・レポート」=米・独 性革命研究者の生涯 (読売 2005/08/19夕刊)
 ◇オール・ザット・シネマ
 米国人の性行動を研究したキンゼイ博士の名をご存じの向きも多いと思う。性について赤裸々に語ることはタブーだった第2次大戦直後の米国で大旋風を巻き起こした。
 学者の生涯を描く映画としては、「ビューティフル・マインド」という良質な作品があるが、思えばキンゼイ博士の生涯も十分に映画的である。すなわち、〈1〉とにもかくにも、それが愛と性にかかわる研究であること〈2〉タブーに挑んだ人であること〈3〉波乱に富んだ人生を送り、山も谷も経験したこと――。
 大学で昆虫の研究をしていたキンゼイ(リーアム・ニーソン)は、女学生クララ(ローラ・リニー)と恋に落ち、結婚。初夜での失敗を克服し、人間の性を研究の対象とするようになる。やがて、研究が本人の性生活に影響し、夫婦の愛までが試されるという皮肉の面白さ。父との確執、和解の逸話は実話かどうかは知らないが、こちらは感動的である。
 やんちゃな時期から苦衷を経た晩年まで、ニーソンが好演。夫に寄り添うリニーの懐深い演技も目を引く。性革命の扉を開いたリポートの意義や是非はともかく、数値や統計では測り切れない愛の実相を、ビル・コンドン監督が描きたかったのは明白であろう。1時間58分。27日から新宿シネマスクエアとうきゅうなど。(原田康久)  
 写真=キンゼイ博士(リーアム・ニーソン)の著書は大ベストセラーとなる。彼は一躍時の人となるが…
映画:愛についてのキンゼイ・レポート 理想追い求める姿に共感 (朝日 2005/08/18夕刊芸能欄)
'I don't think about gender. I think about winning'
Parinya Charoenphol fought his way to the top in the macho world of Thai kickboxing. Then he became a woman. Does she like the movie about her life? By Will Hodgkinson
Will Hodgkinson
Friday August 19, 2005
Guardian
In terms of plot twists, it's undeniably brilliant. A poor boy from a village in Thailand overcomes his natural timidity and gentleness to become a champion kickboxer - but only so he can afford a sex change. It would also be preposterous were it not true. The new Thai film, Beautiful Boxer, is the story of Parinya "Nong Toom" Charoenphol, an authentic star in Thailand and one of the most controversial figures to emerge in international sport.
Charoenphol was born into a family of nomads that eventually settled down in Chiang Mai province, and - taking the traditional route for children of poor parents - became a novice monk. He played truant to make money for the family and was expelled from his monastery. At the age of 12, he visited a temple fair at where a kickboxing match offered 500 baht to the winner; goaded by insults about being a sissy, Charoenphol entered and won. Intense training at a muay thai (traditional kickboxing) camp followed, then wins in 20 out of 22 regional matches, and finally nationwide fame. All the while Charoenphol was making visits to the village transvestite, experimenting with makeup, and saving up the money for the sex change he had been planning since childhood.
For a transvestite to invade the sacred and deeply masculine world of kickboxing - women are not allowed to enter a kickboxing ring, let alone fight in one - is a contentious issue. "When Nong Toom first broke into the scene, people thought that she gave muay thai a bad name," explains Ekachai Uekrongtham, the director of Beautiful Boxer. "Then when she revealed herself as a very good kickboxer, she earned respect, but still a lot of people believe that she is tarnishing the image of something sacred. Kickboxing evolved as our ancestors invented ways of turning our bodies into weapons to fight the Burmese, and it is more than just a sport. It's a sacred tradition that is at the heart of our national identity."
One cannot help but feel that Charoenphol might indeed have been tarnishing this sacred tradition when, in one of the more bizarre moments in the history of kickboxing, she was invited to Tokyo to fight Kyoko Inoue, Japan's top leading female wrestler, in 1998. Charoenphol high-kicked and leapt; Inoue did piledrivers and headlocks, and Charoenphol won. After the match, a young Thai woman went up to Charoenphol and slapped her for the insult she was bringing to muay thai . "I felt very bad that I had to hit another woman," is all Charoenphol will say about the experience.
Charoenphol admits that she only started kickboxing to make money, but that she fell in love with it, becoming determined to honour its craft despite her gender inclination. She was attracted to the side of muay thai that is rarely seen in martial arts films: the ancient movements that are as much a ritualistic dance as an act of violence. She kept a scrapbook of illustrations of these movements collected from kickboxing magazines throughout her adolescence, and then asked her trainer to teach them to her. This is how she learned her trademark move Crushing Medicine, which involves jumping in the air and bringing her elbow down onto the head of her unfortunate opponent.
Charoenphol, now such a big star in Thailand that walking down the street constitutes a potential safety issue, speaks in a considered, rather nasal falsetto and looks so poised and ladylike that it is hard to imagine her dishing out punishment in the form of the deadly Crushing Medicine. "I don't equate femininity with weakness," she replies on being asked why she would choose to make money from something so aggressively masculine if she always knew that she was a woman. "I also knew that I had to be strong, and to protect myself and the people I loved. I was born into poverty and there weren't many ways I could earn a lot of money." Does she feel like a man or a woman when she's fighting? "I don't think about gender. I think about winning."
She is also very sweet. Asked how closely the film reflects her life, she replies, "You want the percentage?" Was it difficult to watch someone else playing her on screen? "It's like looking at a mirror that shows images of you in flashback. But I could never imagine someone making a movie about my life as I always think that films are about heroes and I'm not a hero. The film is life's greatest gift to me so far because it makes it easier for people to understand transsexuals, and on a personal level it has helped me to be accepted as a person."
"She's such a person of contradictions," says Uekrongtham, who started work on the film, his feature debut, after directing a hit theatre production about the conjoined twins Chang and Eng Bunker. "She set out to master the most masculine activity in order to achieve total femininity. I thought it was fertile ground for exploration, so I went to meet Nong Toom in person and had a very unpleasant experience. She forgot about our little date entirely."
Charoenphol, by then a retired kickboxer, a woman and a national celebrity, left Uekrongtham in no doubt about her femininity. He arranged two more dates with her that she also missed. "It was so much like a woman - forgetting appointments and making people wait," Uekrongtham says. Eventually Uekrongtham called Charoenphol and said that he was coming to see her immediately. She was at a massage parlour and told him that if he wanted to talk, he would have to take a massage next to her. "So I did, and through a long chat I realised how prejudiced I had been about her. The person that I met that night was very different from who I expected. In Thailand you see transsexuals portrayed as camp people whose aim in life is to go after men and do silly things. But the person in front of me was someone who cared for her family, and was very genteel and thoughtful. That was when I realised that there might be something deeper to this extra-ordinary story."
Beautiful Boxer is more serious than its premise might suggest. The real paradox at the heart of Charoenphol's story is that she is so good at such a violent sport, her skill only improving after she discovers a sweat-resistant brand of make-up. Using ancient and obscure moves rarely used by contemporary fighters, she approaches kickboxing as an art form to be mastered with balletic grace, channelling the necessary aggression into elegant moves that flatten her opponents mercilessly.
There is a scene in the film in which the young Charoenphol sagely reflects on her gender situation with the village transvestite, stating that under the karmic laws understood by all Buddhists the bad deeds she committed in a former life have resulted in an imbalance for this one. It is part of a portrayal that stands in contrast to the cliche of bitchy Bangkok ladyboys seducing gormless western tourists. Charoenphol herself has had to deal with this stereotype and fight against being written off as a gimmick, and Beautiful Boxer faced the same problem with Thai audiences. A camp comedy like The Iron Ladies, which tells the story of a cross-dressing volleyball team, is acceptable mainstream entertainment in Thailand, but it came as a shock to see a transsexual presented as a more serious character. "The gay community embraced the film," says Uekrongtham. "Mainstream audiences weren't so sure. But slowly they came round to the idea that transsexuals are not necessarily comic characters."
Asanee Suwan, the young actor in the lead role, has had a life that mirrors that of Charoenphol, with the key difference that he isn't intending to turn into a woman any time soon. A professional kickboxer since he was 12, Suwan is also from a poor rural family, and escaped his situation by climbing to the top of his sport. "The big difference between us is that Nong Toom knew all kinds of moves that I had never seen before," says Suwan. "Before I met her, I thought that Nong Toom was putting on makeup as a gimmick to make her famous. Now I can understand what she had to go through and how brave she has had to be."
Since becoming a woman in 1999 at the age of 18, Charoenphol has worked as an actress and a model, most recently touring her one-woman show Boxing Cabaret. She has not been allowed to take part in a kickboxing fight because of her gender. "I do miss it, but I'm not that far away from it," she says. "I go and see my friends in matches, and I do some training. And I still can't walk past a punch bag without kicking it."
· Beautiful Boxer is released on September 2.
映画:愛についてのキンゼイ・レポート 理想追い求める姿に共感
(朝日 2005/08/18夕刊芸能欄)
 性の解放は私たちを幸福にしたか。一見単純な問いだが、実は一筋縄ではいかない微妙さをはらむ。
 この映画は、米国の学者アルフレッド・キンゼイの半生を追いつつ、この問いへの解答を探る。性に関する大規模で詳細にわたる聞き取り調査を実施し、リポートを発表した人物だ。
 調査から彼が得たのは、人間はみな違っており、性についても千差万別であるという事実だった。道徳は基本的に人間を均質化するベクトルを持つ。彼のリポートは、人々を道徳から解放するきっかけを与えた。
 この映画が面白いのは、キンゼイの業績をたたえるでもおとしめるでもなく、高みの見物を決め込んでいるわけでもない点である。
 映画は、キンゼイの研究がどれほど多くの悩める人々を救ったかについて丹念に描写する一方で、キンゼイや助手たちの科学者的な態度が、周囲を傷つける様子にも目配りを怠らない。
 男の助手と関係を持ったキンゼイが妻に包み隠さず報告して衝撃を与えたり、男性助手の一人が仲間の妻と不倫関係になって修羅場に陥ったりする。すべてを白日の下にさらし、古い道徳を打ち破ろうとする態度は、両刃の剣である。
 リポートが話題になるにつれ、道徳の側の巻き返しも激しくなる。信頼する助手にまで「これは危険なゲームだ」と指弾され、キンゼイは自信を失う。そして重い病に倒れる。
 性の解放が私たちを幸せにしたか。結局、映画は是とも非とも言わない。ただし、強く是としていることが一つある。それは、性の解放への歩みを止めないキンゼイの生き方である。
 私たちは、鋼鉄の意思を貫き通す強い人間を見ると感銘を受ける。しかし、それよりもはるかに心を揺さぶられるのは、挫折や転向の荒波をかぶりながら、理想に向かって立ち上がろうともがく人物に出会った時なのだ。
(石飛徳樹)
(写真)米インディアナ大で教えるキンゼイ(リーアム・ニーソン)=27日から公開
"Kinsey": Some sex, more sex, and some extra sex - Japan Times
Some sex, more sex, and some extra sex
By KAORI SHOJI
Kinsey
Rating: * * * * (out of 5)
Director: Bill Condon
Running time: 118 minutes
Language: English
Opens Aug. 27
[
See Japan Times movie listings
]
As biopics go, "Kinsey" is top-notch brilliant. While other films in this genre often fail because the director is too enamored with the chosen subject and inclined to go off the deep end in fantasy/mawkishness, "Kinsey" succeeds for the exact opposite reason. It's a clinical and singularly unromantic look at a clinical and unromantic guy: Dr. Alfred Kinsey, whose 1948 best seller "Sexual Behavior in the Human Male" paved the way for America's sexual revolution. In it, he discussed the sexual act from every conceivable angle based on data he gathered from volunteer interviewees from all over the US.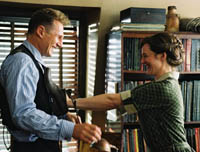 News photo
Liam Neeson and Laura Linney in "Kinsey"
The questionnaire he put to people included questions like: "Do you engage in oral sex and if so, how many times a week?" and "Have you ever had sexual relations with an animal and if so, when?" Not much room there for romance. The media of that period compared the impact of his book on American society with the atom bomb and predicted (rightly) that American sexual mores would never be the same again.
"Kinsey's" precise and tight focus comes from the fact that Dr. Kinsey himself (played with an unwavering concentration by Liam Neeson, who often appears on the point of passing out with exhaustion) was a focused scientist who, to put it quite simply, gave his life to sex. His relentless obsession cost him his health, periodically jeopardized his marriage and in the end made him a target for ridicule.
For some scientists, it's dolphins. For Dr. Kinsey, known to friends and family as "Prok, (an abbreviated form of Prof. Kinsey)" it was human sexual behavior. The fever it seemed, never palled and this film shows how he studied it, analyzed it, experimented with it and discussed it over dinner with his wife and children, twenty-four seven. In one scene, one of his teenage daughters casually remarks over hotdogs that now she had turned 17, she wanted to have sex but was a little worried that the tearing of the hymen would be a bit painful. Her father reassures her with a professorial air that with the appropriate prepping it shouldn't be painful at all, but "why not wait until next year when the hymen will have matured?" She smiles and says brightly: "OK, dad!"
It's hard to say whether director Bill Condon ("Gods and Monsters") actually likes Dr. Kinsey, as "Kinsey" is curiously devoid of emotion, but it's clear he was fascinated by the doctor, much in the way of one scientist to another. Condon's lens pins Kinsey like a specimen under a microscope -- and in the process the doctor is stripped of any mystery, allure or ambiguity. There's a pretty graphic sequence of a teenage Kinsey masturbating furiously in a sleeping bag, and later when he marries one of his graduate students Clara McMillen (Laura Linney), the details of his, er, organ size is discussed with calm candor. And besides, the doctor wasn't the type for allusions and concealments: the minute he has an affair with his assistant Clyde Martin (Peter Saarsgard) he rushes home to tell Clara all about it, and caps it off by telling her how sex with Clyde will in no way damage their relationship, nor jeopardize the deep love he has for her. He encourages her to go ahead with "sexual experiments" of her own. (And she does, with Clyde.)
And don't think that there's anything shy about the rest of the film; we get to "see it all," as another of Kinsey's assistants puts it, from closeup photographs of the genitalia in act of intercourse, to scratchy home movies depicting orgies among Kinsey, his staff and their wives, to a masturbation session by a silver-haired, 78-year old woman. In the name of science Kinsey and his research team forged ahead to a turf where virtually none had dared to tread, and then sampled all the joys they found there. In the meantime, many Americans waited until marriage to have sex and when it came to it were often clueless about it. Oral activities were considered terrible sins that would send the offender hurtling into hell and homosexuality was deemed a disgusting disease on par with syphilis.
Kinsey coaxed his interview subjects to be open and unafraid, he convinced them that as far as sex was concerned nothing was profane since nothing was sacred. Of formal sex education during that period, he slashed it to ribbons with one neat line: "Morality disguised as fact."
Kinsey himself had suffered at the hands of that masquerading morality during a stifling childhood spent under his bigoted, bible-thumping father (John Lithgow). Having drummed it into him for years that humans were dirty sinners with the church their only salvation, it seems both miraculous and only natural, that Kinsey chose biology as his calling and would later tell Clara: "Human beings are just like gall wasps, only bigger and more complicated." Along with other pioneers who helped free human intelligence from the bounds of societal and religious codes, there's no doubt Dr. Kinsey deserved so much more glory than that which he received. Having said that, however, it's difficult not to feel sorry for Clara. Her husband was a great and enlightened scientist but hey, imagine being married to the guy.
The Japan Times: Aug. 17, 2005
"Kinsey" モザイクなし性描写の米映画8月公開
モザイクなし性描写の米映画8月公開
2005年07月23日(土) 日刊スポーツ
 男性器と女性器のアップシーンがある米映画「愛についてのキンゼイ・レポート」(ビル・コンドン監督、8月27日公開)が、モザイク一切なしで公開されることが22日、分かった。性調査をした実在の博士を描いた作品で、前後の脈絡や学術シーンであることを考慮して映倫管理委員会(映倫)も"おとがめなし"だった。
 衝撃映像は冒頭に出てくる。リーアム・ニーソン演じる動物学者のキンゼイ博士が、女性器に男性器が挿入される画像を見ながら、講義する場面だ。同博士は40~50年代に、約1万8000人の性意識を取材し、報告書は世界に衝撃を与えた。
 配給会社関係者は「キンゼイ博士の転機になる大事なシーン。モザイクを入れれば、ワイセツになってしまっていた」と、R-15指定(15歳未満入場禁止)ながら、そのまま上映されることにホッとしている。作品は夫婦愛を描いた人間ドラマで、今年のベルリン映画祭でクロージング上映もされた。この日は、都内でAV男優加藤鷹が、映画や性に関するトークショーを行った。
Exposed genitalia makes breakthrough on Japan's silver screens - Mainichi
Japanese moviegoers will finally be able to see fully exposed genitalia on the silver screen for the first time ever later this month, according to Shukan Post (8/12).
Japan's Eirin, the name commonly used for the Administration Commission of Motion Picture Code of Ethics, has traditionally taken a hard line against the display of reproductive organs on celluloid, requiring moviemakers to blot them out of view by using a digital mosaic.
Renowned director Nagisa Oshima, who was at the helm for "Merry Christmas Mr. Lawrence," was involved in a decades long battle with Eirin over the depiction of genitalia in his controversial 1976 flick "In the Realm of the Senses."
Oshima claimed the famously revealing movie was art, but Eirin insisted it was pornographic and censors sliced through the movie. Even when given a re-run in Japanese theaters five years ago, Eirin still make adjustments to 15 parts of the movie.
The closest genitalia have come to being screened publicly in Japan was the briefest of glimpses of a male member that pops up when two football players clash in Oliver Stone's "Any Given Sunday" in 1999.
But, with the Japanese premiere in late August of "Kinsey," local moviegoers will get their first unadulterated glimpse of both male and female reproductive organs.
"We discussed it quite a bit internally before deciding the scene where the organs appear is really important for the overall movie and that we wanted it to be screened uncut and without a mosaic," a spokesman for Shochiku, the distributor of "Kinsey," tells Shukan Post.
Eirin, which has a strict policy of prohibiting the display or genitalia or pubic hair, has bent when it comes to "Kinsey," a biopic of U.S. sex academic Alfred Kinsey.
"It's not on screen for long and, overall, we decided that the scene did not touch on Eirin's regulations," a spokesman for the movie ethics committee tells Shukan Post.
"Kinsey" tells the story of the academic's study of the sexual practice of some 18,000 white Americans in the 1940s and '50s. The academic later wrote up his findings in "The Kinsey Report," which made him famous throughout the world.
The scene in "Kinsey" where the genitalia are displayed features Liam Neeson as the title character explaining the reproductive act to a group of university students. The scene is depicted as an earth-shattering moment in Kinsey's life because it prompts him to realize that existing sex education is insufficient and he begins his study to find data to back up his demand for improvements.
Japanese sex educationalists are hoping "Kinsey" will reveal more than mere members.
"There's nothing dirty about the scene where the genitalia are displayed. In fact, I thought it showed how serious an academic Kinsey was. This movie does not just show Kinsey's life, it also has the added value of sparking discussion about modern sexuality. There aren't too many academics like Kinsey nowadays. And, no matter how open we've become about sexuality, there are still many areas that remain taboo," Japan's foremost sexologist Kim Myung Gan tells Shukan Post. "There's a chance that showing this movie without a mosaic may deepen discussion about sex education. Hopefully, this movie could establish a precedent for how sexuality is depicted." (By Ryann Connell)
August 5, 2005
WaiWai stories are transcriptions of articles that originally appeared in Japanese language publications. The Mainichi Daily News cannot be held responsible for the contents of the original articles, nor does it guarantee their accuracy. Views expressed in the WaiWai column are not necessarily those held by the Mainichi Daily News or Mainichi Newspapers Co.
Kinsey(愛についてのキンゼイ・レポート)
銀の森へ メゾン・ド・ヒミコ 沢木耕太郎
(朝日 2005/08/01夕刊芸能面)
ゲイ施設舞台に幸せな物語展開
 伝説のゲイバー「卑弥呼」のママが、とつぜん店を畳んで、ゲイのための老人ホームを作った。
 それがこの映画の出発点だ。
 ある日、沙織という野暮(やぼ)ったい娘のところに、春彦というハンサムな青年が現れ、しつこく迫る。君の父親が不治の病に倒れてしまった。日曜でいいから面倒を見にきてくれないか。金は出す。君には借金があるのだろう?
 すぐに、沙織が伝説のママである卑弥呼の娘であり、春彦が卑弥呼の愛人であることが明らかにされる。
 このアクロバティックな人間関係と、ゲイのための老人ホームという奇抜な舞台設定のため、人によっては思わず「引いて」しまうかもしれない。私も最初はそうだった。しかし、見ているうちに、少しずつ前にのめっていくのがわかった。のめっていったのは、もちろん体ではなく気持ちである。
 沙織は、父親がゲイとしての道を選んだために結果的に母親ともども捨てられ、さらに死んでしまった母親の医療費を支払うために借金まで背負っている。その沙織が、死の床にある父親の世話と、彼を中心に存在する老人ホームの手伝いをするために日曜ごとに通うことになる。
 古武士のような風格を持つ田中泯がママの卑弥呼、その古武士に付き従う小姓のような青年春彦にオダギリジョー、そして常に何かに怒っているような表情を浮かベでいる娘沙織を柴咲コウが演じている。
 とりわけ柴咲コウが、沙織という役をコミカルに、生き生きと演じている。だが、それ以上に印象的なのは、三人の周辺にほとんど名前も顔も知らない役者たちがゲイとして配されていることである。その確かな存在感が、ゲイのための老人ホームという仮構にどっしりとしたリアリティーを与えることになっている。
 やがて、若い沙織と春彦とのあいだに微妙な感情が生まれかかる。しかし、そこで「恋」が生まれるなどということにはならない。なにしろ春彦は「ゲイ」なのだ。
 そこで生まれかかったものをどう処理するか。それがこの映画の重要な屈折点になるが、そこを巧みにすり抜けさせることで、最後のハッピーエンドを準備することになる。
 そう、これは酒落(しゃれ)たハッピーエンドを持つ映画なのだ。いや、ハッピーエンドだけではない。楽しいプロセスを持っている。
 それが可能だったのは、ひとつにこの製作者たちがゲイという少数派を特別視していなかったからだと思われる。ゲイにも喜びも悲しみもあるだろう。ストレートに喜びも悲しみもあるように。ただし、少数派であるということによる「負荷」は、いくらか多めにかかっているかもしれないが、というのが基本的な認識だったと思われるのだ。
 クライマックス。捨てられた者としての沙織が、捨てた者としての卑弥呼にこれまでの思いを叩(たた)きつけるシーンがある。一対一で対峙(たいじ)した沙織が激しく言葉で斬(き)りつける。しかし、それを静かに聞いていた卑弥呼は、ほとんど一言で決着をつけてしまう。まるで居合抜きの一閃(いっせん)のような短い言葉ひとつで。
 発端は新聞記事だったという。フィリピンにはゲイのための老人ホームがある。これを読んだ製作者たちが、その骨格にさまざまな要索を詰め込み、作ったのがこの「メゾン・ド・ヒミコ」という映画だった。そして、そのようにして詰め込まれた各要素は、分裂を起こすことなく柔らかく融合し、幸せな一本が生み出されることになった。
 27日から東京・渋谷のシネマライズで上映。全国順次公開。
 沢木耕太郎氏の「銀の森へ」は毎月1回、掲載します。
メゾン・ド・ヒミコ (映画公式サイト)
「同性愛」テーマに映画フェス/大阪・梅田
(読売・大阪版 2005/07/20朝刊)
 「関西クイア・フィルム・フェスティバル」が23、24の両日、大阪・梅田のHEP HALLで開かれる。「第14回東京国際レズビアン&ゲイ映画祭」で上映された作品を中心に、性とそれにかかわるライフスタイルをテーマにした作品を集めた。関西での開催は4年ぶり。
 ロンドンで恋人と暮らすアリムのところへ、息子がゲイと知らずに母親が結婚をせかしにやって来て……。騒動をコミカルに描いた「タッチ・オブ・ピンク」など7作品と、関西のスタッフが選んだ国内の短編9プログラムなどが上映される。
 「クイア」とは英語で「変態」のこと。当事者らが、差別的な言葉を逆手にとって自称することで自らの立場を肯定的にとらえ直すという意味を持つという。
 ボランティアスタッフで作る実行委員会が主催。委員会では「テーマは家族のつながりや友情、恋人との関係など普遍的なものばかり。見てハッピーになれる作品を集めた」としている。
 料金は1作品1600円、全作品が見られる関西フリーパス1万円。問い合わせは同実行委員会(070・5666・1125)まで。
University helps create largest archive of gay and lesbian movies
Mon Jul 11, 7:07 PM ET - AFP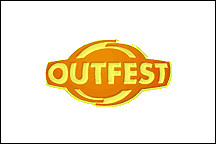 The University of California at Los Angeles and Outfest launched a scheme to preserve and restore Outfest's collection of more than 3,300 independent films with gay, lesbian, bisexual and transgender movies to ensure the future of the genre.(Outfest )
A top US university has teamed up with a Los Angeles gay film festival to create and preserve the world's largest publicly accessible archive of homosexual movies, they announced.
The University of California at Los Angeles
and
Outfest
launched a scheme to preserve and restore Outfest's collection of more than 3,300 independent films with gay, lesbian, bisexual and transgender movies to ensure the future of the genre.
"The creation of the largest collection of media materials of this kind is important not only for scholars, researchers, filmmakers, and historians worldwide, but also for the broader society," said Franklin Gilliam of UCLA Community Partnerships, which funds the initiative.
The project, dubbed the Outfest Legacy Project for LGBT Film Preservation, will seek to fill in a gap left by mainstream film preservationists who have in the past overlooked homosexual films because they have not had a perceived commercial value.
"These films represent our community's cultural legacy and we refuse to be complacent in the erasure of our own history," said Stephen Gutwillig, Executive Director of Outfest, formed at ICLA in 1982.
The first phase of the project will include transferring Outfest's existing library of preview tapes and discs to the UCLA archive where many of the titles will be digitized to allow public access to films.
Phase two will include establishing a collection of archive-quality 16 millimeter and 35 millimeter prints at the UCLA archive. Print donations will be solicited from filmmakers, collectors and distributors and new prints will be made of titles whose components are intact and accessible.
The UCLA Film and Television Archive is one of the largest collections of media materials in the United States, second only to the Library of Congress in Washington.
女性地位向上60年の歩み ベアテ・シロタ・ゴードンさんを描いた映画公開 (読売・大阪版 2005/07/03朝刊)
 個人の尊厳と男女両性の平等を定めた日本の憲法24条の起案者ベアテ・シロタ・ゴードンさんと、戦後60年間の日本の女性の地位の向上を描いた映画「ベアテの贈りもの」(藤原智子監督)が各地で上映されており、今月は大阪でも公開される。
 1923年にウィーンで生まれたベアテさんは、父で、世界的ピアニストだったレオ・シロタさん、母とともに5歳で来日。幼少期を日本で過ごした。アメリカ留学中に日米が開戦。音信不通となった両親を気遣って、連合国軍総司令部(GHQ)のメンバーとして再来日。日本国憲法の草案起草委員会に唯一の女性として起用された。
 草案に女性の人権の確立を盛り込んだが、多くは委員会で削除された。日本側の抵抗も強かったが、24条を通過させようと尽力した。
 映画では、81歳になったベアテさんの半生を描きながら、女性の参政権の確立、労働省婦人少年局の設置、1976年から始まった「国連女性の10年」、男女雇用機会均等法の成立など、ベアテさんからの「贈りもの」を受けた日本の女性の戦後の歩みをたどっている。
 初代の労働省婦人少年局長となった山川菊栄、女性初の大臣(厚生大臣)に就いた中山マサ、国会議員として活躍した市川房枝ら代表的な人物を登場させるほか、各界で現在活躍する女性のインタビューを盛り込み、女性の地位向上の歩みを検証している。
 ベアテさんは映画の中で、「今の日本の女性は素晴らしいです。どうかこの憲法を一層生活の中に生かし、今度は世界の女性たちのために働いてください」と語りかける。
 映画の製作委員会の代表は元文部大臣で、労働省婦人少年局長も務め、男女雇用機会均等法の制定に尽力した赤松良子さん。製作委からの拠出金や委員らの募金活動で映画づくりが実現した。
 上映は9日午後1時から大阪・天満橋のドーンセンター(06・6910・8615)、16日から8月5日まで大阪市淀川区の第七藝術劇場(06・6302・2073)、7月24日には、兵庫県姫路市のイーグレひめじ(河石さん090・1394・8201)などでそれぞれ行われる。
 その他、フィルム貸し出しなどの問い合わせはベアテの贈りもの製作委員会(03・5213・8663)へ。  
 写真=映画「ベアテの贈りもの」の中で語りかけるベアテさん