S
M
T
W
T
F
S
1
2
3
4
5
6
7
8
9
10
11
12
13
14
15
16
17
18
19
20
21
22
23
24
25
26
27
28
29
30
31
カテゴリ
以前の記事
検索
最新のトラックバック
その他のジャンル
ファン
記事ランキング
ブログジャンル
画像一覧
Nationalism gains strength in Japan
By Paul Wiseman, USA TODAY

TOKYO — —
Yuko Tojo remembers her grandfather, Hideki Tojo, as a gentle man who wrote loving letters to his family and allowed her to tear through the garden with the servants' children. History remembers him as a war criminal, the World War II prime minister responsible for the Japanese attack on Pearl Harbor.
Yuko Tojo, 68, seeks a seat in the upper house of Japan's parliament to clear her grandfather's name. In elections Sunday, she is running as an independent, shunned by the ruling Liberal Democratic Party (LDP) that shares many of her revisionist views on Japan's wartime past. Even she is skeptical about her chances, and polls suggest that the LDP, led by unpopular Prime Minister Shinzo Abe, is headed for defeat, too.
Whatever happens Sunday, the nationalistic ideas that Yuko Tojo and the LDP champion are likely to survive. Their platform once languished outside the mainstream: They want Japan to revise the anti-war constitution imposed by the United States after World War II. They want Japan to rearm its military and rewrite history, erasing bits about sneak attacks and massacres and replacing them with odes to patriotism and honor.
Such ideas were heretical in postwar Japan but have gathered public support in recent years as China has launched a rapid military buildup and North Korea has tested missiles and nuclear devices. The United States, which has borne the burden for Japan's defense, has encouraged it to rearm.
"No matter who wins the election, nationalism will grow in Japan," says Yan Xuetong, foreign policy professor at Beijing's Tsinghua University.
Tokyo political commentator Yoshiko Sakurai agrees: A victory Sunday by the opposition Democratic Party of Japan (DPJ) might slow the trend, she says, but won't stop it. Why:
•The LDP, controlled by a nationalist faction, will keep its grip on parliament's lower House of Representatives, which picks the prime minister.
•The LDP has pushed through parts of Abe's nationalist agenda, expanding the role of Japan's armed forces by sending troops to help in Iraq and Afghanistan, passing legislation intended to set the stage for revising the constitution, and approving school policies that stress "patriotic" education.
•Shintaro Ishihara, a nationalist who is governor of Tokyo, punishes teachers who won't follow the patriotic line in the classroom.
Even the opposition DPJ calls for Japan to build its defensive capability and to play a bolder role in world affairs by joining United Nations peacekeeping operations — regarded by past Japanese governments as flirting with constitutional restrictions on war.
The drive to revise the constitution dismays many Japanese, proud of their country's pacifist postwar record. "We have to protect" the constitution, says Hayato Uemura, 51, who sells software. "We shouldn't start war."
Japanese forces invaded and occupied China and South Korea before and during World War II. Right-leaning commentators such as Sakurai deny or downplay documented wartime atrocities such as the Nanking massacre, in which Japanese troops butchered thousands of Chinese civilians.
In 2001, Abe, then the LDP's acting secretary general, pressured national broadcaster NHK to censor a program on the Japanese military's wartime use of sex slaves (known as "comfort women"), according to the Asahi newspaper.
"We did terrible things during the war to foreigners and our own people. This is a fact," says left-leaning political commentator Minoru Morita. "We lost 3.1 million people and a third of our national wealth. It took us 25 years to recover. We learned we have to get along with the United States and China. Some of our politicians don't realize that."
Hundreds of Japanese teachers have refused to cooperate with what they see as coercive attempts to instill patriotism in youngsters and with the revision of Japan's history.
In Tokyo alone, 320 teachers have been punished — some docked pay or suspended — for refusing to salute the flag or stand for the national anthem, according to the Tokyo school board. Akira Suzuki of the school system's personnel department says the board is enforcing the rules, not political orthodoxy.
Tokyo middle school teacher Kimiko Nezu has been suspended so often that she expects to earn less than $17,000 of her $58,000 salary this year.
She says she's been punished for refusing to stand for the national anthem and for teaching her students about comfort women, despite repeated warnings to stay away from the taboo topic.
Nezu, 56, says nationalist pressure began in 1994 and intensified after Ishihara became governor of Tokyo in 1999. "I never imagined it would get this bad so quickly," she says. She was transferred this year to a school for the disabled in what she views as punishment. She expects to lose her job before her lawsuit against the school board is decided next year. "This is my way of being a patriot," she says.
Yuko Tojo has a different view of patriotism. She says she believes history, written by World War II's winners, needs to be revised to salvage the reputation of her country — and her grandfather. He was hanged in 1948 after being convicted of war crimes by an international tribunal. Her view: Japan invaded its neighbors and attacked Pearl Harbor in 1941 because the United States was smothering Japan with economic sanctions. "It was a war of self-defense," she says. "Japan's history has been distorted."
A former housewife, Tojo has no gripe against the United States. Her 29-year-old daughter, who married an American and settled in Seattle, was upset when her husband left his job and joined the U.S. Air Force after the 9/11 attacks. "I told her this is the time his country needs him," Yuko Tojo says. "I told her his act was splendid."
Contributing: Naoko Nishiwaki
Find this article at:
http://www.usatoday.com/news/world/2007-07-26-japan_N.htm
▲
by

alfayoko2005

| 2007-07-27 08:13 | 国内政治
Japan Considers Amending Pacifist Constitution
By Catherine Makino
Tokyo
30 April 2007
Voice of America
After years of talking about it, Japan's governing party has moved ahead this month with plans to revise the country's constitution. The changes would expand the role of Japan's military - a significant break from its post-World War II pacifist era. And as Catherine Makino reports from Tokyo, that is giving rise to fear that Japan could return to its militarist past.
Since Japan's pacifist constitution was imposed by U.S. occupiers after the country's defeat in World War II, the Japanese have held Article Nine sacrosanct. In it, Japan forever renounced war and the threat of force as a means to settle international disputes. It limits Japan's military to a purely self-defensive role and bans any offensive capabilities. Article Nine was meant to show Japan was breaking with its imperialist era when it brutally invaded and conquered swaths of East Asia in the early 20th Century.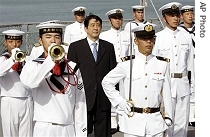 Japanese PM Shinzo Abe, center, stands with Japanese seamen on the deck of Japan Maritime Self-Defence Force refueling ship Hamana which was dispatched to Middle East to support the U.S.-led operations in Afghanistan, Sunday, 29 April 2007 in Abu Dhabi
But a new generation of leaders, led by Shinzo Abe - the first prime minister born after the Second World War - backs sweeping reform of the constitution and specifically Article Nine.
Proponents of the changes, such as Osamu Nishi, professor of constitutional law at Komazawa University in Tokyo, say Japan needs to be able to project force commensurate with its economic power.
"Japan is not the same country as it was 60 years ago," he said. "It has become a big country with a responsibility to keep world peace."
Opponents of revision say it would bring a return to militarism and "a dark period of history." They argue that the pacifist clause has kept the country out of war and allowed Japan to prosper.
The Self-Defense Force has expanded over the years, and now has 240,000 members. Although Japanese soldiers have not been sent into combat, Tokyo dispatched about 600 non-combat soldiers to Iraq to work on reconstruction projects in southern Iraq since 2004. But the deployment was unpopular at home and the ground troops were withdrawn.
Nishi says such work does not mean Japan would be returning to militarism.
"Of course, in order not to return to militarism of the past, it is necessary for the civilian [sic] and government to control the military forces," Nishi says.
But behind the general talk of the need for Japan to play a larger role in the world is another argument: that Japan must compete more strongly with major neighboring powers such as China.
Law professor, Pema Gyalpo, of Toin University in Yokohama is a constitutional advisor to the ruling Liberal Democratic Party. He says a change in the military's role is necessary to meet any threat caused by China's growing military might.
"Because in recent years it has been very obvious that China is increasing their military budget by double digits, and this is very great concern for the Japanese," Gyalpo says.
Gyalpo also believes that if Tokyo wants to become a global player and a member of the United Nations Security Council, it has to take a more active military role.
Such views may have the current government's backing, but proponents of change have a long wait ahead. The lower house of parliament passed a bill on April 13 setting out procedures for a national referendum on whether or not the constitution should be amended. The referendum could be held three years from now.
In the meantime, public support for constitutional change is declining. Surveys over the past 15 years by the conservative Yomiuri Shimbun, Japan's largest daily newspaper, show that those favoring revision consistently outnumber those who oppose them. But the percentage of those in favor has dropped for three years in a row.
But some experts, such as Gyalpo, say while there is no pressing need to revise the constitution immediately, there is short-term political benefit for Mr. Abe to bring the issue to public debate.
"Well, when he became prime minister he said that one of his top priorities is to change the constitution and I think that's what he is trying to do," Gyalpo says. "Secondly, the opposition party is attacking him for the growing gap between the rich and poor, and also the pension issue for the citizens, elderly citizens, so that is why Abe is trying to focus the coming election in July on the constitution."
The constitution was drafted by the United States when it occupied Japan following Japan's defeat in World War Two. The document reduced the formerly supreme emperor to a symbolic figurehead and gave control of imperial palaces and assets to the Japanese parliament.
It established democracy in Japan, creating political parties and elections. Political power previously had been concentrated in the hands of a small group of government leaders who answered only to the emperor.
Freedom of speech, of religion, and human rights were also included in the 1947 constitution, as were "gender equality," the right to vote, and the right to own property.
But the more conservative elements in the LDP point out that the Americans imposed the constitution on Japan and that it therefore lacks true legitimacy in the eyes of many Japanese.
How far constitutional change should go remains a concern not just in Japan, but also across a region still wary of Japan's militaristic past.
▲
by

alfayoko2005

| 2007-05-01 09:43 | 国内政治
アイ・ラブ下北沢 選挙に行こう!キャンペーン ホームページ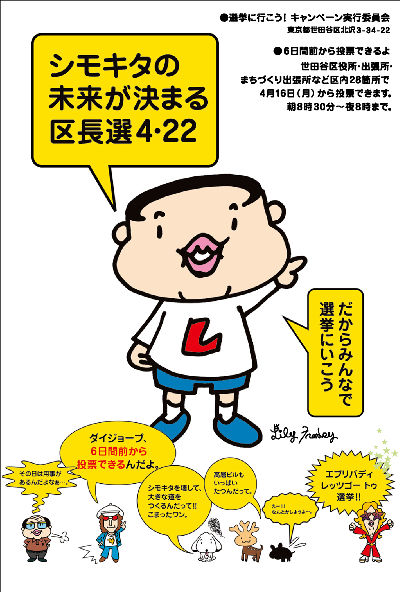 '07統一選:世田谷区長選 「シモキタの将来は自分自身で」 投票呼びかけ /東京
毎日新聞 2007年4月15日
 下北沢駅周辺再開発の是非が区長選の争点の一つになっている世田谷区で、市民団体がポスターで投票を呼びかけている。下積み時代、毎日のように下北沢を訪れていたというイラストレーターでエッセイストのリリー・フランキーさんが描いたキャラクターが「シモキタの未来が決まる区長選4・22」と啓発しているデザインで、若者に関心を持ってもらおうというのが狙いだ。
 下北沢駅周辺再開発は、駅前に最大26メートル幅の都市計画道路と約5300平方メートルのロータリーを整備する事業で、一時計画が中断していたが、都の小田急線連続立体交差事業に伴い再浮上。区民の反対意見は根強いが、既に区と都の都市計画審議会を通過し、実施に向けて進み始めている。
 投票啓発を企画したのは、再開発に反対する市民らで組織する「選挙に行こう!キャンペーン実行委員会」。下平憲治代表らは昨年夏から、リリーさんや漫画家の浦沢直樹さんら、下北沢にかかわりが深く、再開発に異を唱える著名人に呼びかけ、オリジナルTシャツを製作。売り上げを活動資金に充ててきた。
 今回も、リリーさんは無償で協力。ポスターでは、胸に「L」のイニシャルを入れ、リリーさん自身をイメージしたキャラクターを中心に、動物やロックンローラー風の青年たちが「6日間前から投票できるんだよ」「エブリバディ レッツゴー トゥ 選挙!」などと叫んでいる。
 下平さんらはこのポスター約500枚を、下北沢を中心に区内の飲食店やレコード店、雑貨店の店内などに掲示させてもらう予定で、「若者たちに問題意識を共有し、シモキタの将来を自分自身で決めてほしい」と話している。【市川明代】
参考
世田谷区長候補(届出順)
熊本 哲之 75 無所属 現 1 区長
鈴木 義浩 46 無所属 新 公認会計士
水間 賢一 66 無所属 新 (元)区助役
区議(会派)の支持する区長候補
熊本…自民・公明
鈴木…生活者ネット・社民・共産・無党派市民(木下)
水間…民主
平成19年度一般会計予算案の賛否状況(07年3月議会)
賛成…自民・公明・政策会議・虹(上川)・無所属(青空)
反対…民主・生活者ネット・社民・共産・改革派(下条)・無党派市民(木下)
▲
by

alfayoko2005

| 2007-04-22 20:00 | 国内政治
Stars and Stripes
Sunday, April 8, 2007
Okinawans outraged by what they say is a cover-up of military-urged mass suicides during WWII battle
By David Allen, Stars and Stripes
Pacific edition, Sunday, April 8, 2007
Controversy is nothing new
CAMP FOSTER, Okinawa — Recent outrage over Japan's Ministry of Education's censorship of Battle of Okinawa accounts in history textbooks is not new.
A similar controversy developed in 1999 when then-Gov. Keiichi Inamine tried to buff up the image of the Imperial Japanese Army, which, according to survivors, encouraged Okinawan civilians to commit suicide during the battle 62 years ago.
At the time, the new Peace Prayer & Memorial Exhibition Center in Mabuni had commissioned artists to design battle dioramas for the $412 million building. Some of the displays told the horror of civilians hiding in caves in Southern Okinawa in the last days of the battle.
One of the displays portrayed a Japanese soldier pointing his bayoneted rifle at a mother who fearfully clutched a baby to her bosom.
Upon learning of the display, Inamine suggested it be toned down by having the rifle removed from the soldier's hands.
Inamine urged that the text accompanying displays also be changed. For example, the word "massacre" in the description of the massive deaths in the caves was to be changed to "sacrifice."
But when the word got out, Okinawa Prefectural Assembly members accused Inamine of wanting to tone down history so tourists from mainland Japan would not be offended.
The original displays and written material eventually were allowed to stand. But when the gun was replaced in the soldier's hands, it was no longer pointing at the mother and child.
CAMP FOSTER, Okinawa — Exactly 62 years after the start of the Battle of Okinawa, another battle is shaping up here.
Some say it's a battle for the truth.
Last weekend the Japanese Ministry of Education instructed publishers of school textbooks to alter descriptions of the mass suicide of Okinawa civilians during the battle. The order included eliminating all references to the Japanese military's direct role in the tragedies, erasing accounts in earlier texts that claimed the Imperial Japanese Army instructed Okinawans to kill themselves rather than submit to U.S. invaders.
"There are divergent views of whether or not the suicides were ordered by the army and no proof to say either way. So it would be misleading to say the army was responsible," said Yumiko Tomimori, an official in the Education Ministry.
The news drew outrage from Okinawans who claim the government is bent on whitewashing history. The ministry's decision came on the heels of denials from politicians in Tokyo that women throughout Asia were forced to serve in Japanese military brothels.
For years, Okinawa teachers have fought to prevent school textbooks from glossing over that hundreds of civilians committed suicide during the battle, many of them reportedly with grenades Japanese soldiers distributed specifically for that purpose.
University of the Ryukyus professor Nobuyuki Takashima, a member of the Association to Not Allow the Distortion of the History of the Battle of Okinawa, said the education ministry is pushing "their one-sided historic perspective that the mass suicide was beautiful death of residents who died in the love and loyalty to their nation."
The association planned a protest rally in Naha on Friday night.
Takashima and others believe the ministry's move was prompted by a lawsuit in which the former commander of the Japanese army garrison in the Kerama Islands, part of the Okinawa chain, is suing the publisher and author of a book charging the military was directly responsible for some of the suicides. The defamation lawsuit, filed in 2005, included a book by Nobel Prize laureate Kenzaburo Oe, who wrote about mass suicides in the Kerama Islands, located just west of the main island of Okinawa.
It's a charge supported by many residents of the Keramas.
Nobuaki Kinjo, 80, is one of the survivors. In 2001 he told Stars and Stripes that he was 16 years old living on Tokashiki Island when the Americans invaded the Keramas on March 26, 1945, in preparation for the April 1 landing on the main island of Okinawa.
He said that in a state of insanity fueled by the propaganda of Japanese soldiers, he killed his mother and two siblings in a mass suicide the day the Americans invaded.
"We were told the Americans were beasts," Kinjo said in 2001. "We were told by the soldiers of the Imperial Japanese Army that we should commit suicide rather than be captured."
Some 329 bodies were later counted in a valley where the villagers pulled the pins on hand grenades passed out by soldiers. He said he survived the mass suicide only because he was convinced by other teens that they should die a "more glorious death" by attacking the Americans. They were armed with sticks, but became disheartened when they came across some Japanese soldiers.
"I felt we had been betrayed," Kinjo said. "Why were they alive and all the residents had to commit suicide?" They were soon captured by the Americans.
"Besides the issuing of hand grenades, what else do you need to prove the army was responsible for the mass suicides?" asked Kosei Yonemura, 77.
Yonemura, former chief of the Okinawa Board of Education, is from Aka Island, one of the Keramas, and fought with the Japanese Imperial Army in the Boys' Volunteer Brigade when U.S. forces landed. He was 15 years old.
"The residents in Zamami were driven to commit mass suicide," he said. "The cause of the tragedy was militarism and nationalistic education. In those days, the Japanese people had been indoctrinated to choose a graceful death by cutting their lives short rather than exposing themselves to humiliation by enemies."
He called the Ministry of Education's argument that there may have been no written or historically proven oral order to commit suicide "ridiculous."
"Such an argument is nothing but an effort to trivialize the irrevocable fact that the mass suicides were a result of the militaristic education of the day," he said. "We must raise our voices so that Japan today does not follow the same path it went down in the past."
Toshiaki Shinjo, a teacher at Ginowan High School, told the Okinawa Times that the textbook changes skew the telling of the Battle of Okinawa.
By leaving out mention that the military forcefully encouraged civilians to kill themselves, "the tragedy becomes a beautiful story of people who willingly offered their lives to the nation," he said.
"In the classrooms it will now be difficult to teach students the reality of Battle of Okinawa," he said. "It will be more challenging for teachers to teach students true history."
Chiyomi Sumida contributed to this report.
© 2006 Stars and Stripes. All Rights Reserved.
Stars and Stripes
Sunday, April 8, 2007
Survivors remember commotion then calm inside Okinawa cave
By David Allen, and Chiyomi Sumida, Stars and Stripes
Pacific edition, Sunday, April 8, 2007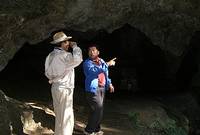 Chiyomi Sumida / S&S
Haruo Chibana (left) and Akihiko Shinjo, Yomitan's Namihira District Mayor, stand at the entrance of Shimuku Gama, where Namihira residents used as a bomb shelter.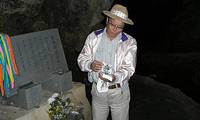 Chiyomi Sumida / S&S
Chibana stands before a monument erected at the entrance of Shimuku Gama to honor two men, his grandfather and great-grand uncle, who saved about 1,000 residents from 'mass suicide.'
YOMITAN, Okinawa — Not far from Torii Station is a cave complex where more than 1,000 civilians took shelter during the shelling that preceded the landing of U.S. forces on April 1, 1945.
It's only by calming words from two men who had once worked in Hawaii that they all did not kill themselves with hand grenades the Imperial Japanese Army issued to them, says Haruo Chibana, 74.
During a recent tour of one of the caves in the Namihira community, Chibana spoke of being saved from the fate that struck Okinawans who cowered in nearby caves.
Chibana recalls the morning when U.S. soldiers with machine guns appeared at the entrance of the cave, called Shimuku Gama.
"People were terrified and screaming and crying voices filled the cave," he said. "Some people prepared to drink poison and others discussed how best to kill themselves."
It was at that time that Heiji Higa, Chibana's great-granduncle, spoke up.
"He told people in the cave that the Americans would not kill unarmed civilians," Chibana said.
Heiji worked in the sugarcane fields on the Big Island of Hawaii. To press his point, he called on his nephew, Heizo Higa, a former Hawaii bus driver, to back him up.
Propaganda from the Imperial Army and the government in Tokyo depicted Americans as "beasts" who mercilessly killed and mutilated their enemies and raped women.
According to several accounts of the invasion day, U.S. soldiers set up a machine gun at the mouth of the cave and shouted in English at the terrified villagers.
"There was a terrible commotion," Chibana said. Then Higa and his nephew stepped forward. "That's when the commotion in the cave calmed."
The Higas spoke to the soldiers and then convinced the villagers that they would not be harmed, and ushered all the residents out, Chibana said.
Twelve years ago, on the 50th anniversary of the battle, survivors dedicated a monument at the mouth of the cave to Higa and his nephew.
What had happened at Shimuku Gama was a stark contrast to the fate of people huddled in a cave called Chibichiri Gama, in the same village.
"Among the people in that cave was a man who was conscripted and fought in China," Chibana said. "He brought back the military mindset with him."
According to survivor accounts, some civilians resisted the Americans with bamboo spears and were killed. Others drank poison after stabbing their children with knives, while others killed themselves with hand grenades.
Of the 140 people in Chibichiri Gama, 84 people died.
And they died a second death in 1987 when right-wing nationalists took sledgehammers to a sculpture of writhing figures reaching toward heaven, mothers embracing their dying children and human skulls heaped near funeral urns.
"The nationalists said the memorial insulted the emperor," said Setsuko Inafuku, a tour guide for 18th Services on Kadena Air Base. "So many people died here foolishly believing the propaganda," she tells the Americans she takes to the hidden cave.
Inafuku has said that guides for Japanese tourists often tell her to tone down her comments to Americans.
"But I have to speak the truth," she said. "I am not anti-Japanese. I am anti-lies."
© 2006 Stars and Stripes. All Rights Reserved.
▲
by

alfayoko2005

| 2007-04-08 21:02 | 国内政治
The New York Times
April 1, 2007
Editorial
Japan's Whaling Obsession
Humans should be careful when criticizing other humans about the industrial slaughter of animal species. It is hard to find moral ground.
There was one small, bright spot of global consensus: whales. It took a very long time, but most of the world agreed that these wonderful, sociable mammals, at least, should be granted a stay of extinction. Most of the world, but not all. A few outlying countries continue commercial or dubiously scientific whale hunts, notably Japan, which clings to its whaling ways long past the expiration of any defensible reasons for doing so.
Japanese officials defend the slaughter as a matter of tradition and science. But as Norimitsu Onishi explained recently in The Times, the everyday consumption of whale meat became a national habit in Japan only in the lean years after World War II, when officials of the American occupation promoted it as cheap protein. Japan's appetite for whale plummeted after the 1960s and never returned, Mr. Onishi reported.
As for the research that Japan insists can be performed only on dead whales, which are then butchered and sold for meat, biologists around the globe dismiss that as a sham.
Still, nationalism seems hard-wired into Japan's insistence on maintaining the right to exploit any and all ocean resources; its continual efforts to end the international moratorium on commercial whaling; and its reluctance to bow to what many Japanese see as the late-blooming sanctimony of nations like the United States.
Revulsion at whaling may take hold in Japan someday, but it will have to spring from the Japanese, perhaps among the many tourists who go to Hawaii this time of year, when the gentle humpbacks breach and calve under the gaze of people who can no longer imagine slaughtering them.
▲
by

alfayoko2005

| 2007-04-01 10:57 | 国内政治
Japan elections a key test for Abe's embattled government
The Associated Press
Thursday, March 22, 2007
TOKYO: Pivotal campaigns kicked off Thursday across Japan with Prime Minister Shinzo Abe facing the first major electoral test of his embattled government.
Abe's public support languishes at all-time lows, his Cabinet is embroiled in scandal and international outrage swirls around his views on World War II sex slaves.
Japan's youngest prime minister might be forgiven for wishing the April 8 polls for 13 prefectural governors and hundreds of other local officials could be postponed.
"It's not perfect timing," political analyst Shigenori Okazaki said. "Now Abe's losing his approval rating and suddenly the elections look very tough."
Of the races, the Tokyo gubernatorial poll is seen as a bellwether of Japan's drift to the right under Abe and his future political capital. It pits an outspoken reformer against firebrand conservative Shintaro Ishihara, the incumbent.
In some ways, Ishihara can be seen as a stand in for the prime minister.
Backed by Abe's ruling Liberal Democratic Party, Ishihara has been a champion of fiscal responsibility and conservative causes during his eight years as Tokyo governor.
But he is also a lightning rod of controversy for what critics say are disparaging remarks about foreigners and for policies seen as too nationalistic, such as the order for teachers to sing the national anthem, the "Kimigayo."
Challenger Shiro Asano, backed by the opposition Democratic Party, says Ishihara's "discriminatory comments" and "dictatorial style" are out of step with voters.
"Unless somebody stops Ishihara now, I feel that the situation not only in Tokyo but in Japanese politics as a whole may get entirely out of hand," the former governor of Miyagi prefecture said at a news conference earlier this week.
Similar criticisms might also be leveled against Abe, who has made nationalism a top rallying cry. He has pushed for teaching patriotism in the schools and reforming the pacifist constitution to give the military a bigger profile.
Deputy Cabinet Secretary Hiroshi Suzuki, an Abe spokesman, said Thursday that April's results should not be misinterpreted as a direct vote of confidence on Abe.
But the polls will nonetheless be a closely-watched barometer of the LDP's prospects in parliament's critical upper house elections in July, he said.
"Of course these elections are important," Suzuki said. "Those elections would be the run-up for the upcoming Upper House elections this coming summer."
Abe's approval rating currently hovers just above 40 percent, a drastic tumble from the 70 percent support level he enjoyed when taking office last September.
Approval has been whittled away partly by a scandal involving huge, unexplained expenses for a rent-free office linked to Agriculture Minister Toshikatsu Matsuoka.
Cabinet gaffes have also hurt. In February, Health Minister Hakuo Yanagisawa called women "birthing machines," prompting calls for his resignation.
Meanwhile, Defense Minister Fumio Kyuma ruffled feathers by declaring the U.S.-led war in Iraq, to which Japan dispatched troops, a "mistake."
Abe's troubles deepened when he angered neighboring nations by saying there was no evidence Japan's military or government forced women to work in World War II brothels.
Historians say about 200,000 women, mostly from Korea and China, served in Japanese military brothels throughout Asia in the 1930s and '40s. Many victims say they were kidnapped and forced into sexual slavery by Japanese troops.
A reinvigorated Democratic Party, led by Ichiro Ozawa, a former LDP heavyweight who defected, is waiting to pounce. And Abe's vague policy platform and nationalistic outlook may give it plenty of fodder for criticism.
The big prize will be control of parliament's upper house, up for grabs in nationwide elections this July. The April 8 polls, as well as two upper house by-elections later in the month, may foreshadow who comes out on top.
▲
by

alfayoko2005

| 2007-03-23 11:38 | 国内政治
都知事選で浮上?『日の丸・君が代』強制 (東京 2007/03/21)
 「日の丸・君が代」の強要は違憲だとした昨年九月の東京地裁判決から、初めての卒業式シーズン。東京都内で行われた都立高校の卒業式では、国歌斉唱時に初めて起立しなかった教諭の姿も目立った。今月末には都教委による大量処分も予想され、都知事選の新たな争点として浮上しそうな「日の丸・君が代」の強制問題に対する現場の教諭の思いとは。
 「『立ちなさい、歌いなさい』というやり方は教育行為ではない。これでは調教。戦前教育の再現だ」
 東京都新宿区の都庁で二十日、記者会見した町田市立鶴川第二中学校の根津公子教諭(56)は、語気を強めた。
 同中学校で卒業式が行われたのは前日の十九日。開式の辞に続き「国歌斉唱」とアナウンスが入ると、根津教諭はおもむろに着席。式後に校長は根津教諭から式での着席を確認し、処分発令に向け動きだした。
 根津教諭に処分が下されれば、十三年前に卒業式で国旗を降ろして初めて減給処分を受けて以来、これが九回目となる。前回の処分は三カ月の停職処分だった。「次は六カ月の停職か、それとも免職か」。そんな思いが根津教諭の脳裏をよぎった。
 二〇〇三年十月に都教育委員会が、入学式、卒業式での国旗掲揚、国歌斉唱の厳守を通達。それから今回で四回目の卒業式となる。昨年九月には東京地裁で通達は違憲と判決されたが、都は控訴、今年の卒業式での強硬姿勢は変わっていなかった。
 東京都八王子市の都立八王子東養護学校でも河原井純子教諭(57)が卒業式で不起立だった。今月末にも処分発令が予想される二人は二十日、都などを相手に、処分発令の差し止めを求める訴えなどを東京地裁に起こした。
 処分は回を重ねるごとに重くなる。減給に加え、根津教諭には往復四時間もかかる学校へ転勤させられるなど、懲罰的な人事もあった。そんな締め付けに根津教諭は「教員たちも変わってしまった。今や、論議することもなくなった」。
 都内の小、中学校の卒業式はこれからも続くが、ほぼすべてで卒業式が終わった都立高校では、三十人近くが不起立だった。「『日の丸・君が代』不当処分撤回を求める被処分者の会」の事務局長を務める葛西南高校(江戸川区)の近藤徹教諭(58)によれば、約二十人が初めての不起立。そのうちの一人の男性教諭(53)は「一人で座っているのは簡単ではなかったけど、このために気持ちを整えてきた」と熱い思いを語った。
 教育現場の日の丸・君が代をめぐる問題では、昨年九月の東京地裁の違憲判決に続き、その翌月には北海道の中学校卒業式で君が代演奏のテープを止めた教諭に対する戒告処分を、道人事委員会が取り消した。
 だが、都教委は卒業式シーズンを控えた三月五日に、前年の行事で君が代のピアノ伴奏をしなかった都立高校の音楽教諭(58)に対し、「見せしめ」とも受け取れる減給十分の一、一カ月の懲戒処分を下した。
 これまでに国旗国歌をめぐる都内の教員らの処分は延べ三百四十人を超え、根津教諭の代理人の岩井信弁護士は「都の強硬姿勢は突出している」。
 根津教諭は「教員として、おかしいことはおかしいと言い続けたい。それで免職まで覚悟をしなければならないのは異常。学校だけじゃなくて社会全体が異常になっている」と訴える。
 本年度の都立高校の卒業式では、都教委の祝辞も教員の間で波紋を広げた。
 都教委から各校の卒業式に参列した職員のあいさつが、卒業生に送る言葉もそこそこに、石原都政の「功績」をアピールするような内容になっていたからだ。
 祝辞は昨年のトリノ冬季五輪での女子フィギュアスケートの金メダル獲得に触れた後、なぜか「五輪の理念」を解説。続けて「東京都は平成二十八年の第三十一回オリンピック競技大会の国内立候補都市に決定し、オリンピック招致を目指しています」と石原知事の目玉政策を説明した。
 さらに、二月に行われた東京マラソンで四千人近い都立高校生が大会運営に参加したと強調。その上で、新年度からはすべて都立高校で「奉仕」を必修化することを紹介した。
 このあいさつ部分はどの高校の卒業式でも同じだった。
 都教委高等学校教育指導課の担当者は「あいさつは前半にいじめ問題を取り上げており、卒業生の門出に暗い話ばかりではいけないと考え、明るい話題としてオリンピック招致を出した。間違ったことは言ってはいない」と説明する。
 だが、このあいさつに違和感を覚えた職員も少なくなかったようだ。都立昭和高校定時制の鈴木毅教諭(45)は「あいさつは保護者に対する石原都政の宣伝だった。五輪、マラソン、奉仕は卒業生とほとんど関係ない。都政を自賛する内容には、かなり違和感があった。都知事選直前の時期に、こういうことは控えるのが常識ではないか」と話す。
 それでは、その都知事選で主な立候補予定者は、日の丸・君が代強制問題について、どのような主張をしているのか。
 石原知事の公約は、この問題には触れていない。ただ、昨年九月の東京地裁判決の後も「通達に従って学習指導要領で要求されていることを教師が行わない限り、義務を怠ったわけだから、いきなりクビにするわけではないが、処分は当たり前ではないか」と発言している。
 前宮城県知事の浅野史郎氏は公約に「日の丸・君が代問題についての強制的な対応を改めます」と明示し、反対する教職員の処分はしない方針だ。出馬会見では「日の丸・君が代は大好きだが、教員に強制し、(従わなければ)戒告するのは教育現場として誠に似つかわしくない」と石原氏を批判。当選した場合は、都の控訴を取り下げる意向をにじませている。
 共産党推薦の元足立区長、吉田万三氏は「日の丸・君が代の強制や学校現場への干渉をきっぱりと改め、憲法に基づいた教育行政を推進します」と公約。訴訟の対応についても「強制を『違憲・違法』と断じた東京地裁判決を受け入れ、控訴を取り下げます」と明言している。
 建築家の黒川紀章氏は公約でこの問題には言及していない。
 都による日の丸・君が代の強制を拒否した教師に対する処分は、都知事選告示後の今月末にも予想されており、都知事選の最中に発令されれば、この問題が選挙の争点の一つに浮上する可能性もある。
 前出の鈴木教諭は過去の行事で都教委の通達に従わなかったとして処分されたが、今月七日の卒業式でも起立を拒んだ。都知事選に向けては「日の丸・君が代問題はタブー視されているし、学校内だけの問題だと思われがちだ。知事選を通じて都民に自分の問題として引きつけて考えてほしい」と期待感をにじませた上で、こう言及する。
 「日の丸・君が代に限らず、自分の意に反することを政治に強制されても、ものが言いにくい世の中になりつつある。政治の側から見れば、日の丸・君が代は白を黒と言えと指示する道具だ。今の対象はわれわれ教員だが、それが違う道具を使い、別のテーマに広がる懸念がある。そこに気づいてほしい」
<デスクメモ> 宮内庁を担当していたころ、数多い公式行事で国歌斉唱時にいつも起立しない記者がいた。ある時から、自分も習った。信条に従って…。そういえば、園遊会に招待された都教育委員に、陛下が「強制でないことが望ましい」と発言されたことを思い出した。異を唱える人が処分される社会は願い下げだ。 (吉)
▲
by

alfayoko2005

| 2007-03-21 08:51 | 国内政治
「仏語は国際語失格」の石原都知事発言で新たに提訴
2007年3月19日(月)20:01 朝日
 「フランス語は数の勘定もできない」「国際語として失格」などと発言した石原慎太郎・東京都知事に対し、都内の仏語学校長らが「仏語に携わる者の名誉を傷つけられた」として損害賠償と謝罪広告を求めた訴訟に関連して、原告側は19日、石原氏個人を相手どった訴訟に加え、都と知事を被告とする国家賠償訴訟を東京地裁に新たに起こした。仏やカナダなど仏語圏在住者も含め74人が原告となった。
 訴えによると、これまで石原氏側は「私人としての発言」と説明していたが、昨秋になって「都知事としての発言」と主張を変更。原告側は「行政に責任転嫁する態度は許せない」として、公人としての責任も問うことにしたという。
石原氏の仏語批判は『知事として発言』 国家賠償請求した原告らに聞く (東京 2007/03/20)
 「フランス語は国際語失格だ」。フランス人の誇りを逆なでした石原慎太郎都知事が名誉棄損で東京地裁に訴えられている訴訟は、十九日、新局面を迎えた。石原氏が「私人ではなく都知事としての発言だった」と主張を変えたため、原告のフランス人らが都を相手取り、国家賠償請求訴訟を起こしたからだ。知日派フランス人や日本人専門家の心情とは。 
 問題となっているのは、二〇〇四年十月、首都大学東京(旧東京都立大)の発展を支援する「The Tokyo U-club」の総会で発言。石原氏は首都大学構想に批判的な仏語教育関係者らを指して「フランス語は数を勘定できない言葉だから、国際語として失格しているのも、むべなるかなという気がする。そういうものにしがみついている手合いが、反対のための反対をしている。笑止千万だ」と述べた。発言はル・モンド紙など仏メディアにも報じられた。
■公開質問状は無視された 
 仏語学校「クラス・ド・フランセ」(東京・赤坂)のマリック・ベルカンヌ校長らが公開質問状を送ったが、無視されたため、〇五年七月、学者、通訳者などとともに「社会的名誉を棄損され損害を受けた」として、石原氏に謝罪広告と一人当たり五十万円の慰謝料を求める民事訴訟を東京地裁に起こした。原告勝訴は難しいとの観測もあったものの、審理が始まると裁判所が石原氏側に謝罪や和解を打診する場面も。
 こうした中、「私的発言だ」としていた石原氏が昨年十月、「都知事としての発言だった」と主張変更を行った。首都大学東京がらみの発言で、発言(動画)を都庁ホームページに掲載してもいたためだ。
 「公人発言なら賠償金は都の負担となる。敗訴に備えているのでは?」とのうがった見方もあるが、必ずしも当を得ていない。「都知事を相手取った国家賠償請求訴訟」と「石原氏個人を相手取った名誉棄損訴訟」は両立するからだ。地方議員による名誉棄損事件で、そういう判例がある。仏語訴訟原告団も、石原氏個人への訴訟を取り下げず、二つの訴訟を並行して進める構えだ。「都の財政に負担をかけたくない」との理由で、原告一人当たり請求額は五万円に減らした。謝罪公告も新聞掲載は求めず「都のホームページに掲載してくれればいい」という。
 提訴後、記者会見した原告代表のベルカンヌさん。一瞬の苦笑いとため息の後、石原氏の主張変更に対する怒りを、流ちょうな日本語で、静かに語り始めた。
 「とても無責任なやり方だと思います。最初の発言が許されないのは当然ですが、今度は『公的な発言』になったのも、とても許されない」
 石原氏個人に対する訴訟の原告は三十五人だが、国賠訴訟は、この一部と、公人発言なら看過できないと新たに加わった五十八人を合わせ、七十四人が原告に名を連ねた。「言葉を学ぶことは他の文化を学ぶことだと学生に教えている。私人なら勝手に言ってくれていいが、公人が他の文化を否定するのは許せない」と、原告の永井典克・成城大学助教授は憤る。
■仏語と英語が IOC公用語
 やはり原告の新倉修・青山学院大大学院教授は法律を教える立場から「人権はフランスで誕生したようなもの。人権に関し特別な貢献をしている国を否定し、かつ開き直るのは、とんでもない」。石原氏は五輪招致に意欲的だが「五輪の精神を理解せず、五輪をやろうなんて"いいとこどり"」とあきれる。ちなみに国際オリンピック委員会(IOC)の公用語は仏語と英語だ。
 審理の序盤で「公的発言か、私的かをはっきり」と裁判所にただされ、「私的だ」としてきた知事側が突然、「公的だった」と変更したことに、原告側一同は、「そりゃないよー」とズルッと滑った感じだったという。ベルカンヌさんには知事の思惑が理解できないが、「一つ言えることは、彼はフランス語ができない。(勘定しにくい言語だとか)あんなことを言うこと自体、フランス語を何も知らないとしか思えない」と断言する。
 「もっとひどい発言もした」とも。一昨年九月の記者会見で知事は「フランスみたいにいいかげんな国」「フランスの水なんか飲めたもんじゃないし」と発言、今も都庁のホームページに掲載されている。「何も知らない人は、そうだと思ってしまう」と表情を曇らせる。
 ベルカンヌさんが今、知事に伝えたいことは、とてもシンプルだ。「どんな事でも、話す前に、ちょっと考えたらどうですか? それから、間違えたときは謝ることがとっても大事ですよ」
 訴訟にかかわっていない専門家の見方はどうか。NHK元ヨーロッパ総局長で翻訳家の中谷和男氏は「フランス語は数を勘定できない言葉というが、国によって数の数え方は違う。日本が十進法なだけで、そんなことを言うなら日本語以外は数を勘定できない言葉になる」と話す。そもそも八十を二十かける四と表現する数え方は、ラテン語から来ており「そういう意味でも由緒ある。日本になじみがないだけ。石原知事発言は的を射ていない」。
 国際公用語の仏語も使用範囲が狭まってきたため、フランスは「留学生を迎え入れるなどお金をかけてフランス語を広め、守ろうとしている」という。外来語を入れるにも、アカデミーフランセーズという国家機関が是非を判断するほど言葉を重んじるフランス。それだけに知事発言は「フランス文化や国家へのものすごい侮辱。言語や文化を大切にするフランス国民には、侮辱されているというより、なぜそんなことを言うかも理解できないかもしれない」と中谷氏。
 「石原知事は中国を『シナ』といい、外国人を『三国人』という人。そのような発言の延長上に今回の発言もあるように思う」とも。
 「私人発言」から「公人発言」への方向転換にも「都知事は公人。どこで発言しようと知事としての発言になる。公人がこんな発言すれば、昔だったら戦争ですよ」。
■仏政府に文句言ってと知事
 東京都は一九八二年七月に、パリと姉妹友好都市提携。九〇年代には写真展などを開催したが、最近は特に交流活動がないという。
 石原氏は過去の記者会見で「フランス語が好き」、「フランス語の先生たちは…フランスの政府に文句を言ったらいいんでね」などと反論。今回の提訴について東京都知事本局報道課は「訴状が届いていないので、どこが担当するかも決まっておらず、コメントができない」としている。
■人権をめぐる石原氏語録
 ■三国人発言 「東京では不法入国した多くの三国人、外国人が凶悪な犯罪を繰り返している。大きな災害が起きたときには騒擾(そうじょう)事件すら想定される」(2000年4月、陸上自衛隊の式典で)。石原氏は「メディアが曲解を招くような報道をし、私だけでなく都民が迷惑を被った」と反論。
 ■ババア発言 学者の言葉の引用として「『文明がもたらした最も悪(あ)しき有害なものはババア』なんだそうだ。『女性が生殖機能を失っても生きてるってのは無駄で罪です』って」(01年に雑誌インタビューで)。石原氏は「人の話を紹介しただけ」と反論。
 国家賠償請求訴訟 公務員から職務上の故意や過失で違法に損害を受けた人が、国家賠償法に基づき、国や地方自治体などに賠償を求める訴訟。
<デスクメモ> インターネット上の匿名差別とも違う。信念なのか、快感なのか、堂々と発言し、世論の批判にパワー全開で反論する。ハト派との対決で彼の家父長像は拡大再生産され、好感、反感の別なく、大衆の視線を集めぬ日はない。あのエネルギーは、いったい何だ。彼の終着駅はどこなのか、ぜひ聞いてみたい。 (隆)
▲
by

alfayoko2005

| 2007-03-20 08:46 | 国内政治
From The Times
February 26, 2007
Dissect them alive: chilling Imperial that order could not be disobeyed
Richard Lloyd Parry in Hirakata
For 62 years Akira Makino spoke not a word of what he had done. But to those who knew him well it must have been obvious that he was a man with a tortured conscience. Why else would he have returned so often to the obscure, mosquito-blown town in the southern Philippines where he experienced such misery during the Second World War? He set up war memorials, gave clothes to poor children, and bought an entire set of uniforms for a local baseball team.
Last year, at the age of 83, he embarked on a gruelling pilgrimage to 88 Buddhist temples in Japan. After number 40 he collapsed from heat exhaustion, having permanently injured his knees. "My wife didn't like me going back to the Philippines — she called me 'war crazy'," said Mr Makino, a frail old man who lives alone in Hirakata, near Osaka. "But she let me go anyway. Right up until she died three years ago, I never told her. But over time I think she realised."
Only in the twilight of his life has Mr Makino begun to talk about the secret he carried for more than 60 years. In 1944, as a medical auxiliary in the Imperial Navy, he was stationed on the island of Mindanao in the southern Philippines. There he was party to one of the most notorious and poorly chronicled cruelties of the Japanese war effort — the medical dissection of living prisoners of war.
Over four months before the defeat of the Japanese forces in March 1945, Mr Makino cut open ten Filipino prisoners, including two teenage girls. He amputated their limbs and cut up and removed their livers, kidneys, wombs and still beating hearts for no better reason than to improve his knowledge of anatomy.
"It was educational," he said. "Even today when I go to see doctors they are impressed by my knowledge of the human body. But if I'm really honest, the reason we did it was to take revenge on these people who were spying for the Americans. Now, of course I feel terrible about the cruel thing that I did, and I think of it so often. But at the time what I felt for these people was closer to hatred than to pity."
There have been other accounts of medical vivisection, most notoriously by Unit 731, a top-secret arm of the Imperial Army which killed thousands of Chinese and Russian prisoners in Manchuria in the name of scientific research. But Mr Makino's is the first such testimony to have emerged from the Philippines — and from the Navy, which was regarded as the less cruel and fanatical of the Imperial Armed Forces.
Apart from the extraordinary climax of his wartime story, Mr Makino comes across as a typical Japanese of his generation — a polite, well-meaning man who lacked the courage and daring that would have been needed to stand up to the Imperial war machine. It was in such an atmosphere that he found himself in Zamboanga, a Muslim town in the far southwest of the Philippines.
The population were the Moro people, an assortment of jungle tribes legendary as ferocious head hunters. The Japanese feared and hated them; as the US forces drew closer they arrested many of them as spies and threw them into a hellish pit where they were left to rot. "I don't know whether they really were spies or not," Mr Makino said. "All that was needed was for someone to say that they were. We knew that we'd lost the war. Our psychological state was very strange by then. In those conditions, we could do anything, absolutely anything." It began with a practice that has been described by a number of former Japanese soldiers — the "testing" of traditional Japanese swords on live prisoners.
One day towards the end of 1944, Mr Makino was summoned by his commanding officer, a navy doctor. "He told me that if anything happened to him I had to take over from him. He told me to come and see a vivisection. The first time it was one prisoner, a middle-aged man. He'd already given up — there was no struggle. He was tied to the bed and anaesthetised with ether, so that he was completely unconscious. The lieutenant showed me what to do. He cut him open, and pointed out, 'Here's the liver, here's the kidneys, here's the heart'. The heart was still beating, then he cut the heart open and showed me the inside. That was when he died.
"I didn't want to do it, but it was an order, you see. At that time, if a commander gave you an order it was understood that it was the order of the Emperor, and the Emperor was a god. I had no choice — if I had disobeyed I would have been killed."
The "operation" took about an hour; when it was over the body was sewn up and thrown into a hole in the earth. Eight more vivisections followed, Mr Makino said. "We removed some of the organs and amputated legs and arms. Two of the victims were women, young women, 18 or 19 years old. I hesitate to say it, but we opened up their wombs to show the younger soldiers. They knew very little about women — it was sex education.
When the Americans landed in March 1945, the Japanese scattered into the jungle. Mr Makino spent seven months living like an animal, alone. When he returned to Japan the feelings of remorse began.
He said: "I was under orders, you see. But I know that I did a terrible thing."
Atrocities remembered
— Up to 300,000 Chinese were killed by biological weapons between 1938 and 1945
— 200,000 women are thought to have been made to work in Japanese military brothels during the war
— The construction of the Railway of Death, linking Thailand and Burma and including the bridge over the River Kwai, cost the lives of 13,000 prisoners of war and up to 100,000 civilians Between December 1937 and March 1938 Japanese troops occupying the Chinese city of Nanjing killed an estimated 275,000 people, many of them women and children
— In 2000 a Japanese company paid $4.6 million compensation to 1,000 foreign labourers forced to work as slaves to support Japan's war effort
Sources: Times archive; the Hoover Institute
▲
by

alfayoko2005

| 2007-02-26 10:16 | 国内政治
consortiumnews.com
Why US Shields Japan's WWII Denials
By Jerry Meldon
February 24, 2007
Editor's Note: Over the years, we have written a number of stories about Rev. Sun Myung Moon's influence-buying schemes inside U.S. conservative political circles – and the federal government's odd refusal to aggressively enforce laws when Moon's operation is caught in legally questionable activities. [See, for instance, Moon/Bush 'Ongoing Crime Enterprise'.]

In this guest article, Jerry Meldon examines the mysterious roots of the money that has funded right-wing Asian politics since World War II and that has sometimes spilled over into the United States:
On Feb. 19, Japanese Foreign Minister Taro Aso took exception to a U.S. congressional resolution introduced by Rep. Mike Honda, D-California, calling on Japan to "formally acknowledge, apologize and accept historical responsibility" for coercing 200,000 Asian women into slavery as "Comfort Women" (wartime prostitutes) for 3.5 million Japanese soldiers. Mr. Aso said he considers the accusation groundless and extremely regrettable.
Six decades after World War II, can it really be that Japanese officials are still distorting history and insulting the Chinese, Koreans, Philippinos and others across Asia whom Hirohito' s forces savagely brutalized and robbed?
And why does Washington turn a deaf ear?
The answers may be rooted in what transpired behind closed doors in Tokyo when Japan was occupied by the U.S. military in the post-war years .
Sterling and Peggy Seagrave suggest a motive in their eye-opening – and at times stomach-turning – 2003 book, Gold Warriors: America's Secret Recovery of Yamashita's Gold. In the war's immediate aftermath, Gen. Douglas MacArthur, commander-in-chief of Allied occupying forces, secretly joined hands with Japanese war criminals.
Rather than convict, imprison and throw away the keys, MacArthur coddled those responsible for one of history's bloodiest wars of aggression. When the U.S. occupation ended in 1952, he released all those who were still in custody.
And it may have gone a lot further than that.
According to Gold Warriors, e ven as the United States "introduced democratic reforms and a new constitution … [it ] put Japan back under the control of men who were devotedly undemocratic … [insisting] that Japan never stole anything and was flat broke … [when, in reality, America had given it ] huge infusions of black money."
Washington even had Article 14 of the 1951 Japan Peace Treaty state : "It is recognized that Japan should pay reparations to the Allied Powers for the damage and suffering caused by it during the war. Nevertheless it is also recognized that the resources of Japan are not presently sufficient … [Therefore] the Allied Powers waive all reparations claims of the Allied Powers and their nationals arising out of any actions taken by Japan."
As historian Christopher Simpson put it , the United States thereby insured "that the vict ims of the war – rape camp survivors, slave laborers and POWs – [would] be left with nothing."
Furthermore, according to the Seagraves, "records of Japan's looting and economic conspiracy have been removed from Western archives and databases, remain under secret classification and will not be made public for another half-century."
The cover-up notwithstanding, the Seagraves somehow penetrated the veil of secrecy and reported that the source of the black money that MacArthur bestowed on the Japanese. They wrote that after arriving in Japan, the general's aides located $100 billion in gold, platinum and other treasures that Hirohito's forces had systematically plundered from occupied Asian nations and buried deep underground.
When MacArthur reported this to Washington, President Harry S. Truman's brain trust – which included John McCloy, who as U.S. High Commissioner for Germany would authorize the early release of many Nazi war criminals – decided to devote the fortune to covert operations such as the bankrolling of rightist political parties and the recruitment of war criminals as U.S. intelligence agents for the Cold War that was just beginning.
One of the most notorious crooks MacArthur embraced was yakuza godfather Yoshio Kodama. With the exalted rank of rear admiral in the Japanese navy, Kodama had overseen the wartime looting of Asia's criminal infrastructure. In the process, he stashed away a personal fortune estimated at $13 billion.
Arrested as a Class A war criminal, he made a deal with MacArthur's intelligence chief, Gen. Charles Willoughby. Kodama handed the CIA $100 million in return for his release from Sugamo Prison. Returning to the underworld, he regained control of the Asian heroin traffic.
According to the Seagraves and others, he also remained a CIA asset until his death in 1984. It was apparently in that capacity that he became a major behind-the-scenes political force, primarily in Japan but, indirectly, across the Pacific as well.
Together with his fellow racketeer and Class A war criminal Ryoichi Sasakawa, Kodama underwrote the creation of two Japanese political parties that later combined to form the Liberal Democratic Party (LDP). Except for a brief hiatus when voters had had their fill of corruption, the conservative LDP has ruled Japan ever since. According to sources cited by the Seagraves, the LDP secretly contributed to the 1960 presidential campaign of Richard M. Nixon.
The LDP was not the only organization which Kodama and Sasakawa bankrolled, that lavished the gangsters' ill-begotten wealth on American politicians. They also underwrote the Rev. Sun Myung Moon's Unification Church, which owns the right-wing daily, the Washington Times.
When Gen. Park Chung Hee staged a coup and installed himself as South Korea's dictator in 1961, he designated the Unification Church to be his political arm. Successive South Korean leaders have used it to influence U.S. foreign policy.
A 1978 congressional inquiry found that Moon's organization, in coordination with South Korea's CIA-molded intelligence agency, the KCIA, paid off several U.S. congressmen. Rep. Richard Hanna, D-California, and Otto Passman, D-Louisiana, accepted approximately $200,000 each.
Hanna was slapped with a six-to-30-month sentence and spent a year behind bars. Passman managed to have himself tried in his home town and was acquitted. Fortunately for Reps. Cornelius Gallagher, D-New Jersey, and William Marshall, R-Ohio, the five-year statute of limitations ran out before they could be prosecuted. Three others congressmen were reprimanded for lying about their gifts.
Kodama and Sasakawa, together with followers of Rev. Moon, also underwrote the Asian People's Anti-Communist League (APACL) as a propaganda mill for the dictatorships of Taiwan and South Korea. In 1966, the APACL expanded to become the World Anti-Communist League (WACL) . European neo-nazi terrorists and Latin American death squad leaders attended WACL conferences in the 1970s and 1980s.
Ronald Reagan – whose 1981 presidential inauguration was attended by the godfather of Central America's death squads, Mario Sandoval Alarcon – sent the following message to the 1985 WACL convention in Dallas:
"I commend you all for your part in this noble cause. Our combined efforts are moving the tide of history toward world freedom. We must persevere and never falter. I send all you who help in your crusade for liberty my best wishes. God bless you."
The previous year, Congress had blocked continued White House funding for the counter-revolutionary Nicaraguan contras. Undaunted, the Reagan administration solicited donations from private right-wing sources, including the two organizations that Kodama and Sasakawa had spawned. WACL and the Unification Church each obliged the Reagan team with generous donations that kept the contras afloat.
In that same period, WACL also contributed heavily in the United States to right-wing candidates running against progressive incumbents. One such beneficiary, WACL conferee Steven Symms, unseated the chairman of the Senate Foreign Relations Committee, Frank Church, D-Idaho. A prominent Vietnam War critic, Church had chaired a 1975 Senate investigation that uncovered CIA plots to assassinate foreign leaders.
Putting the pieces of the puzzle together, a picture emerges of CIA-controlled Japanese wartime loot being funneled by Japanese war criminals, via rightist Asian conduit organizations, to American politicians.
Maybe that explains why Washington turns a deaf ear when Japanese officials sanitize their country's wartime atrocities. After all, the bruised feelings of a couple of billion Asian mainlanders is a small price to pay for keeping a lid on the truth.
Jerry Meldon is an Associate Professor of Chemical Engineering at Tufts University in Medford, Massachusetts. His e-mail is jerry.meldon@tufts.edu .
▲
by

alfayoko2005

| 2007-02-25 07:48 | 国内政治