S
M
T
W
T
F
S
1
2
3
4
5
6
7
8
9
10
11
12
13
14
15
16
17
18
19
20
21
22
23
24
25
26
27
28
29
30
31
カテゴリ
以前の記事
検索
最新のトラックバック
その他のジャンル
ファン
記事ランキング
ブログジャンル
画像一覧
モーツァルトの楽譜や曲を大英博物館がネットで公開
2006年 01月 13日 金曜日 19:38 JST

 [ロンドン 12日 ロイター]
 モーツァルト直筆の楽譜が12日からインターネット上で公開されている。楽譜の実物写真が見られるほか、演奏されることの少ない作品などは、最初の数小節を聴くこともできるという。
 モーツァルトの全作品リストから選んだ楽譜30ページ分と、75曲のさわりの部分を、大英博物館がデジタルデータ化したもので、ウェブサイト上(
www.bl.uk/turningthepages
)で視聴できる。
 「フィガロの結婚」や「魔笛」といった有名作品のほか、今回初めて録音されたという珍しい曲も聴くことができるという。
Mozart's musical diary goes online
Thu Jan 12, 2006 9:40 AM ET

LONDON (Reuters)
- A musical diary by Wolfgang Amadeus Mozart goes online on Thursday, allowing Internet users to browse handwritten pages from the composer's catalog and listen to the opening bars of rarely performed works.
The British Library in London has produced a digital version of 30 pages and 75 musical introductions from "Catalog of all my Works," which can be accessed on its Web site
www.bl.uk/turningthepages
.
The catalog includes many of Mozart's best-known works, including "The Marriage of Figaro" and "The Magic Flute," but also contains a "Little March in D," which the library said had been recorded for the first time for the site.
The original volume, acquired by the British Library from the heirs of the writer Stefan Zweig in 1986, details 145 works written by Mozart from February 1784 until his death in December 1791.
On the left-hand side of each page, Mozart entered five compositions and added information including when each was completed, its instrumentation, who commissioned the work and who first performed it.
The right-hand side of the page features the opening bars of each work. Users of the site can click on each of Mozart's compositions and listen to the opening bars performed by the Royal College of Music.
British Library Music Curator Rupert Ridgewell said the catalog provided a "unique insight into the creative mind of a genius at the height of his powers."
To celebrate the 250th anniversary of the maestro's birthday later this month, the library has also reunited two halves of a Mozart manuscript cut in half by his widow in 1835.
Constanze distributed ever-smaller portions of Mozart's manuscripts as a way of raising funds.
▲
by

alfayoko2005

| 2006-01-13 23:03 | Music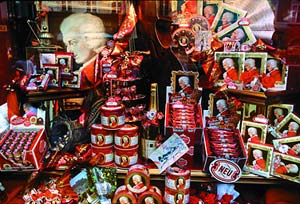 JOHN VAN HASSELT / CORBIS
CASHNG IN: Souvenirs, such as Mozart Kugel praline chocolates, with motif.


TIME Europe
Music / Salzburg
Milking Mozart
The Austrian city is making hay while the sun shines from its most famous son
By PETER GUMBEL
Saturday, Jan. 07, 2006
Austria's weekly newsmagazine Profil recently ran an illustration on its cover of an agonized-looking Mozart squashed beneath his father's leather britches and spewing out gold coins. The message in the headline: Mozart has been "brutally marketed for 200 years." And this year, during the 250th anniversary of the composer's birth, the accompanying article concluded, "the threat of total marketing looms." Nowhere is that commercial exploitation more evident than in Salzburg, the quaint Austrian city where Mozart was born, which hopes to cash in on the anniversary with an incongruous mix of kitsch and high culture. "Salzburg without Mozart is hardly imaginable. Without Mozart, I really couldn't say how this city would be," says Heinz Schaden, Salzburg's mayor.
An all-star lineup of musicians will be performing in town this year, including conductors Nikolaus Harnoncourt, Riccardo Muti and Simon Rattle. And for the first time, the annual Salzburg Festival in July and August will be staging every single one of Mozart's 22 operas. Festival organizers expect a huge run on tickets. Herbert Brugger, managing director of the tourism board, says the town began its marketing push three years ago and has since staged press conferences in Japan, in the U.S. and throughout much of Europe to stir up excitement. Tourism is already a big cash cow for the city, which hosted 6.9 million visitors in 2004. Quite how many more will come this year isn't clear, although Brugger expects a 10% jump in total visitors.
Salzburg stores are stuffed with Mozart souvenirs — from musical boxes and T shirts to the famous Mozart Kugel chocolates. Josef and Marina Reiter, who own a souvenir shop on the motorway that connects Salzburg to Munich, are looking forward to a roaring 2006. "We are expecting the Mozart year to be great for business," says Marina Reiter. "Everyone wants to take a little bit of Mozart home with them." Not all the products being touted are conventional ones. One dairy firm, Alpenmilch Salzburg, is marketing a special Mozart-year yogurt-and-milk drink flavored with marzipan, chocolate and nougat cream, the same ingredients as Mozart Kugel candy. Not everyone approves. Gérard Mortier, the current director of the Paris Opera who headed the Salzburg festival for a decade in the 1990s, says he worries that the Mozart anniversary year "won't yield much. To the contrary, I fear it might turn Mozart into an event. Instead of really delving into Mozart's depth, it will just make him more superficial."
Mortier is also critical of the Salzburg festival's plans. "What interest could there be in playing Mozart's 22 operas? None. The interest is not to play the Mozart catalog but to make out of, say, [the opera] Don Giovanni, everything that that work could be," he tells Time. Salzburg officials aren't fazed by such criticism. The tourism office's Brugger points out that Mozart has long since become a global brand, exploited by some for much more than his music. And for this Mozart anniversary year, money doesn't just talk in Salzburg — it sings.
▲
by

alfayoko2005

| 2006-01-09 12:12 | Music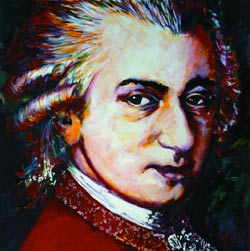 CORBIS
MAGIC FLUTES: Mozart, in a portrait by Gerrit Greve; his music has been used to treat ailments ranging from acne to Alzheimer's disease.
TIME Europe
January 16, 2006 / Vol. 167 No. 3
The Power Of Mozart
The legendary composer is not just for listening to anymore — 250 years after his birth, he's a health fad
BY PETER GUMBEL / PARIS
Katia Eliad, a Paris-based artist, was stuck in a rut. She felt blocked in her creativity, out of touch with herself and for some inexplicable reason unable to use green or blue in her abstract paintings. So last spring, she started an unusual treatment: daily two-hour sessions of Mozart's music for three weeks at a time, filtered through special vibrating headphones that sometimes cut out the lowest tones. The impact, she says, was dramatic. "I'm much more at ease with myself, with people, with everything," says Eliad, 33. "It feels like I've done 10 years of psychoanalysis in just eight months." Blue and green are back in her palette. As for Mozart, "he's become like a grandfather who calms you when you wake up in the middle of a nightmare."
Wolfgang Amadeus Mozart was born 250 years ago, on Jan. 27, 1756, and lavish celebrations are being planned around the world to celebrate his anniversary. This year will be filled with his music, but it will also be a time to re-examine the contradictions and conflicting interpretations of his brief 35-year life. He has been cast in many roles: the infant prodigy paraded around European courts by his father, Leopold; the foulmouthed brat whose letters attest to a fondness for off-color practical jokes. One widespread misconception has him buried in a pauper's grave in Vienna's St. Marx Cemetery. Another unproven legend, given widespread credence thanks to the hit movie Amadeus, depicts him as the victim of his jealous court rival Antonio Salieri. Fervent admirers have argued that he was divinely inspired, but some modern psychologists detect an infantile-regressive personality. And if he were alive today, says Herbert Brugger of the Salzburg tourism office, he would be "a pop star — somewhere between Prince, Michael Jackson and Robbie Williams."
There's little new about such typecasting. But over the past decade, Mozart has increasingly been placed in a role that is perhaps the most controversial of all: as healer of mind and body. In this New Age interpretation, Mozart is the ultimate composer-therapist whose music can help treat ailments ranging from acne to Alzheimer's disease and even, it is claimed, make you and your kids smarter. Some of these claims are based on science. One neurosurgeon in Chicago has conducted studies that show certain Mozart pieces can reduce the severity and frequency of epileptic seizures in some patients, while researchers in Irvine, California, have found that some people with Alzheimer's are better able to perform mental tests after listening to Mozart for 10 minutes.
But much of the supporting material is anecdotal. French actor Gérard Depardieu says Mozart helped to cure his childhood stutter. Eliad, the painter, received her treatment at an institute founded by a Paris physician named Alfred Tomatis, who pioneered the use of Mozart's music to treat all sorts of childhood disorders as well as adult ailments including depression. Few national authorities officially recognize the treatment, and traditional music therapists are deeply skeptical. Still, Poland is currently introducing Tomatis' methods nationwide in centers that help children with learning difficulties. And in the London suburb of Richmond, Jackie Hindley credits it with helping her 6-year-old son Lawrence. He was a slow developer and hyperactive, Hindley says, with a particular language difficulty: whenever people spoke to him, he would stay quiet for half an hour before coming back with an answer, she says. After several sessions of listening to Mozart, "he's now a very active speaker who responds immediately to whatever is said to him," Hindley says. "He's taken very profound steps forward."
By far the most widespread — and most disputed — recent claim is that Mozart can enhance your brain power. That notion was first given scientific support in a 1993 article in Nature, which found that college students who listened to the first movement of Mozart's Sonata in D Major for Two Pianos performed better on a spatial reasoning test that involved mentally unfolding a piece of paper. The study's main author, Frances Rauscher, an associate professor at the University of Wisconsin who is also a cellist, went on to do a similar test using laboratory rats. They were exposed to the same piano sonata in utero and for two months after birth, and then let loose in a maze. There they navigated their way out far quicker than three other groups of rats, which had been exposed to white noise, silence or a highly repetitive piece by American composer Philip Glass.
In the decade since, these studies have sparked an academic storm, with many of Rauscher's peers either refining or debunking her findings. Other researchers have had mixed success in replicating her results. But her work received widespread media attention and gave rise to a pop-psychology trend known as the "Mozart effect." Dozens of Mozart compilation CDs that promise to enhance intelligence are now on the market, with titles such as Mozart for Mommies and Daddies — Jumpstart Your Newborn's IQ. The claims have had social-policy repercussions: in 1998, the U.S. state of Georgia began handing out classical-music CDs to the parents of all infants, and there are similar but less official programs in Colorado, Florida and elsewhere.
Behind much of this enterprise is a U.S. musician named Don Campbell, who is not a scientist and had nothing to do with the original research, but who quickly trademarked the term "Mozart effect," and has written two best-selling books on the subject and compiled more than a dozen CDs. "In an instant, music can uplift our soul. It awakens within us the spirit of prayer, compassion and love," he writes. "It clears our minds and has been known to make us smarter."
Rauscher is both bemused and sometimes amused by such rank commercialization. "At least somebody managed to make money out of it," she says. But she bristles at the way her findings are misrepresented. "Nobody ever said listening to Mozart makes you smarter," she complains, pointing out that her research showed only a temporary and limited improvement in the student's spatial reasoning, rather than a sustained and general increase in IQ. Today, she's even revising her own initial conclusions in the light of subsequent research by others, working on a book tentatively titled Music and the Mind Beyond the Mozart Effect. Listening to Mozart, she now reckons, may not be as important for the brain as the general sense of mood of arousal brought about by doing something that is enjoyable. Campbell, who is based in Colorado, isn't fazed by her attitude, nor by the open scorn he encounters in the academic community. "I don't think we can prove anything, but we can't disprove it either," he says. "To be most honest, we don't understand why music has such a powerful influence on the brain."
He has a point. Scientific studies show that many different areas of the brain are activated when a person listens to music. There's also some overlap between the areas of the brain most responsive to music and those used in spatial reasoning. But beyond that, there's little certainty as to why some pieces of music stimulate more than others — and even less understanding of music's sometimes soothing effects.
Glenn Schellenberg, a psychology professor at the University of Toronto at Mississauga, built on Rauscher's study by comparing the effects of a happy-sounding Mozart piece to a sad-sounding Albinoni piece, and then testing to see if music by the British rock band Blur had a bigger impact. (The answer is yes, among 10- and 11-year-old boys). At one point he even did research that pitted Mozart's music against a Stephen King story. His conclusion: listeners who preferred Mozart performed better after listening to Mozart than to the story. Listeners who preferred Stephen King did better after the story. Such findings are in line with those of neurosurgeons who have long tracked the effect of various stimulants, including music and drugs, on the brain's electrical discharge patterns. A growing volume of research suggests that music may hardwire the brain, building links between the two hemispheres. Exactly how this process works is still unclear, but such brain stimulation can lead to peaks of performance and awareness.
Why should Mozart's music be the focal point of this debate, rather than other classical composers such as Bach, Beethoven or Chopin? Many sounds, from Hindu chanting to the noise of the surf breaking on a shore, are believed to be therapeutic.
As for classical music, Gérard Mortier, the director of the Paris opera, is one of many who reckons that Mozart isn't the only composer who soothes. "You find the most appropriate music for the pathology," Mortier says. "For some people it might be [Johann Sebastian Bach's] 'Goldberg' Variations. For others it might be the second act of [Richard Wagner's] Tristan and Isolde. For a third it could be a Schubert quartet, and for another it's Mozart."
Still, John Hughes reckons Mozart yields the best results. He's a neurologist at the University of Illinois Medical Center who specializes in epilepsy. One day a colleague handed him a tape of the same Mozart sonata that Rauscher used in her studies. The next morning, he tried it out on a patient in a coma, and was stunned to find that it substantially reduced the frequency of seizures. He followed up with a series of studies on 36 patients; 29 of them responded in the same way to the music. "There's no question about it, about 80% of the time it has a beneficial effect on seizures," he says. That's when he started testing other classical music on patients, only to find that Mozart was consistently the most effective on his epileptic patients.
The key, he believes, lies in the way Mozart repeated his melodies. "He turned a melodic line upside down and inside out. That gave people something interesting to listen to. Our brain loves pattern." Some of Bach's music scored highly, as did works by Mendelssohn and Haydn. But Mozart's musical sequences tend to repeat regularly every 20-30 seconds, which is about the same length of time as brain-wave patterns and other functions of the central nervous system. His conclusion is that the frequency of patterns in Mozart's music counteracts irregular firing patterns of epilepsy patients. Unlike the IQ tests, Hughes says, the response he measured has nothing to do with theories of mood and arousal: "Most of my patients are in a coma so you couldn't explain it as, 'I feel better so I perform better.' This is a direct effect on the brain."
Michelle Quatron doesn't have a clue why Mozart's music works, but she says she can see the effect on her 6-year-old daughter Lucy, who is autistic. "She used to sit in a corner and have no interaction with anyone," Quatron says. Two years ago, she began taking Lucy to a center in Lewes, England, that uses the Tomatis method of playing music through what's called an "electronic ear" — essentially regular headphones with a piece in the middle that vibrates against the scalp, conveying sounds through bone conduction. Tomatis and his followers claim that this has a profound impact on patients' ability to hear and listen to others and themselves, which is the core of the treatment. Still, since there's no conventional scientific proof for the method, health authorities in many countries, including the Food and Drug Administration in the U.S., don't recognize it.
Quatron says she was skeptical about the treatment at first, but is now a convert. "The first thing that astonished us is that she allowed it to happen — that she sat for two hours listening to Mozart, and not just once but every day for 14 days," Quatron says. And she's thrilled with the changes she sees. "Lucy is making friends. Her eye contact has improved and her language has come on so much. It's like she's opening out. She's coming right out of herself."
In the official world of music therapy, such methods are viewed as hokey. That's because registered therapists working with handicapped or troubled children usually get them to make music as a way of expressing themselves and interacting with one another. In Britain, where music therapy has been a registered health profession since 1999, Gary Ansdell at the Nordoff Robbins Music Therapy Center in London points out that "it's all about active music making, not passive listening." Ansdell is also scornful of Don Campbell and his "Mozart effect" empire. "It has to be more complex than that," he says. "We're not doing Mozart a favor to reduce him to an effect."
But in this Mozart anniversary year, it seems, anything goes. Just ask Carlo Cagnozzi. He's a Tuscan winemaker in Montalcino, near Siena, who has been piping Mozart to his vines for the past five years. He first had the idea as a young man, when he would bring his accordion to the grape harvest. Playing Mozart round the clock to his grapes has a dramatic effect, he claims. "It ripens them faster," he says, adding that it also keeps away parasites and birds. If Mozart had really been buried in a pauper's grave, he would probably be spinning in it. But with so little still understood about the psychological and physiological effects of music, researchers from the University of Florence are now studying Cagnozzi's claims. Says Don Campbell, the Mozart effect author: "Mozart has universal appeal. The discussion needs to continue. We are just beginning to ask the right questions." The swirling controversy seems sure to continue — and Campbell will carry on selling his CDs. Even if his claims about Mozart's music making us smarter are bogus, he's helping to introduce a lot of people to a composer whose music remains relevant, 250 years after his birth.
With reporting by Bethany Bell/Salzburg and Julia Mason/Paris
▲
by

alfayoko2005

| 2006-01-09 12:05 | Music
classicfm :: top 40 mozart
The Top 40 Mozart
The most prolific composer in the Classic FM Hall of Fame, Mozart wrote 655 of the world's most celebrated pieces of classical music. But which are your favourites?
We launched a poll to search for Mozart's most popular work as part of our celebrations to mark the 250th anniversary of the birth of the great composer in 2006.
「クラシックFM名誉殿堂」中最も多作な作曲家モーツァルトは、世界で最も有名なクラシック音楽655作品を書きました。ところで、その中であなたが一番好きなのはなんですか?
私たちは、2006年に偉大な作曲家モーツァルトが生誕250周年を迎えるのを記念して、人気投票を始めました。
The Top 40 Mozart
No. Work
順位 作品名(英語・日本語訳)
1 Clarinet Concerto in A クラリネット協奏曲イ長調 K.622
2 Requiem レクイエムニ短調 K.626
3 Ave Verum Corpus モテト「アヴェ・ヴェルム・コルプス」K.618
4 Piano Concerto No 21 in C major ピアノ協奏曲第21番ハ長調 K.467
5 The Marriage of Figaro 歌劇「フィガロの結婚」 K.492
6 The Magic Flute ジングシュピール「魔笛」 K.620
7 Laudate Dominum 証聖者のための盛儀晩課(ヴェスペレ)ハ長調 K.339より「ラウダテ・ドミヌム」
8 Cosi fan Tutte 歌劇「コシ・ファン・トゥッテ」 K.588
9 Flute and Harp Concerto フルートとハープのための協奏曲ハ長調 K.299(K6.297c)
10 Eine Kleine Nachtmusik セレナード第13番ト長調「アイネ・クライネ・ナハトムジーク」K.525
11 Clarinet Quintet in A クラリネット五重奏曲イ長調 K.581
12 Mass in C minor "Great Mass" ミサハ短調「大ミサ」 K.427(K6.417a)
13 Symphony No 40 in G minor 交響曲第40番ト短調 K.550
14 Piano Concerto No 20 in D minor ピアノ協奏曲第20番ニ短調 K.466
15 Exsultate Jubilate モテト「エクスルターテ・ユビラーテ(踊れ、喜べ、幸いなる魂よ)」 K.165(K6.158a)
16 Horn Concerto No.4 ホルン協奏曲第4番変ホ長調 K.495
17 Piano Concerto No 23 in A major ピアノ協奏曲第23番イ長調 K.488
18 A Musical Joke ディヴェルティメントヘ長調「音楽の冗談」 K.522
19 Don Giovanni 歌劇「ドン・ジョヴァンニ」K.527
20 Piano Sonata No.11 in A major ピアノソナタ第11番イ長調「トルコ行進曲つき」K.331(K6.300i)
21 Sinfonia Concertante in Eb major for Violin & viola ヴァイオリンとヴィオラのための協奏交響曲変ホ長調 K.364 (K6.320d)
22 Symphony No 41 in C major "Jupiter" 交響曲第41番ハ長調「ジュピター」K.551
23 Bassoon Concerto ファゴット協奏曲変ロ長調 K.191(K6.186e)
24 Coronation Mass K317 - Kyrie ミサハ長調「戴冠式ミサ」 K.317より「キリエ」
25 Andante in C major for Flute & Orchestra フルートのためのアンダンテハ長調 K.315(K6.297c)
26 Violin Concerto No.3 in G major ヴァイオリン協奏曲第3番ト長調 K.216
27 Horn Concerto No.1 ホルン協奏曲第1番ニ長調 K.412/514(K6.386b)
28 Horn Concerto No.3 ホルン協奏曲第3番変ホ長調 K.447
29 Symphony No 39 in Eb major 交響曲第39番変ホ長調 K.543
30 Violin Concerto No.5 in A major - 1st movement ヴァイオリン協奏曲第5番イ長調「トルコ風」 K.219より第1楽章
31 Flute Concerto in G major - Slow (2nd) movement フルート協奏曲第1番ト長調 K.313(K6.285c)より緩徐(第2)楽章
32 Serenade in D major "Serenata Notturna" セレナード第6番ニ長調「セレナータ・ノットルナ」 K.239
33 Symphony No 35 in D major "Haffner" 交響曲第35番ニ長調「ハフナー」K.385
34 Oboe Concerto in C major オーボエ協奏曲ハ長調 K.314(K6.285d)
35 Piano Concerto No 24 in C minor ピアノ協奏曲第24番ハ短調 K.491
36 Gran Partita Serenade セレナード第10番変ロ長調「グラン・パルティータ」 K.361(K6.370a)
37 Divertimento in D major K136 ディヴェルティメントニ長調 K.136 (K6.125a)
38 Horn Concerto No.2 ホルン協奏曲第2番変ホ長調 K.417
39 Solemn Vespers K.339 - Dixit Dominus 証聖者のための盛儀晩課(ヴェスペレ)ハ長調 K.339より「ディクシット・ドミヌス」
40 String Quartet in Bb major "The Hunt" 弦楽四重奏曲第17番変ロ長調「狩」 K.458
♪ 日本語のタイトル、ケッヘル(K)番号は音楽の友社「名曲大事典」などによる。
日本人が好きなモーツァルト作品ベスト10
「マイ・フェバリット・モーツァルト」ベスト10~「熱狂の日」
▲
by

alfayoko2005

| 2006-01-08 13:50 | Music
♪ もちろん、"re-compose"は「(再)構成」と「作曲」をかけたシャレ。でも、 "Dissonance"「不協和音」(弦楽四重奏曲第19番ハ長調K.465)に終わらなきゃいいけど。
The Sunday Times January 08, 2006
Mozart to recompose European constitution
Nicola Smith, Brussels
THE spirit of Wolfgang Amadeus Mozart is to be evoked in an attempt to resurrect the failed European constitution.
Austria took over the European Union's rotating presidency last week and wants to use a conference in Mozart's home town of Salzburg on January 27 — the 250th anniversary of the composer's birth — to bring new harmony to "Europe's orchestra", which notably failed to play in tune during 2005.
The Austrian initiative will dovetail with two other attempts in Brussels to save the unpopular constitutional document from the shredder. One is a "Plan D for Democracy, Dialogue and Debate", drawn up by the European commission, and the other is the European parliament's unfortunately named Duff report, co-written by Andrew Duff, a British Liberal Democrat MEP.
The idea of a Europe-wide public debate on the aims of the 25-nation bloc was first mooted by EU leaders last June after the Dutch and French rejected the constitution, effectively killing off the ratification process. Britain, which had the presidency for the second half of the year, avoided the issue, concentrating instead on securing a deal on the EU budget.
To relaunch the constitution, Wolfgang Schüssel, chancellor of Austria, has invited figures from the arts, scientists, diplomats and the media to contribute ideas on European identity while being serenaded by the Vienna Philharmonic Orchestra. Tony Blair and other EU leaders are not expected to attend.
The Austrians hope the conference will be inspired by Mozart, who "transcended borders with his music and was at home throughout Europe".
The link with Austria's wunderkind has prompted amusement and despair among some officials in Brussels. "The only spirit of Mozart necessary for this constitution should be Mozart's Requiem," joked one official.
The event has been named The Sound of Europe, an allusion to the 1960s film The Sound of Music, which was filmed in the Salzburg area. Austria said it chose the title because the film "had a happy ending".
Schüssel has sought to play down his country's ambitions in reviving the document, saying Austria will not bring about a "messianic transformation" in Europe. "I am in favour of a discussion phase to start with," he said in a recent interview. "It is important that we form a clear picture of the concerns of citizens."
But he has pledged to produce a timetable and "road map" for the constitution by June, when EU leaders gather in Brussels for a summit.
They are then expected to decide whether to persevere with the constitution, or redraft all or part of it before putting it to voters again. The task of finding a way out of the crisis may yet fall to Angela Merkel, the German chancellor who became Europe's golden girl in December after she brokered a deal on the EU budget. Germany takes over the presidency at the start of next year.
The European commission has launched Plan D, which will use celebrities as "European goodwill ambassadors" and aims to target young people and minorities. Margot Wallstrom, the communications commissioner, is urging television chiefs to create programmes on the EU that will attract public attention.
"I feel very much frustrated," Wallstrom said. "Politically many governments do not think they can score any new points and this makes it something they won't take on because there's not so much political profit to make. We need leaders that defend the whole idea."
The commission hopes to have the first conclusions from its public consultation ready by April, boosted by a conference on May 9 — the official "Europe Day" celebration and a public holiday for EU officials. Until recently the commission had stuck to its political mantra that there should be "no cherry-picking" of parts of the constitution. Cracks are already starting to show, however. Last week Jacques Barrot, the French transport commissioner, broke ranks by suggesting that certain parts of the constitution could be removed to save the rest of the charter.
The European parliament is also weighing in. A report co-written by Andrew Duff, a British Liberal Democrat MEP, and Johannes Voggenhuber, an Austrian Green, calls for parliamentarians to draw up a new text by the end of 2007. It would then be put to voters when they go to the polls in 2009 for elections to the parliament.
Duff says he wants it to be non-binding, however, avoiding the awkward problem of what to do if it is rejected.
Scientists claim they have cracked the mystery of Amadeus's skull
The mystery began more than a century ago, when a skull claimed to be that of Wolfgang Amadeus Mozart was brought to the foundation in Salzburg dedicated to the city's most famous son, writes Peter Conradi.
It may finally be solved this afternoon, when some of the world's leading forensic scientists will reveal in a documentary to be screened on Austrian television whether these are indeed the last remains of the composer, born 250 years ago this month.
Mozart, who died in 1791, is believed to have been buried in an unmarked grave in Vienna. Legend has it that years later a gravedigger who knew which body was Mozart's stole his skull, which eventually found its way to the International Mozarteum Foundation.
Experts have long been fascinated by the skull, which lacks a lower jaw, but have never been able to say for sure if it was Mozart's.
Burgl Czeitschner, who wrote the documentary, said the forensic search began with the hunt for female relatives of Mozart. Genetic material was then extracted from the women's thigh bones and compared by scientists at Innsbruck University's forensic institute with DNA from two teeth extracted from the skull.
Their result was clear, Czeitschner said — and had been 100% replicated by experts at America's Armed Forces Institute of Pathology, in Rockville, Maryland.
Experts warn, however, that whatever the result it is unlikely to settle the question for good, not least because mitochondrial DNA, the type being used for the tests, does not produce definitive results.
▲
by

alfayoko2005

| 2006-01-08 12:40 | Music
The Times December 31, 2005
Q: How do you pay homage to a towering musical genius? A: With a bra that can play Eine Kleine Nachtmusik
From Roger Boyes in Salzburg
GOOD news in time for Mozart's 250th birthday next month: listening to his music, according to the latest research, boosts IQ, squeezes more milk out of cows and makes rats more loveable.
Judging by the frenzied commerce in the narrow streets of his birthplace, Salzburg, it also makes the cash tills ring.
Austria is gearing up for a year-long celebration of its best-known composer. With 500 events planned for 2006, it hopes to use Mozart to rebrand itself as a serious European player, the place where the big issues of European identity can be hammered out.
"During our EU presidency, starting in January, we want to get to grips with some of the deep reflection about the continent that was neglected in the British stint," one senior official said. "Mozart Year is the perfect moment."
One of the first Mozart Year visitors to Salzburg will be Condoleezza Rice, the US Secretary of State, who will be attending a brainstorming session entitled The Sound of Europe. Whether the accomplished pianist will be impressed by Salzburg's avalanche of Mozart kitsch —
Mozart knickers are flying off the shelves, as well as a bra that plays a refrain from Eine Kleine Nachtmusik
— is another matter. Mozart's two children died without offspring: there is no family to protect or profit from the Mozart name and so the free market is running wild. There are beer glasses that trill a few notes from The Marriage of Figaro when full, there is a Mozart sausage and Mozart babysuits. You can get drunk on Mozart schnapps and fat on sticky chocolate Mozart Balls, then you can jog it all off in Mozart jogging pants.
By that time, you may be ready to listen to some music. "It will be an artistic feast," says Inge Brodil, a former set designer who is helping to co-ordinate the programme for the Mozart Year. Salzburg alone will host 260 concerts and 55 masses. "For the first time, all 22 of Mozart's operas will be staged," Frau Brodil says.
In line with Austria's new image, there will be plenty of experimentation during the year. The German director Doris Doerrie has been allowed to take on Mozart's La Finta Giardiniera. Critics are already nervous: they still remember how she staged Verdi's Rigoletto, in the manner of Planet of the Apes.
The tone has been struck by the Texan avant-garde artist Robert Wilson (designer of Death, Destruction and Detroit) who has recast Mozart's handsome ochre-painted birthplace in the Getreidegasse. A stunted doll of the wigged, dead Mozart has been embedded in a cot, a blue neon halo dangling overhead. A baffled Italian visitor shielded his child's eyes, saying it was a horror show. "I think it's just there to frighten children," said Sandro Brunetti, from Turin.
Austria proposes to "Europeanise" Mozart and Frau Brodil has been networking with other cities, including Prague and London. The country is taking a more distanced view of its local heroes. Even Arnold Schwarzenegger, the Austrian-born Governor of California, is being disowned by his hometown of Graz. After he signed the death warrant on a reformed murderer, Graz decided to rename its Arnold Schwarzenegger football stadium and find another tourist attraction. There is not much chance that Salzburg will ever banish the name of Mozart.
A LIFE IN MUSIC


Born in Salzburg on January 27, 1756

Educated by Leopold, his father, a professional musician

First musical piece written aged 5; first stage work aged 11

Mozart spent a third of his life on tour

He is said to have suffered from Tourette's syndrome, a disorder compelling him to repeat obscene words

The Abduction from the Seraglio, written when he was 26, was Mozart's most successful musical work during his lifetime

He died on December 5, 1791, from a fever
Mozart mania: Austrians cash in on Amadeus
2006 marks the 250th anniversary of the birth of one of the world's great composers and his home town is determined to make the most of it. Ruth Elkins reports from a Salzburg engulfed by a tide of chocolate, cake and kitsch souvenirs
Published: 02 January 2006 The Independent
A British woman is making fast work of Salzburg's Mirabell chocolate shop. A brief respite from the snowstorm outside has turned into a full-blown shopping spree. "Oh look, darling!" she exclaims to her tired-looking husband, grabbing yet another box of gold-wrapped, chocolate nougat Mozart Balls, these ones violin-shaped. "Aren't they lovely souvenirs? We really are in Mozart Land, aren't we?"
Salzburg has always claimed to be the true Mozart city, cashing in on the four million tourists who flock there each year in search of traces of its prodigal son. But this year will be different: 2006 is the 250th anniversary of the birth of Wolfgang Amadeus Mozart. The year-long birthday bash Austria is planning will be, they say, the biggest ever, with Amadeus featuring in virtually every major Austrian event. The forecasted profits from Mozart Year, combined with Austria taking over the EU presidency in 2006, are expected to run to €50m (£35m). The tourism chiefs are licking their lips. And the kitsch has reached its zenith.
You can drink Mozart milkshakes; eat "Mozartwurst" (the recipe for the pork, beef and pistachio sausage, says the butcher who created it, came to him in a dream); stuff yourself with Mozart cake; and then stock up on Mozart beer and wine.
The Mozart knickers and Mozart golf balls are only surpassed by the Mozart bra, which triumphantly plays "Eine Kleine Nachtmusik" when it is unfastened.
Symposiums and events range from "Meet Amadeus" and "Mozart Deluxe" to "Mozart Waits for You" while Mozart ski holidays include a ticket to the opera in the price.
More cynical visitors can bag seats for the "I Hate Mozart" opera and, if next year's Mozart Mania gets to be too much, you can always buy a Mozart knife.
The organisers of the 2006 "Mozart Year" are struggling to convince the world that it isn't in for Mozart overkill. "For us, celebrating Mozart's 250th birthday is all about celebrating his music and fine art," says Inge Brodil, who is co-ordinating the year's events in Salzburg. "It is a marvellous opportunity to hear some of Mozart's less-performed works." Ms Brodil, 48, a former set designer, clutches nervously at her neck. "Of course, we can't ignore the tatty souvenirs," she says. "But there's nothing we can really do about the kitsch. It's simply the free market." Mozart has been dead too long to profit from royalties each time a CD is sold or a concerto played on the radio: there is a Europe-wide 70-year, post-death limit on that and, in any case, Mozart's descendants died out not long after Wolfgang himself.
Both Mozart's sons, Carl Thomas and Franz Xaver, left the world unmarried and childless. The lucrative Mozart trademark is, to put it politely, an entrepreneurial free-for-all.
Unsurprisingly, the kitsch is nothing new. The Salzburgerland province has been cashing in on Johannes Chrysostomus Wolfgangus Theophilus Mozart, as he was christened, since the 1840s. "Mozart festival programmes, Mozart biographies, Mozart concerts, Mozart busts, Mozart models, and Mozart pipes were abundantly displayed in the shops," reported the Salzburg journalist Ludwig Mielichhofer in 1842. "The inns offered Mozart rooms, Mozart bread and Mozart wine - everything was given the Mozart name, which was heard daily, countless times, and everywhere. It was the password of the day."
Some of the most sought-after 19th-century Mozart knickknacks included "Mozart Cake" made by the Hladik Company, which quickly set up premises near the house at Getreidegasse No 9 where Mozart was born and "Mozart Cream", which was regarded as the best shoe polish in the whole of Salzburg.
One in three jobs in Salzburg is, directly or indirectly, dependent on tourism - on Mozart's legacy as the greatest musical genius the world has ever seen. Salzburg airport is named after him; St Gilgen, where Mozart's mother, Anna Maria, was born, brands itself "The Mozart Village on the Lake". The best-known ski area in the province is called "Amadé Sports World". But despite, or perhaps because of, the extent to which the cash registers ring when the holiday-makers roll up, Salzburg's relationship to Mozart remains love-hate. The taxi drivers grumble loudly about the doddering Japanese tourists who come in their thousands and the coaches which block the roads throughout the summer months. And "the locals," sniffs one guidebook, "always try to avoid the Getreidegasse whenever they can."
Nevertheless, Salzburg has dedicated seven years and €7m to preparing for 2006: for the first time, the acclaimed Salzburger Festspiele will stage all 22 of Mozart's operas during its six-week run in the summer and throughout the year, 260 Mozart concerts and 55 masses will be held. More than 500 projects, exhibitions and events will be hosted across the country: even the US Secretary of State, Condoleezza Rice, is turning up for the official birthday party marking the actual 250th anniversary of Mozart's birth on 27 January, attending a conference on European identity entitled "The Sound of Europe".
But will it all be too much? "Mozart's music will be as good this year as it was last year and as good as it will be in 2007," said Dr James Kennaway, a British-born musicologist. "But by the end of 2006, we can safely say that most people are going to be a little sick of him."
Karl Harb, the arts and music editor at Salzburg's newspaper, Salzburger Nachrichten, disagrees. "Yes, there is a lot of Mozart on offer," he said. "But the individual must steer their Mozart consumption themselves. Only they can decide what events to attend. You don't have to go to all the concerts, do you?"
You can if you want to, though. The Salzburger Festspiele is offering special Mozart Year subscriptions, if you fancy spending 60 days in July and August pottering around the narrow streets of Salzburg and watching all 22 of Wolfgang's operatic works. It costs €4,995 per person for the best seats in the house. Even single tickets don't come particularly cheap. Although standing room tickets retail at €25, a ticket in the stalls for The Marriage of Figaro starring opera world darling soprano Anna Netrebko will set you back €600.
Many fear that after the huge spurt of investment for 2006, funding and interest will dry up. "Millions of euros of public money have been invested in everything to do with this Mozart Year," says Mr Harb. "Many in the classical music scene are worried about where their money is going to come from in 2007 and, frankly, whether there will be any interest in Mozart after such a sustained focus on him this year." But there are always shock tactics to keep the crowds from getting bored. Bob Wilson, an American artist, has revamped the yellow-fronted, six-storey townhouse where Mozart was born in 1756, a nod to the maxim that every generation must discover Mozart anew and an attempt to keep the stream of tourists steady. The Texan-born avant-garde designer, whose previous works include Death, Destruction and Detroit, claimed he "couldn't discover Mozart anew". But he did the makeover anyway. One critic said that the result was the equivalent of going on a "gaga ghost train" ride.
In the room where Mozart was born, a pale wooden doll lies in a cot. The bewigged Wolfgang stares up at a neon blue halo hanging from the ceiling, an attempt to simultaneously symbolise the birth and the death of the great man. In another room, 19th-century prints hang upside down and a white, papier mâché model of Salzburg has been attached to the ceiling. Another room is covered in small blue geese and in another, a life-sized mechanical model of Mozart's pushy father, Leopold, shoots the family dog, Pimperl - a scene which did not actually happen in real life.
It is all a touch bemusing for the visitors. "They still need time to get their heads round it," sighed Dr Tekle Hanna Feissa, an Ethiopian-born musicologist and guide at the Mozartsgeburtshaus museum. Dr Feissa spends much of his day trying to explain the meaning of Wilson's post-modern oeuvre and stop animal rights campaigners breaking Leopold's arm. "You try to tell them it's not real, that Leopold didn't really shoot the dog, but they don't care," he says, shaking his head. Wilson has not helped matters particularly. When asked why he decided to put small blue geese on the ceiling of the room where Anna Maria Mozart almost died, he replied: "I don't know. You tell me!"
In Vienna, €30m has been invested in the festivities and the opera house revamped. "You will get the feeling that a continual and very lively dialogue [on Mozart] is taking place, not a clichéd jubilee year," promised Peter Marboe, who is co-ordinating events in the Austrian capital.
Plenty of left-field Mozart celebrations are being held, many of which have already started in earnest. At last month's You're Also Mozart, Think About It performance project in Vienna, the audience was treated to the contemporary artist Caroline Heinecke, dressed in brown and gold, depicting how a chocolate Mozartkugel - the most popular of Mozart souvenirs with sales of 90 million a year - is digested.
The point, she said, was to ask the pertinent question: would Mozart have been able to digest the frenzied marketing of his name? Mozart spent much of his 35 years trying to escape the provincial backwaters of Salzburg. He was, in effect, thrown out by the Prince Archbishop Hieronymus in 1777 and the fear remains: would the musical genius be pleased at all the attention? "I absolutely think so," says Ms Brodil. "We're talking about a man who travelled Europe exhaustively to get people to hear his music. I think he'd be thrilled."
And the lucrative kitsch? "Put it this way," says Dr Kennaway, "if this was going on for Beethoven's 250th birthday, he'd be turning in his grave. But Mozart was more down to earth." Mozart was a freelancer, his work entirely driven by money. Experts who have studied the music paper that Mozart used say Wolfgang often started works, but would not finish them until he received a commission. Earning today's equivalent of £26,000 a year, with Constanze, his high-maintenance wife to keep and, it is suspected, a gambling habit, Mozart would probably have been only too pleased to get a look-in on massive profits from the souvenirs bearing his name. He wrote begging letters to friends and left debts when he died of rheumatic fever on 5 December 1791. He was buried in a pauper's grave.
♪ 
太字
は引用者。それにしてもなぜブラのBGMが「アイネ・クライネ・ナハトムジーク」なの?「ドン・ジョヴァンニ」か「後宮からの誘拐」にすべきかと。あ、「恋とはどんなものかしら?」でもいいかも。
▲
by

alfayoko2005

| 2006-01-02 12:53 | Music
♪ 2006年はW.A.モーツァルト生誕250年のアニヴァーサリー・イヤー。
完全に個人的な趣味だけど、「フィガロの結婚」で女装して「恋とはどんなものかしら」をメゾソプラノで歌ってしまうケルビーノなど、トランス的に見逃せないキャラもいる。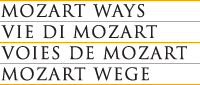 European MozartWays (Council of Europeのプロジェクト)




Mozart2006 (オーストリア・ザルツブルグ・ウィーン:日本語)



Deutsche Mozartstadt Augsburg (ドイツ・アウグスブルグ)




Mozart Praha2006 (チェコ・プラハ:日本語)

All About Mozart (音楽之友社)
▲
by

alfayoko2005

| 2005-10-31 08:20 | Music